These Pesto Gnocchi are a wonderful comfort food that is simply bursting with flavor. It combines homemade gnocchi with tasty pesto to create a dish everyone will love!
If you've never made gnocchi from scratch this is the recipe you need. And with a quick sauce these Pesto Gnocchi will tantalise your tastebuds!!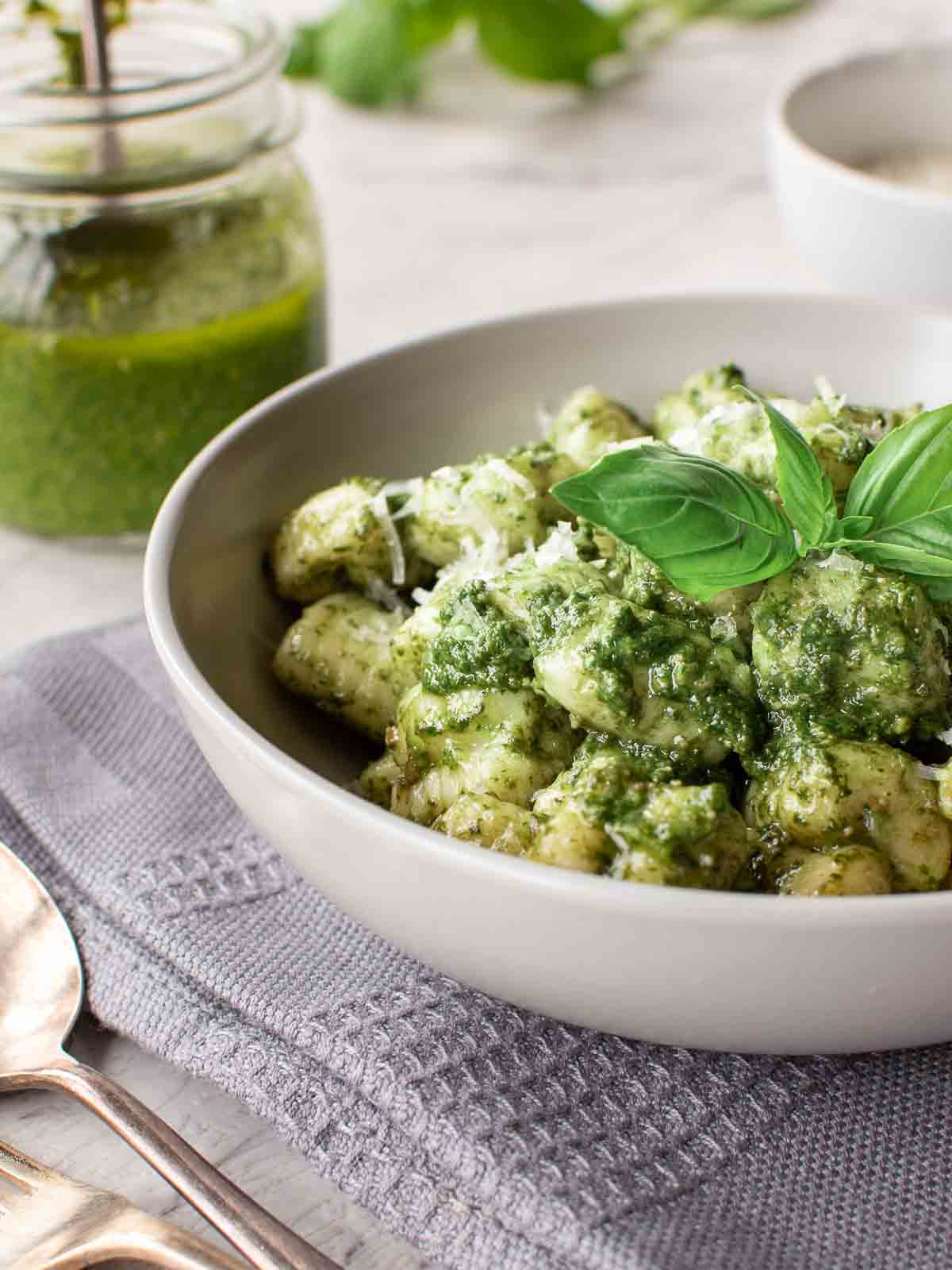 Why you will love this recipe
There is nothing like homemade gnocchi. And paired with a good sauce, this is the perfect comfort meal. Whether you use nut free pesto or my ragu sauce for pasta and gnocchi, homemade gnocchi will be a family favorite!
Learning how to make gnocchi is rewarding and much easier than you think. This step by step recipe will teach you to make gnocchi as good as any Italian. Here you will find my family's recipe with all the secrets for success.
Pesto gnocchi is a sure fire way to enjoy your first batch of homemade gnocchi. My nut free pesto with a classic variation can be made in advance so once the gnocchi are cooked all you need to do is stir through the pesto. Of course, if you are short on time, use good quality store bought basil pesto for quick pesto gnocchi.
Tomorrow you can try out my tasty tortellini alla panna that I sometimes like to serve as a side dish.
For complete ingredient quantities and full instructions, please scroll to the printable recipe card bottom of the page.
Ingredients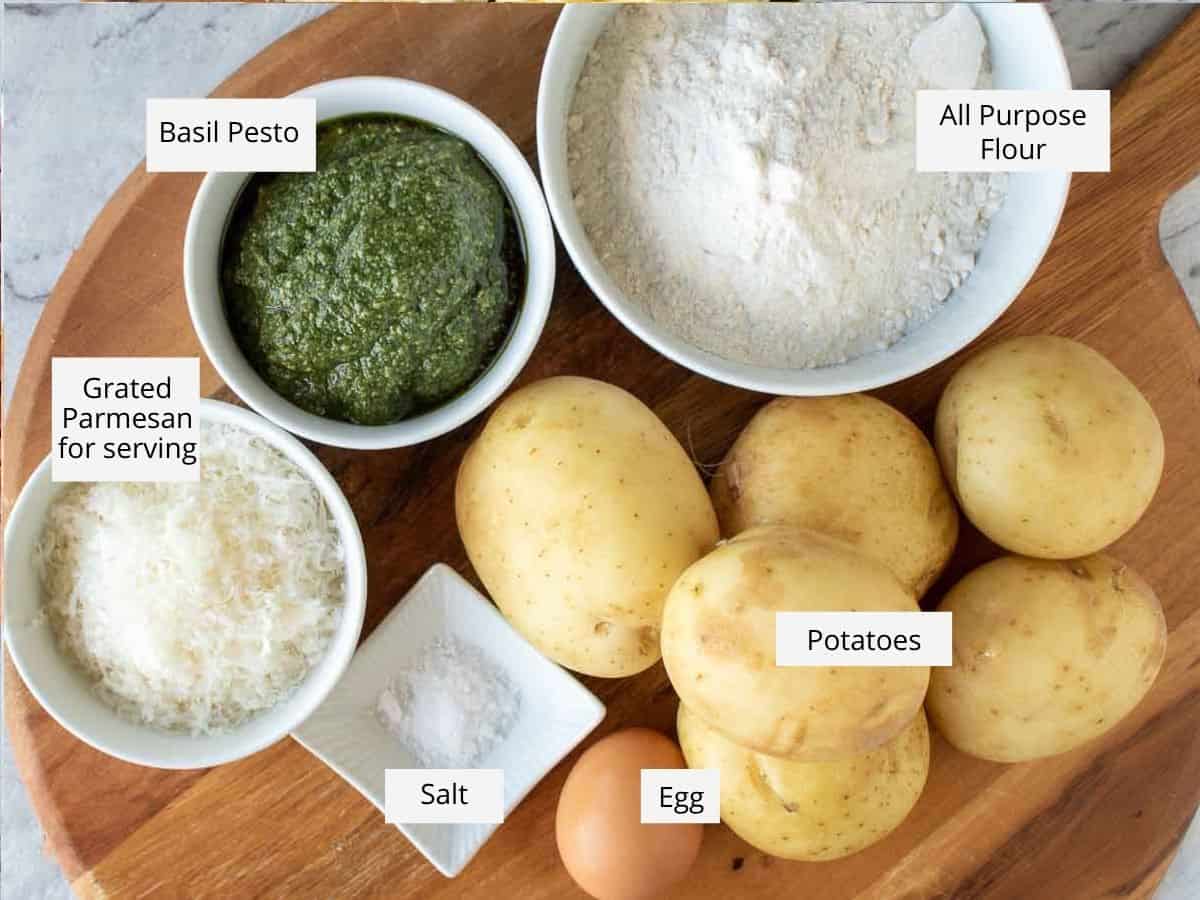 Making homemade pesto gnocchi takes this recipe to a much higher level that everyone will adore! For this you just need:-
potatoes
all purpose plain flour
egg
salt
To complete the recipe, use homemade pesto or a good quality store bought pesto.
Instructions
Don't stress - pesto gnocchi are not hard to make and are sublime to eat!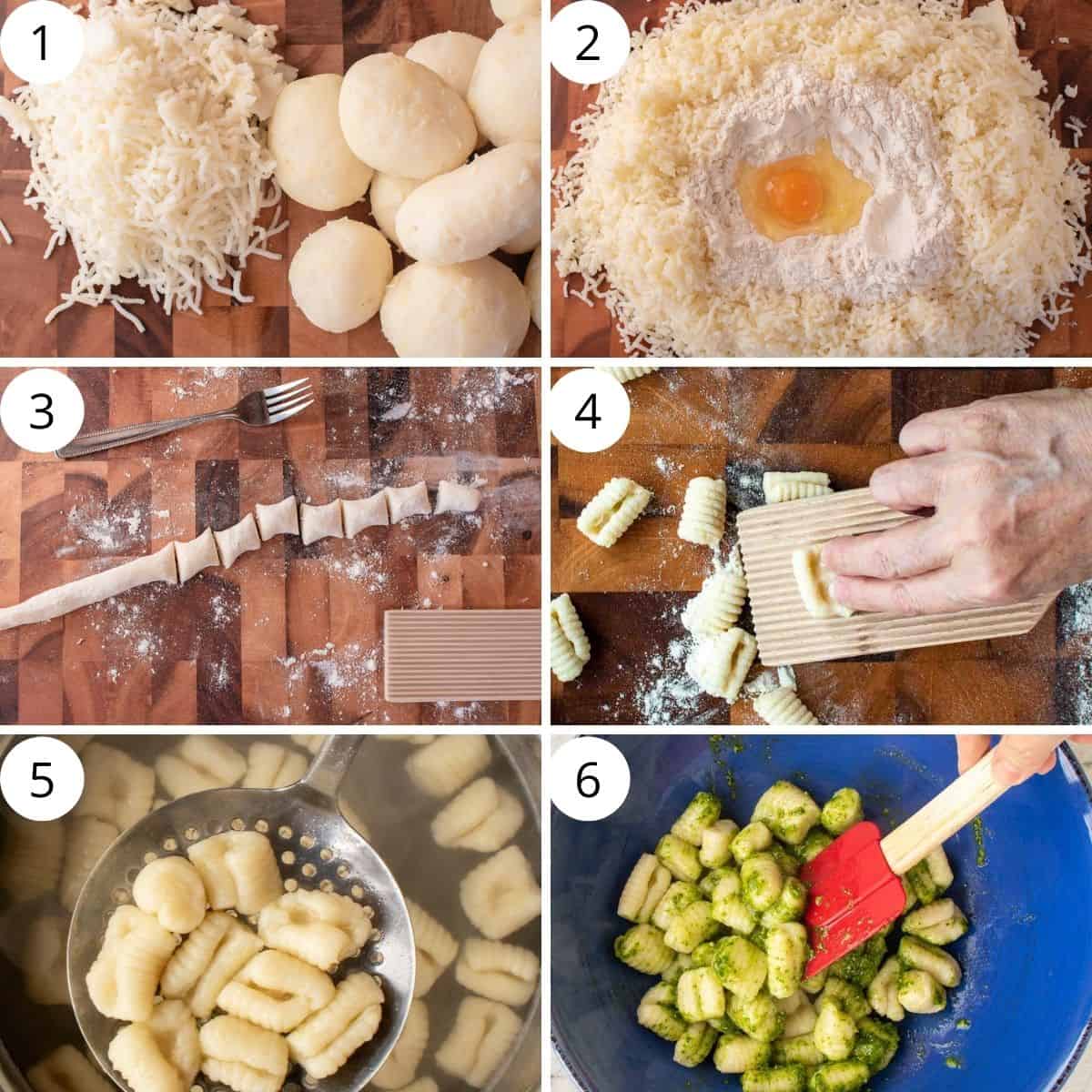 Boil the potatoes with skins on until tender then peel and put through a potato ricer while hot.
Allow to cool a little then add flour and egg and knead lightly to form a dough.
Roll into a long rope then cut into 1 inch/2.5cm lengths.
Press against a gnocchi board or tines of a fork and roll to shape.
Add gnocchi to boiling water until they rise to the top.
Mix with pesto.
Tips for success and FAQs
I learnt to make pesto gnocchi by my father's side. He made the lightest and most delicious gnocchi. In his earlier years dad would never add an egg. However in his later years the egg was added "just in case". I have continued to add an egg though it is optional.
When you are first learning to make gnocchi, I want you to add an egg "just in case'. Egg will help you succeed and hold your gnocchi together. Once you feel you have mastered this recipe you can gradually add less egg if you want to make eggless gnocchi.
Moisture is the enemy to gnocchi. The most important tip when making gnocchi is to keep the potatoes as dry as possible. This may seem difficult when the first step is to boil the potatoes. So, the trick here is to boil unpeeled potatoes. Be sure that the potatoes are completely tender but not overcooked and water logged. Tender potatoes ensure smooth pesto gnocchi.
Incorporating the flour and egg into the potatoes requires a light hand. This is not bread or pasta which needs to be kneaded. Gnocchi dough is gently pressed together. The dough should be airy inside. Potatoes will become gummy and gluggy if worked.
Can I cook gnocchi with the additional shaping?
Yes. But there is a reason why gnocchi are shaped with ridges on one side and an indentation on the other. It's to catch the sauce! Gather the family around, give them each a fork and learn how to shape gnocchi using my video. That's how we Italian children learnt. Gnocchi making was and still is a family affair.
Which potatoes are best for gnocchi?
I'm not going to specify which potatoes because each area has their own varieties of potatoes. However here is a bit of advice on choosing potatoes to make gnocchi.
1. Choose a floury, starchy potato
2. Don't choose one that is waxy or a "salad" potato.
3. Look for varieties that are good for mashing, baking or roasting.
Can gnocchi be made in advance?
Generally I will make gnocchi and cook them straightaway. However, I have prepared gnocchi to the point of cooking then refrigerated gnocchi overnight. In this case be sure to place gnocchi in a single layer, on baking paper lined and floured trays.
While I have never frozen gnocchi, I have read that gnocchi can be frozen directly on the trays in a single layer. Once frozen, the gnocchi can be placed in clip sealed bags and kept frozen for a few weeks. Cook from frozen.
What is the correct pronunciation of gnocchi?
A word like "gnocchi" can be tricky but it's actually quite simple. Often you'll hear gnocchi pronounce "nokki" which is incorrect. Instead think of it like this. The "gn" (while impossible to compare to anything in English) is pronounced "ny" with your tongue beginning flat to the roof of your mouth. The "o" part is a short sound like "oh" as in chocolate. Finally the "cchi" is just like the work "key". So pronounce "gnocchi" - "ny-oh-key".
Serving suggestions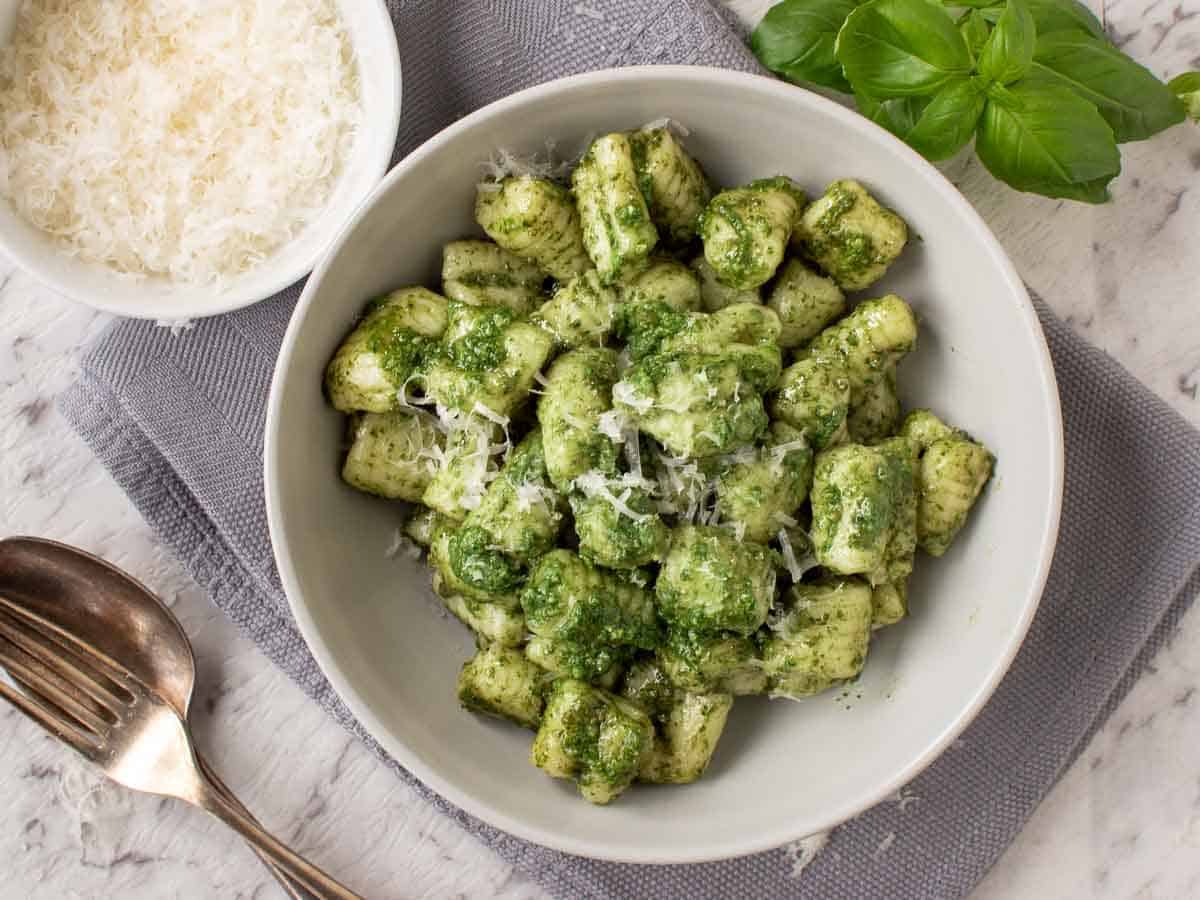 Gnocchi are so versatile and can be teamed with many different sauces. Pesto, simple tomato and basil or a ragu sauce for pasta and gnocchi are all delicious with gnocchi. A plate of these pesto gnocchi followed by strawberry crostata or baked peaches makes a perfect Italian meal.
More recipes you will love
Cavatelli
Ricotta Cavatelli
Calabrese Pizza
Ligurian Focaccia
Bagna Cauda
Made this recipe?
Let me know if you liked it by leaving a ★★★★★ star rating and a comment below. Please share a photo of your creation by tagging me on Instagram @marcellina.in.cucina!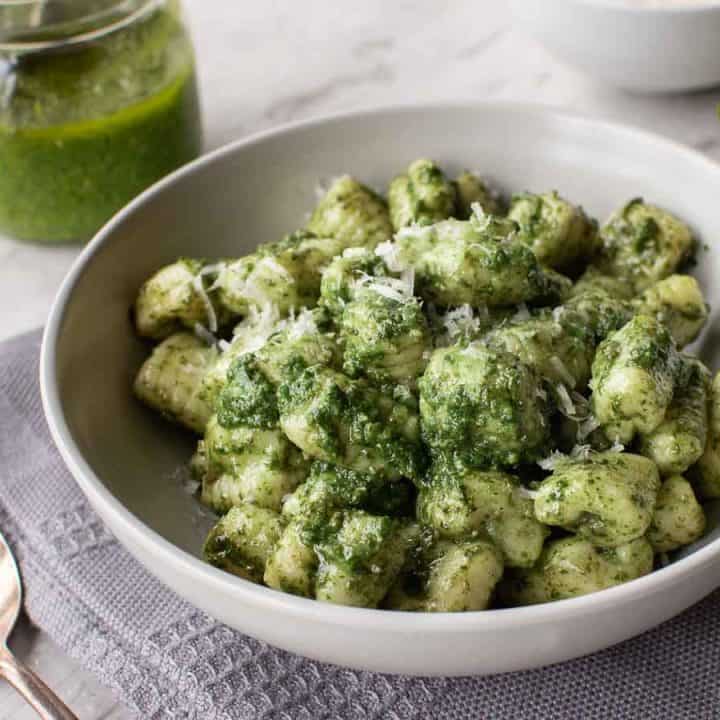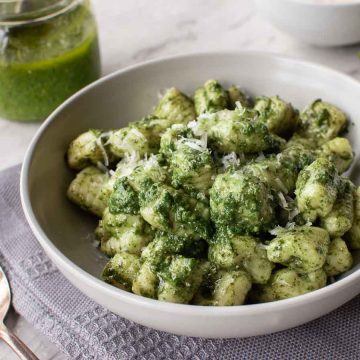 Pesto Gnocchi Recipe
These Pesto Gnocchi are a wonderful comfort food that is simply bursting with flavor. It combines homemade gnocchi with tasty pesto to create a dish everyone will love!
Print
Pin
Rate
Ingredients
2.2

pounds

(2 pounds 3 ounces/1kg) potatoes

2

cups

(250g) all purpose plain flour

1

egg

beaten

¾

cup

basil pesto

homemade or store bought

salt

grated parmesan for serving
Instructions
How to make gnocchi dough.
Place unpeeled potatoes in a large saucepan, cover with water and add a large spoonful of salt. Bring to the boil.

Boil for 20-30 minutes or until potatoes can be easily piece with a knife.

Once potatoes are tender, drain and allow to cool a little until you can manage to handle them. They need to be quite warm.

Peel the potatoes and while still hot pass them through a potato ricer or vegetable mouli onto the work surface.

Spread out so that the steam evaporates. Potato needs to cool so that the egg doesn't cook and the flour and potato don't become gummy. Sprinkle over most of the flour, a pinch of salt and add the egg. With your fingers or a fork stir lightly to combine

Gently and gradually press the mixture together. It is important to not over knead. The dough should be light, not gooey or gummy which is a sign of over kneading and will result in heavy gnocchi.

Form the dough into a ball.
To shape the gnocchi
Cut small portion of dough and roll into a long rope about the thickness of your thumb.

Cut into 1 inch/2.5cm lengths.

Take each nugget of dough and using your index and middle finger, press the dough onto the tines of the fork ( or a gnocchi board which can be purchased in specialty shops) and roll. Making a concave indentation on one side and ridges on the other side.

Place gnocchi on a baking tray that has been dusted with flour.

An optional idea is to line the tray with baking paper and flour the paper as well. This way when you are ready to cook, you just pick up the ends of the paper and slip all the gnocchi into the boiling water.

Continue making gnocchi until all the dough is used up.
To cook and dress the gnocchi
Bring a large pot of salted water to the boil.

Add gnocchi in batches and gnocchi are ready when they rise to the surface which will be about 3-5 minutes. The water may not return to the boil but if the gnocchi float, they are cooked.

Use a large slotted spoon to lift the gnocchi out. Drain well and place onto a large flat serving plate.

Sprinkle with grated parmesan and place the platter of gnocchi in the middle of the table for everyone to help themselves.
Notes
Choosing potatoes to make gnocchi.
Choose a floury, starchy potato
Don't choose one that is waxy or a "salad" potato.
Look for varieties that are good for mashing, baking or roasting.
Nutritional Information Per Serving
Calories:
847
kcal
|
Carbohydrates:
148
g
|
Protein:
21
g
|
Fat:
19
g
|
Saturated Fat:
4
g
|
Trans Fat:
1
g
|
Cholesterol:
45
mg
|
Sodium:
485
mg
|
Potassium:
2398
mg
|
Fiber:
15
g
|
Sugar:
6
g
|
Vitamin A:
1008
IU
|
Vitamin C:
108
mg
|
Calcium:
156
mg
|
Iron:
8
mg
Nutritional Disclaimer
Nutritional information is an estimate provided by an online nutrition calculator. For accurate results, it is recommended that the nutritional information be calculated based on the ingredients and brands you use.