My sun dried tomato pesto is perfect for adding a serious flavor punch to your dishes - and is quick and easy to make with just 6 basic ingredients.
And you'll have this one whipped up in just 5 minutes!!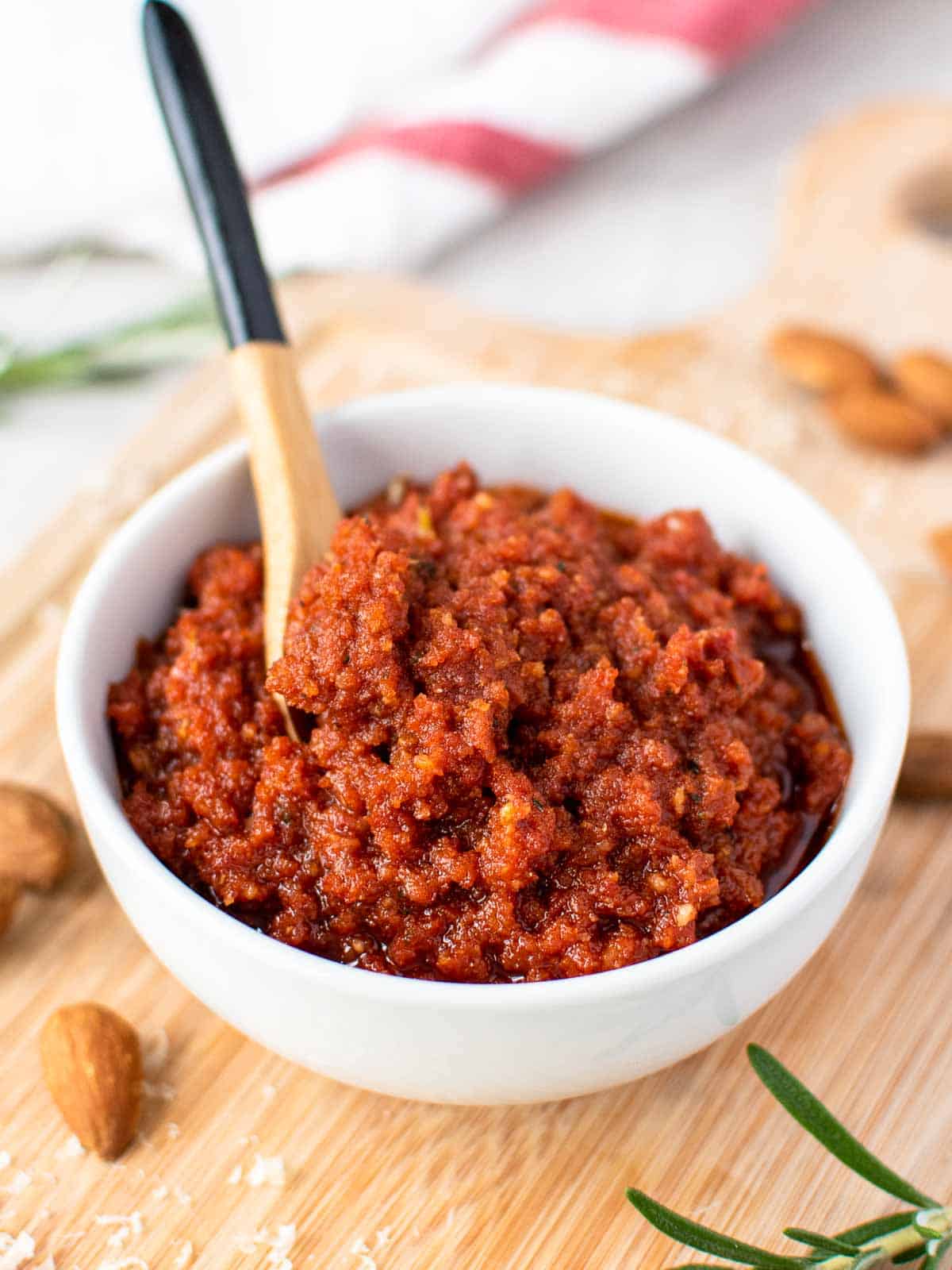 Why You Will Love This Recipe
Sun dried tomato pesto is known by several other names - 'pesto rosso' or 'pesto trapanese' - depending on which part of Italy you're from. This recipe is my version of the traditional red pesto made from fresh tomatoes and almonds. It originates in the picturesque coastal town of Trapani in south-western Sicily; I highly recommend visiting there if ever you have the opportunity.
However, if you can't zip across to Italy today and you're looking for a recipe that remains authentic in flavor yet saves you time, my sun dried tomato pesto recipe is the solution you've been looking for. It's a tasty and versatile little secret that you can whip together very quickly whenever the need arises.
Just like traditional pesto, you can slather it on freshly cut slices of bread, use it as a dip for a fast appetizer or dollop on garlic pizza. Alternatively, stir it through pasta, spread it over pizza bases, or drizzle it over steamed or roasted vegetables as a main meal. Its use is only limited by your imagination!
Family arriving in half an hour? No problem! Hungry children coming home after the game? Too easy! Need a delicious dinner ready in a flash? Done! Friends popping in on their way through town? Welcome! My sun dried tomato pesto recipe has you covered in each of these scenarios and more.
Red pesto just like basil pesto is very easy to make - as you'll see from the four simple steps below - and will keep well in a jar in the refrigerator.
Ingredient Notes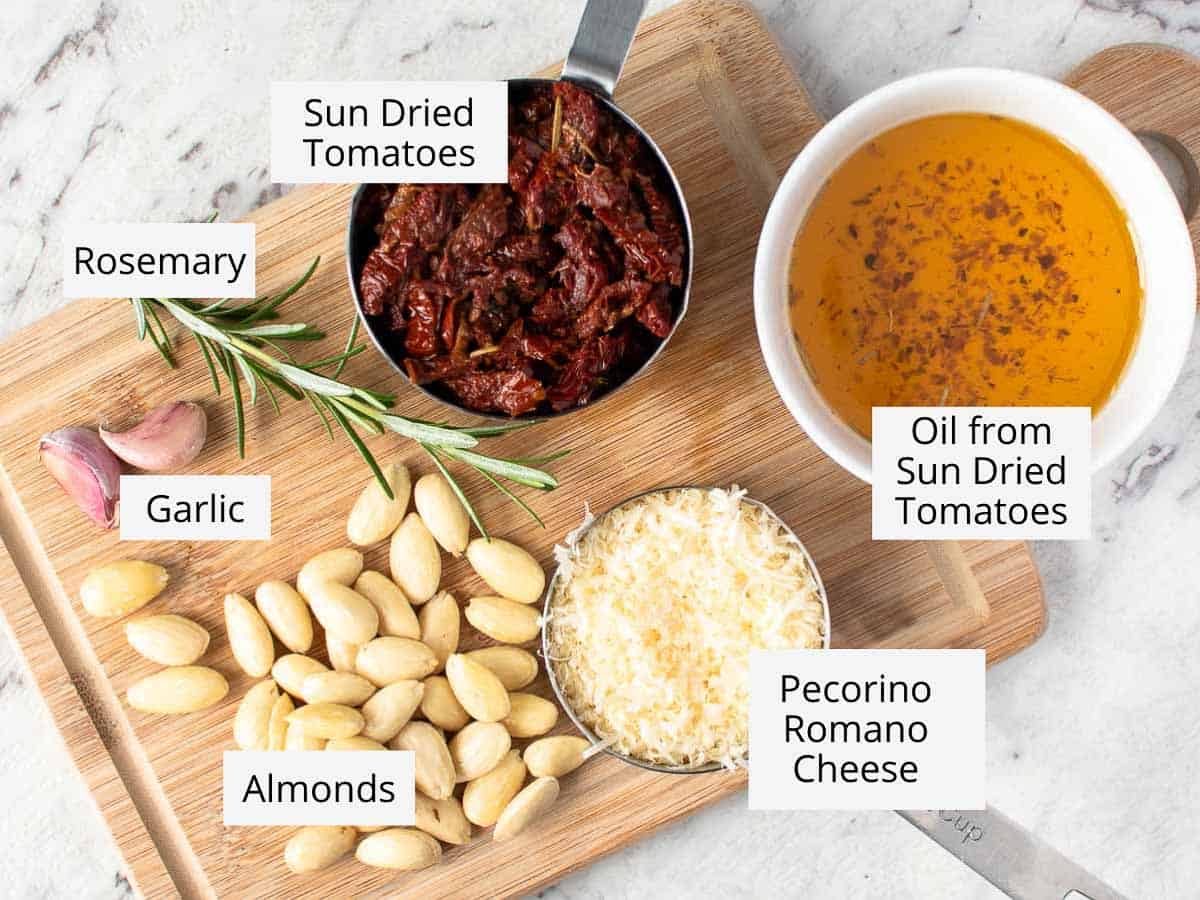 Sun dried tomatoes - I use sun dried tomato strips packed in olive oil purchased in a jar and covered in olive oil. Some sun dried tomatoes are preserved in vegetable or sunflower oil. While these may be OK, my recommendation is to try to find sun dried tomatoes packed in olive oil.
Oil from sun dried tomatoes - Don't waste the olive oil your sun dried tomatoes have been preserved in! The delicious tomatoey taste has already been infusing the olive oil, so we don't want to waste that rich flavor.
Pecorino Romano cheese - This is a hard Italian cheese made from sheep's milk and has a medium-strong and slightly salty flavor, which suits my sun dried tomato pesto recipe very well.
Almonds - Blanched almonds (ie, ones that have been briefly boiled to remove the skin) are best in this recipe.
Garlic - The amount of garlic you use is completely up to you and your preference. I use one clove of garlic, but if you enjoy a stronger taste, feel free to add another clove or two.
Rosemary - If you can, please use fresh rosemary. It's a hardy and easy to grow herb if you want to grow it in your garden or in a pot on your kitchen window sill. Alternatively, you should be able to buy sprigs of fresh rosemary from your grocery store in the fresh produce section.
Variations
The premise for sundried tomato pesto is an easy one: tomatoes, olive oil, nuts, cheese, garlic, rosemary. If you stick to that basic recipe, you can get adventurous by substituting one ingredient for something else. For example:
Swap the fresh rosemary for either fresh basil leaves or fresh thyme.
Exchange the almonds for walnuts (or cashews, or pine nuts - any other nut you like).
Use Parmesan cheese instead of Pecorino Romano.
Add in a few red pepper flakes for some added zing.
Instructions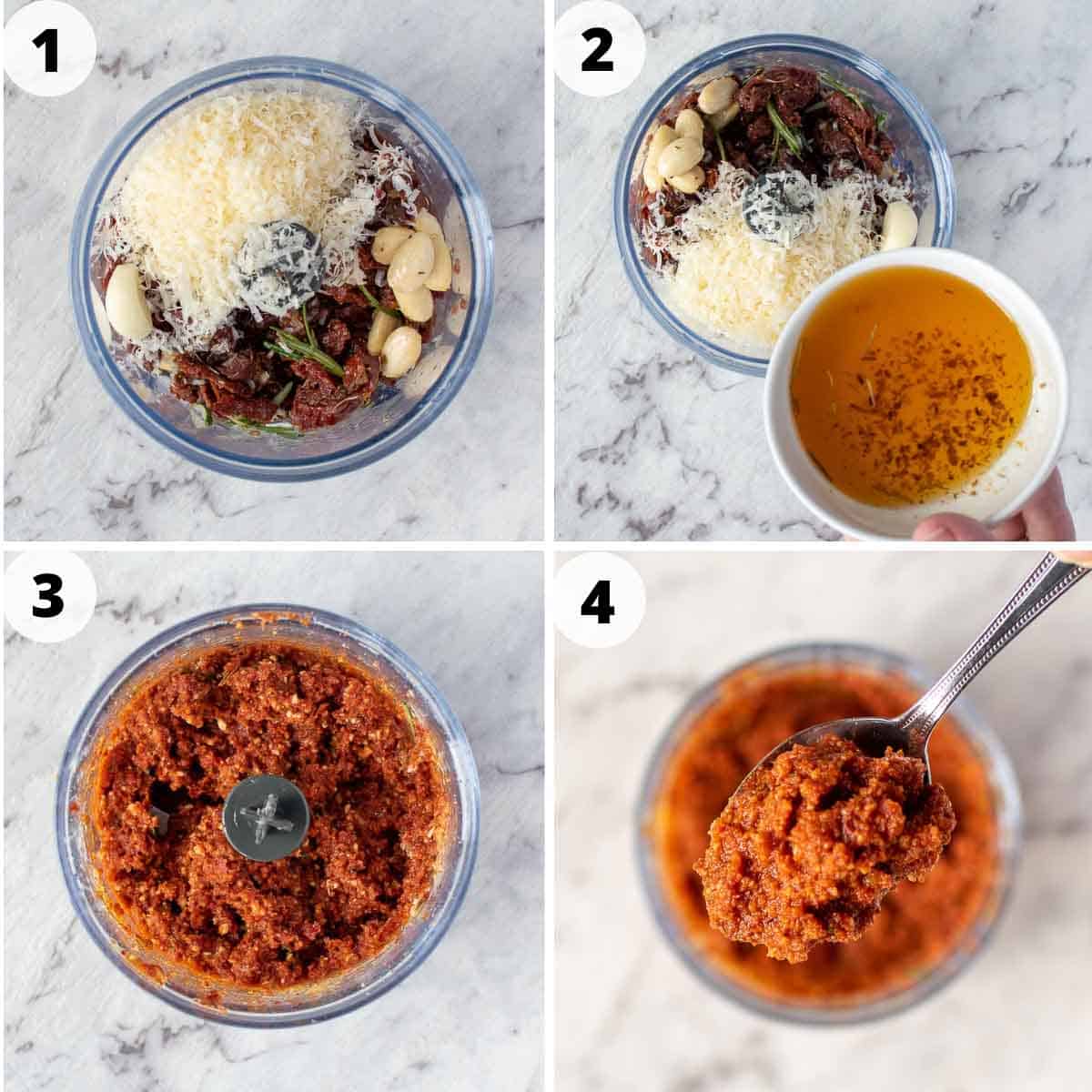 Please note that my instructions below correspond with the numbered instruction photos above. For greater detail, including quantities etc, please see the recipe card.
Before you begin, strain the jar of sun dried tomatoes, separating the tomatoes from the olive oil they were preserved in, and then grating the Pecorino Romano cheese.
Add the sun dried tomatoes, Pecorino Romano, rosemary, garlic clove, and blanched almonds into your food processor and blend well, ensuring all ingredients are chopped finely.
Add the olive oil from the jar a little bit at a time.
Scrape down the sides of the food processor with a spatula, check to see if more oil is needed, then process again.
When the red pesto has reached the consistency of a thick paste, transfer it into a jar so you can keep it in the refrigerator.
Tips For Success and FAQs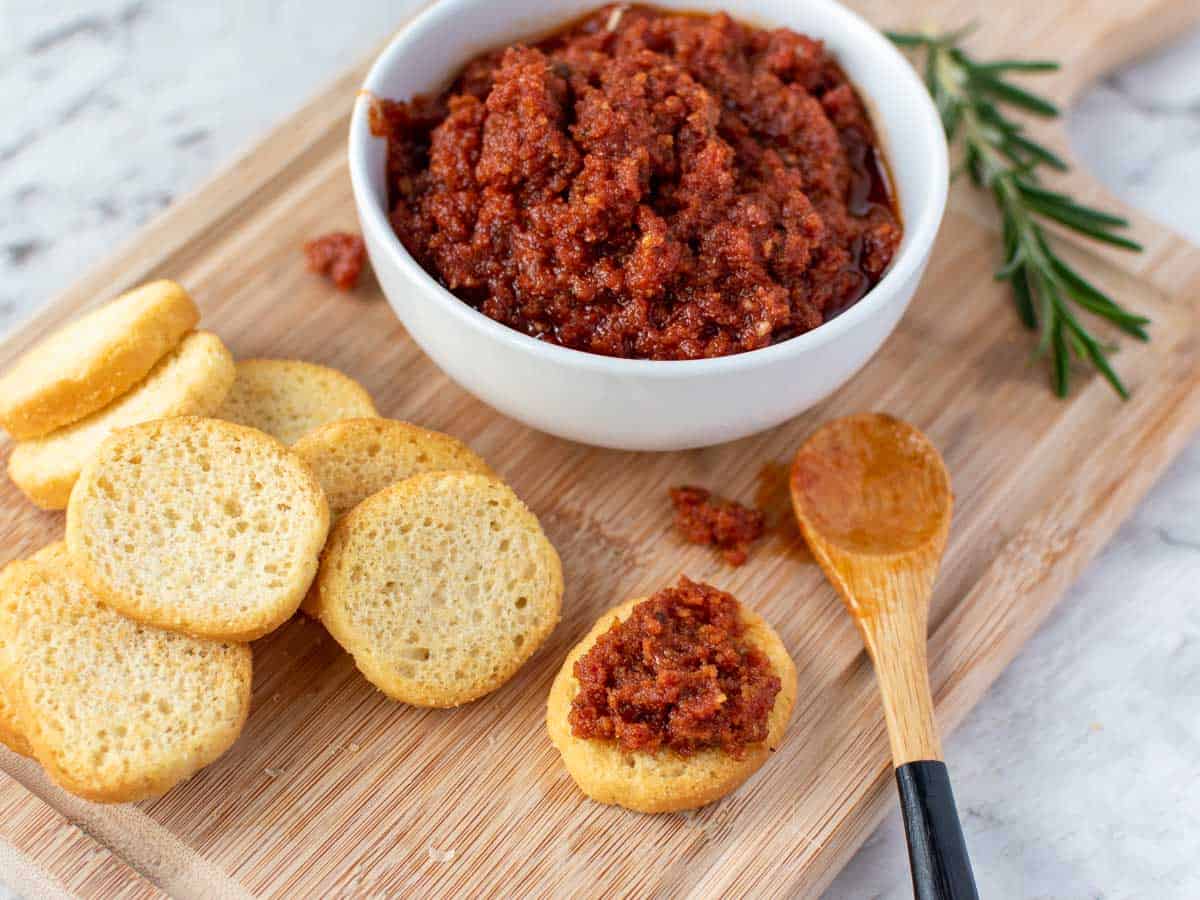 When you're processing the ingredients, please only add a little bit of olive oil at a time. The mixture can very quickly progress from being too dry to too wet!
However, if there isn't enough oil in the jar of sun dried tomatoes, you can make up the difference using extra virgin olive oil.
If you're using red pesto as a pasta sauce, try reserving some of the water in which you cooked the pasta and using that to thin the pesto a little.
Is sun dried tomato pesto healthy?
Yes! Sun dried tomatoes are very good for you, packed with antioxidants, nutrients, Vitamin C, and iron. They also contain healthy fats which are good for your heart health.
Can sun dried tomato pesto be frozen?
Yes. Make sure it is sealed in an airtight container, then it can be frozen safely for up to three months.
Serving Suggestion
Right now you might be wondering, what is used sun dried tomato pesto used for? Sun dried tomato pesto - or pesto alla trapanese - can be used in various dishes according to your needs.
If I'm looking for a quick and easy dinner for my family, I can make a batch of pesto while I'm waiting for a pot of my home made cavatelli to boil. Then I just stir the pesto through the pasta (maybe add a handful of olives?) and finito!
If you have a bit more time, you could try making your own focaccia with focaccia toppings. Focaccia is an Italian flatbread that is the perfect base for pesto or any of your own creative culinary ideas.
Pesto rosso also works really well drizzled or dolloped over roasted vegetables or grilled chicken breast to add a splash of color, some zesty flavor, and extra nutrients. Have you seen my crispy roast potato or roasted zucchini recipes? The green zucchinis with a dollop of red pesto look fabulous served on a platter - very festive!
Finally, I like to use a spoonful of sun dried red pesto stirred through a tub of sour cream, plain yoghurt, or cottage cheese to make a scrumptious dip. It goes perfectly with my homemade crackers for an excellent game day snack!
I'd love to get some feedback about my sun dried tomato pesto recipe. Did you spread it on toast and top it with slices of avocado, use it as a pizza or pasta sauce, or did you try one of my variation suggestions above?
Recipe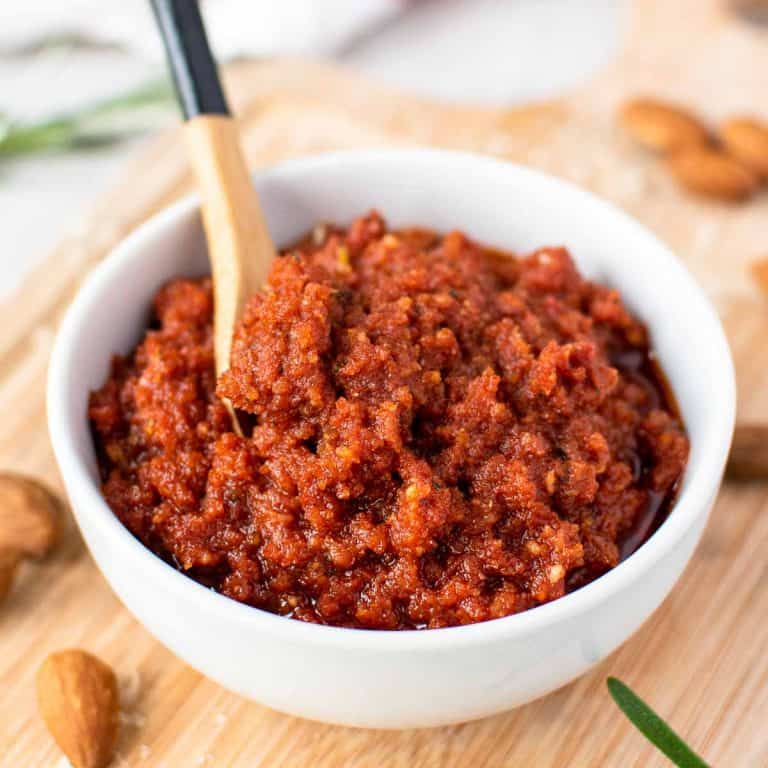 Sun Dried Tomato Pesto Recipe
My sun dried tomato pesto is perfect for adding a serious flavor punch to your dishes - and is quick and easy to make with just 6 basic ingredients.
Print
Pin
Rate
Ingredients
1

cup

sun dried tomatoes in oil

drain oil and reserve

⅓

cup

blanched

skinless almonds

1

garlic clove

or 2 if small

½

cup

finely grated Pecorino Romano cheese

2

teaspoons

fresh

chopped rosemary leaves

½

cup

oil from sun dried tomatoes
Instructions
Place the sun dried tomatoes, almonds, garlic, pecorino romano cheese and rosemary leaves into the bowl of a small food processor.

Add half of the oil.

Process until all ingredients are finely chopped.

Add remaining oil and process until smooth and spreadable. Add a little more oil if needed to correct the consistency.
Notes
Tips for success
Add oil gradually until you achieve the perfect consistency.

If you need more oil, use extra virgin olive oil.

When using as a pasta sauce, add a little of the pasta cooking water to thin the pesto.
Read the post fully for more suggestions for "Variations" and "FAQ's".
Tried this recipe? Give it a star rating and leave a comment below!
Nutritional Estimate Per Serving
Calories:
136
kcal
|
Carbohydrates:
3
g
|
Protein:
3
g
|
Fat:
13
g
|
Saturated Fat:
2
g
|
Polyunsaturated Fat:
2
g
|
Monounsaturated Fat:
9
g
|
Trans Fat:
1
g
|
Cholesterol:
4
mg
|
Sodium:
75
mg
|
Potassium:
171
mg
|
Fiber:
1
g
|
Sugar:
1
g
|
Vitamin A:
136
IU
|
Vitamin C:
9
mg
|
Calcium:
57
mg
|
Iron:
1
mg
Nutritional Disclaimer
Nutritional information is an estimate provided by an online nutrition calculator. For accurate results, it is recommended that the nutritional information be calculated based on the ingredients and brands you use.