Are you looking for a comforting and satisfying meal that is easy to make and packed with flavor? Look no further than a nostalgic and classic bowl of homemade Italian Chicken Pastina Soup!
This beloved soup is made with small pasta and a flavorful chicken broth. It can be enjoyed on its own or with a variety of add-ins to suit your taste.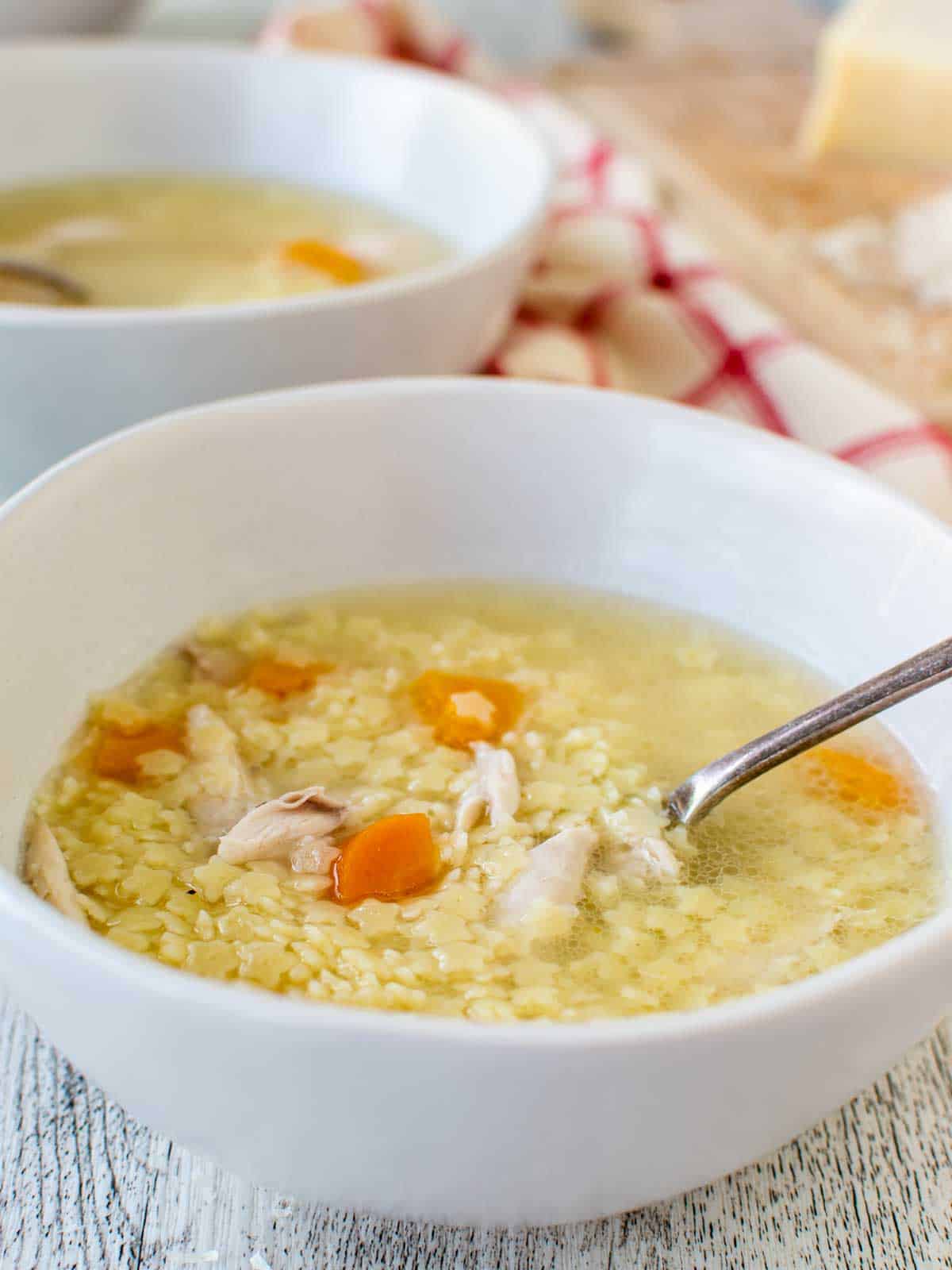 Whether you're looking to warm up on a cold winter day or simply craving a comforting and nourishing meal, Chicken Pastina Soup is the perfect choice. With its comforting flavors and satisfying textures, this classic soup is sure to become a staple in your kitchen as much as pasta al forno, chicken cutlets or chicken spiedini may be.
Just like minestrone soup, Chicken Pastina Soup is an Italian dish that has been around for centuries. Coming from the "cucina povera" or the "peasant cooking", this soup uses basic ingredients and can vary slightly from region to region. The soup is traditionally made with pastina, a type of small pasta, chicken broth, and Parmesan cheese.
My family recipe for this soup begins with homemade chicken broth. This was a regular meal while I was growing up and like many Italians, evokes wonderful childhood memories. I knew this soup as "pastina in brodo" which means little pasta in broth. So pastina soup is what I turn to when I need something warming, comforting and soothing.
The key ingredient in Chicken Pastina Soup is the pastina which means "little pasta" in Italian. It's a type of pasta made from durum wheat or semolina flour, and it comes in several shapes, including stars, coins, and small shells. As well as having it with pastina, we'd have this broth with some homemade pasta like garganelli.
Why you'll love this recipe
It's easy to make: The recipe is simple and easy to follow, requiring only a few basic ingredients and minimal preparation time.
It's a budget-friendly meal: Chicken Pastina Soup is an affordable meal to make and the ingredients are easily found in the supermarket.
It's versatile: I'll show you how to make homemade chicken broth or you can use ready made broth. Switch up the type of pasta you use, use different vegetables or add an egg - make it your soup to suit your tastes!
It's a perfect meal for all ages: The recipe is perfect for a variety of ages and can be enjoyed by the whole family.
So why not gather the ingredients, and let's make a tasty bowl of pasta soup together?
Ingredients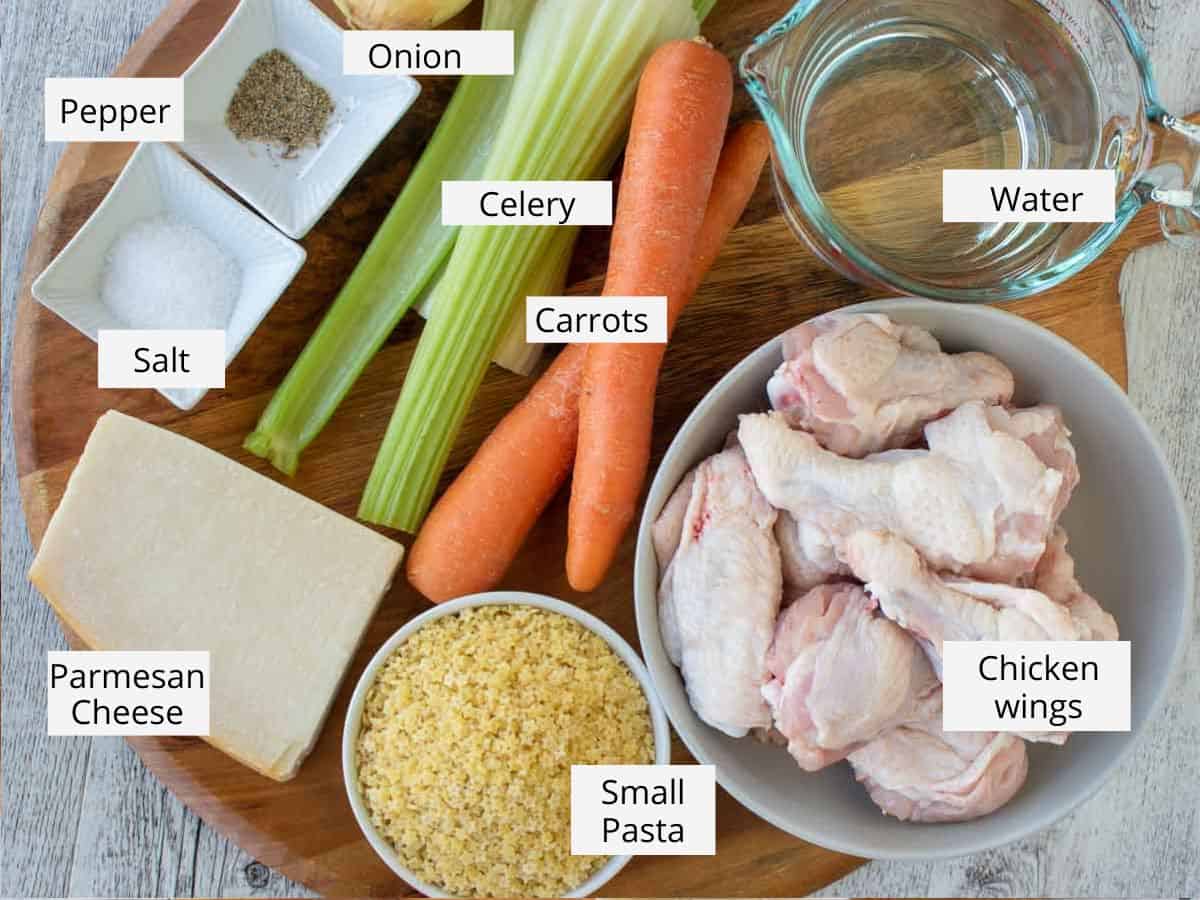 Small pasta or pastina - I use stelline (little stars) because that's what I ate as a child but any little pasta will be fine - acini di pepe, alphabet pasta, anellini are such some names of small pasta varieties. In a pinch, you could use broken up spaghetti after all this is basically Italian chicken noodle soup!
Chicken wings - I like wings to make homemade chicken broth but you can use a whole chicken or a mixture of legs and wings.
Vegetables - the traditional choice is onions, carrots and celery. Tomatoes, leeks or mushrooms can be added for extra flavor and color but that's optional.
Grated Parmesan cheese - good Parmigiano Reggiano cheese also known as Parmesan cheese is an important flavor in Chicken Pastina Soup
Be sure to try my amazing butterfly chicken recipe as well, it is surprisingly easy and delicious. Or my tender Chicken Limone which is a family fav!
Instructions
Be sure to see the recipe card for exact quantities and detailed instructions.
Put the chicken wings, water, carrot, celery, onion and salt in a pot and bring to a boil.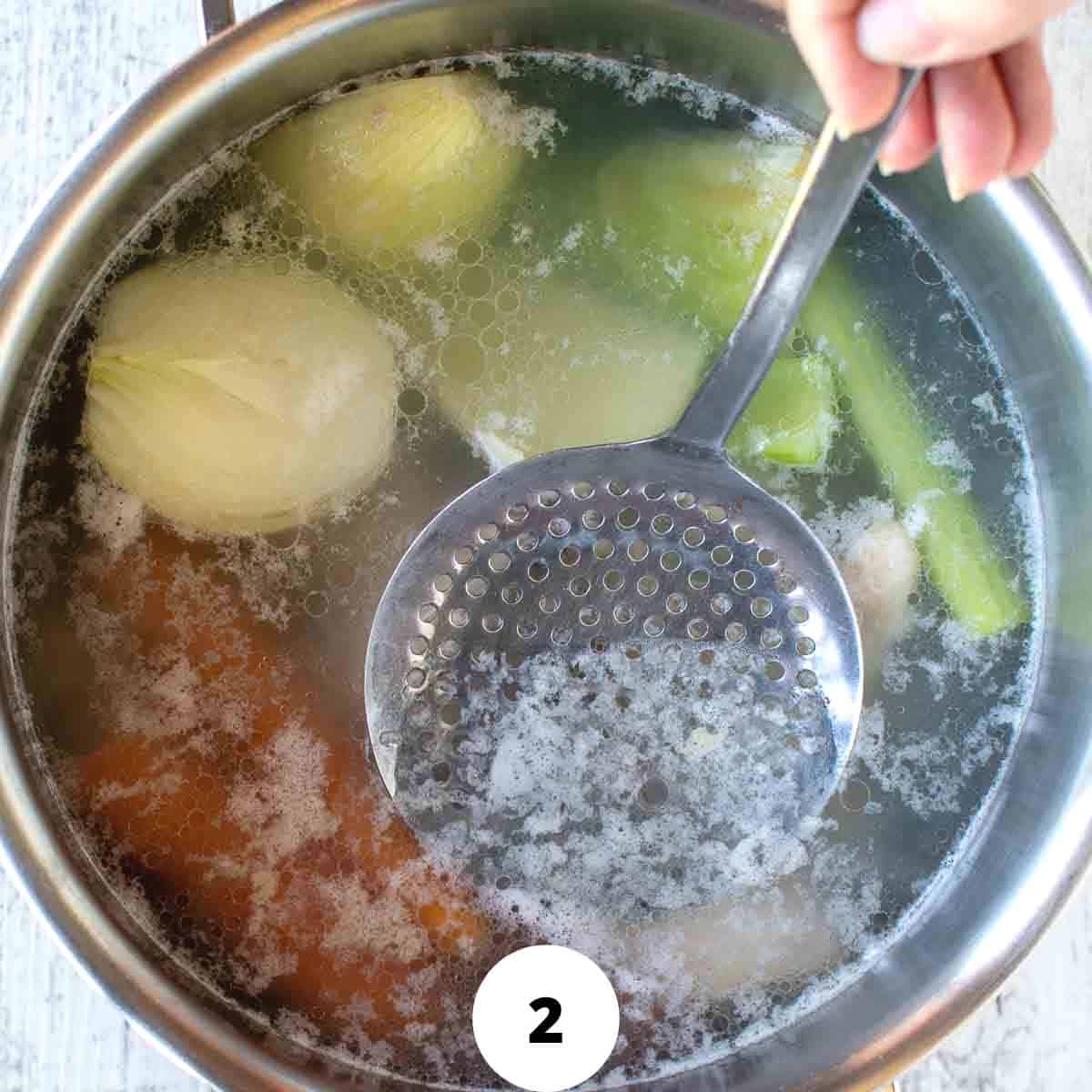 Skim off the foamy scum with a spoon and discard.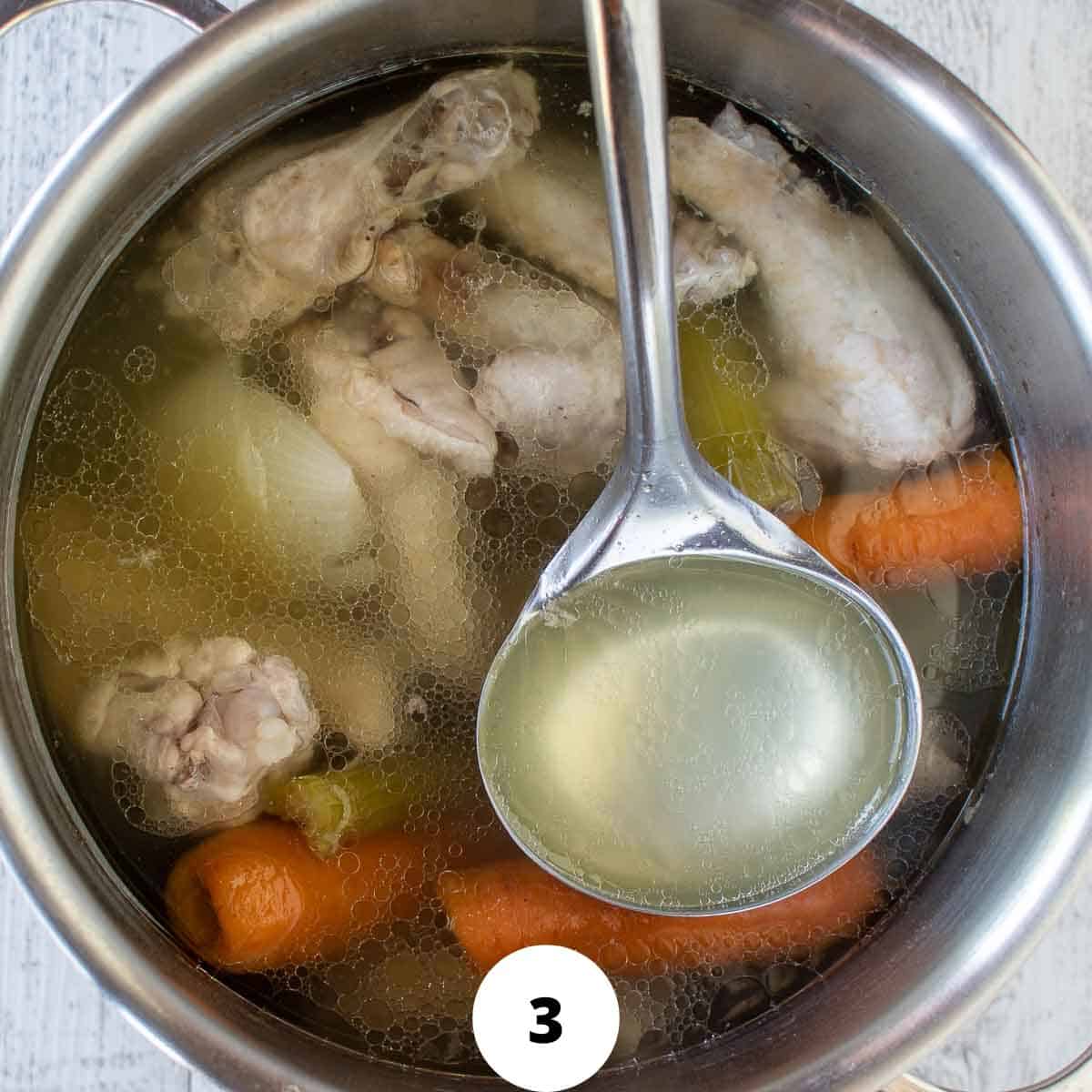 Season with salt and pepper, reduce the heat and put the lid on ajar. Simmer for 1 ½ hours.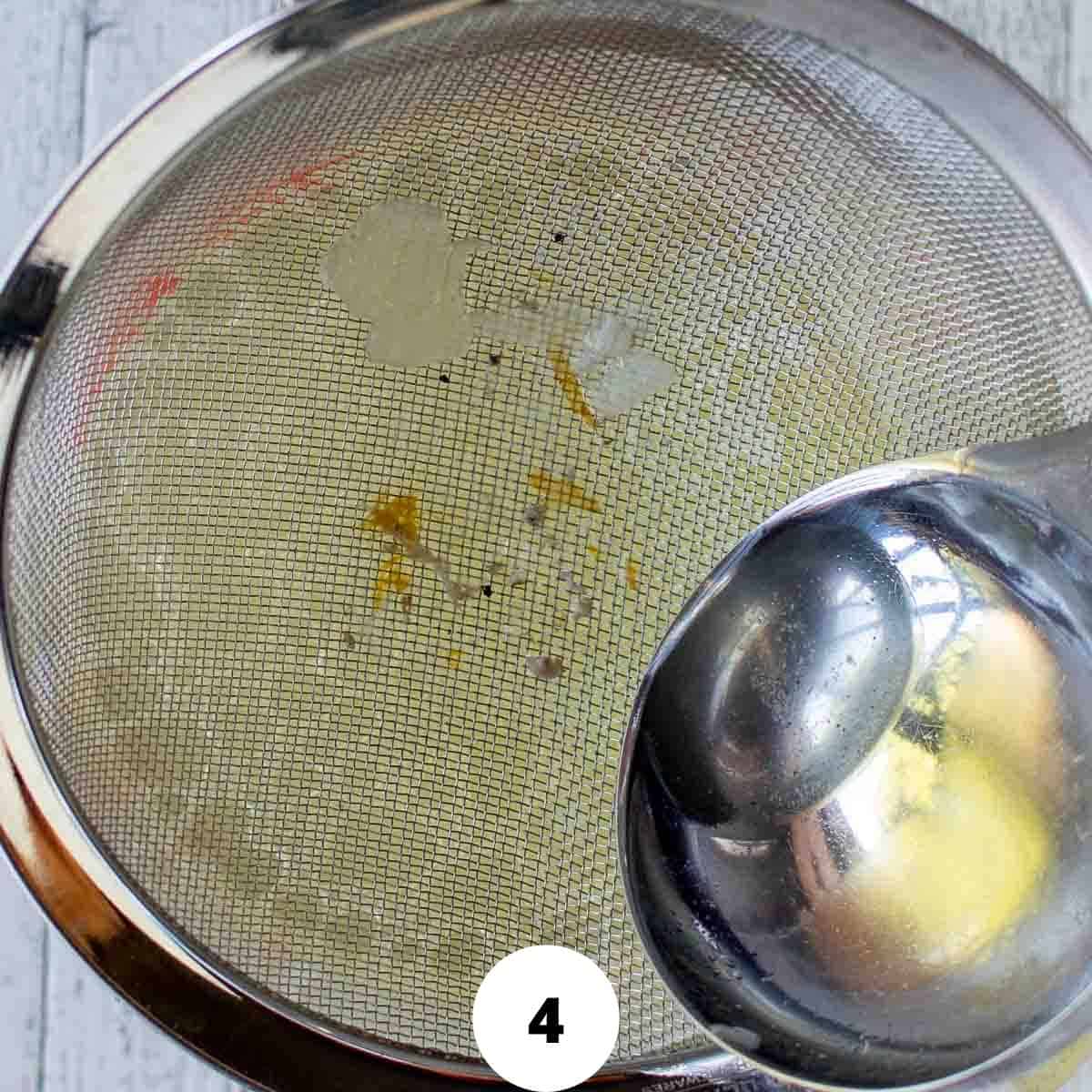 Strain the chicken broth through a sieve.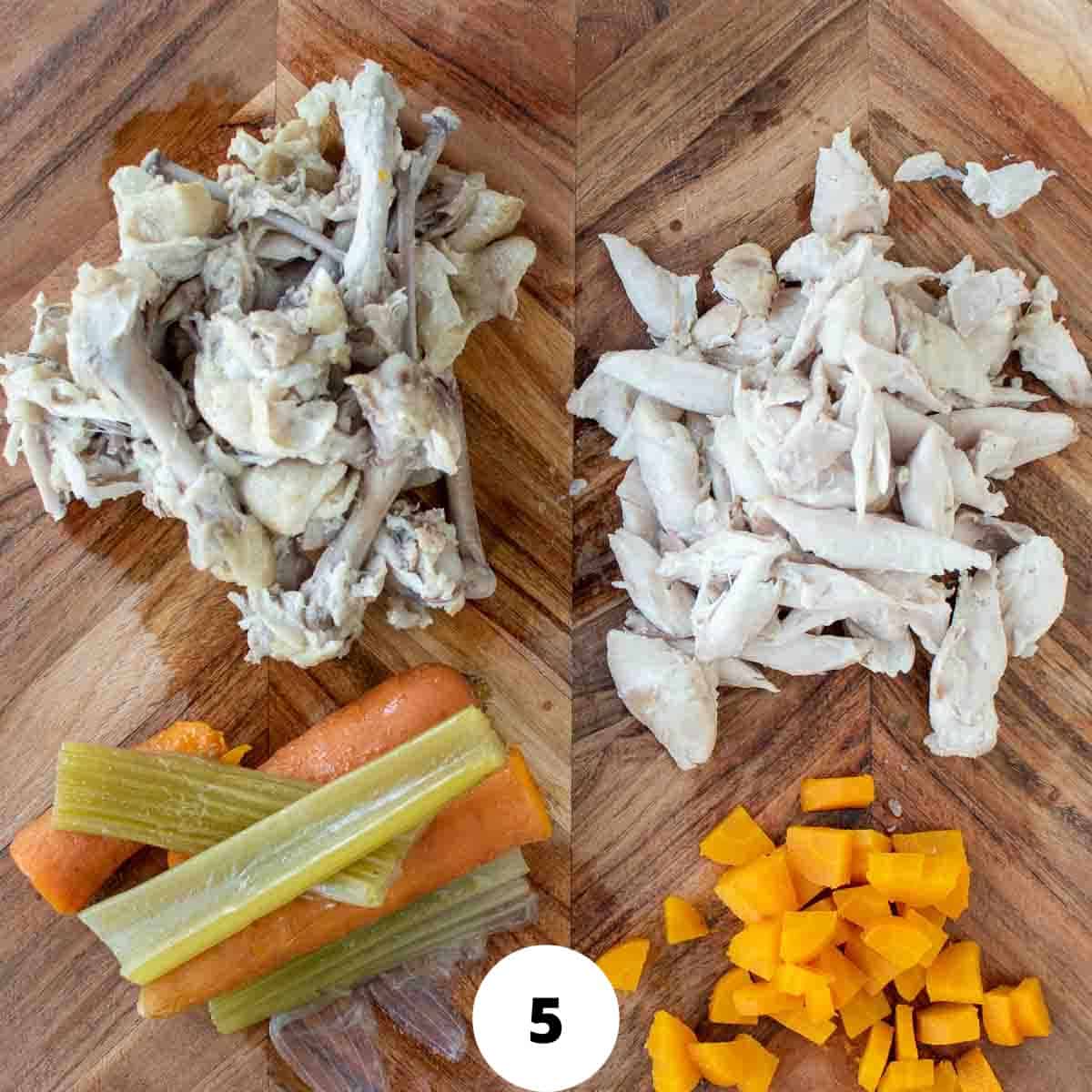 Separate the chicken meat from the bones and skin and dice the carrot.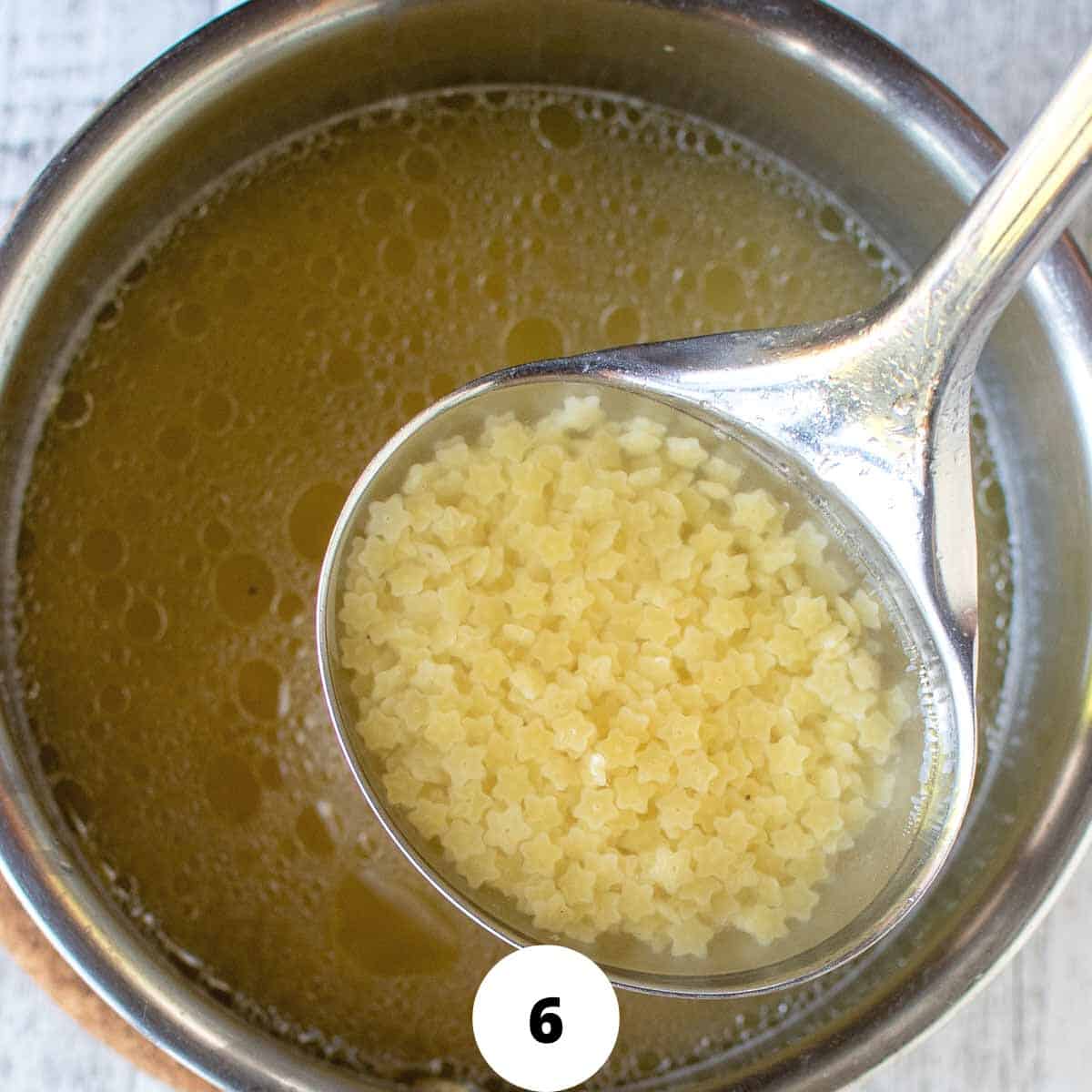 Bring the chicken broth to a boil then cook the pasta in the broth over medium heat.
When pasta is cooked, return shredded chicken meat and carrots to the pastina soup. Add the parmesan and stir until creamy and well combined.
Serve immediately with extra parmesan.
Hint: Bring the chicken broth to a boil before adding the pastina for it to be properly cooked. Adding the pasta before the the broth is boiling will result in mushy pasta.
Substitutions
Chicken broth - Use store bought chicken broth instead of homemade chicken broth. Cook a couple of small skinless chicken breasts in the broth along with finely chopped carrot and small pasta to create a quick and easy version of this chicken soup recipe. Before serving shred the chicken breasts and return to the soup along with a drizzle of extra virgin olive oil.
Gluten free - use gluten free small pasta instead of pasta containing gluten to make this gluten free.
Vegetarian - Use homemade or store bought vegetable broth or stock instead of chicken broth.
Variations
Simple - the most classic pastina soup recipe! Just pastina cooked chicken broth with parmesan cheese added. Use the chicken meat to make sandwiches or a chicken salad.
Spicy - add tiny pinch of chili pepper flakes to spice up this Chicken Pastina Soup.
Pastina soup with egg - When the pastina is cooked, remove the saucepan from the heat and stir in a beaten egg and a spoonful of butter with the parmesan cheese.
Pastina soup with veggies - cook a handful of chopped baby spinach, frozen peas or a finely diced zucchini in the chicken broth just before adding the pastina.
Slow Cooker - put all the ingredients for the chicken broth into your slow cooker and cook on low for 6 hours. I have a large slow cooker so I'll double the ingredients for the chicken broth and make extra to freeze.
If you love this soup, be sure to have a look at this extra quick version of Chicken Vegetable Soup.
Storage
Only make enough Chicken Pastina Soup for what you need and your family will eat because this isn't the type of soup that keeps well. The pasta will absorb the liquid, swell and become too soft. It will be fine to eat the next day but it won't be at it's best.
However leftover homemade chicken broth without the pasta in it, will keep in the fridge for 3-4 days. Freeze the chicken broth in sealed containers for up to 6 months.
The shredded chicken meat will also freeze but not the cooked carrots. Cook a fresh diced carrot in the thawed broth before adding the pastina then the chicken meat.
Top Tips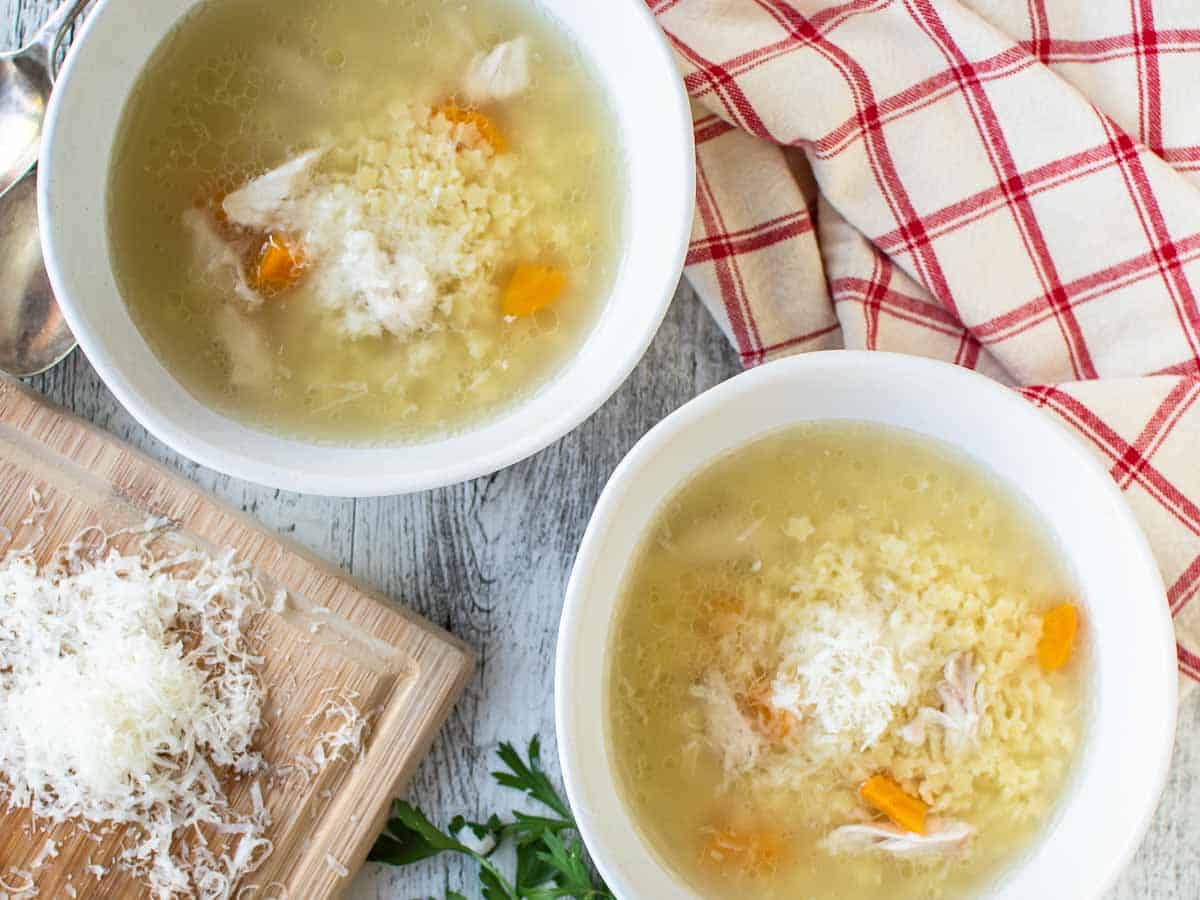 The most important tip when making homemade chicken broth is to remove the foamy scum that rises to the top. Use a large spoon or a slotted spoon, which ever is easier for you, to gather it up and discard it. Keep repeating until no more foam or scum appears on the surface and your broth will be clearer and tastier.
Simmer the homemade chicken broth for at least 1 ½ hours to extract all the flavor from the chicken and vegetables. Be sure to taste the broth to check if it needs more salt. The cause of bland chicken broth is usually the lack of salt.
Separating the chicken meat from the bones and skin can be messy. Use two forks to pull the meat off the bones and skin.
FAQ
What is pastina made of?
Pastina which means "little pasta" in Italian, is just like regular pasta in a small form. Just like pasta it is made of wheat flour or semolina and water. Sometimes egg is included. Pastina is the tiniest form of pasta and is always used in soups.
When to add pastina to soup?
Add pastina to soup just before you're ready to serve. Pastina like all pasta, should only be added when the cooking liquid or broth is boiling. After adding the pastina and stir well so that it doesn't stick to the bottom.
Can you freeze pastina soup?
No, pastina soup doesn't freeze well because the pasta will become mushy and too soft. However the homemade chicken broth freezes perfectly. Make the homemade chicken broth when in advance and store in the freezer then you can have Pastina soup at a moments notice.
What is the difference between chicken stock and chicken broth?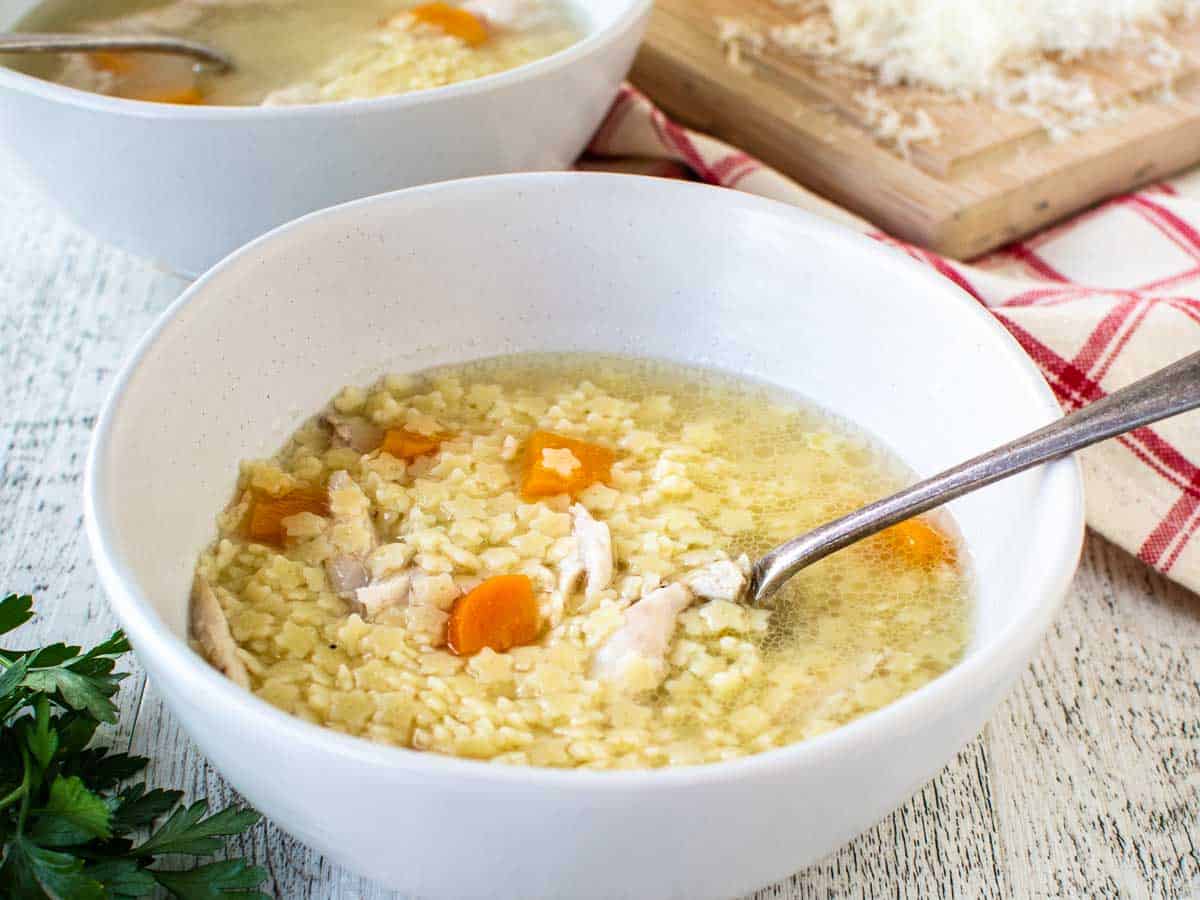 Chicken stock is usually made with bones and is more concentrated. However, chicken broth is made with meat and vegetables and is thinner. Many people use either.
I often make a double batch of this homemade chicken broth to use:-
Made this recipe?
Let me know if you liked it by leaving a ★★★★★ star rating and a review below. Don't forget to subscribe to my newsletter - it's free!
Recipe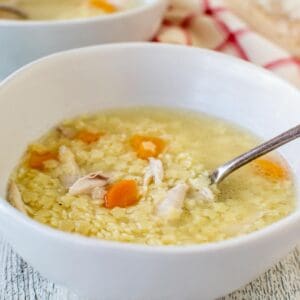 Chicken Pastina Soup Recipe
This traditional Chicken Pastina Soup is made with pastina, any type of small pasta, homemade chicken broth, and Parmesan cheese.
Print
Pin
Rate
Ingredients
Homemade Chicken Broth
2

pounds

(

900

grams) chicken wings

7

cups

water

2

small carrots

or 1 large carrot

1

celery stalk

1

small onion

2

teaspoons

salt

⅛

teaspoon

freshly ground black pepper
To make the Chicken Pastina Soup
1 ⅓

cups

(

200

grams) small pasta

(stelline, acini di pepe, alphabet pasta, anellini)

½

cup

grated Parmesan cheese

(Parmigiano Reggiano cheese)
Instructions
Homemade Chicken Broth
Peel the onion and cut in half. Cut the celery into finger long lengths. Cut off the carrot top. I usually just wash the carrots but you can peel them as well.

In a large saucepan, place the chicken wings, water, carrot, celery and onion. Cover with a lid and bring to a boil.

Uncover when boiling and reduce to medium heat. Use a large spoon or slotted spoon to remove and discard any foam or scum that rises to the surface.

After about 10 minutes there will be no more foam rising to the surface.

When all the foam has been removed, add the salt and pepper and reduce the heat to a gentle simmer. Put the lid on ajar so that the broth will be able to reduce slightly. Simmer for 1 ½ hours.

When ready, strain the chicken broth through a sieve into a large saucepan. Some of the water will have evaporated so you'll have about 6 cups of chicken broth. Taste and adjust salt if necessary.

Using two forks, separate the chicken meat bones and skin. You can also dice the carrot and to add to the soup after the pastina has been cooked. Shred the chicken and set aside with the diced carrots. Discard the remaining chicken bones, skin and vegetables.
To make Chicken Pastina Soup
Place the saucepan of strained broth over high heat and bring to a boil. Add the pastina, reduce the heat and stir well. Continue to simmer rapidly over medium heat until the pasta is just cooked about 4-5 minutes.

Stir in the shredded chicken meat and diced carrots if using.

Add the grated Parmesan cheese and stir until creamy and well combined. Taste and season with salt if necessary.

Serve immediately with extra grated Parmesan cheese.
Notes
Top Tips
Use a large spoon or a slotted spoon, which ever is easier for you, to remove all of the foamy scum from the surface of the broth as it begins to boil.
Taste to check the chicken broth for salt then check again before serving.
Use two forks to separate the chicken meat from the bones and skin.
For more information and tips, please scroll up to read more.
Tried this recipe? Give it a star rating and leave a comment below!
Nutritional Estimate Per Serving
Calories:
548
kcal
|
Carbohydrates:
49
g
|
Protein:
34
g
|
Fat:
24
g
|
Saturated Fat:
7
g
|
Polyunsaturated Fat:
4
g
|
Monounsaturated Fat:
9
g
|
Trans Fat:
0.2
g
|
Cholesterol:
105
mg
|
Sodium:
1515
mg
|
Potassium:
355
mg
|
Fiber:
3
g
|
Sugar:
5
g
|
Vitamin A:
5389
IU
|
Vitamin C:
5
mg
|
Calcium:
155
mg
|
Iron:
3
mg
Nutritional Disclaimer
Nutritional information is an estimate provided by an online nutrition calculator. For accurate results, it is recommended that the nutritional information be calculated based on the ingredients and brands you use.
This updated and improved recipe was first published on January 30, 2019.
Food safety
We sometimes take for a granted that we have years (or decades) of cooking experience, that the average visitor may not. Add to, or remove from, the list below with health and safety tips.
Cook to a minimum temperature of 165 °F (74 °C)
Do not use the same utensils on cooked food, that previously touched raw meat
Wash hands after touching raw meat
Don't leave food sitting out at room temperature for extended periods
Never leave cooking food unattended
Use oils with high smoking point to avoid harmful compounds
Always have good ventilation when using a gas stove