Tagliatelle alla Bolognese is a hearty, satisfying dish that everyone adores! 
A slow cooked, bolognese sauce of beef, pork and pancetta with perfectly cooked pasta is the ideal comfort food.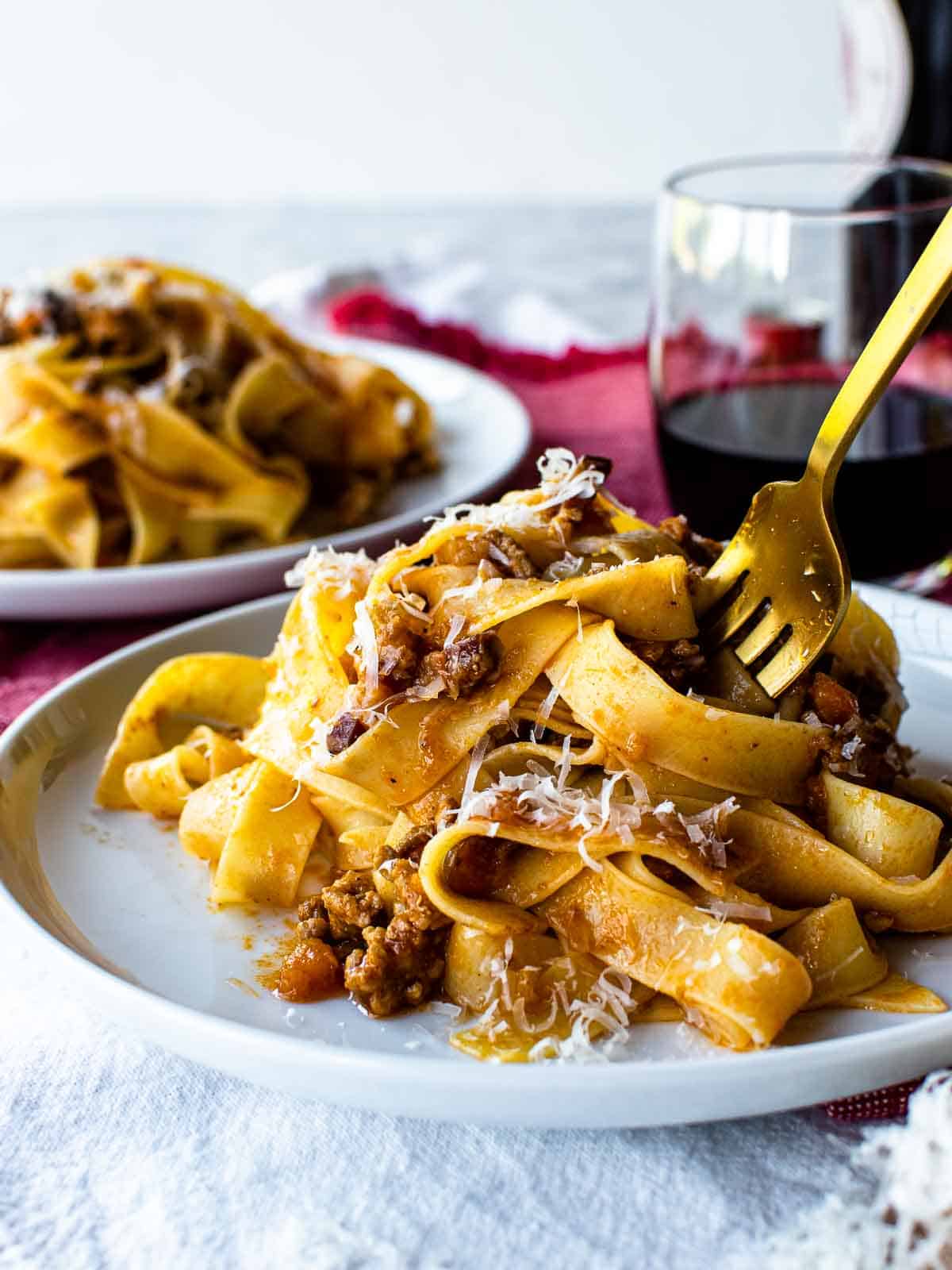 Why you will love this recipe!
Tagliatelle alla Bolognese, is truly one the most delicious plates of food you'll ever eat. But it's not as complicated as you might think. This bolognese recipe just needs time and patience to achieve rich perfection!
Bolognese sauce is well known worldwide and there are many variations. Actually in Italy, you'll find recipes differ from family to family, village to village.
But the basics are always the same. It begins with finely chopped onion, carrot and celery sauteed in olive oil and butter. This is called a soffritto and becomes an aromatic base for the sauce. Then meat is added, browned and the pan is deglazed with wine. Finally the stock and tomato is stirred in and the ragu alla bolognese is simmered long and slow. Sometimes milk is added.
The result is a thick and very flavorsome meat sauce ready to be stirred through well cooked pasta. However, in Italy, it's never served with spaghetti but instead with tagliatelle. Tagliatelle are long, flat ribbons of pasta about ¼ inch (6mm) wide and hold the sauce much better than round spaghetti.
I won't lie to you, Tagliatelle alla Bolognese is not a quick meal to prepare but it is well worth it! While not traditional, my family loves a big plate of this pasta served with a side of Focaccia Genovese. It's our fav weekend meal!
For complete ingredient quantities and full instructions, please scroll to the printable recipe card bottom of the page.
Ingredients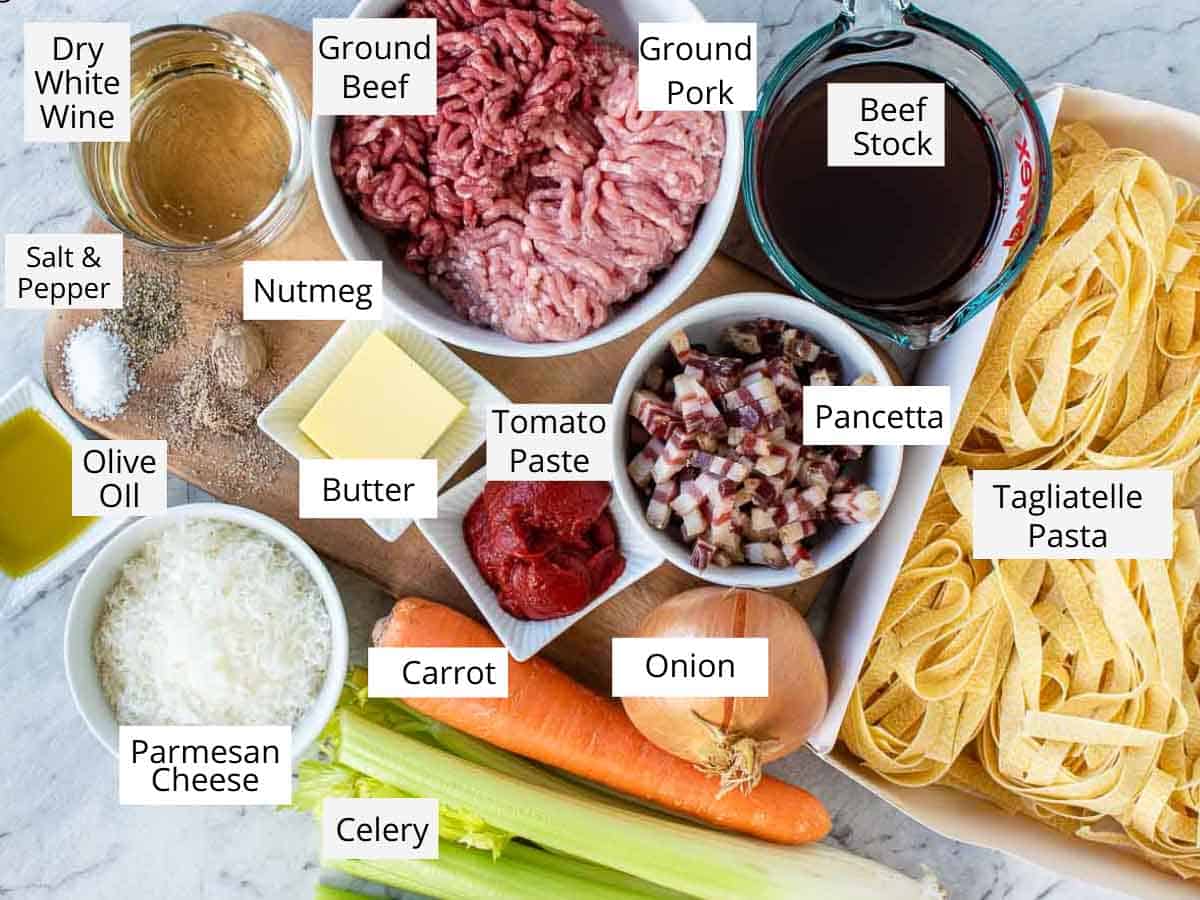 All of these ingredients provide flavor and are important in this recipe however little the quantity is. The combination of these ingredients are what makes tagliatelle alla Bolognese one of the most loved recipes ever.
Tagliatelle - Obviously good tagliatelle is the key to success for this Tagliatelle alla Bolognese. For best results, use a good quality egg pasta or fresh tagliatelle you've made.
Extra virgin olive oil - My choice for this bolognese sauce is extra virgin olive oil but if you prefer use regular olive oil. Other oils such as vegetable oil or canola oil really don't work in this recipe. Olive oil provides the best flavor.
Butter - Salted or unsalted is fine here. You can adjust the seasoning at the end if needed.
Onion - Just a small onion or half of a large onion is plenty. Onion is part of the "Holy Trinity" on the Italian soffritto which begins so many dishes.
Carrot - A medium size carrot is perfect for this sauce and is the second ingredient in the soffritto.
Celery - Celery stalks are aromatic and add depth of flavor to the bolognese sauce and is the final essential ingredient of the Italian soffritto.
Pancetta - Ask for this at a deli that specializes in Italian food or substitute bacon. Pancetta is an Italian salt-cured meat made from pork belly.  It's usually flavored black pepper, garlic and bay leaves adding a unique, deep flavor to the sauce.
Ground beef (minced beef) - Choose ground beef with a bit of fat in it which will give extra flavor and moisture. Avoid extra lean ground beef.
Ground pork (minced pork) - Always buy the best quality you can afford. Cheaper ground meats have a lot of fat. Ground pork should have approximately 15 % fat.
Dry white wine - You don't need the most expensive wine for this but choose one that is decent. If you don't drink wine, ask at the store for a recommendation. The alcohol is cooked away so there will be none left in the sauce.
Beef stock - Supermarket stock is fine but if you make your own even better. Alternatively use a stock powder made up with water.
Tomato paste - This is a thick concentrated tomato paste which has been cooked down and most of the water evaporated. Don't substitute passata or puree.
Nutmeg - I like to buy whole nutmeg to grate fresh. It's the way you get the freshest ground nutmeg.
Salt - Regular salt is fine for this sauce.
Pepper - I like to use black pepper and grind it fresh but use pre ground if that's what you have.
Parmesan cheese - Please purchase good cheese. Grate it yourself or ask at the deli for a tub of the pre grated Parmesan cheese. Supermarkets do have quite good quality Parmesan cheese but you'll need to be choosy. 
Variations
Part of the ground meat can be substituted with small pieces of beef chuck steak or pork belly. The meat will become very tender after long cooking and break apart into the sauce. Often this is known as ragù alla bolognese.
Substitute ½ cup of whole milk for equal quantities of beef stock. Some Italian like to add milk to their bolognese sauce and say that it mellows out the tomato flavor and tenderize the meat.
Instructions
Before you begin cooking, peel and finely chop the vegetables and chop the pancetta. Then heat a shallow casserole pan or lidded skillet over medium heat.
Add the oil and butter to the pan and when the butter has melted add the vegetables and pancetta. Fry gently until the vegetables have softened and the pancetta until it releases it's fat and is starting to cook. Stir regularly.
With your hands, break up the ground meat and add to the pan. Fry the meat, stirring regularly and breaking any lumps of meat with a wooden spoon. Cook until all the liquid has evaporated.
Add the wine, stir well and allow to evaporate.
Stir in the beef stock, tomato paste, ground nutmeg, salt and pepper and bring up to a simmer.
Cover the pan with the lid and simmer for 2 hours. Stir and Check regularly that the sauce hasn't dried out or is sticking to the bottom of the pan.
Towards the end of the cooking time for the sauce, bring a large pot of water to the boil. Salt the water and cooking tagliatelle according to package instructions or 1-3 minutes for fresh homemade pasta. When cooked, drain (reserving a cupful of the cooking water) and add to the sauce. Mix together gently but thoroughly, adding a little of the cooking water if the sauce is too thick.
A little grated Parmesan cheese can be stirred through before serving and serving with extra grated Parmesan cheese.
Tips for success and FAQ's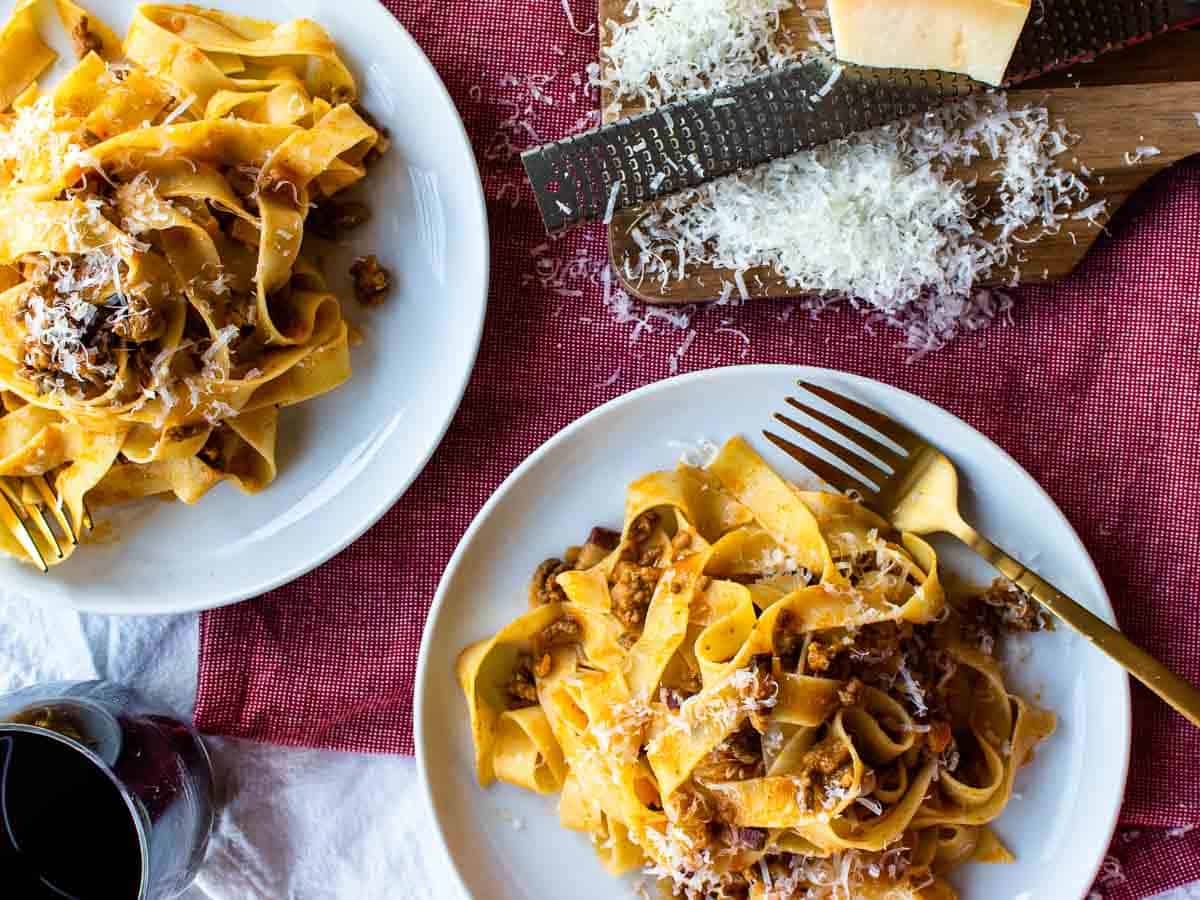 To start with, choose the right equipment. Use a shallow, wide casserole pan or large skillet with a lid. This will help the moisture evaporate and the sauce cook correctly.
Next, it's important to chop the vegetables finely. They'll cook down into the sauce and barely be noticeable.
Break up the ground meat with your fingers so that it crumbles into the pan. Then use a wooden spoon to break up any remaining lumps. Be sure to fry the meat until the moisture has completely evaporated.
Then add the wine and allow the liquid and alcohol to evaporate as well. After that, add the remaining sauce ingredients and simmer for 2 hours with the lid on.
Finally, cook tagliatelle in boiling, salted water until just cooked and still has a bit of bite. This is known as "al dente".
What does tagliatelle alla Bolognese mean?
This means tagliatelle served with a traditional Italian, meat pasta sauce. Bolognese sauce originated in Bologna which is the capital of the region of Emilia Romagna, Italy.
How do you pronounce tagliatelle alla bolognese?
Tahl-yah-tell-eh ah-

la Boh-loh-​ñeh-zeh. Keep in mind that the "g" in both words are silent. 
Can you freeze tagliatelle alla bolognese?
Tagliatelle alla

bolognese doesn't freeze super successfully. However, the Bolognese sauce freezes very well. I usually make my big batch

Authentic Bolognese Sauce

to freeze for later.
What to serve with Tagliatelle alla Bolognese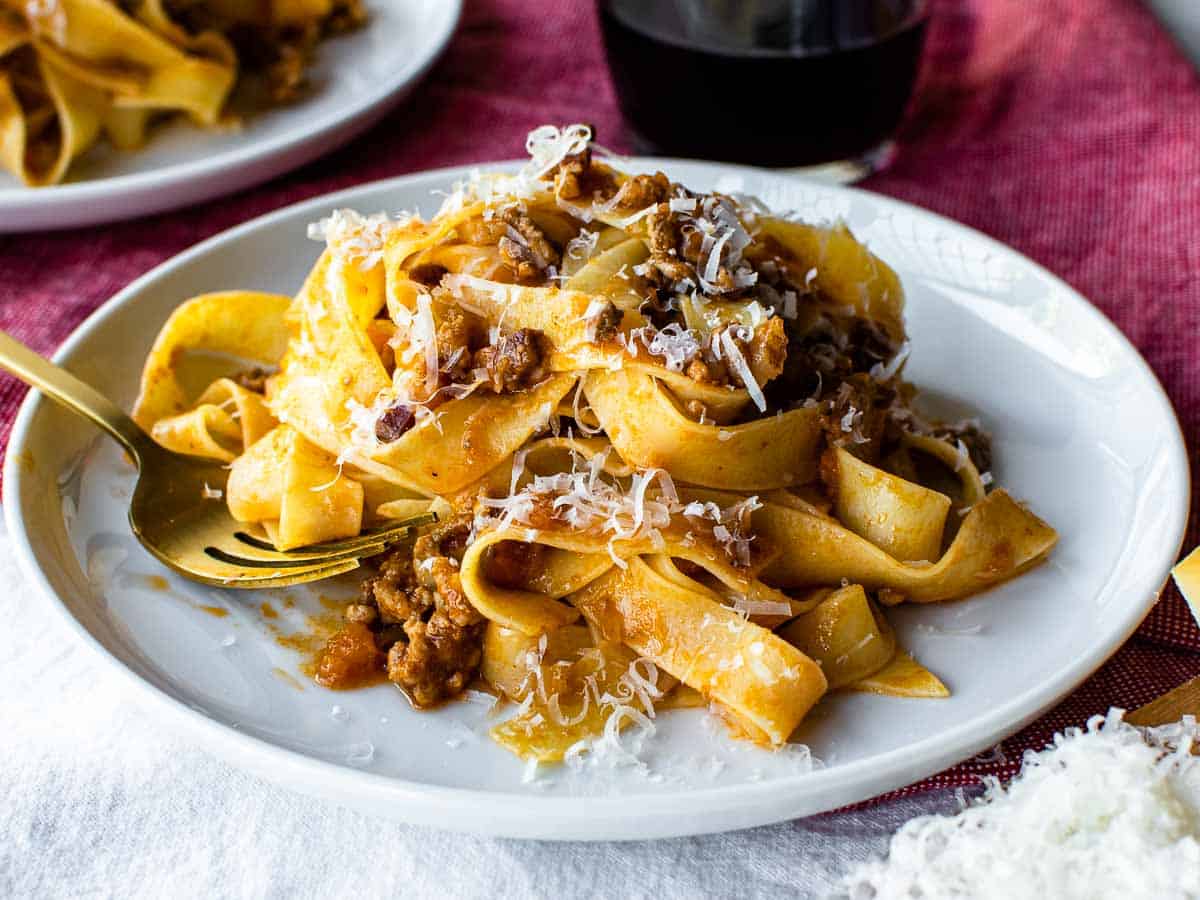 You could simply serve tagliatelle alla Bolognese with just a generous amount of freshly grated Parmesan cheese and a glass of red wine. However, a side of ciabatta garlic bread is always appreciated.
Complete the meal with stewed pears and a slice of Torta della Nonna.
More recipe like this
Garganelli - another egg pasta from the same Italian region as Tagliatelle
San Marzano Tomato Sauce - classic tomato sauce for pasta
Nut Free Pesto - a variation on the popular basil and pine nut pesto
Ricotta Cavatelli - A tender, handmade pasta that would also go well with this sauce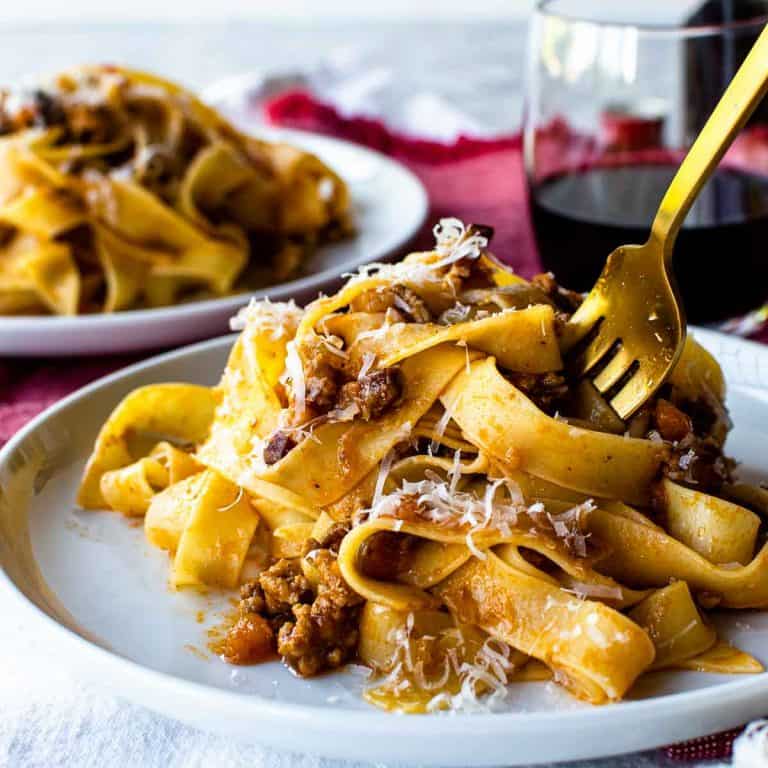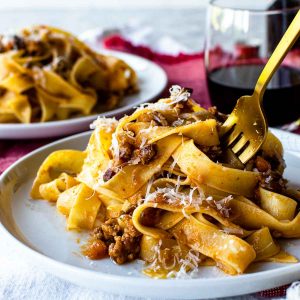 Tagliatelle alla Bolognese Recipe
A slow cooked Bolognese sauce of beef, pork and pancetta with perfectly cooked pasta.
Print
Pin
Rate
Servings:
4
people as a main dish
Ingredients
2

tablespoons

extra virgin olive oil

3

tablespoons

(45 grams) salted butter

1

small onion

1

carrot

1

stick celery

4

ounces

(113 grams) pancetta or bacon

8

ounces

(225 grams) ground beef

I usually use lean ground beef

8

ounces

(225 grams) ground pork

½

cup

dry white wine

1 ½

cups

beef stock

3

tablespoons

tomato paste

½

teaspoon

freshly grated nutmeg

½

teaspoon

salt

¼

teaspoon

black pepper

1

pound

(approx 500 grams)tagliatelle

finely grated Parmesan cheese
Instructions
Prepare the vegetables by first peeling the onion and carrot. One vegetable at a time, chop the onion, carrot and celery into small dice. Run the knife over the chopped vegetables in a rocking motion several times chopping them even more finely.

Slice and chop the pancetta into small strips or dice.

Place a shallow casserole or skillet (that has a lid) over medium low heat. Add the oil, butter, vegetables and pancetta and fry gently, stirring regularly until softened and lightly golden.

With your hands, crumble the ground beef and pork and add to the pan. Break up any other clumps with a wooden spoon and fry until all the liquid has evaporated. When you hear the meat almost crackling in the oil, the bolognese sauce is ready for the next step.

Pour in the dry white wine and allow it to completely evaporate.

Now stir in the beef stock, tomato paste, ground nutmeg, salt and pepper.

Turn the heat down very low, place the lid on and simmer for 2 hours. Check periodically that the temperature is not too high ; it should be just simmering not boiling. If the sauce becomes too dry add a little water. Taste and adjust the salt if necessary.

When the sauce is ready, bring a large pot of water to the boil.

Salt the water then add in the tagliatelle and cook according to the package instructions or 2-3 minutes for fresh homemade pasta.

When done, drain the pasta well, reserving a cupful of the cooking water. Add the pasta to the sauce (if the casserole pan is large enough; alternatively combine both pasta and sauce in the pasta pot). Combine gently but thoroughly, adding a little Parmesan cheese.

Transfer to a serving bowl. Serve with Parmesan cheese.
Notes
Tips for Success
Use a shallow, wide casserole pan or large skillet with a lid.

Chop the vegetables finely. 

Break up the ground meat with your fingers so that it crumbles into the pan. 

Allow the wine to  evaporate. 

Very important - simmer for 2 hours with the lid on.

Cook tagliatelle in boiling, salted water until just cooked and still has a bit of bite. 
Nutritional Information Per Serving
Calories:
1185
kcal
|
Carbohydrates:
89
g
|
Protein:
38
g
|
Fat:
72
g
|
Saturated Fat:
28
g
|
Polyunsaturated Fat:
7
g
|
Monounsaturated Fat:
32
g
|
Trans Fat:
1
g
|
Cholesterol:
226
mg
|
Sodium:
781
mg
|
Potassium:
999
mg
|
Fiber:
5
g
|
Sugar:
6
g
|
Vitamin A:
3073
IU
|
Vitamin C:
6
mg
|
Calcium:
88
mg
|
Iron:
5
mg
Nutritional Disclaimer
Nutritional information is an estimate provided by an online nutrition calculator. For accurate results, it is recommended that the nutritional information be calculated based on the ingredients and brands you use.