Here's how to make homemade pasta easily with my step by step photos. Homemade Egg Pasta is a world away from the store bought stuff.
With this recipe and these step by step photos, you can be a pasta professional!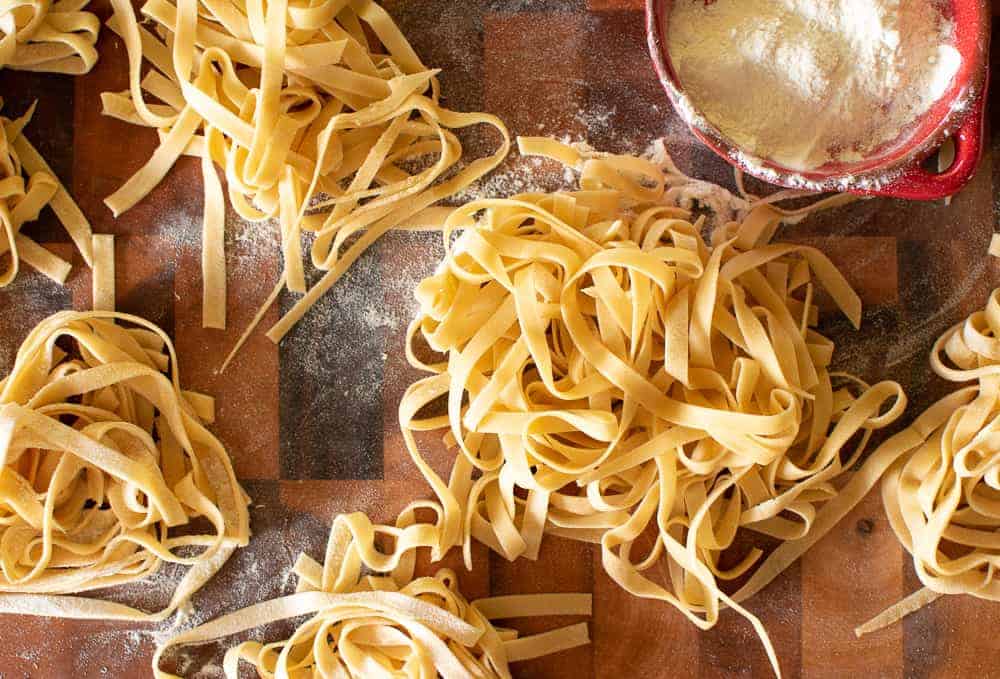 Why I know how to make homemade egg pasta.
Pasta is part of my life. I can't remember being forced to help make fresh pasta. It was just something we did. Growing up watching and helping mum and dad make pasta was a normal part of my life.
After my mum passed away, dad took over and little did I know, he was really good at making pasta. He would use his fingertips to blend the egg slowly with the flour until the egg was no longer runny and then he would scoop in the flour and mix it all together, kneading until smooth.
We used a pasta machine to roll out the pasta and he would tell me to turn my "manine" (little hands) so that my warmer palms faced down and I would catch the pasta with the cooler tops of my hands. Learning by watching, helping and living the recipe is a gift from my Italian family.
Homemade pasta is delicious with nut free pesto, classic pesto or a rich ragu sauce for pasta.
How to make homemade pasta?
You definitely don't need special equipment to make fresh homemade egg pasta.
Firstly you prepare the dough.
You will need a roomy work surface and a fork or even more simply, like my dad use your finger tips.
You can see in the step by step photos how the eggs are slowly blended with the flour.
Maybe you do need a bit of muscle power to knead the dough for almost 10 minutes.
What about a pasta machine to roll the dough?
Use a wooden rolling pin and a light dusting of flour to roll out the dough. In the photo below, I have hand rolled the sheet of pasta. Can you see the little air bubbles? That's an indication of well kneaded dough. Hand rolled pasta has a different quality to smooth machine rolled pasta dough because it is slightly more rustic and seems to allow the sauce to stick just a little better. Ok, I concede, rolling pasta by hand is not going to be quick and easy but it will be delicious.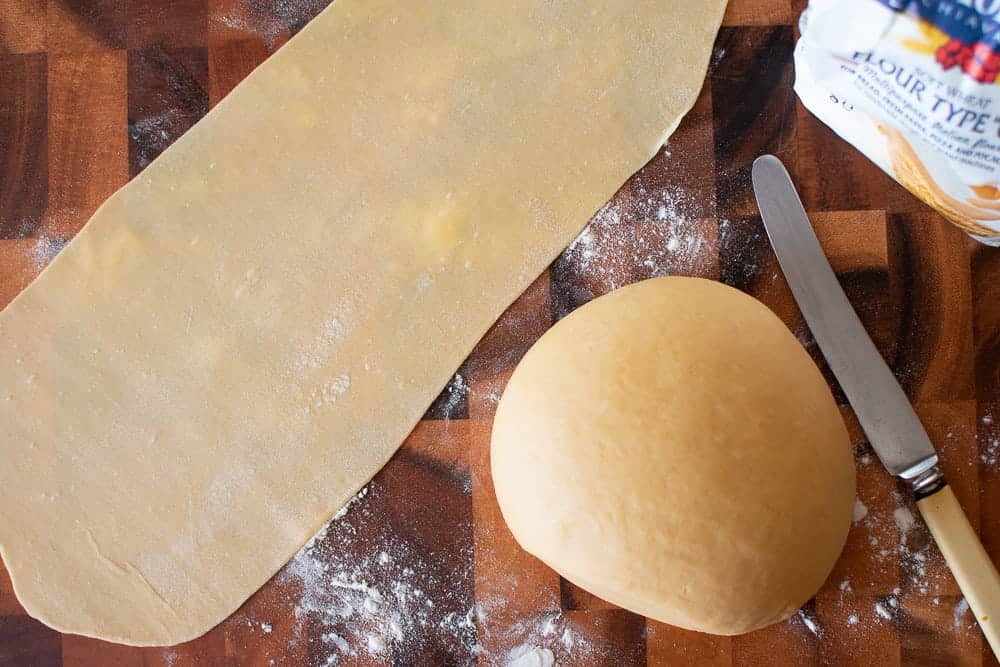 And if you do want to buy a machine – which one?
When I was ready to marry, my mother-in-law stepped in buying my first pasta machine which I still have now. It's an Imperia (you can find this brand online) and it has served me well for many years. I love my pasta machine – it makes pasta so much quicker and easier. If you do decided to buy a machine to roll the pasta, do buy a good quality one. Some are not made well and I find there is a space between the rollers and the end of the machine. This means that the edges of the pasta get caught and it makes rolling frustrating (insert a couple of not so nice words!).
Don't forget my two biggest tips!
The first one is to rest the dough for at least 30 minutes or up to 3 hours. I prefer not to make pasta dough the day before but resting is important to produce a delicate pasta.
Th next most important step when rolling pasta is to "laminate" the dough. By this I mean that you pass the hand flattened dough through the widest setting on the pasta machine and then fold into three as shown in the photo below and pass again through the same widest setting. Continue to do this 6-8 times until the pasta is smooth before reducing the width of the pasta rollers.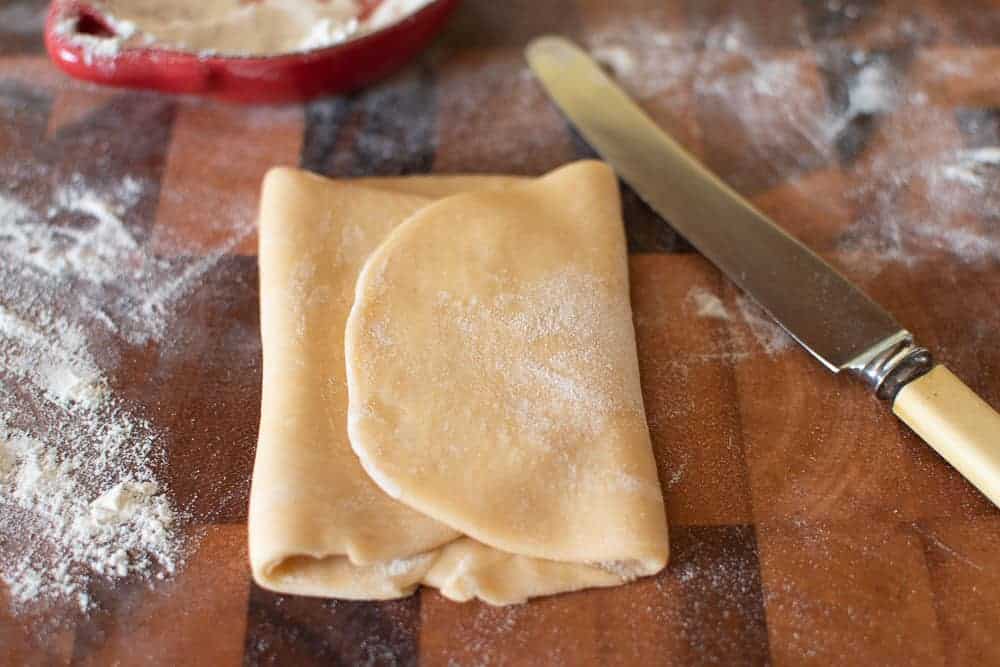 Which flour to use? Only whole eggs or extra added egg yolks?
I know you'd expect me to talk about the flour or eggs verses egg yolks. However while the type of flour may makes a little difference and extra egg yolks add richness, this pasta is the one I grew up on. My family didn't have access to special flour – we just used ordinary plain or all purpose flour. And the eggs from our chickens were rich and yellow. Naturally the better your ingredients the better the result. See the notes section in the recipe for further tips.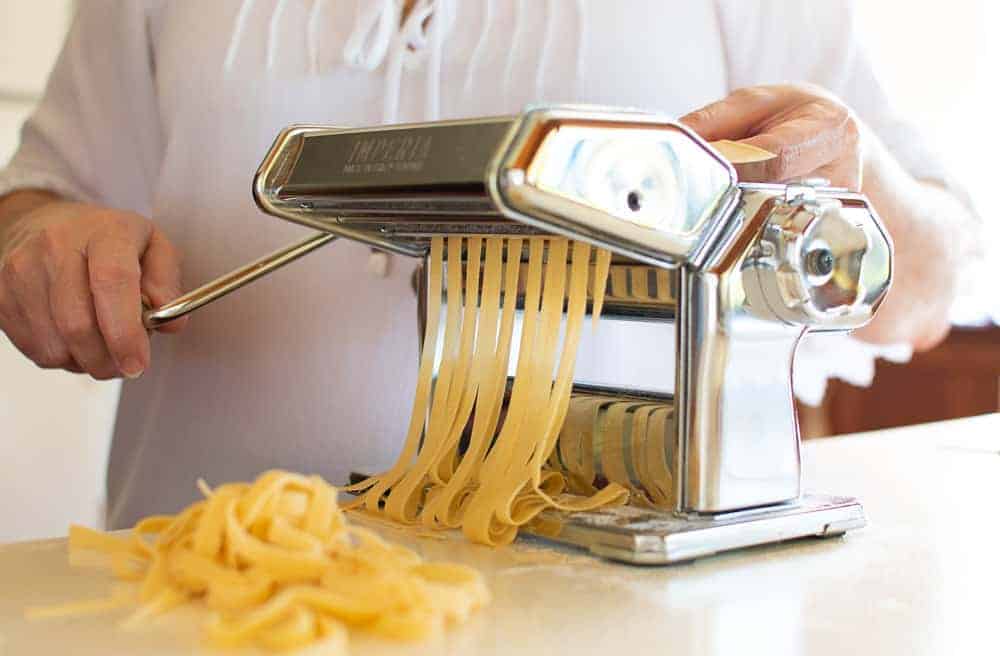 How to make pasta into tagliatelle.
Finally, be sure to partially dry the pasta before cutting by hand with a sharp knife or passing through the cutting attachment on the pasta machine as you can see in the photo above. Dry the pasta on a light floured tablecloth and turn over to help drying. It will take around 15-20 minutes but then again that depends on how dry or humid your environment is.
You can be enjoying fresh pasta made with your own hands tomorrow. It's really not hard and is so delicious you will be wanting to make it again and again. You may even want to try some more adventurous recipe like filled pasta or coloured pasta
Any questions?
Please drop me a line if you have any questions or let me know how you go in the comments below.
More recipes you'll love
Homemade Orecchiette with Broccoli and Bacon
Handmade Garganelli Pasta
Handmade Busiate and my handmade Cavatelli Pasta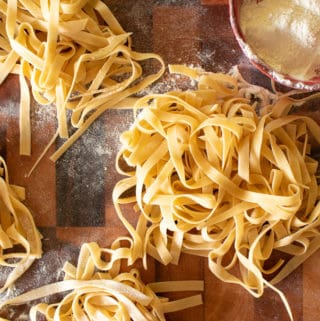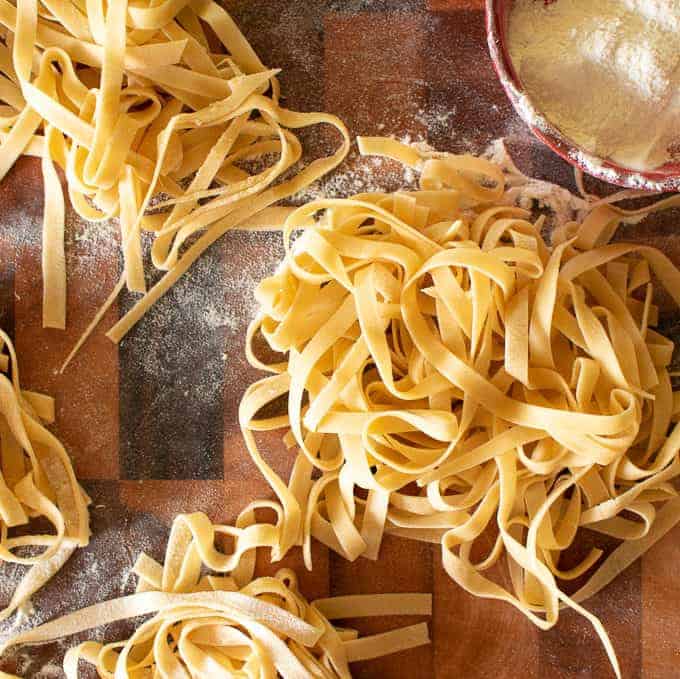 Homemade Egg Pasta
Homemade fresh egg pasta is a world away from the store bought variety. Use my recipe and tips that I learnt "growing up Italian" for foolproof, delicious pasta.
Print
Pin
Rate
Ingredients
5

extra large

eggs

at room temperature

500

grams

flour

see notes
Instructions
Reserve 50 grams of flour. Tip the remaining flour onto work surface and make a well in the middle. Be sure to leave some flour at the bottom of the well.

Crack eggs into the well in the flour

Using a fork (or fingertips) whisk and mix the eggs dragging in a little bit of flour from around the edges.

Keep working with your fork (or fingertips) bringing a little of the flour being careful not to break the edge of the well or the egg will escape. The egg should be almost custardy.

Continue to bring in the flour bit by bit until the egg has enough flour to no longer be runny. At the point you can use both hands (with the help of a dough scraper) to bring in the rest of the flour. It will be a shaggy dough.

With two hands knead and bring the dough together. Add more flour as needed. The dough should not be sticky. If you are rolling by hand do not add too much flour.

Knead the dough for 8-10 minutes. Until it is smooth and you feel the change in the dough. Don't omit this kneading.

Put an upturned bowl over the dough or wrap in plastic wrap and allow to rest for 30 minutes or so.
Hand rolled pasta
Divide the dough into about 8 smaller portions. Take one portion and keep the remaining dough covered.

Lightly flour your work surface and rolling pin. Form the dough into a rough rectangle.


Roll, lightly flouring as necessary into a long thin strip on pasta dough. Stretching and pressing the dough. I like to continue in a long, wide strip. The aim is to have an even thickness. You should be able to see the colour of your hand through the dough.

Set aside on floured tablecloth to dry for about 20 minutes while you roll out the remaining dough. Turn the sheets over to assist drying.
Using a pasta machine to roll
Cut off a small piece of dough and keep the remaining dough covered.

Lightly flour the machine rollers and the work surface. Set the pasta machine rollers at the widest setting.

Press the portion of dough flat into a thick rectangle and guide through the rollers.

Fold into thirds and pass again through the widest setting. Repeat this 6 to 8 times until the dough is smooth. You may need to flour lightly to stop sticking and tearing.

Don't worry if the dough does tear. Just keep folding and passing through the rollers.

Only when the dough is smooth, start to reduce the settings of the rollers. one setting at a time, until you have reach the desired thickness.

Set aside on floured tablecloth to dry for about 20 minutes while you roll out the remaining dough. Turn the sheets over to assist drying.
How to make tagliatelle
When the dough is partially dry but still flexible. roll up into a flat roll and cut into 1cm/3/8inch strips. Separate strips and allow to dry before cooking.

If you have the cutting attachment for the pasta machine, pass the semi dried pasta sheets through to cut into tagliatelle. Allow to dry before cooking.
Cooking the Pasta
Bring to boil a large pot of well salted water. Drop in the fresh pasta, give it a quick stir to make sure all the strands are separated.

Cook for 1 to 3 minutes. Taste to test for doneness.

Drain well in colander. Toss to remove excess liquid. Don't ever rinse the pasta.

Combine with sauce of your choice.
Notes
How to store pasta
Use a little bit of flour or better still, if you have it, fine semolina, to dust the pasta lightly so it doesn't stick together
Spread it out on a tablecloth and let it dry, checking periodically that it's not sticking
It should dry quite quickly (in less than an hour, a lot less if the climate is dry)
Then pack it into airtight containers and store in the freezer
If it's cool and dry, the pasta will keep for a short time at room temperature. 
Extra Tips
Pasta can be made with all purpose (plain) flour but I prefer 00 which is a fine Italian flour perfect for pasta. I also like to use a 50/50 combination of 00 flour and fine semolina flour. But don't let the flour get in your way of making and enjoying your own pasta. My family only every used all purpose (plain) flour.
I never add oil or salt to my dough but whole eggs can be substituted with egg yolks for a richer dough.
Once the pasta dough has rested it will feel softer but should be perfectly fine to roll. That's normal. If you have used my preference of 50/50 combination of 00 flour and fine semolina flour, the dough will be much firmer.
Please never add oil to the cooking water. This just makes the pasta slippery and the sauce won't stick.
Once drained, I like to return the pasta to the cooking pot along with the sauce to be combined well. Then transfer into the serving bowl.
Nutrition
Serving:
0
g
|
Calories:
555
kcal
|
Carbohydrates:
95
g
|
Protein:
21
g
|
Fat:
7
g
|
Saturated Fat:
2
g
|
Cholesterol:
260
mg
|
Sodium:
101
mg
|
Potassium:
230
mg
|
Fiber:
3
g
|
Sugar:
0
g
|
Vitamin A:
380
IU
|
Calcium:
58
mg
|
Iron:
7
mg