This Ragù Pasta Sauce uses my father's secret ingredient that makes all the difference.
Plus long, slow cooking to draw out all the flavours of the different meats, vegetables and seasonings. And the bonus is this is a BIG batch Ragù Pasta Sauce so you've got lots to freeze for later!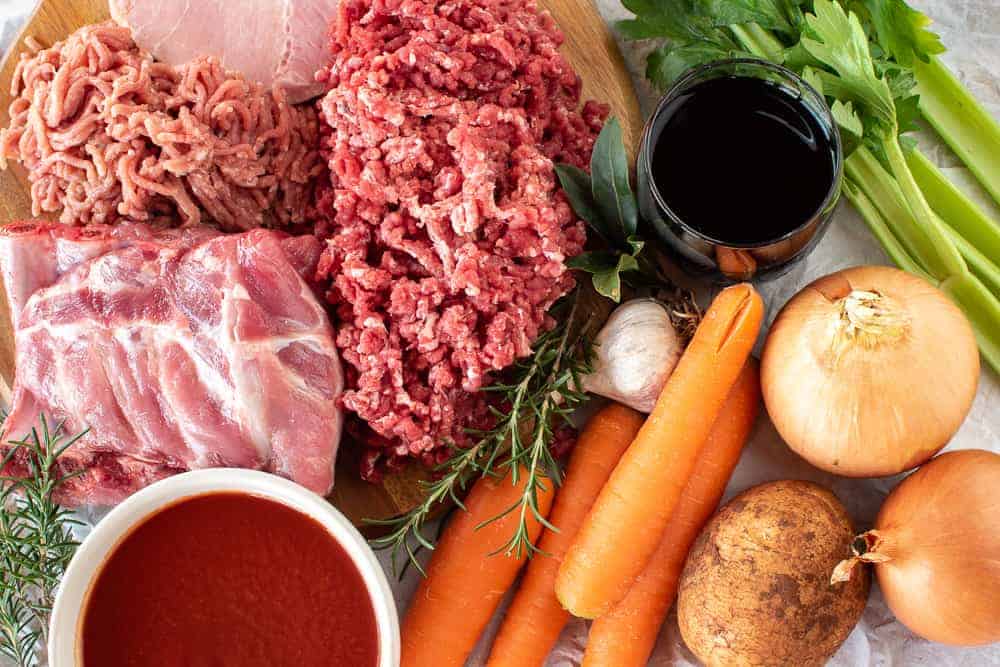 There is always a container of Ragù Pasta Sauce in my freezer.
Every Italian family has their own version of Ragù Pasta Sauce. Often a recipe like this is made early on a Sunday morning and simmers away until lunchtime tempting everyone in the house. This Ragù Pasta Sauce is a family staple in our household. Because it is a BIG batch recipe there will always be a container or three in the freezer ready for a quick meal. This recipe makes 5 litres of Ragù Pasta Sauce which will easily feed 20 or even 25 people. It's a great crowd pleaser as well.
This Ragu is perfect with homemade pasta like tagliatelle, garganelli, cavatelli or busiate. If you have this in the freezer, it's quick to whip up a batch of Italian rice balls (arancini) using this instead of the meat sauce in the recipe.
What is this secret ingredient?
When my niece was quite young she not-so-gently told her mum (my sister) that "maybe you need to be a nonna before you can make good pasta sauce". That's a not-so-subtle hint if I ever saw one! But for a long time I thought she may have been right because I just couldn't get the same taste as my dad's sauce. Until one day my sister made the most delicious pasta sauce (and no, she wasn't a nonna at that stage). She had added the secret ingredient that dad always did and bam! Success!
Ok, ok, I know you are dying to find out the secret ingredient.  Some of you may have spotted it already. It's the potato. Potato is not a typical ingredient in a Ragù Pasta Sauce. However just a small potato makes all the difference and everyone notices if I don't put it in. Dad would say that it reduced the acidity and smooths out the flavour. He always added a potato ("just one, you don't need a lot") and crushed it through the sauce at the end of the cooking time. I don't know what the science is in it but it works to improve the  Ragù Pasta Sauce every time.
So maybe you don't actually have to be a nonna (or a nonno) but we can learn a lot from their ideas and techniques.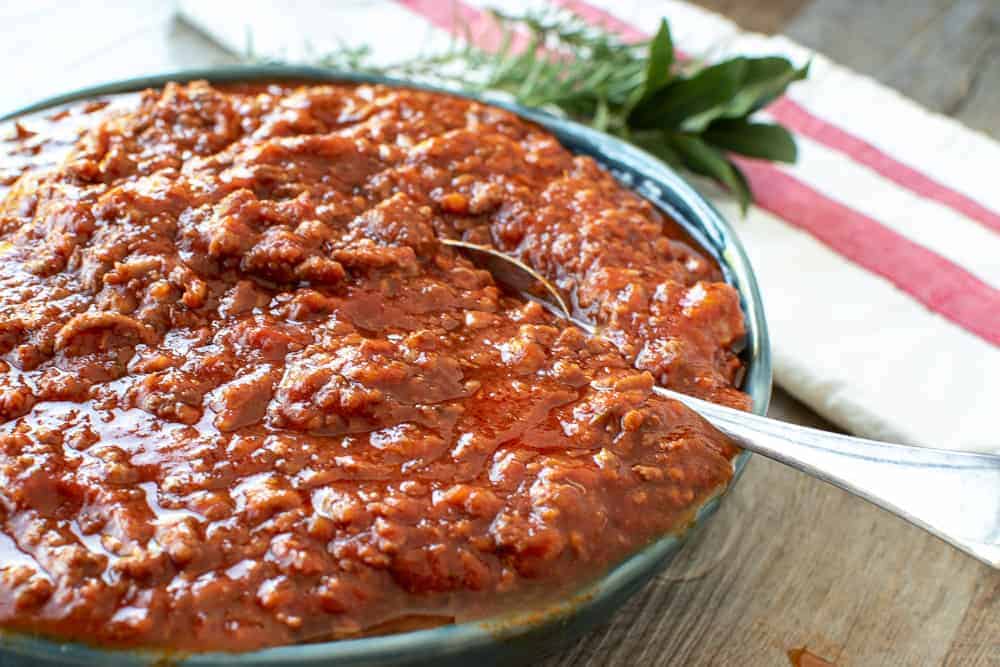 This recipe is the complete opposite of fast food.
I very rarely make Ragù Pasta Sauce in small batches because it needs to simmer for hours whether you make a small batch or a large one. The long, slow cooking is also one of the keys of this recipe but the ingredients are important too.The ingredient list is lengthy but all the ingredients you can find in your supermarket. Let's talk about some of the main ingredients.
Beef and pork mince (ground) – I like to buy beef and pork neck and mince  it myself because I have a nifty attachment for my stand mixer. But use good quality beef and pork mince or you can finely cut the meat and use that instead.
Sausages – please don't buy your standard supermarket sausages. If that's all you can get, leave the sausages out. They are full of fillers like breadcrumbs. Go to a butcher who makes good sausages. Look for continental sausages or other Italian sausages. Good sausages have all the flavour of meat, fat and spices.
Pork ribs – it's important to have bones in the sauce. Long slow cooking releases amazing flavour that only bones can give. If not pork ribs, use another pork cut with bones such as pork chops.
Other meats – you can include pork rashes or pork spare ribs even some chicken if you like.
Parmesan rind – this is something I use frequently. I buy Parmesan buy the block from my local delicatessen and save the rinds. But if you don't, call in to the delicatessen and ask them to save the rinds for you. The flavour Parmesan rind gives is amazing!
The other ingredients are self explanatory but don't hesitate to contact me if there is something you are not sure of or you have a question.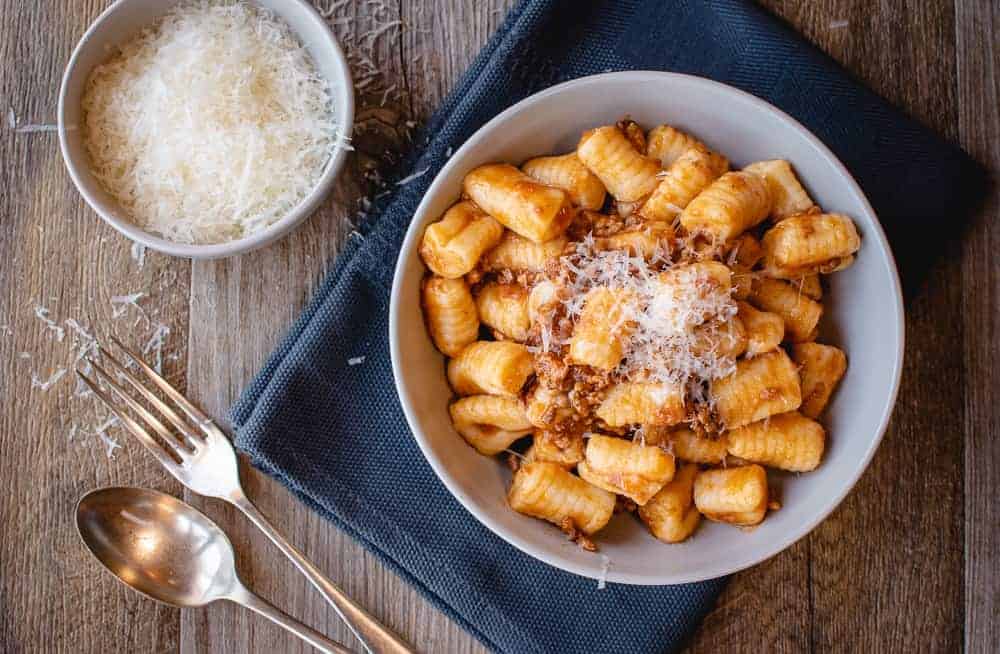 How to use this Ragù Pasta Sauce.
This is my go to pasta sauce. I use it for all types of pasta but it is particularly good with pappardelle. You can make you own pasta following my recipe. I have a step by step recipe here if you have never made pasta before. It's also great with gnocchi. Make your own with my recipe. Really, gnocchi are not that hard and so delicious homemade!
Remember to contact me if you have any questions. I'd love to help!
Baci

Big Batch Ragù Pasta Sauce
This Ragù Pasta Sauce uses my father's secret ingredient that makes all the difference.Plus long, slow cooking to draw out all the flavours of the different meats, vegetables and seasonings. And the bonus is this is a BIG batch Ragù Pasta Sauce so you've got lots to freeze for later!
Print
Pin
Rate
Ingredients
½

cup

olive oil

60

g

butter

2

onions

2

carrots

2

sticks celery

8

garlic cloves

250

g

bacon

1

kg

beef mince

500

g

pork mince

350

g

pork ribs

see notes

2

Italian sausages

see notes

1

cup

dry red wine

1

Parmesan rind

5

cups

tomato passata

800

g

tinned tomatoes

4

tablespoon

tomato paste

2

cups

beef stock

see notes

1

potato

peeled and cut in half

2

teaspoons

allspice

5

stalks fresh rosemary

(or 3 teaspoons dried rosemary)

2

teaspoons

oregano

(dried)

3

bayleaves

freshly ground pepper

salt to taste

1

tablespoon

sugar

see notes
Instructions
Finely chop the onions and garlic, peel and finely chop the carrots and finely chop the celery. For fast chopping, chop coarsely then use a food processor to pulse and finely chop. Set aside.

Heat a large saucepan. It will need to hold over 5 litres which is about 1 ⅓ gallons.

Add the oil and butter.

When the oil is hot, add the onion, carrot and celery.

Turn the heat down a tad so they don't burn.

Fry until starting to become golden and catch a little on the bottom of the saucepan.

In the meantime finely chop the bacon. And crush or finely chop the garlic.

When the onion, carrot and celery are golden add the bacon and garlic and stir well. Continue to cook for a few more minutes.

Now start adding the beef mince a bit at a time. Stirring well and allow the meat to colour.

Then add in the pork mince a bit at a time. Repeat the same as the beef mince.

Once the mince is well cooked add the sausages and pork ribs. You can add other meats as I have mentioned in the Recipe Notes.

Pour in the wine and allow to boil and simmer for a few minutes.

Now you can add the remainder of the ingredients - Parmesan rind (if using), passata, tinned tomatoes, tomato paste, stock, potato, herbs, spices and seasonings.

Add half of the sugar and you can taste later if the Ragù Pasta Sauce needs more.

Bring to the boil then lower the heat to a gentle simmer.

Cover the saucepan and check and stir regularly, You may need to adjust the heat to achieve that sweet spot of a gentle simmer. This is going to be cooking for a long time so a very gentle simmer is what we are looking for here.

Once you have achieved that perfect simmer, allow to cook for about 4 to 5 hours.

Check regularly that the sauce is not drying out. If so, add a little boiling water.

After about two hours of simmering. Taste and adjust the seasoning. You will be surprised at how much salt you need to add and you may need a bit more sugar. Recheck the seasoning towards the end of the cooking time.

When the sauce is done. Remove the sausage and the ribs. Cut up the sausage finely, shred the meat from the pork ribs and add the sausage and meat back to the sauce. Find the potato pieces and crush against the side of the saucepan with a wooden spoon. Stir thoroughly.

Allow to cool a little, then transfer to freezer containers for storage in the freezer.

Don't put the sauce in the freezer when it's hot. Instead refrigerate until cold then freeze.

If properly stored in the freezer, this sauce will keep for 4 to 6 months.
Notes
Pork ribs can be replaced with any bone in pork just as pork chops.
Italian sausages can be replace with any good sausage you enjoy. 
Beef stock can be homemade or store bought - in liquid or powder form.
Sugar is added to taste. You may need to add a bit more once you taste it after two hours.
Be sure to taste, taste and taste again. Season with salt properly. By this is mean salt brings out the flavours of food. Not enough salt - everything will taste bland.
My tip for using this and other cooked sauces with pasta is to allow the sauce time to meld with the pasta. This is how-:

Drain the pasta and return to the saucepan it was cooked in.
Add the hot sauce to the pasta and mix in well.
Put the lid back on the saucepan for a minute or two even three this is where the magic happens.
Open the lid. Give it a gentle mix and you should notice that the pasta has more sauce clinging to it. 
This method is similar to when you see TV chefs adding the cooked pasta to the pan of sauce. However if you are cooking for more than one or two, it's impossible to do this.
Now time to serve and enjoy!
Nutrition
Serving:
0
g
|
Calories:
457
kcal
|
Carbohydrates:
14
g
|
Protein:
20
g
|
Fat:
34
g
|
Saturated Fat:
12
g
|
Cholesterol:
86
mg
|
Sodium:
392
mg
|
Potassium:
846
mg
|
Fiber:
2
g
|
Sugar:
6
g
|
Vitamin A:
1555
IU
|
Vitamin C:
14.3
mg
|
Calcium:
60
mg
|
Iron:
3.8
mg