These Italian Pignoli Cookies are ideal for Christmas or any special occasion. These are simple cookies made of almond paste mixed with sugar and egg white and coated in pine nuts.
There's just one problem with these cookies - they're very hard to resist!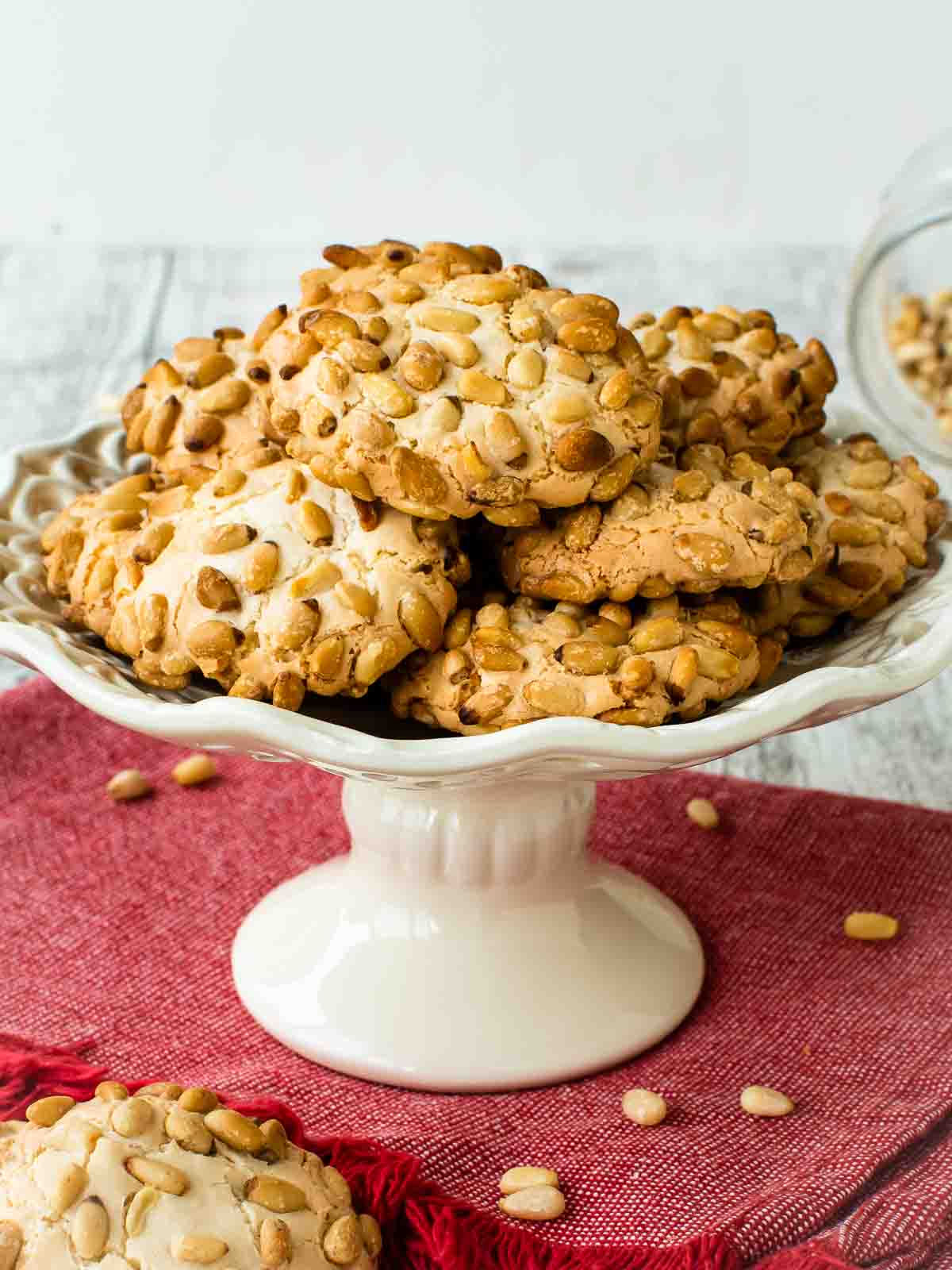 Coated in pine nuts, these cookies have a distinct almond flavor which is really quite irresistible. Pignoli cookies along with cuccidati, snowflake cookies and gingerbread pizzelle really deserve a place in your Christmas baking.
Besides being so delicious, this pignoli cookie recipe is incredibly forgiving. The dough can be prepared a day or two in advance and refrigerated. And best of all, the finished cookies can be frozen for a month.
These Italian pine nut cookies are so easy to make with store bought almond paste that they can be whipped up quickly. However, homemade almond paste is not difficult and can be made in advance. I've got the recipe for you below.
Pignoli cookies remain moist in the centre for about 5 days then they slowly dry out inside becoming softly crisp but still super good! This recipe isn't extra sweet. You'll taste the almonds but you'll also taste the buttery pine nuts. The combination is divine!!
Why you'll love this recipe:
It's so simple and quick to make!
The dough can be made in advance and baked in a day or two. Of course, you must keep the dough in the fridge. Plus you can freeze pignoli cookies for up to one month.
These cookies are moist, chewy in the center and wonderfully crunchy on the outside.
Making bakery favorites at home is fun and much more economical.
These cookies are by nature gluten free so everyone can enjoy them.
For complete ingredient quantities and full instructions, please scroll to the printable recipe card bottom of the page.
Ingredients
This Pignoli Cookies recipe is made with my Homemade Almond Paste. If you use store bought, please be sure to buy a good quality that contains at least equal quantities of almonds and sugar. With differences in qualities of almond paste, your cookies may flatten more than mine or have a slight different texture. Be sure to check the notes in the recipe.
Almond Paste - As mentioned earlier, this recipe can be made with either store bought almond paste or the homemade version. Depending on what you use, the pignoli cookies may look slightly different. They'll also vary depending on the brand of almond paste. I made these with homemade almond (recipe below). However, if you choose to make these with store bought almond paste check the ingredients and choose the one that has at least equal quantities of almonds and sugar.
Egg Whites - You'll only be using the egg whites in this recipe but don't waste the yolks. I have lots of recipes to use them up - Torta della Nonna, Zuppa Inglese and Italian Rum Cake just to name a few.
Sugar - White granulated sugar is used in this recipe. If you prefer sweeter cookies, you can add more sugar.
Pine Nuts - These are available easily at supermarkets but are quite expensive. It'll be cheaper in the long run if you buy in bulk. Store pine nuts in the fridge or freezer because their high oil content can make them turn rancid easily.
See recipe card for quantities.
Instructions
Break up almond paste and pulse in the food processor until crumbly.
Add sugar and egg white
Pulse until the mixture forms a thick dough.
Use teaspoons to drop small amounts of dough into pinenuts. Coat in the pine nuts then arrange on a lined baking sheet.
Bake until just pale golden brown.
Hint: Don't over bake these cookies. Watch them very carefully and take out of the oven as soon as they're pale golden brown. Depending on brands or types home made almond paste.
Substitutions
Granulated Sugar - this can be replaced with powdered sugar if that's all you have. The texture will be different and the cookies may be more flattened but still delicious!
Egg Whites - while this is not technically a substitution, you may prefer to use frozen store bought egg white if you don't have a use for the leftover egg yolks. These will work perfectly in this recipe.
Pine Nuts - while these won't technically be Pignoli Cookies anymore, chopped or slivered almonds or cashews can be used instead of pine nuts.
Almond Paste Substitute
If you can't it in the stores, use a homemade almond paste substitute. It's easy to make and not as expensive as store bought! While the home made almond paste is not exactly the same, the results are still excellent.
I like to use a very simple almond paste recipe that is made by combining almond flour, powdered sugar, egg whites, almond extract and salt. Using a food processor means that this almond paste substitute comes together very quickly. Be sure to make it in advance so that the flavors have a chance to develop.
Variations
Vanilla - add a couple of teaspoons of vanilla extract for a change.
Salty - a good pinch of salt can highlight the flavor already in the pignoli cookies.
Orange Almond - for an interesting variation add a teaspoon or two of finely grated orange zest.
Equipment
A food processor or stand mixer will make this recipe easy. Yes, you could make pignoli cookies without this equipment but it would be so much harder.
Storage
Store pignoli cookies in an airtight container at room temperature for 4-5 days. If you're keeping these for any longer, it would be best to freeze them.
To freeze, layer in a container like Tupperware that will seal really well, with parchment or wax paper between the layers. Seal and freeze for up to one month.
Tips for Success and FAQ's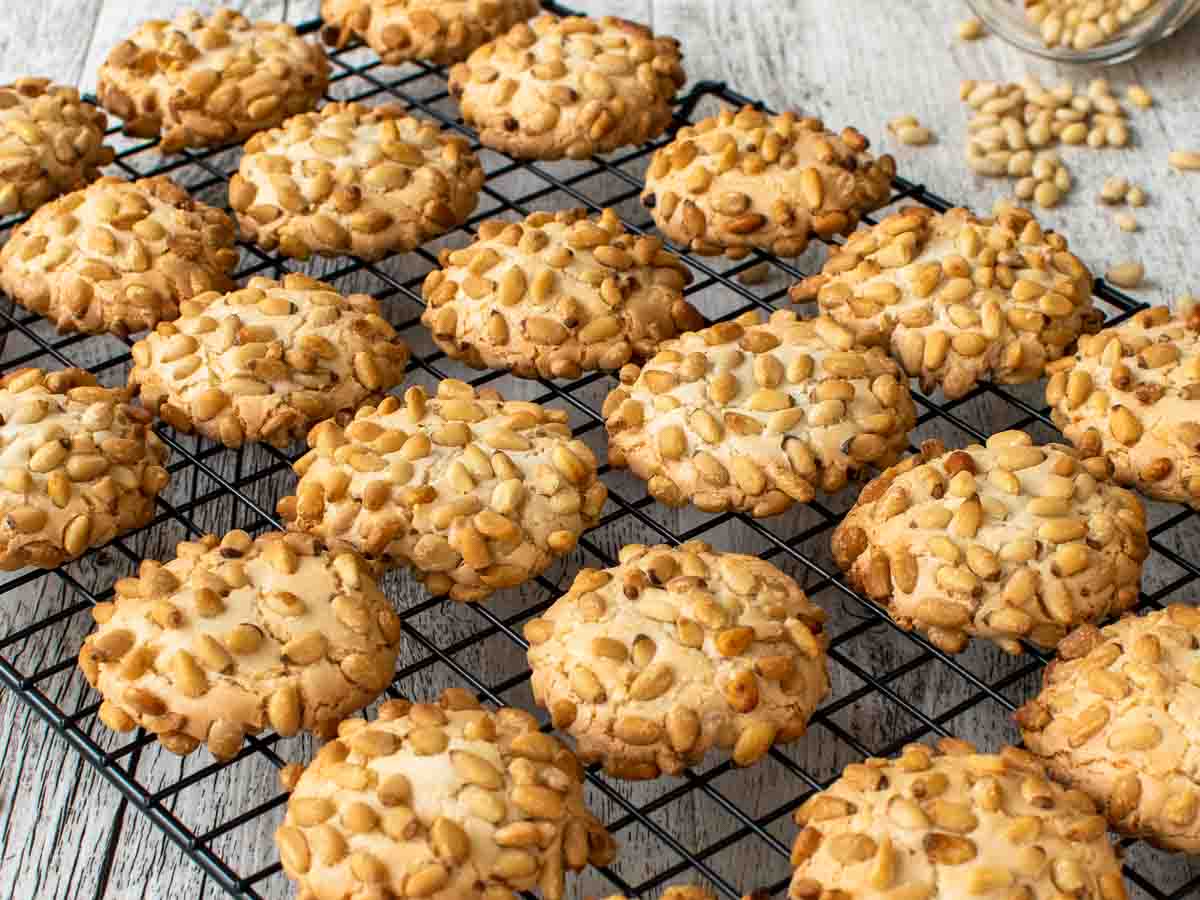 Use a food processor or stand mixer to break up the almond paste. You're looking for crumbly coarse sand like texture. This is the best way to achieve a smooth even dough. Do this before adding any other ingredients!
Add the egg whites slowly. You might not need all. Hold some back and check the texture of the dough. It needs to be sticky enough for the pine nuts to adhere but not too wet that the dough loses its shape quickly.
It's very important not to over bake! These cookies will need to be watched carefully. Using homemade almond paste meant that these only took between 8-10 minutes to become pale golden. Over baked pignoli cookies won't have the much sort after soft, moist centers.
And once out of the oven, give the cookies a chance to set and cool a bit before moving them. Move the pignoli cookies too soon and they'll fall apart in your hands!
How many calories are in a pignoli cookie?
109 calories in each cookie if made exactly as specified in the recipe.
Why are pignoli cookies so expensive?
The ingredients in this recipe mean that pignoli cookies will be expensive to make and buy. Almond paste is not always easily available and when it is it's quite expensive. This is understandable considering the work that goes into making a commercial almond paste. But the most expensive ingredient is pine nuts. The long and fiddly process of collecting and processing these nuts puts a high price tag on them. So because of these two ingredients, pignoli cookies are expensive.
Are pignoli cookies gluten free?
Yes, pignoli cookies are gluten free without any adjustments to the recipe. Everyone with gluten intolerances and health issues can enjoy these delicious cookies.
Are pignoli cookies supposed to be chewy?
Yes, pignoli cookies should be chewy on the inside but with a crispy outer. This is what makes these holiday favorites so popular!
Serving Suggestions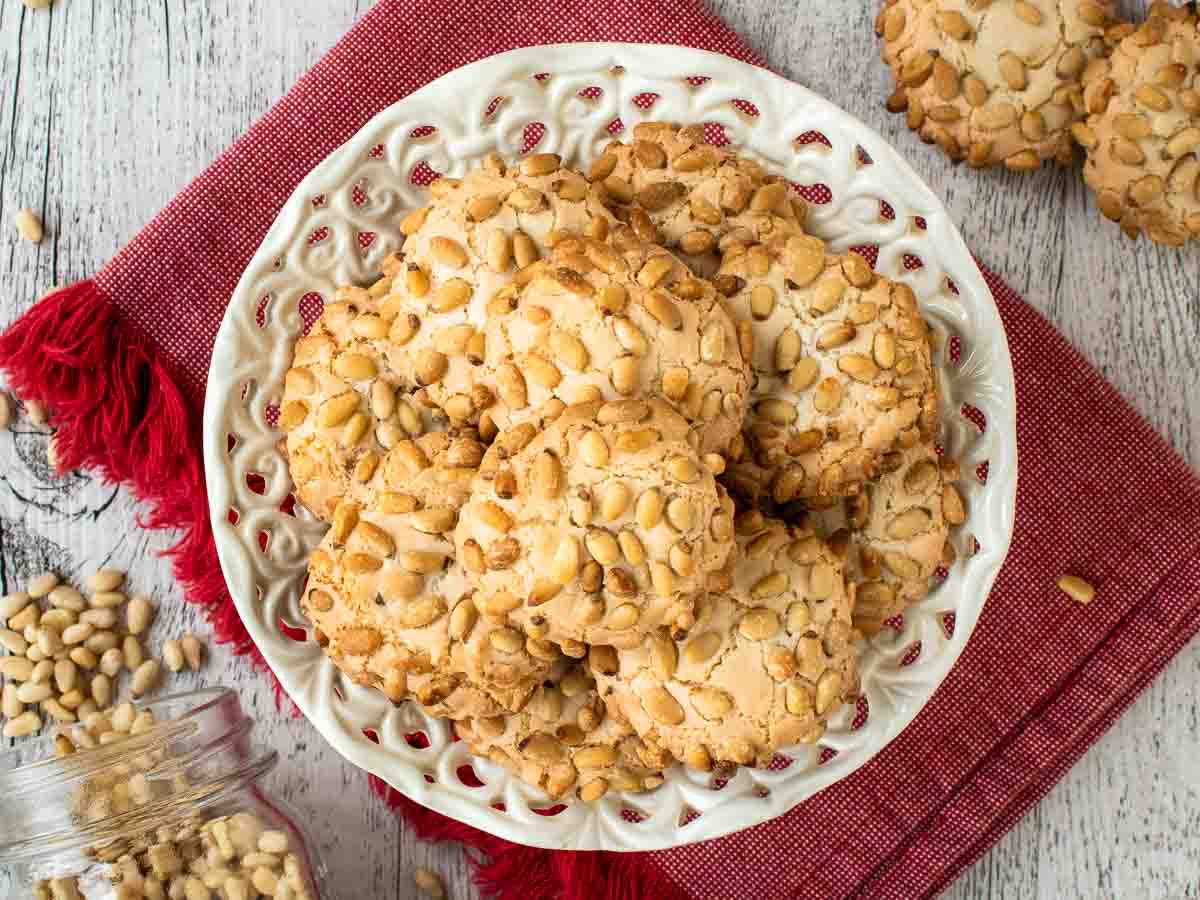 Serve these with Italian Hot Chocolate after a traditional meal of Chicken Sorrentino and Sausage Broccolini Pasta and your family and friends will be begging for more!
Containing lots of almonds and pine nuts, Pignoli Cookies are definitely luxury cookies and very special to serve at Christmas. But because these are so easy, why wouldn't you want to make them along with Savoiardi, Almond Biscotti and Coffee Biscotti!
Made this recipe?
Let me know if you liked it by leaving a ★★★★★ star rating and a review below. Please share a photo of your creation by tagging me on Instagram @marcellina.in.cucina!
Recipe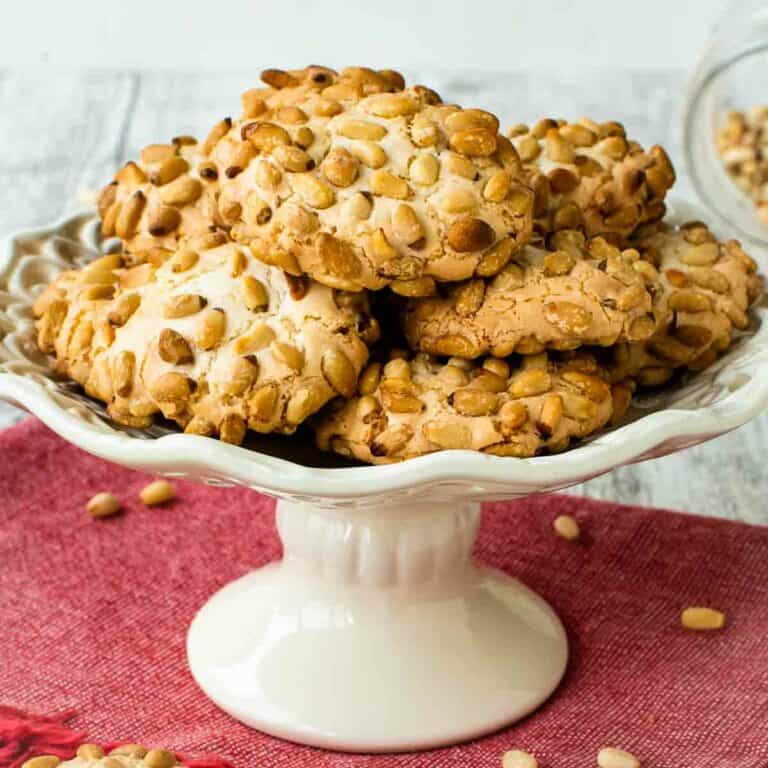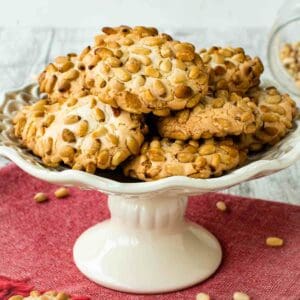 Pignoli Cookie Recipe
A simple but delicious Southern Italian Cookie of almond paste coated with pine nuts.
Print
Pin
Rate
Ingredients
16

ounces

1 pound / 450 grams) almond paste

homemade (see the recipe below) or store bought

1

cup

granulated sugar

2

egg whites

2

cups

pine nuts

more as needed
Homemade Almond Paste (if using homemade)
2½

cups

8 ounces / 226 grams) almond flour

ground almonds/almond meal

2

cups

(8 ounces) powdered sugar

icing sugar

¼

teaspoon

salt

1

large egg white

1½

teaspoons

almond extract

more if desired
Instructions
Preheat the oven to 350ºF/180º and line two baking sheets with non stick parchment paper.

Break up almond paste with fingers into small pieces. Pulse in the food processor until sandy texture. Add sugar and continue to pulse until well combined. With processor running add egg whites slowly through the chute until the mixture forms a thick dough. It shouldn't be runny so you may not use all the egg white.

Place the pine nuts into a flat bowl.

Use a teaspoon to scoop up the mixture and with another teaspoon scrape it into the pine nuts and toss well to coat. Press in the pine nuts and shape to form a dough ball.

Place balls onto baking sheet leaving a bit of room for spreading.

Bake for 8-10 minutes, rotating trays to ensure even browning until just beginning to become golden. Time take to bake will vary depending on the almond paste used. The cookies may take longer.

Remove from oven and allow to cool for a couple of minutes until the cookies are firm. Then transfer to a wire rack to cool completely.

Store in airtight container at room temperature for 4-5 days. If you're keeping these for any longer, it would be best to freeze them.
Homemade Almond Paste (if using homemade)
Combine the almond flour, powdered sugar and salt In the food processor.

With the motor running drizzle in the egg white and almond extract.

Process for 2 or 3 minutes until the mixture starts to come together. If it doesn't look like it is coming together. Stop the motor, lift the lid and press some of the mixture together. If it sticks together like stiff dough then it's perfect.

If it doesn't stick together, with the food processor motor running, drizzle in extra egg white a little bit at a time until the mixture sticks together.

Scrape the mixture onto a work surface and knead it into a dough for a minute or two. A lot of oil will come from it. That's perfectly normal.

Form into a thick log or flat disc and wrap well in plastic.

Refrigerate for at least a day for the flavors to develop
Notes
Tips for Success
Use a food processor or stand mixer to break up the almond paste. You're looking for crumbly coarse sand like texture.
Add the egg whites slowly. You might not need all.
If using store bought almond paste be sure to buy quality paste that has a high almond content. 
These cookies are made with homemade almond paste. Cookies made with store bought almond paste may vary.
If preparing homemade Almond paste allow for overnight resting or almond past can be made a 2 or 3 weeks in advance.
Don't overbake.
These cookies are best fresh, however the cookies can be frozen for at least a month. Thaw them in their wrapping
For more tips and information, please read the full post.
This recipe has been adapted from Greg Patent's "A Baker's Odyssey".
Nutritional Information Per Serving
Calories:
109
kcal
|
Carbohydrates:
8
g
|
Protein:
2
g
|
Fat:
8
g
|
Saturated Fat:
1
g
|
Sodium:
4
mg
|
Potassium:
81
mg
|
Fiber:
1
g
|
Sugar:
6
g
|
Vitamin A:
3
IU
|
Vitamin C:
1
mg
|
Calcium:
15
mg
|
Iron:
1
mg
Nutritional Disclaimer
Nutritional information is an estimate provided by an online nutrition calculator. For accurate results, it is recommended that the nutritional information be calculated based on the ingredients and brands you use.
This updated and improved recipe was first published on November 28, 2017.