This homemade zesty Italian Pasta Salad recipe is simple, delicious and ready in less than 30 minutes!!
It's full of all the southern Italian classics of tomatoes, olives and just a little spicy red pepper flakes. You will love how easy this Italian Pasta Salad recipe is to prepare!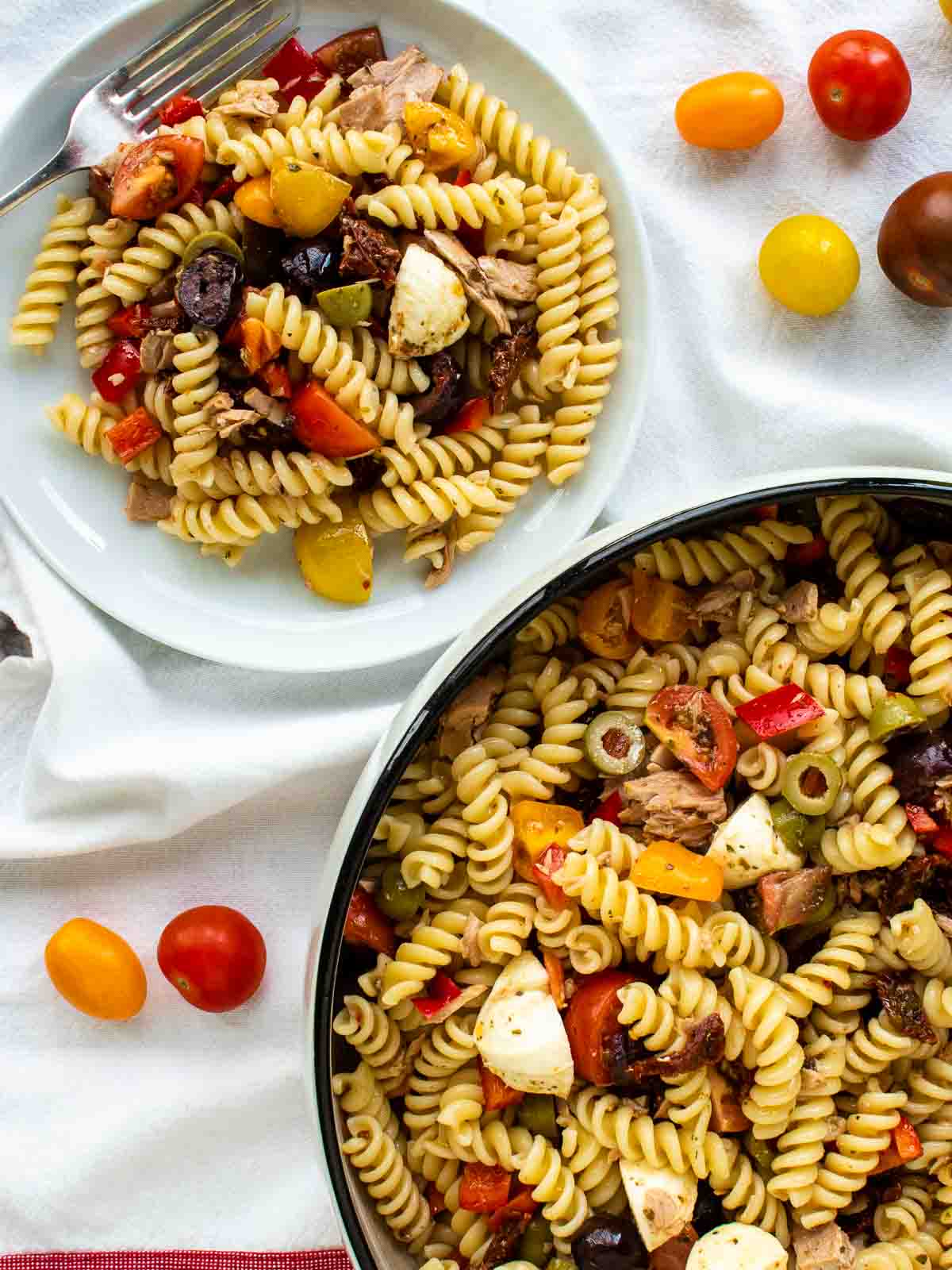 This updated and improved recipe was first posted on November 21, 2018.
This Italian Pasta Salad is super zesty and flavorsome because of the delicious, homemade Italian salad dressing. The dressing is what sets this easy pasta salad apart from all the other pasta salad recipes. That's right! It's amazing!! My zesty Italian dressing uses dried oregano, some garlic powder and just a little spice from red pepper flakes to add a piquant, tasty flavor that will keep you coming back for more!
Did you know that pasta is a great summer meal? This cold Pasta Salad recipe is perfect for summer picnics, pot luck dinners and packed lunches. The combination of cherry tomatoes, bell peppers (capsicum), green and black olives makes this pasta salad so tasty and will have your tastebuds buzzing!!
Why you will love this recipe!
Adaptable - add canned tuna, cooked rotisserie chicken or ham. Or try shaved or grated Parmesan cheese instead of bocconcini. Adapte and adjust the ingredients to suit your preferences.
Zesty taste - be sure to use the homemade Italian dressing and you can't go wrong! The zing and zest of red wine vinegar and red pepper flakes is mouth watering.
Looks amazing - as well as tasting fantastic, this zesty Italian pasta salad looks fabulous! The combination of colors are so vibrant and enticing for everyone.
Portable -In Italy, this type of recipe is known as pasta estiva or summer pasta salad. And it is the perfect dish for summer picnics - easily prepared and transport. All that needs to be cooked is the pasta. In the time it takes to cook the pasta, the other ingredients can be prepared.
While homemade pastas like cavatelli, garganelli and tonnarelli are super delicious, store bought, dried pasta is best for this pasta salad recipe! Always keep a few packets in the pantry for Italian pasta salad at a moment's notice!
This Italian Pasta salad recipe is one of my go to dishes - easily prepared and everyone loves it. If you love this salad, why not try my Brown Rice salad or Pumpkin and Spinach salad or Mediterranean Cucumber Salad, these are just as easy!
For complete ingredient quantities and full instructions, please scroll to the printable recipe card bottom of the page.
Ingredients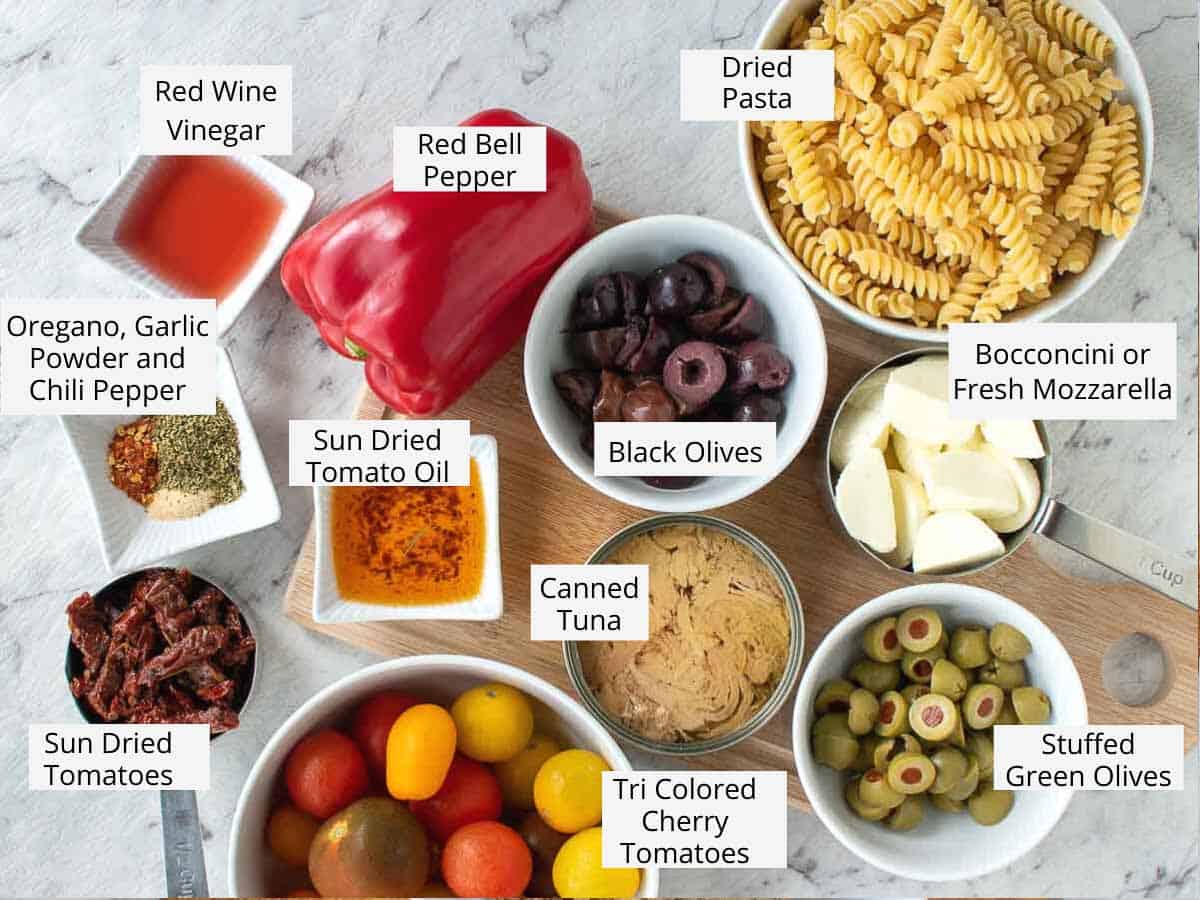 Don't you just love recipes that use simple pantry staples? Using basic ingredients from the pantry plus a few fresh ingredients makes preparing a meal a snap! This recipe uses convenient ingredients that you will have in your pantry.
Dried pasta - any short pasta will work for this recipe. I like fusilli but orecchiette, penne or rotini pasta is also good. Try whole grain pasta for extra nutrition.
Canned tuna - use good quality, canned tuna in olive oil for the best flavor. Alternatively use cooked rotisserie chicken, diced ham, cooked shrimp (prawns) or thin slices of pepperoni.
Cherry tomatoes - tri colored cherry tomatoes are my choice. They're excellent for adding color and flavor but if you can't find them regular cherry tomatoes are fine.
Sweet bell peppers - also known as red capsicum in some parts of the world. Be sure to choose firm bell peppers that are heavy for their size.
Sun dried tomatoes in oil - I prefer the ones in olive oil and herbs but use what you can find. The ones I use are already sliced or julienned.
Black olives - to make it easier for yourself, purchase pitted black olives.
Stuffed green olives - I like the green olives stuffed with pimento but choose whichever you prefer.
Bocconcini - these are small balls of fresh mozzarella also known as mozzarella pearls or cherry bocconcini. If you can't find these, cut fresh mozzarella into bite size chunks.
Extra virgin olive oil - always best for flavor but use regular olive oil if you prefer.
Red wine vinegar - Easily purchased at the supermarket. You'll find it handy for so many salad dressings.
Dried oregano - even dried herbs become stale so if you've had a jar of dried oregano sitting in the pantry for over a year, it's best to buy a new jar.
Garlic powder - use garlic powder for convenience but one small crushed garlic clove can be used instead.
Red pepper flakes - this can vary in strength so adjust the amount accordingly. Also known as chilli flakes in some parts of the world.
Substitutions
Bocconcini - instead of bocconcini try sprinkling in half a cup grated parmesan cheese.
Red wine vinegar - my preferred vinegar for homemade Italian dressing is red wine vinegar. White wine vinegar is also a good choice for this recipe. Lemon juice can also be used.
Dried oregano - substitute with fresh herbs like parsley and mint are a delicious addition.
Variations
Added veggies - include extra fresh veggies like lightly steamed broccoli or cauliflower florets, diced cucumber and red onion. Or pickled vegetables which are delicious too.
Eggs - add hard boiled eggs.
Capers - a few tablespoons of capers are a delicious addition.
Stir through a spoonful of pesto to make this pasta salad extra zesty!
Instructions
Make the dressing by combining all the ingredients in a small bowl.
Cook the pasta in boiling, salted water according to the package directions. Taste a few minutes before the time is up to ensure it is not overcooked.
Deseed and dice the red bell pepper. Cut the cherry tomatoes in half.
In a large bowl combine the red bell pepper, cherry tomatoes with drained tuna, bocconcini, sun dried tomatoes and olives and mix well.
Add the barely warm pasta and prepared dressing and combine. Serve immediately or refrigerate until needed.
Storage
Store leftovers in an airtight container in the fridge for a day or two. It won't be at its prime but it will still be good.
This zesty Italian Pasta Salad isn't suitable for freezing because it contains fresh cherry tomatoes and red bell peppers. These ingredients will be soft and soggy when thawed. However, you can freeze pasta salad before adding the tomatoes and bell peppers and then add them in after thawing.
Tips for success and FAQ's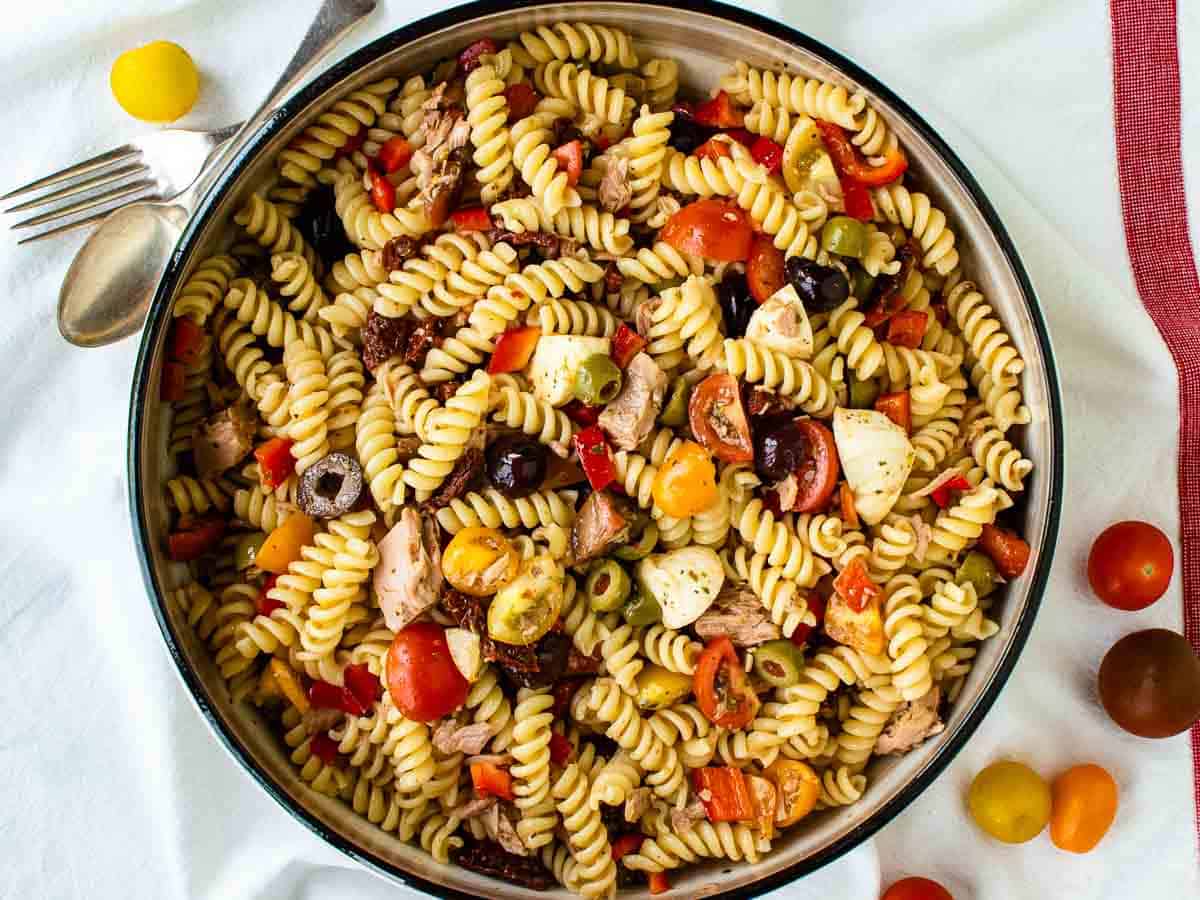 To make this zesty Italian Pasta salad recipe perfectly, it's important to choose not only the correct pasta but also good quality pasta. Cheap pasta won't have a good texture, doesn't absorb flavors in the same way and will swell and soften in the dressing. Fusilli, penne, orecchiette and rotini pasta are all good choices.
It's also important to salt the pasta water before adding the pasta. And then taste, taste, taste and add just enough salt to bring out the flavor of the ingredients. Be careful not to overcook the pasta.
Keep in mind that Zesty Italian Pasta Salad is served cold which dulls taste so check the seasoning again after the salad has been stored in the fridge.

Dress the pasta with the Italian dressing while still slightly warm. It will absorb more flavors.
Do cooks in Italy salt their pasta water?
Definitely! And so should you. Water for cooking pasta should always be salted.
For pasta salad, I like to taste the pasta a few minutes before the cooking time is up to ensure it is not overcooked.
How long can pasta salads be kept in the fridge?
Zesty Italian Pasta Salad will last in the fridge for about 3 days. The cherry tomatoes will start to soften but it will still be good.
Do they eat pasta salad in Italy?
Absolutely! Pasta salad is very common and popular in summer especially for picnics. In fact, this recipe is an adaption of one my Calabrese cousin makes. In Italy this pasta salad is known as pasta estiva.
What can I serve with tuna pasta salad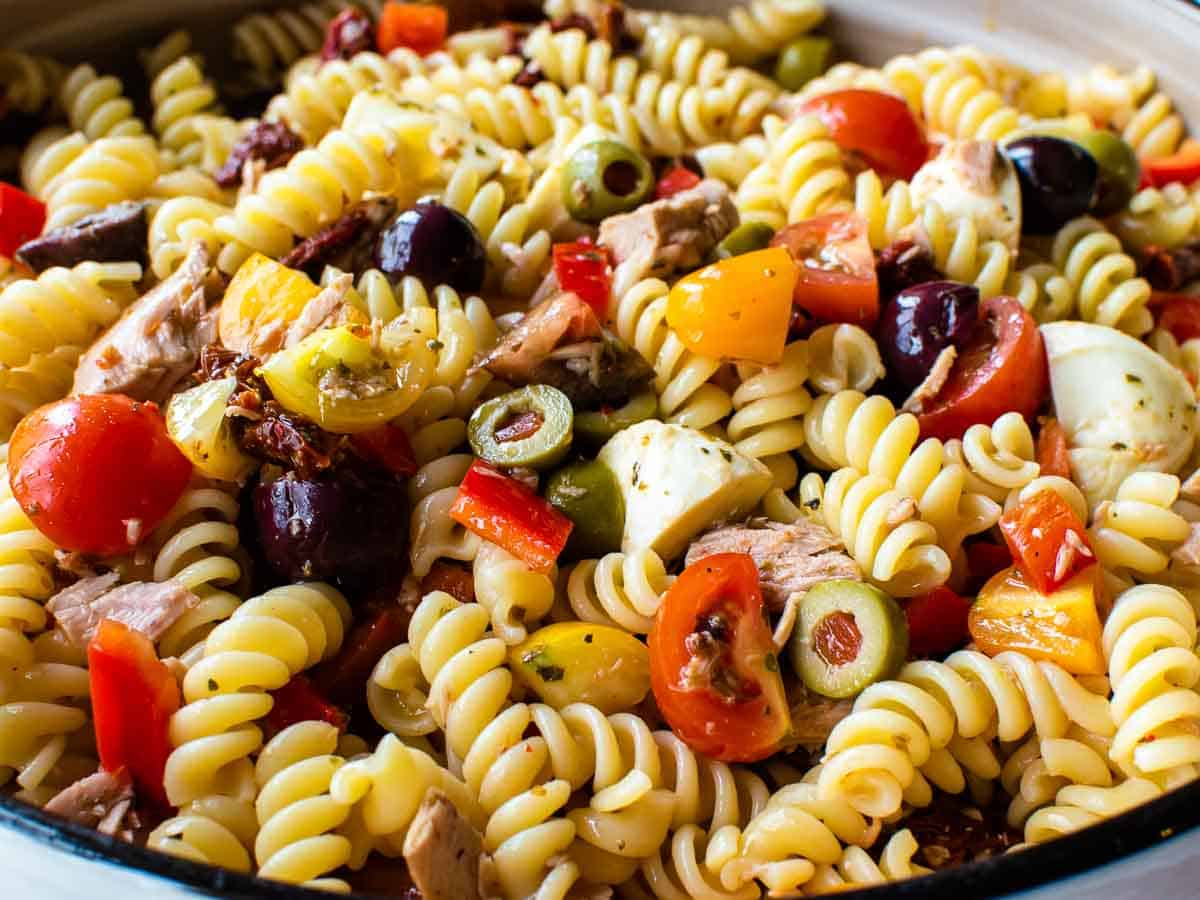 Our family loves eating this zesty Italian Pasta Salad with a side of Ligurian Focaccia, a few Grissini breadsticks or my delicious Ciabatta Garlic Bread. And what could be better than tasty Baked Peaches for dessert?
More recipes like this
Made this recipe?
Let me know if you liked it by leaving a ★★★★★ star rating and a review below. Don't forget to subscribe to my newsletter - it's free!
Recipe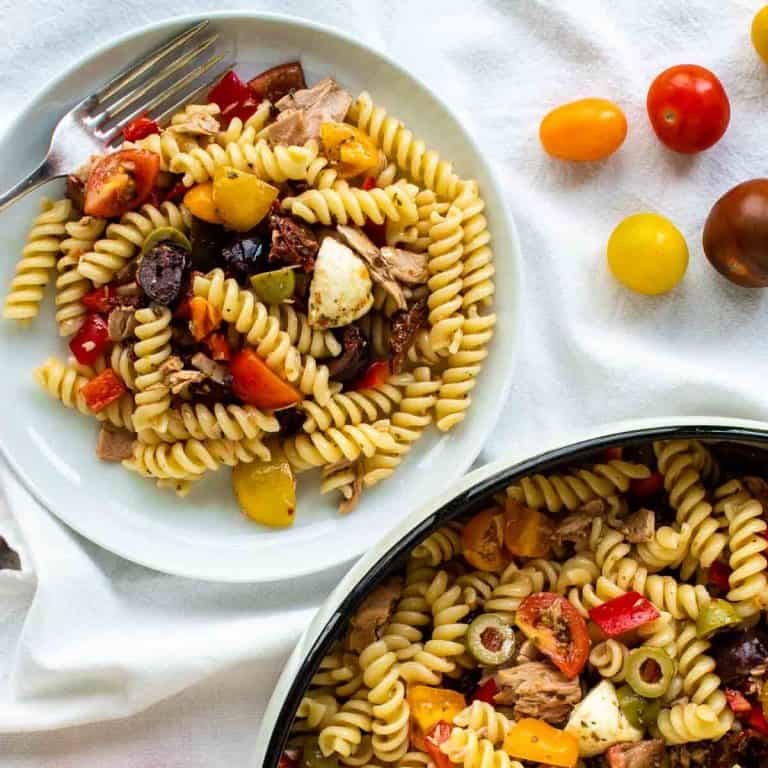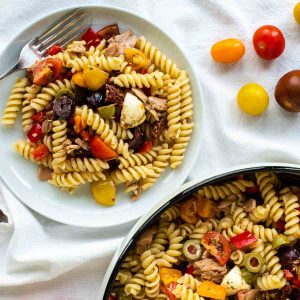 Zesty Italian Pasta Salad Recipe
Pasta Salad with all the flavours of southern Italy - tomatoes, olives and mozzarella.
Print
Pin
Rate
Ingredients
1

pound

(

500

grams) fusilli pasta

or short pasta of your choice

6½

oz

(

185

grams) canned or bottled tuna (Italian style in oil)

See Note 1

8

ounces

(

250

grams) cherry tomatoes

or a heaped cup cherry tomatoes

1

medium red bell pepper

See Note 2

1

cup

quartered bocconcini

See Note 3

½

cup

stuffed green olives

sliced

½

cup

black olives

sliced

½

cup

sun dried tomatoes in oil

sliced
Homemade Italian Salad Dressing
1

teaspoon

dried oregano

¼

teaspoon

garlic powder

⅛

teaspoon

red pepper flakes (optional)

See Note 4

3

tablespoons

oil

from the dried tomatoes or extra virgin olive oil

3

tablespoons

red wine vinegar

salt to taste

as needed
Instructions
Bring a large pot of water to the boil and salt it well.

Drain the tuna and place into a large serving bowl, breaking it up slightly.

Cut the tomatoes in half. Deseed and chop the red bell pepper. Place in the a the bowl with the tuna, bocconcini, sun dried tomatoes and olives and mix well.

Cook the pasta according to the packet instructions but for a minute or two less. I like to taste a few minutes before the time is up to ensure it is not overcooked. The pasta should be a little bit firm because it will continue to cook.

When the pasta is ready, drain it. If it's been overcooked, run it very briefly under cold water to stop cooking. Remove all excess water. I prefer not to run the pasta under cold water so I don't cook it completely through.

Allow to cool a little if it's still really hot. But it's important for the pasta to be a bit warm when mixed with the other salad ingredients.

Tip the slightly warm pasta into serving bowl with tuna, tri colored cherry tomatoes and bocconcini mixture.

Pour over combined dressing and toss to combine.

Taste, and adjust salt if needed.
Homemade Italian Salad Dressing
In a small bowl combine oil from the sun dried tomatoes, red wine vinegar, dried oregano, red pepper flakes and garlic powder.
Notes
As an alternative to canned tuna, use cooked rotisserie chicken, diced ham, cooked shrimp (prawns) or thin slices of pepperoni.
Also known as red capsicum.
It may be labelled "baby mozzarella",
Also known as chilli flakes in some parts of the world.
Tips for Success
Choose good quality pasta. It has better texture, absorbs flavors well and won't swell and soften in the dressing.

Boil the pasta in salted water.

Seasoning well. Taste and adjust salt to suit you. Salt brings out flavors and if a dish is bland, it just may need a sprinkle more of salt.
For more tips and FAQ's see the "Tips for Success and FAQ's" section above.
Tried this recipe? Give it a star rating and leave a comment below!
Nutritional Estimate Per Serving
Calories:
443
kcal
|
Carbohydrates:
68
g
|
Protein:
18
g
|
Fat:
10
g
|
Saturated Fat:
1
g
|
Cholesterol:
11
mg
|
Sodium:
348
mg
|
Potassium:
596
mg
|
Fiber:
4
g
|
Sugar:
6
g
|
Vitamin A:
630
IU
|
Vitamin C:
10.8
mg
|
Calcium:
47
mg
|
Iron:
2.6
mg
Nutritional Disclaimer
Nutritional information is an estimate provided by an online nutrition calculator. For accurate results, it is recommended that the nutritional information be calculated based on the ingredients and brands you use.