Gnocchi alla Sorrentina is everything you're looking for in comfort food that is tasty and appetizing.
Tender potato gnocchi bathed in a delicious tomato sauce and lashings of oozing cheese become even better when baked until golden! Your search for the perfect crowd pleaser is over!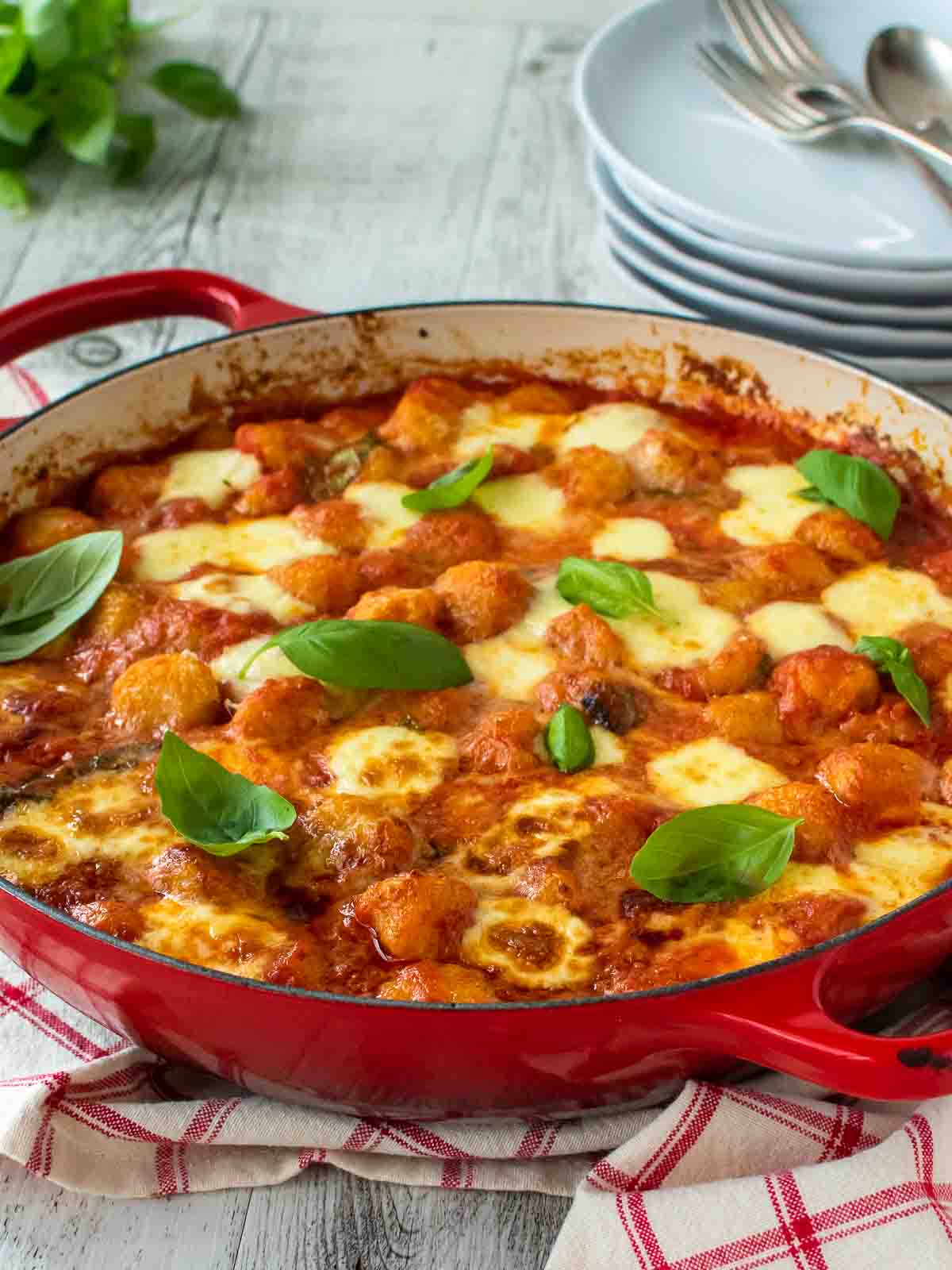 Gnocchi alla Sorrentina is a traditional Italian dish that appears on menus and in homes all over Italy. The word "sorrentina" indicates that the origin of this dish is the Sorrento area of Italy. Sorrento is part of the beautiful Amalfi coast and there's no better dish than this one to transport you there.
In my childhood home, this recipe was always made with homemade gnocchi but I've strayed from tradition. Good quality store bought gnocchi means that this recipe is within the ability of everyone! Be sure to bake until golden brown. The contrast of caramelized cheese and the oozy tomato sauce is heavenly!
You'll want to make this recipe because:
You only need a few basic ingredients for this gnocchi alla sorrentina recipe - gnocchi, tomatoes, cheese and basil.
It's a super easy recipe! The tomato sauce is even easier than my easy San Marzano Tomato sauce and that really easy!
If you use pre package gnocchi this recipe is fast! I love homemade gnocchi but I'll always have a few packages of the store bought variety on hand for a quick dinner like this one.
It's so cheesy! In Italy, this is also known as "gnocchi filante" which means stringy gnocchi. That gives you an indication of just how oozy and cheesy this recipe really is.
This gnocchi dish is popular with adults and children alike. There's no spiciness to deter children but it's full of flavor so the adults are satisfied. For a family get-together, you can't go past this recipe!
What is the history of gnocchi alla sorrentina?
The history of this recipe is not actually clear. Some say that this recipe was created after potatoes and tomatoes arrived from the Americas in the late 1500s. That may be true but how soon after is debated.
Potato gnocchi would most likely have originated in Northern Italy where potatoes grow best. Pellegrino Artusi, the "father" of Italian cuisine, published a recipe for potato gnocchi exactly as we know them today in the nineteenth century. So we know that at that point in time, the gnocchi we know and love today was prepared then.
This baked gnocchi recipe takes its flavors from the classic pizza margarita - tomato, mozzarella and basil. These flavors have been combined and enjoyed in Italy since the 1500's. Therefore, it's quite possible that in kitchens of that time, gnocchi alla sorrentina was being prepared for Sunday lunch just as it is today.
For complete ingredient quantities and full instructions, please scroll to the printable recipe card bottom of the page.
For complete ingredient quantities and full instructions, please scroll to the printable recipe card bottom of the page.
Ingredients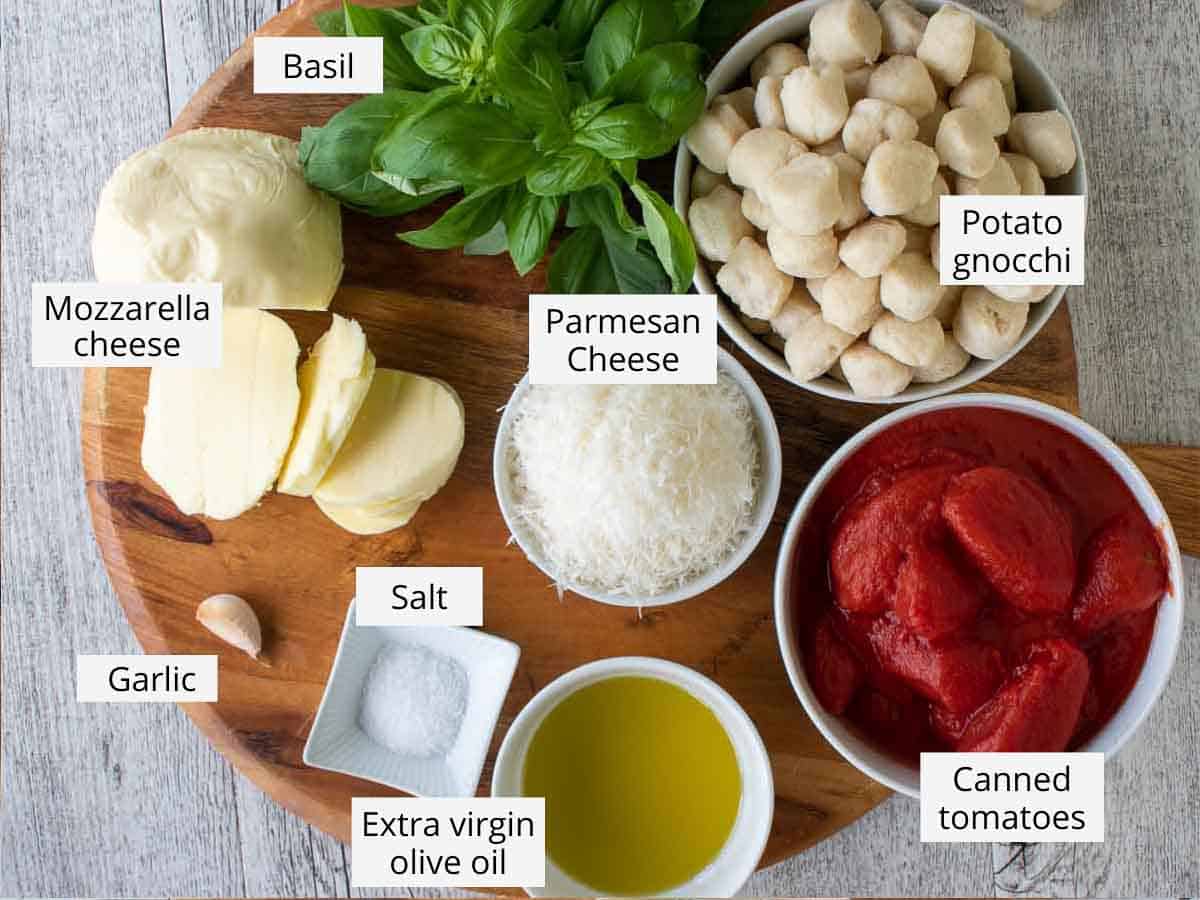 Olive oil - my preference is extra virgin olive oil here, but you could use regular olive oil if that's all you have. 
Garlic - for this recipe, choose a garlic clove that is fresh and juicy. 
Canned tomatoes - to make the tomato sauce, canned peeled whole tomatoes will work best. I recommend buying good quality canned tomatoes, like the Italian brand Mutti. These will be sweeter and result in a more flavorful tomato sauce. 
Basil leaves - fresh basil leaves are best. Don't substitute with dried basil, as it won't produce the same flavor. 
Salt - nothing fancy here. 
Mozzarella cheese - I prefer using a whole piece of mozzarella cheese rather than the pre grated version. Not only is it better quality, but you can also cut it into generous cubes which melt perfectly into the sauce. 
Parmigiano Reggiano - also known as Parmesan cheese. While mozzarella is perfectly melty, Parmigiano Reggiano adds a delicious savoury flavor.
Potato gnocchi - I use good quality store bought potato gnocchi to make this Gnocchi Sorrentina recipe. I recommend checking the ingredients of the gnocchi to ensure they only include flour, potatoes, eggs and salt. Alternatively, use my homemade potato gnocchi recipe.
Hint: Whole canned tomatoes are always better quality than diced canned tomatoes. For a smooth sauce, puree the tomatoes yourself using a food processor or immersion blender. You could also simply crush the tomatoes by hand for a chunky sauce. You can also use good quality tomato puree or tomato passata.
See recipe card for quantities.
Instructions
Preheat the oven to 350ºF/180ºC. Cut the mozzarella cheese into cubes.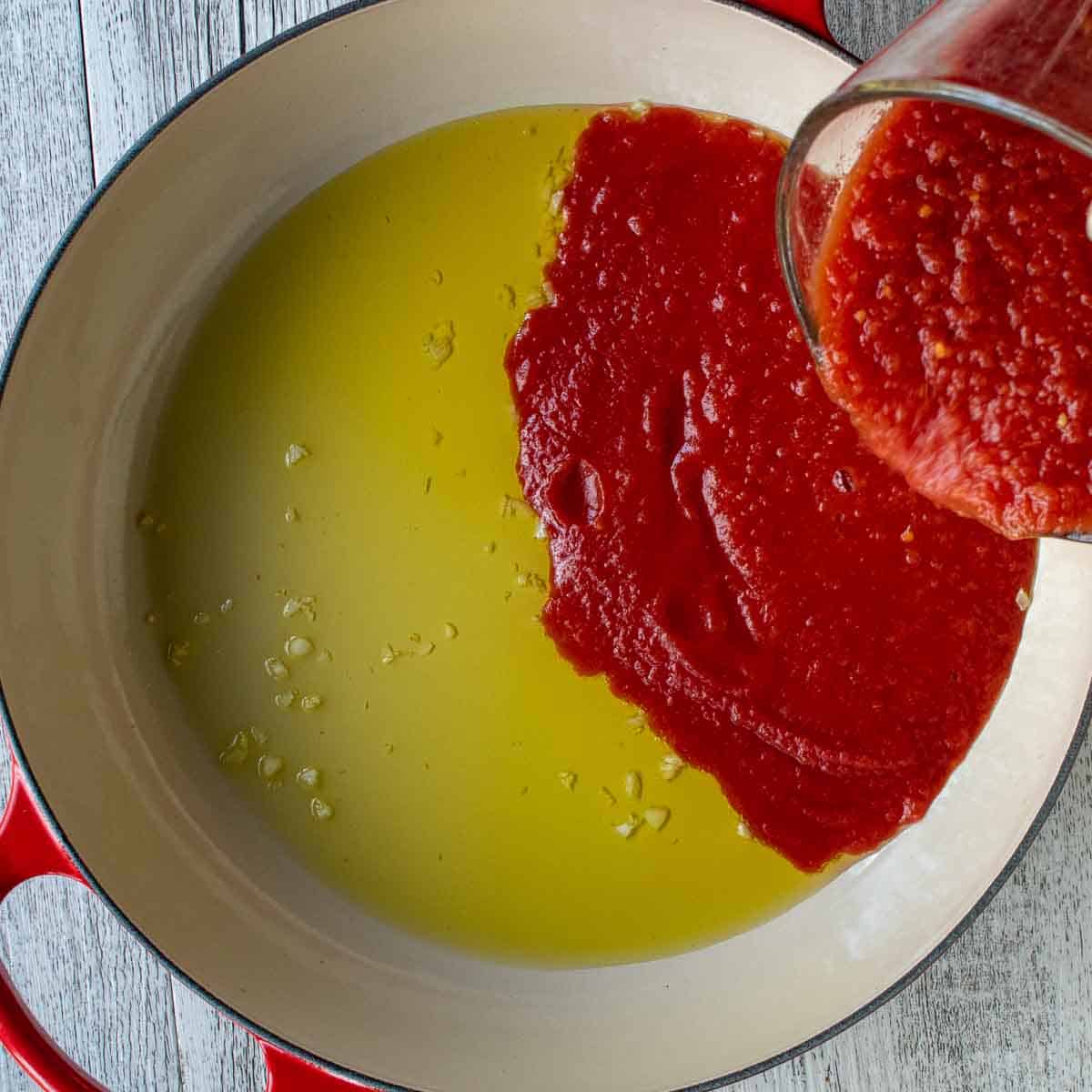 Gently cook the chopped garlic in the oil then add tomato puree.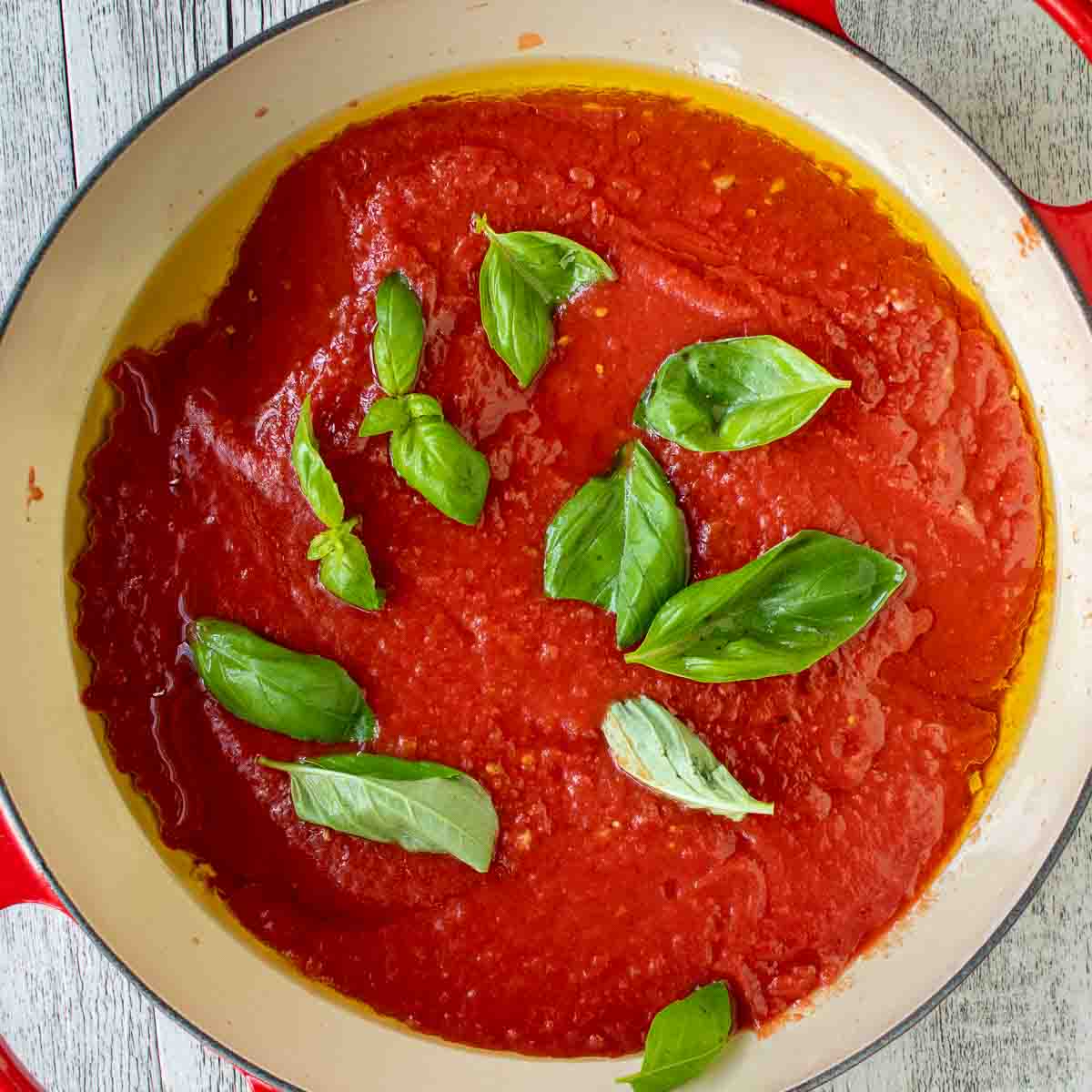 Stir in the basil and gently simmer for 15-20 minutes.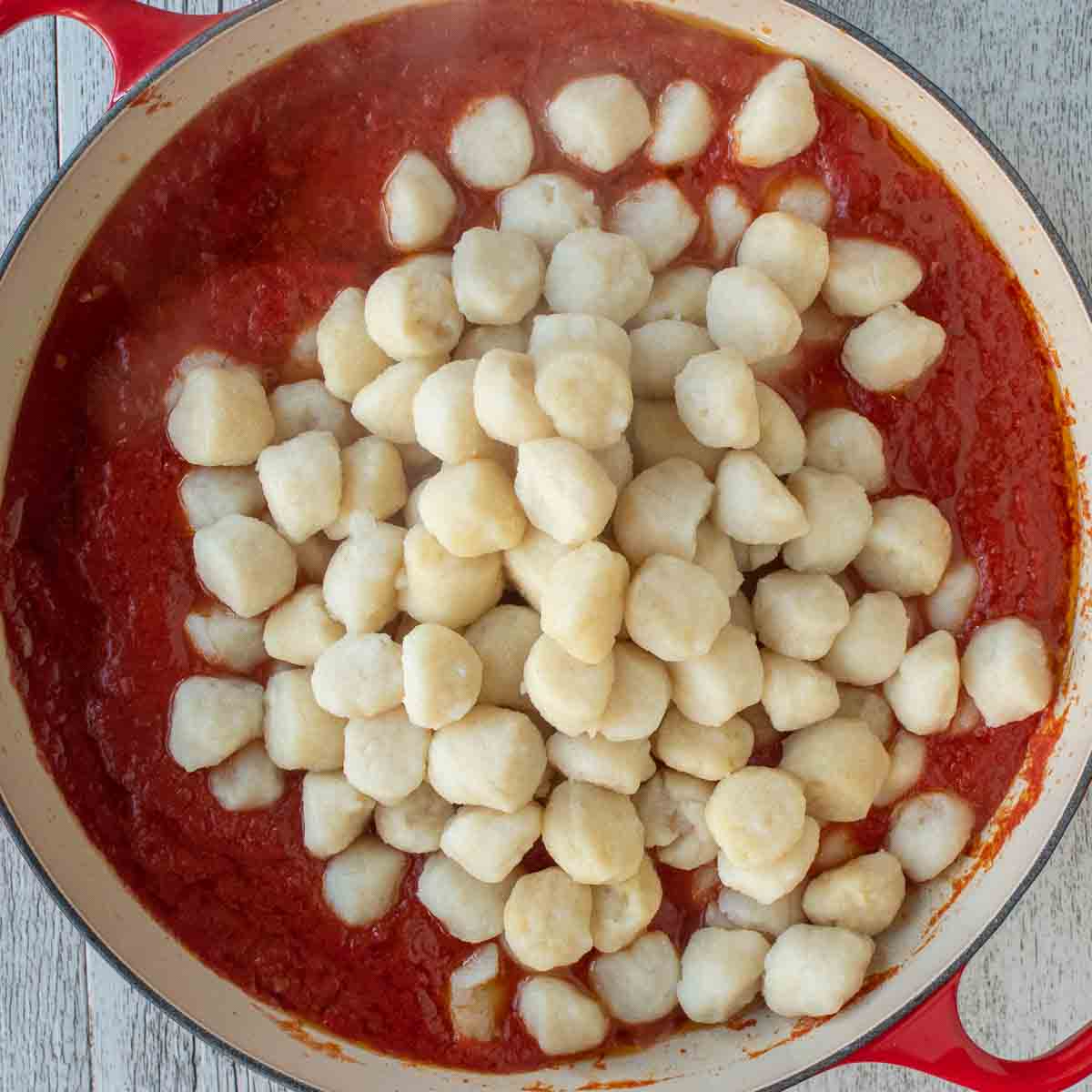 Cook the gnocchi in boiling, salted water then add to the tomato sauce.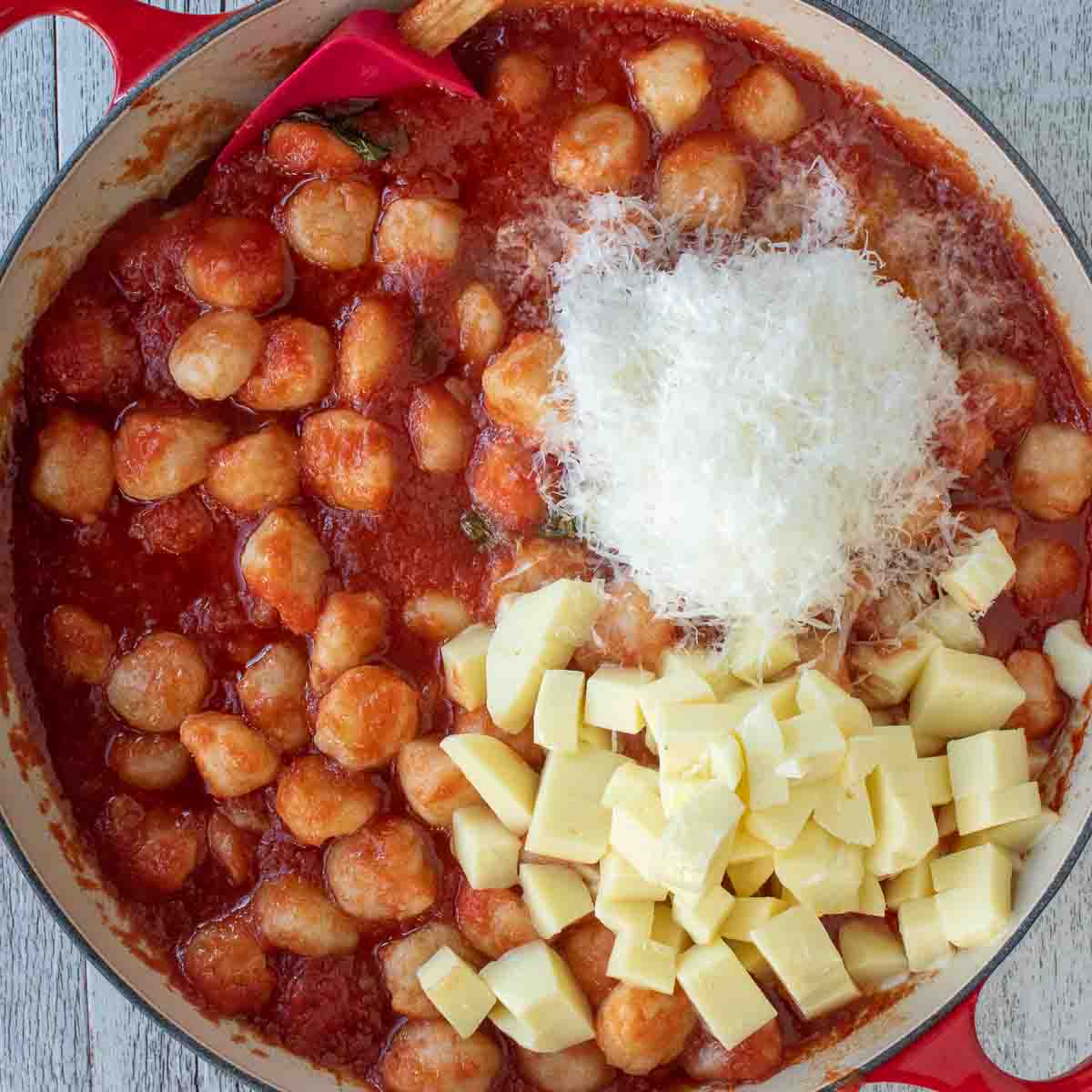 Add ¾ of the cheeses.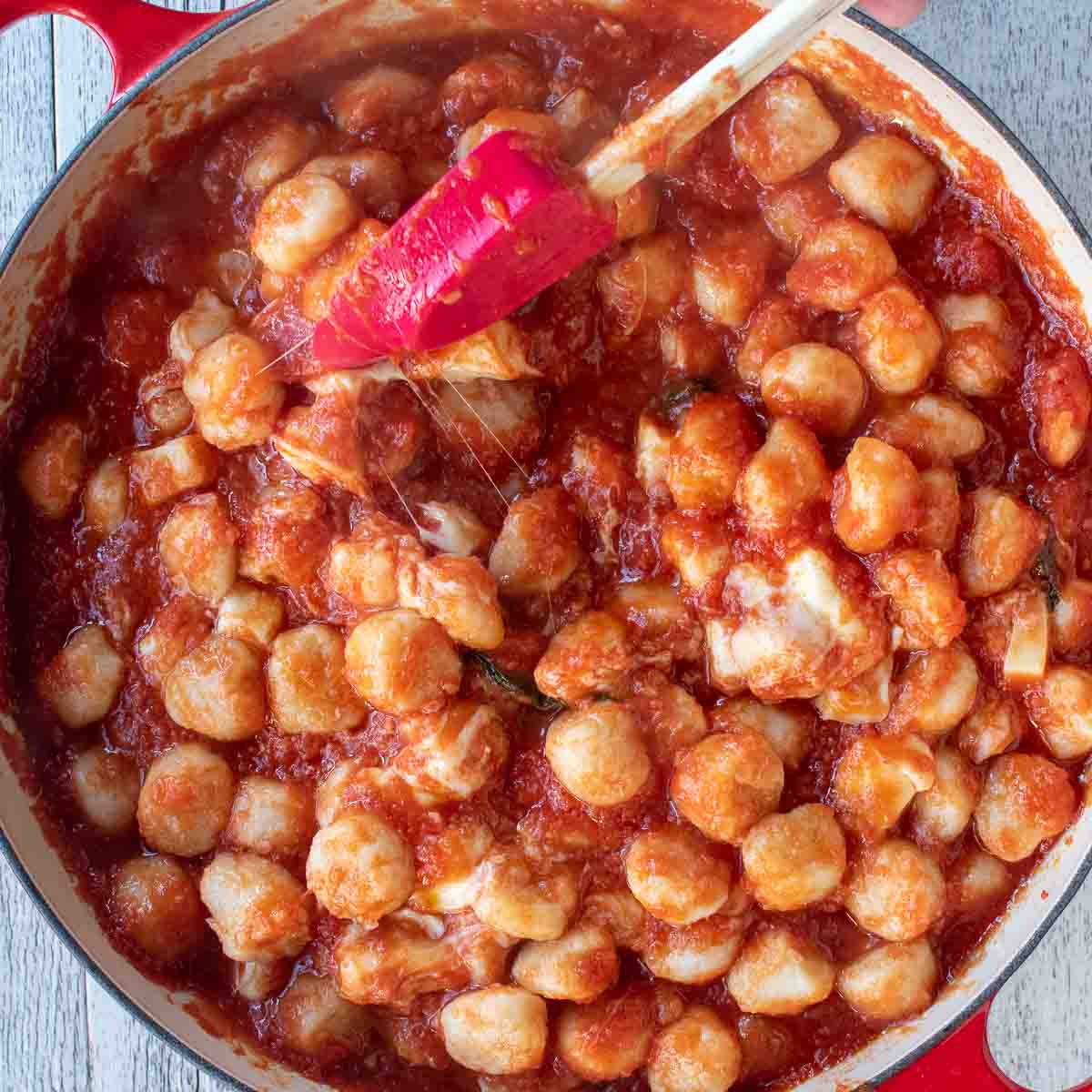 Gently stir until combined.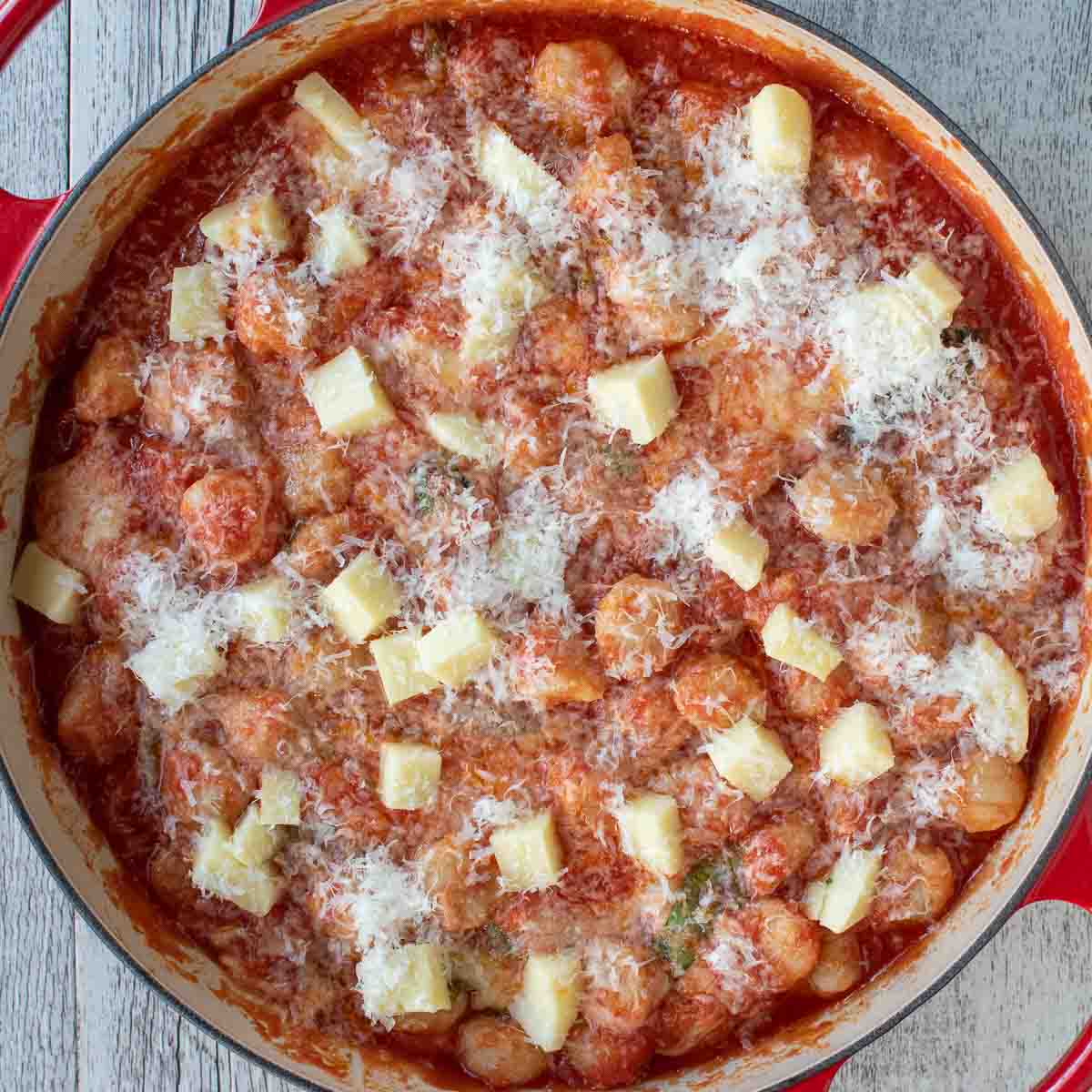 Top with reserved cheese and bake until golden and bubbling.
Hint: If you cook the tomato sauce in a large ovenproof skillet, you can use the same skillet to bake the Gnocchi Sorrentina. However, if you don't have one, transfer the tomato sauce, cooked gnocchi and the cheeses into a large oven proof baking dish instead.
Substitutions
Mozzarella balls - Instead of cutting a whole piece of mozzarella cheese into cubes, you could use mozzarella balls. 
Canned cherry tomatoes - replace the canned whole peeled tomatoes with canned cherry tomatoes in this recipe.
Pecorino Romano cheese - Substitute the savory flavors of Parmigiano Reggiano with the savory flavors of Pecorino Romano. 
Variations
Spicy - add some red pepper chili flakes for a kick of spice. 
Herby - why not add some fresh chopped parsley to the tomato sauce instead of the fresh basil leaves?
Cheesy - experiment with different melting cheeses like fontina, provolone, taleggio or cheddar.  
Storage
If you'd like to make Gnocchi alla Sorrentina in advance, you can make the tomato sauce and store in the refrigerator for up to 3 days. When you're ready to make the complete dish, reheat the sauce and complete the remaining steps.
Leftovers can be kept in the refrigerator for 3 days if stored in an airtight container. To reheat, pop the leftovers in a microwave-safe dish then heat until thoroughly warmed through.
Top tip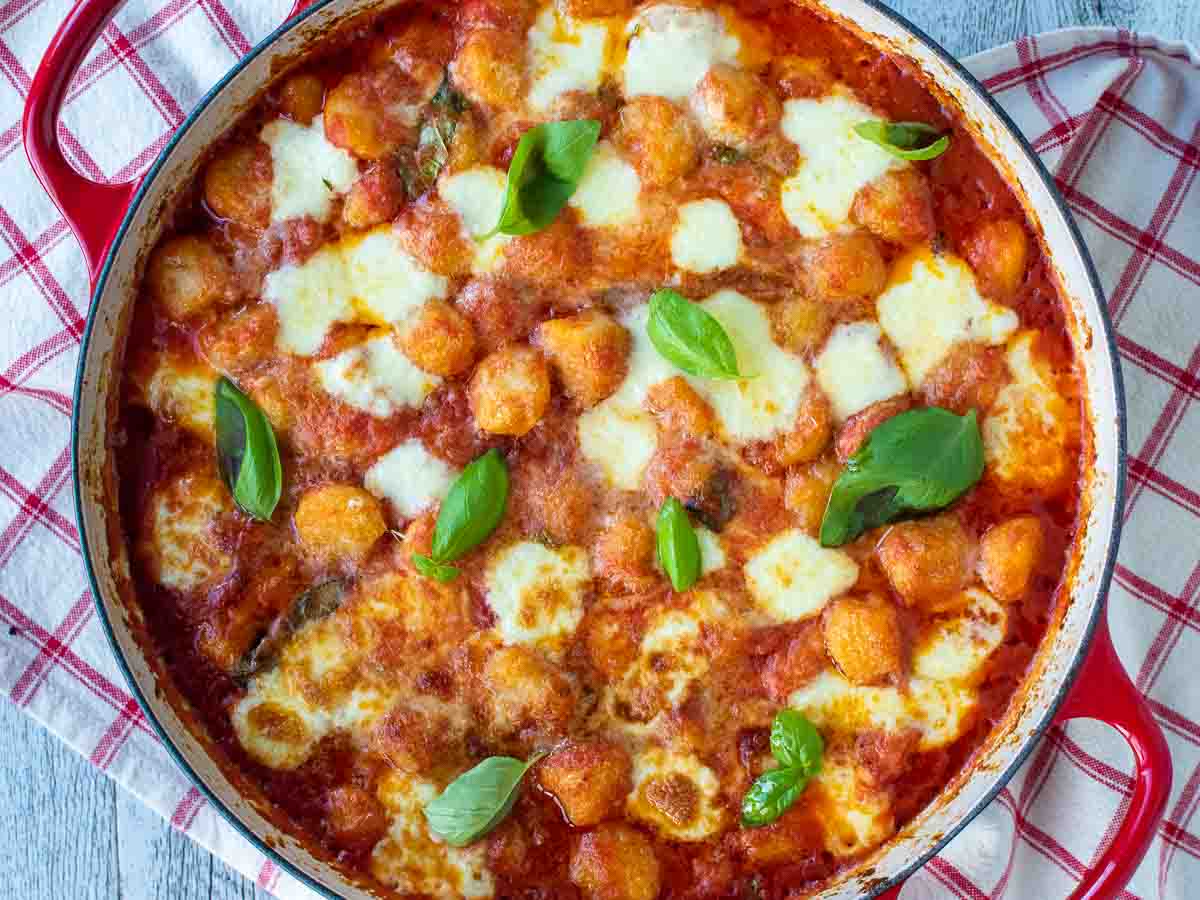 Gnocchi are the hero of this dish so it's important to choose a good quality variety. Read the list of ingredients when determining the best gnocchi to purchase. You'll be looking for ingredients that you recognize - potatoes, flour and eggs.
Mix the gnocchi, tomato sauce and cheeses gently. Good gnocchi are quite delicate and may break up with vigorous stirring.
Be sure that the surface browns and caramelizes well in the oven. The flavor of caramelized cheese in contrast with the cheesy tomato sauce is the highlight of gnocchi alla sorrentina.
FAQ
What is the meaning of sorrentina?
Sorrentina means "of Sorrento" or "Sorrento style". Sorrento is a beautiful coastal town on the Amalfi coast in the region of Campania in Italy. 
Is gnocchi alla sorrentina vegetarian?
Yes, gnocchi alla Sorrentina is vegetarian! This recipe doesn't contain any animal products at all.
What do Italians eat gnocchi with?
Gnocchi are so versatile and there are many sauces that complement gnocchi. Each region has their favorite. A very common way is with light butter and sage sauce.

But Italians also love to eat gnocchi with basic tomato sauce like my San Marzano Tomato sauce or with this Authentic Bolognese Sauce. Basil Pesto also pairs perfectly with gnocchi. 
Serving Suggestions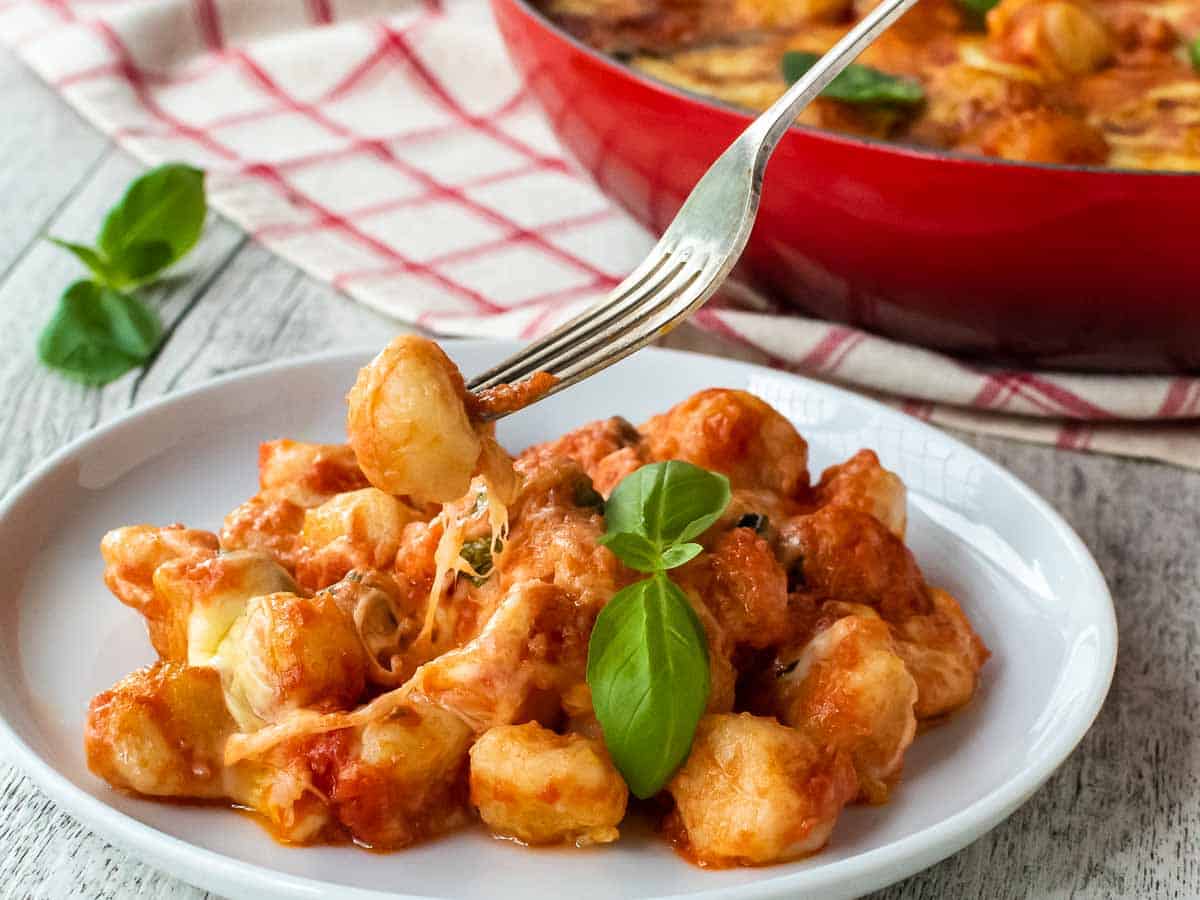 Gnocchi alla Sorrentina is quite satisfying and hearty and in Italy is served as a "primo" just like other pasta dishes. Meat, chicken and fish are served after and known as "secondi".
You can serve this dish with a refreshing salad like my Mediterranean Cucumber Salad or this Green Bean Salad. Follow up with delicious Spiedini or my Butterflied Chicken with Herbs. Of course, everyone will love a side of Ciabatta Garlic Bread.
Made this recipe?
Let me know if you liked it by leaving a ★★★★★ star rating and a review below. Don't forget to subscribe to my newsletter - it's free!
Recipe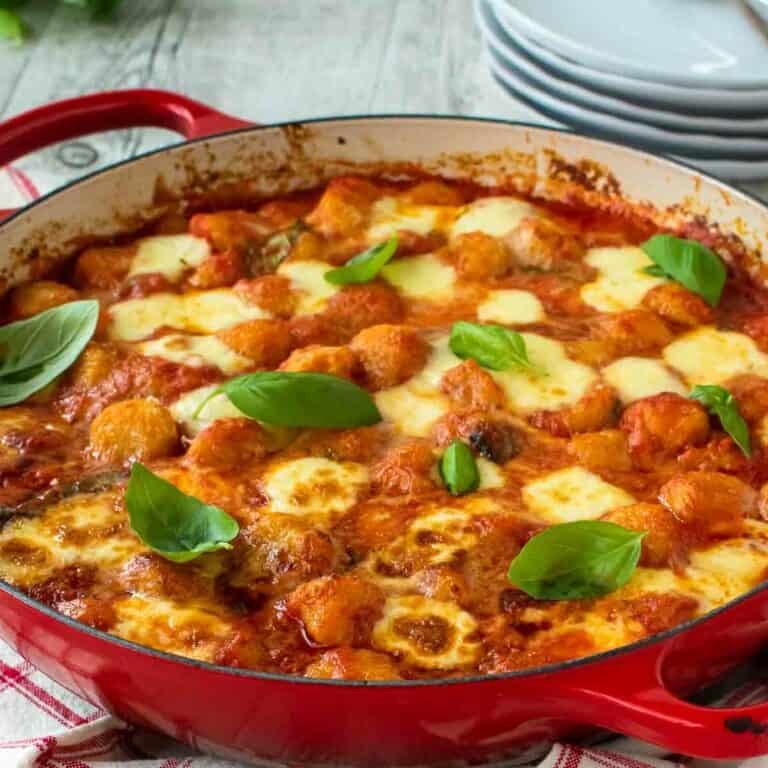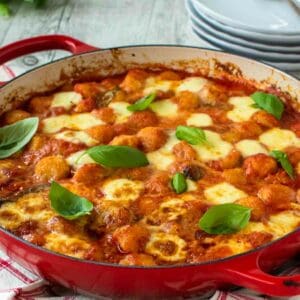 Gnocchi alla Sorrentina Recipe
Tender potato gnocchi bathed in a delicious tomato sauce and lashings of oozing cheese becomes even better when baked until golden!
Print
Pin
Rate
Equipment
1 large oven proof skillet

or large oven proof baking dish
Ingredients
¼

cup

extra virgin olive oil

1

clove

garlic

finely chopped

28

ounces

canned peeled whole tomatoes

(

800

grams) pureed or well crushed

10

fresh basil leaves

1

teaspoon

salt or to taste

plus extra salt for boiling gnocchi

10 ½

ounces

mozzarella cheese

(

320

grams)

2

ounces

grated Parmigiano Reggiano cheese (Parmesan cheese)

(

60

grams)

2

pounds

potato gnocchi

(

1

kilogram)
Instructions
Preheat the oven to 350ºF/180ºC. Cut the mozzarella cheese into cubes.

Use a large oven proof skillet to make the tomato sauce if you have one. Alternatively the gnocchi when combined with tomato sauce and cheeses can be transferred to a large baking dish before topping with remaining cheese and baking

In a large skillet or frying pan (see above), heat the oil over medium heat with the garlic until fragrant. Don't let it brown.

Add the pureed or crushed tomatoes as soon as the garlic gets a bit of color. Stir well and add the basil leaves.

Bring the tomato sauce to a gentle simmer and cook for 15-20 minutes.

The tomato sauce is ready when it has thickened slightly. Taste for salt and add more if needed.

While the sauce is cooking, bring a large pot of water to a boil for the gnocchi.

When the sauce is ready, it's time to cook the gnocchi because they will only take a few minutes.

Salt the boiling water with a large tablespoon of salt.

When the water comes back to a boil, add the gnocchi and stir so that they don't stick to the bottom.

As the gnocchi rise to the surface, scoop them up with a slotted spoon, let them drain for 10 seconds then tip them into the tomato sauce.

Continue this way until all the gnocchi are cooked and added to the tomato sauce.

Gently stir the gnocchi to coat well in tomato sauce. Sprinkle almost all of the chopped mozzarella and grated Parmigiano Reggiano cheese (Parmesan cheese) and toss the gnocchi gently to combine.

Transfer the gnocchi to the baking dish and scatter with reserved cheeses.

Bake for 10-15 minutes in the preheated oven until the cheeses are golden and bubbling.
Notes
Tips for Success
Use good quality gnocchi. Read the list ingredients when determining the best gnocchi to purchase. Alternatively,  make your own using this recipe for potato gnocchi.

Be gentle when mixing gnocchi with tomato and cheeses.

Bake until golden and bubbling.
For more tips and information, scroll back and read all the information above.
Tried this recipe? Give it a star rating and leave a comment below!
Nutritional Estimate Per Serving
Calories:
537
kcal
|
Carbohydrates:
61
g
|
Protein:
21
g
|
Fat:
24
g
|
Saturated Fat:
10
g
|
Polyunsaturated Fat:
2
g
|
Monounsaturated Fat:
10
g
|
Cholesterol:
47
mg
|
Sodium:
1566
mg
|
Potassium:
308
mg
|
Fiber:
5
g
|
Sugar:
4
g
|
Vitamin A:
607
IU
|
Vitamin C:
13
mg
|
Calcium:
408
mg
|
Iron:
7
mg
Nutritional Disclaimer
Nutritional information is an estimate provided by an online nutrition calculator. For accurate results, it is recommended that the nutritional information be calculated based on the ingredients and brands you use.
Food safety