If you love the sweet, smokey flavors of Italian Roasted Peppers, this is a recipe you won't want to miss!
Italian Roasted Peppers in the oven are so easy to make at home with the natural sweetness and flavor of peppers being intensified and deepened during roasting.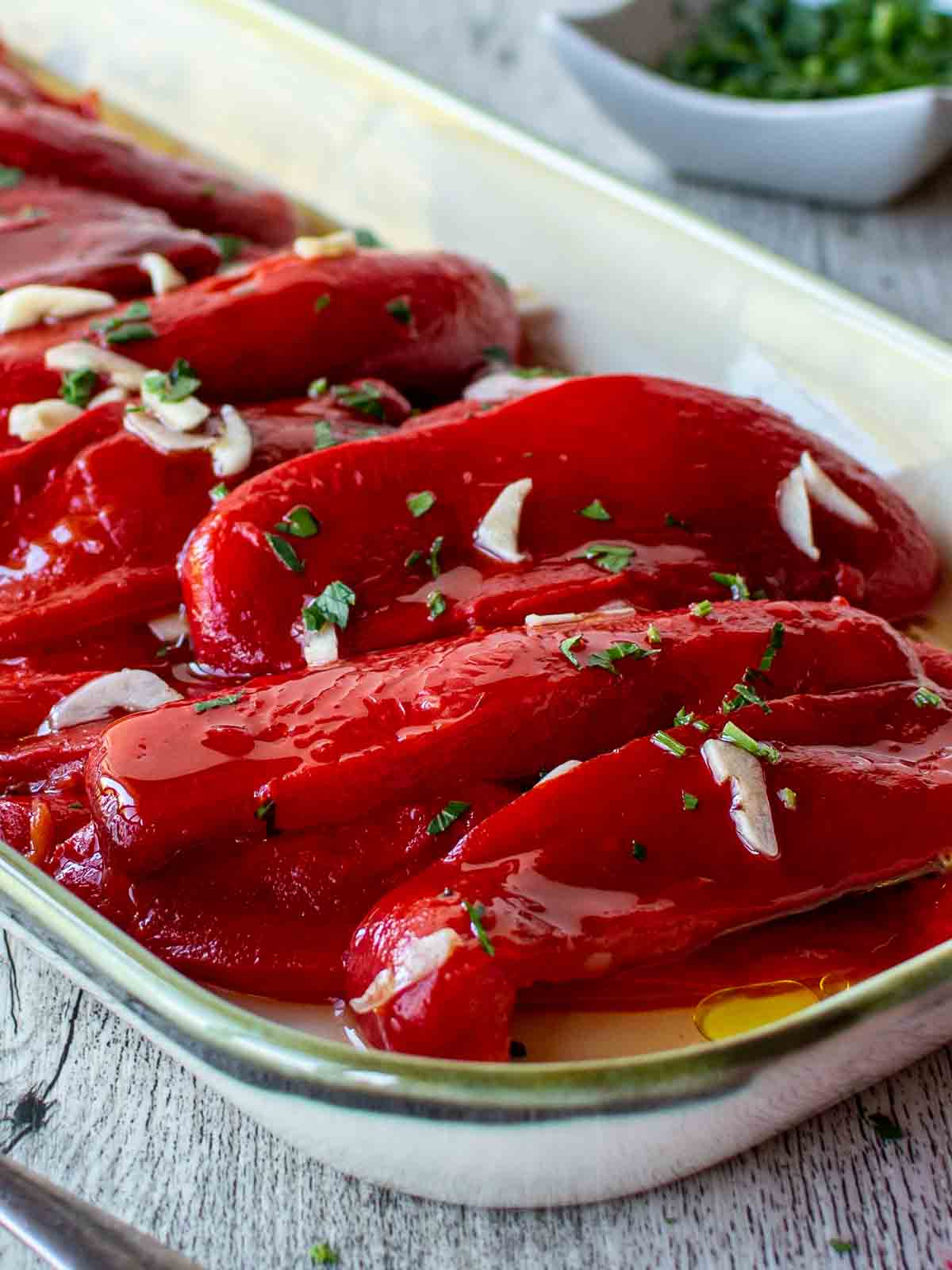 I learned how to prepare Italian Roasted Peppers when I was a young child. This recipe has always been a staple in my home especially growing up when we grew all our vegetables.
While the garden was in full swing, my mother would make Italian Roasted Peppers regularly and freeze them for later. Roasting sweetens and intensifies the flavor of the sweet peppers. You can use them on focaccia, pizzas, and pasta dishes.
The Italian way to dress roasted peppers is simply with good olive oil, sliced fresh garlic and a sprinkle of salt. The sliced garlic will impart good flavor, you don't have to eat it! If you like anchovies, reduce the salt and instead add a few anchovies to add seasoning and extra flavor.
Italian Roasted Peppers pair well with fried meatballs, spiedini and my Italian baked chicken thighs. Another regular side dish on our family table is Italian-style green beans and potatoes.
Why you'll love this recipe
Easy - Once you know how easy it is to prepare oven roasted peppers, you'll wonder why you've never made them before. There's nothing complicated about this recipe and that's what I love about it and you will too!
Flavor and Aroma - The flavor is something you'll be expecting but the aroma that fills your kitchen when you roast peppers is enticing and completely mouthwatering.
What is the best method for roasting peppers?
In my opinion, the best way to make Italian Roasted Peppers is in the oven. It's easy and no fuss. Simply pop whole sweet peppers onto a rimmed baking sheet and roast in a hot oven until charred and blackened. The whole peppers steam inside, and soften while the skin on the outside lifts easily.
However, there are a few other methods that you may have seen in cookbooks or on various sites.
You could hold a red pepper over a flame (with tongs, of course!) but this means you can only roast one pepper at a time which is slow and dangerous!
Alternatively, you could slice each pepper in half, scoop out the seeds, lay them cut side down on an oven pan and roast them under the broiler. With this method, I find it hard to get an even roasting on all sides.
What about an open fire? Sure, throw them in and go for it. Just be careful with this method that you don't completely burn your peppers. You will have to be very vigilant!
This is why the best way to prepare Italian Roasted Peppers is in the oven.
For complete ingredient quantities and full instructions, please scroll to the printable recipe card bottom of the page.
Ingredients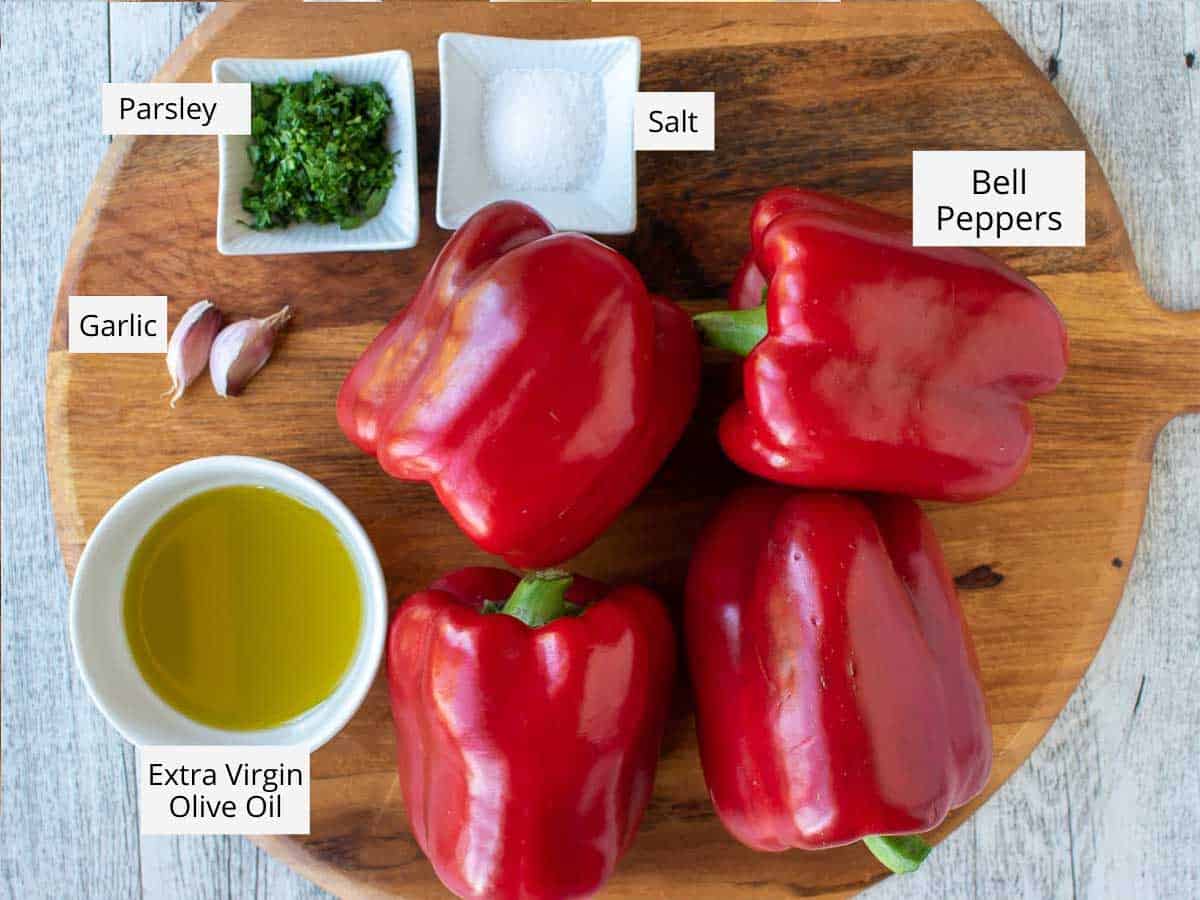 Bell peppers - Be sure to choose firm, unblemished bell peppers that feel heavy for their size and have smooth, shiny skin. You can use other colored peppers, such as green or yellow, however, I find that green peppers, in particular, are harder to peel and not as sweet.
Olive oil - I will show you how to roast peppers in the oven without the need to add any oil. However, once you have roasted sweet peppers, you'll want to marinate Italian style and that's where olive oil comes in. Use an olive oil you like the taste of. Extra virgin olive oil can also be used. Keep in mind that olive oil will solidify at cold temperatures so remove the marinated roasted red peppers from the fridge a few minutes before before serving.
Garlic - fresh garlic gives the best flavor to the dressing. Jarred garlic is too strong for this recipe.
Salt - fine salt is best for seasoning these Italian Roasted Peppers.
As well as making Italian roasted peppers, you can make Italian fried peppers or nonna's peperonata.
Instructions
Before you begin making this Italian Roasted Peppers recipe, preheat the oven to 425ºF (220ºC). Wash and dry the bell peppers.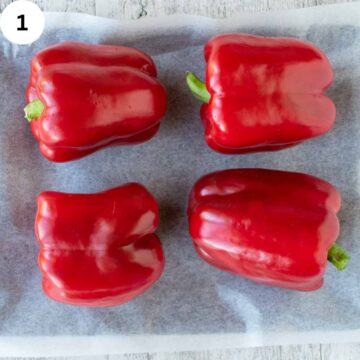 Put the peppers on a rimmed baking sheet in one layer. No oil or anything else! Roast for 20 minutes.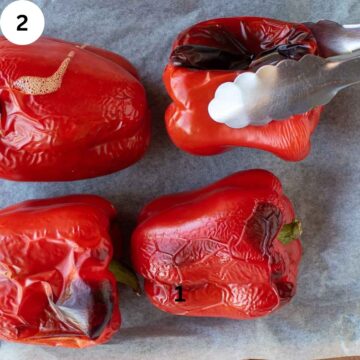 Turn peppers over and roast for another 15 to 20 minutes. (By now your kitchen is filled with gorgeous aromas!)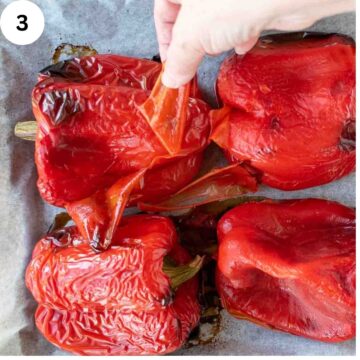 Allow to cool slightly before peeling.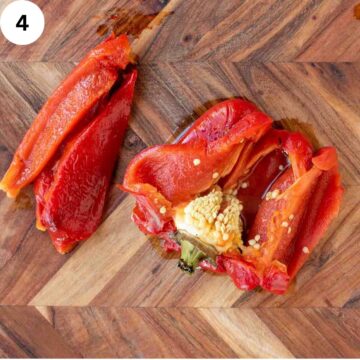 When cool enough to handle, de-seed and cut the roasted peppers into strips.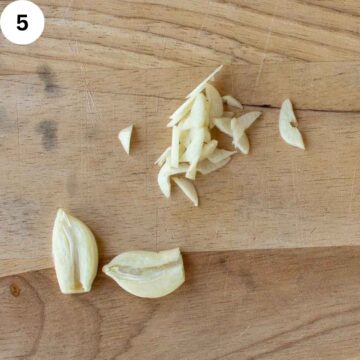 Peel and slice the garlic. Then combine with oil and salt.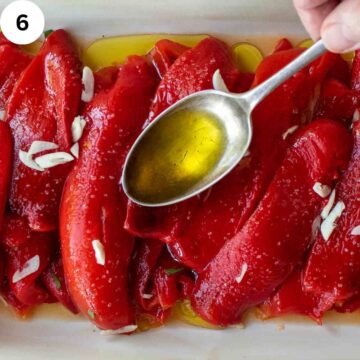 Drizzle the garlic oil over the roasted pepper slices. Toss gently and allow to marinate for a short time.
Hint: Covering the roasted peppers with parchment paper or heat-safe plastic like an oven bag as soon as they come out of the oven can help steam and lift the skins more easily. Alternatively, transfer the roasted peppers to a bowl and cover with plastic wrap for the same purpose.
Variations
Traditional Piedmontese Roasted Peppers - add a couple of sliced anchovy fillets as my mother-in-law does. 
Herby - add a sprinkle of dried oregano or fresh chopped basil or mint.
Red Pepper Flakes - while not traditional, a tiny pinch of red pepper flakes adds an extra flavor and dimension.
Equipment
For these Italian Roasted Peppers, you'll need a large baking rimmed baking sheet. Just a small rim to keep the juices contained. Also the regular kitchen staples such as knives, spoons and a small bowl.
Storage
Italian roasted peppers last in the fridge for about 5 days. Be sure to keep them submerged in the oil.
To freeze, roast, peel and slice the bell peppers as in the recipe. Freeze before dressing with oil, garlic and salt. Layer roasted peppers in sealed containers or heavy-duty, zip-lock bags and freeze for up to 3 months.
Tips for Success
Use a rimmed baking sheet to catch the juices that the bell peppers will release. You can line the baking sheet with nonstick parchment paper or aluminum foil to make cleaning up easier.
The roasting time will vary depending on the size of the bell peppers. Small peppers will take less time than larger bell peppers. It will take around 30-40 minutes to roast medium-sized peppers in the oven. You will need to turn them once or twice for even roasting.
If you make roasted mini sweet peppers, the roasting time will be much less. Keep an eye on them and turn when one side is becoming blackened.
Once out of the oven, I usually cover the roasted peppers with parchment paper. This steams any skin that is still sticking making it easier to remove. Alternatively, I'll cut open a plastic freezer bag and drape that over the roasted peppers
Allow the bell peppers to cool a little before using a small knife or your fingers to remove the blackened skin which will be quite loose. Then use a knife to split the roasted peppers. The stem and seeds should just peel away.
FAQ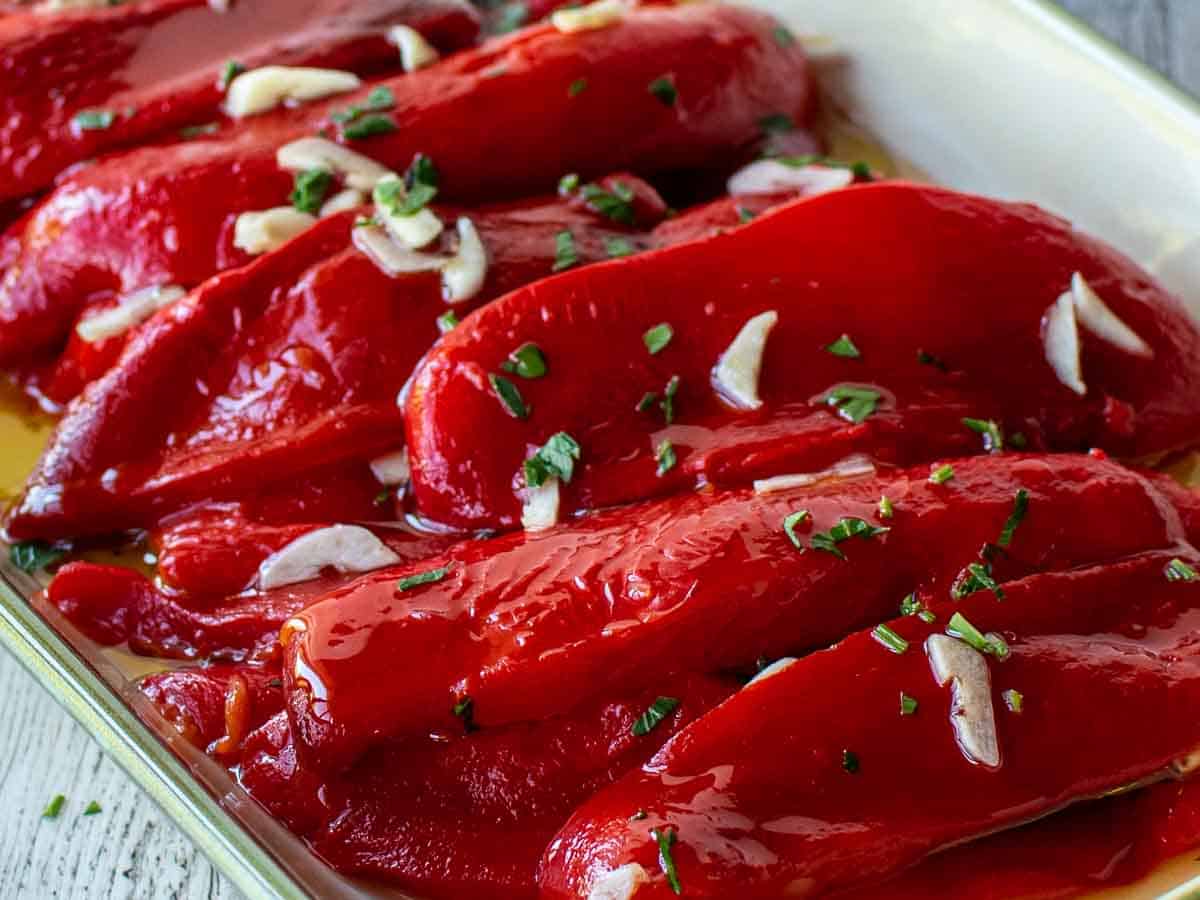 What kind of peppers should I use if I want to roast peppers at home?
Use any type of sweet pepper. Make roasted mini peppers, roasted bell peppers or roasted red peppers, they're all part of the sweet pepper family. instead of bell peppers use long sweet peppers which are also known as Italian sweet peppers or Italian green peppers.
Is it worth it to roast your own red peppers?
Definitely! Roasting red peppers is easy and economical especially when red peppers are plentiful and cheap. It's easy to do and can be frozen for later.
Should I cut peppers before roasting?
No. Cutting peppers before roasting is unnecessary. Just put the whole, washed pepper onto a lined baking sheet and pop into a preheated oven. The inside of the pepper builds up steam which softens and helps lift the skin. My mother would never have wasted time cutting peppers before roasting. 
What to do with Italian roasted peppers.
Italian roasted peppers are the ideal side dish for chicken cutlets, spiedini or roasted butterflied chicken. They're ideal for almost any second course of chicken, beef or fish. However, Italian roasted peppers also make a delicious addition to frittata, sandwiches and salads.
Serving Suggestion
Roasted Italian Peppers are best served at cool room temperature to enjoy the full flavors. Take them out of the fridge a 15 minutes or so before serving.
I love them in a pasta salad or included in a delicious antipasto with Instant Pot Cauliflower and ciabatta garlic bread. These Italian Roasted Peppers are also the perfect side dish for Ricotta Spinach Pie and Italian Braised Chicken.
Now that you know how to make Italian Roasted Peppers, you'll never want the jarred version again!
More Italian recipes you'll love
Cavatelli - easy handmade pasta.
Italian Rice Balls - also known as arancini.
Bagna Cauda - warm anchovy dip.
Cannoli Cake - all the delicious flavors of cannoli in a cake!
Italian Fried Peppers - another great summer dish.
Made this recipe?
Let me know if you liked it by leaving a ★★★★★ star rating and a review below. Don't forget to subscribe to my newsletter - it's free!
Recipe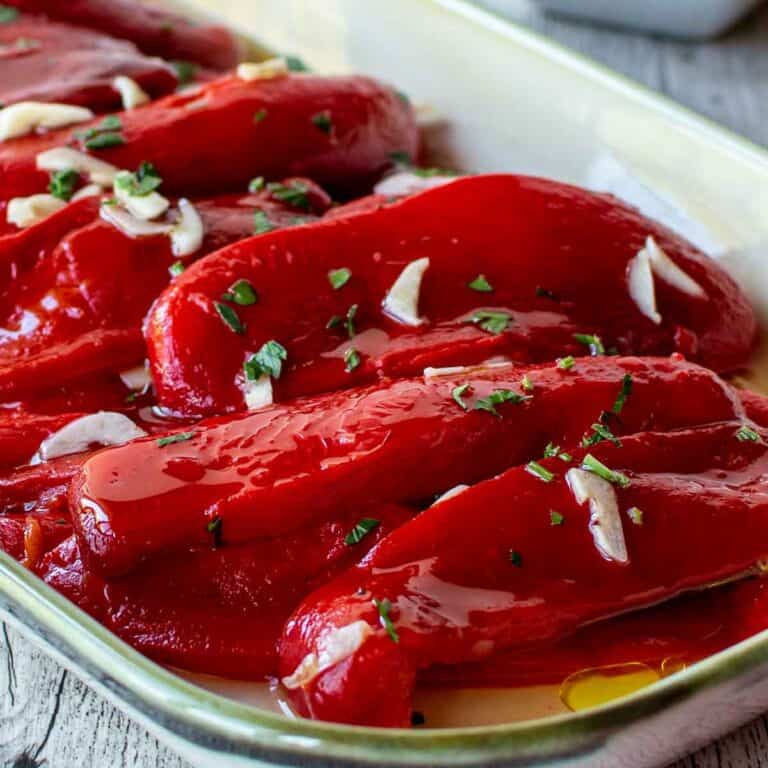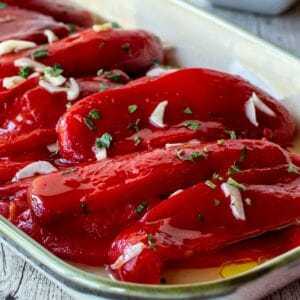 Italian Roasted Peppers Recipe
Make this Italian staple at home and marinate them in the Italian way. This recipe has all the tips to make the most delicious roasted Italian peppers!
Print
Pin
Rate
Servings:
12
people as an appetizer
Ingredients
4

bell peppers

4

tablespoons

extra virgin olive oil

approximately

2

garlic cloves

or to taste

½

teaspoon

salt

or to taste
Instructions
Preheat oven to 425°F/220ºC. Line a baking sheet with non stick parchment paper.

Wash the peppers and place in one layer in the prepared baking sheet. No oil or anything else!

Pop into the preheated oven for 20 minutes. At this point the skin on the peppers should start bubbling and loosening.

Using tongs, turn peppers over so that they cooked evenly.

Roast for another 10-15 minutes. By now your kitchen is filled with gorgeous aromas and the peppers should be quite charred

You may need more or less depending on how large your peppers are. When done, the peppers should be at least 50% blackened, the skin should look loose and wrinkled and the peppers should be starting to collapse.

Remove from the oven and cover with a sheet on non stick parchment paper or heat resistant plastic like an oven bag. Allow to cool slightly.

Using your fingers, peel off the blackened skins.

Cut the roasted peppers lengthwise and carefully prise away the stalk. Most of the seeds should come with the stalk. The remaining seeds can be scraped away.

Slice peppers into strips lengthwise and put into a bowl.

Peel and slice the garlic. Then combine with oil and salt.

Drizzle oil over the peppers and combine gently.

Allow to stand 30-60 minutes to marinate before serving. Serve warm or cold.
Notes
Tips for success
Line a rimmed baking sheet with non stick parchment paper to make cleaning up easier.

Roasting time can vary depending on the size of the peppers.

Small peppers take much less time. Keep an eye on them!

After roasting, cover the roasted peppers with parchment paper or heat resistant plastic to allow them to steam and loosen the skins further.

Use a small knife or you fingers to remove the blackened skin.
Storage
Store for 5 days in a sealed container covered with oil. Freeze roasted pepper strips prior to dressing with oil and garlic. Layer in a sealed container or heavy duty freezer bags for up to three months. Thaw in the fridge then dress as in the recipe.
Tried this recipe? Give it a star rating and leave a comment below!
Nutritional Estimate Per Serving
Calories:
52
kcal
|
Carbohydrates:
3
g
|
Protein:
0.4
g
|
Fat:
5
g
|
Saturated Fat:
1
g
|
Polyunsaturated Fat:
1
g
|
Monounsaturated Fat:
3
g
|
Sodium:
99
mg
|
Potassium:
86
mg
|
Fiber:
1
g
|
Sugar:
2
g
|
Vitamin A:
1242
IU
|
Vitamin C:
51
mg
|
Calcium:
4
mg
|
Iron:
0.2
mg
Nutritional Disclaimer
Nutritional information is an estimate provided by an online nutrition calculator. For accurate results, it is recommended that the nutritional information be calculated based on the ingredients and brands you use.
This updated and improved recipe was first published on Marcellina in Cucina on March 13, 2019.