My gluten free almond flour peanut butter cookies will be ready to eat and impossible to resist in under 30 minutes!
Why you will love this recipe!
You can probably guess that I looove spending time in the kitchen: creating and baking are some of my favorite things! But sometimes everyone - including me - needs a quick and easy recipe that we can whip up in a matter of minutes using simple pantry ingredients. And this is it! In under 30 minutes, your kitchen will smell amazing and you'll have baked a batch of the best gluten free peanut butter cookies that you've ever tasted! What could be better?!
I'll tell you what's better: almond flour peanut butter cookies that are naturally gluten free! These cookies are suitable to be served to your gluten intolerant guests because almond flour is naturally free from gluten. In fact, almond flour is a great healthy alternative to regular wheat flour because it's lower in carbohydrates, higher in protein and healthy fats, and contains vitamin E, magnesium, and fiber. As a result, you'll feel satisfied for longer.
Not so long ago, the range of gluten free baked goods was disappointing at times, and accommodating a gluten intolerant diet meant sacrificing flavor or texture. However, my flourless chocolate chip cookies take gluten free baked goods to a whole new level! They have a rich peanut butter flavor while remaining soft, tender, moist, and melt-in-your-mouth. I challenge you to try stopping at just one!
Be sure to also try out my tasty Italian macarons that my whole family loves!
For complete ingredient quantities and full instructions, please scroll to the printable recipe card bottom of the page.
INGREDIENT NOTES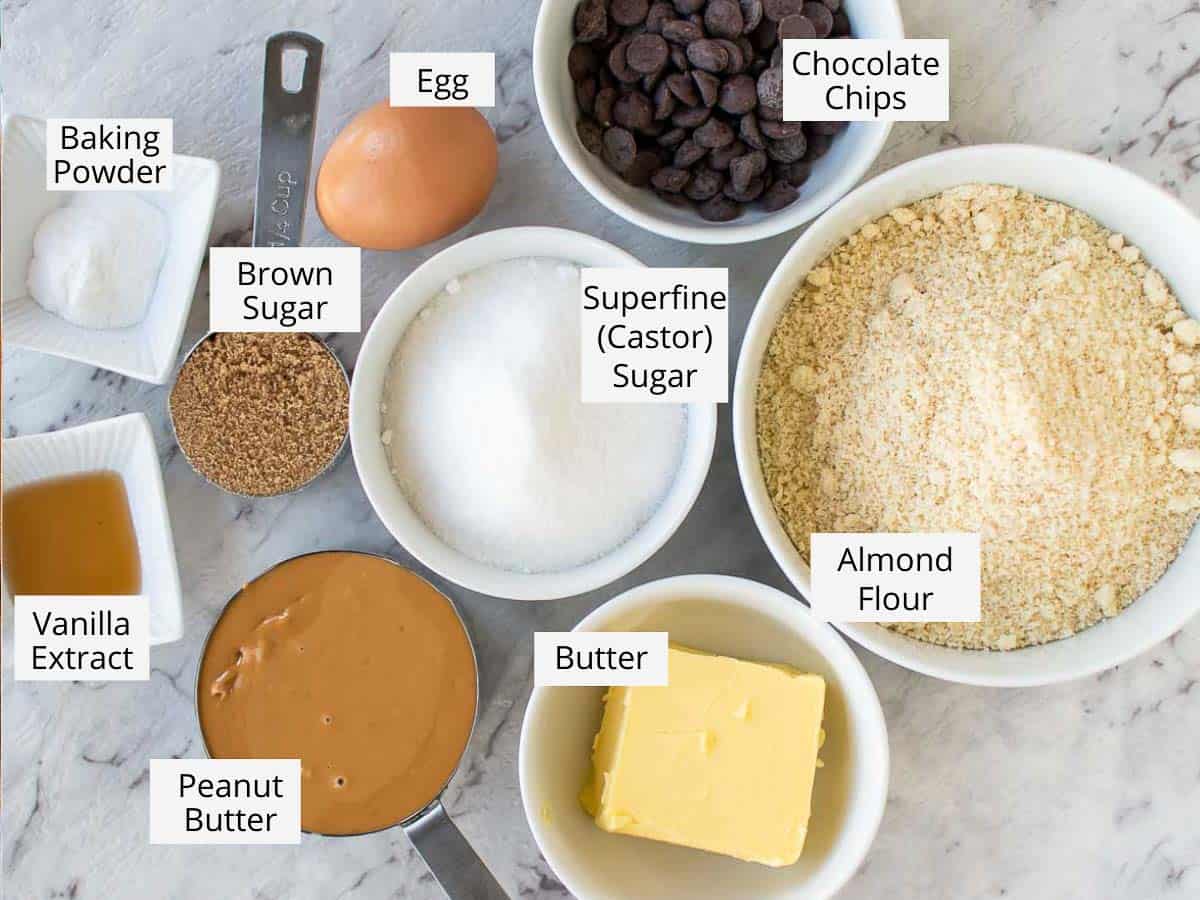 Almond flour - Blanched and finely ground almonds, making this protein-rich flour 100% gluten free and higher in protein than any wheat flour alternative.
Peanut butter - Smooth or crunchy, store bought or homemade - use whatever you have in the panty. If you have a choice, try to select a natural peanut butter that doesn't contain any additional fats or oils - just peanuts and salt. My preference is for a creamy peanut butter.
Superfine white sugar - Known as castor sugar in Britain and Australia, it is more finely granulated than regular sugar, but not as fine as confectioners' (or icing) sugar. Superfine sugar dissolves easily, making your baked goods softer and lighter.
Brown sugar - Using a small amount of brown sugar adds a little moisture to the recipe, as well as a slightly caramalized flavor and color.
Egg - I prefer free range eggs, but feel free to use whatever you already have in your kitchen.
Butter - I recommend and use unsalted butter in this recipe. However, I'm a big believer in being able to use the ingredients you already have in your pantry, so if you only have semi-salted or salted butter, use that. Please just bear in mind that you will taste the salt in the finished cookies.
Vanilla extract - Just one teaspoon will provide enough flavor for these gluten free peanut butter cookies.
Baking powder - Just one teaspoon. Baking powder helps to give the cookies a little 'lift' during the baking process. Be careful not to use too much!
Chocolate chips - We will use some in the recipe, plus extras for decorating. You can decide whether you want to use milk, dark, or white choc chips. Please note that most (but not all) chocolate chips are gluten free, so please check the package if you're baking for a gluten intolerant guest.
VARIATIONS
These fabulous healthier chocolate chip cookies are quite versatile when it comes to recipe variations. For example, if you're looking for a little burst of zing, why not add half a teaspoonful of ground ginger or cinnamon?
Alternatively, try replacing the peanut butter with almond butter.
Other suggestions include substituting the chocolate chips for one of these options:
chopped nuts (try peanuts, pecans, cashews, or walnuts)
raisins
M&Ms (only the regular ones are gluten free)
add half a teaspoon of ground ginger, cinnamon, or nutmeg for a burst of zing!
dried berries
INSTRUCTIONS
Please note that my instructions below correspond with the numbered photos above. For greater detail, see the recipe card.
Preheat the oven and line two baking sheets with non-stick parchment paper and preheat the oven to 350ºF/ 180ºC.
Using a whisk, combine the blanched almond flour and baking powder together to break up any lumps.
Using an electric mixer, beat the butter, peanut butter, and sugars until well combined.
Add in the egg and vanilla extract and beat until ingredients are well blended.
Stir in the almond flour and baking powder mixture, and the chocolate chips.
Use a small cookie (or ice cream!) scoop to portion out the cookie dough. Roll into balls using the palms of your hands, and place evenly spaced onto your baking tray lined with baking paper. Allow some room between each dough ball because they will spread during the baking process.
Gently press a few extra chocolate chips into the top of each dough ball before putting the lined baking sheet in the preheated oven.
Bake for 8 - 12 minutes, remove from the oven and allow to cool on the tray for 5 minutes before transferring to a wire cooling rack.
TIPS FOR SUCCESS and FAQs
Remember to stir the peanut butter in the jar before you use it. The natural oil from the peanuts can separate and rise to the top of the jar, making the peanut butter at the top more oily, and the peanut butter at the bottom drier. If you use either overly oily or overly dry peanut butter, it will affect the consistency of the dough, and therefore the finished cookies.
I like to use a small cookie scoop to help make portioning easier. When each portion is the same size, they bake evenly. Delicious!
Almond flour peanut butter cookies will brown quite quickly so you'll need to be careful not to overcook them. I set my timer for a couple of minutes early, then spend the last couple of minutes watching them in the oven. If they're nicely browned a minute or two early, you can take them out. However, always allow your cookies to cool on the baking tray for five minutes before removing them.
Remember to check that the chocolate chips you use are 100% gluten free. Most brands are, but please double-check if you're planning to serve these scrumptious cookies to gluten intolerant family, friends, neighbors or colleagues.
Please note: You can substitute ground almonds (also known as almond meal) for almond flour. However, if you're planning to do so, please remember to use a little extra ground almond/ almond meal because it doesn't absorb as much moisture as almond flour. Additionally, keep in mind that your cookies will be slightly darker because almonds are ground with their skin on, whereas almond flour is made from blanched (skin-free) almonds.
Also note that if you are planning to substitute almond flour for regular wheat flour in other recipes, there are a couple of things to bear in mind:
1. You will need to adjust the measurements a little because almond flour is denser than regular flour. You will need to check each recipe individually, but a general rule of thumb is that you will need to use approximately 25% less almond flour than regular flour.
2. Delicious baked treats using almond flour tend to cook about 25% more quickly, so don't forget to reduce your cooking time! You will also need to reduce your oven temperature by 10-15%.
Are cookies made with almond flour better for you?
Yes! Almond flour is low on the glycemic index, which means that it's less likely than wheat flour to cause spikes in your blood sugar. And that means that it will keep you feeling fuller for longer. Also, almond flour is rich in protein, magnesium, vitamin E, and monounsaturated fats (the healthy fats that help reduce cholesterol and therefore the risk of heart disease).  
Can I freeze these cookies?
Yes! You can freeze the dough or the baked cookies. To freeze the dough, wrap it tightly in plastic film, then in aluminium foil, then place in the freezer for up to 2 months. Defrost in the refrigerator, then shape and bake as usual. To freeze the baked cookies, separate cookies with baking paper, then wrap in plastic film, pop into an airtight container or plastic ziplock bag and freeze for up to 2 months. Defrost on the bench, out of direct sunlight.
How do I store almond flour peanut butter cookies?
Store gluten free peanut butter cookies and in an airtight container out of direct sunlight on the bench or in the pantry. Cookies will stay fresh for several days.
SERVING SUGGESTION
Almond flour peanut butter cookies are an excellent addition to your kids' lunchboxes, providing extra protein to help them get through their busy school days. They're also the perfect accompaniment with your morning or afternoon tea, or a scrumptious supper snack.
Alternatively, gluten free almond flour cookies are fabulous paired with mango ice cream - yum!
Are you keen to try some of my other almond-inspired recipes? What about my delicious Tosca Cake - a moist and buttery Swedish almond cake. Or the ever-popular Raspberry Almond Bars - perfect for holiday entertaining. And for true decadent dessert lovers, what about my Sicilian Cheesecake?
Made this recipe?
Let me know if you liked it by leaving a ★★★★★ star rating and a review below. Please share a photo of your creation by tagging me on Instagram @marcellina.in.cucina!
Recipe
Almond Flour Peanut Butter Cookies Recipe
Gluten free cookies with a rich peanut butter flavor that remain soft, tender, moist, and melt-in-your-mouth.
Print
Pin
Rate
Ingredients
2 ¼

cups

(

216

grams) almond flour

1

teaspoon

baking powder

⅛

teaspoon

salt

more if using unsalted peanut butter

½

cup

(

4 oz/115

grams) unsalted butter

softened

¾

cup

(

150

grams) superfine white (castor) sugar

¼

cup

(

53

grams) brown sugar

1

cup

(

250

grams) peanut butter

smooth or crunchy

1

egg

1

teaspoon

vanilla extract

½

cup

chocolate chips

plus more for decorating
Instructions
Preheat the oven to 350ºF/ 180ºC and line two baking sheets with non-stick baking paper.

Whisk almond flour, baking powder and salt to combine and break up any lumps.

Using an electric mixer, beat the butter, peanut butter and sugars until well combined and creamy.

Add the egg and vanilla extract then beat until completely combined.

Stir in the almond flour and baking powder mixture.

Then stir through the chocolate chips.

Roll a heaped teaspoonful (or use a small cookie scoop) of cookie dough into small balls and place on a baking sheet with room for spreading.

Press a few chocolate chips on top of each. Press the balls down to flatten a little with the tines of a fork.

Bake for 8-12 minutes watching carefully that they don't burn.

Cool on baking sheet for 10 minutes then transfer to wire rack to cool completely. Store in an airtight container at room temperature for up to 4 days or freeze for up to 3 months.
Notes
Tips for Success
Stir the peanut butter well before measuring.

Use a small cookie scoop to help make portioning easier.

These cookies will brown quickly - keep an eye on them.

Remember to check that the chocolate chips you use are 100% gluten free if you are serving to gluten intolerant guests. 
Read the post fully for more suggestions for "Variations" and "FAQ's".
Nutritional Information Per Serving
Calories:
137
kcal
|
Carbohydrates:
10
g
|
Protein:
3
g
|
Fat:
10
g
|
Saturated Fat:
3
g
|
Polyunsaturated Fat:
1
g
|
Monounsaturated Fat:
2
g
|
Trans Fat:
1
g
|
Cholesterol:
12
mg
|
Sodium:
36
mg
|
Potassium:
62
mg
|
Fiber:
1
g
|
Sugar:
7
g
|
Vitamin A:
85
IU
|
Calcium:
25
mg
|
Iron:
1
mg
Nutritional Disclaimer
Nutritional information is an estimate provided by an online nutrition calculator. For accurate results, it is recommended that the nutritional information be calculated based on the ingredients and brands you use.