Traditional Peperonata is a classic Italian recipe that makes the most of tasty summer vegetables. Colorful and intensely flavorsome, this vegetable stew is exactly what Italian cuisine is all about - simple, delicious ingredients!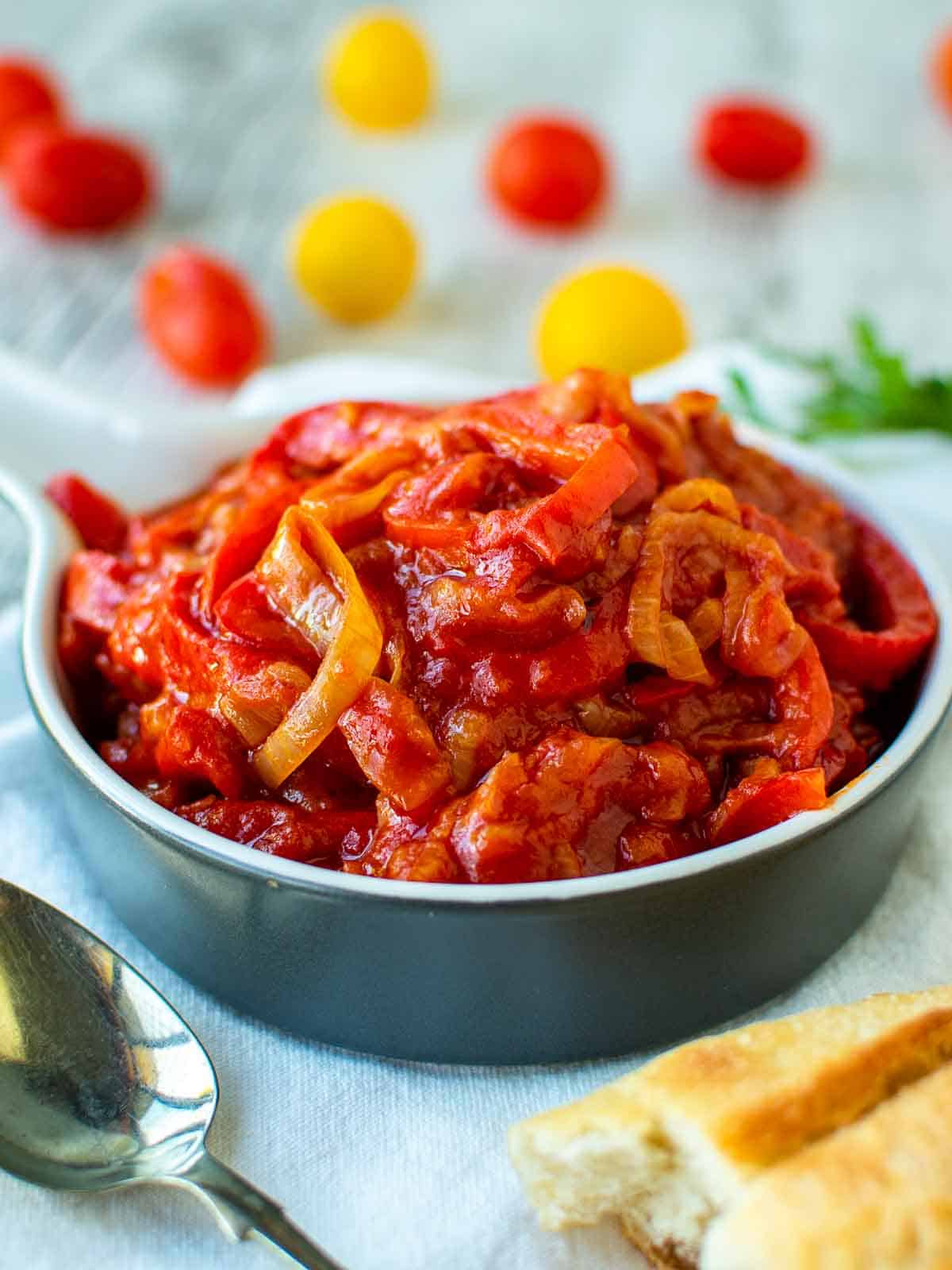 You might be wondering what is peperonata? This rustic vegetable stew known as peperonata, is popular throughout Italy and there are many variations. Based on bell peppers, onions and tomatoes slowly simmered until fragrant and meltingly soft, peperonata is a summer favorite to which other vegetables can be added.
This is a side dish recipe but it's also a sauce recipe. Plus peperonata can be used as a topping on crusty bread like bruschetta.
This is nonna Lucia's recipe and it's the best I've ever tasted. Maybe it's because she never held back on the olive oil or maybe it's because she never really measured anything, either way it's amazing!
This versatile vegetable stew recipe can be made in advance and reheated to serve hot or served at room temperature. Peperonata is particularly good with my Italian chicken cutlets but we also enjoy it as a light lunch with a chunk of focaccia. Whichever way you serve this peperonata, your taste buds are going to be taken on an amazing and delicious journey!
For complete ingredient quantities and full instructions, please scroll to the printable recipe card bottom of the page.
Ingredients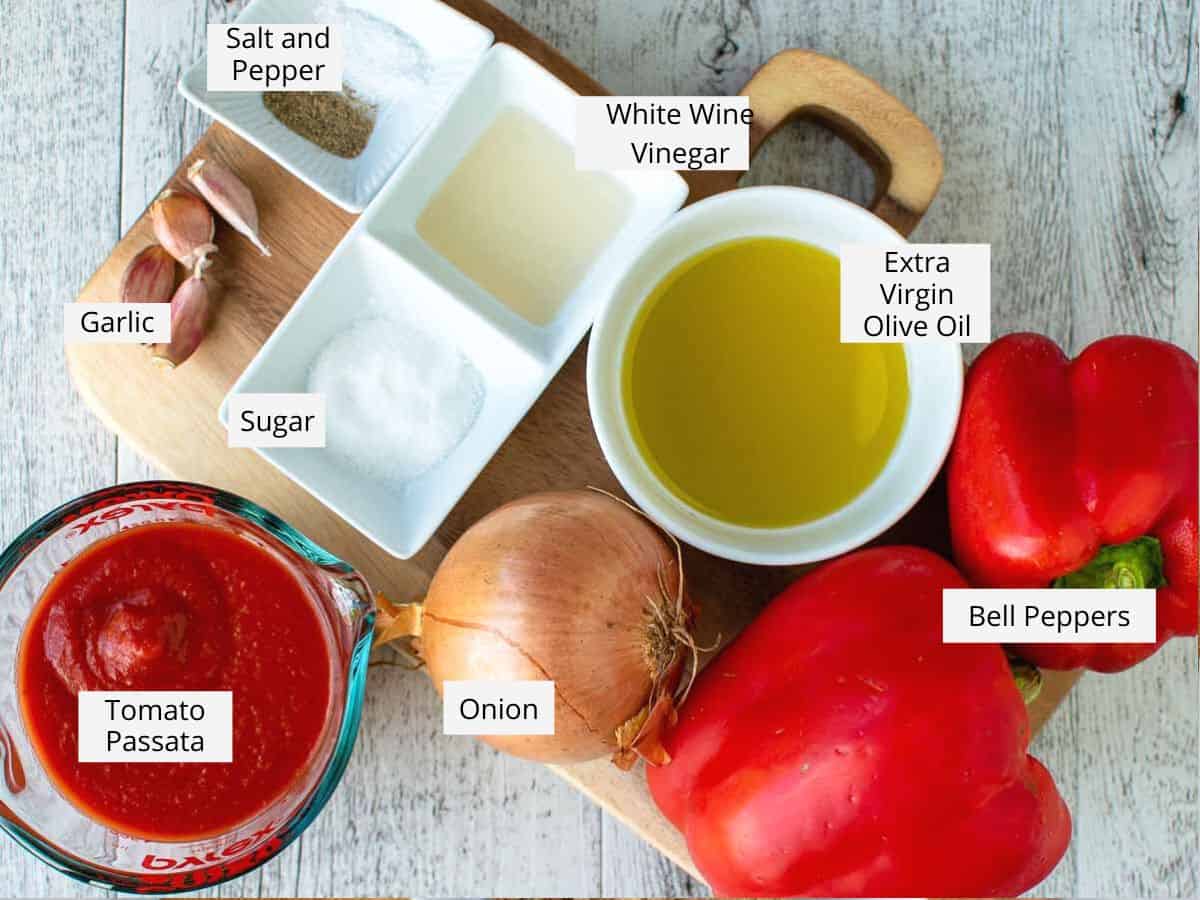 Bell peppers - Also known as simply capsicums in Australia, New Zealand and India or red or yellow peppers in Britain. Choose red, yellow or orange ones. A sweeter peperonata will be achieved with the inclusion of red bell peppers. Select ones that are heavy for their size and don't have wrinkled skin or bruising.
Onion - Yellow or brown onions are my preference however red or white onions can also be used.
Tomato passata - As I always say, quality matters. Better quality tomato passata is thicker and richer which means a better result in the end. Be sure to read the "Substitutions" section for more information on what else you can use.
Garlic - Fresh, plump garlic cloves give flavor that bottled minced garlic and garlic powder can't so this is definitely a case of fresh is best.
Extra virgin olive oil - Peperonata really shines when made with delicious olive oil. It doesn't have to be the most expensive, just a decent supermarket variety will be fine.
Sugar - A little white sugar to bring out the sweetness of the bell peppers.
White wine vinegar - You'll find that just a dash of acidity enhances the flavor of peperonata. No white wine vinegar? Check out "Substitutions" below.
Salt - This is an ingredient that definity varies depending on your tastes. Remember that the right amount of salt is a personal preference but if a dish seems bland (not that peperonata could ever be accused of that!) adding a little extra salt usually does the trick in bringing out all the flavors.
Black pepper - I like a little bit of black pepper but this is entirely optional.
Instructions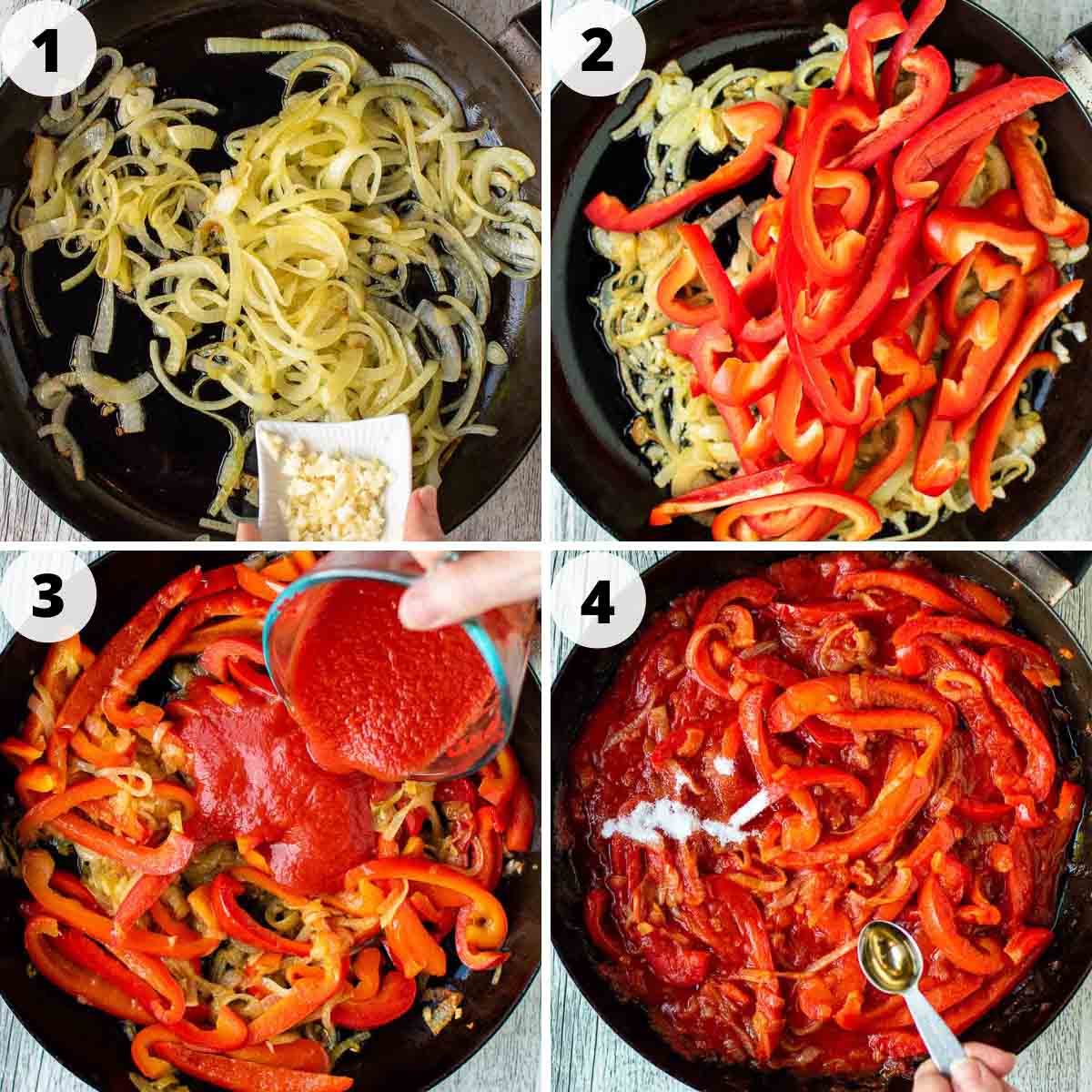 Please note that the numbered instructions below correspond to the numbered instruction photograph above.
This peperonata is so easy and will cook in just minutes. These are the basic instructions. You'll find the full recipe instructions below in the recipe card.
Gently saute the onions in extra virgin olive oil and a good pinch of salt.
Add the sliced bell peppers and garlic and continue to cook for 10 minutes.
Add the tomato passata, reduce the heat, cover and simmer for 20 minutes.
Remove the lid, stir in half the sugar and white wine vinegar and simmer for a few minutes before tasting and adjusting the seasonings.
Substitutions
Bell peppers - sweet long peppers can be used instead.
Tomato passata - use ⅓ cup of concentrated tomato paste together with ⅔ cup water instead of tomato passata.
White wine vinegar - balsamic vinegar is a good substitution.
Variations
Variations on the classic peperonata can be found throughout Italy and all versions are delicious!
Add thickly sliced zucchini or thick fingers of eggplant when frying the bell peppers.
Stir in ½ inch cubes of peeled potatoes when adding the tomato passata and continue with the recipe.
If you like a spicy peperonata, add ½ teaspoon of red pepper flakes.
A little dried oregano can be added together with the tomato passata.
When the peperonata is ready, remove from the heat and stir through some chopped fresh basil leaves.
Storage
Keep the peperonata in a sealed container in the fridge for 3-5 days. It can be served cold or reheated in a pan or microwave until hot.
Tips for Success and FAQ's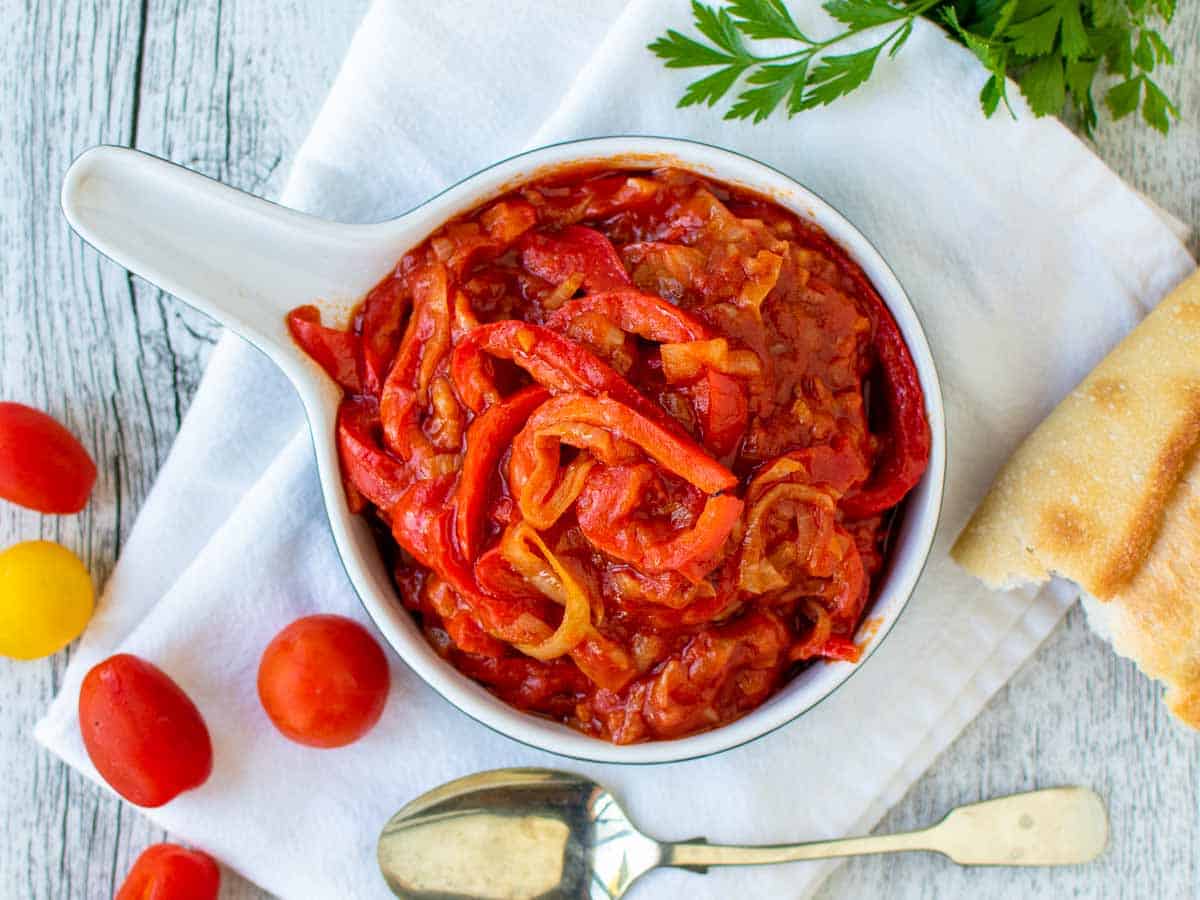 Keep in mind that green bell peppers can be bitter. Red bell peppers are the sweetest with yellow and orange bell peppers being sweet but less sweet than the red variety. When making peperonata use only red, orange or yellow ones for the sweetest end result.
Cooking time will vary depending on the bell peppers. Some are more tender and will cook quickly, others will take longer to cook. Also it depends on how soft you like the bell peppers.
If you find bell peppers hard to digest, peel before cooking. Alternatively use roasted bell peppers to prepare the peperonata.
Maintain the low heat so that the vegetables don't burn and or dry out.
I can't stress enough to taste as you are cooking. Salt is a personal preference. Just add half as I've indicated in the recipe then taste. You can always add a little more if you think it needs it. I like the full amount of salt but you may not.
How long does peperonata keep?
Keep any leftover peperonata in a sealed container in the fridge for 3-5 days. 
Can I freeze peperonata?
While I have never frozen peperonata, (it never lasts that long in my house! It is possible to freeze peperonata. Keep in mind that the texture may be altered as are many vegetables that are frozen.
Can this recipe be doubled?
Yes, this recipe doubles easily. You may need to cook it for a little longer for the bell peppers to become tender.
What can I serve peperonata with?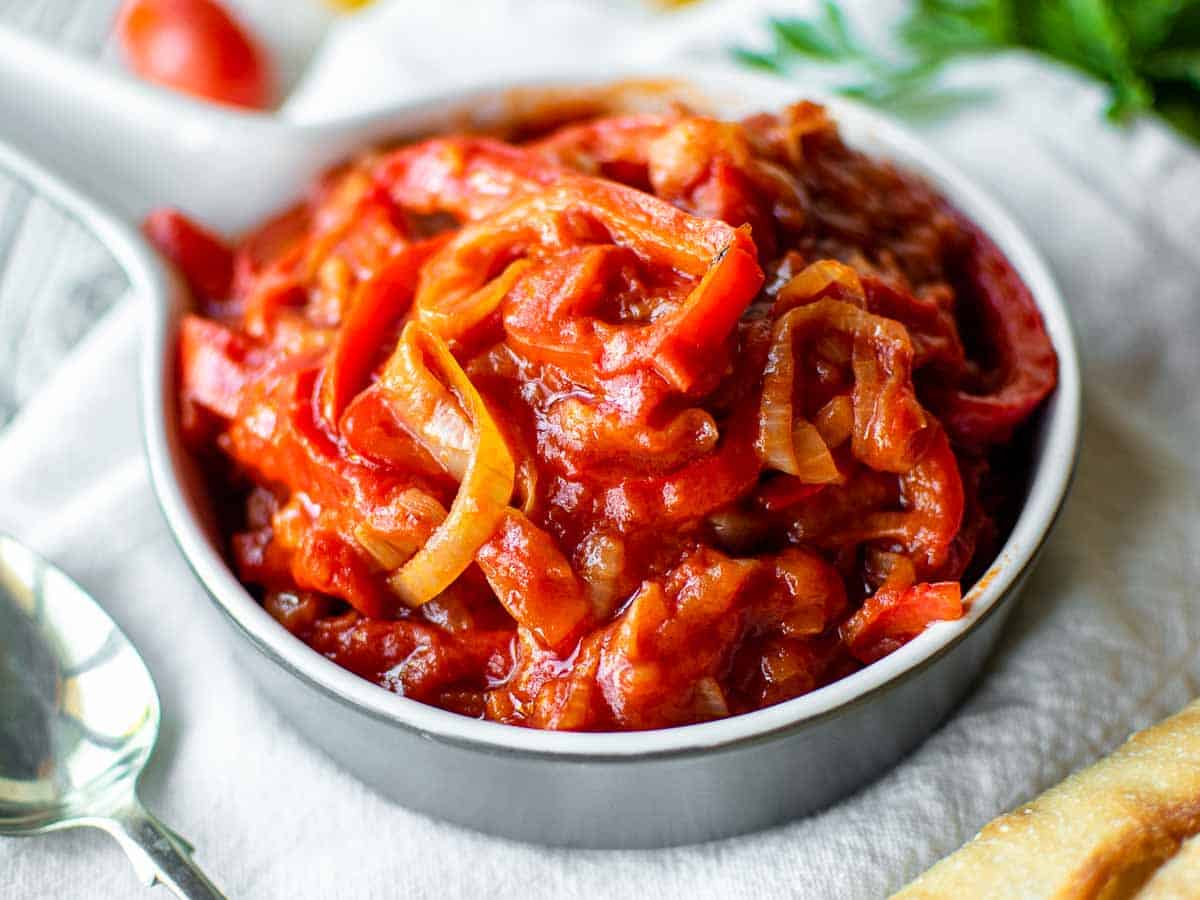 Peperonata is excellent with grilled steak, pork or Italian chicken cutlets.
Stir it through pasta for a delicious peperonata sauce.
Make an irresistible appetizer with cheeses, salami and crusty bread.
Top crusty slices of bread for a super tasty bruschetta.
Serve with the fried Italian sandwiches known as mozzarella in carrozza - so yummy!
The possibilities are endless. I'm sure you'll find many other ways to enjoy this super tasty dish.
Made this recipe?
Let me know if you liked it by leaving a ★★★★★ star rating and a review below. Don't forget to subscribe to my newsletter - it's free!
Recipe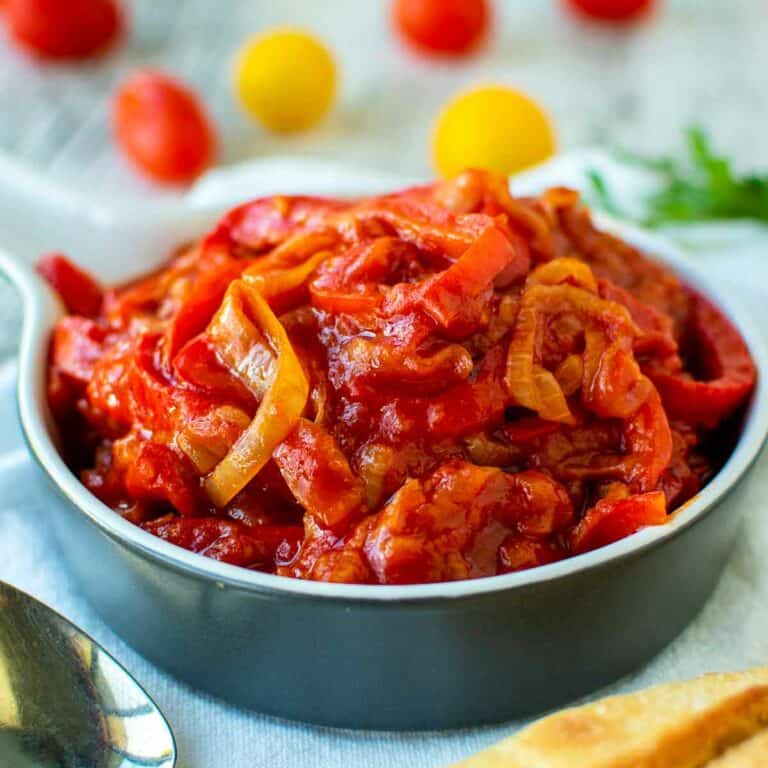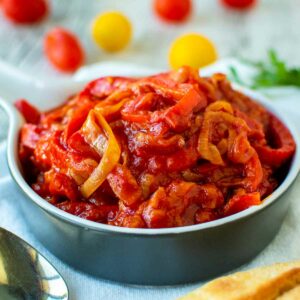 Peperonata Recipe
An Italian dish of bell peppers (capsicum) cooked slowly in tomato, onion, garlic and olive oil.
Print
Pin
Rate
Ingredients
1

pound

(450 grams) red bell peppers (capsicum)

See Note 1

¼

cup

extra virgin olive oil

1

onion

See Note 2

3-4

garlic cloves

1

cup

tomato puree (passata)

1

teaspoon

white wine vinegar

½

teaspoon

sugar

½

teaspoon

salt

divided

⅛

teaspoon

ground black pepper
Instructions
Cut the bell peppers (capsicum) in half and remove seeds and white membranes. Cut into ¼ inch (6 mm) strips.

Peel onion and slice thinly.

Peel garlic then chopped finely.

Place a skillet or frying pan over medium low heat. Add olive oil and onions.

Cook gently and stir occasionally, breaking up the onion slices with a wooden spoon until beginning to soften. This will take about 5 minutes then add garlic.

Continue to cook gently for another 5 minutes until onions are soft and melting - not allowing onions and garlic to color.

Add sliced bell peppers (capsicum), stir well and fry gently for 10 minutes.

Add tomato puree (passata) and half the salt and black pepper. Stir well, cover and simmer gently for 30-40 minutes, stirring occasionally.

Remove the lid and stir in the white wine vinegar and sugar.

Continue to simmer for another 10 minutes or so until the sauce is thickened a little and bell peppers (capsicum) have softened and are tender.

Taste and add a further ¼ teaspoon salt, if needed.

Serve warm or at room temperature.
Notes
Peppers -

My preference is for red bell peppers but you can choose red, yellow or orange ones. A sweeter peperonata will be achieved with the inclusion of red bell peppers.

Onions -

Yellow or brown onions are my preference however red or white onions can also be used.
Tips for success
Cooking time will vary depending on the bell peppers. The peppers should be soft but not falling apart.

If you find bell peppers hard to digest, peel before cooking. Alternatively use

roasted bell peppers

to prepare the peperonata.

Keep the heat medium low and adjust if necessary. You don't want the vegetable to burn.

Taste and adjust the salt according to your preference.
For more information and FAQ's read the post above.
Tried this recipe? Give it a star rating and leave a comment below!
Nutritional Estimate Per Serving
Calories:
189
kcal
|
Carbohydrates:
16
g
|
Protein:
3
g
|
Fat:
14
g
|
Saturated Fat:
2
g
|
Polyunsaturated Fat:
2
g
|
Monounsaturated Fat:
10
g
|
Sodium:
315
mg
|
Potassium:
564
mg
|
Fiber:
4
g
|
Sugar:
9
g
|
Vitamin A:
3870
IU
|
Vitamin C:
155
mg
|
Calcium:
30
mg
|
Iron:
2
mg
Nutritional Disclaimer
Nutritional information is an estimate provided by an online nutrition calculator. For accurate results, it is recommended that the nutritional information be calculated based on the ingredients and brands you use.
This post was originally published on November 16, 2017. It has been updated with new photos, more information and improved recipe.