Rigatoni Arrabbiata is a spicy pasta dish that is sure to tingle your tastebuds! Perfect for a midweek meal or tasty enough to impress guests, this vegetarian pasta is loaded with flavor from tomato, garlic and red pepper flakes! Plus, it's ready in less than 30 minutes!!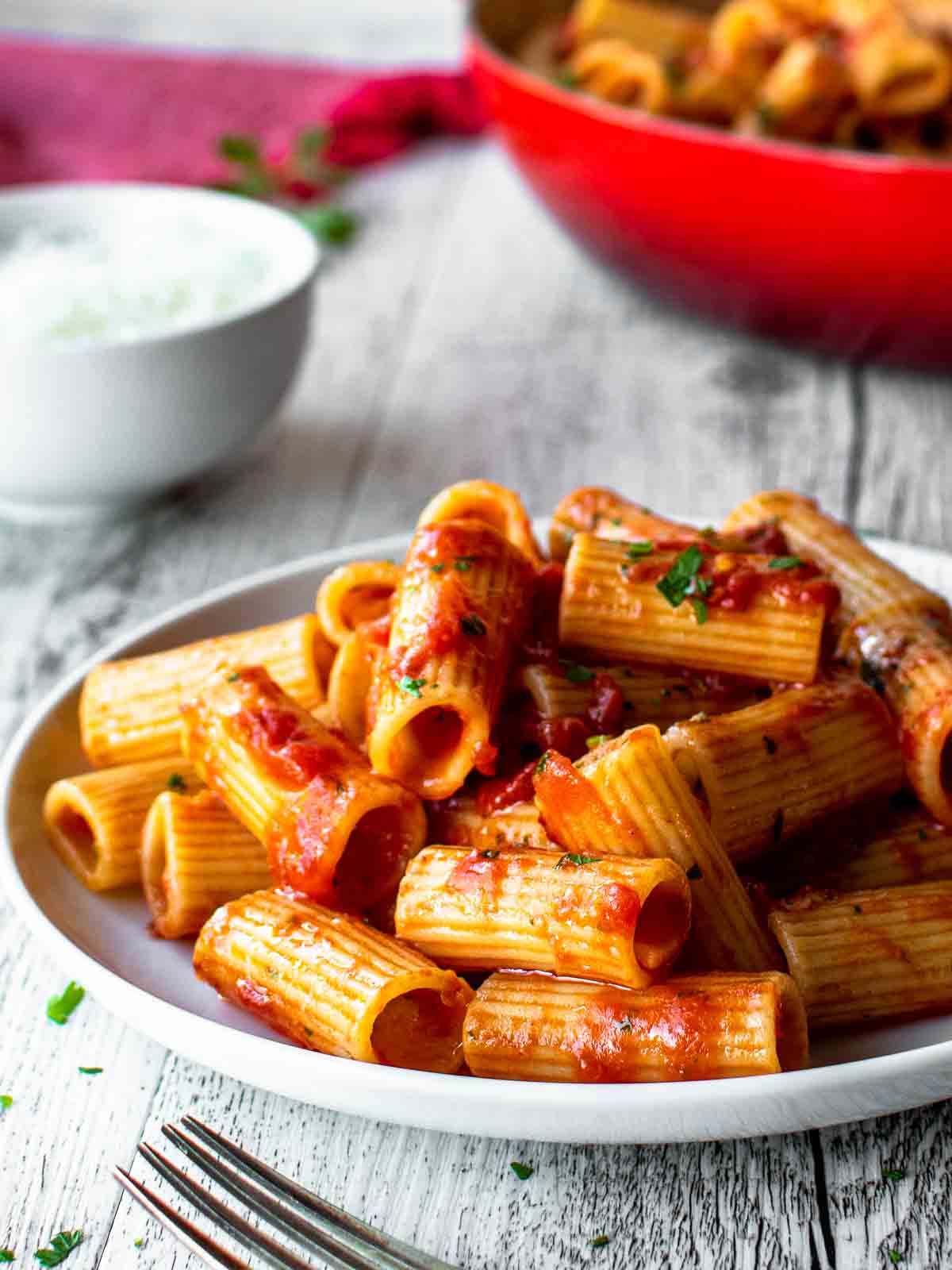 Like many of the traditional southern Italian recipes, Rigatoni Arrabbiata is full of strong flavors and will never disappoint. It's quick, easy and very economical. There are a few secrets to making this recipe better and getting the most out of the few ingredients needed.
This classic Italian pasta dish originates in the region of Lazio which has Rome at it's heart. A rustic country recipe, created in the kitchens of peasants, who cleverly prepared amazing food from the very little they had.
Choosing the right pasta for the arrabbiata sauce is very important. In this case, rigatoni pasta works perfectly to capture plenty of sauce inside the tubes and on the ridges. My regular readers know I absolutely love to make delicious homemade pasta like my cavatelli, garganelli and tonnarelli but in this case dried pasta is best.
Rigatoni Arrabbiata pair well with homemade focaccia and a fresh salad like this Cherry Tomato Caprese Salad. If you're anything like me, you'll want finish the meal with something sweet. I suggest you try these delectable Tiramisu Cups or super easy Puff Pastry with Nutella. Perfection!!
Be sure to also try out my delicious tortellini alla panna and tagliatelle bolognese some other time, both are favorites in our house and just as tasty!
For complete ingredient quantities and full instructions, please scroll to the printable recipe card bottom of the page.
Ingredients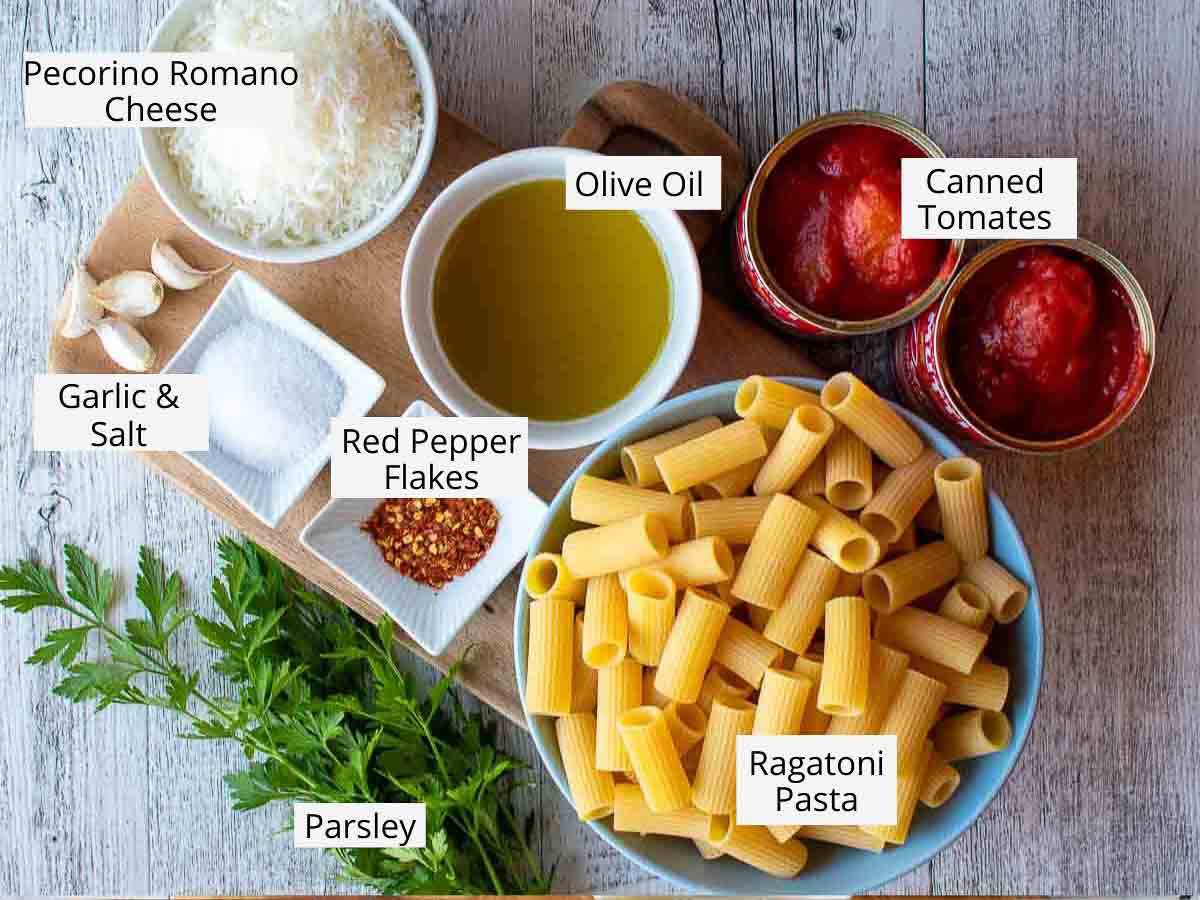 Rigatoni Pasta - I recommend that you always purchase good quality dried pasta. Look for durum wheat semolina pasta that says "bronze die". This pasta has been cut and shaped with traditional bronze cutters and it has a rough, porous texture. It's this texture that allows the sauce to be absorbed and cling to the pasta.
Olive Oil - my preference for this rigatoni arrabbiata recipe is extra virgin olive oil but use regular if that's what you have.
Canned Tomatoes - you'll probably wonder why I specify "whole, peeled tomatoes" when you are going to crush them. The quality of crushed or diced canned tomatoes can vary widely so I won't recommend them. But if that's all you got then go ahead and use them.
Garlic - fresh garlic is indispensable in the kitchen and essential in the pasta recipe. If you're used to powdered or bottled, give fresh garlic a try. It's quicker than you think to peel and chop once you get used to it.
Red Pepper Flakes - dried red pepper flakes (also known as crushed red pepper, chilli flakes or chili flakes) vary in intensity so if you've purchased a new bottle, add just a little, taste and adjust as you go. I know mine is perfect with the amount specified. 
Parsley - there's nothing like fresh herbs to lift a dish. Fresh parsley added at the end gives this rigatoni arrabbiata dish wonderful freshness. Sprinkle a little more before serving if you'd like.
Pecorino Romano - traditionally the cheese would be Pecorino Romano being a Roman cheese but if you prefer use grated Parmesan Cheese to serve.
Hint: For Rigatoni Arrabbiata, we grow our own red peppers which I dehydrated and crush. Being part Calabrese means I have a penchant for spicy food like my Calabrese Pizza. However if you're new to red pepper (also known as red chilli) start with half of the suggested quantity and taste as you go.
See recipe card for quantities.
Instructions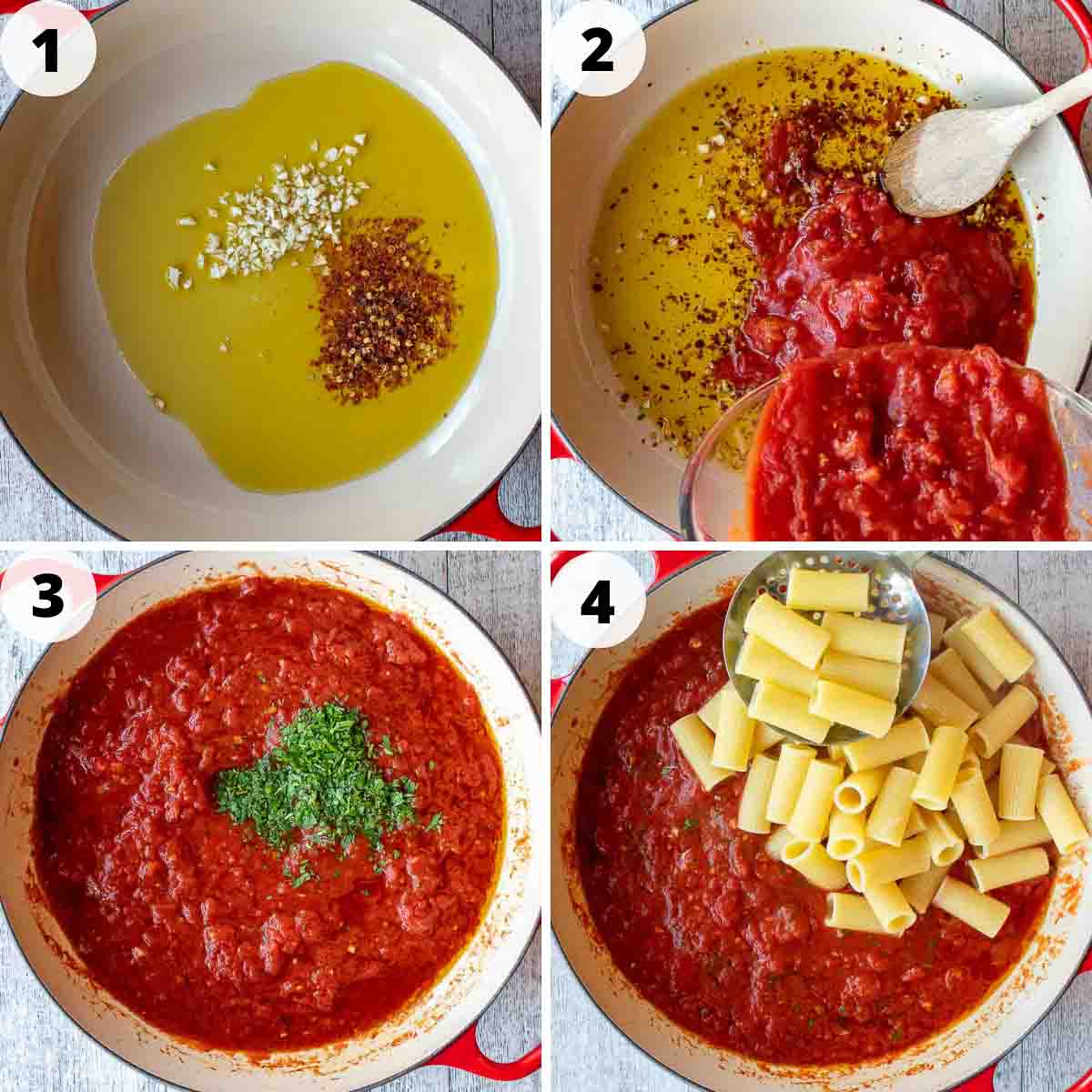 To begin, put a large pot of water on to boil for the pasta and salt when boiling. Then empty the canned tomatoes into a bowl and crush with a fork or your clean hands.
Put the olive oil, garlic and red pepper flakes into a large skillet or frying over medium heat and cook for just 20 or 30 seconds.
Stir in the crushed tomatoes and salt.
Simmer the sauce for 15 minutes until thickened then add the parsley.
In the meantime, cook the pasta. Drain it, reserving some pasta water, and add to the arrabbiata sauce. Stir to combine adding pasta water as necessary.
Serve immediately with Pecorino Romano cheese.
Hint: add some grated Pecorino Romano cheese when combining the pasta and sauce for extra flavor.
Substitutions
Rigatoni pasta - substitute penne or ziti for the rigatoni.
Parsley - instead of parsley, fresh basil is also delicious in rigatoni arrabbiata.
Gluten free - use your favorite gluten free, tubular pasta.
Variations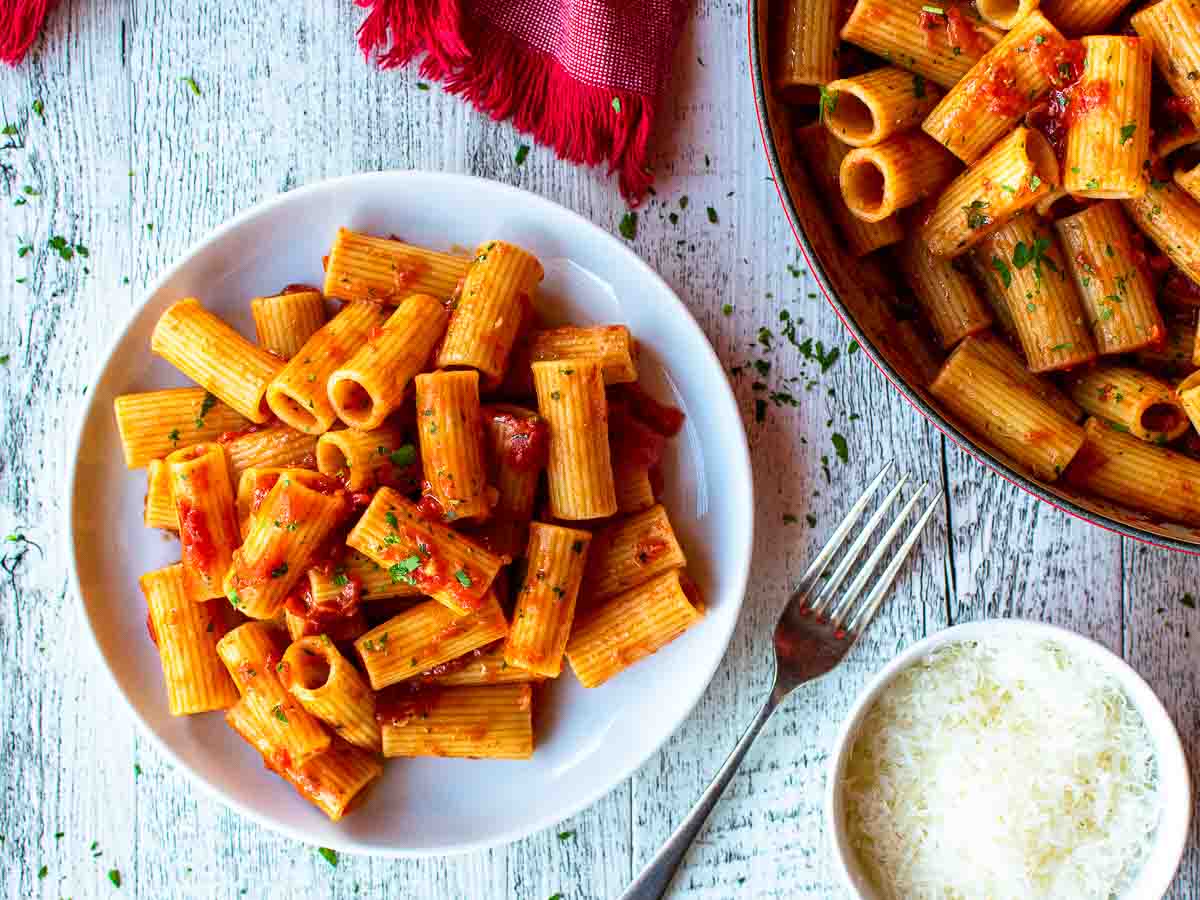 This rigatoni arrabbiata recipe can be adjusted in a few ways to suit your family or guests. Here are a couple of ways I like to vary it.
Meaty - fry some skinned and crumbled Italian pork sausage in the olive oil before adding the garlic and red pepper flakes. Continue with the rigatoni arrabbiata recipe allowing the Italian sausage to cook and flavor the pasta sauce.
Seafood - add raw, peeled shrimp or prawns to the sauce during the last few minutes. Simmer in the arrabbiata sauce until cooked.
Kid friendly - adjust or omit the quantity of red pepper flakes to suit your kids. 
Too spicy? Have a look at this San Marzano Tomato Sauce which is one of my most popular recipes.
Storage
Arrabbiata sauce, before being combined with the rigatoni, is perfectly suitable to make ahead. Store the sauce in a sealed container in the refrigerator for up to 3 days or freezer for longer storage. Reheat gently and combine with cooked rigatoni.
Rigatoni Arrabbiata, like any pasta, should not be cooked in advance. Pasta is at its best when cooked and eaten immediately.
However any leftovers can be stored in a sealed container or bowl covered with plastic wrap in the fridge for 2 or 3 days. Reheat in the microwave oven; it won't be as good as freshly cooked but I don't like to waste food. Alternatively, do as my mother would and add leftover pasta to beaten eggs to make a frittata.
Tips for Success and FAQ's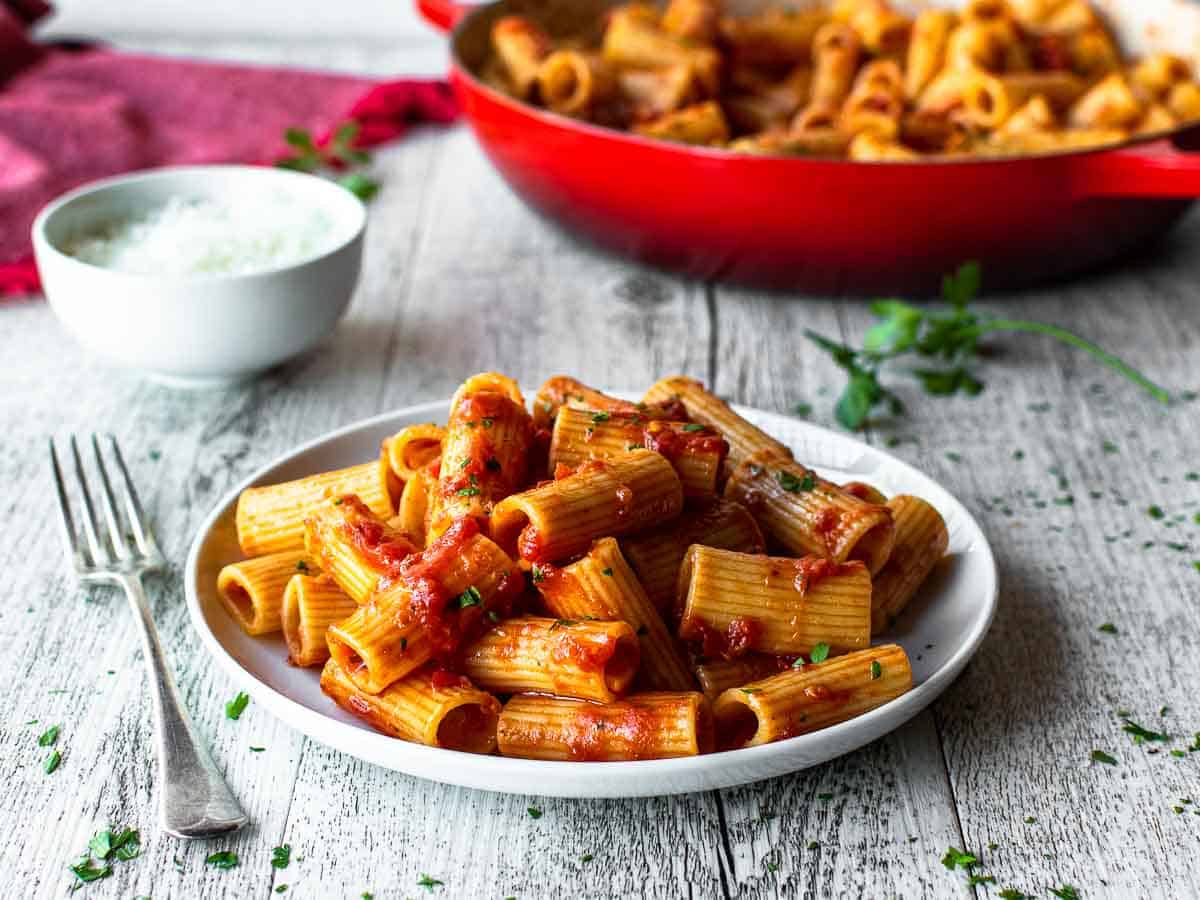 Rigatoni Arrabbiata uses only a few simple ingredients so the key to success is quality.
Begin the garlic in cold oil and heat gently over medium heat. If the garlic does anything more that a very gently sizzle, take the pan off the heat. The last thing you want to do is burn the garlic or the red pepper.
Use good pasta. It doesn't have to be the fancy artisanal kind but avoid the cheap brands. Trust me, you'll notice the difference.
Don't overcook the pasta. Cook for a couple of minutes less than the package instructions and then start tasting until it's just before perfect. Once combined with the arrabbiata sauce, the pasta will cook just a little more. It should have a just little bit of resistance when you bite into it.
Pasta doesn't wait for anybody - when it's ready, it's ready! Once the pasta is combined with the sauce, serve Rigatoni Arrabbiata immediately. If it's left to sit for too long, the sauce will dry out and the pasta will become too soft.
What is the meaning of arrabbiata sauce?
You might be wondering what is arrabbiata. Arrabbiata sauce means "angry sauce" in English. Angry refers to the spiciness of the sauce which comes from lots of garlic and red pepper.
Another meaning could be that after eating arrabbiata sauce, your face turns red as if you were furious! Arrabbiata is often misspelt to "arrabiata" so if you see that, it's the same thing.
How to say rigatoni arrabbiata
Rigatoni Arrabbiata looks difficult to say but if you break it into sounds it's not that hard. Try this: rig-uh-TOH-nee ahrr-ahbb-yah-tah.
What's the difference between arrabbiata and pomodoro?
Arrabbiata is a spicy tomato sauce with lots of garlic and red pepper to give the sauce heat and flavor. Pomodoro, instead, is a simple tomato sauce made simply of tomatoes maybe a little olive oil and salt but not much else. Both are delicious and both are use with pasta but also have other uses.
More recipes like this
Made this recipe?
Let me know if you liked it by leaving a ★★★★★ star rating and a review below. Please share a photo of your creation by tagging me on Instagram @marcellina.in.cucina!
Recipe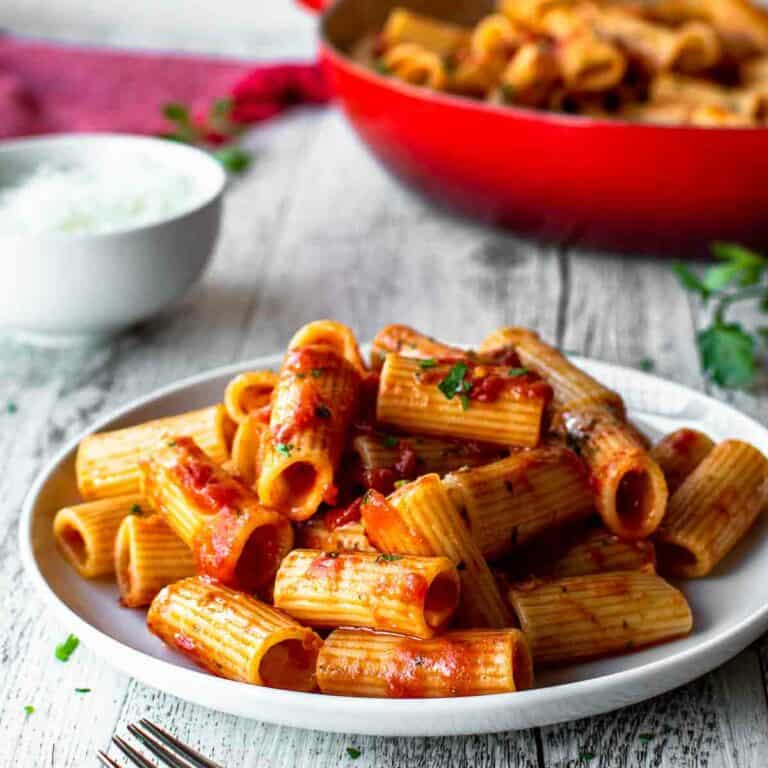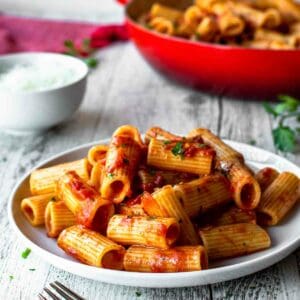 Rigatoni Arrabbiata Recipe
Perfect for a midweek meal or tasty enough to impress guests, this vegetarian pasta is loaded with flavor from tomato, garlic and red pepper flakes! Plus, it's ready in less than 30 minutes!
Print
Pin
Rate
Ingredients
1

pound

rigatoni pasta

500 grams

28

ounces

canned whole peeled tomatoes

800 grams

⅓

cup

extra virgin olive oil

4

cloves

garlic

finely chopped

1

teaspoon

red pepper flakes

(dried chilli flakes)

½

teaspoon

salt

plus more for cooking the pasta

2

tablespoons

finely chopped parsley

grated Pecorino Romano cheese to serve
Instructions
Fill a large pot with water and place over high heat to boil. To speed it up, use boiling water from your electric kettle.

Put the canned tomatoes in a bowl and crush with a fork or better still, your hands. Set aside.

In a large skillet put the olive oil, garlic and red pepper flakes and place over medium heat.

Stir and cook for just 20 or 30 seconds. It'll be ready when you can smell the garlic. Be very careful not to burn the garlic or the red pepper. If it looks like anything more than just a gently sizzle, remove the pan from the heat straight away.

Immediately stir in the crushed tomatoes and salt.

Reduce heat and allow to simmer for 15 minutes stirring occasionally until the sauce has thickened and reduced slightly. When cooked, stir in the parsley.

In the meantime, salt the boiling water and cook the rigatoni according to package instructions.

Drain, reserving a cup of the cooking water and add to the arrabbiata sauce and stir to combine.

Serve with Pecorino Romano cheese and a sprinkle of chopped parsley.
Notes
Tips for Success
Use quality ingredients.

Be careful not to burn the garlic.

Don't overcook the pasta.

 

Serve the Rigatoni Arrabbiata immediately.
For more tips and information, please read above.
Nutritional Information Per Serving
Calories:
620
kcal
|
Carbohydrates:
94
g
|
Protein:
17
g
|
Fat:
20
g
|
Saturated Fat:
3
g
|
Polyunsaturated Fat:
3
g
|
Monounsaturated Fat:
13
g
|
Sodium:
591
mg
|
Potassium:
659
mg
|
Fiber:
6
g
|
Sugar:
8
g
|
Vitamin A:
549
IU
|
Vitamin C:
22
mg
|
Calcium:
96
mg
|
Iron:
4
mg
Nutritional Disclaimer
Nutritional information is an estimate provided by an online nutrition calculator. For accurate results, it is recommended that the nutritional information be calculated based on the ingredients and brands you use.