Crispy Prosciutto is the easiest, most delicious prosciutto recipe ever! PLUS this recipe is ready in less than 15 minutes!!
With just one ingredient and a bunch of flavor, you'll be making this recipe all the time!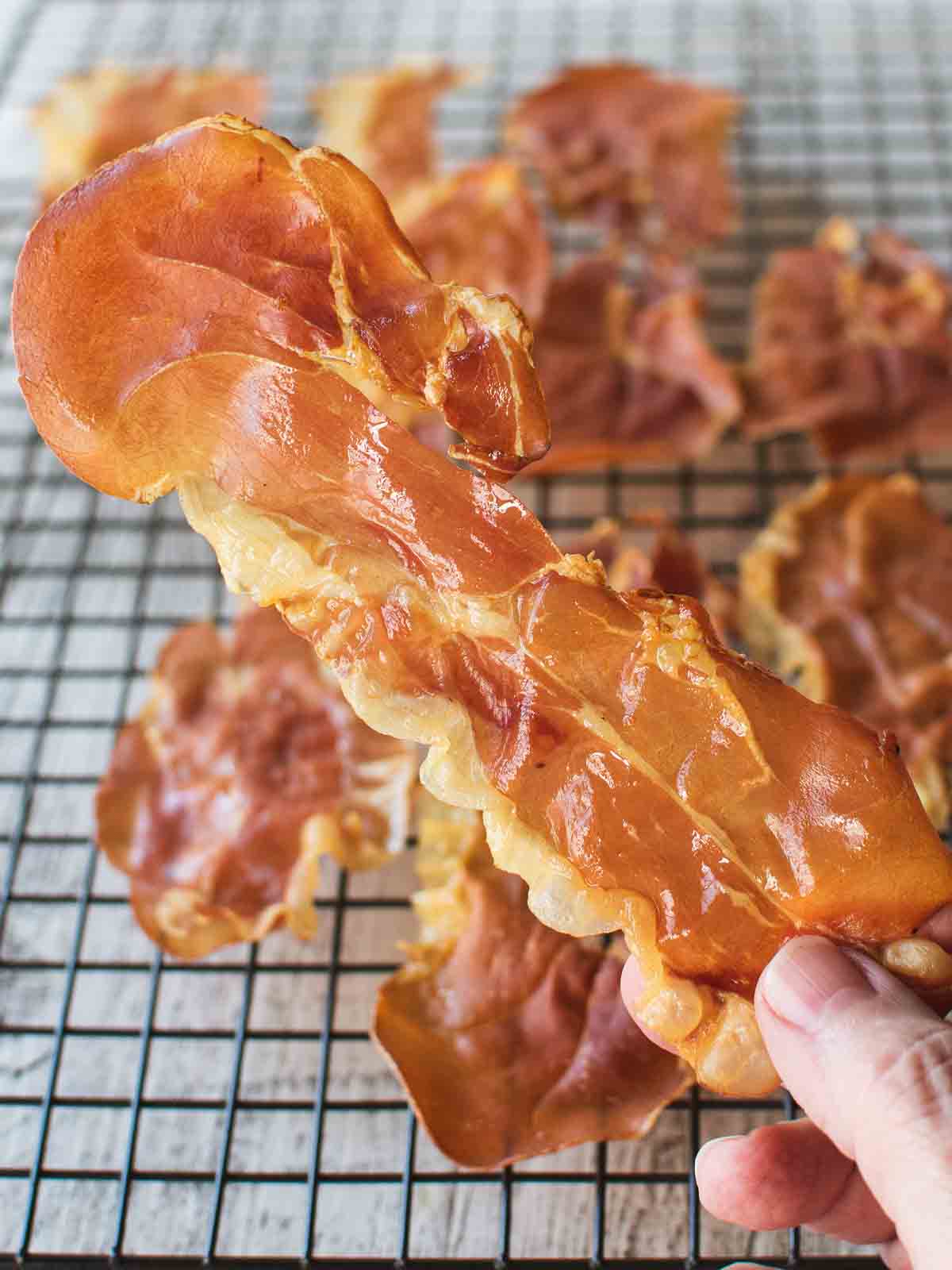 This Crispy Prosciutto recipe is one of those that is more a technique than a recipe and you'll wonder why you've never made it before. The prosciutto is transformed into a crispy and savory treat that's excellent crumbled onto salads, pastas, and in sandwiches. Break it into prosciutto chips for an ideal snack with pre dinner drinks.
What is prosciutto?
Prosciutto is made from the hind legs of pigs and is dry-cured over a period of time. This Italian word translates to "ham". However, unlike ham, prosciutto isn't cooked or smoked. Sometimes it's known as "prosciutto crudo" meaning "raw ham".
Can you eat prosciutto raw?
Yes, you can eat prosciutto raw! While this is a raw product, it's cured and is often eaten without cooking at all. However, cooking prosciutto will make it crispy, salty, and deliciously savory and change how you can use it.
Ingredients
This is a one ingredient recipe! All you need is thinly sliced prosciutto.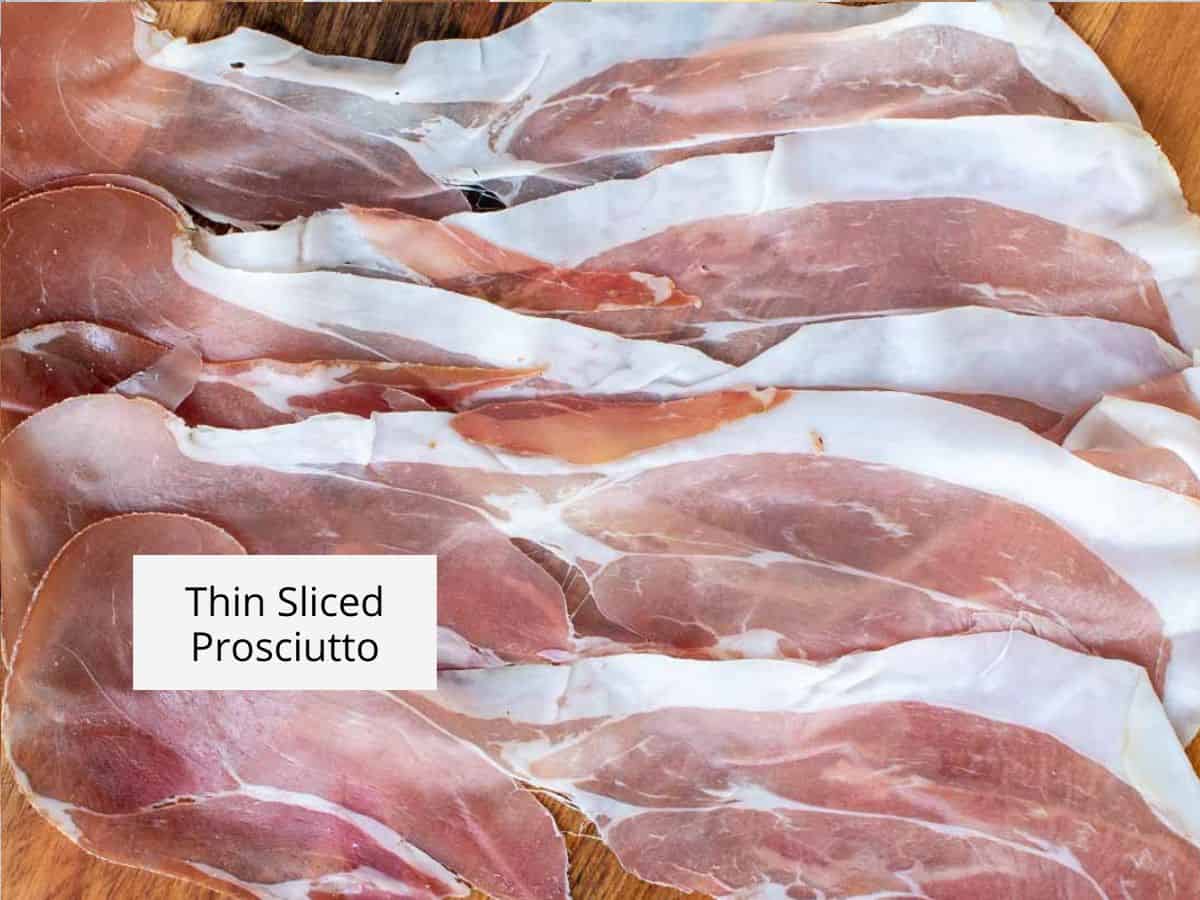 Instructions
Crispy prosciutto is one of the easiest recipes ever and there are just two steps!
Preheat oven to 350ºF/180ºC. You'll need to line a large, rimmed baking sheet with nonstick parchment paper.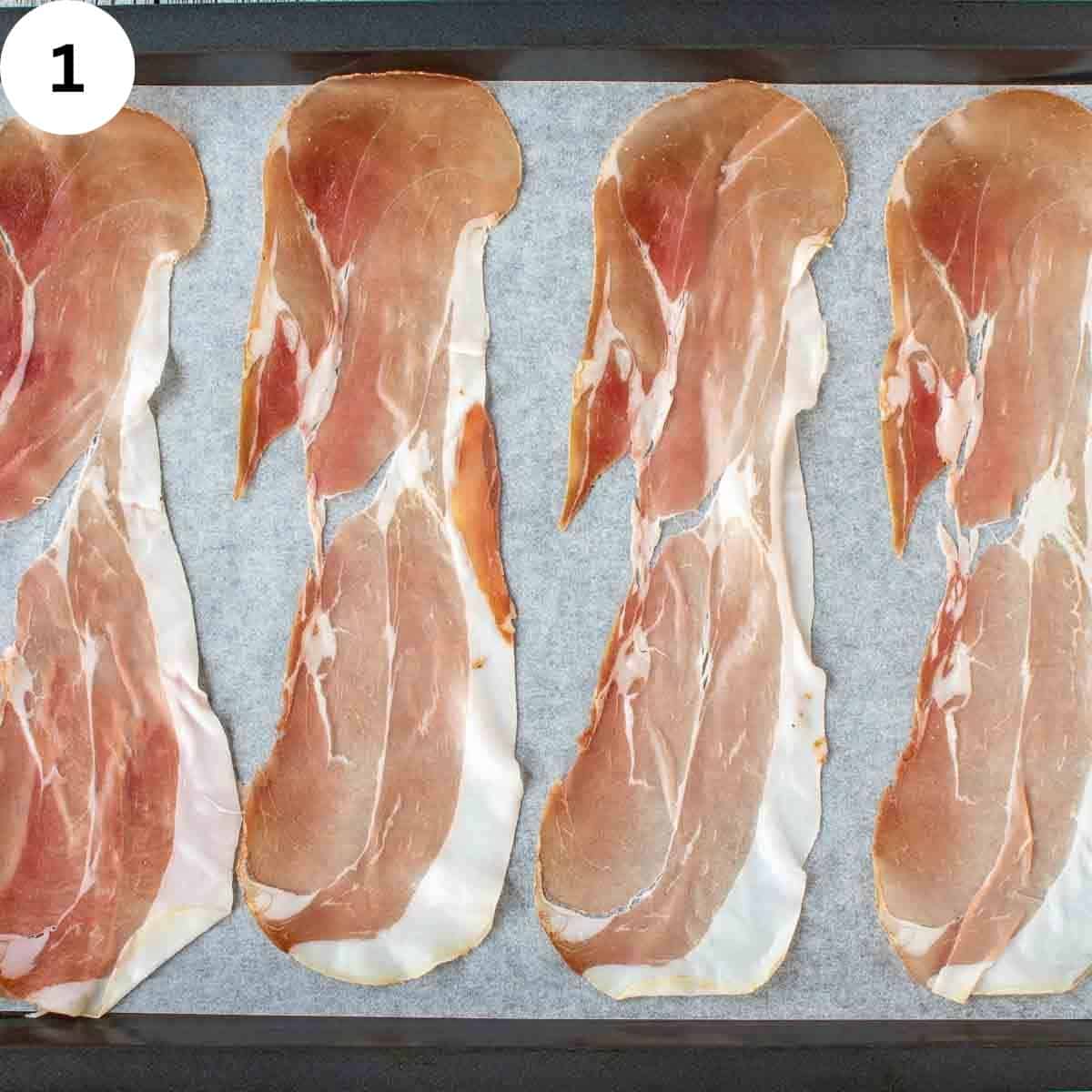 Lay the prosciutto slices on prepared baking sheets in a single layer.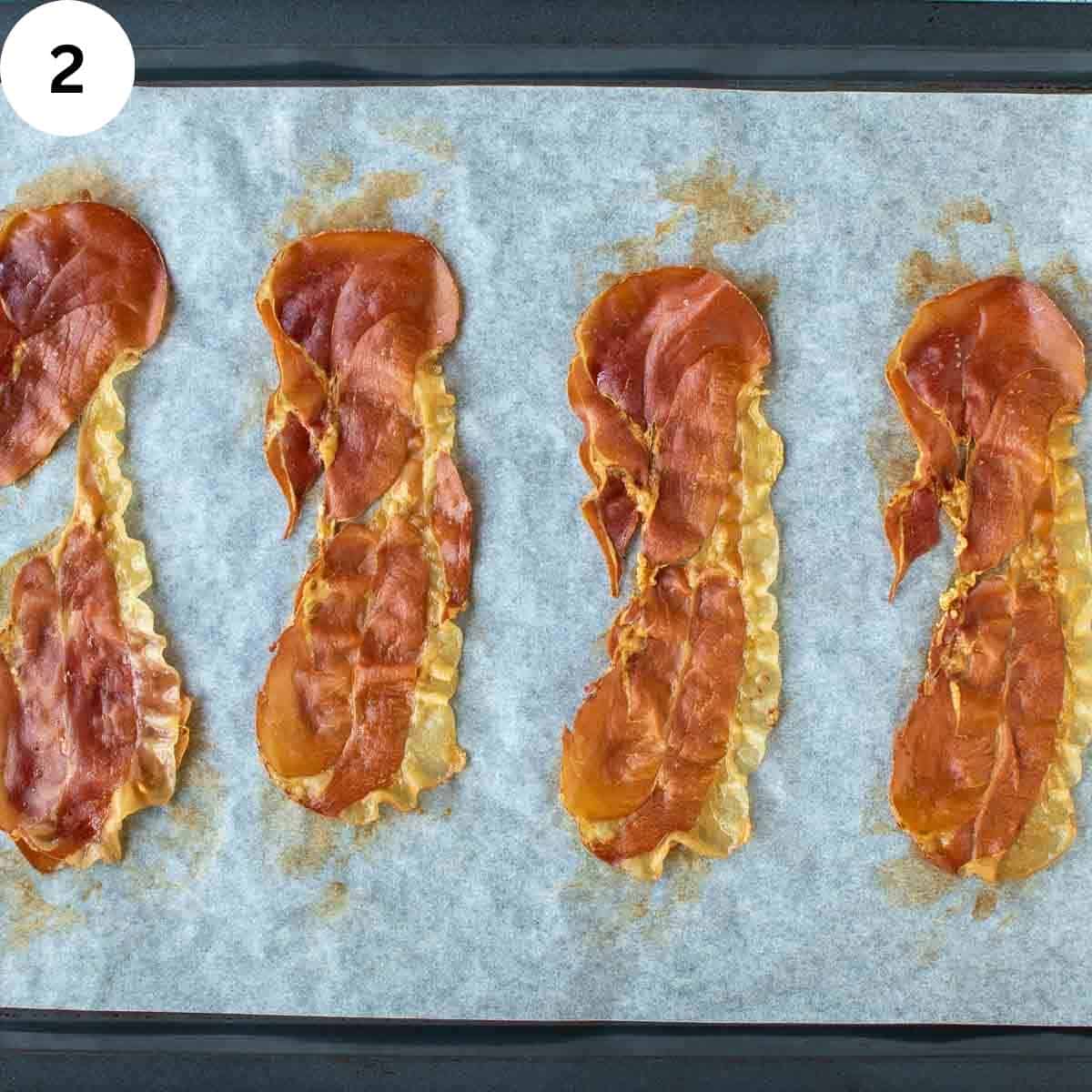 Bake for 10-15 minutes depending on how thin it has been sliced.
Hint: Take care not to burn the prosciutto. It will become more crispy as it cools.
Variations
Spicy - sprinkle with just a little red pepper flakes for a hint of heat.
Herby - for a change, scatter the prosciutto with dried oregano before cooking.
Cheesy - after baking, grate just a little Parmesan cheese over the prosciutto.
Storage
Store Crispy prosciutto ]for 2 or 3 days in the fridge in a sealed container.
Top tip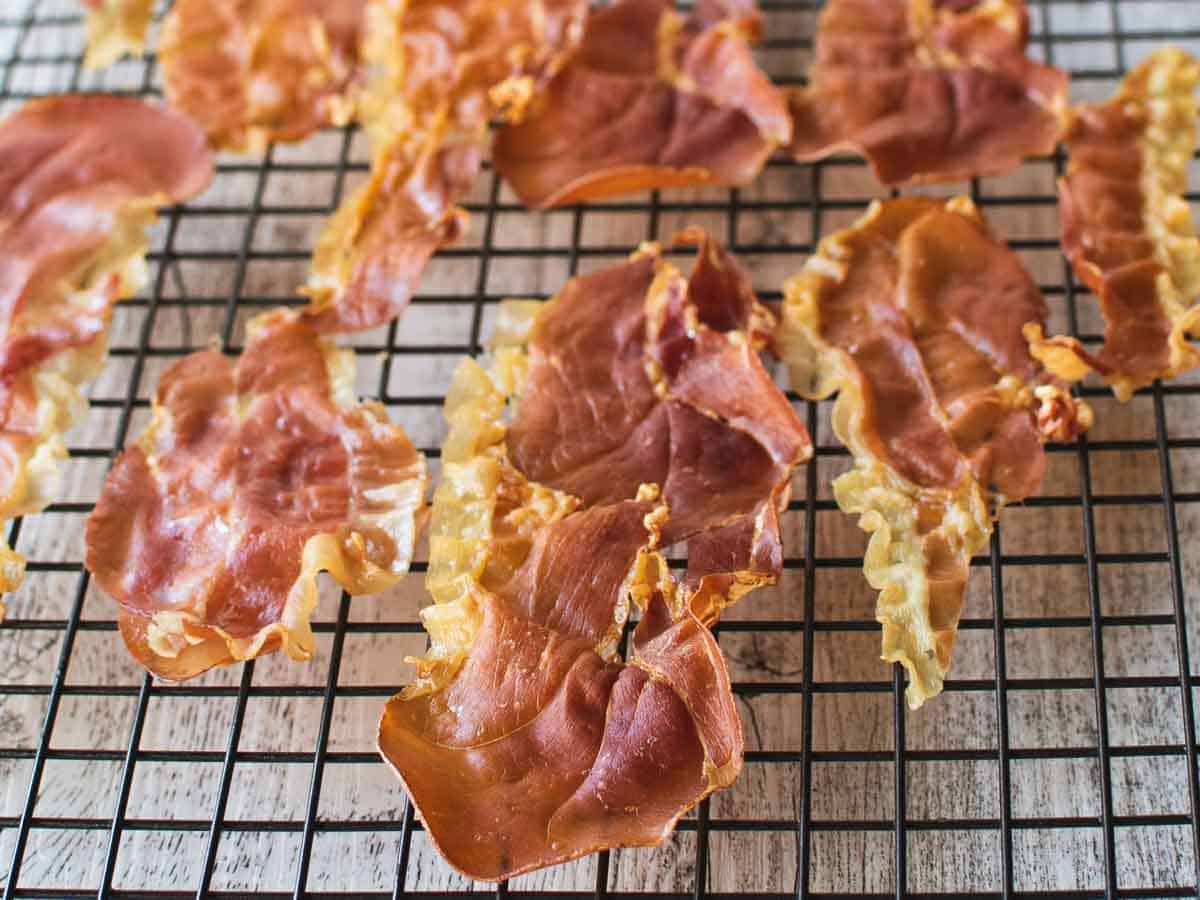 When purchasing prosciutto, it must be cut into thin slices. I've been unfortunate to have prosciutto sliced freshly for me by someone inexperienced. It was way too thick to eat. In this case, it can be chopped and added to bolognese sauce.
Lay the slices of prosciutto in one layer on the baking sheet. The pieces can be very close, even touch but not overlap.
FAQ
What kind of meat is prosciutto?
Traditional prosciutto crudo is made from pigs and the best prosciutto is produced using only certain breeds of pigs. Prosciutto is made in a few regions in Italy but the most famous is prosciutto di Parma. Today the word "prosciutto" is being used to refer to other meats that are cured similarly for example lamb prosciutto.
Does prosciutto taste good fried?
Prosciutto does taste very good when fried. Just use a tiny bit of olive oil to oil a frying pan. Then cook the prosciutto until browned on one side before flipping and cooking on the other side.  Fried prosciutto is a good option when you don't have access to an oven.
How do you crisp prosciutto in the microwave?
While I prefer baked prosciutto, if you don't have an oven or a stove a microwave is another method of making crispy prosciutto. Place the prosciutto in one layer on a paper towel-lined plate that is microwave-safe. Cover with a second paper towel then cook on full power for 30 seconds. Take the prosciutto out straight away and remove it from the paper towel. It will crisp as it cools.
Serving Suggestions
I like to crumble this into prosciutto crisps which add another flavor and texture to salads and pasta. Crispy Prosciutto is perfect served alongside my butterfly chicken recipe or Bagna Cauda or scattered over my instant pot cauliflower
Breaking crispy prosciutto into large chips and piled into a bowl makes them irresistible party food. Prepare these ricotta stuffed mushrooms and some homemade crackers to complete the feast!
Related Recipes
Stuffed Cherry Peppers
Baked Ricotta
Olivada
Made this recipe?
Let me know if you liked it by leaving a ★★★★★ star rating and a review below. Don't forget to subscribe to my newsletter - it's free!
Recipe
How to cook prosciutto
With just one ingredient with a bunch of flavor, you'll be making this Crispy Prosciutto recipe all the time!
Print
Pin
Rate
Ingredients
3 ½

ounces

(

100

grams) prosciutto slices
Instructions
Preheat oven to 350ºF/180ºC and line a large, rimmed baking sheet with non stick parchment paper.

Lay the prosciutto slices on prepared baking sheets in one single layer.

Bake for 10-15 minutes depending on how thin it has been sliced. The prosciutto will become more crispy as it cools.
Notes
Tips for success
Make sure the slices of prosciutto are thin.
Don't overlap the prosciutto slices when laying on the parchment paper for baking.
Tried this recipe? Give it a star rating and leave a comment below!
Nutritional Estimate Per Serving
Serving:
0
g
|
Calories:
103
kcal
|
Carbohydrates:
0.3
g
|
Protein:
3
g
|
Fat:
10
g
|
Saturated Fat:
3
g
|
Polyunsaturated Fat:
2
g
|
Monounsaturated Fat:
4
g
|
Trans Fat:
0.03
g
|
Cholesterol:
16
mg
|
Sodium:
164
mg
|
Potassium:
49
mg
|
Vitamin A:
9
IU
|
Calcium:
1
mg
|
Iron:
0.1
mg
Nutritional Disclaimer
Nutritional information is an estimate provided by an online nutrition calculator. For accurate results, it is recommended that the nutritional information be calculated based on the ingredients and brands you use.