Learn how to make biscotti with my tried and tested recipe.
Making homemade biscotti is not very hard to do, even for a beginner baker.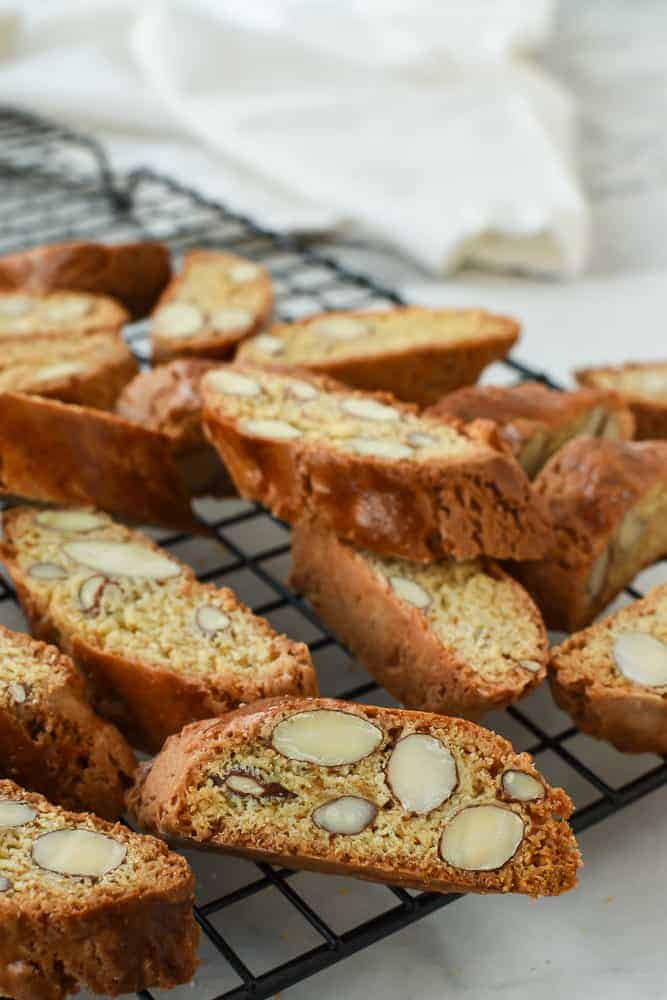 My Italian family referred to any cookie or Australian biscuit as a biscotto. Biscotti are a relative new-comer to my baking world. Italians don't generally bake at home so many of our family cookie and biscuit recipes are those learnt here in Australia.
So what are biscotti?
Biscotti generally refer to the twice baked, oblong Italian cookie (biscuit) that is dry and crunchy. The dough is shaped into logs, baked, cooled and sliced and baked again until dry and crispy.
The original biscotto is from Prato in Tuscany and didn't contain any fat. Being free from moisture, the original biscotto keeps very well and became a favourite of sailors and other travellers embarking on long journeys. These cookies are also known as cantucci, cantuccini or biscotti di Prato and are full of almonds and often flavoured with anise, amaretto or lemon.
Recipe research.
On my recent travel to Italy, I sample lots of biscotti in Tuscany and purchased a Tuscan cookbook with the original recipe. But when I tried making biscotti without butter or oil, according to the recipe, the result was such a hard cookie that it would cause dental problems! I have made many biscotti before but all include butter or oil.  However everything I read says the traditional recipe contains no fat.
Luckily I still had a contact in Italy who purchased lots of different almond biscotti and checked the ingredients. Most contained a portion of butter except for one which pale and soft as though it hadn't been baked the second time.
This Almond Biscotti recipe.
The traditional recipe may not contain butter or oil but not everyone will dunk their biscotto into vin santo (Italian sweet dessert wine) or a coffee to soften it. For this recipe, I have tested and retested multiple times with different flours, quantity of butter or oil.  My Almond biscotti recipe may not be traditional but it is incredibly good and quite addictive.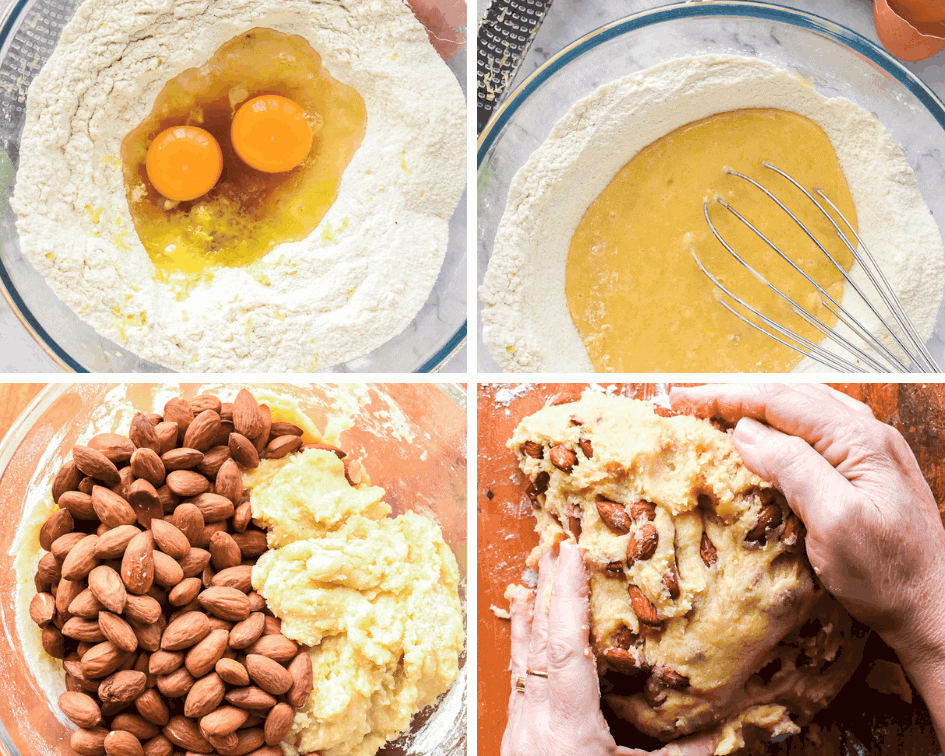 What are the ingredients used in these biscotti?
This recipe is loosely based on the traditional recipe from the little cookbook I purchased in Siena.
Flour: all purpose or plain flour
Sugar: simple granulated white sugar
Whole eggs: I like free range
Almonds: unblanched (skin on) and toasted
Butter: It does contain a little bit of butter which means these biscotti will not break teeth. The butter also carries and intensifies the flavour of the almonds and lemon.
Baking powder: just a little for a slightly lighter crumb
Flavourings: honey, lemon rind and vanilla
How to make biscotti.
Toast the almonds and set aside to cool.
Combine the dry ingredients in a bowl.
Add the wet ingredients and combine.
Bring the ingredients together by hand.
Gently form it into a smooth ball.
Divide into four pieces and roll into a log.
Place onto baking paper lined oven tray.
Bake for 25 minutes.
Remove from the oven and allow to cool slightly until you can handle the loaves.
Reduce heat to 150°C/300°F
Cut at a while still warm.
Bake again for 10-15 minutes.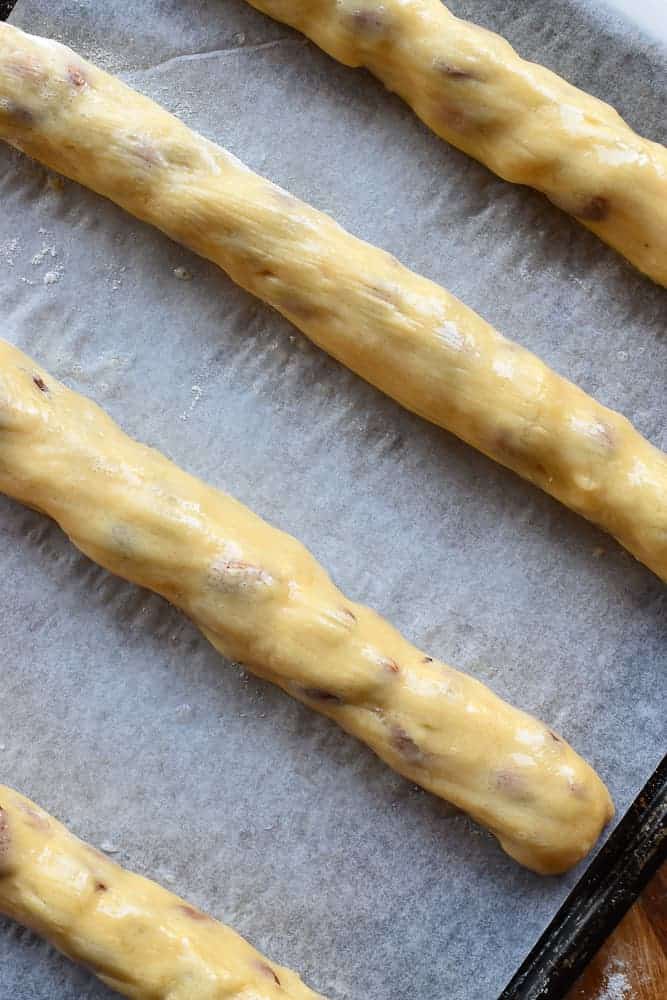 Key Tips for successfully making this recipe.
Always toast nuts. This applies to any recipe where you use nuts. Toasted have much more flavour.
Don't overknead. Gently form into a dough.
This dough is meant to be sticky. Don't add more flour.
Allow room for spreading otherwise the logs will stick together.
Cut while warm.
The main key is in the second baking. Too little and your biscotto will be soft. Too much and your biscotto will be too hard. I have found good results at 10-12 minutes. When removed from the oven the cookies will be a little soft but will harden on cooling. In fact, storing for a day or two in an airtight container will improve the crunch even more.
Can biscotti be frozen?
Because this recipe contains butter, these biscotti will not keep as long as the traditional ones. But in an airtight container, you will still be eating a biscotto for at least the next week with your morning coffee.  However, this is a recipe that works perfectly well to be made ahead and baked cookies can be frozen in airtight containers.
When defrosting, you must leave the lid on your containers until completely defrosted. Otherwise condensation may cause the biscotti to become soft. All is not lost if this occurs. Simply refresh by arranging on baking trays and bake in an oven preheated to 150°C/300°F for 5-8 minutes.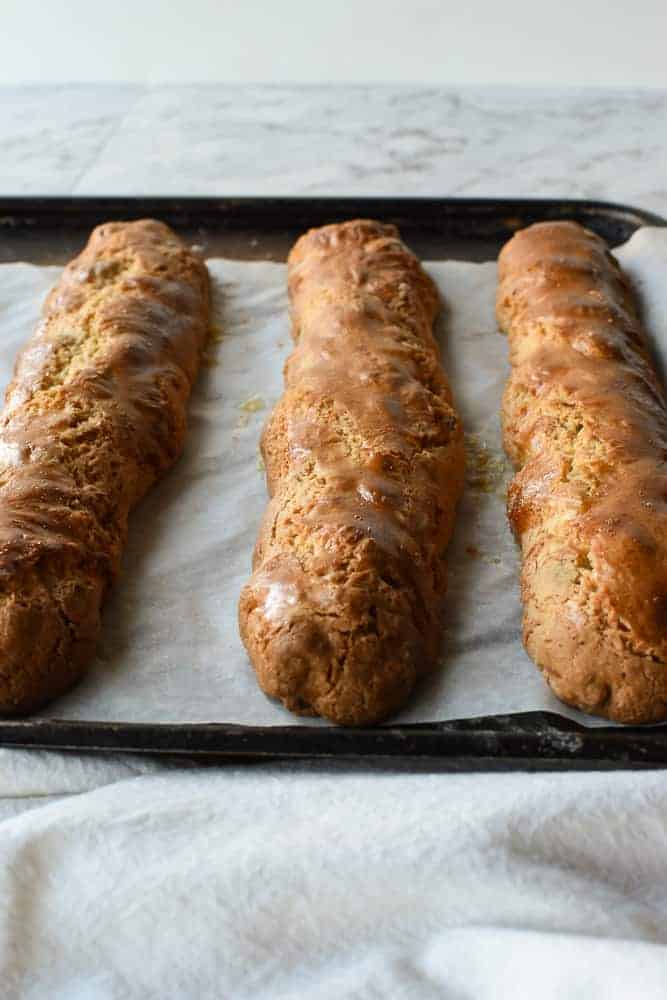 What goes with biscotti?
According to the "Italian food rules", these cookies are served with a small glass of vin santo. Vin santo is translated to "holy wine".  Dip Cantucci into the wine to soften and sweeten the cookies. Serve these delicous crunchy cookies with espresso or capuccinio or even tea which is becoming more popular in Italy for it's 'health' benefits.
These cookies are also perfect alongside a creamy dessert like these:
Making biscotti at home is incredibly easy and rewarding. It doesn't matter if you don't make them perfectly the first time or even the next time because these cantucci will still taste delicous! Bake these today to bring a little of Italy into your home.
Baci,

Did you like this recipe? Subscribe to Marcellina in Cucina to get a newsletter with recipes, tips and news delivered to your inbox. And stay in touch on Facebook, Pinterest, and Instagram for all my latest updates.
Cantuccini (little Italian Almond Biscotti)
Learn how to make biscotti with my tried and tested recipe. This Biscotti as based on the traditional hard cookies from Italy however my recipe results in a crunchy cookie that will not break your teeth.
Print
Pin
Rate
Ingredients
250

grams

almonds

300

grams

plain flour

(all purpose)

200

grams

granulated sugar

1

tablespoon

lemon zest

from 1 large lemon

1

teaspoon

baking powder

½

teaspoon

fine salt

2

eggs

3

teaspoons

honey

1

teaspoon

vanilla extract

85

grams

unsalted butter

melted and cooled
Instructions
Preheat oven to 180°C/350°F,

Spread almonds onto baking tray and toast in the oven for 10-12 minutes. Allow to cool.

Leave the oven on. Line a large baking tray or two smaller baking trays with non-stick baking paper.

Place flour, sugar, lemon zest, baking powder and salt into a medium bowl. Whisk to combine.

Make a well in the centre of the dry ingredients.

Break the eggs into the well and add honey, vanilla and melted, cooled butter

Whisk together the wet ingredients slowly incorporating part of the dry ingredients.

Before the dry ingredients are completely mixed in, switch to a wooden spoon or clean hands to finish incorporating the dry ingredients.

As the mixture starts to come together add the almonds.

Turn out onto a lightly floured surface and knead lightly.

The mixture will be sticky and can be refrigerated for 30 minutes to make the dough easier to handle. Otherwise you can go right onto the next step.

Divide the dough into four equal portions.

Roll each portion into a 30cm/12in log.

Place logs onto lined baking tray and, this is optional, with a wet hand smooth the surface of the dough.

Bake 25 minutes until browned.

Removed from the oven and cool on baking trays for 10 minutes.

Reduce oven to 150°C/300°F

While still warm, cut each log into 20 slices. Check my tips below on how to cut biscotti easily.

Arrange cut side up, onto lined baking trays and return to the oven for 10-15 minutes.

Cool on a wire rack and store in an airtight container.
Notes
How to cut biscotti easily
Cut while still warm.
Use a sharp serrated knife.
Make a little cut using a sawing motion
Then press the knife down firmly and sharply in one motion.
Nutrition
Calories:
52
kcal
|
Carbohydrates:
6
g
|
Protein:
1
g
|
Fat:
3
g
|
Saturated Fat:
1
g
|
Cholesterol:
6
mg
|
Sodium:
16
mg
|
Potassium:
33
mg
|
Fiber:
1
g
|
Sugar:
3
g
|
Vitamin A:
32
IU
|
Vitamin C:
1
mg
|
Calcium:
12
mg
|
Iron:
1
mg
keywords:
almond cookies, almonds