Do you like to roast chicken? Have you ever butterflied your chicken before roasting?
This butterflied roast chicken recipe will blow you away with it's flavors and impress you with tenderness!

Why should you prepared chicken in this way?
I first liked the idea of butterflying chicken before roasting because it's so much easier to carve. Then I realized that it cooks much more quickly and evenly. With butterflied roast chicken there is less chance of overcooking the breast before the thighs are cooked. So it's really a win win.
Don't be intimated. Take strong kitchen scissors and cut either side of the backbone starting at the tail. Remove the backbone then flatten by snapping the breastbone with the heel of your palm.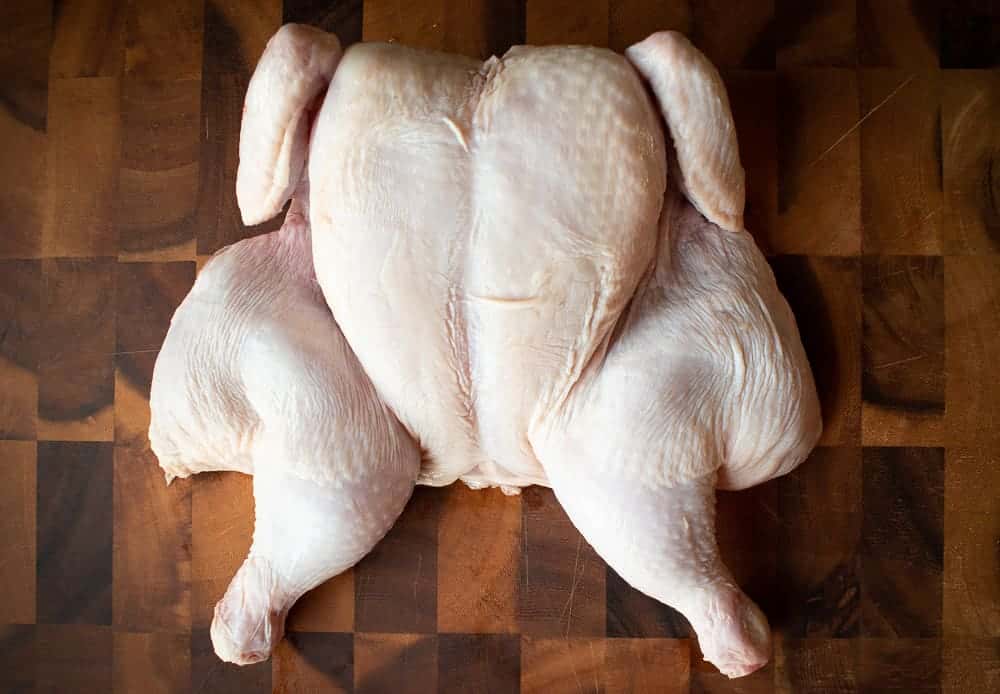 Butterflied Roast Chicken deserves to be the happiest chicken.
As I write this, I think it sounds a bit gory - all this removing backbones and crushing breastbones! But that's nothing when you grow up in a family that raised meat chickens. I have vivid memories of all the chickens hanging by their feet after having gone to "chicken heaven". Strangely I never appreciated the homegrown chickens and just wanted one that came wrapped in plastic. Aaaggh, what was I thinking. Now, I look for organic and free range chickens and happy chickens make delicious Butterflied Roast Chicken because the meat is much more flavoursome and juicy.
Now, I've given you all the tips and tricks you need for making the best butterflied roast chicken you will ever eat. Just serve with Crunchy Roast potatoes or Stuffed Baked Tomatoes for a perfect meal.
Comment below or contact me if you have any questions. Of course, you may just want more chicken recipes, if that's the case you must try my Easy Italian Chicken with Potatoes and Rosemary which is a wonderful slow cooked chicken recipe.
Baci


As always, I'd love to hear from you.
Let me know what you'd like see or what Marcellina in Cucina recipes you have made.
Recipe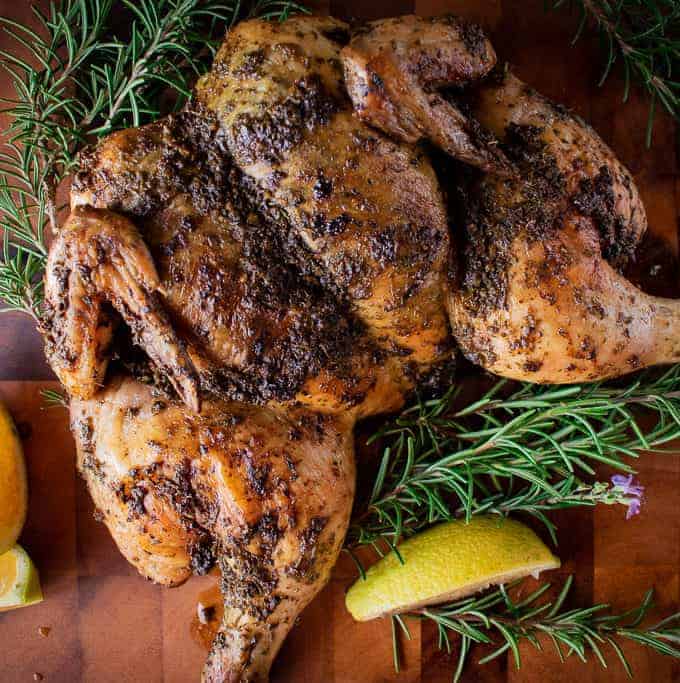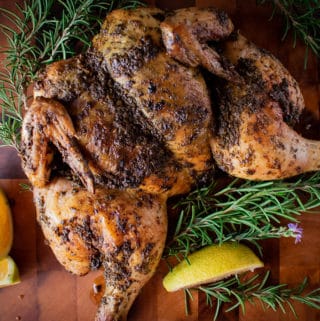 Butterfly Chicken Recipe
How to butterfly and roast a moist flavorsome chicken
Print
Pin
Rate
Ingredients
4

lb

(1.8kg) chicken

(fresh, preferably organic)

1

lemon

1

cup

fresh herbs

(see notes)

4

garlic cloves

(maybe more depending on size)

2

teaspoons

salt

freshly ground pepper

½

teaspoon

chilli flakes

(optional)

½

cup

extra virgin olive oil

(divided)

1

teaspoon

salt

(extra)
Instructions
To butterfly chicken
Pat the chicken dry with paper towels and turn the chicken breast side down on the board. Using strong kitchen scissors ( the Jamie Oliver ones I have are great), start at the tail and cut up each side of the backbone and cut the backbone out.

Turn chicken breast side up and press down with the heel of your palm onto the breast bone until you hear a snap.

The chicken should now be flattened and ready for flavor bombing!
How to flavor and roast the butterflied chicken
Take a long strip of rind off the lemon using a potato peeler (or as much lemon as you want). You don't want any white pith. Reserve the lemon.

Using a mini food processor or similar appliance, process lemon rind, herbs, garlic and chilli flakes, if using, with ¼ extra virgin olive oil until finely chopped and looks a bit like pesto.

Season with 2 teaspoons salt and freshly ground pepper

Place the chicken in a roasting pan breast side down. Squeeze over the juice half of the lemon,

Spoon a ⅓ of the herb/oil mixture over the chicken and spread evenly and into all crevices.

Turn chicken over breast side up. Squeeze over the juice of the remaining lemon half.

Slip your fingers gently between the breast and the skin to make a pocket to fill with goodness.

Spoon some of the herb/oil mixture into the pocket you have just made then spoon and spread the rest over the chicken.

Drizzle over remaining oil and sprinkle with extra salt (or to your taste).

Roast for 1 hour. Check at 50 minutes. (see recipe notes)

When cooked, remove and cover with loosely with foil to rest for 10 minutes.
Notes
Any fresh herbs can be used - I like to use a combination of basil, parsley and at least 1 tablespoon of fresh rosemary leaves. If I have fresh tarragon or thyme that's lovely too. But the bulk of the herbs are made up of basil and parsley.
Take the chicken out of the fridge for 20-30 minutes so that it can come to room temperature. Obviously, be sensible about this, if it's a stinking hot summers day the chicken will come to room temperature as you prepare it. The main thing is that a cold chicken will take longer to cook and you will have to adjust times to suit and then you risk drying out the breast meat.
To know if the chicken is done, you can use a thermometer. I have read that you should check in the thickest part of the thigh which should read somewhere between 165ºF/75ºC - 175ºF/80ºC. Which is fine but use your commonsense. If the juices run clear, that's done and the meat should be firm not jiggly. I like the blood near the bone to be cooked and that only happens at about 185ºF/85º.
Food Safety
Cook to a minimum temperature of 165 °F (75 °C).
Do not use the same utensils on cooked food, that previously touched raw meat.
Wash hands after touching raw meat.
Don't leave food sitting out at room temperature for extended periods.
Nutritional Information Per Serving
Serving:
0
g
|
Calories:
478
kcal
|
Carbohydrates:
2
g
|
Protein:
27
g
|
Fat:
39
g
|
Saturated Fat:
8
g
|
Cholesterol:
108
mg
|
Sodium:
1267
mg
|
Potassium:
316
mg
|
Fiber:
0
g
|
Sugar:
0
g
|
Vitamin A:
460
IU
|
Vitamin C:
13.2
mg
|
Calcium:
31
mg
|
Iron:
1.7
mg
Nutritional Disclaimer
Nutritional information is an estimate provided by an online nutrition calculator. For accurate results, it is recommended that the nutritional information be calculated based on the ingredients and brands you use.