Pasta with Asparagus is a very simple pasta recipe with great flavours!
This amazing pasta dish comes together in minutes making it a perfect mid week meal. With only 6 ingredients, you'll have dinner on the table in no time!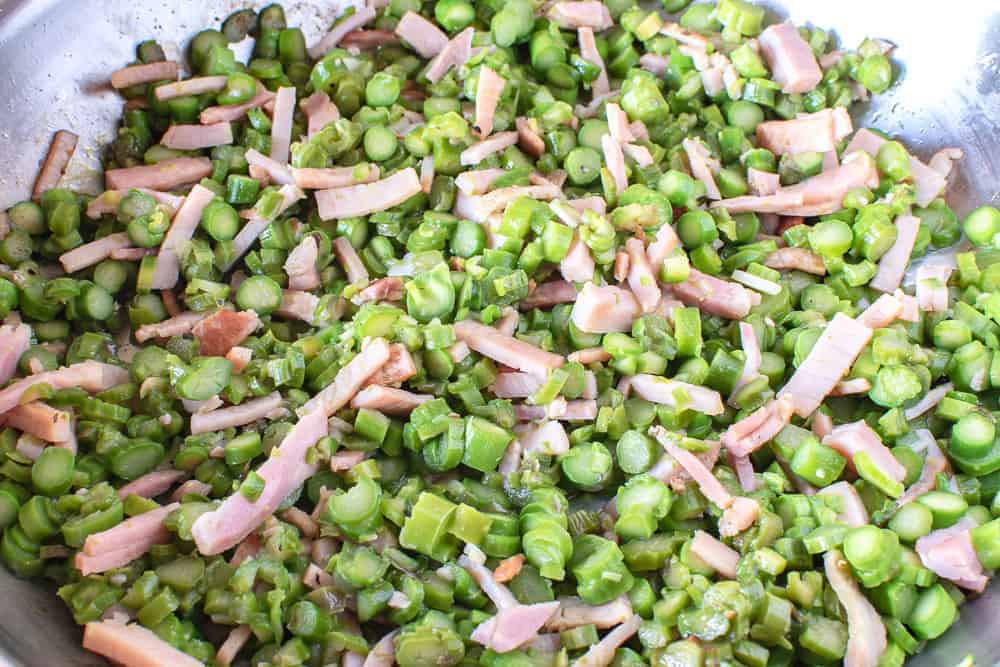 How to prepare asparagus.
When asparagus come on sale, it's the perfect time to make this delicious Pasta with Asparagus. Asparagus can be tricky if you have never cooked with this vegetable before. Then end of the asparagus is quite woody and you could just cut it off with a knife. But how much do you cut off? Luckily, asparagus are a very clever vegetable. If you bend an asparagus spear at the woody end it will snap exactly where the woody part ends and the juicy part begins. Clever, isn't it?
Isn't asparagus bland?
How many times I've heard it said that asparagus is bland. Everything is bland if you don't season it properly.
Don't be afraid of salt if you have no medical reason to avoid it.
Salt brings out the natural flavours in food.
Adding a little sprinkle of salt when cooking the asparagus draws out the moisture and which assists in softening the asparagus
Also adding a little salt when cooking the asparagus results in a more flavoursome sauce
It is important when cooking Pasta with Asparagus that you taste it and adjust the salt and pepper. Because this recipe uses bacon which is naturally salty, you won't need quite as much salt. This is why you need to taste everything you cook.
This Pasta with Asparagus is a wonderful mid week meal.
When I need a quick but tasty meal, I often turn to pasta. This Pasta with Asparagus ticks all the boxes. Plus you get a great, big serve of wonderful, nutritious asparagus. Portions can be adjusted however I always like to have as much asparagus as pasta. What I mean by that is 500g asparagus for 500g pasta.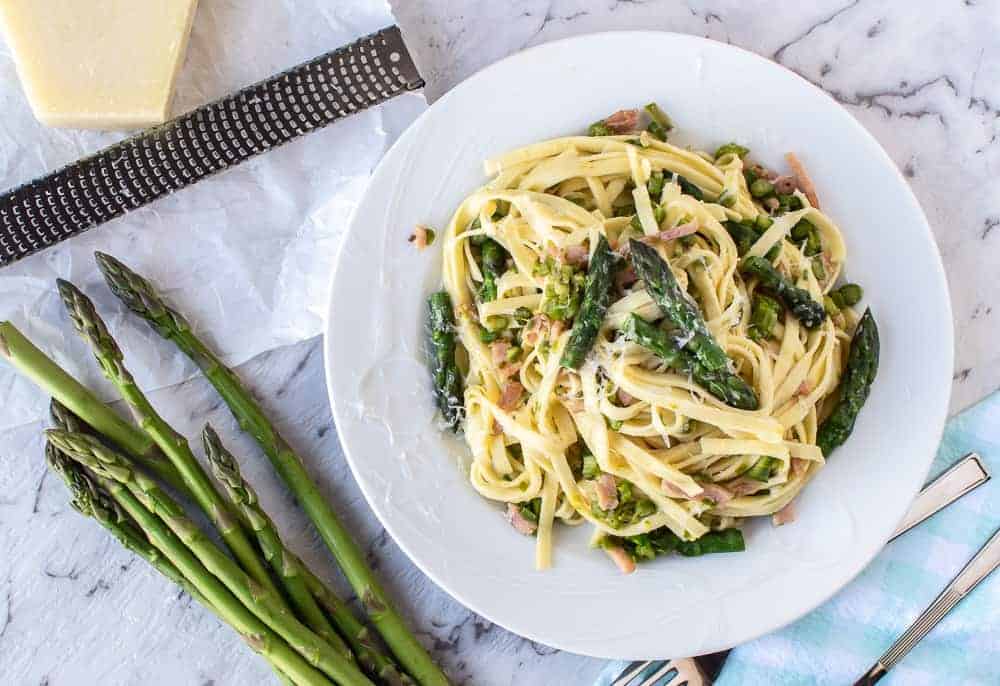 More cooking tips and tricks.
This recipe uses bacon however you can easily substitute pancetta which is available readily in most supermarkets. And while Parmesan is delicious on many pastas, don't overlook the amazing flavour of pecorino romano. Pecorino romano would be an excellent substitute for Parmesan in this recipe.
When asparagus is plentiful and inexpensive, I make this pasta at least once a week. And if you are an asparagus aficionado as much as I am you will also love this Prosciutto wrapped Asparagus. Once you know how to prepare asparagus, you'll be stocking up on lots of asparagus. I prefer to store my asparagus wrapped in paper towel and then slipped into a plastic bag. I find the paper towel keeps the asparagus fresh for longer.
If you loved this recipe, click here to subscribe to be the first to receive all the latest recipes from Marcellina in Cucina.
Baci,

This updated recipe was first published on Marcellina in Cucina on 18 October 2016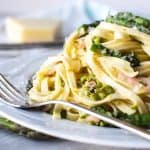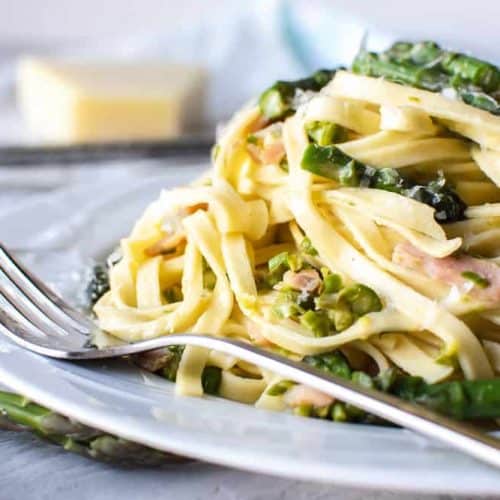 Pasta with Asparagus
Pasta with Asparagus is a very simple pasta recipe with great flavours! This amazing pasta dish comes together in minutes making it a perfect mid week meal. With only 6 ingredients, you'll have dinner on the table in no time!
Course:
Main Course, Pasta
Cuisine:
Australian,, Italian
Keyword:
Pasta with asparagus
Ingredients
1

tablespoon

extra virgin olive oil

1

garlic

sliced

180

g

bacon

sliced into fine strips

500

g

asparagus

45

g

Parmesan

plus extra for serving

500

grams

linguine pasta
Instructions
Asparagus sauce
In a cold frying pan or skillet add oil and garlic. Let it heat up gently over medium heat. When aromatic which won't be long, add bacon.

Fry for a few minutes until the bacon is starting to brown and there is a few browned bits stuck to the bottom of the pan - this is flavour!

While the bacon is cooking, snap the woody ends of the asparagus and throw away. Wash asparagus under running water. Chop off the tender tops (about 3 or 4 cm) and reserve for later. Finley slice up the rest.

Add finely chopped asparagus stalks and a pinch of salt to the garlic and bacon. The salt will draw out the moisture and help the asparagus cook.
Cook pasta
While the asparagus is cooking bring a large pot of salted water to the boil.

When water is boiling add pasta
While pasta is cooking, attend to Asparagus sauce
As the asparagus becomes tender, crush with the back of a fork. If the asparagus dries out add a little of the pasta cooking water.
Back to the pasta
Two minutes before the pasta is done add the asparagus tips.
Finish Asparagus sauce
Into the softened asparagus stir Parmesan cheese and 2 tablespoons of pasta cooking water to create a light but creamy sauce to coat the pasta.

Taste the sauce. Add freshly ground pepper and salt, if needed.
Drain pasta and finish dish
Drain the pasta and the asparagus tips.

Return pasta and asparagus tips to the cooking saucepan. Add asparagus sauce and stir gently to coat pasta.

Serve immediately with extra Parmesan
Recipe Notes
If you can find pancetta, use that instead of the bacon - it will be delicious
Pecorino Romano can be substituted for Parmesan
Nutrition Facts
Pasta with Asparagus
Amount Per Serving
Calories 752
Calories from Fat 234
% Daily Value*
Fat 26g40%
Cholesterol 37mg12%
Sodium 488mg21%
Potassium 630mg18%
Carbohydrates 99g33%
Protein 28g56%
Vitamin A 1050IU21%
Vitamin C 7.3mg9%
Calcium 189mg19%
Iron 4.6mg26%
* Percent Daily Values are based on a 2000 calorie diet.