Spaghetti alla Nerano is a mouth watering pasta dish that has inspired and thrilled diners around the world.
This much loved but simple Italian favorite of spaghetti, fried zucchini and cheese will delight you and your family with its incredible flavor and creamy texture! To top it all off, this recipe isn't difficult so get ready to cook one of the best pasta dishes you'll ever eat!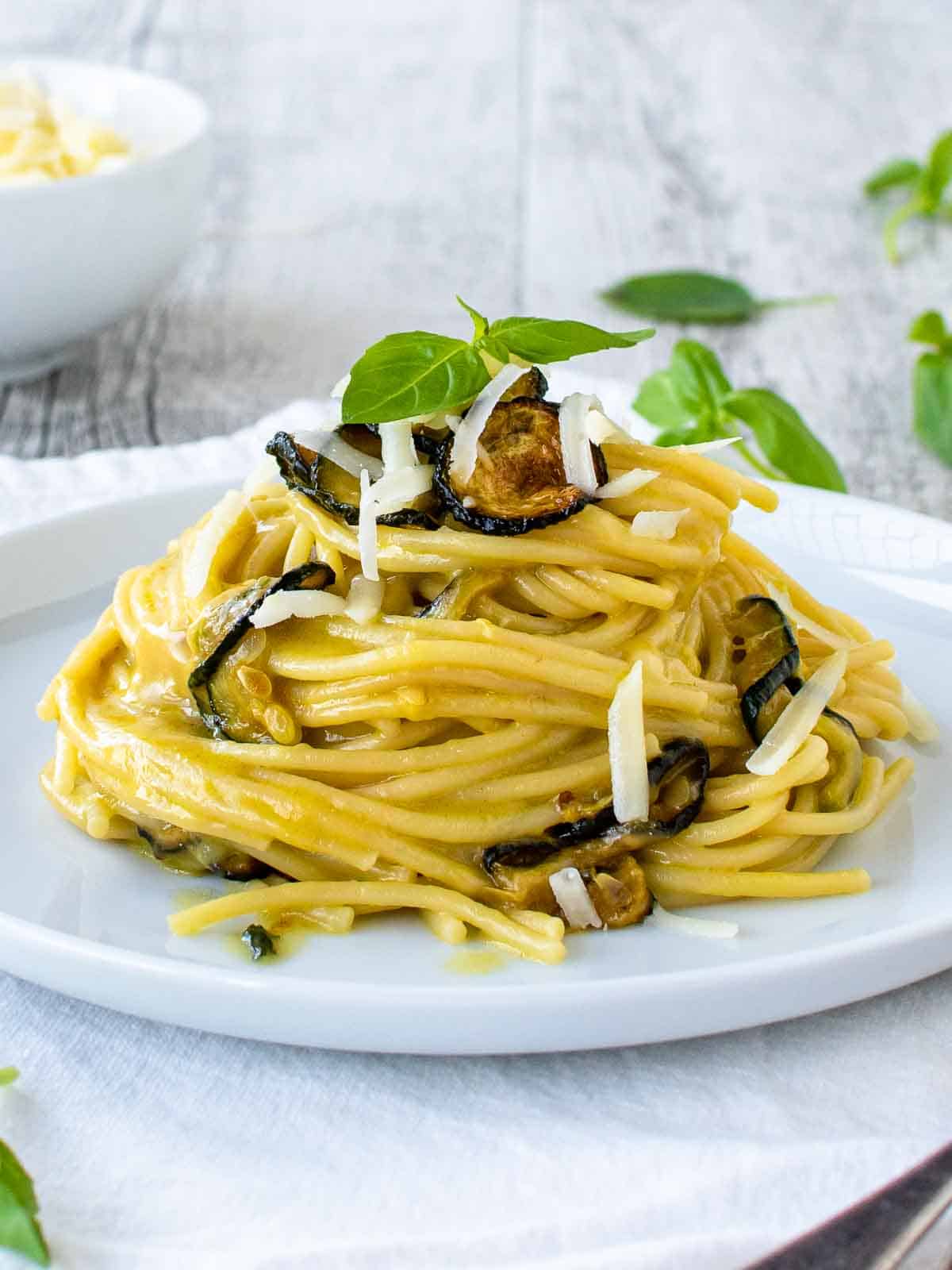 Spaghetti alla Nerano was invented at the restaurant, Maria Grazia, in the town of Nerano on the Amalfi Coast. According to the restaurant website, the owner Donna Rosa, daughter of Maria Grazia, created the recipe in 1952 and what an amazing recipe she created! With flavorful ingredients that create the most indulgent sauce, it's no wonder that Spaghetti alla Nerano is so popular!
Just like my Pasta al Forno (and so many of my other Italian pasta recipes), pasta water is an essential ingredient for the success of this recipe. The cheeses combine with fried zucchini slices and pasta water to create a creamy, luscious sauce that coats the spaghetti perfectly. Finally, lots of torn basil leaves add freshness and fragrance to this flavorsome Spaghetti alla Nerona.
Why you'll love this recipe
Simple ingredients - fresh zucchini, cheeses and spaghetti are all ingredients that are easy to find or substitute with very good results.
Creamy texture - you'll be amazed at the creamy, luxurious sauce created when you make this recipe. One mouthful and you'll be dazzled!
Flavor - the sweetness of young zucchini combined with the cheesy, tasty sauce is perfectly balanced and so satisfying.
Family friendly - everyone from children to adults alike will enjoy the flavor of Spaghetti alla Nerano. There are not many diners who'll be able to resist the creaminess of the sauce and the mild but tasty flavor.
For complete ingredient quantities and full instructions, please scroll to the printable recipe card bottom of the page.
Ingredients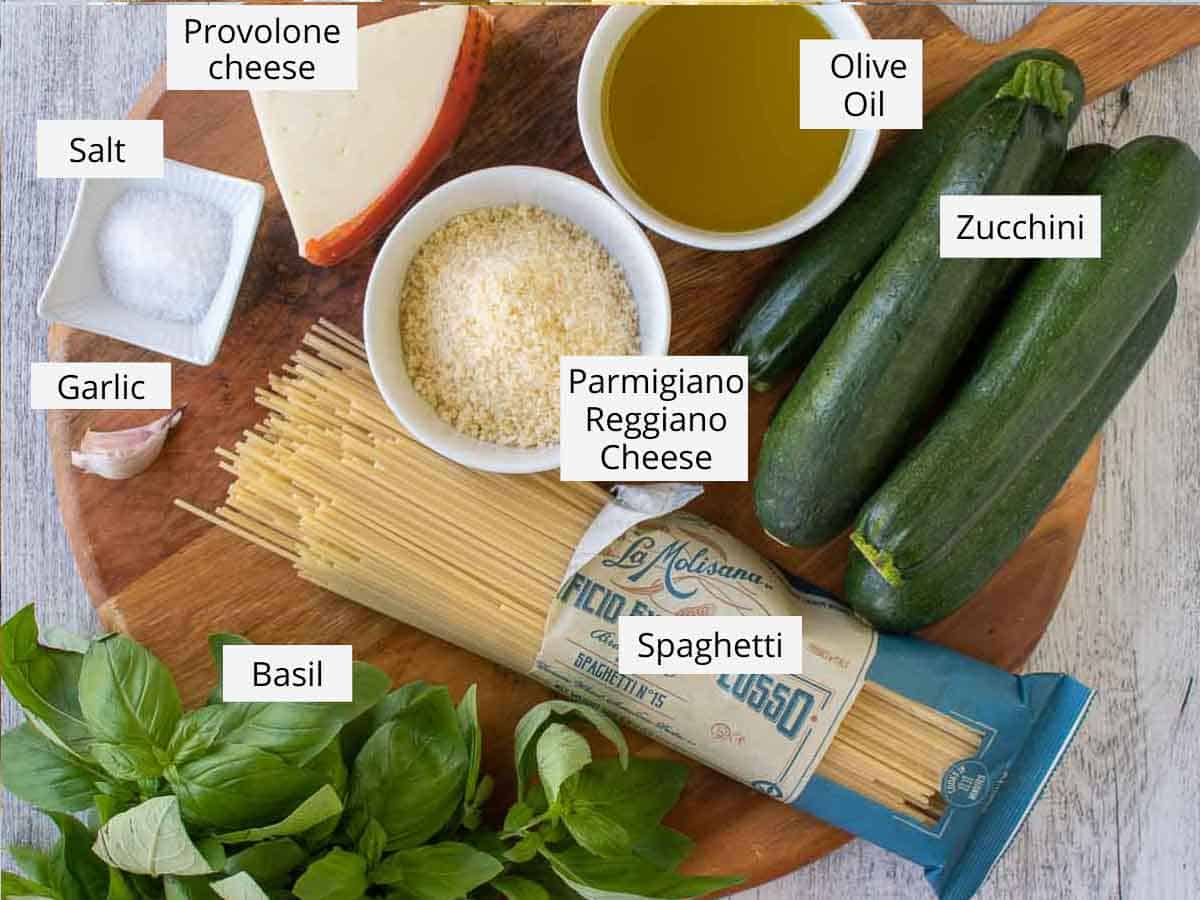 While this may seem like a simple zucchini pasta recipe, it's choosing these particular ingredients (plus the cooking method) that set it apart from the rest. However, there are a few possible substitutions and variations that also produce great results!
Spaghetti - You'll notice the difference if you buy better quality, durum wheat dried spaghetti, especially for a recipe that is as simple as this one. That doesn't mean more expensive. Look for pasta that has the words ​​"bronze die" on the pack. This will mean that the pasta has been extruded through traditional bronze plates which create a slightly rough texture on the pasta. It's this texture that allows the pasta to "grab" the sauce.
Zucchini - Choose young, small zucchini that have smooth and shiny skin this will indicate freshness. Older, large zucchini aren't good for this recipe because they'll be too bitter.  Save them making Stuffed Zucchini with ricotta.
Provolone Cheese - The traditional cheese for spaghetti alla nerano is provolone del Monaco but this is difficult to find outside of Italy. I use an authentic Italian aged provolone "piccante" which is not spicy but very tasty rather than sweet and mild. Check below for other options.
Parmigiano Reggiano Cheese - Also known as Parmesan cheese. Purchase a block of cheese that you can grate at home.
Fresh Garlic - The best flavor is by using fresh garlic which you can find at most supermarkets. Use any extra garlic to make my much loved garlic pizza.
Olive Oil - I prefer regular olive oil to fry the zucchini because it gives a delicious flavor.
Basil - Use as much or as little fresh basil as you like.
Black Pepper - Freshly ground pepper adds just the right flavor to this recipe.
Salt - You'll need salt for the pasta water as well as for seasoning the zucchini. Use whatever salt you have.
See recipe card for quantities.
Instructions
Wash, dry and slice zucchini into thin rounds a little over 1/16 inch (2mm). 
Wash, dry and slice zucchini into thin rounds.
Fry zucchini until lightly browned in olive oil. Removed and drain then salt lightly. Reserve the oil.
Begin cooking the spaghetti in a pot of lightly salted water. While the pasta is boiling, heat a little reserved olive oil and cook the chopped garlic until fragrant.
Stir in the fried zucchini and torn basil leaves. Add a ladleful of the pasta cooking water.
Transfer the al dente pasta to the pan of zucchini. Add pasta cooking water as necessary. Stir well to create creaminess and continue to cook the pasta.
Take the pan off the heat and stir the cheeses off the heat. Add more pasta cooking water as necessary to create a smooth, creamy sauce.
Finish with more torn basil leaves before serving with extra Parmigiano Reggiano and provolone cheese.
Hint: Take care not to burn the zucchini slices or they can be bitter. Don't leave the kitchen while the zucchini are frying. Though simple, this task takes a little time but your full attention.
Substitutions
Provolone Cheese - instead you can use caciocavallo or fontina cheese. 
Parmigiano Reggiano Cheese - use Pecorino Romano cheese instead.
Extra Virgin Olive oil - use regular or light olive oil instead. Some recipes suggest sunflower oil for frying the zucchini but I wouldn't recommend it because the flavor just isn't as good.
Fresh Basil -  fresh mint could also be used if you don't have or don't like basil. Or you can use both basil and mint.
Variations
Spaghetti - while spaghetti is traditional, you could also use another long pasta like tagliatelle, linguine or tonarelli for a equally delicious pasta alla Nerano.
Spicy - for a bit of spicy heat, add ½ teaspoon of red pepper flakes to the sauce.
Citrus - add the finely grated zest of lemon and a squeeze of juice over the top of the finished pasta for some zingy tang.
Equipment
A large skillet for frying the zucchini and later mixing the pasta with the sauce is important.
Storage
As with any pasta dish, Spaghetti alla Nerano is best made and served fresh. However, the zucchini can be fried in advance, even the day before. Store in the fridge, covered or in a sealed container.
If there are any leftovers, the pasta can be stored in the fridge for the next day. Keep some pasta water in a jar in the fridge as well because this will help loosen the leftover pasta. 
To reheat leftover Spaghetti alla Nerano, heat a small amount of pasta water in a skillet over medium heat. When hot (near boiling) carefully add the spaghetti, stirring gently and mixing with the water until the pasta separates and the sauce becomes creamy and heated through. It will almost be as good as the day before.
Tips for Success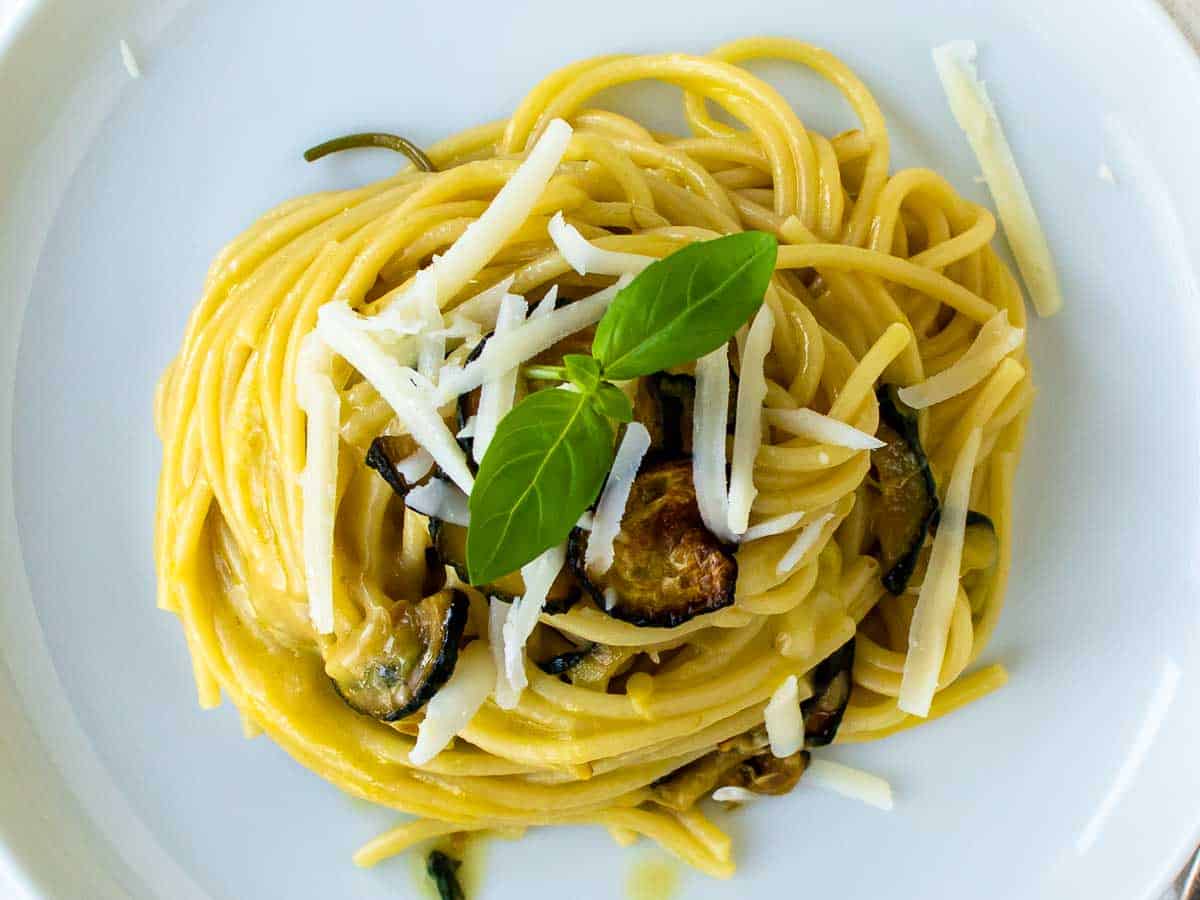 Choosing young, small zucchini is one of the important points of the Spaghetti alla Nerano recipe. They will be sweeter and the dish will be better for it. Be sure to slice the zucchini thinly. Using a mandolin is handy but a sharp knife will also work well.
When frying the zucchini, don't overcrowd the pan. Fry batches of zucchini, removing them to a plate when browned.
Cheese is an integral part of this recipe and it's important that you choose well. Two cheeses will give you the best flavor. My choice is aged provolone and Parmigiano Reggiano cheese. If you can only find a sweet and mild provolone include Pecorino Romano. Alternatively, you could also use Parmigiano Reggiano and Pecorino Romano cheese.
Continue stirring the pasta after adding the cheese until it melts. Add more hot pasta water to loosen it if it seems a bit dry. It will be surprising to see how much pasta water the sauce needs to become creamy.
FAQ
What does Nerano mean in Italian?
Nerano is the name of a beautiful town on the Amalfi coast. Spaghetti alla Nerano means spaghetti in the way it is made in that town.  The area is famous for its seaside restaurants with many serving this local speciality.  Stanley Tucci famously declared "one of the best things he's ever eaten".
Should you mix spaghetti with sauce?
Yes, spaghetti and all other pasta should be mixed with sauce before serving. In fact, ideally, the last minute or two of cooking spaghetti (and other pasta) should be in the sauce so that all the flavors are "married" together.
What does the Italian word alla mean?
When referring to food, "alla" means in the style of or in the way of. For example, Gnocchi alla Sorrentina means gnocchi in the "style" or "way" of Sorrento.
Serving Suggestions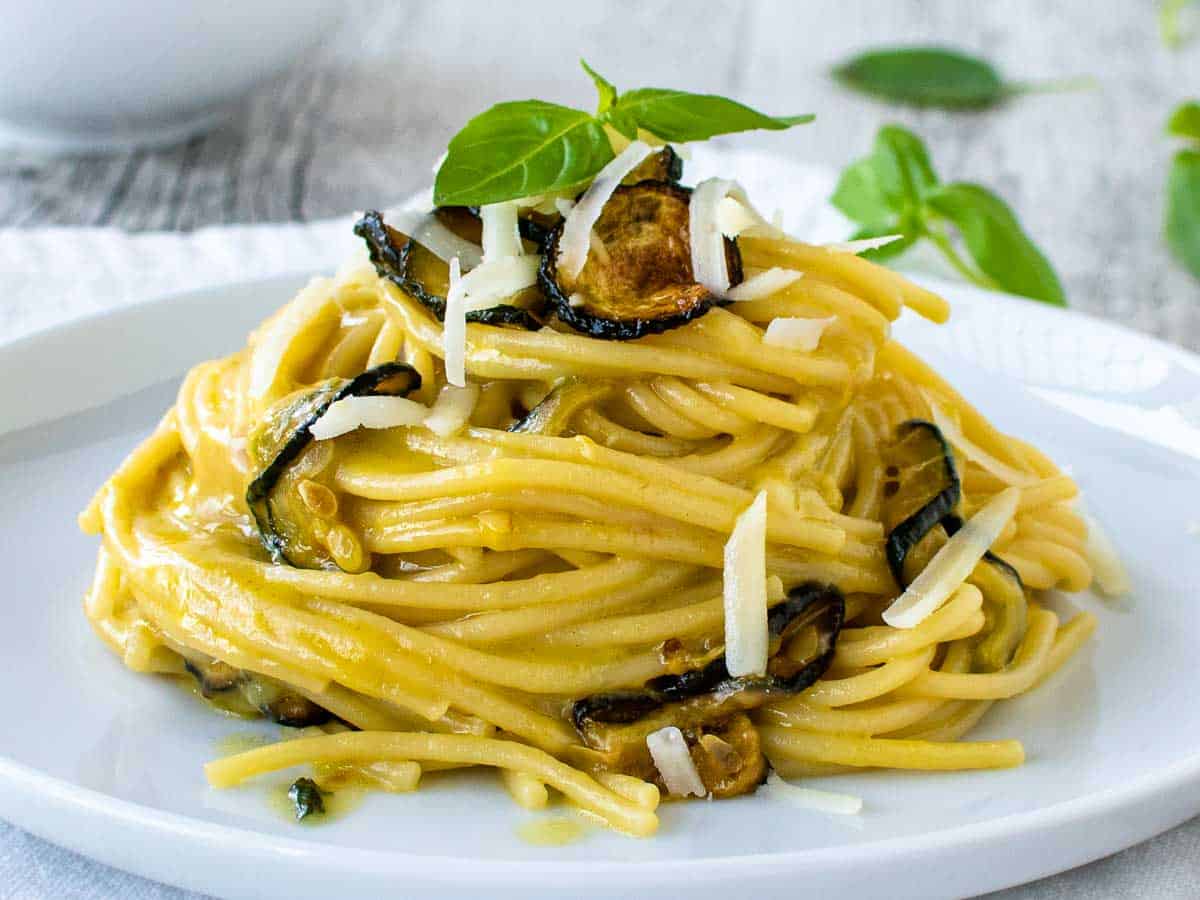 Serve Spaghetti alla Nerano simply as it is with extra cheese. This type of dish can be served as a first course followed Baked Italian Chicken Thighs or Sausage Meatballs. Alternatively, make this Italian pasta the star of the show and follow with a fruity dessert such as Baked Peaches or Mango Ice Cream.
Made this recipe?
Let me know if you liked it by leaving a ★★★★★ star rating and a review below. Please share a photo of your creation by tagging me on Instagram @marcellina.in.cucina!
Recipe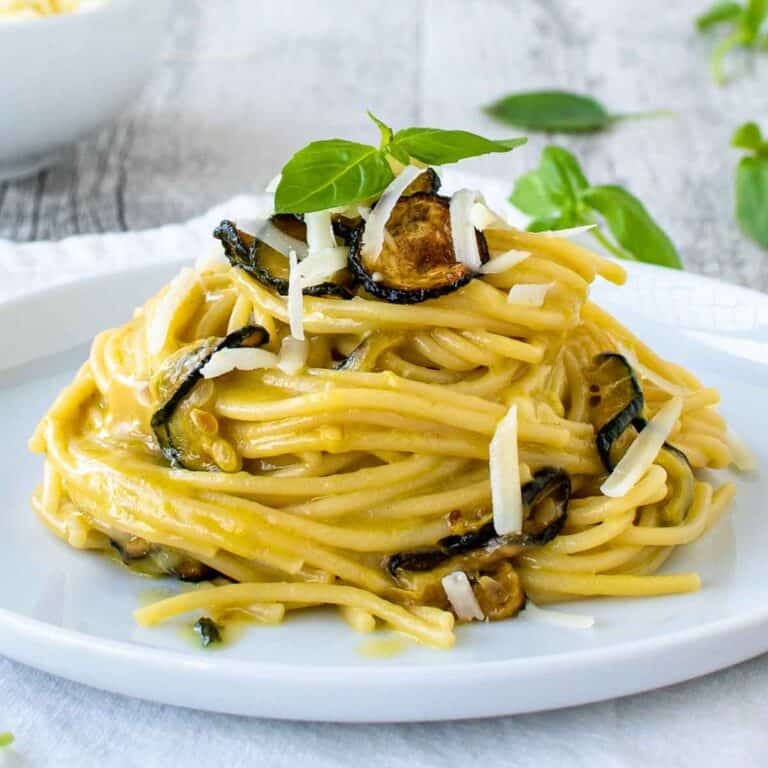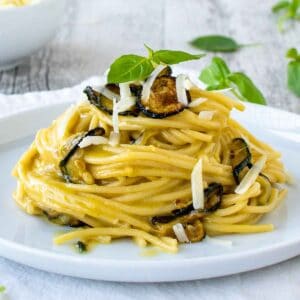 Spaghetti alla Nerano Recipe
Spaghetti alla Nerano is a classic Italian pasta dish originating from the Campania region. It's a creamy and comforting dish made with sautéed zucchini, garlic, Parmesan cheese, and spaghetti, perfect for a cozy dinner at home.
Print
Pin
Rate
Ingredients
12

ounces

spaghetti

(

340

grams)

3

medium zucchini

approximate (

1lb 5 oz or 600 grams

)

4

ounces

grated Provolone cheese

(

120 grams

)

2

ounces

finely grated Parmigiano Reggiano cheese

(

60

grams)

1

garlic clove

½

cup

(115 mls) olive oil

(115 mls) more as necessary

1

teaspoon

salt

plus extra for pasta water

fresh basil leaves

as desired

black pepper
Instructions
Wash, dry and slice the zucchini into thin rounds a little over 1/16 inch (2mm).

Pour olive oil into a large skillet or frying pan. It should be a depth of about ¼ inch (a little over ½ cm). Add more oil if necessary.

Fry thinly sliced zucchini in hot olive oil until lightly browned. It's best to fry in batches, making one layer of zucchini slices. It will take about 5-7 minutes, turning each slice over halfway through the cooking. Remove and drain. Then place on a plate and salt lightly. Continue with the remaining zucchini slices. Set aside until needed. Drain the oil and reserve for later.

Bring a large pot of salted water to the boil.

Add spaghetti and cook until 2 minutes before being completely done.

In the meantime, heat 1 tablespoon of the reserved olive oil. Add garlic and cook until fragrant.

Then add reserved fried zucchini and a handful of torn basil leaves. Add a little of the pasta cooking water.

Cook, stirring to combine until the pasta is ready.

When the pasta is ready, remove the pasta using tongs or a spaghetti scoop and add it straight to the skillet of zucchini.

Stir well to combine, adding more pasta cooking water if necessary. Stirring will make it creamy. In Italian this is know as "mantecare" which means "to cream" and it's just the action of stirring.

Take the skillet off the heat and add in the cheeses. Stir to melt the cheeses, adding more pasta cooking water to assist.

Stir in lots of torn basil leaves.

Serve with a grind of black pepper and extra cheese
Notes
Tips for Success
Choosing young, medium sized zucchini 

Slice the zucchini thinly. 

Don't overcrowd the pan when frying the zucchini.

Use two cheeses for the best flavor - aged provolone and Parmigiano Reggiano cheese. If the provolone is sweet and mild include Pecorino Romano. Otherwise you could also use Parmigiano Reggiano and Pecorino Romano cheese.

When stirring the pasta with the cheese add enough pasta cooking water to make a smooth sauce.
For more tips and information be sure to read the full post above.
Nutritional Information Per Serving
Calories:
735
kcal
|
Carbohydrates:
69
g
|
Protein:
25
g
|
Fat:
40
g
|
Saturated Fat:
11
g
|
Polyunsaturated Fat:
4
g
|
Monounsaturated Fat:
23
g
|
Cholesterol:
29
mg
|
Sodium:
1032
mg
|
Potassium:
629
mg
|
Fiber:
4
g
|
Sugar:
6
g
|
Vitamin A:
654
IU
|
Vitamin C:
27
mg
|
Calcium:
426
mg
|
Iron:
2
mg
Nutritional Disclaimer
Nutritional information is an estimate provided by an online nutrition calculator. For accurate results, it is recommended that the nutritional information be calculated based on the ingredients and brands you use.