Saffron Risotto is a luxurious and delicious Italian classic from Milan also known as Risotto alla Milanese. The beautiful golden colour and fabulous aroma and taste can't be beaten.
My recipe for saffron risotto is quite traditional. To be completely traditional it would have the addition of bone marrow but my father never added it so I will do as he did.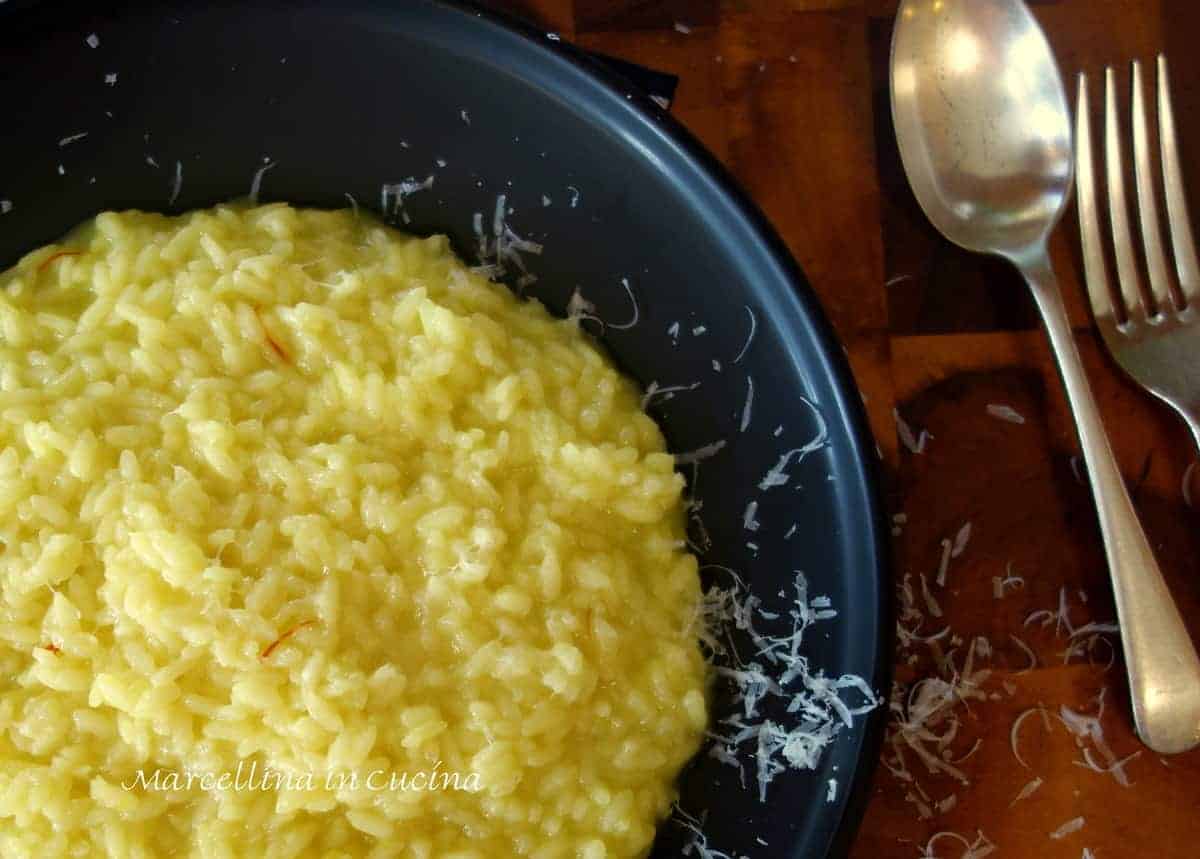 About this recipe
This risotto is probably one of the first meals I learnt. Not that it was actually taught to me as a lesson. Instead as my father prepared and cooked this risotto, he would talk and tell me the do's and don'ts.
"Chop the onion very fine and cooked gently until just ginger in oil and butter" he would say in his broken English interspersed with Italian words. "Ginger" meant light golden. Those were Dad's words.
Short grain white rice such as arborio is essential for this recipe and recipes like Arancini. Long grain brown rice instead is better for salads such as my Brown Rice Salad.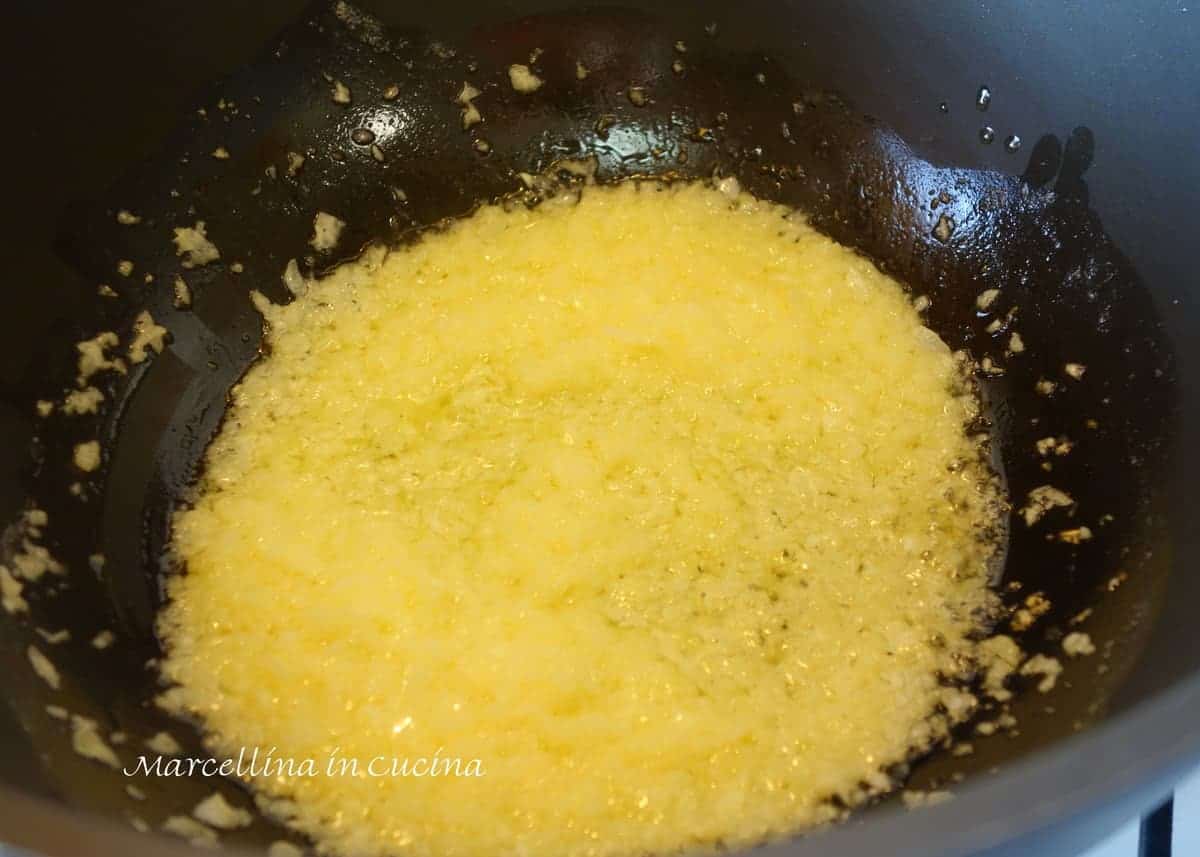 He would instruct me to use good "brodo" or stock which should be hot. And only add it one ladle at a time, stirring in between.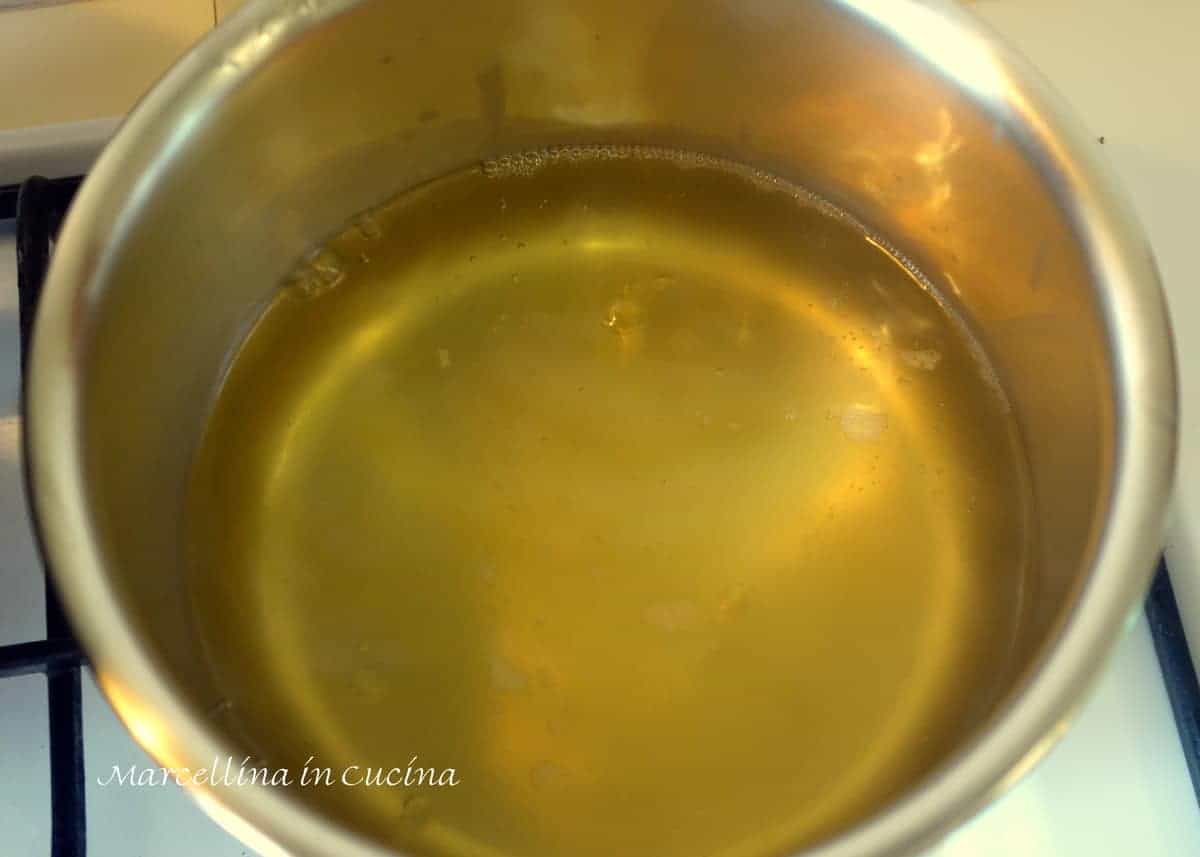 Tossing the rice into the now soften onion and buttery oil.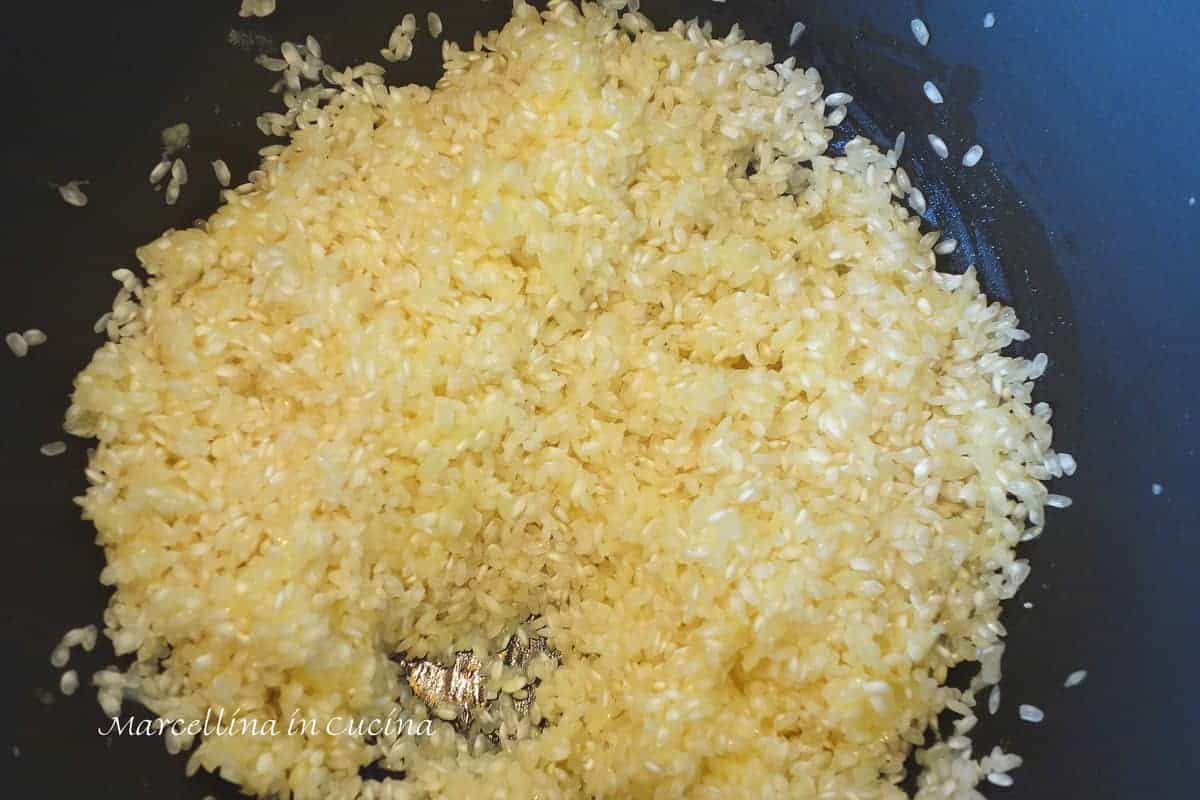 In a small cup, he would mix the saffron with a ladle of hot stock, allowing it to steep.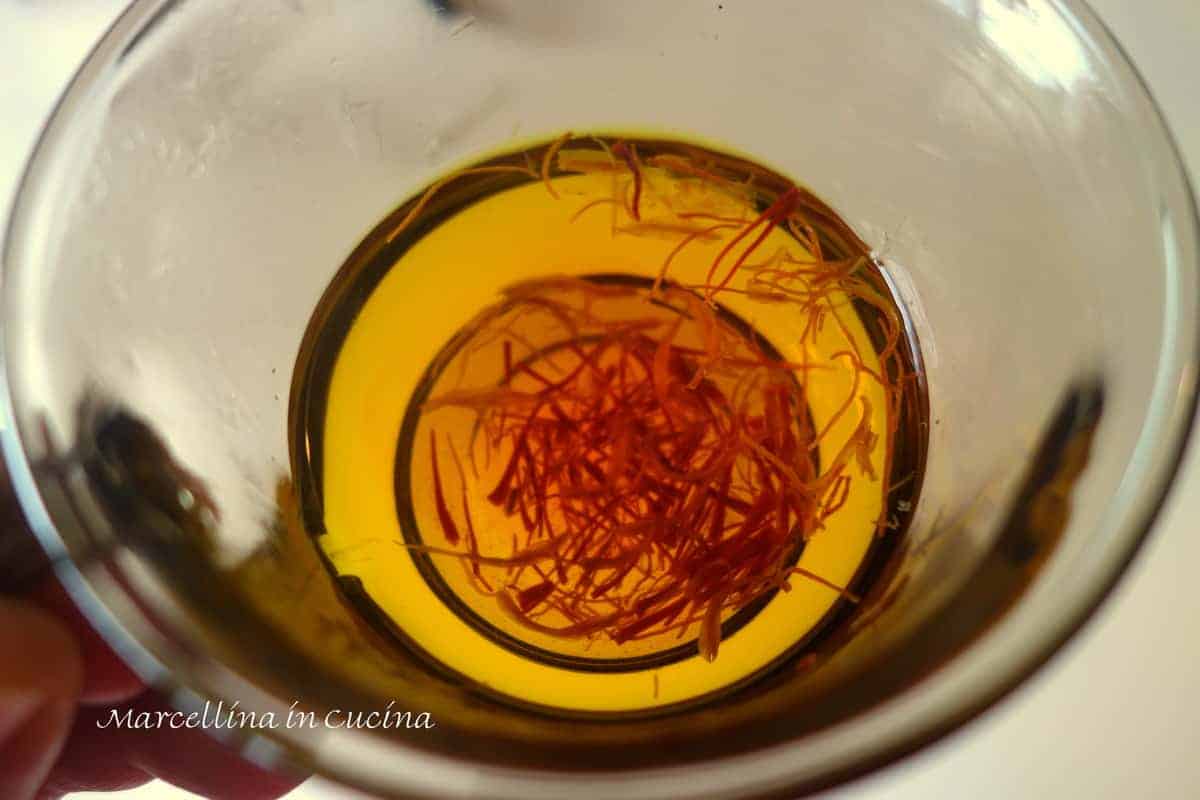 Adding the golden saffron liquid to the partially cooked rice which immediately took on the amazing colour.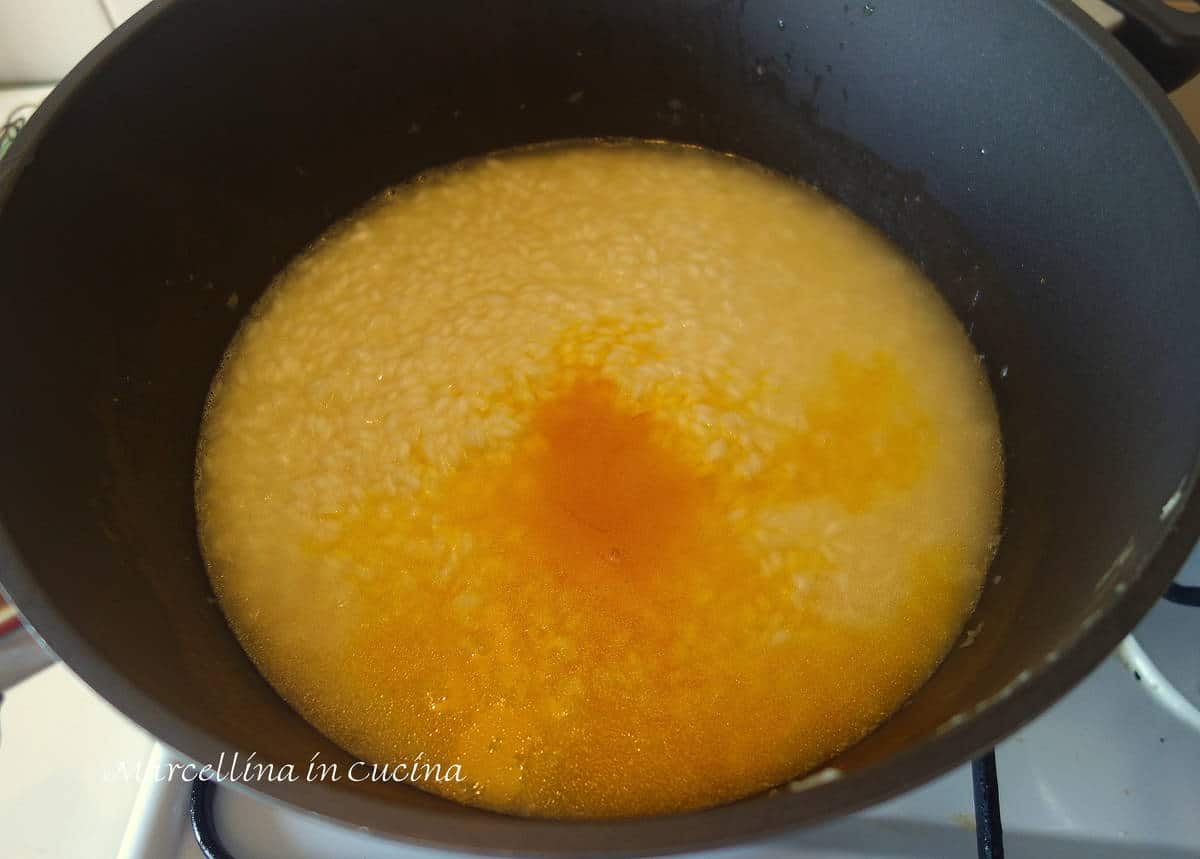 He would keep ladling in the hot stock and stirring, talking all the while. This is how I learnt to cook by my father's side - just as he did by his mother's side.
I knew my father was a good cook. My goodness, his Saffron Risotto was fantastically good which he always maintained was due to his delicious stock or "brodo". But it wasn't until he passed away a few years ago that we learnt that his mother was a chef de cuisine. No wonder he knew his way around a kitchen
What are the secrets to a good risotto?
Risotto is simply but delicious and best made with good stock. Making your own is easy if you follow my recipe. If you don't make your own stock, please search for the best available being careful about extra salty stock. Save your Parmesan rinds for risotto or ask at your deli where you buy your grated Parmesan. Taste as you go, checking that the rice is cooked through. My father would say that the finished risotto should be "al onde" or like waves when you jiggle the pot. So if it is thick and gluggy, you need more hot liquid. Finally, my father would say, finish it with a "good knob of butter". Once Saffron risotto is ready, call everyone to the table - "a tavola!" because risotto will wait for no one.
The gift of sharing recipes.
Saffron risotto is one of the recipes I have passed down to my own children along with another favorite, chicken spiedini. They have learnt while hanging around in the kitchen with me. Risotto takes time but in that time you talk, learn and most of all, create memories.

Recipe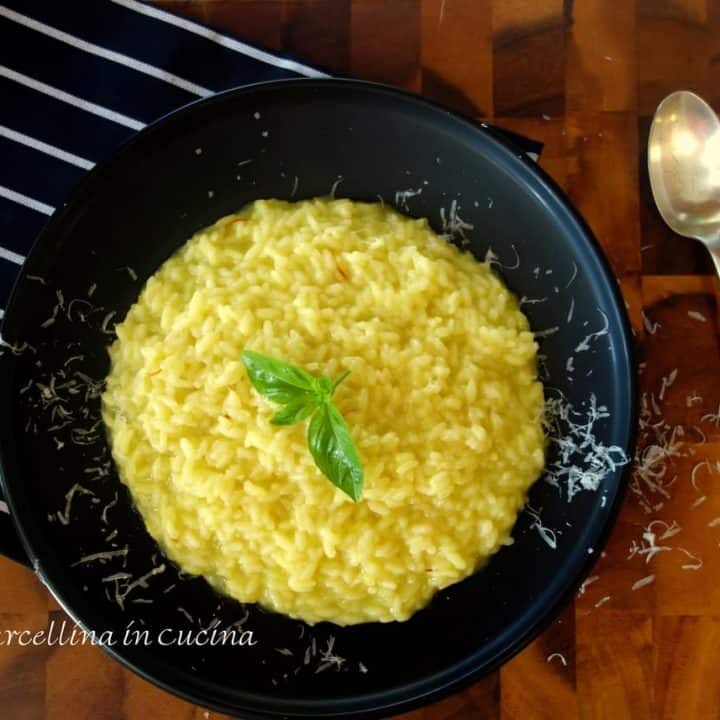 Saffron Risotto Recipe
A traditional risotto flavoured simply with saffron and Parmesan cheese
Print
Pin
Rate
Ingredients
⅓

cup

extra-virgin olive oil

4

tablespoons

butter

divided

1

medium onion

very finely chopped

1

teaspoon

saffron threads

8

cups

chicken stock

3

cups

arborio rice

½

cup

white wine

Parmesan rind

½

cup

freshly grated Parmesan

plus more for sprinkling
Instructions
Heat the stock in a saucepan and keep warm. In a small bowl or cup place the saffron threads and a ladle of stock to allow saffron to steep.

Heat oil and 2 tablespoons butter in a large saucepan.

Add the onion and fry gently until soft but not coloured.

Add the rice and stir for a couple of minutes until slightly translucent.

Add the wine and allow to evaporate.

Now start adding the stock, one ladle at a time. Stirring in and wait until it has been absorbed before adding more.

The risotto should be simmering gently, never furiously!

Now it is time to add the steeped saffron.

Continue adding the stock one ladle at a time and stirring ensuring the stock has absorbed before adding more until the rice is thick, creamy and golden but still "al onde"

It will be done when you taste a few grains of rice and they are cooked through. If not, add a little more stock or hot water, as necessary.

Remove from heat. Remove Parmesan rind. Stir in remaining butter and grated Parmesan.

Serve with extra grated Parmesan cheese.
Notes
Tips for Success
Onion should be very finely chopped preferable with a knife but you can use a food processor carefully making sure not to overprocess
Stock MUST be hot when adding to risotto
Never add more stock than ½-inch (1cm) on the surface of the rice.
Rice varies depending on location and growing conditions. You may need more stock or less. Taste as you go.
"Al onde" means "like waves". The risotto should not be thick and gluggy but light and slightly liquidy. When you jiggle the pot the risotto should move like waves.
Nutritional Information Per Serving
Calories:
1053
kcal
|
Carbohydrates:
139
g
|
Protein:
26
g
|
Fat:
39
g
|
Saturated Fat:
13
g
|
Cholesterol:
53
mg
|
Sodium:
991
mg
|
Potassium:
690
mg
|
Fiber:
4
g
|
Sugar:
9
g
|
Vitamin A:
460
IU
|
Vitamin C:
3
mg
|
Calcium:
179
mg
|
Iron:
7.7
mg
Nutritional Disclaimer
Nutritional information is an estimate provided by an online nutrition calculator. For accurate results, it is recommended that the nutritional information be calculated based on the ingredients and brands you use.