Delicious handmade little bundles of filled pasta that are easy to customize! Savory fagottini pasta parcels are a fun way to showcase scrumptious Italian flavors - and your culinary skill set.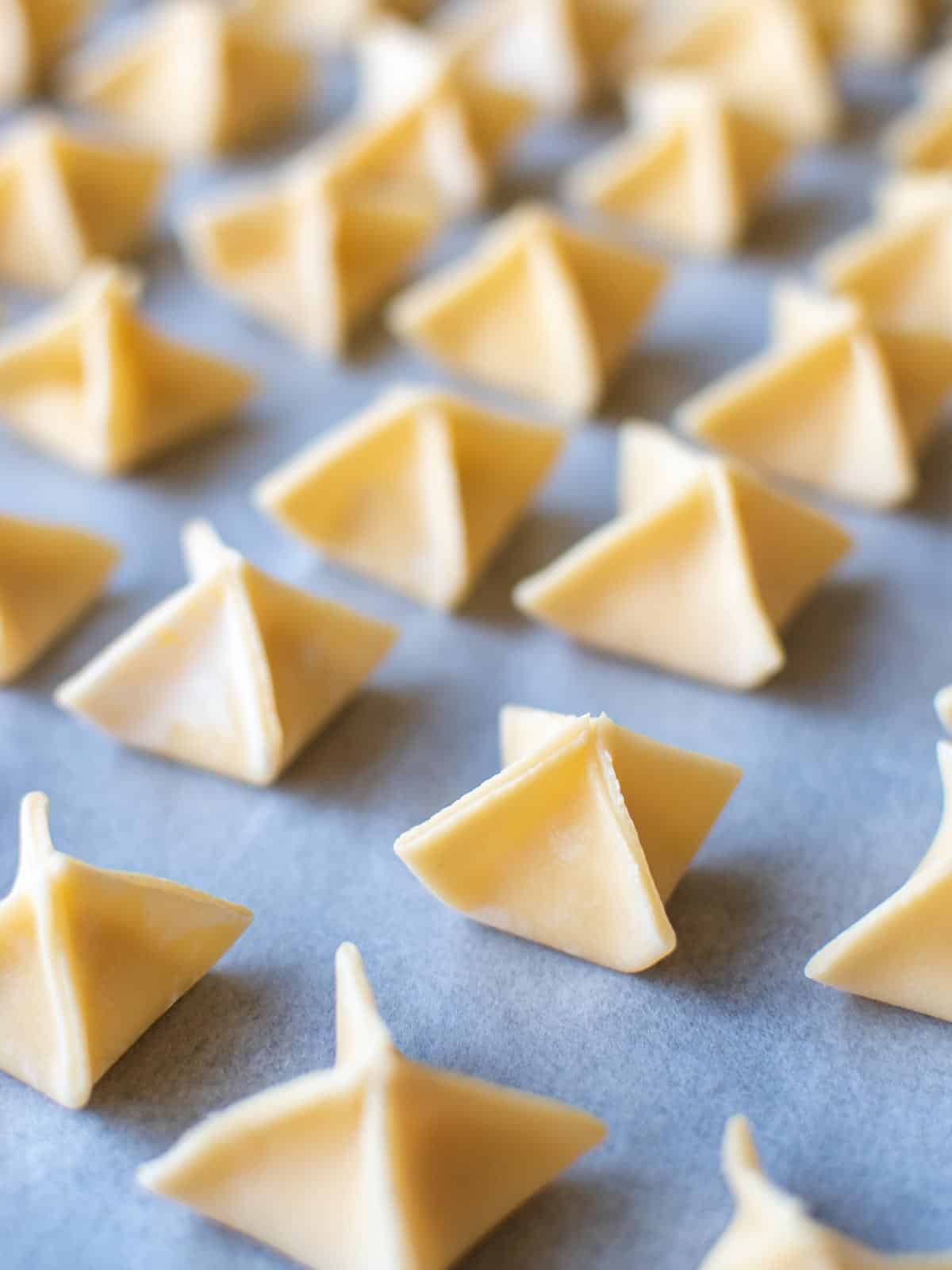 WHY YOU'LL LOVE THIS RECIPE
Fagottini means "little bundles" in Italian, and these perfect little handcrafted bundles of filled pasta are bursting with flavor! You'll love the easy, creamy filling I've suggested, but you could also get adventurous and try some of my variations, or even invent your own.
When you have the time to get creative in the kitchen, there's nothing more satisfying than preparing a delicious dish from scratch. Carefully crafting the star-shaped pouches ready to hold your choice of filling is hugely satisfying!
Cooking is a fabulous way to bring all the generations in your family together - chatting while you all create authentic Italian handmade Fagottini. You can involve the older and younger generations together as you make memories AND a meal. Try serving it with a Roast Pumpkin Salad or my quick and easy Cucumber Tomato Onion Salad.
For complete ingredient quantities and full instructions, please scroll to the printable recipe card bottom of the page.
INGREDIENT NOTES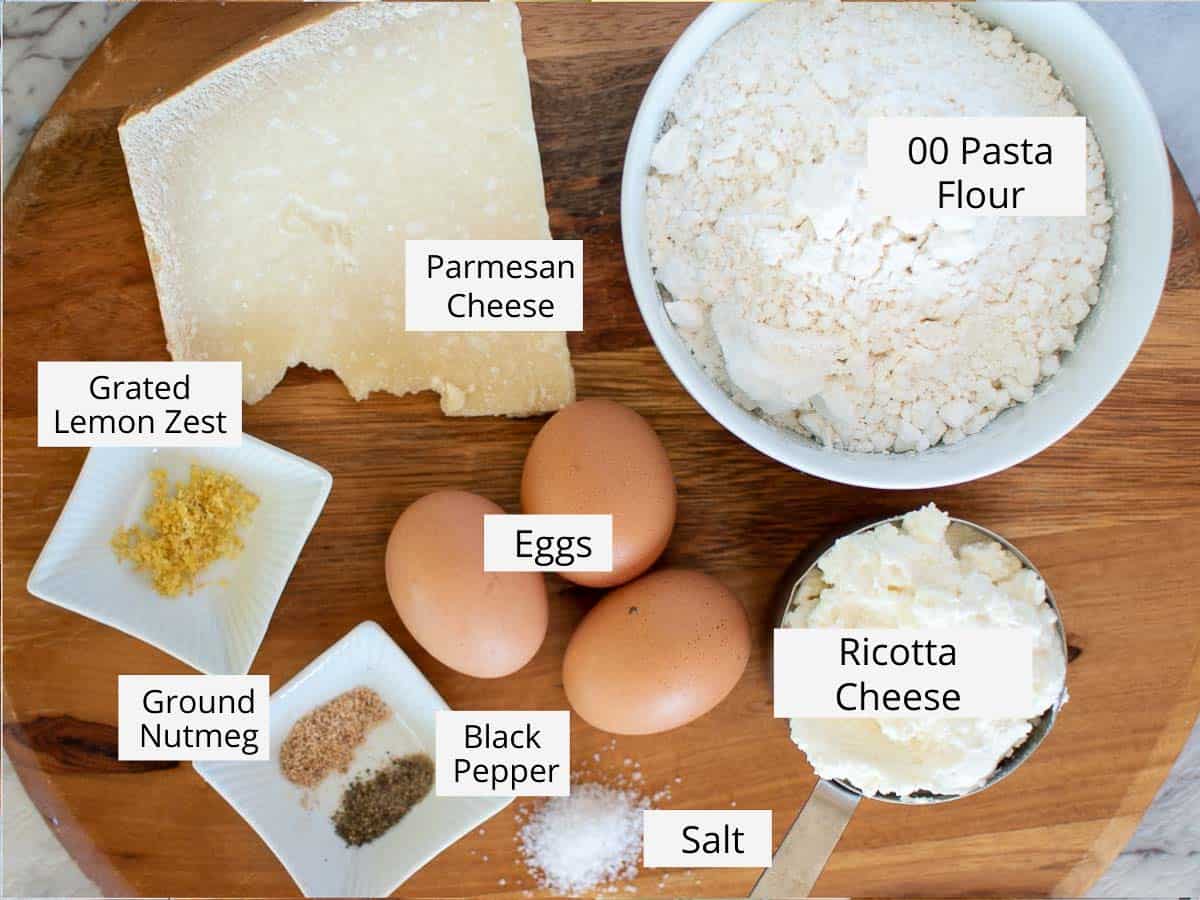 00 pasta flour - this is a super fine flour with medium protein levels. This means it has enough protein to stretch it without breaking and give your dough just the perfect firmness.
Eggs - I use eggs that weigh at least 2 oz (58 grams) each, or 24 ounces (700 grams) per dozen.
Ricotta - whole milk ricotta is required for this recipe.
Parmesan cheese - grating your own is best, if you can. Alternatively, buy freshly grated. I use Parmigiano-Reggiano but Grana Padano or any good quality Parmesan style cheese can be used.
Lemon zest - just a little to add some zing!
Nutmeg - freshly ground, if you can get it, for the best flavor.
VARIATIONS
One of the (many!) things I love about fagottini pasta is that it's really versatile. The filling recipe I've shared with you on the recipe card is delicious and one of my favorites, but it's by no means the only filling available. Fagottini fillings are only limited by your imagination! I've listed some of the options I enjoy, but if you get adventurous and try your own, please let me know how you go - what works, what you enjoy, and what you might change next time.
Quattro formaggi (four cheese): Use a mouth-watering combination of ricotta cheese with finely grated Parmigiano-Reggiano (or any Parmesan style cheese), Pecorino Romano, and gorgonzola cheeses - bellissimo!
Alla Funghi (with mushrooms): Use a variety of mushrooms - try porcini, crimini (portobello), shiitake, oyster, enoki, button etc - wiped, sliced, and lightly sauteed in butter, garlic, and sage. Stir through some freshly chopped chives, then allow the mixture to cool before using to fill the fagottini.
EQUIPMENT NEEDED
I use a KitchenAid pasta machine, but if you don't have one, don't fret! You can still make your own filled fagottini pasta parcels by using a rolling pin.
Pasta cutting wheel or square cookie cutter. Alternatively, a knife and a clean ruler will do the trick.
INSTRUCTIONS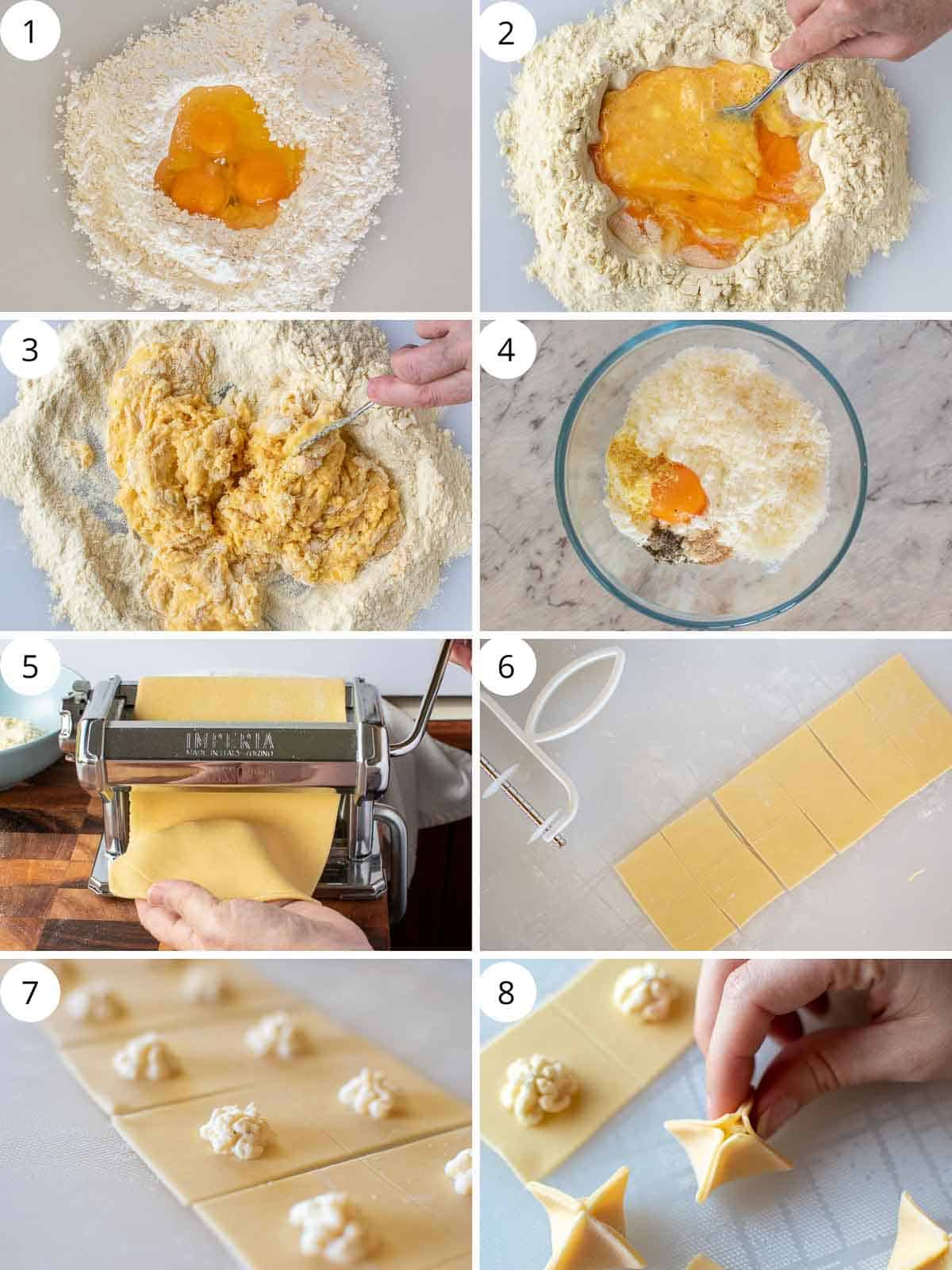 Line two large baking sheets with non-stick baking paper.
Break eggs into a well in the flour.
Mix eggs and gradually combine with the flour.
Knead well for 10 minutes then rest the pasta dough.
Combine ingredients for the filling.
Use a pasta machine to thin and stretch the dough. Alternatively, use a rolling pin.
Cut sheets of dough into 2 inch (5cm) squares.
Place a small amount of filling into the centre of each square.
Shape fagottini by gathering opposite corners to meet in a point. Pick up another corner and bring it in to meet the other two. Then bring up the final corner. Press out the air and seal the pasta edges as you go.
To serve, simmer in chicken broth for 3 - 5 minutes or until tender. Serve the soup with extra grated Parmesan cheese. Or drain then toss with butter and grated Parmesan cheese.
TIPS FOR SUCCESS & FAQs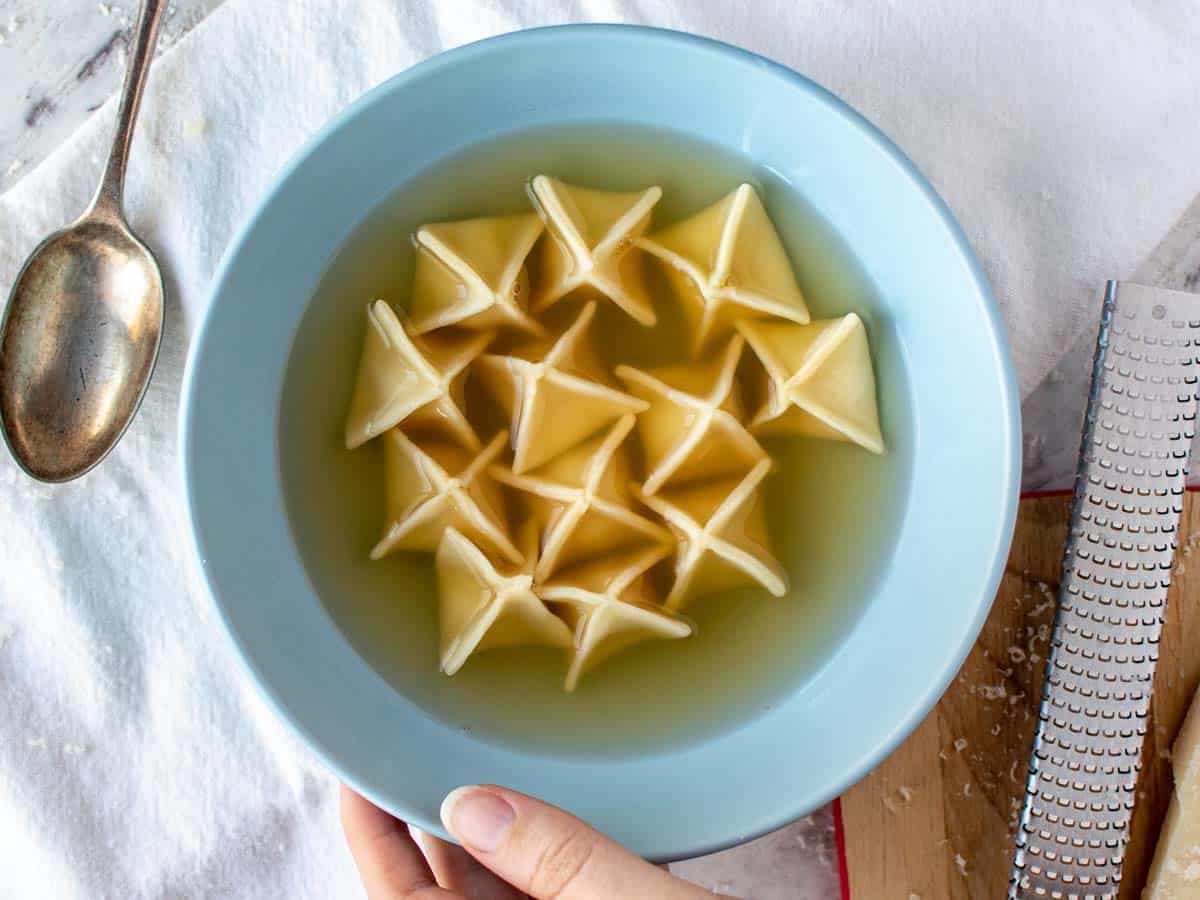 I always recommend purchasing the best quality ingredients that your budget will allow so that you end up with optimal flavor.
Don't skimp on kneading the dough. Pasta dough needs at least 5 minutes of vigorous kneading possibly more to create a strong, supple dough. Then rest the dough before continuing. For more tips, check out my tonnarelli pasta recipe.
Only roll a small portion of dough at a time, leaving the main ball of pasta dough wrapped in plastic. Once the pasta is thinned and stretched and squares cut, you may need to cover the squares with plastic wrap or a clean kitchen towel to prevent the pasta from drying out.
These handmade fagottini take time to make and shape. Don't rush it. Practice creating the pyramid-like shape without using any filling the first time.
After cutting out squares, there will be excess pasta. Don't throw this away. Join the pasta scraps together with the main ball of dough and re-roll.
Can 00 pasta flour be replaced with all purpose flour?
Yes, you can use all purpose flour.
What do I do if my hands are sticking to the dough when forming the filled pasta?
Dust your hands lightly with flour.
How do I fix fagottini that won't seal?
Dip a clean fingertip in water and just dampen the pasta to make it a little sticky.
Can fagottini be frozen?
Yes, freeze on baking sheets lined with non-stick baking paper. When frozen, place them into a freezer bag and seal. Cook from frozen, adding several minutes to the cooking time.
How do I pronounce fagottini?
Pronouncing Italian words can be tricky for non-Italians, but luckily fagottini isn't too tricky. Remember that the emphasis is on the third syllable: fah-goh-TEE-nee. Try saying it out out loud a few times so you feel comfortable saying it before your guests arrive!
MORE RECIPES LIKE THIS
I have assembled a collection of my favorite homemade pasta recipes. Have a look at:
Cavatelli Pasta
Garganelli
Homemade Orecchiette with Bacon & Broccoli
Made this recipe?
Let me know if you liked it by leaving a ★★★★★ star rating and a review below. Please share a photo of your creation by tagging me on Instagram @marcellina.in.cucina!
Recipe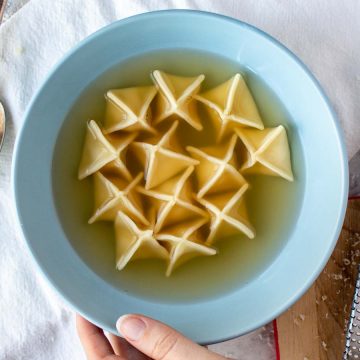 Fagottini Pasta
Delicious handmade little bundles of filled pasta that are easy to customize to your taste!
Print
Pin
Rate
Ingredients
Pasta Dough
2

cups

00 pasta flour

(260 grams)

3

large

eggs

(at least 2 ounces/ 58 grams each)
Filling
1

cup

ricotta

(use whole milk ricotta for best results)

1

cup

parmesan cheese, finely grated

1

egg yolk

½

teaspoon

salt

½

teaspoon

lemon zest, finely grated

⅛

teaspoon

nutmeg, grated

⅛

teaspoon

black pepper
Instructions
Pasta Dough
Pile the 00 pasta flour onto the work surface, make a well in the middle and break the eggs into the well.

Whisk the eggs, gradually bringing in some of the flour.

When the dough is shaggy, use your hands to knead in the remaining flour. Knead well, then cover and allow to rest for 30 minutes.
Shaping the Pasta
Using a pasta machine, pass a small piece of dough through the rollers about 8 - 10 times, folding the dough in half each time. Use a little flour on the dough and the rollers if it is sticking. To thin the dough, pass it through each setting without folding until it is approximately 1/32 inch (0.8 mm) thick. (On my KitchenAid Pasta Roller this is setting #6.)

Using a pasta cutting wheel, square cookie cutter, or simply a knife and a clean ruler, cut into 2 inch (5cm) squares.

Use a piping bag with a medium tip (or, alternatively, a teaspoon) and place a rounded ½ teaspoon of filling into the centre of each square.

Dampen the edges of the square with a little bit of water on your clean fingertip. Shape the fagottini by gathering opposite corners up to meet in a point. Pick up another corner and bring it in to meet the other two. Then bring up the final corner, bringing them altogether in a point above the filling.

Gently press the air out from the bottom near the filling, sealing the pasta as you go, creating four "wings". Set aside on baking paper lined baking sheets. Repeat with each pasta square.
Filling
Combine all ingredients. Refrigerate until ready to use.
Cooking
Simmer in chicken broth for 3 - 5 minutes or until tender. Serve with extra parmesan cheese.
Notes
Be patient when you're making fagottini - especially the first time. Allow yourself enough time so that you're not rushing. My suggestion is that you start by making a few without any filling to practice.
After cutting out the squares, there will be excess pasta - don't throw it away! Join the pasta scraps together with the main ball of dough and re-roll.
To customize my recipe to cater to your tastebuds, have a look at my 'Variations'.
Nutritional Information Per Serving
Calories:
511
kcal
|
Carbohydrates:
51
g
|
Protein:
28
g
|
Fat:
21
g
|
Saturated Fat:
11
g
|
Polyunsaturated Fat:
2
g
|
Monounsaturated Fat:
6
g
|
Trans Fat:
1
g
|
Cholesterol:
242
mg
|
Sodium:
781
mg
|
Potassium:
221
mg
|
Fiber:
2
g
|
Sugar:
1
g
|
Vitamin A:
758
IU
|
Vitamin C:
1
mg
|
Calcium:
442
mg
|
Iron:
4
mg
Nutritional Disclaimer
Nutritional information is an estimate provided by an online nutrition calculator. For accurate results, it is recommended that the nutritional information be calculated based on the ingredients and brands you use.