Pesto Trapanese is a traditional Sicilian pasta sauce that is bursting with freshness and flavor!
All you need is 6 ingredients and less than 30 minutes to whip up a light but intensely flavored raw sauce! Don't wait any longer - grab yourself some ripe tomatoes and make this Sicilian pesto today!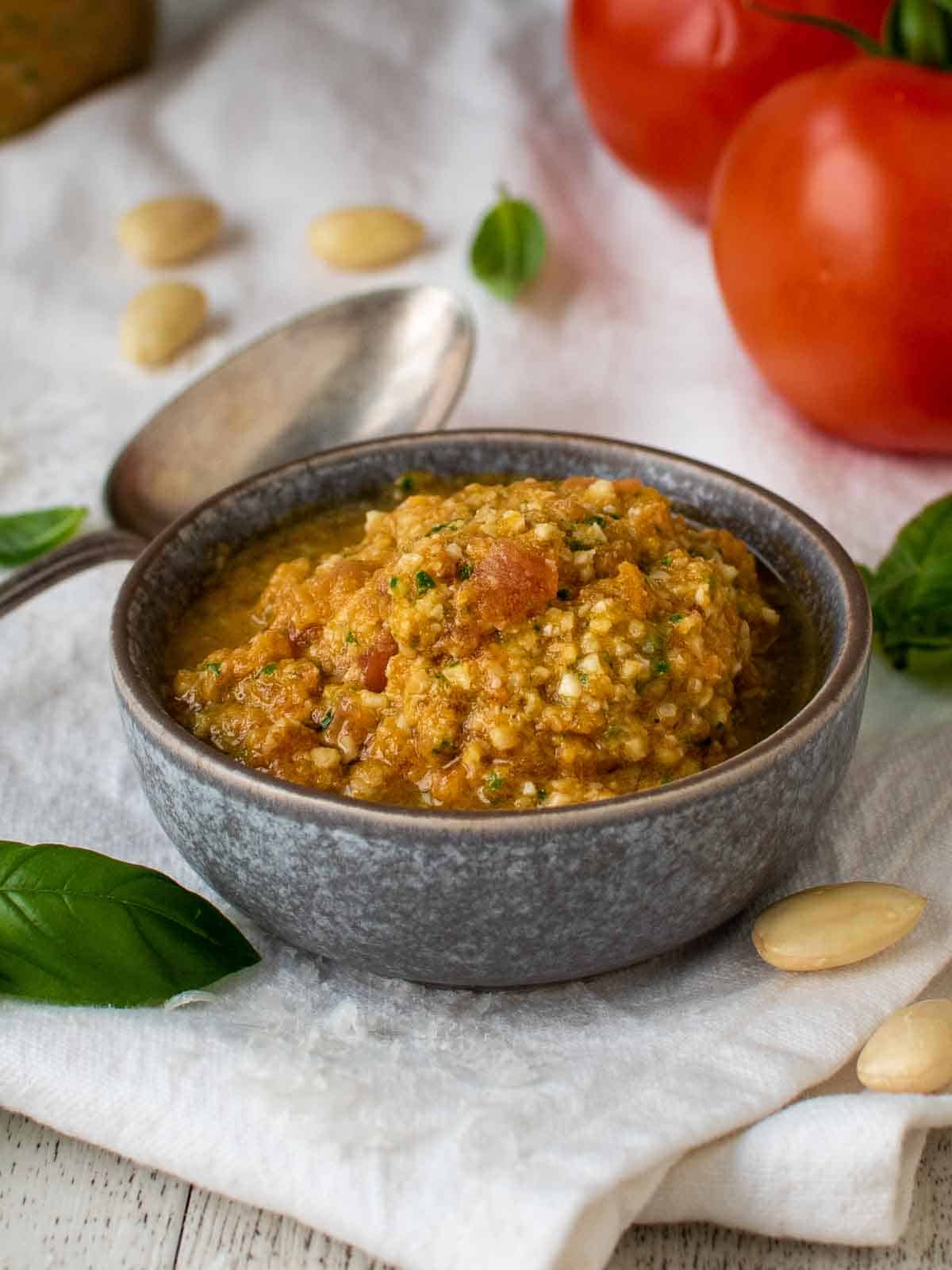 If you're thinking that this doesn't look like any pesto you've seen before then that's because you're thinking of pesto alla Genovese, the classic basil pesto. But, I know you'll be amazed by this pesto from Trapani on the western tip of Sicily that's also known as garlic pesto for a very good reason.
Garlic, fresh tomatoes and almonds together with basil, pecorino cheese and extra virgin olive oil create a surprisingly tasty sauce despite no cooking involved! While tradition dictates that pesto Trapanese should be made using a mortar and pestle, a very good version can be made in a small food processor as I do. Take care not to over process the sauce.
Why you'll love this recipe
Fresh ingredients: Because this is a raw sauce, the quality of the ingredients is extra important. It's the fresh vibrancy of the ingredients that makes recipe so aromatic and tasty!
Simplicity: Just 6 ingredients blended together is the beauty of this recipe. It couldn't be more simple!
Flavor: The combination of tomatoes with basil, almonds and garlic results in a flavor quite different to classic basil pesto. The freshness of tomatoes together with the rich almonds and punchy garlic makes for an incredibly delicious and unique sauce.
Light and refreshing: This pesto has a lighter consistency compared to traditional basil pesto, making it a refreshing choice, particularly during the summer months.
The history of Pesto alla Trapanese
Pesto alla Trapanese also known as Pesto Trapanese is an ancient pesto that was born in the port of Trapani in western Sicily. Here it was developed using local ingredients after sailors from Genova in the north introduced agliata, a sauce of garlic and walnuts. 
Resourceful locals used the almonds, tomatoes and cheese copying the northern condiment and in turn, creating a truly unique Sicilian pesto. By tradition, pesto Trapanese is served with an equally Sicilian pasta, busiate but is also delicious with gemelli or casarecce pasta 
For complete ingredient quantities and full instructions, please scroll to the printable recipe card bottom of the page.
Ingredients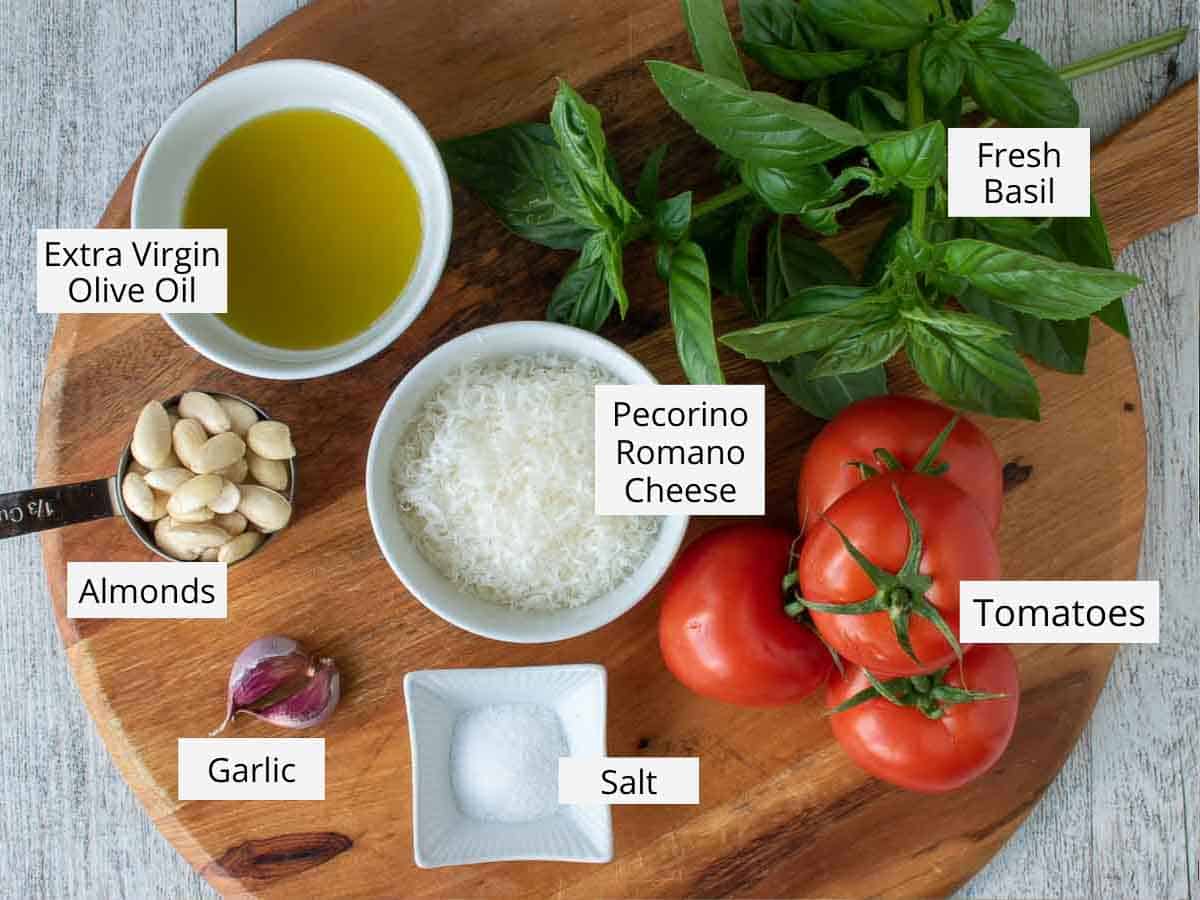 Tomatoes - Use ripe Roma, grape, cherry tomatoes or whatever is best at the market.
Blanched almonds - This means almonds without the brown skin removed. You can buy them like this or remove the skin yourself. It's easy to do. Just plunge the almonds into boiling water for a minute, and drain. The skins will just slip off.
Pecorino Romano cheese - You'll find this cheese at most supermarkets or specialty food stores. It's sharp, salty and bold in flavor. Buy a block and grate it freshly at home for the best results.
Fresh basil leaves - Buy a bunch of basil from the supermarket just when you need it because I find it doesn't keep well. Luckily, our garden is full of basil at the same time that we have tomatoes. Even if you don't grow tomatoes you might like to have a pot of basil - it doesn't take up much space and is easy to grow.
Extra virgin olive oil - You don't need a fancy, expensive variety but a good commercial oil that you can get a the supermarket. If you use extra virgin olive oil regularly, you find one that you like and that is within your budget.
Garlic - Choose firm bulbs at the supermarket. Pick a bulb up and give it a light squeeze. It shouldn't feel soft or dehydrated. Leave it there if the bulbs are sprouting which is a definite indication that the garlic is old.
Salt - use pure salt without any additives.
See recipe card for quantities.
Instructions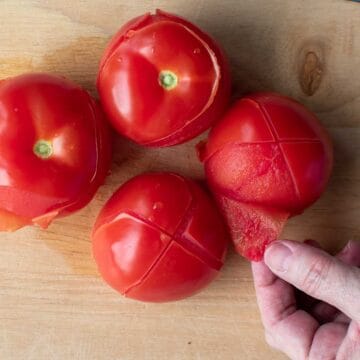 Cut a cross into the bottom of the tomatoes, plunge them into boiling water for a minute. Drain and then peel the skin off.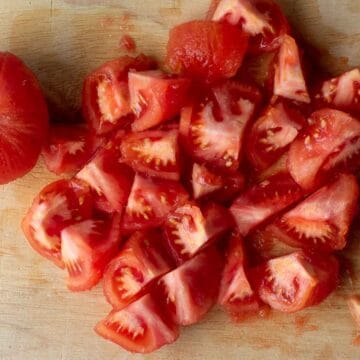 Chop the tomatoes into chunks, discarding the core at the top.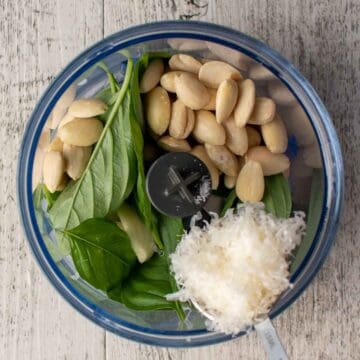 Pulse the almonds, garlic, Pecorino Romano cheese and basil in a small food processor until the almonds are ground but still have texture.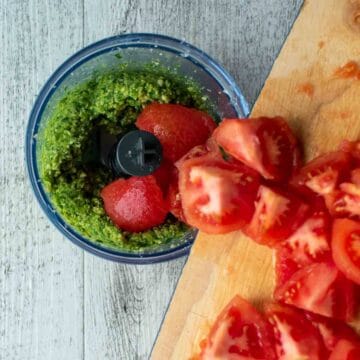 Add the tomatoes, olive oil and salt and pulse until amalgamated.
Taste and adjust the salt if necessary.
Hint: If the tomatoes aren't very meaty, remove the excess liquid and seeds so that the pesto isn't too watery. Don't overprocess pesto Trapanese. It's perfectly fine to see pieces of tomato and the almonds should still be grainy.
Variations
The traditional Pesto Trapanese recipe doesn't vary from these ingredients. However, variations known by other names have developed over the years. In any case, this is your sauce and you can vary it as you want. 
Tomatoes - Use sun dried tomatoes instead of fresh ones for a thicker, more concentrated sauce.
Pecorino Romano cheese - Pesto alla Siciliana substitutes Parmigiano Reggiano cheese and ricotta cheese for the Pecorino to make a creamy version. You can do the same with one or both cheeses in this recipe.
Almonds - Pinenuts are used in the pesto alla Siciliana version and can be used in this version as well. Pistachios can also be used. Nuts can be toasted if preferred.
See my sun dried tomato version of this recipe on my website! It's excellent spread on crusty bread, used as a dip or stirred with pasta.
Equipment
You will need either a mortar and pestle or a mini food processor to make this recipe. Either are not expensive and you'll get a lot of use from them. While traditionally using a mortar and pestle is the preferred method for making pesto, I find the quickest method is with a mini food processor. Don't use a large food processor which will just bruise the leaves and not cut them cleanly.
Storage
While this pesto is best used fresh, it can be stored in the fridge for 2-4 days. Cover the surface with extra virgin olive oil to keep it fresh.
I wouldn't recommend freezing this pesto because the tomatoes would make the sauce watery.
Top tip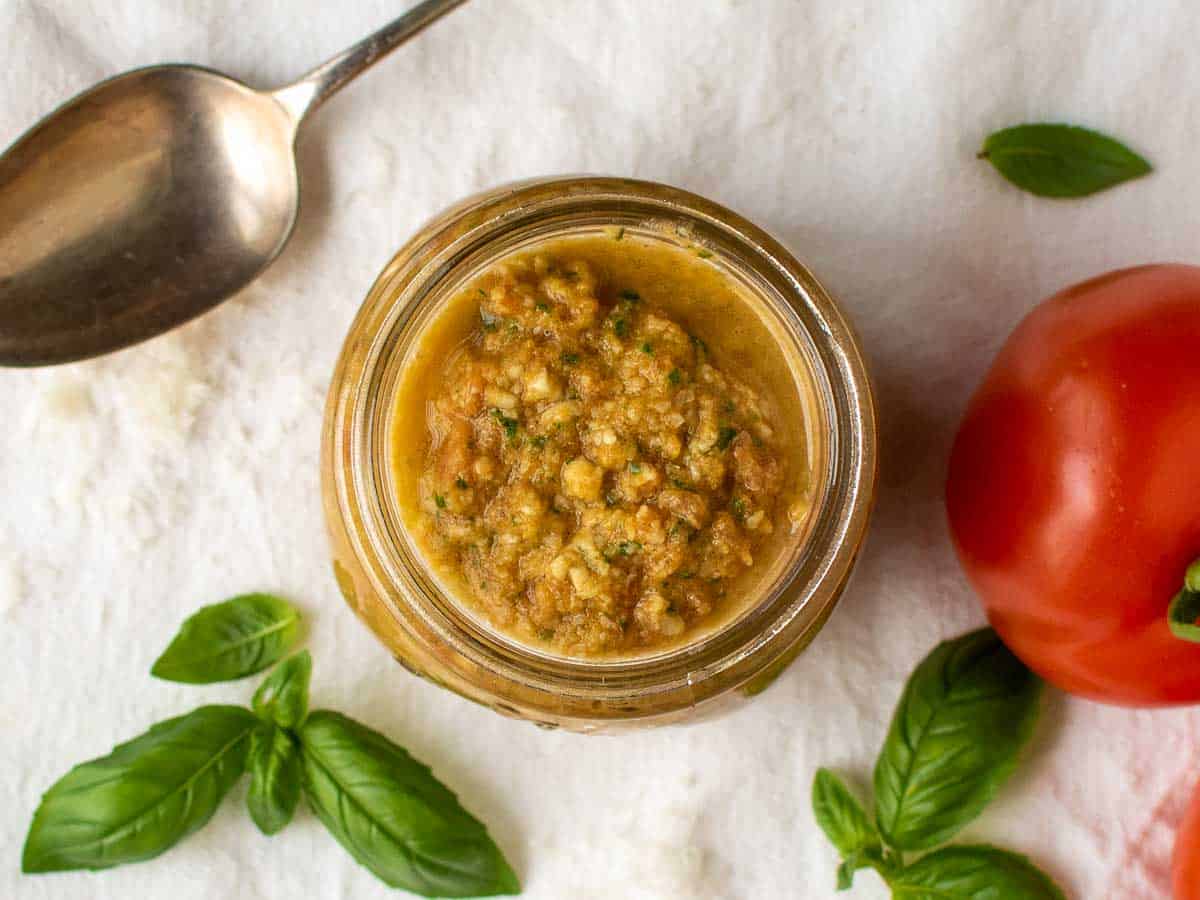 Like all simple recipes, the quality of the ingredients is important. Choose the best ingredients within your budget for a truly memorable dish.
The most important thing to remember when choosing tomatoes is that they must be ripe and at their best regardless of what type they are. If you grow tomatoes in the backyard, like we do, those will be the best! Remove most of the seeds and drain of the excess liquid if the tomatoes aren't very meaty.
Don't bother making this recipe when tomatoes aren't in season. They will be tasteless and insipid.
Take care not to overprocess the pesto. Just pulse until you've reached the right consistency. The food processor blade will create heat as it turns and this heat destroys the freshness of the ingredients. Plus, pesto Trapanese should not be completely smooth but have some texture from the almonds.
FAQ
What does alla trapanese mean?
Alla trapanese means from Trapani, the city and the capital of the province of Trapani. Sitting on the western coast of Sicily, Trapani is an important fishing port and gives it's name to this recipe, Pesto alla Trapanese.
What is trapanese pesto made of?
Trapanese pesto is made of tomatoes, almonds and basil along with garlic, Pecorino cheese and olive oil. Similar to classic basil pesto, it's a raw pasta sauce that's made quickly and easily.
What is the difference between pesto and trapanese pesto?
The most famous "pesto" is pesto alla genovese which is made with basil, pinenuts, Parmigiano Reggiano cheese, garlic and olive oil. Whereas trapanese pesto is based on tomatoes and uses almonds instead of pinenuts and Pecorino Romano cheese instead of Parmigiano Reggiano cheese.
Serving Suggestions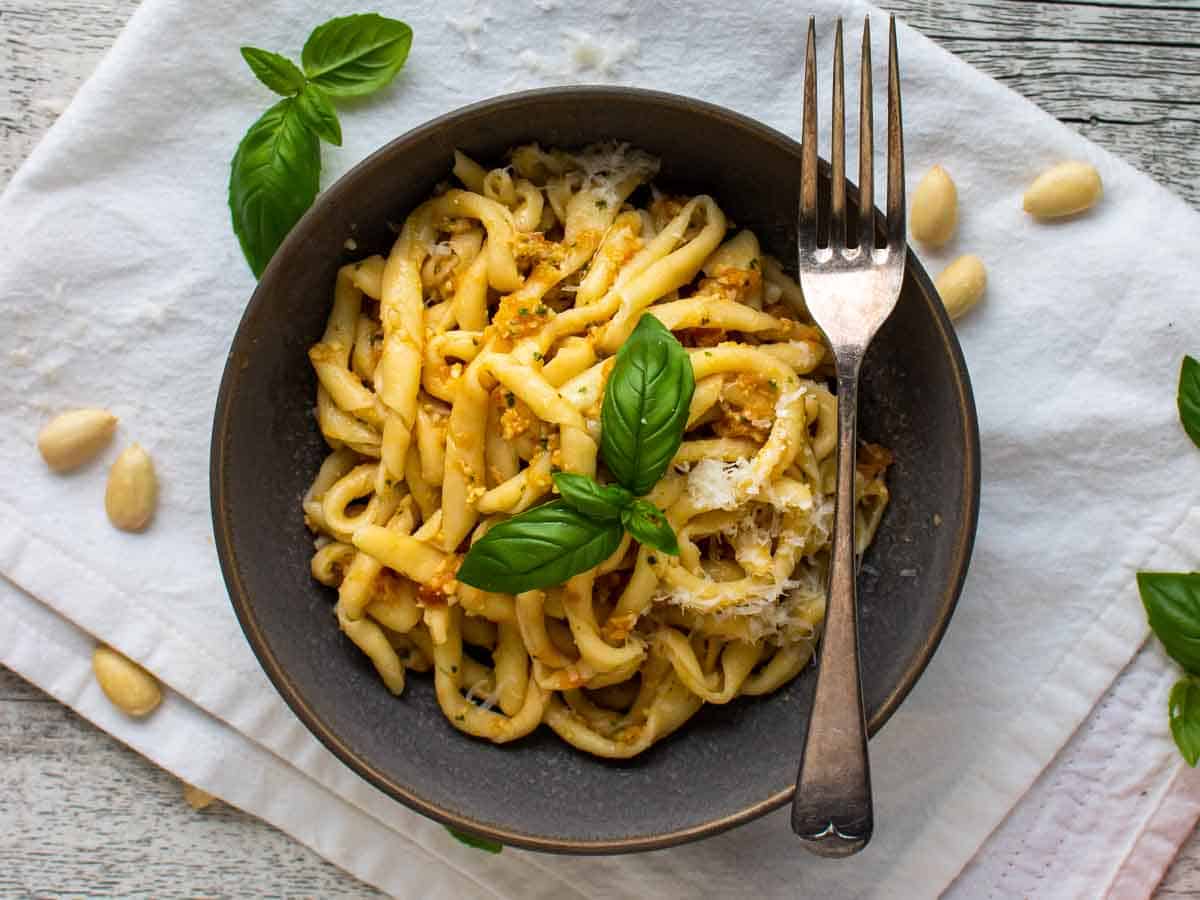 Pesto Trapanese is ideal served with handmade busiate pasta. However it's also good with other pasta shapes that catch the sauce like my homemade cavatelli or storebought pasta like penne or casarecce. Stir a small ladleful of pasta water into the pesto before combining with the al dente pasta.
Serve pasta with trapanese pesto as a first course or primo followed by my Italian chicken cutlets for a crowd pleasing meal!
Made this recipe?
Let me know if you liked it by leaving a ★★★★★ star rating and a review below. Please share a photo of your creation by tagging me on Instagram @marcellina.in.cucina!
Recipe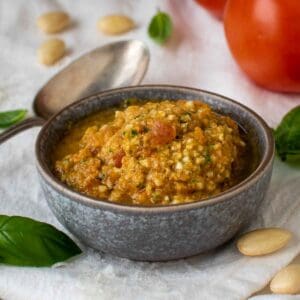 Pesto alla Trapanese Recipe
Garlic, fresh tomatoes and almonds together with basil, pecorino cheese and extra virgin olive oil create a surprisingly tasty sauce despite no cooking involved! This quantity is good for 1 pound (500 grams) of pasta.
Print
Pin
Rate
Equipment
1 small food processor

or mortar and pestle
Ingredients
4

tomatoes

(

1 pound/approx 1 kilogram

)

2

ounces

blanched almonds

(

60

grams)

3

tablespoons

pecorino cheese

20

fresh basil leaves

4

tablespoons

olive oil

2

cloves

garlic

1

teaspoon

salt

or to taste
Instructions
Bring water to boil in a medium saucepan. Cut a cross into the bottom of the tomatoes then plunge into the boiling water for 30 seconds to 1 minute. Remove with a slotted spoon and peel the skins off the tomatoes as soon as they're cool enough to handle.

Cut the tomatoes into small chunks.

Put the almonds, garlic and basil into a blender. Process until all of the ingredients are chopped fine. The almonds need to remain grainy.

Add the tomatoes, olive oil and salt and process until amalgamated. It's perfectly fine even expected to see pieces of tomatoes .
Notes
Tips for Success
Choose the best ingredients you can afford.

You can use large or cherry tomatoes. Also Roma, grape and other varieties will work.

Remove seeds from tomatoes and excess liquid if not very meaty.

Tomatoes must be ripe and in season regardless of variety.

Take care not to over process if using a food processor.
Nutritional Information Per Serving
Calories:
164
kcal
|
Carbohydrates:
5
g
|
Protein:
4
g
|
Fat:
15
g
|
Saturated Fat:
2
g
|
Polyunsaturated Fat:
2
g
|
Monounsaturated Fat:
10
g
|
Trans Fat:
0.002
g
|
Cholesterol:
3
mg
|
Sodium:
424
mg
|
Potassium:
267
mg
|
Fiber:
2
g
|
Sugar:
3
g
|
Vitamin A:
765
IU
|
Vitamin C:
12
mg
|
Calcium:
62
mg
|
Iron:
1
mg
Nutritional Disclaimer
Nutritional information is an estimate provided by an online nutrition calculator. For accurate results, it is recommended that the nutritional information be calculated based on the ingredients and brands you use.