Are you looking for a pizza that packs a flavorful punch? Look no further than this Garlic Pizza recipe!
With a thin and crispy crust, melted mozzarella, and the intense taste of garlic, this white pizza is sure to satisfy your cravings. Perfect for a family dinner or a party appetizer, this recipe is simple to make and guaranteed to impress.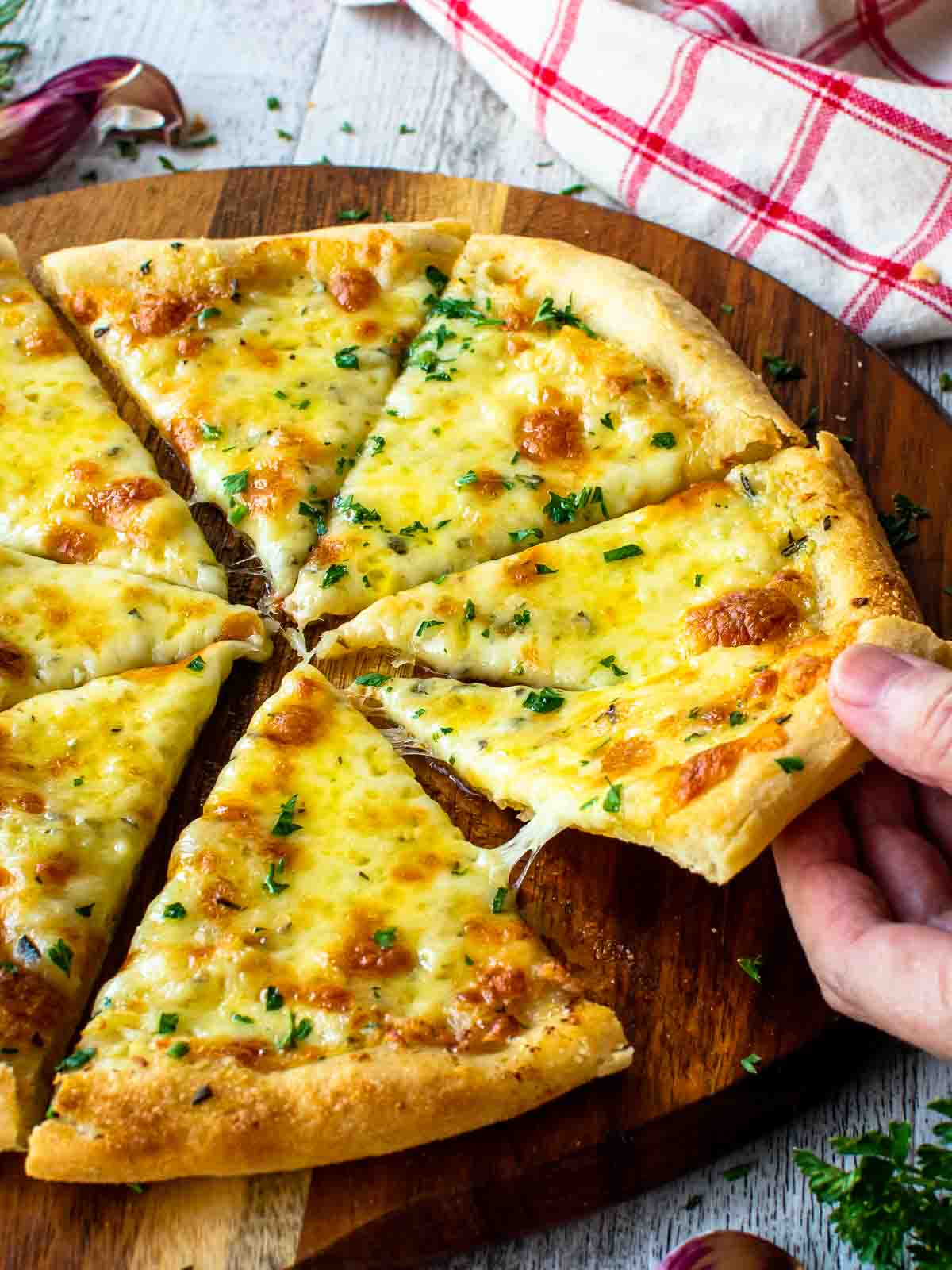 I've had my fair share of incredible pizzas both in Italy and back home but that doesn't mean I'm a pizza snob. This Garlic Pizza isn't pretending to be a classic Neapolitan pizza. This is a super tasty, easy-to-make, popular pizza that everyone will go crazy over but simple enough to achieve amazing results!
The uncomplicated homemade pizza dough recipe is basically the same as the one I use for my mouth-watering Calabrese Pizza and also Pizza Fritta. It's a cinch to make and has never failed me. Garlic is definitely the hero with a whole bulb included in the buttery topping but don't worry there's plenty of cheese to make this so gooey and indulgent!
Why you'll love this recipe.
Full-bodied, robust flavor - garlic adds a distinctive flavor and aroma to the pizza that is hard to resist. Think of it as a garlic bread pizza.
Texture - the combination of the thin and crispy crust together with the garlicky butter and oozy cheese is heavenly!
Perfect for gatherings - cheese garlic pizza is ideal for gatherings and parties because it's so popular with adults and children alike.
Easy to make - this dough is a very basic yeast dough that you can't go wrong with. There are no special ingredients, long rise or poolish to prepare. Just a simple dough that requires minimal hands on time and a garlic butter, cheese and herb topping.
It's versatile - you can expand this garlic pizza recipe with extra toppings. Check out my suggestions in "Variations."
For complete ingredient quantities and full instructions, please scroll to the printable recipe card bottom of the page.
Ingredients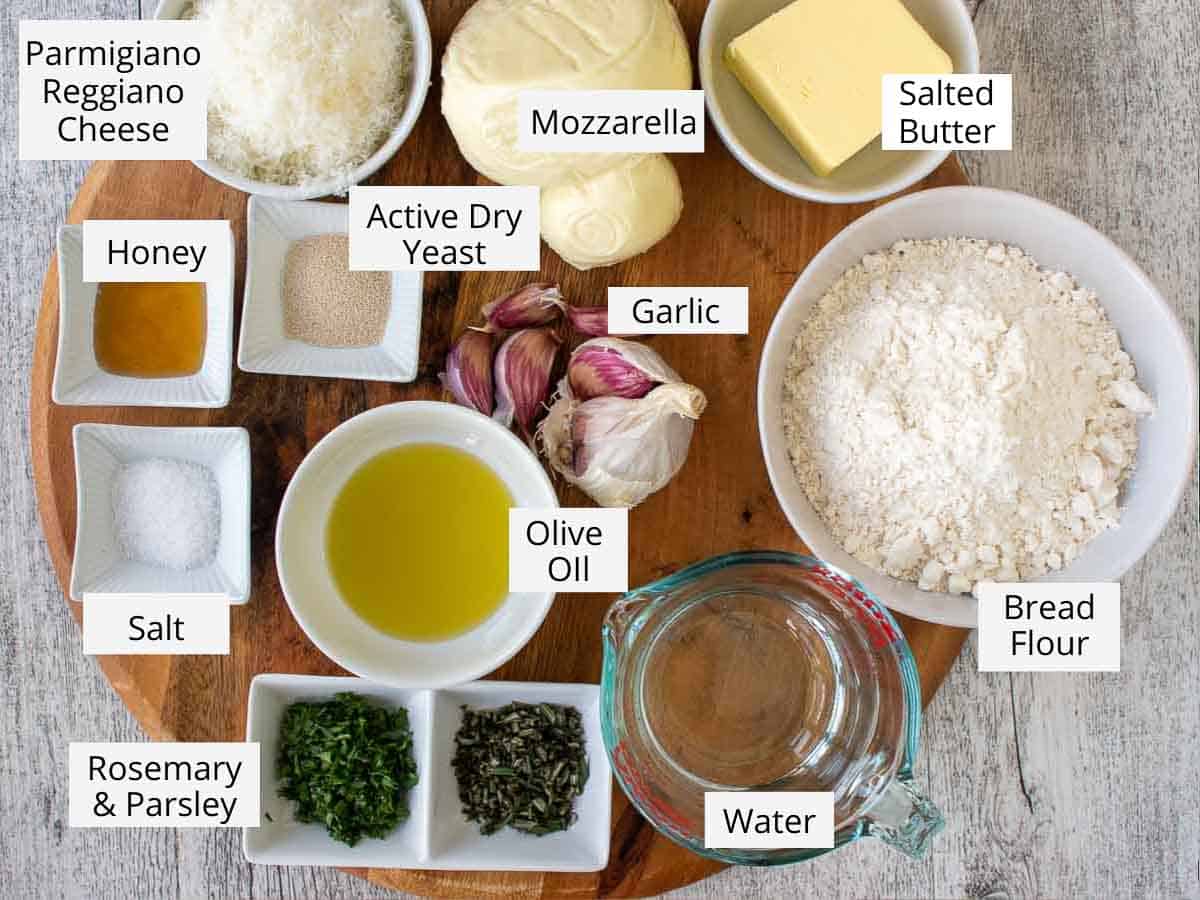 Active Dry Yeast - readily available at supermarkets and comes in easy to use, pre measured 2 ¼ teaspoons (7 gram) sachets Be sure that it's fresh. If you're in any doubt, just buy another packet.
Honey - any variety is fine.
Bread flour - I like to use bread flour which is also known as "strong" flour. It is higher in protein and creates a more stable dough for better rise and form. Most supermarkets sell this type of flour.
Olive oil - any olive oil works for this recipe.
Salt - use whatever salt you have.
Garlic - fresh garlic makes the best garlic butter sauce to brush on this pizza.
Salted butter - better quality butter gives the best results but use whatever you have. If you only have unsalted butter, just add extra salt to the butter garlic sauce.
Rosemary - fresh rosemary is best for this recipe. It really makes a difference. Though if you only have dried rosemary, use that.
Parsley - fresh is the way to go with parsley. Dried parsley doesn't have the same flavor. If you don't have fresh parsley. Just leave it off. The garlic pizza will still be delicious!
Mozzarella - use a low moisture cheese. Drain Mozzarella cheese that has been packed in water. Avoid pre-grated mozzarella. It has additives that prevent it from melting well. In any case, I recommend that you slice the mozzarella.
Parmigiano Reggiano cheese - also known as Parmesan cheese. Buy in a block and finely grate it as needed.
See recipe card for quantities.
Instructions
This recipe makes 4 thin and crispy garlic pizzas which are about 8-9 inches (20-23cm) in diameter.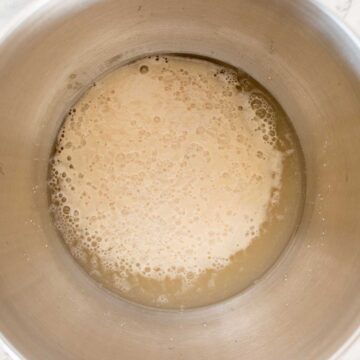 Mix warm water, yeast, and honey in a stand mixer bowl. Wait 10 minutes or until bubbles form.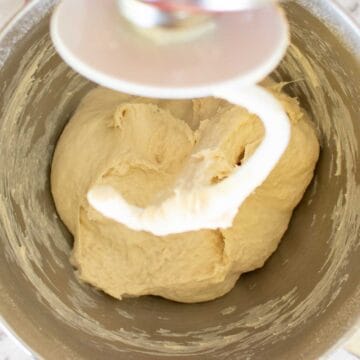 Add flour to the mixture, and use a dough hook (or hands) to combine slowly. Stand for 5 minutes. Add oil and salt and knead until smooth and elastic.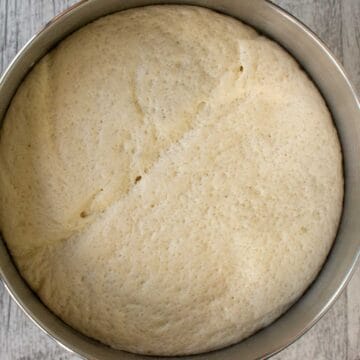 Cover the bowl with plastic wrap and let the dough rise until doubled.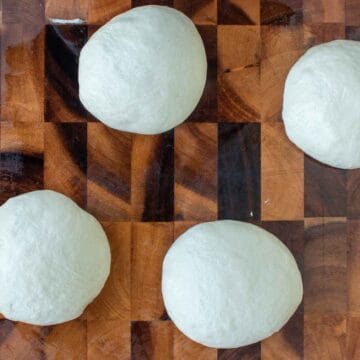 Divide dough into 4 portions and roll each into a ball. Rest for 30 minutes.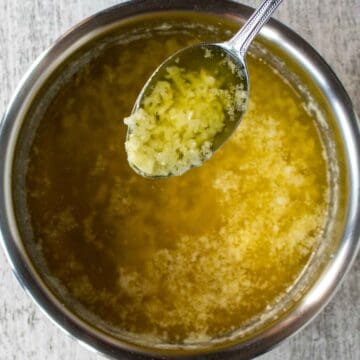 Melt butter with minced garlic. Cook gently for 1-2 minutes.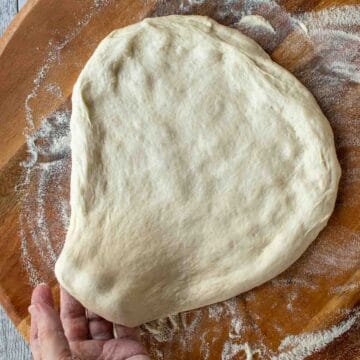 Stretch out one ball of dough at a time and place it on a semolina-floured pizza tray. Set aside for 15 minutes.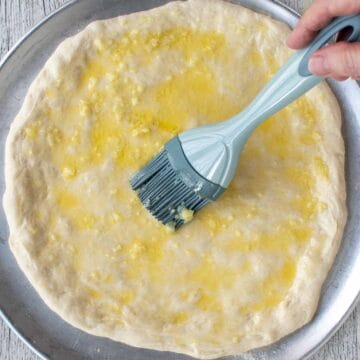 Brush the pizza with garlic butter mixture.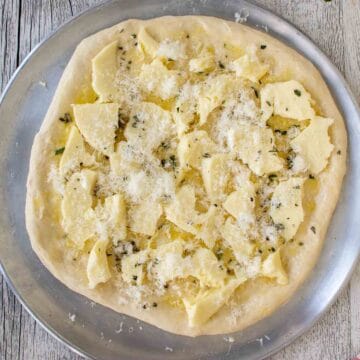 Sprinkle with rosemary and arrange sliced mozzarella and Parmigiano Reggiano cheese on top. Repeat with remaining pizzas.
Then, bake in a preheated oven for 7-8 minutes (or longer for crispier pizza) until the cheese is melted and the edges are golden.
Serve immediately, sprinkled with flaky salt and cut into wedges.
Hint: Finely chop or mince the garlic. This ensures that the garlic is distributed evenly and there is delicious flavor in every bite.
Substitutions
Pizza Dough - instead of making the dough from scratch buy store bought pizza dough from your local baker or supermarket. Or pre-baked, pizza crusts.
Butter - mix olive oil with the garlic instead of melted butter.
Rosemary and Parsley - use any fresh herbs that you enjoy the taste of. Oregano, thyme and basil all work well. Or use Italian seasoning instead.
Garlic - minced garlic in jars can be used. You need about 8 or 9 teaspoons for this recipe. Garlic powder can also be used on garlic pizzas
Variations
Spicy - sprinkle with red pepper flakes before baking the pizzas to give some spicy heat.
Thick and hearty - if you prefer a thicker pizza, divide the risen dough into three instead of four balls. Press out with your fingertips and proceed as in the recipe card. Cooking time will increase to 9-11 minutes.
Roasted Garlic Pizza - substitute a whole roasted bulb of garlic for fresh. Just cut a bulb in half, rub with olive oil and wrap in foil. Roast at 350ºF (180ºC) for 30-40 minutes until soft.
Extra Toppings - add thin slices of prosciutto, arugula or rocket leaves on top of the garlic pizza after baking. Why not try a few dollops of black olive Olivada or Sun Dried Tomato Pesto.
Kid friendly - reduce the amount of garlic because kids tend to be sensitive to strong flavors.
Equipment
You don't need a lot of equipment to make good garlic pizzas. I often use my stand mixer to prepare the dough but a large bowl and a spoon or even just your hand will make wonderful pizza dough
I do recommend purchasing a few flat, aluminium pizza pans. Aluminium conducts heat very well and is ideal to cook pizzas quickly. You can use whichever baking sheets or pizza pans you have however the results may be different.
Storage
This garlic pizza is best served immediately while hot and the cheese is gooey.
If you do have leftovers, store in the fridge in a sealed container. Reheating won't be perfect though. I prefer to reheat in the oven with the broiler (or top grill element) on. Watch it carefully so it doesn't burn.
Top tips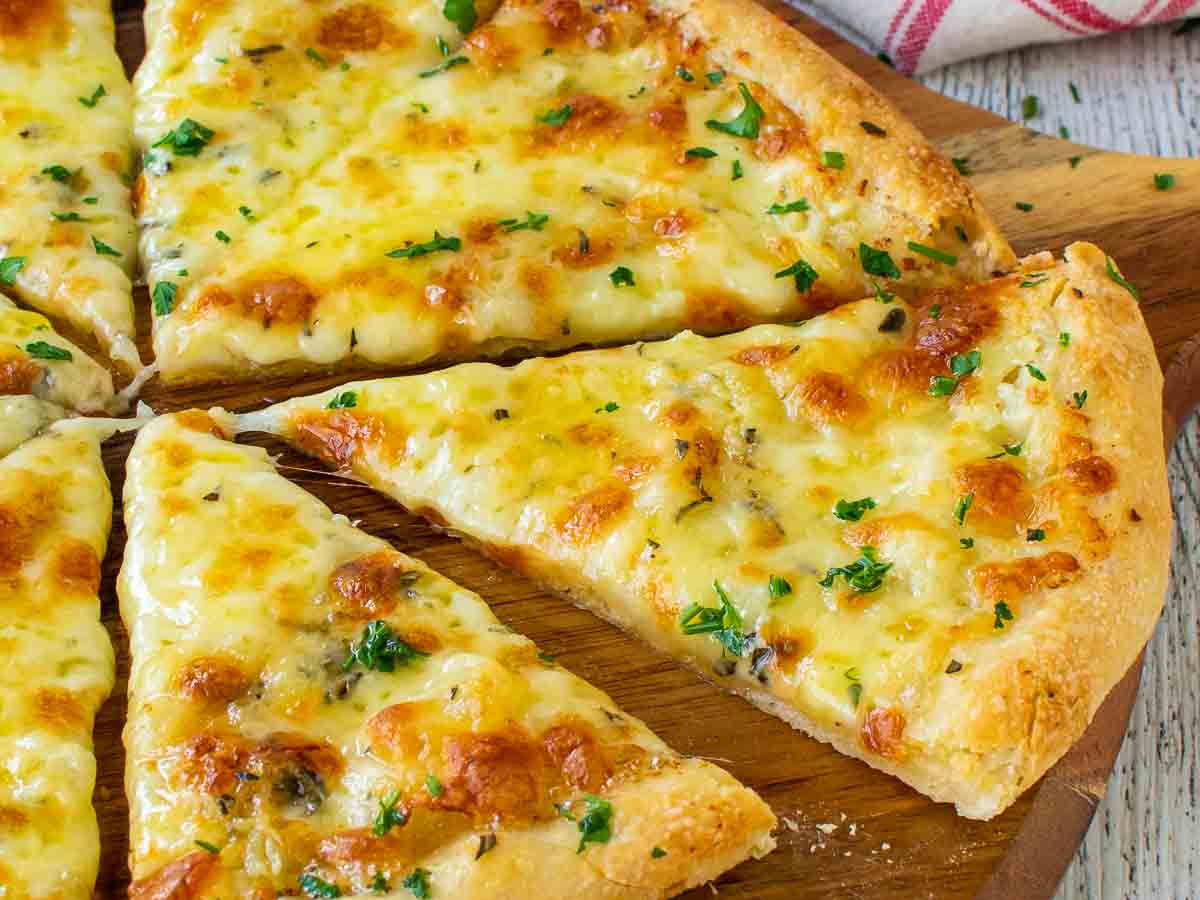 Like many good Italian recipes, this garlic pizza uses only a few, basic ingredients which really need to be top quality to produce the best pizza!
Be sure to finely chop or mince the garlic so that it is evenly spread throughout the pizza and everyone gets plenty of scrumptious, garlicky flavor in their slice. Another tip when prepping the ingredients is to slice the mozzarella rather than grate it. This is the secret to gooey, oozy cheese on pizza.
When it comes to the pizza crust, I suggest that you shape the dough by pressing and stretching it into the shape, without using a rolling pin. The dough will retain all the air that has been created within the dough and it will puff and rise well in the oven.
Speaking about the oven, don't be worried about turning the oven temperature up high. Doing this will result in faster baking and a crispier crust. Most ovens don't heat evenly so it's a good idea to check halfway through and rotate the pizzas if needed.
FAQ
Do you put raw or cooked garlic on pizza?
For a more mellow flavor, I like to gently cook the garlic in butter before putting it on the pizza. However, if you like punchy flavor don't bother with this step.
Does garlic pizza have tomato sauce?
Generally, garlic pizza doesn't use tomato sauce. It's known as a "white pizza' or "pizza bianca".
Do people put garlic powder on pizza?
Yes, garlic powder can be used as a substitute for fresh garlic. Use about 1 ½ teaspoons of garlic powder in this recipe.
Serving Suggestions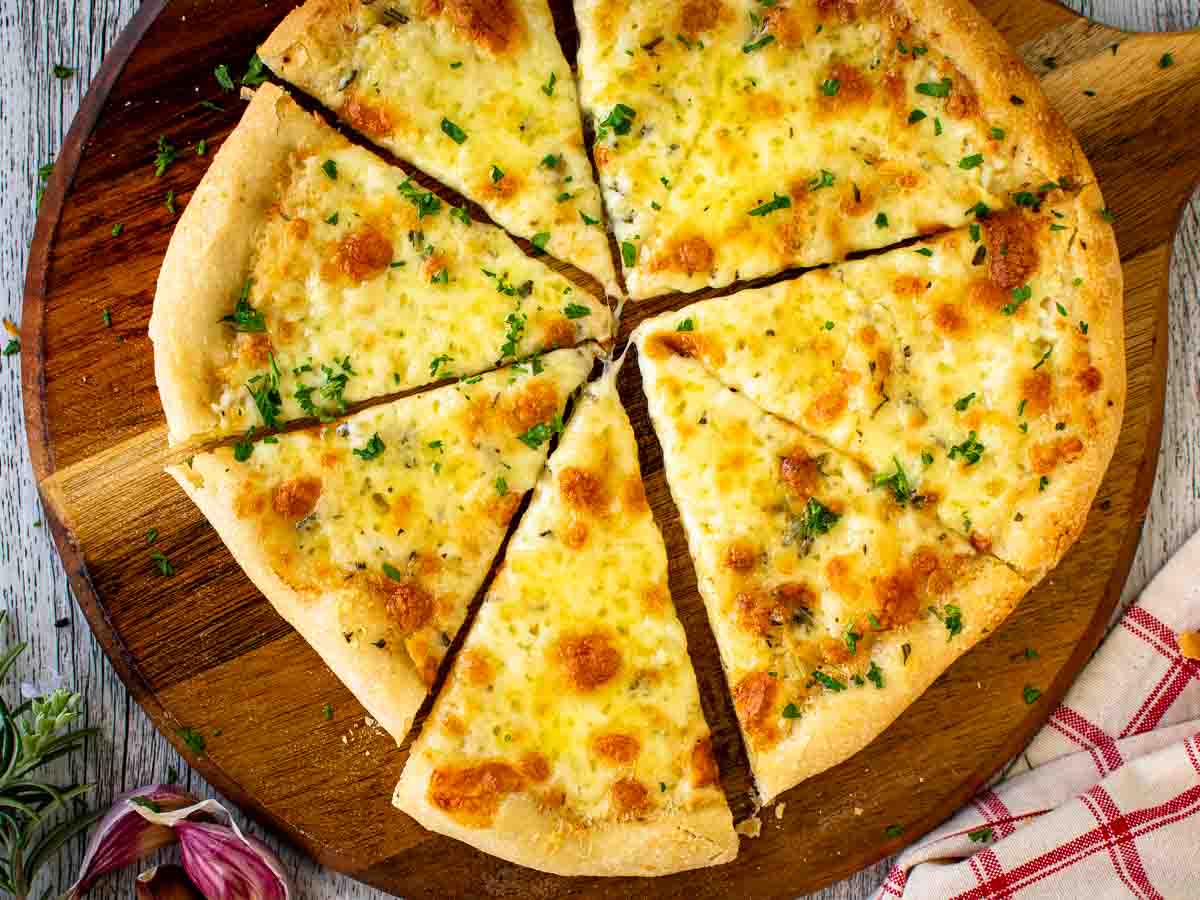 My favorite way to serve Garlic Pizza is as an appetizer along with Fried Meatballs, Marinated Warm Olives and tasty Peperonata. Actually, it's a delicious alternative to garlic bread with meals like Italian Chicken Cutlets, Spaghetti alla Nerano and Pesto Gnocchi.
Made this recipe?
Let me know if you liked it by leaving a ★★★★★ star rating and a review below. Please share a photo of your creation by tagging me on Instagram @marcellina.in.cucina!
Recipe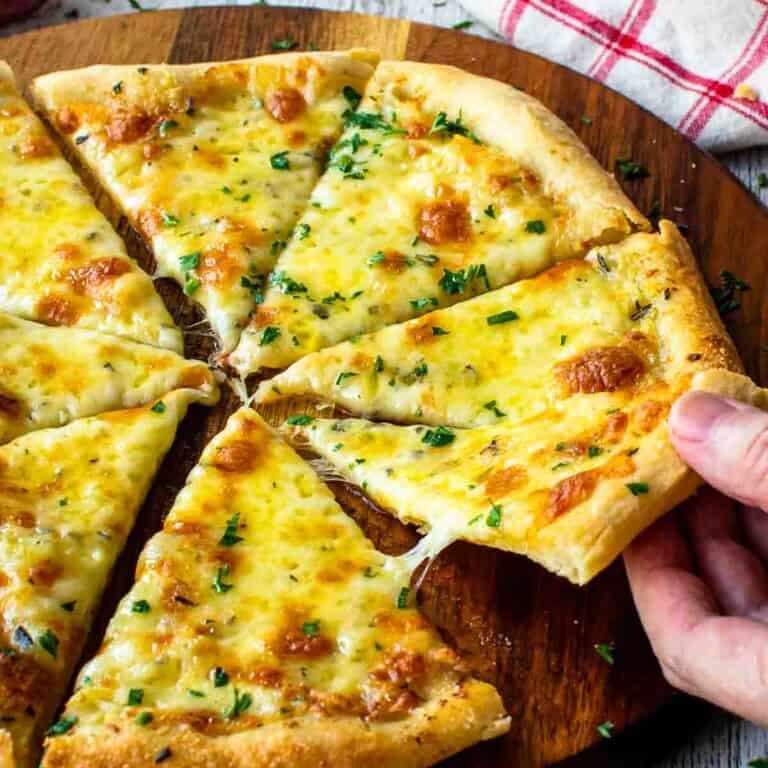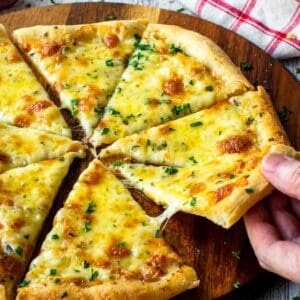 Garlic Pizza Recipe
With a thin and crispy crust, melted mozzarella, and the intense taste of garlic, this Garlic Pizza is sure to satisfy your cravings. Perfect for a family dinner or a party appetizer, this recipe is simple to make and guaranteed to impress.
Print
Pin
Rate
Ingredients
Homemade Pizza Dough
1½

cups

(

350mls

) warm water

2¼

teaspoons

(7 grams) active dry yeast

1

teaspoon

honey

4

cups

(

500

grams) bread flour

1

tablespoon

extra virgin olive oil

2

teaspoons

salt

semolina or extra flour for pressing out pizzas
Toppings
1

bulb of garlic

(10-12 cloves) minced or finely chopped

4

ounces

(115 grams) salted butter

1

tablespoon

chopped fresh rosemary

1

tablespoon

chopped fresh parsley

1

pound

(

450

grams) mozzarella

sliced

½

cup

finely grated Parmigiano Reggiano cheese

also known as Parmesan cheese
Instructions
Mix together warm water, active dry yeast and honey. Set aside 10 minutes or until bubbles form.

Using the dough hook on the stand mixer (or use your hands), add flour to the water/yeast mixture and combine until the mixture comes together. Stand for 5 minutes.

Add oil and salt and continue to mix for 5 minutes (or 7 minutes by hand) until smooth and elastic. The dough should just stick to the bottom of the bowl but not the sides. If it sticks to the sides, it's too wet - a little extra flour. If it lifts from the bottom of the bowl, it's too dry - add a little water.

Cover the bowl with plastic wrap and allow the dough to rise for 1 - 1 ½ hours or until doubled.

Divide into 4 portions and roll into a ball tucking the edges underneath to pull the surface tight. Set the dough balls on a large baking sheet that has been sprinkled with semolina flour.

Allow to rise for 30 minutes.

Preheat oven to 480ºF/250ºC.

In the meantime, prepare the garlic butter sauce. In a small saucepan, over low heat, melt the butter with the minced garlic. Allow the butter to gently cook the garlic for 1 or 2 minutes. Don't let the garlic color at all. Set it aside until needed.

After 30 minutes of rising, take one ball at a time and press it out with your fingertips. Then stretch the dough into a circle about 8-9 inches (20-23cm), keeping the edge thicker. You may need to add a little sprinkle of flour to prevent sticking.

Place the pizza dough on a pizza tray that has been sprinkled with semolina flour. Set aside for 15 minutes. Repeat with remaining dough balls.

Brush the pizzas with garlic butter mixture then sprinkle with chopped rosemary.

Divide mozzarella slices evenly over the pizzas and sprinkle with grated Parmigiano Reggiano cheese (Parmesan cheese).

Bake the pizzas for 7-8 minutes (a little longer if you want crispy pizzas) until the cheese is melted and bubbling and the edges are puffed and golden.

Remove from the oven, sprinkle with flaky salt and cut into wedges. Serve immediately.
Notes
Tips for Success
Use top quality to produce the best pizza! 

Mince or very finely chop the garlic for even distribution of flavor.

Slice the mozzarella cheese. Don't grate it.

Press and stretch the dough into shape. Don't use a rolling pin.

Preheat the oven to high temperature.
For more information and FAQ's, read the post above.
Nutritional Information Per Serving
Calories:
136
kcal
|
Carbohydrates:
12
g
|
Protein:
6
g
|
Fat:
7
g
|
Saturated Fat:
4
g
|
Polyunsaturated Fat:
0.4
g
|
Monounsaturated Fat:
2
g
|
Trans Fat:
0.1
g
|
Cholesterol:
20
mg
|
Sodium:
210
mg
|
Potassium:
33
mg
|
Fiber:
0.5
g
|
Sugar:
0.4
g
|
Vitamin A:
209
IU
|
Vitamin C:
0.2
mg
|
Calcium:
95
mg
|
Iron:
0.3
mg
Nutritional Disclaimer
Nutritional information is an estimate provided by an online nutrition calculator. For accurate results, it is recommended that the nutritional information be calculated based on the ingredients and brands you use.