Crunchy Grissini Breadsticks are easy to make at home from just a few ingredients and taste just like the ones you get in Italy!
I love serving these crunchy breadsticks with prosciutto, olives, cheese and a few highlights from my collection of focaccia toppings for the perfect aperitivo.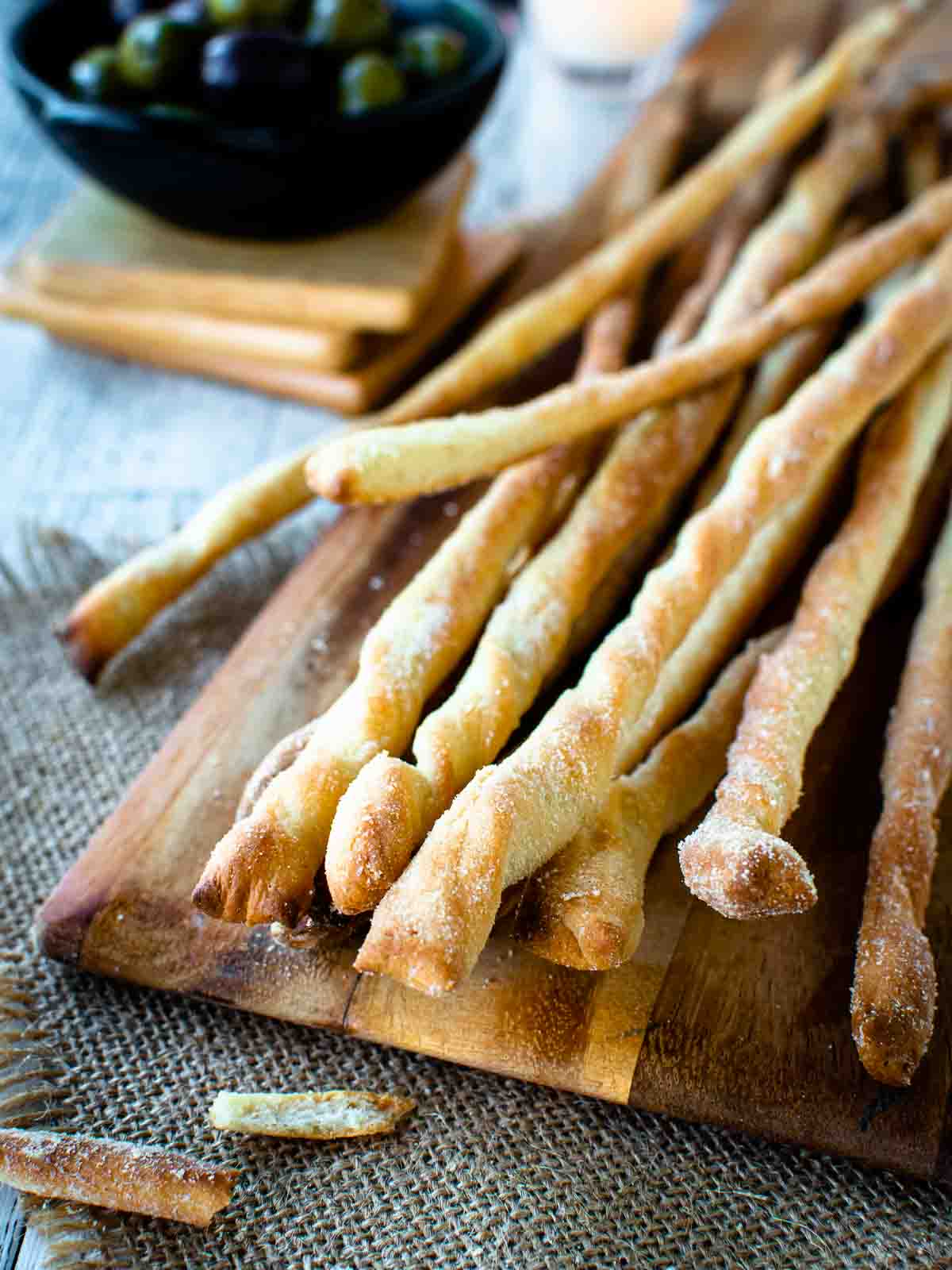 Grissini breadsticks are crunchy, rustic and stretched by hand to form the most beautiful homemade bread. In Italy, most restaurants and homes will serve grissini breadsticks on the table to enjoy as part of the main meal. My family particularly loves these with my Butterflied Roast Chicken.
Unlike some yeasted breads, this grissini breadstick recipe is very straightforward, requires only a handful of ingredients and can be made well ahead of time.
These crunchy breadsticks are also known as Grissini Torinesi because they were developed in the city of Turin back in the seventeenth century. The Duke of Turin was diagnosed with digestion issues and his baker was instructed to create a more digestible bread.
Naturally, these crispy and light breadsticks were a hit with the Duke and quickly became a staple in the Italian diet.
For complete ingredient quantities and full instructions, please scroll to the printable recipe card bottom of the page.
Ingredients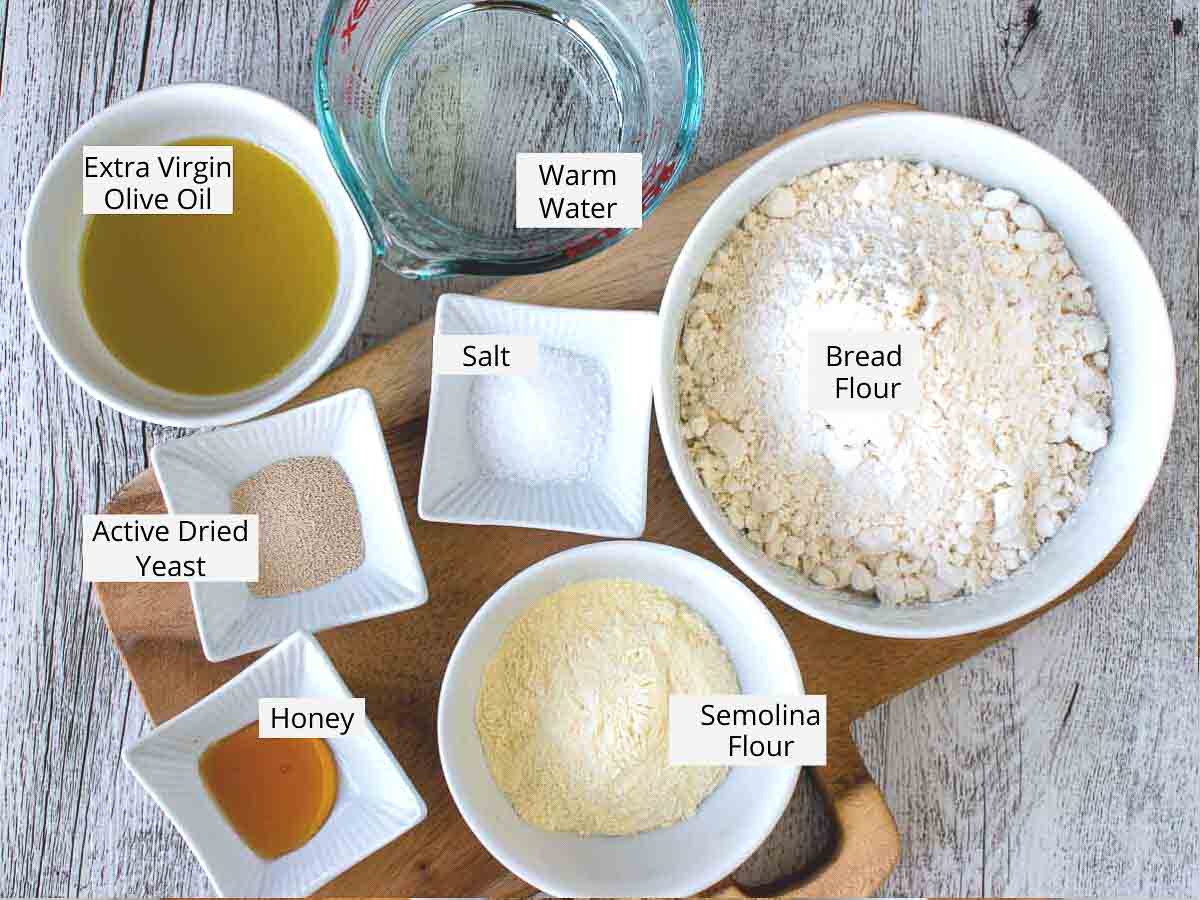 Active dried yeast – This is available in most supermarkets and if stored correctly, has a good shelf life. However, if you have any doubts that it may be old, throw it out and buy a fresh packet. Active dried yeast must be mixed with warm water and a little sugar or honey to wake it up. Never use hot water.
Honey – A little honey helps bring the yeast to life
Warm water – The active dried yeast won't rise well with cold water and hot water will kill the yeast. The ideal temperature for warm water is between 105ºF to 115ºF (40ºC to 45ºC). I always dip my finger in the water to check. If it feels hot, then it's too hot.
Extra virgin olive oil – You can use regular olive oil or even light if that's all you have on hand.
Bread flour – I like to use bread flour for this recipe because it has a high protein and gluten content which is ideal for bread baking because it provides a strong structure for your bread. You can substitute all purpose flour or whole wheat flour, but the results will be slightly different. I've provided some notes on this below. To measure flour, stir to lighten before scooping it into the measuring cups. Alternatively use kitchen scales for accuracy.
Sea salt – I use sea salt with no additives. Please don't use fine table salt as it will be too salty.
Semolina flour – Semolina is a coarse flour made from durum wheat. It adds a lovely rustic texture to these breadsticks.
Instructions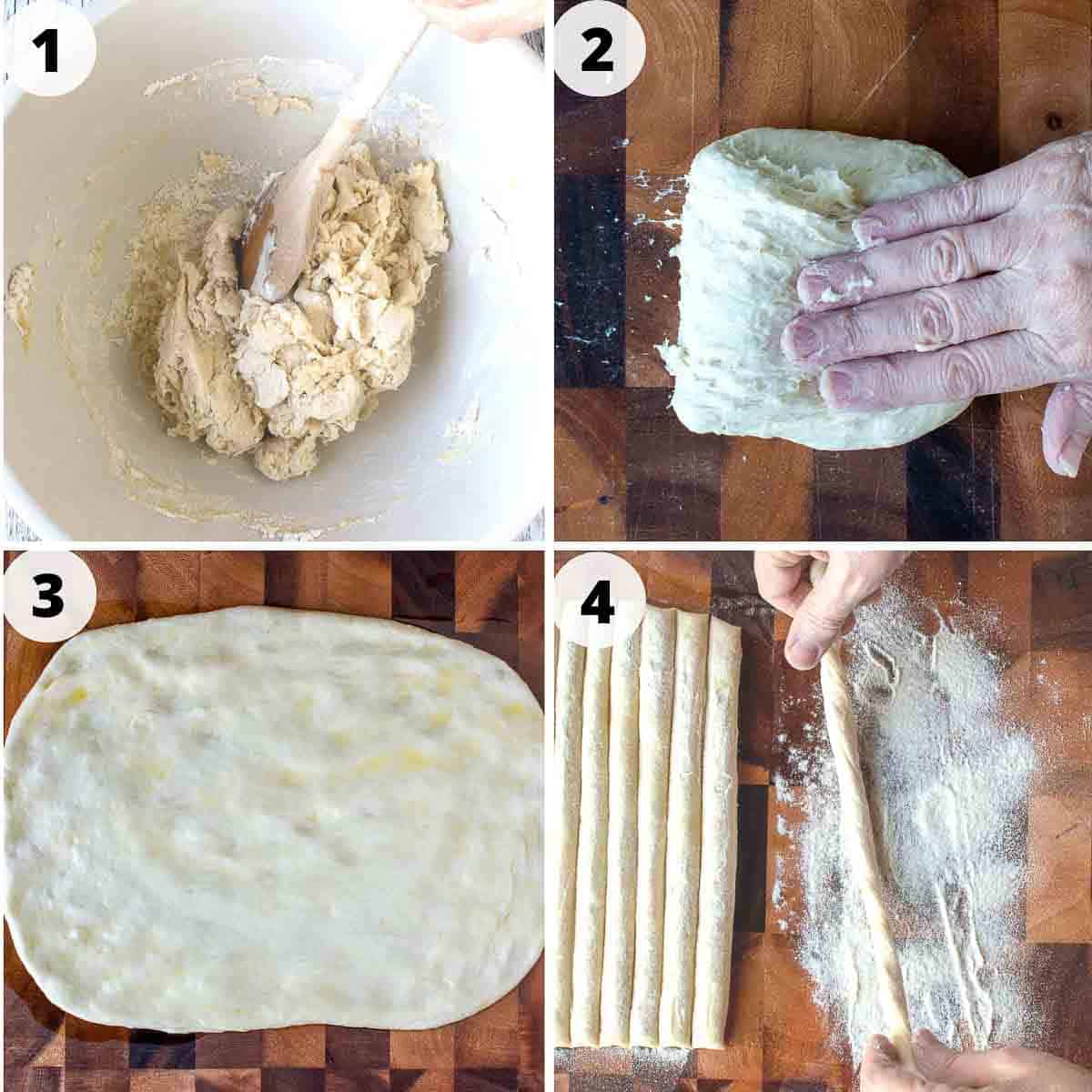 Please note that my instructions below correspond with the numbered photos above. For greater detail, please see the recipe card.
Combine the active dry yeast, honey and warm water in a large mixing bowl. Let it stand for 10 minutes until it becomes foamy. Stir in the olive oil, flour and salt until a rough dough is formed.
Turn the dough out onto a clean work surface and begin to knead by stretching the dough out and folding it onto itself. After 8-10 minutes of kneading, the dough will be soft and elastic. Place the dough on an oiled surface – I use a cutting board or baking sheet. Cover with a bowl and let it rise for 20 minutes.
Lift the bowl off the dough and with your hands, press into a rectangle 12 inches (30cm) by 8 inches (20cm). Rub a little olive oil on the surface, cover with plastic wrap and leave to rise for 1 hour or until puffy and well risen.
Remove the plastic wrap and sprinkle with semolina. Cut the dough into 20 strips, approximately ½ inch (1 ½ cm) thick and 8 inches (20cm) long. Pick up each strip separately and stretch until you have a long thin bread stick. Roll in extra semolina if you wish before transferring to a baking sheet.
Bake the breadsticks in a preheated oven for 20-25 minutes at 400ºF (200ºC) or until golden brown.
Be sure to stretch the dough into thin sticks because thicker breadsticks will not be crispy all the way through. I usually make each stick between 12 to 16 inches (30 to 40 cm) in length.
Substitutions
Instead of using olive oil, you could substitute lard or butter
Try using brown sugar instead of honey for a deep color and molasses flavor
All purpose flour can be used instead of bread flour. I've included some tips on this in the FAQ's
Variations
The recipe for Grissini breadsticks can be varied with a few ingredient changes.
For a more nutty and wholesome Italian breadstick, try making these with a mix of whole wheat flour and bread flour. I recommend using 1 ½ cups of whole wheat flour plus ½ cup of bread flour. Just make sure to increase the olive oil to 3 tablespoons and add a little more water if necessary.
Add flavorings to these crunchy breadsticks like Parmesan cheese, garlic or red pepper flakes.
I also love adding dried herbs to this recipe. Rosemary, thyme and fennel work so well.
Try topping the grissini with sesame seeds or poppy seeds instead of the traditional semolina. I also love these topped with just a sprinkle of flaked sea salt.
Storage
Grissini breadsticks keep well in an airtight container for 3-4 days. After that, they may become a little chewy or stale but will still be good. You can refresh them in a hot oven for 5 minutes.
If there is little humidity, these Italian grissini can be stored in a paper bag and they will remain crunchy.
Tips for Success and FAQs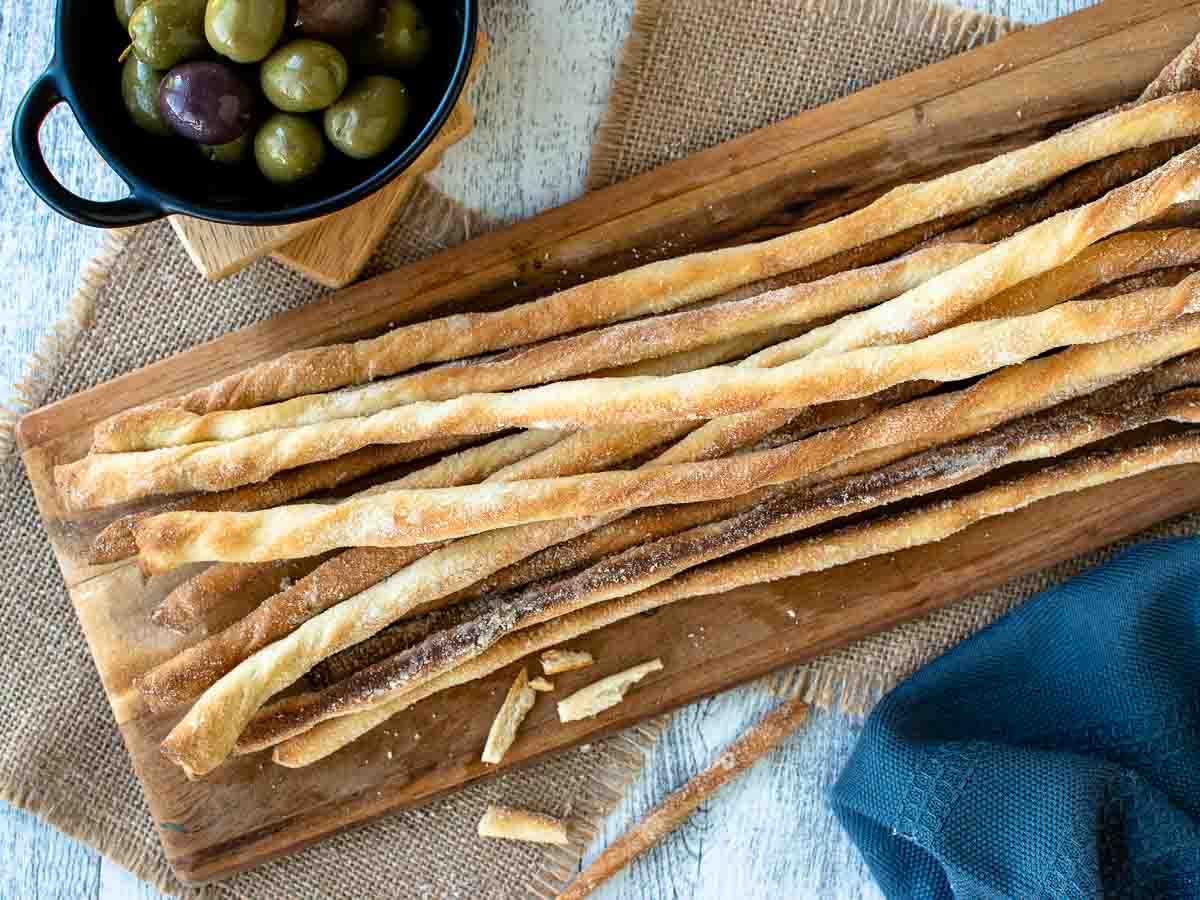 Depending on many factors, including the weather, you might find your dough is a little too wet while you're kneading. If you're really struggling, add a little more flour to your work surface to make it easier. However, try not to add too much - this dough shouldn't be dry.
Be sure to oil the surface of the dough well so that the plastic wrap doesn't stick. Then to help your dough rise, leave it in a warm place in your kitchen where there are no drafts.
Try to keep all the breadsticks about the same size so they all cook evenly. You may have to monitor the baking and remove the thinner ones that become brown really quickly.
Are grissini breadsticks healthy?
Yes! These crunchy breadsticks are full of good ingredients from your kitchen. This means, no hidden preservatives or additives like some store bought alternatives. You can increase the nutritional value in these grissini by making the whole wheat version that I have included in the variations. Whole wheat flour is packed with more protein, fiber and minerals.
Are breadsticks easy to digest?
Definitely! The first Italian bread sticks were originally created for an Italian Duke who was unable to digest other forms of heavy bread. The light, crisp nature of grissini is thought to be ideal for those of us with weaker stomachs. If it worked for the Duke, it works for me!
Can these be frozen?
These grissini breadsticks freeze and reheat wonderfully. I like to store these in a zip lock bag, sealed container or plastic wrap and foil in the freezer. When I'm ready to use them, I take them out to thaw and pop them in the oven, on a baking sheet to crisp.
Do I need to use bread flour?
The high protein and gluten content in bread flour ensures seriously crunchy breadsticks.   You can absolutely use all purpose flour and these Italian breadsticks will still turn out really good, but the texture will be slightly different.
Serving Suggestions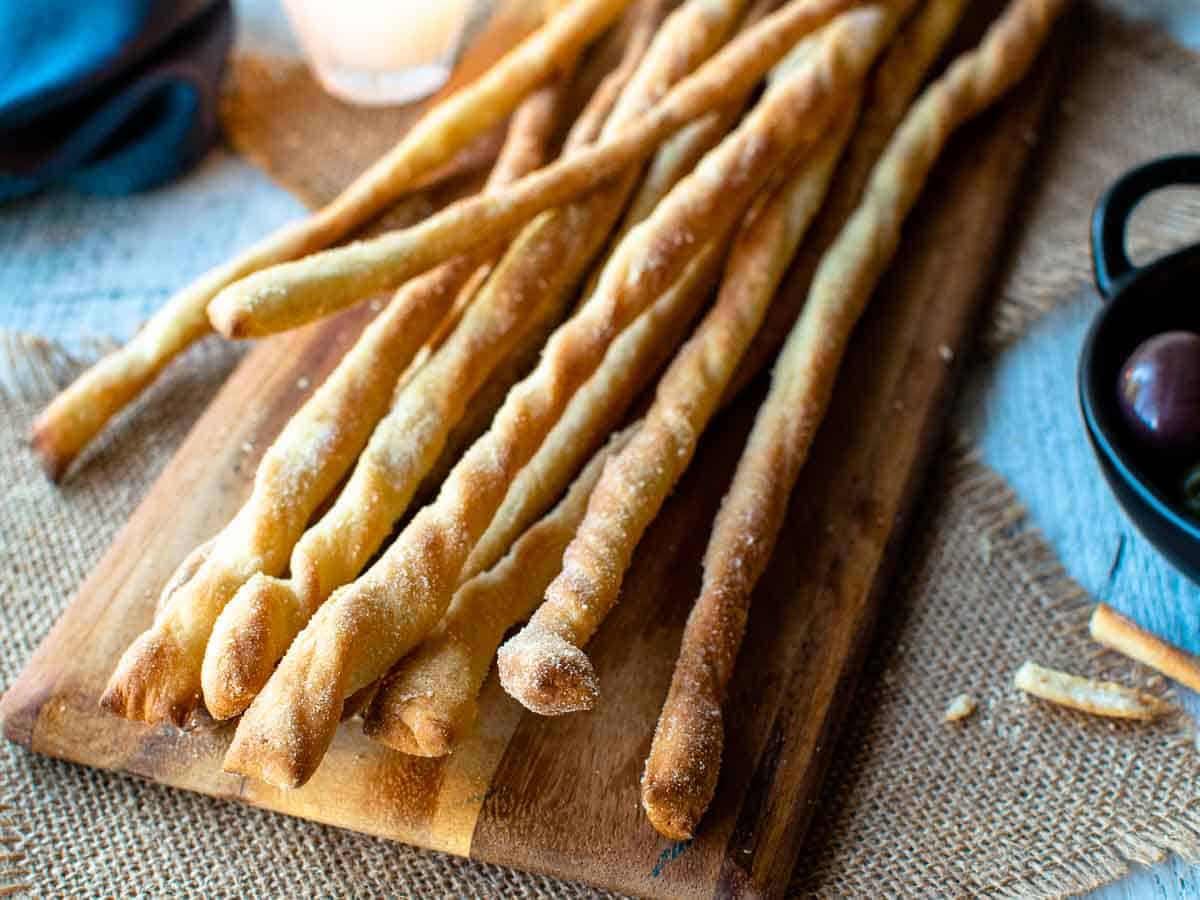 These incredibly crunchy Grissini breadsticks are the perfect accompaniment to your next antipasto platter. I love to serve grissini breadsticks as part of an antipasto, alongside my Stuffed Cherry Peppers, Warm Marinated Olives and Peperonata.
My family also loves to enjoy these as part of a big Sunday lunch with my succulent Butterflied Roast Chicken and Pesto Gnocchi.
More Recipes Like This
Made this recipe?
Let me know if you liked it by leaving a ★★★★★ star rating and a review below. Please share a photo of your creation by tagging me on Instagram @marcellina.in.cucina!
Recipe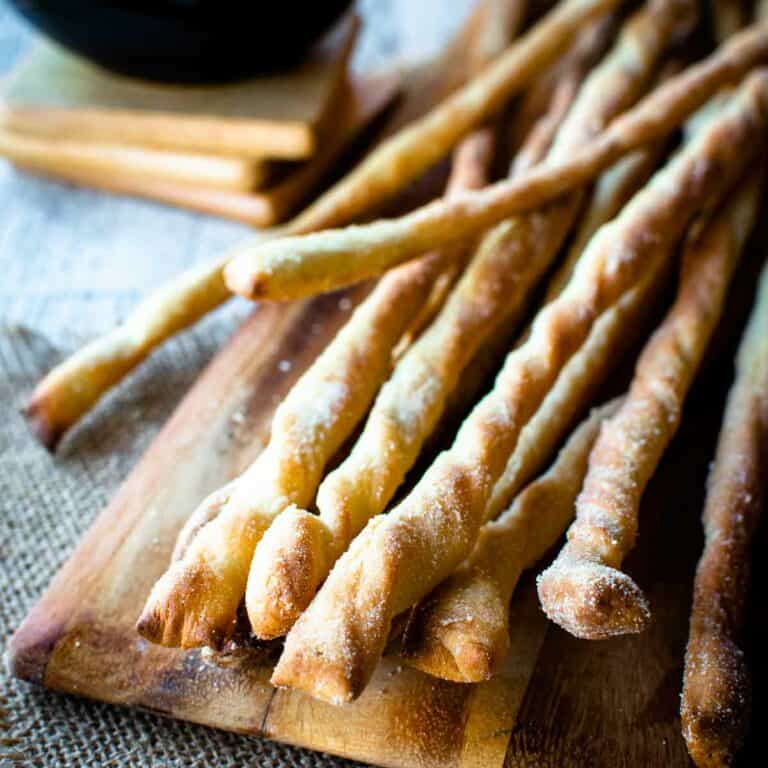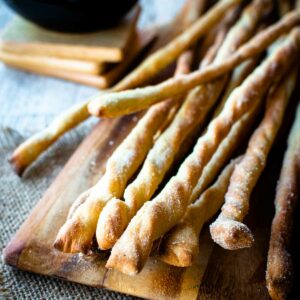 Grissini Breadsticks Recipe
These bread sticks from Turin are the traditional Grissini Torinesi. Crunchy and tasty. Perfect with an antipasto platter of salami, prosciutto, cheese and olives.
Print
Pin
Rate
Ingredients
1

teaspoon

active dried yeast

1

teaspoon

honey

¾

cup

warm water

177 mls

1

tablespoon

extra virgin olive oil

2 ¼

cups

bread flour

280 grams

1 ½

teaspoons

sea salt

not fine table salt - it will be too salty

¼

cup

fine semolina

semolina flour
Instructions
Make the dough by hand
Combine active dried yeast, honey and warm water in a large bowl. Let it stand for 10 minutes until foamy.

Stir in the oil followed by the flour and salt and mix until a rough dough is formed.

Turn the dough out onto a clean surface. It shouldn't need to be floured but if the dough is sticking excessively and is difficult to manage, flour the surface very lightly.

Knead the dough by stretching it out and folding it on top of itself. Turn the dough 90 degrees and then repeat the stretching and folding motion. At first, it will be sticky and the dough will tear and break but as you continue it will become smoother and more elastic. It can take 8-10 minutes to achieve this.
Make the dough with a stand mixer
Mix the yeast, honey and warm water together in your stand mixer bowl. Allow to stand 10 minutes or so until bubbly.

Add the oil, flour and salt and start mixing slowly with the dough hook until it all comes together.

Continue to knead with the dough hook for about 3-5 minutes until smooth and elastic.

Remove dough and knead a little by hand to bring it together. Don't be tempted to add more flour - the dough shouldn't be dry.
Proving the dough
Place the dough on an oiled surface - either a large cutting board or baking sheet.

Cover the dough with an upturned bowl and allow it to rest for 20 minutes. The dough will rise a little.

Lift the bowl off the dough and with your hands press the dough into a rectangle 12 inches by 8 inches (30 cm by 20 cm) or thereabouts. Rub 1-2 teaspoons of olive oil over the surface and cover with plastic wrap. Allow to rise for 1 hour or until well risen.

In the meantime, preheat the oven to 400ºF (200ºC) and oil two large baking sheets with olive oil or line them with parchment paper.
Shaping and baking the grissini breadsticks
Remove the plastic wrap and sprinkle the dough with semolina.

Using a knife, pizza wheel or bench scraper, cut the dough into 20 strips along the long side of the dough. The strips should be approximately ½ inch (1 ½ cm) thick and 8 inches (20cm) long.

The dough is lovely and elastic so pick up each strip and stretch and pull until you have long thin bread sticks. The dough can be twisted for a different appearance. Roll in more semolina if you like.

Bake in the preheated oven for 20-25 minutes. Turn them halfway for even browning if necessary.

Allow to cool before serving. The grissini will become more crunchy as they cool.
Notes
Tips for Success
If the dough is particularly wet,  add a little more flour. Don't add too much - this dough shouldn't be dry.

Proof (or rise) the dough in a warm, draught free place.

Keep all the breadsticks about the same size so they all cook evenly. 
For more information, read the tips and FAQ's above.
Nutritional Information Per Serving
Serving:
0
g
|
Calories:
68
kcal
|
Carbohydrates:
12
g
|
Protein:
2
g
|
Fat:
1
g
|
Saturated Fat:
0.1
g
|
Polyunsaturated Fat:
0.2
g
|
Monounsaturated Fat:
1
g
|
Sodium:
175
mg
|
Potassium:
24
mg
|
Fiber:
1
g
|
Sugar:
0.3
g
|
Vitamin A:
0.3
IU
|
Vitamin C:
0.004
mg
|
Calcium:
3
mg
|
Iron:
0.2
mg
Nutritional Disclaimer
Nutritional information is an estimate provided by an online nutrition calculator. For accurate results, it is recommended that the nutritional information be calculated based on the ingredients and brands you use.
This post was originally published on February 1, 2015. It has been updated with new photos, more information and improved recipe.