My easy Sourdough French Toast recipe will be ready to eat in 20 minutes! Quick, simple, and no wasting of delicious sourdough.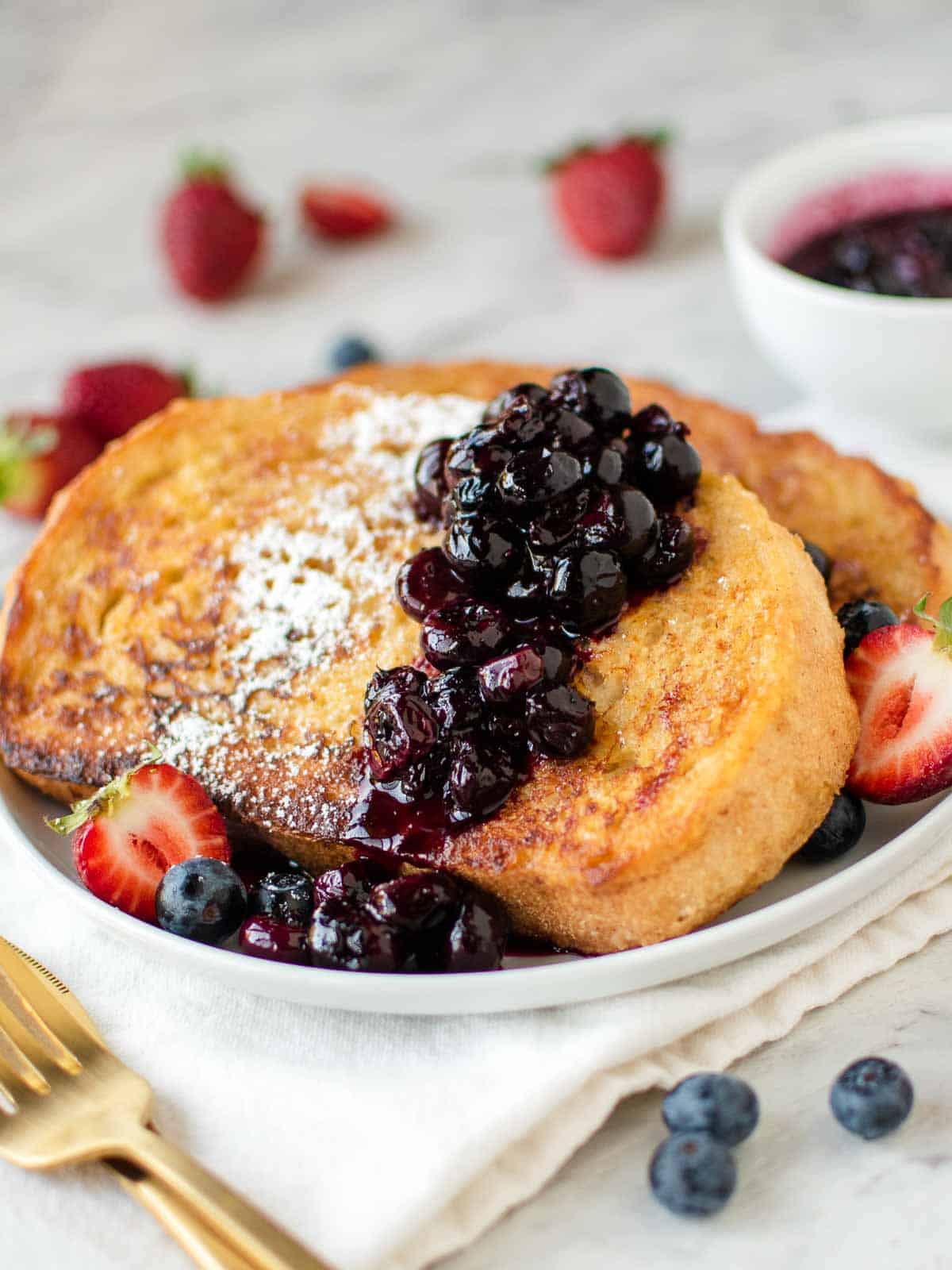 Why you will love this recipe!
Oh, wow! The heavenly contrast between the crispy outer crust and the soft, soaked center of the sourdough is divine - trust me on this!
But let's set the deliciousness aside for a moment. There are some very valid and practical reasons for making French toast with sourdough bread:
It's egg-sellent (haha - see what I did there?!) for breakfast, brunch, snacks, or dessert - filling, nutritious (if you're modest with the maple syrup!), and loaded with protein.
It uses everyday ingredients - everything you'll need will most likely already be in your kitchen.
It's a great way to use up your leftovers. We hear about food wastage, so it's wonderful to find a recipe that makes best use of leftover food and some basic pantry items.
One of the benefits of sourdough bread for French toast is that it has more 'body' than ordinary white or wholemeal bread, so it holds up better to being soaked.
Also, note that although this recipe serves four, you can easily adjust it to accommodate more - or fewer - people.
For complete ingredient quantities and full instructions, please scroll to the printable recipe card bottom of the page.
Ingredient Notes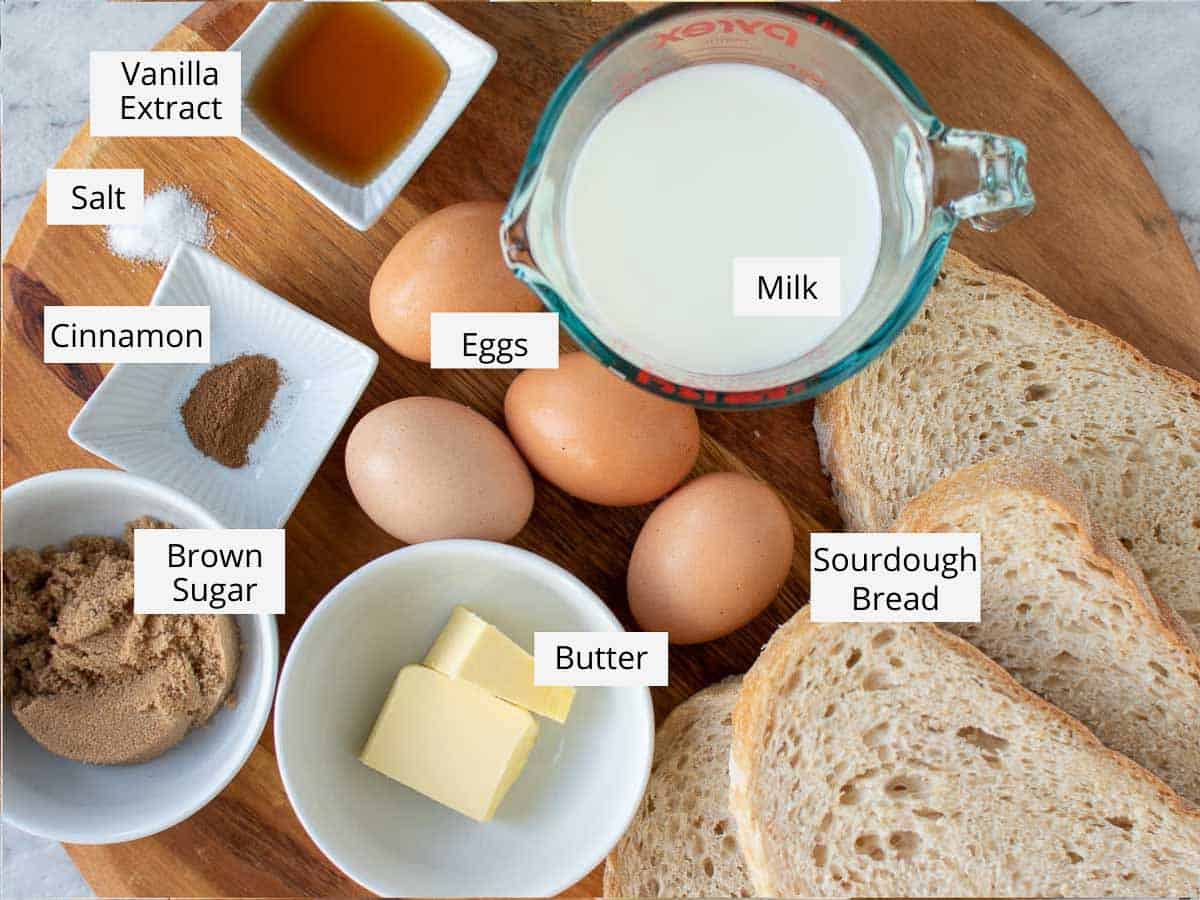 Sourdough - There are a number of benefits to using sourdough instead of white or wholemeal bread, including prebiotics to aid with gut health. Additionally, if you're monitoring your blood sugar levels, there is evidence to suggest that sourdough is less likely to cause sugar spikes.
Eggs - I use large, free range eggs that are at least 2oz (56g) each.
Milk - Whole milk is best in this recipe. However, if you prefer to use low fat, I won't tell if you don't 😉
Brown sugar - A quarter of a cup, loosely packed, converts to about 1 ¾ oz (or 50g in metric measure).
Vanilla extract - The vanilla adds a lovely flavor to the French toast and complements the sugar and egg mixture perfectly.
Butter - unsalted, preferably. There's a pinch of salt in the recipe, so you won't need any extra in the butter.
Variations
Remember I mentioned food wastage earlier? Well here again you can make best use of whatever you already have in your refrigerator or pantry. The different ways you can top French toast are only limited by your imagination! I've used my homemade blueberry compote in the photos, but here are some of my other favorites:
Mixed berries and a light dusting of powdered sugar with a sprig of mint.
PB&J - peanut butter & jelly (also known as 'jam' to my southern hemisphere friends).
Add a couple of rashers of crispy bacon just before pouring over the maple syrup for a truly Canadian taste sensation!
Sliced seasonal fruit (eg, apples, pears) drizzled with honey.
Slathered with cream cheese and topped with a slice of smoked salmon. You could even add a couple of capers or a sprig of dill!
Ham and Swiss cheese - then sandwiched together. Great on a plate, in a lunchbox, or as a satisfying snack on the go.
Lemon curd! Have you tried my homemade lemon curd yet? Wow! A large dollop on warm French toast adds a zingy sweetness that you'll love.
Peanut butter with sliced banana (added honey optional!).
Peaches (fresh or canned) and cream.
Avocado and tomato - sliced and with a dash of coarsely ground pepper - yum!
If you're looking for an adults-only variation, add approximately 1.5 teaspoons of citrus zest to the egg mixture and cook as usual. Once done, drizzle the cooked sourdough French toast with a little of your favorite liqueur.
If you or your guests have dietary restrictions, the recipe can be modified to accommodate most considerations:
This recipe can be made dairy free by replacing the milk with soy, almond, or oat, and substituting coconut oil (or any other mild flavored oil) for butter. You could also use lactose free milk if you'd prefer.
Additionally, you can use gluten free sourdough bread with no discernible change to taste, texture, or cooking times.
If you get creative and try a variation of your own, please do let me know how you go. I'd love to hear what you think worked well for you, and what you would change next time.
Instructions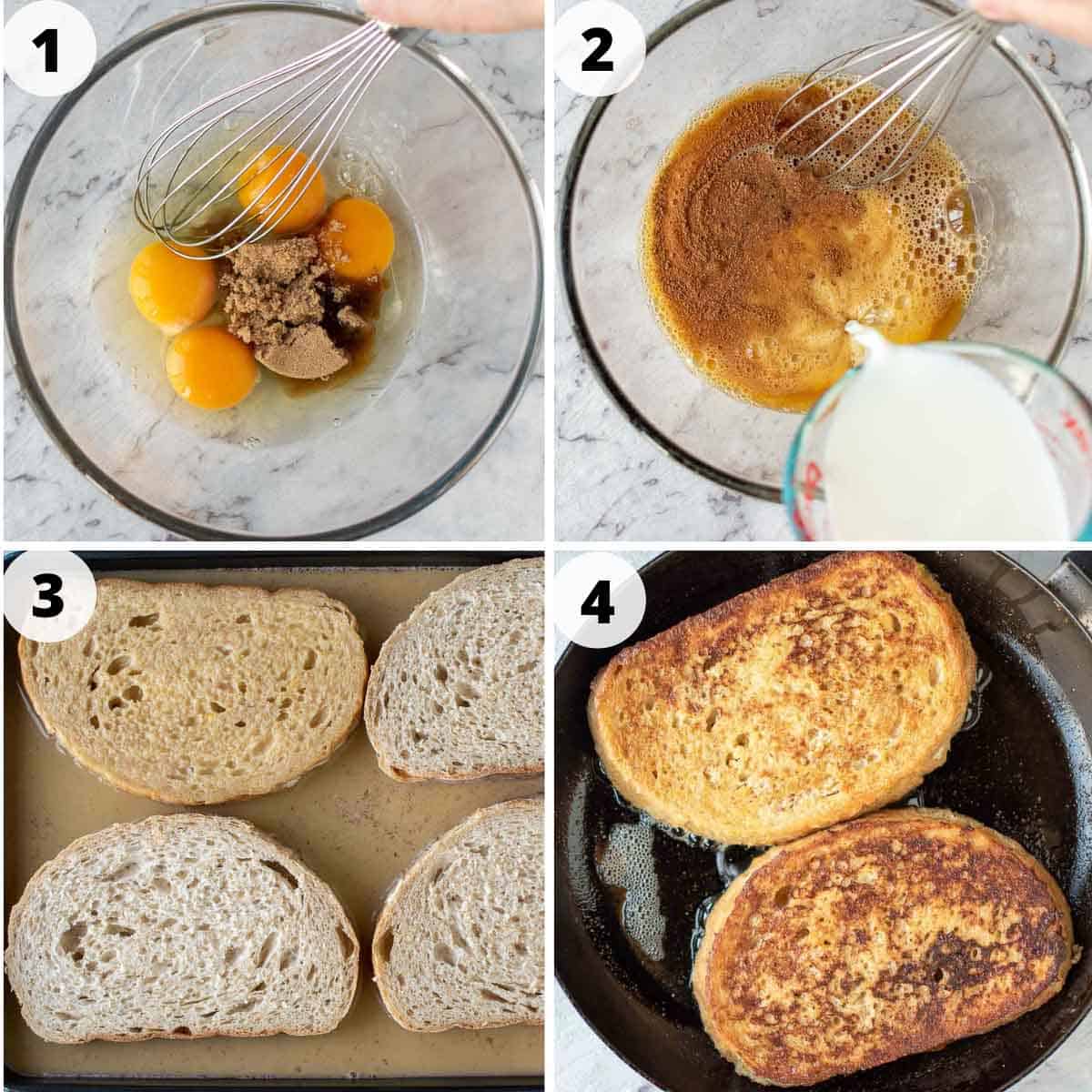 Please note that my instructions below correspond with the numbered photos above. For greater detail, please see the recipe card.
Preheat oven to 195ºF (95º Celsius), and have a baking tray lined with baking paper ready.
Whisk together the eggs and sugar in a bowl.
Add in the cinnamon, vanilla, salt, and milk. No need to whisk air into the mixture - just make sure there are no streaks of egg.
When all ingredients are well combined, pour the mixture into a shallow pan or baking tray that will snuggly fit the sourdough slices in one layer. Turn the bread over so that it absorbs all the egg mixture. At the same time, melt a little knob of butter into a hot skillet.
Transfer two slices of sourdough into the skillet and cook for about three minutes, or until golden brown, then turn over and cook the other side.
When done, pop the hot sourdough French toast onto the lined baking tray so it can keep warm in the oven while you make the next batch.
Serve warm with a light dusting of powdered sugar and blueberry compote. Alternatively, try one of my serving suggestions below.
Tips For Success and FAQs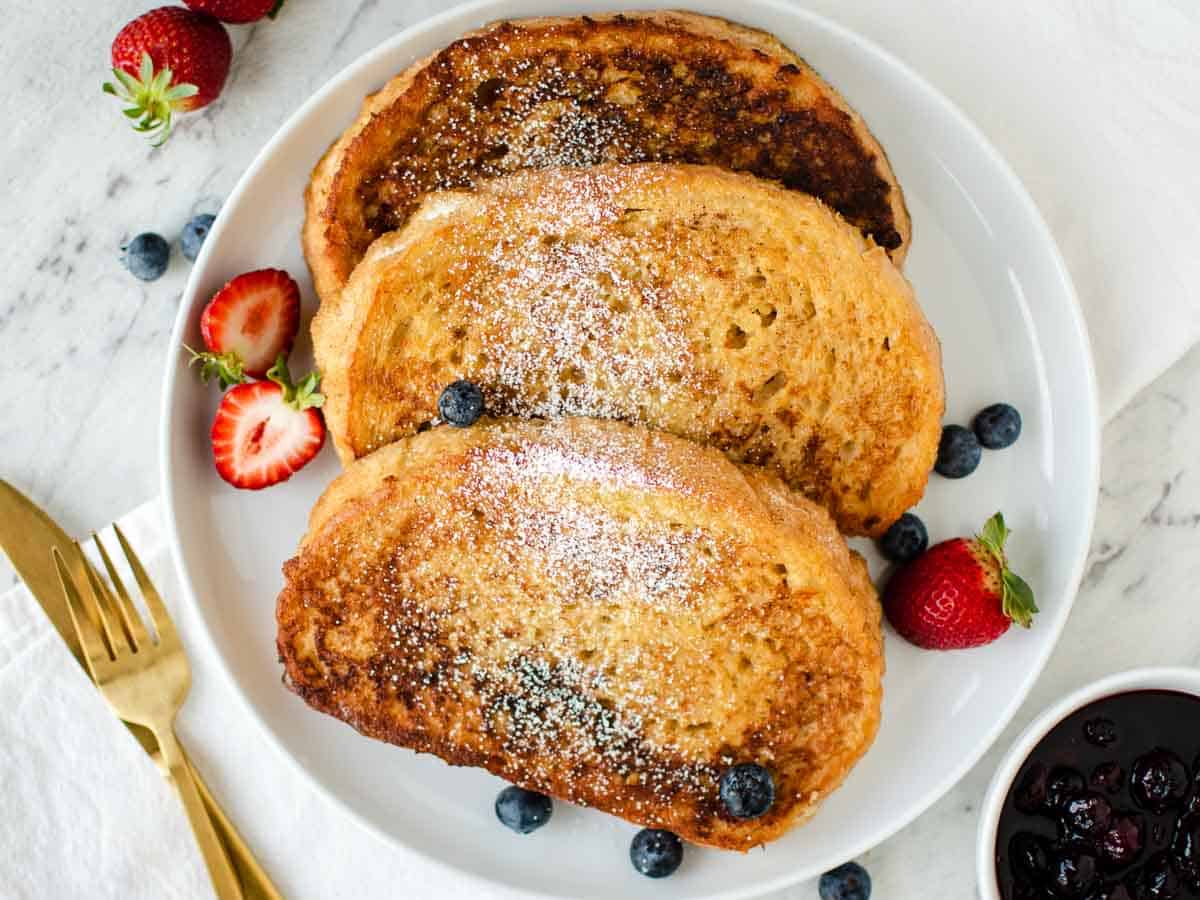 Day old, thickly sliced sourdough bread works best. It can be tempting to use fresh bread, and while it is, of course, truly scrumptious, it is not as firm as day old bread, and so doesn't cope with soaking quite as well.
Allow the sourdough a few minutes to soak up all the egg mixture. You might need to press the crusts down into the pan a little so that they gather up all the liquid. You really want each slice to be laden with the egg mixture.
Keep a close eye on the temperature of the skillet while you're cooking. You don't want the heat too high or else the outside will cook before the inside is done. Equally, you don't want the temperature too low.
What type of bread is best for French toast?
Sourdough is an excellent choice for French toast because it is sturdy on the outside and soft in the center, as well as being flavorsome. Sourdough that is a day or two old works best.
What makes French toast French toast?
Many cultures around the world have come up with inventive ways to use up their leftovers. (See? The notion of reducing food wastage isn't a new one!) However, the French invention of 'pain perdu' - which translates as 'lost bread' - being soaked in an egg and milk mixture before frying is easily one of the most popular... and delicious!
Can sourdough French toast be frozen?
Yes! Once cooked and cooled, use wax paper between each slice, then wrap the bundle in aluminium foil and pop it into a freezer bag. Can be kept frozen for 1-2 months. Reheat under the grill/ broiler, or in the oven.
Why is sourdough bread good for you?
Sourdough has a lower gluten content than most other breads, which means it may be more tolerable for those with a mild gluten intolerance.

Additionally, sourdough is thought to act as a prebiotic, meaning that the fiber in the bread promotes good bacteria in your gut. That good bacteria is vital for a well functioning digestive system.
Serving Suggestion
My own Raspberry Compote recipe is delicious on sourdough French toast, as well as regular toast, pancakes, ice cream, or pavlova.
Have you tried my Strawberry Jam Recipe yet? It works wonderfully well here!
My Lemon Curd recipe is very quick and easy to make! It's fabulous with French toast - or as a lovely homemade gift.
Made this recipe?
Let me know if you liked it by leaving a ★★★★★ star rating and a review below. Don't forget to subscribe to my newsletter - it's free!
Recipe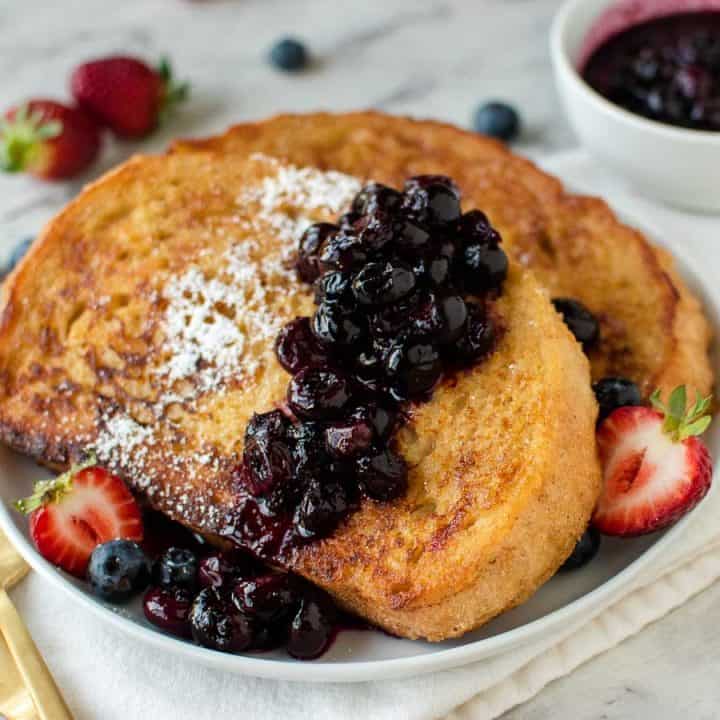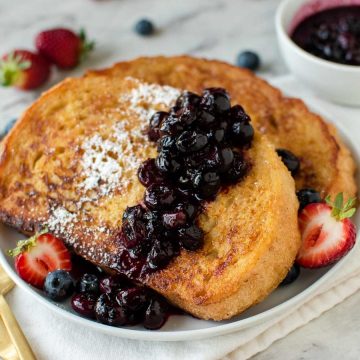 Sourdough French Toast Recipe
French toast with sourdough bread - ready in 20 minutes! Perfect for breakfast, brunch, dessert or snacks.
Print
Pin
Rate
Ingredients
4

slices

sourdough, cut into 1 inch (2.5cm) thick slices and 6 inches (15cm) long

4

large eggs

1

cup

whole milk

¼

cup

brown sugar

3

teaspoons

vanilla extract

½

teaspoon

ground cinnamon

pinch

salt

½

ounce

(1 tablespoon/ 15 grams) unsalted butter
Instructions
Preheat oven to 195ºF (95º Celsius). Have a baking tray ready.

Whisk together eggs, whole milk, brown sugar, vanilla extract, ground cinnamon and salt. There's no need to incorporate air, simply make sure that there are no streaks of egg.

Pour the egg mixture into a shallow pan that will snuggly fit all the bread in one layer.

Add the bread into the egg mixture and turn over until the bread has absorbed all the liquid.

While the bread is soaking, heat a non-stick pan or skillet (hopefully one that holds two slices comfortably) on medium low.

Add ½  of the butter and allow to foam up and almost brown then slide in two soaked slices of bread.

Cook for about 3 minutes. After a minute or so check underneath that it is not browning too quickly.

Flip the bread slices over and cook on the other side for 2 more minutes. Again, pay attention to the heat and adjust accordingly - if the french toast is cooking too quickly, reduce the heat; if it's cooking too slowly, increase the heat.

Once done, transfer the french toast to the baking tray and into the oven to keep warm while you cook the remaining bread.

Wipe out the pan with some kitchen paper, then add remaining butter and repeat heating the butter and cooking the french toast.

Serve warm with butter, maple syrup, and fruit - or your choice of toppings.
Notes
Delicious served with a knob of butter and drizzled with maple syrup and/ or slices of seasonal fruit. Check out the 'Variations' and 'Serving Suggestions' sections.
Tried this recipe? Give it a star rating and leave a comment below!
Nutritional Estimate Per Serving
Calories:
372
kcal
|
Carbohydrates:
53
g
|
Protein:
15
g
|
Fat:
10
g
|
Saturated Fat:
5
g
|
Polyunsaturated Fat:
2
g
|
Monounsaturated Fat:
3
g
|
Trans Fat:
1
g
|
Cholesterol:
177
mg
|
Sodium:
422
mg
|
Potassium:
248
mg
|
Fiber:
2
g
|
Sugar:
19
g
|
Vitamin A:
426
IU
|
Vitamin C:
1
mg
|
Calcium:
137
mg
|
Iron:
3
mg
Nutritional Disclaimer
Nutritional information is an estimate provided by an online nutrition calculator. For accurate results, it is recommended that the nutritional information be calculated based on the ingredients and brands you use.