Sticky and sweet, cinnamony goodness is the way I describe this Monkey Bread. According to wikipedia, Monkey bread is served in the United States for breakfast or a treat. Oh my goodness! What we Australians are missing out on! Monkey Bread even has a great catchy name or use the alternate name of "Pluckets" and the name sounds just like how you eat it – you "pluck" the pieces right off the cake and pop the perfectly sized pieces in your mouth!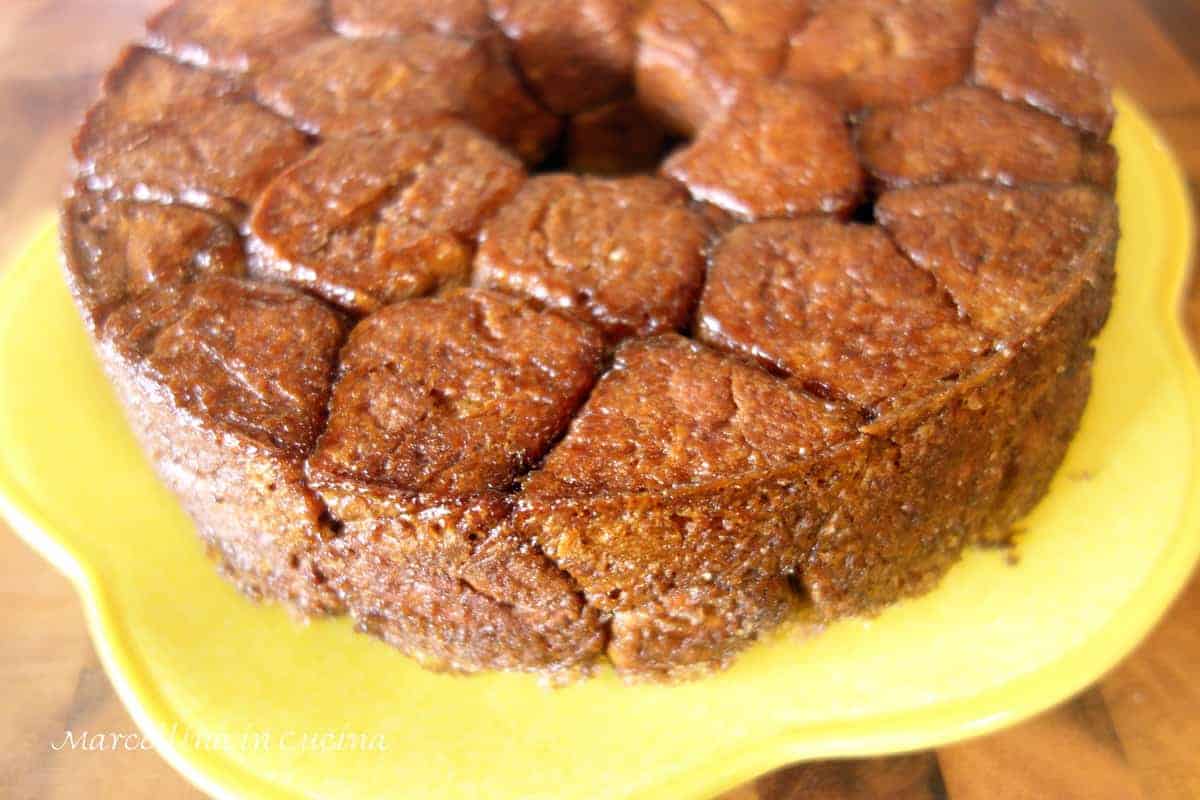 As a child, I always wanted a monkey for a pet. Yeah, I know, I'm a bit strange! My dad would tease, saying that soon we would get a monkey for me. Of course, I never did get my pet monkey but I have continued my fascination with the creatures. So as soon as I saw this recipe, I wanted to make it. In fact, this was one of the first recipes I made from A Baker's Odyssey, by Greg Patent. I made it for my son's birthday, when he was maybe 11 or 12. No one really knew how to eat it, consequently it wasn't a hit.
Following my endeavours to bake my way through this book I decided to bake this bread again but this time feed it to my husband's work colleagues who I know never pass up a sweet treat. A Baker's Odyssey has some wonderful sweet yeasted bread recipes like the Stollen I made for Christmas last year. This recipe is no exception.
You are going to love it! Doesn't it look like a jigsaw puzzle?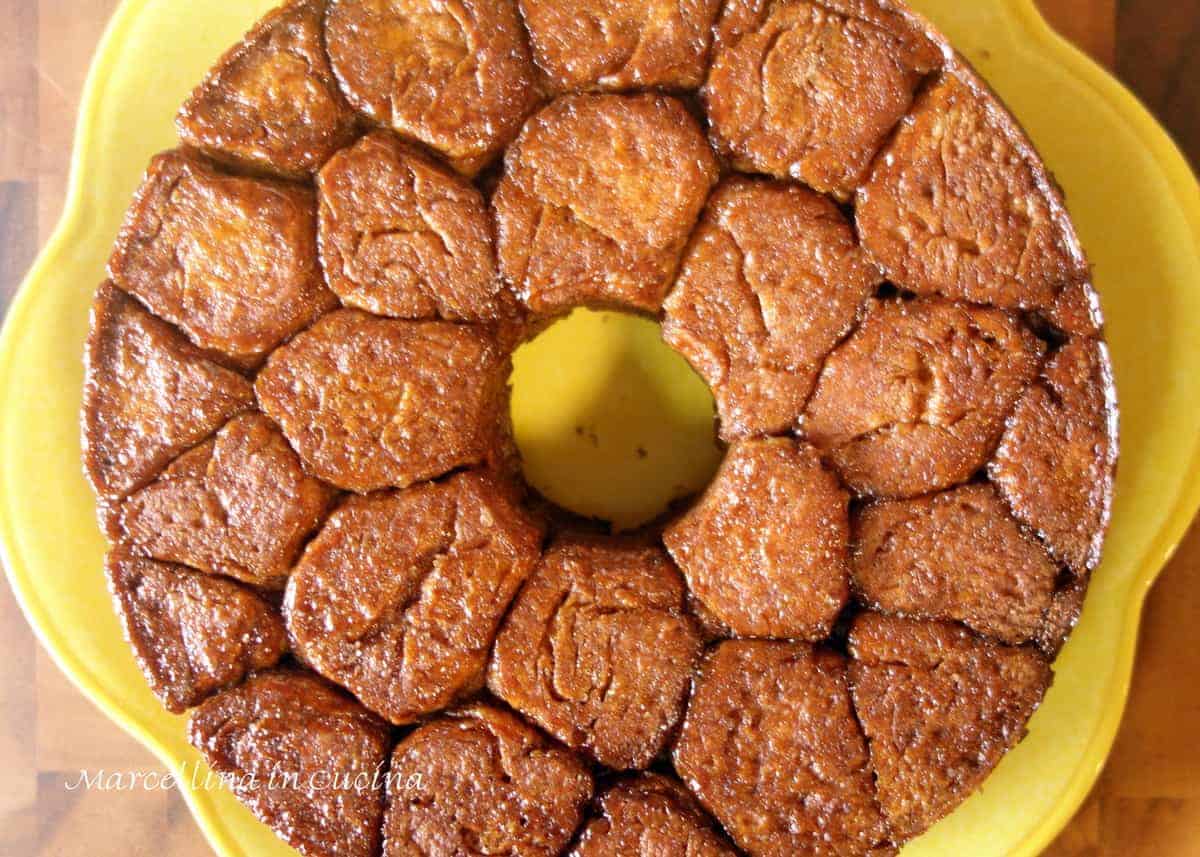 Tips
I reduced the flour a bit because I wanted a soft dough. The quantity of water in a dough recipe really depends on so many factors – such as the type of flour you are using or the moisture in the air around you or the lack of moisture in the air.
Adjust the cinnamon to your taste. Add other spices – Greg Patent's original recipe uses freshly ground nutmeg, as well.
This makes a large cake, consider making little individual buns by putting 3 or 4 balls in paper lined muffin pans.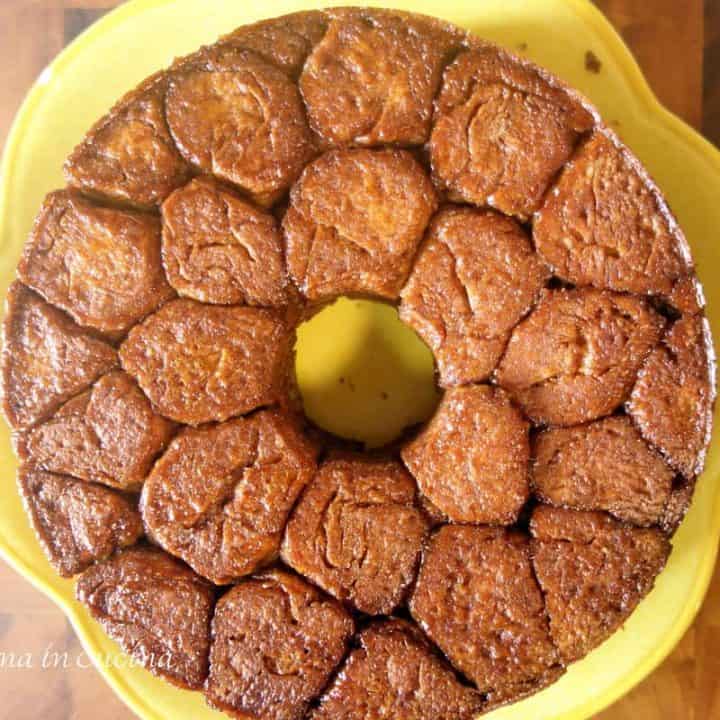 Cinnamon Monkey Bread
A sweet and delicious yeasted bread consisting of balls of dough coated in butter and cinnamon sugar then baked into a loaf. Eating is the fun bit!
Print
Pin
Rate
Ingredients
Dough
¾

cup

milk

½

cup

plus ½ teaspoon granulated sugar

1

package

2 ¼ teaspoons active dry yeast

¼

cup

warm water

see note

3

cups

plain flour

¾

teaspoon

salt

1

large egg

1

large egg yolk

85

g

unsalted butter

at room temperature
Coating
140

g

butter

melted

1 ¼

cups

granulated sugar

3

teaspoons

ground cinnamon
Instructions
Make the dough
Scald the milk in a small saucepan over medium heat until you see steam rising up over the surface. Remove from the heat, add ½ cup sugar and stir to dissolve. Allow to cool until it feels warm to touch (see note).

While the milk is cooling, mix the yeast with ½ teaspoon sugar and the warm water in a small bowl. Allow to stand 10 minutes until frothy and bubbly.

In a stand mixer bowl, place the flour, salt, egg, egg yolk, butter, warm milk and yeast/water mixture. Attach the flat beat and mix slowly until ingredients are incorporated. Increase speed and beat for 5 minutes until dough is smooth. Switch to a dough hook and knead for a further 3 minutes. It is correct for the dough to be soft but not excessively sticky. Add a little more flour if it is too sticky. I didn't need any extra flour.

Wash and dry the bowl and coat it with a little oil. Form the dough into a ball and turn it around in the bowl until all sides are coated with a little oil. Cover with plastic wrap and set in a warm place to rise for 2 hours or until it triples in volume.

Deflate the dough and form into a ball again. Cover with plastic and allow the dough to rise a second time for 1 hour or until it doubles in volume.
To shape the dough
Pat the dough into an 8 inch (20cm) square. Cut 8 strips across then cut 8 strips down making 64 even pieces. Roll each into a rough ball.

Prepare a two piece angel food pan by coating well with cooking spray. Have the melted butter in a small bowl and mix the sugar and cinnamon together on a large plate.
Assemble the cake
Put a few ball of dough into the butter, use a spoon to turn them around to be well coated with butter. Remove each piece with a spoon, draining the butter back into the bowl then toss the butter coated balls in the cinnamon sugar.

Arrange the balls evenly in the base of the prepared pan. Continue with of the balls of dough until all coated and arranged in the pan.

Cover the pan with plastic wrap and allow to rise for 1 ½ to 2 hours.

In the meantime, preheat the oven to 170C/350F ensuring the racks are adjusted to accommodate the pan.
To Bake
Remove the plastic wrap. Put the pan in the oven and bake for 50-60 minutes or until a skewer inserted in the cake comes out clean.

Allow to stand for 5 minutes then turn out onto a wire rack to cool. Don't leave the cake too long in the pan as the sugar will harden and make the cake impossible to remove.
Notes
Note: Greg Patent states temperature of water and milk for this recipes be 105F-115F (40C-45C). When I checked this temperature it seemed quite a lot hotter than I had used in the past. The hot water directly from the tap did not reach this temperature. I used a slightly lower temperature with no problems but then again I live in a hot climate. The important thing is not to exceed 115F/45C when you are adding yeast directly to water or you will risk killing the yeast.