This Focaccia Genovese with olives and onions is an Italian classic that's soft, fluffy and exceptionally tasty!
A perfect side for dunking into steaming soups or part of an antipasto platter, this focaccia Genovese is also easy to make!!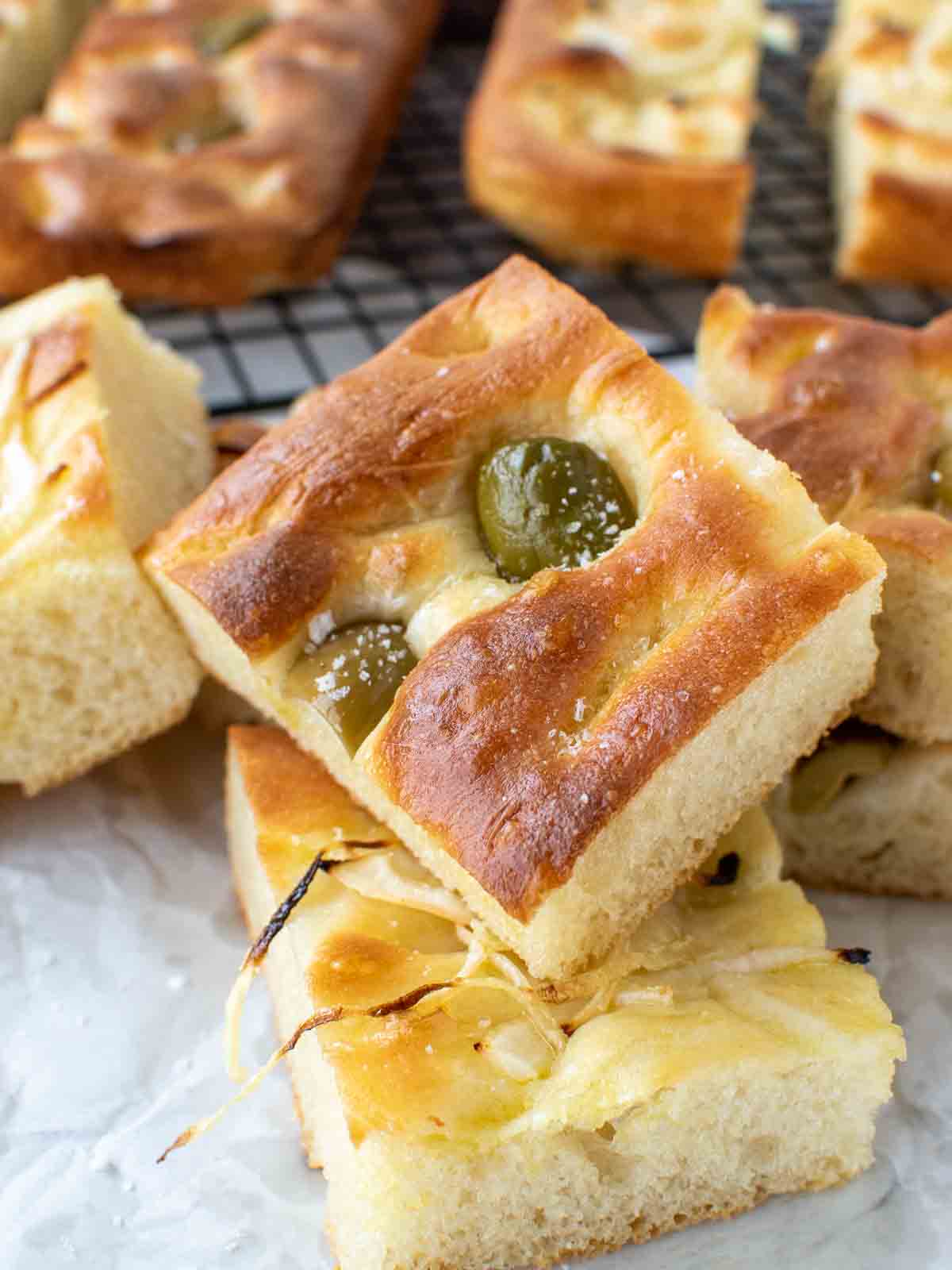 Why you'll love this recipe
Focaccia Genovese is the famous focaccia from the port city of Genoa in Liguria, Italy. The classic focaccia is usually left to rise for 12-14 hours just like my Ligurian Focaccia but we don't always have time for that.
This recipe is ready in just a few hours. While the flavor that develops with long fermentation is fantastic, I promise that this Focaccia Genovese is so tasty that I can never stop at just one slice.
The secret is quality ingredients particularly the olive oil. Buy the best you can afford. I like local olive oil because it's most likely to be fresh.
Choose large green olives with stones in. Just slice off the flesh in large chunks. These will taste much better the pitted olives but you choose – it's your Focaccia Genovese!
For complete ingredient quantities and full instructions, please scroll to the printable recipe card bottom of the page.
Ingredient notes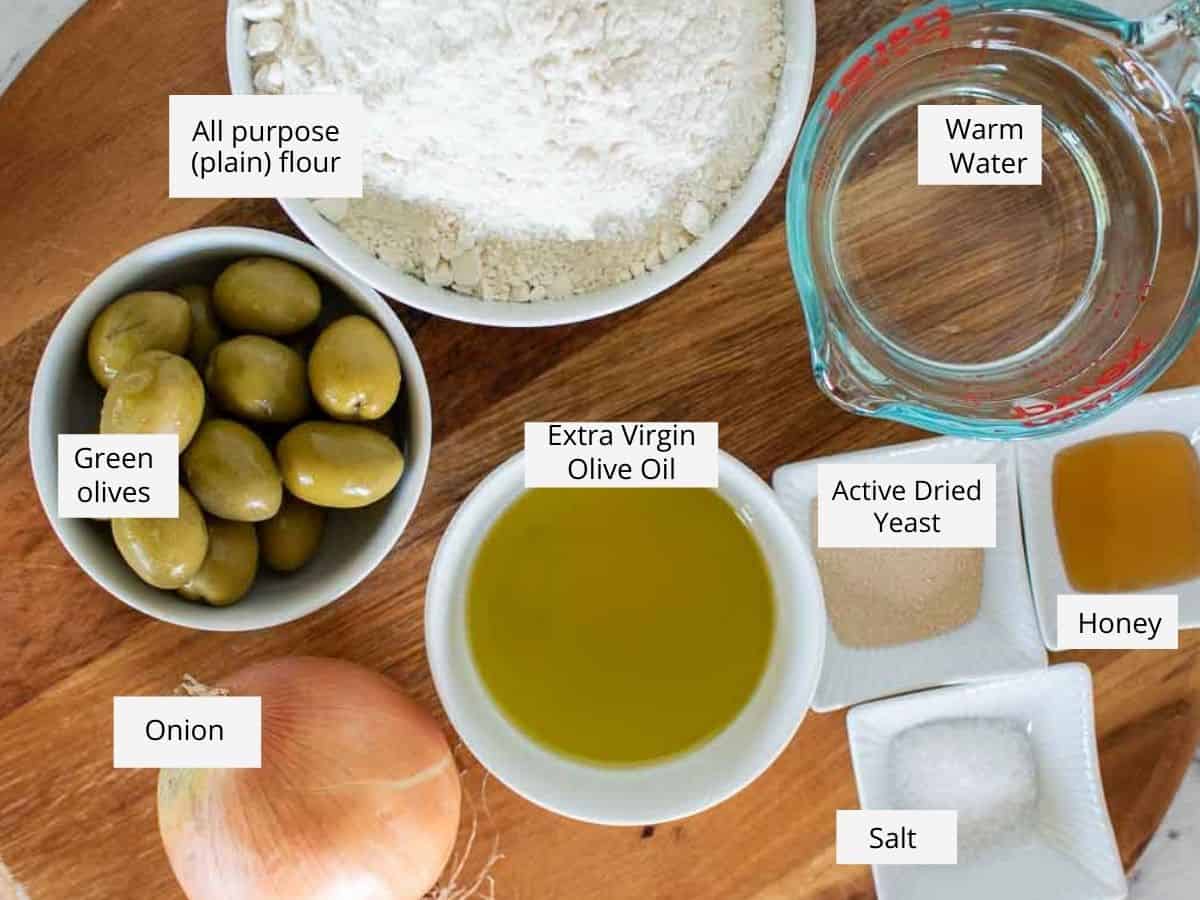 As well as the usual focaccia ingredients like flour, yeast, olive oil, a little honey, salt and warm water, this Focaccia Genovese uses some of the typical toppings.
green olives – I prefer stone-in (de-seed before using) but you can use pitted
onion – sliced thinly and rubbed with olive oil
Variations
There are so many variations of toppings for Focaccia Genovese. Here are some suggestions. Instead of olives and onions top with:-
fresh rosemary
chunks of cheese such are mozzarella or taleggio
black olives
cherry tomatoes
mushrooms
grapes
garlic
Instructions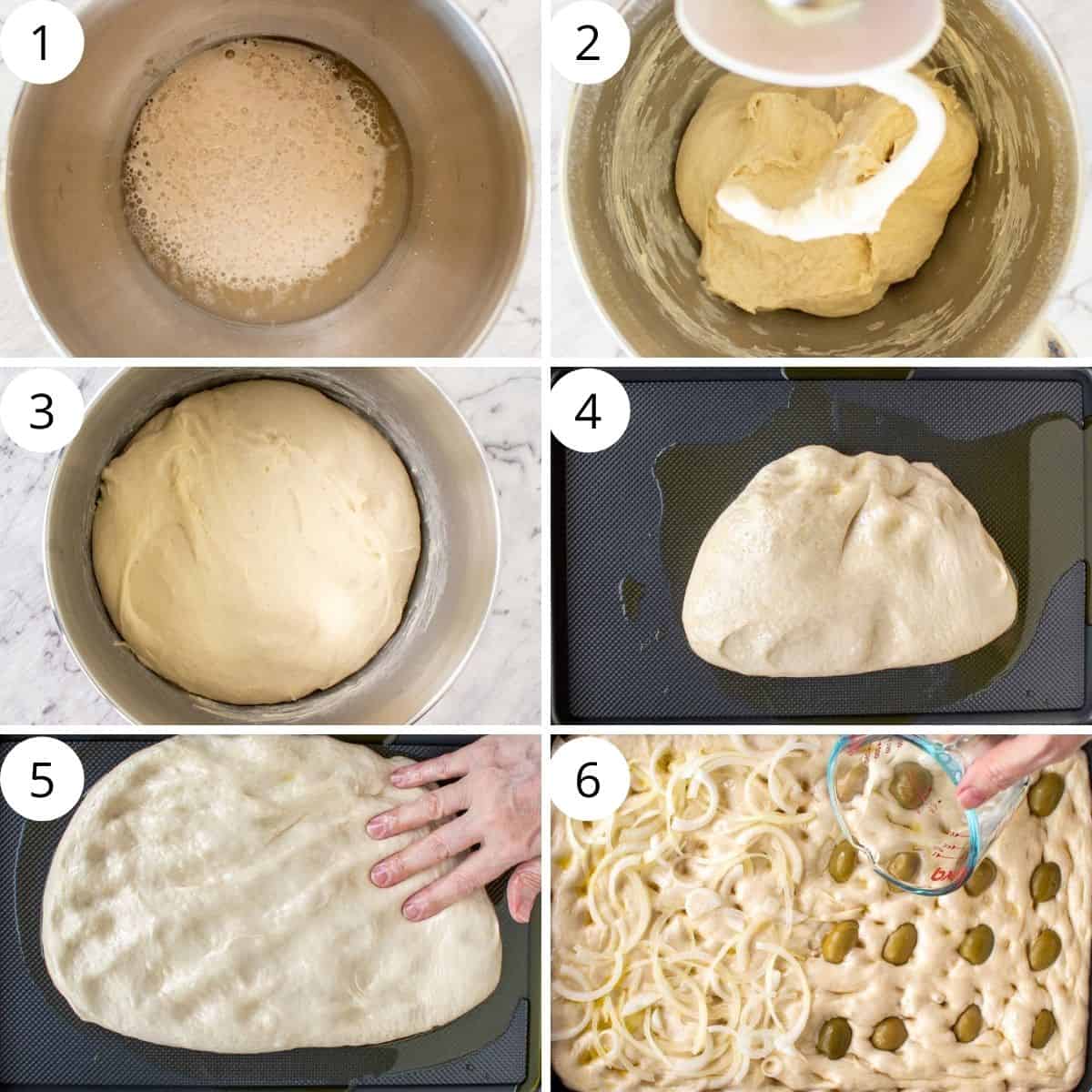 In the bowl of a stand mixer, combine the warm water with yeast and honey and let it stand until bubbly.
Work in the flour, rest 5 minutes then add the oil and salt and mix until smooth and elastic.
Set aside to rise until doubled.
Tip the dough onto a well oil baking pan and fold several times.
Stretch the dough to fit the pan. It will take time and the dough will start to rise again.
Press the olives into one half of the dough and scatter oiled onion slices over the other side. Pour over the brine and allow the dough to rise before baking until golden brown.
Tips for success and FAQ's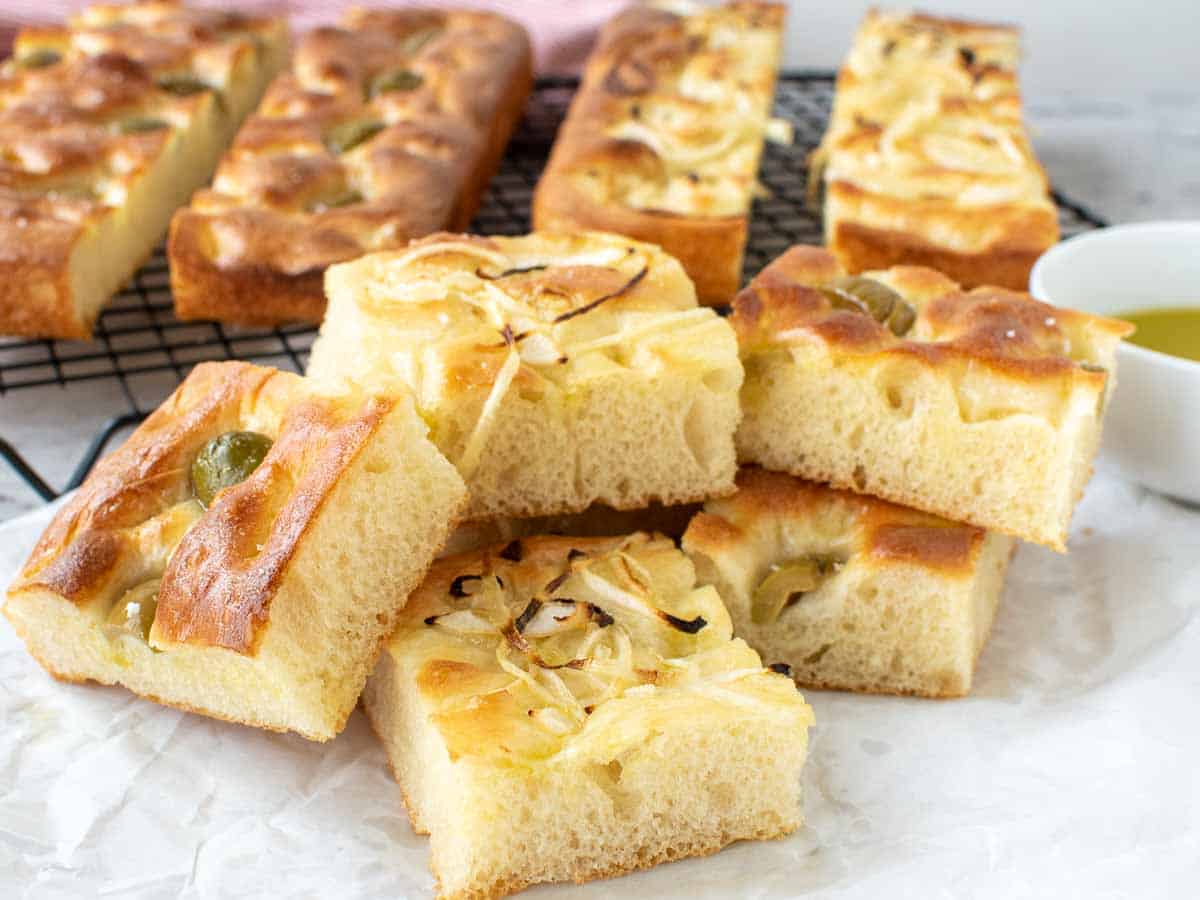 This is not the sort of recipe that you can skimp on olive oil. Use the full quantity in the recipe and make sure it's good oil that you like the taste of.
Avoid adding extra flour to the dough because this will make the focaccia dense. Use oil to stop the dough sticking to your hands or anything else!
It's important that when the Focaccia Genovese is baked, it is taken out of the pan and onto a wire rack. This way the bottom doesn't steam and end up soggy.
Is focaccia the same as pizza?
Focaccia is not the same. It's is much lighter and fluffier that pizza. Plus the toppings are simple on a focaccia so that the dough is not weighed dough. Pizza is more of a meal and focaccia is more of a side or starter.
Why did my focaccia stick in the baking pan?
It could be that you didn't use enough olive oil. Or the baking pan is not of good quality. Be sure to use a heavy, not one that is old, maybe rusty or has seen better days.
How long will Focaccia Genovese stay fresh?
Ideally, it's best eat focaccia within hours of baking. But I will keep the bread in a sealed container in the refrigerator (or at room temperature in a cool climate) for a day or two. Reheat in the oven until warmed through and a bit crispy. Never reheat in the microwave – you won't be happy.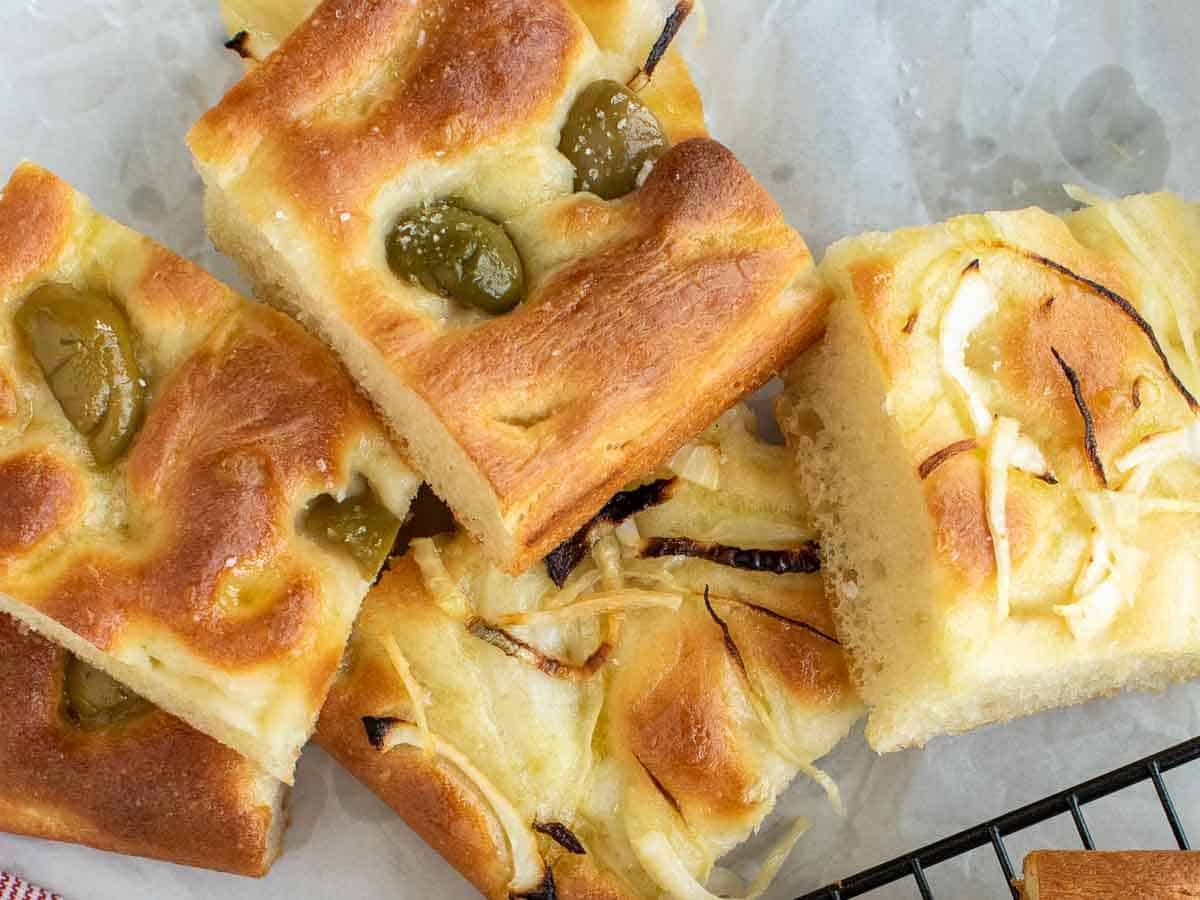 More recipe like this
Calabrese Pizza
Cheese and Bacon Bread
Portugese Bread
Grissini
If you enjoyed this recipe, be sure to give it a star rating and leave a comment or tag me on instagram @marcellina.in.cucina.
Either way, I love to hear from you!
If you haven't yet subscribed to the newsletter, don't forget to click here so that you don't miss out on more delicious food, tips and news!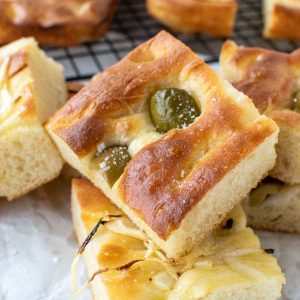 Focaccia Genovese
This Focaccia is famous in Liguria, Italy. Gleaming with olive oil, scattered with slices onions or studded with green olives, this bread is soft and exceptionally tasty!
Print
Pin
Rate
Equipment
15in x 10in (38cm x 25cm) heavy baking pan
Ingredients
1¼

cups

(300mls) warm water

2

teaspoons

active dried yeast

2

teaspoons

honey

3¼

cups

(400g) all purpose (plain) flour

3

tablespoons

extra virgin olive oil

2

teaspoons

salt
Topping
⅓

cup

large green olives, pitted

or whole de-seeded green olives

½

onion

sliced thinly

2

teaspoons

extra virgin olive oil
Brine
¼

cup

lukewarm water

1

teaspoon

salt
To finish
2

tablespoons

extra virgin olive oil

extra for brushing after focaccia has baked
Instructions
In the bowl of a stand mixer, stir together warm water, dried active yeast and honey. Allow to stand approximately 10 minutes until frothy.

Using the dough hook on the stand mixer (or use your hands), add flour to the water/yeast mixture and combine until mixture comes together. Stand 5 minutes.

Add oil and salt and continue to mix for 5 minutes (or 7 minutes by hand) until smooth and elastic.

Cover the bowl with plastic wrap and allow to rise for 45 minutes to 1 hour in a warm place.

Spread 2 tablespoons of extra virgin olive oil onto baking pan with sides.

Tip the dough gently onto the oiled, 15in x 10in (38cm x 25cm) baking pan.

Press out gently to flatten slightly to degas a little. Pick up one side of the dough stretch it and fold it over to the other side. Repeat on all sides.

Gently stretch the dough to fit the pan. You will need to place your hands under the dough and stretch it. Don't worry if it doesn't fully stretch to fit. Set aside for 30 minutes. During the time you'll be able to stretch it out to fit.

After 30 minutes, make indentations with your fingers into the dough. Press in at an angle.

Press olive halves (or whole de-seeded green olives) into one half of the dough. Rub onion slices with olive oil then scatter onion slices over the other half.

Mix together brine ingredients until salt is dissolved. Pour over dimpled dough. Allow to proof for 30 minutes until puffy and bubbly.

In the meantime preheat oven to 450°F (235°C).

Sprinkle with flaky salt and bake on the centre rack for 20 minutes. Then move to the upper rack and bake for another 5-7 minutes until the top is golden brown.

Remove from the oven and immediately turn onto a wire rack. Drizzle or brush 2 tablespoons of extra virgin olive oil over the baked focaccia. Don't worry if it pools in the dimples, the oil will gradually soak into the bread.

Serve warm or at room temperature cut into large squares.