Budino al cioccolato is a rich, smooth baked Italian style pudding.
While not overly sweet, it's the perfect ending to a special meal and is guaranteed to please both children and adults alike.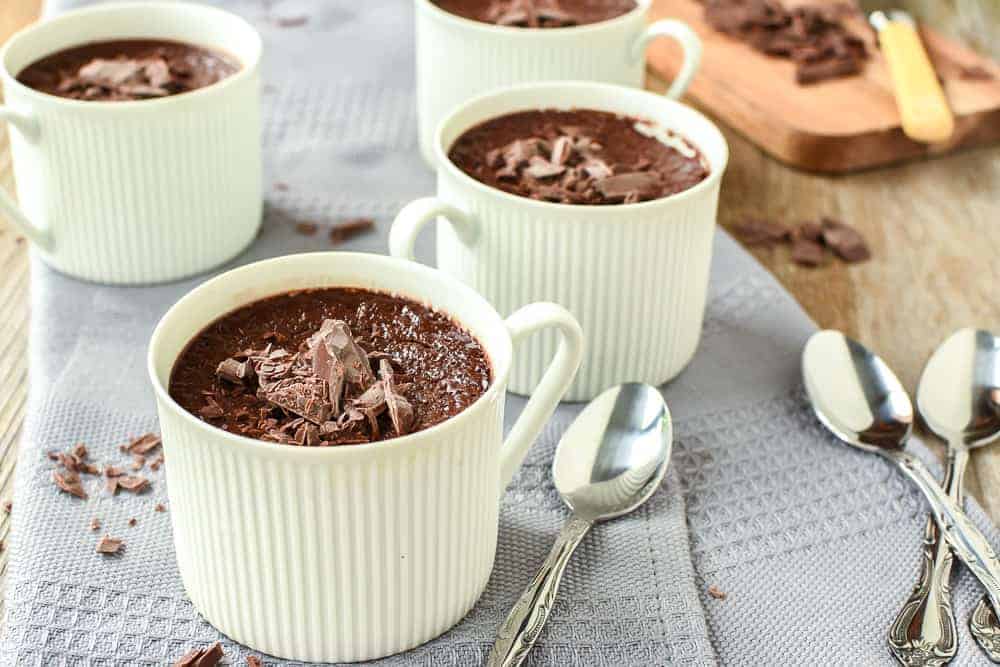 How to say Budino al Cioccolato.
Ok, so today I'm giving it to you totally Italian – Budino al Cioccolato. You might not even be able to pronounce it. But just break it up.
'bu' as in "book'
'di" as in 'delicious'
'no' as in 'not'
budino!
and cioccolato
'ciocco' as in 'chocolate'
'la' as in 'latte'
'to' as in 'Thomas'
cioccolato!
What is Budino al Cioccolato?
Budino al Cioccolato is a much loved Italian chocolate pudding. As a child I loved when dad would make budino. It was always for breakfast on a Saturday or Sunday morning.
Dad's budino was not baked like this version. It was a stirred stove top, thick custard. He would make a large pot of vanilla custard and pour half into bowls. Then stir chocolate through the remaining hot custard. The resulting chocolate custard was pour into the bowl with the vanilla custard to make two toned budino. I had to get out of bed to eat the budino warm. I somehow think it was his sneaky way of getting me out of bed. I'm a notorious sleepy head but I loved budino.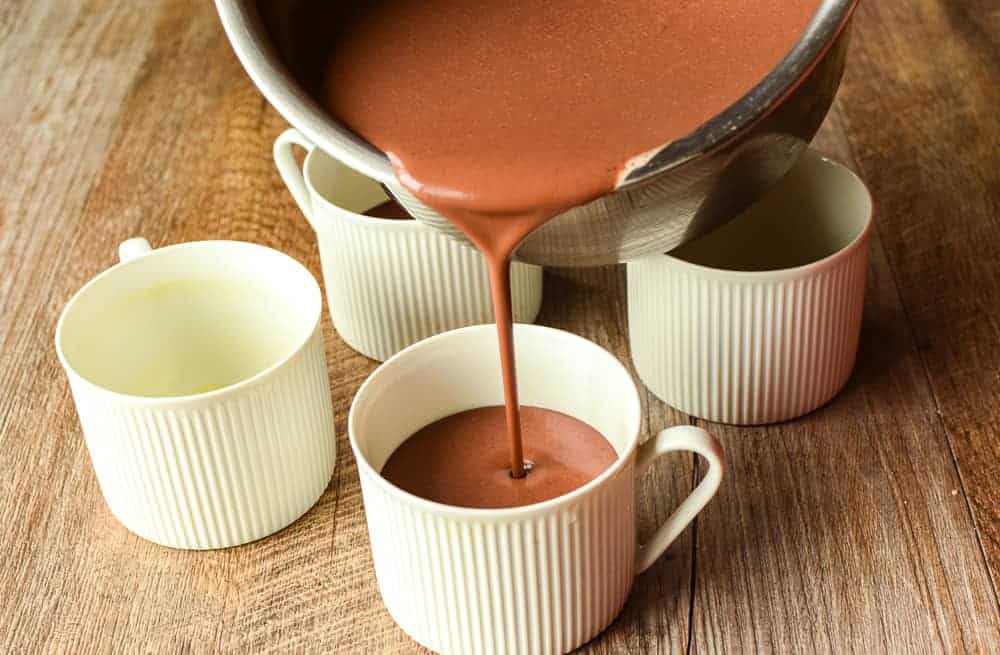 This recipe for Budino al Cioccolato.
I made lot of budino for my children while they were growing up but mostly for dessert. Tradition was always maintained with dad's recipe for two toned budino. This recipe takes all of that smooth rich budino but makes it a whole lot easier by removing the continuous stove top stirring. Plus it's  ALL chocolate!
My recipe for Budino al Cioccolato is as simple as 1, 2, 3.
simply melt the chocolate and a small amount of sugar into the milk
whisk in the other ingredients
pour into cups or ramekins and bake bain marie style.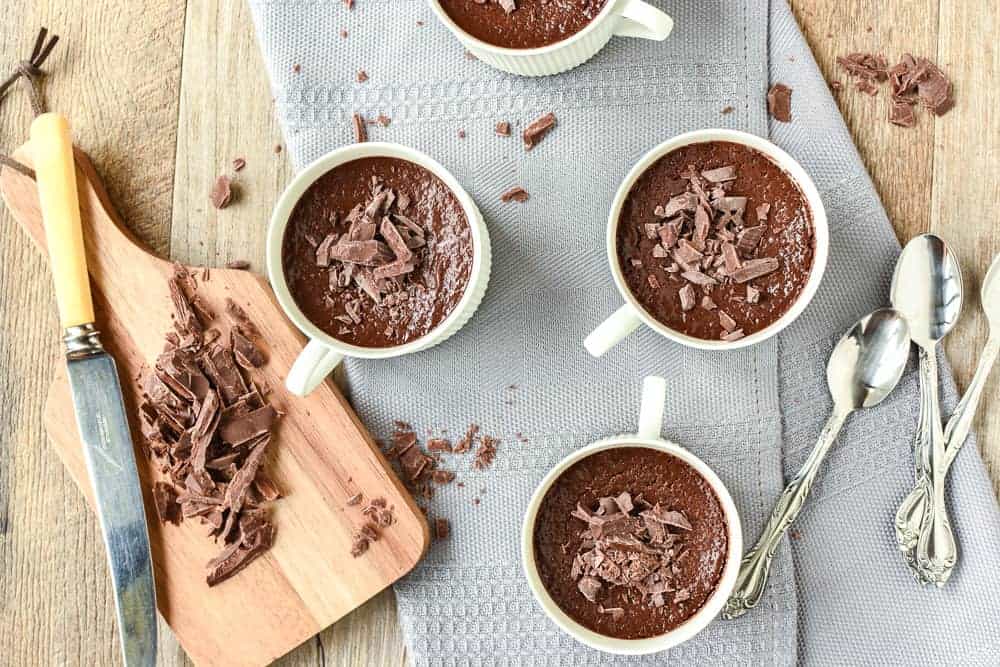 Budino al Cioccolato is one of those traditional Italian recipes that each family has their own unique way of preparing. However the result is the same comfort food that wraps you up like a big thick blanket.
I consider myself fortunate to have been taught lots of family recipes like risotto, minestrone or ragù pasta sauce. This Budino al Cioccolato pays homage to those who have gone before us and left memories of great food, made with love which ultimately is what Italian food is all about.
Baci,

Want even more? Subscribe to Marcellina in Cucina to get new recipes and a newsletter delivered to your inbox. And stay in touch on Facebook, Pinterest, and Instagram for all my latest updates.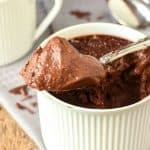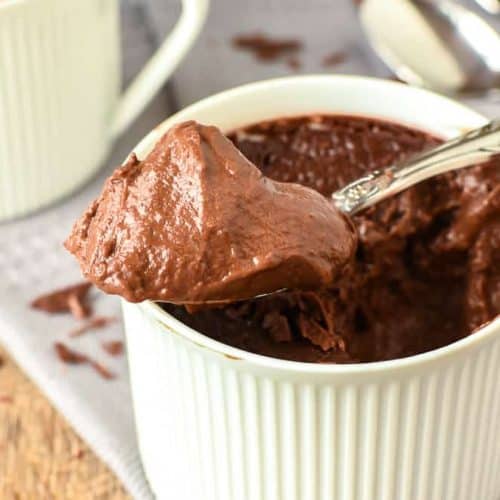 Budino al cioccolato
A rich, smooth baked Italian style pudding that is not overly sweet. It's the perfect ending to a special meal and is guaranteed to please both children and adults alike.
Course:
Breakfast, Dessert
Cuisine:
Australian,, Italian
Keyword:
budino al cioccolato
Ingredients
butter for greasing cups/ramekins

200

grams

dark chocolate

see notes

2/3

cup

whole milk

1/4

cup

sugar

1 1/2

cups

pouring cream

1/4

cup

espresso

2

teaspoons

vanilla extract

2

eggs

at room temperature

1

egg yolk

at room temperature

pinch

salt
Instructions
Preheat oven to 165C (325F).

Butter 6 200ml cups/ramekins.

Cut a piece of baking paper to fit a deep baking pan large enough to fit the 6 cups/ramekins. Cut 3 slits in the paper and line baking pan Set the cups/ramekins on the baking paper. The baking paper will help stop the water added to the pan from boiling and splashing into the budini. The slits make the paper sit well into the pan.

Have ready a kettle of boiling water.

In a large saucepan combine dark chocolate, milk and sugar. Heat gently until chocolate melts and sugar is dissolved stirring occasionally. Set aside to cool for 5 minutes.

Whisk in remaining ingredients.

Pour mixture through a sieve into a large jug or another saucepan. Sieving catches any unmelted chocolate or cooked egg bits.

Evenly divide between the cups/ramekins. Pour boiling water into baking pan until halfway up the sides of the cups/ramekins.

Bake for 35-40 minutes until set on the outside and slightly wobbly in the middle.

Remove from the oven and remove cups/ramekins from boiling water. Set aside to cool. Serve warm or at room temperature.
Recipe Notes
Use dark chocolate with 70% cocoa for best results.
Budino is best served warm or at room temperature. However these can be made ahead and refrigerated covered with plastic wrap. To serve warm each budino in the microwave for 15 to 20 seconds.
Nutrition Facts
Budino al cioccolato
Amount Per Serving
Calories 457
Calories from Fat 315
% Daily Value*
Fat 35g54%
Cholesterol 157mg52%
Sodium 61mg3%
Potassium 352mg10%
Carbohydrates 27g9%
Protein 7g14%
Vitamin A 785IU16%
Vitamin C 0.3mg0%
Calcium 108mg11%
Iron 4.3mg24%
* Percent Daily Values are based on a 2000 calorie diet.