These irresistible Mini Fruit Tarts with a luscious Italian vanilla pastry cream and colorful fruit topping will put a smile on everyone's face and make taste buds dance!
With a pie crust dough that's very forgiving and complete step by step instructions, this mini fruit tart recipe is achievable for everyone. If you're needing a recipe for a crowd, this is the one for you!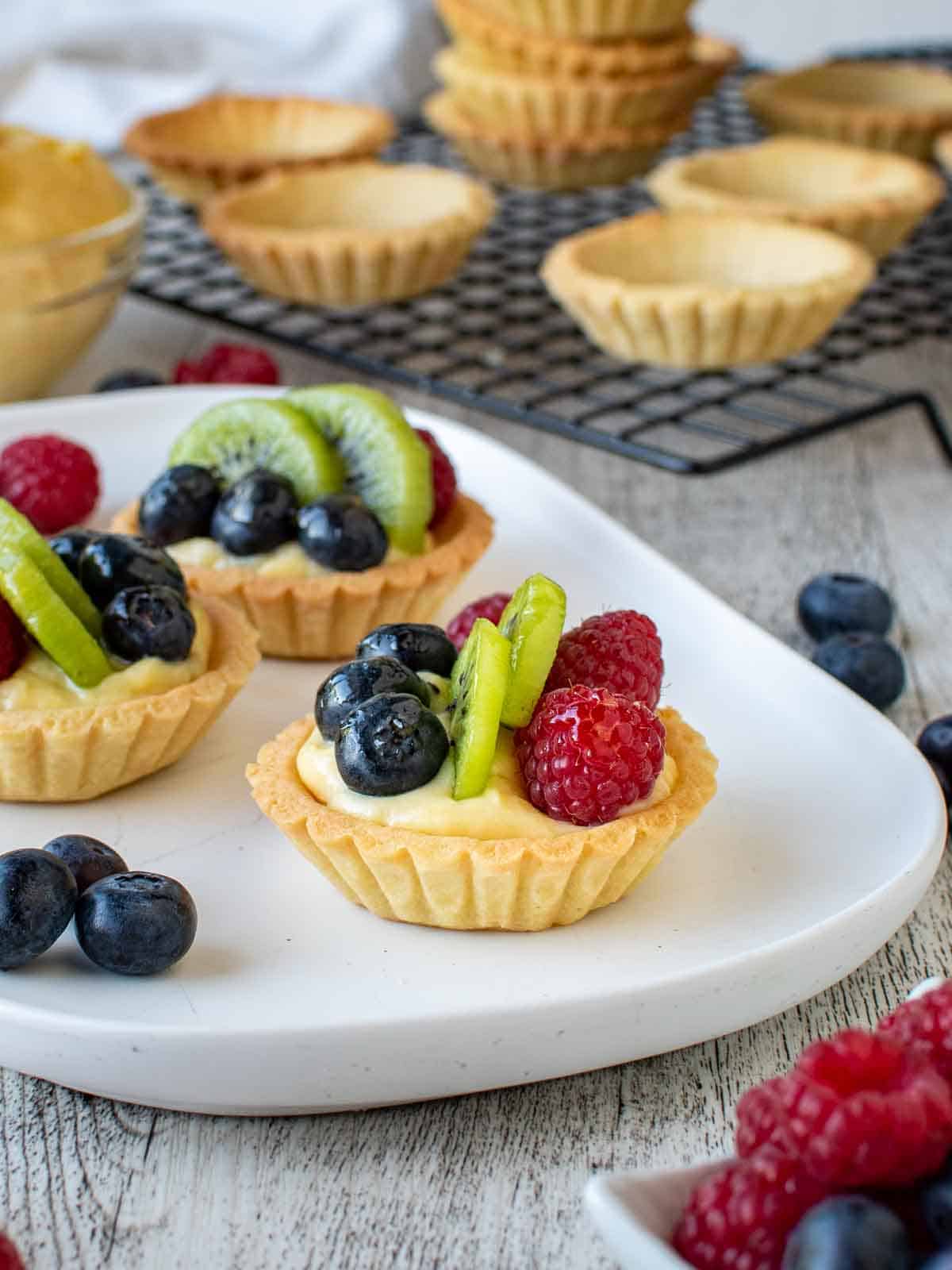 My late mother made the most delicious fruit tarts with a perfect crust that was never soggy. This recipe uses her method to make a tart dough which is known as the "creaming" method. Butter and sugar are first creamed together then the egg is mixed in followed by the dry ingredients. The benefits of the dough are that it's very forgiving, doesn't shrink as easily, and when baked is sturdy enough to not become soggy.
While they may look fancy, Mini Fruit Tarts are surprisingly easy to make because the tart crusts and the Italian pastry cream can be made in advance. It's then very simple to just fill the tartlet shells with the pastry cream and top with beautifully arranged fruit toppings. You can create a stunning Italian dessert that will always impress your family and friends!
Why you'll love this recipe
Crowd pleaser - Mini fruit tarts are great for serving at parties, gatherings and potluck dinners because both adults and children love them. Plus, there already sized for individual servings! No mess! No fuss!
Flavor: The combination of fresh fruits and the smooth Italian vanilla pastry cream together with the crisp and buttery tart shell creates the perfect combination of flavors.
Perfectly sized: These mini fruit tarts, just like my boccanotti, are meant to be shared and enjoyed with loved ones. Who doesn't want their very own, individual dessert?
Appealing - The vibrant array of colorful fruits arranged on top of each tart looks so pretty, appetizing and difficult to resist! 
Texture - The velvety Italian pastry cream filling together with the crisp tart shell and the juicy fresh fruit is a match made in heaven.
Versatile - You can get creative with your choice of fruits, using seasonal favorites or a combination of different fruits to suit your preferences. The versatility of this mini fruit tarts recipe allows for endless possibilities and ensures you can make these creamy tarts any time of the year.
For complete ingredient quantities and full instructions, please scroll to the printable recipe card bottom of the page.
Ingredients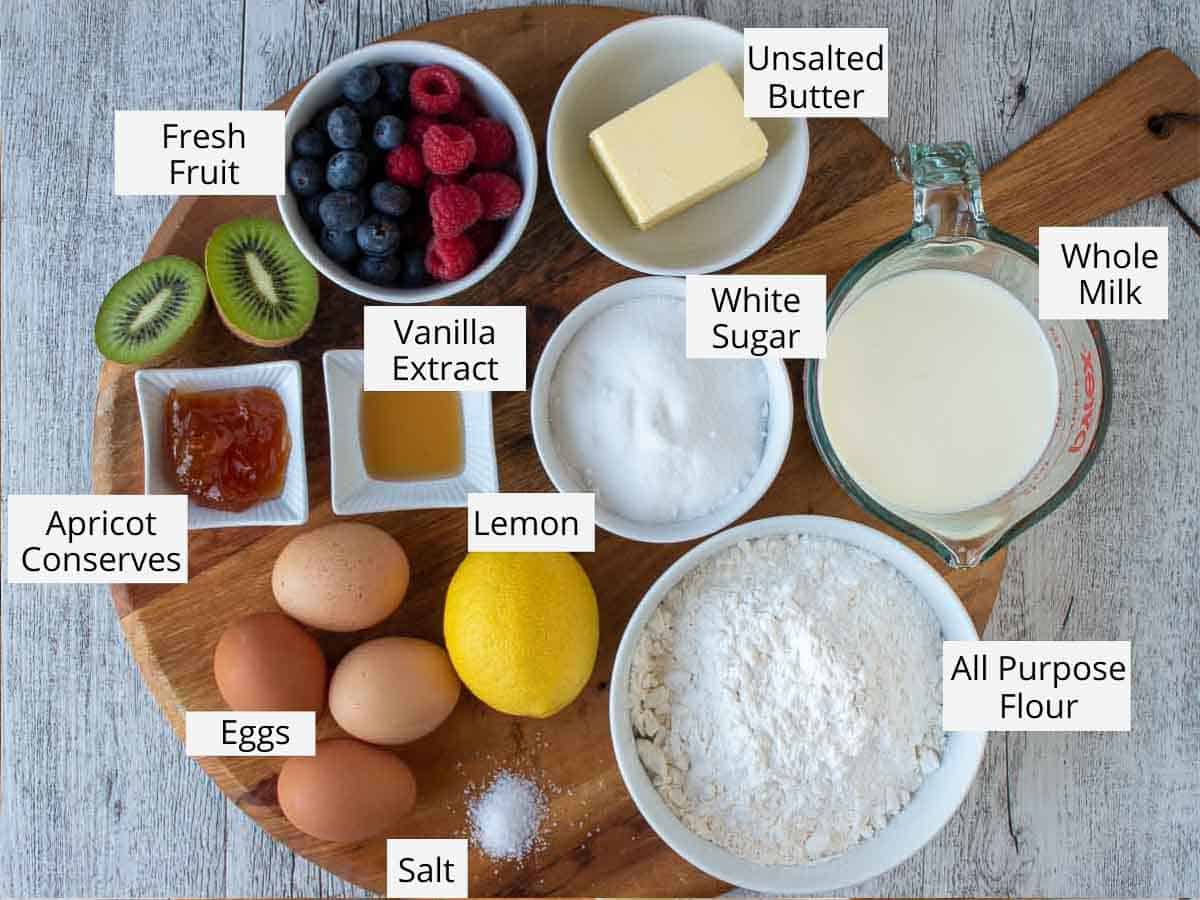 Unsalted butter - I think the quality of the butter does make a difference. However, use whatever you prefer. If you use salted butter, don't add any extra salt to the recipe.
Granulated sugar - use regular white sugar. If you have superfine (or castor) sugar that works too.
Eggs - again good quality eggs do make a difference because that's one of the key ingredients in the pastry cream. If you're working with what you've got, ensure the eggs are fresh.
All purpose flour - regular all purpose plain flour is fine. Use pastry flour if that is what you have and prefer.
Lemon zest - ensure the lemons haven't been sprayed with pesticide or at least wash them very well. Use a few drops of lemon oil instead if you don't have fresh lemons just be sure not to overdo it!
Whole milk - rich and creamy milk makes the best and creamiest pastry cream. You could substitute half of the milk for half of heavy cream for an even more indulgent dessert. Definitely don't use low fat milk in this recipe. You can instead use your favorite nondairy or lactose free milk.
Vanilla extract - be sure to buy extract and not the essence. The vanilla extract should be thick and syrupy.
Fresh fruit - choose fruit that you enjoy but also fruits that looks great together. Three different colors are always appealing arranged on the top of these mini fruit tarts. Alternatively, stick to one type of fruit on each tartlet. I like raspberries, blueberries and kiwi. But you could try a strawberries and passion fruit topping similar to what I did on my coconut panna cotta or other fruit.
Apricot conserve - just regular breakfast conserve or jam from the supermarket is perfect. You'll just need a little to add an attractive shine to the fruit. However, it's entirely optional.
See recipe card for quantities.
Instructions
While these mini fruit tarts look complicated, each component isn't too difficult. Like I say in my Cuccidati cookie recipe, be organized and take one step at a time.
First, make the pastry cream filling and let that chill in the fridge. This can be done a day or two in advance. Then make the dough and bake the tart shells. Finally, on the day of serving, you can assemble the mini tarts quickly and enjoy!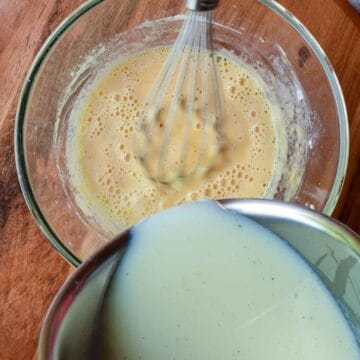 To make the pastry cream, pour the hot lemon infused milk into the combined egg yolks, sugar, and flour. Stir in vanilla extract.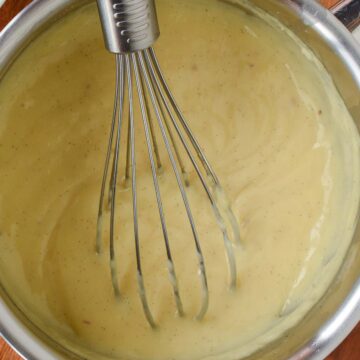 Then pour the mixture back into a saucepan and whisk over medium heat until it simmers and thickens.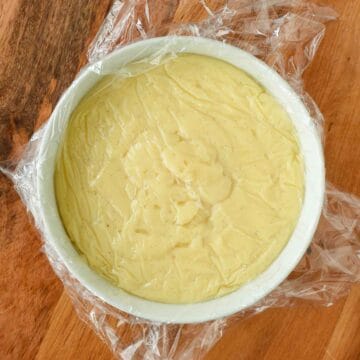 Scrape the pastry cream into a bowl and plastic wrap with the wrap pressed onto the surface. Chill.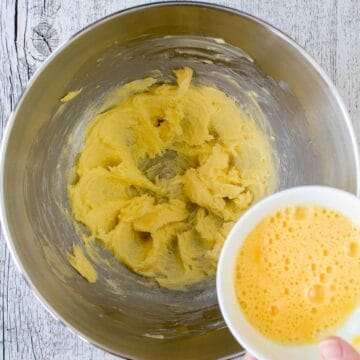 To make the tartlet crust, beat butter and sugar until creamy then add egg and vanilla.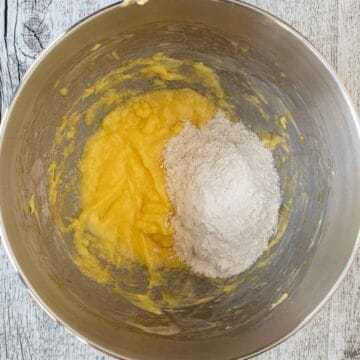 Stir in the flour and form a pastry dough.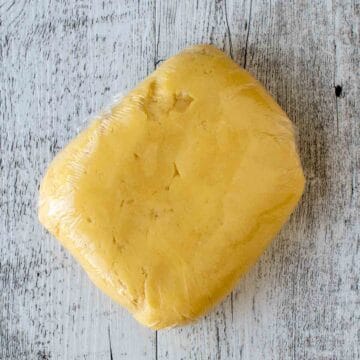 Scrape the dough out and wrap in plastic. Chill for 30 minutes.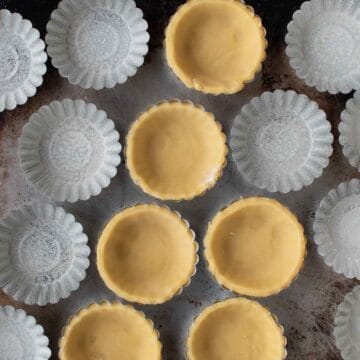 Roll out the pastry and line tartlet pans. Freeze for 30 minutes.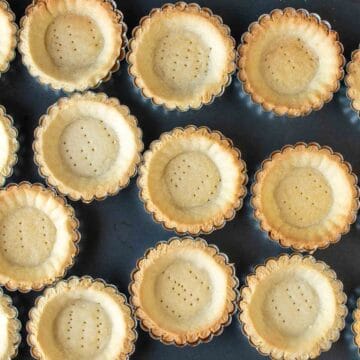 Bake at 350F for 12-14 minutes until golden around the edges. Cool.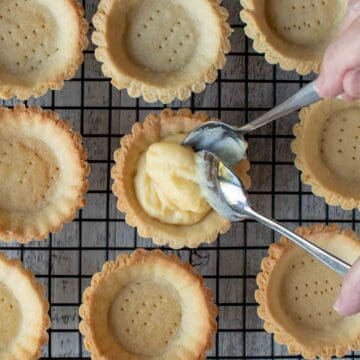 Spoon the cooled pastry cream into the tart shells.
Decorate with fresh fruit and glaze with warmed and strained apricot conserves.
Hint: If the pastry is too hard to roll out after being chilled, give it a couple of whacks with the rolling pin. This will make it pliable and easier to roll. You probably think that it would be better to let the pastry warm up but instead, this would make it harder to work with.
Substitutions
Tart bases - use store bought shortcrust pastry instead of making your own. Or use preprepared tart shells.
Pastry cream -  while I prefer the taste of homemade, in a pinch, you could use store bought vanilla pudding or instant pudding mix.
Vanilla extract - cut a vanilla bean in half and scrape out the seeds instead. Put the seeds and the pod into the milk along with the lemon peel to infuse. Alternatively, use ½ a teaspoon of vanilla bean paste.
Variations
Lemon zest - substitute with orange or other citrus zest for a slight variation in taste.
Chocolate - melt a little chopped chocolate into the hot pastry cream for a mini chocolate tart recipe!
Fruit - Vary the fruit to what's in season or what you prefer.
Equipment
Other than the usual baking equipment such as bowls, a saucepan, wooden spoons, spatulas, and measuring cups and spoons, you'll need a few extra items to make these mini fruit tarts. While not completely necessary an electric mixer is handy when creaming the butter and sugar. You will need a rolling pin, some parchment paper, and a cookie cutter or a knife to cut circles large enough to line the mini tart pans.
That brings me to the most essential piece of equipment - the mini tart pans or tart molds. I purchased 25 inexpensive, mini tart pans online made of aluminum and measuring 2.75 inches (7cm) across the top and 0.94 inches (2cm) deep. The sides are sloping into a smaller base.
Storage
The mini tart shells can be baked 3 days in advance. Store cooled tart shells in an airtight container at room temperature. Baked or unbaked tartlet shells can be frozen for up to 1 month.
Make the pastry cream and store it in the refrigerator for up to 4 days. Be sure to keep it well covered so that the pastry cream doesn't absorb fridge odors. Not suitable for freezing.
It's best to assemble the mini fruit tarts on the day of serving and store them in the fridge until ready to serve. Any leftovers will keep for a day or two in the fridge. Store in an airtight container.
The assembled fruit tarts are not suitable for freezing.
Top tip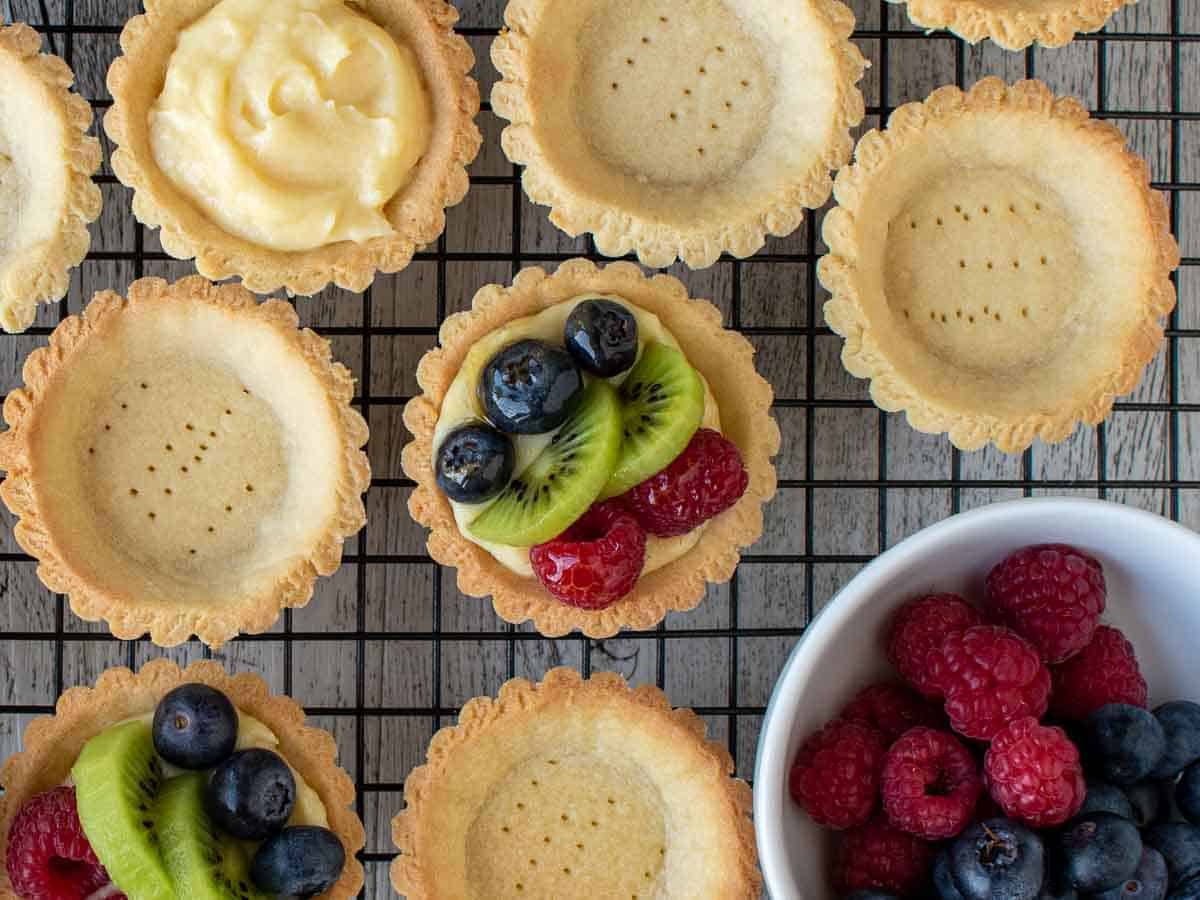 Unlike many other pie dough recipes, this method requires the butter and eggs to be at cool room temperature. The butter should be just soft enough that when pressed with your finger it leaves an indent but is not melting.
When preparing the tartlet dough, take care not to overbeat the butter and sugar which will add air into the mixture. Similarly, add the beaten egg slowly and until just incorporated. Once the flour is added, be gentle and don't knead heavily.
Chilling the dough twice is one of the keys to creating the best tartlet shells. The first time wrapped in plastic just after the dough comes together and the second time after you've lined the tartlet pans with the dough. To ensure top results, don't skip these steps!
The pastry cream is essentially a thickened custard filling that must be boiled for a minute or so to cook the flour. Let it cool completely in the fridge before filling the baked tart shells. Finally, top with sliced or whole fresh fruit that has been dried thoroughly after washing.
FAQ
What can I use if I don't have a mini tart pan?
If you don't have a mini tart pan, use muffin pans to make this recipe. Simply cut out a circle of pastry and ease into the muffin pans. Be sure to spray the muffin pan with non stick cooking spray before lining it with pastry. The pastry doesn't have to come right up the sides.
How do you keep fruit tarts from getting soggy?
Use this recipe for tarts if you don't want them getting soggy. It is crisp when baked and doesn't get soggy as quickly as shortcrust pastry. However, if you want to be extra sure, brush the baked tart shells with sieved apricot conserves before adding the tartlet filling. This will provide a barrier between the tart shells and the pastry cream.
How to decorate mini fruit tarts?
You can decorate mini fruit tarts with whatever fruit is fresh and delicious! Choose berries that can be used whole or sliced fruits like kiwi, peaches, apricots or plums. You can use all of one fruit or a combination of fruits. Think about how the colors look together and choose colors that contrast and complement each other. Brush with a little apricot conserve to add shine and appeal to the fruit topping.
Serving Suggestions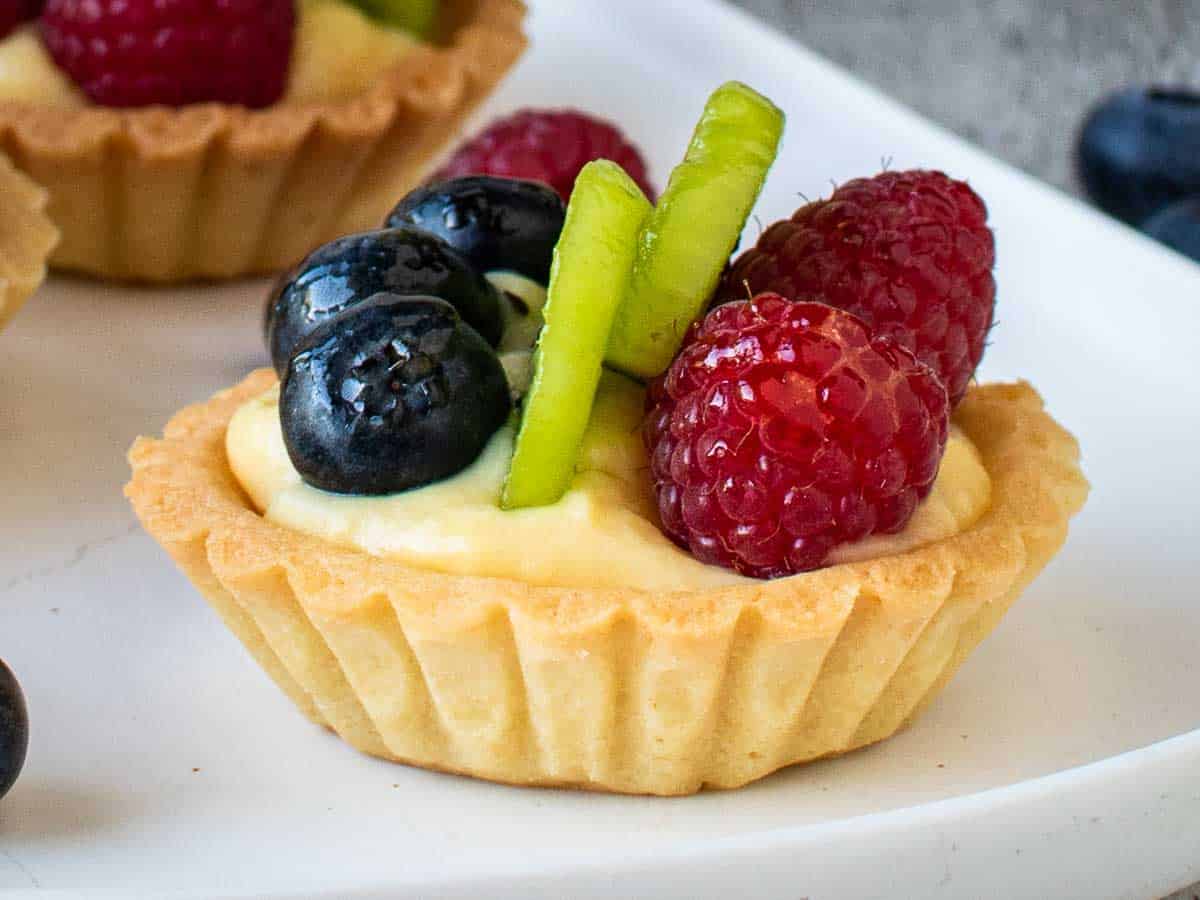 Serve these delicious Mini Fruit Tarts as a dessert or with coffee as a snack. These are such a crowd pleaser and very popular at parties and gatherings. Pile them onto a plate and maybe include this super easy puff pastry with Nutella for such occasions.
Because mini fruit tarts are a slightly healthier alternative to heavier desserts, I like to serve them after an indulgent meal like chicken sorrentino or calamarata pasta. These delicious mini tarts are a lighter option that still satisfies your sweet tooth.
Made this recipe?
Let me know if you liked it by leaving a ★★★★★ star rating and a review below. Don't forget to subscribe to my newsletter - it's free!
Recipe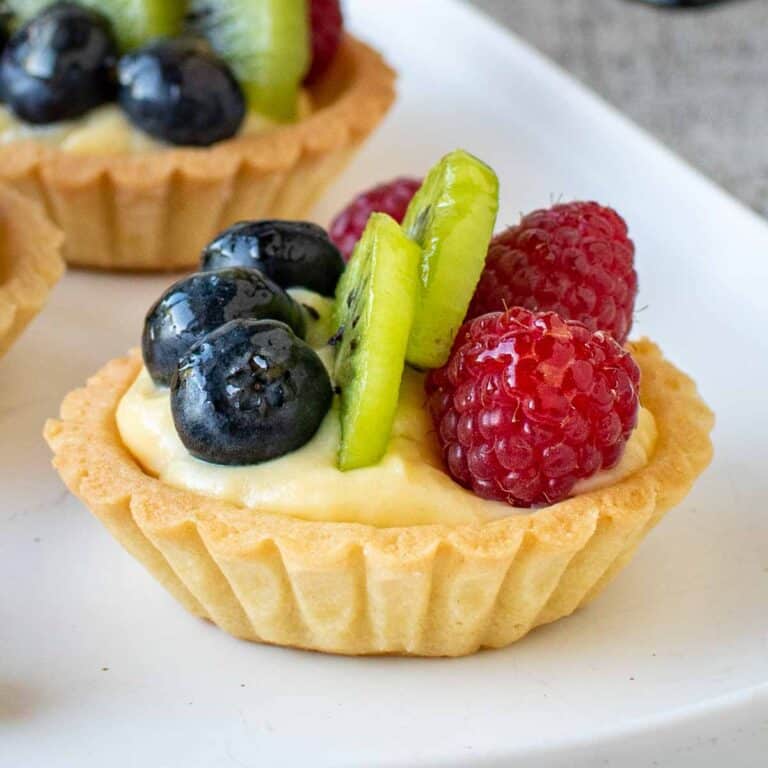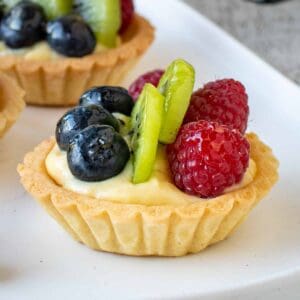 Mini Fruit Tart Recipe
With crisp tartlet shells, a creamy filling and a colorful topping of fresh fruits, these mini fruit tarts are guaranteed to please!
Print
Pin
Rate
Ingredients
Italian Pastry Cream
1 ½

cups

(

354

mls) whole milk

a strip of lemon rind

3

egg yolks

⅓

cup

(

66

grams) granulated sugar

¼

cup

(

30

grams) all purpose flour

1

teaspoon

vanilla extract
Tartlet crust
4

ounces

(

120

grams) unsalted butter

at room temperature

⅓

cup

66

grams) granulated sugar

1

teaspoon

finely grated lemon zest

1

egg

at room temperature

2

cups

(250 grams) all purpose flour

Pinch of salt
Fruit Tart Glaze
1

tablespoon

apricot jam or conserve

Water as needed
Fruit Topping
4

oz

(

115

grams) blueberries

4

oz

(

115

grams) raspberries

2

kiwi fruits
Instructions
To make the Italian pastry cream
Place the milk and a strip of lemon zest in a medium saucepan over medium heat until the milk is hot. You'll see the steam rising. Don't boil. Set aside.

In a bowl whisk egg yolks, sugar and flour until smooth. This mixture must be smooth.

Remove a strip of lemon zest from the heated milk and discard.

Slowly whisk hot milk into the egg yolk mixture. Stir in the vanilla extract.

Pour the mixture back into the saucepan and place over medium heat.

Whisk constantly until the mixture comes to a boil and thickens.

Simmer for 1 minute to cook the flour.

Pour pastry cream into a bowl and plastic wrap with the wrap pressed onto the surface.

Allow to cool for 10-15 minutes then refrigerate until cold.
To make the tartlet crusts
Using an electric mixer beat the butter until creamy

Add the sugar and lemon zest and beat until just combined.

Break the egg into a small bowl and beat lightly with a fork. Add egg gradually beating well after each addition. Don't over beat or the dough will be hard to work with.

Use a wooden spoon to work the flour and salt into the butter mixture.

Turn onto a lightly floured surface and knead very lightly until smooth. This won't take much. Don't be heavy handed or it will toughen the dough.

Pat the dough into a flattened circle and wrap it well in plastic. Chill for 30 minutes.

Spray the mini tart pans with cooking or baking spray.

Divide the dough in half. Rewrap and return the second piece to the fridge.

Press down the dough to flatten and form a rough circle. Dust the pastry lightly with flour. If it's too hard to roll, give it a whack with the rolling pin a few times.

Roll out it between two sheets of non-stick parchment paper to ¼ inch (5mm) thickness. If the pastry is sticking, dust it with a little more flour. If you see cracks forming, flip the dough over and continue.

Remove the top sheet of parchment paper and use a cookie cutter (I used a round cutter 3 7/16 inch or 88mm) or knife to cut circles to fit the mini tart pans. Trim the edges level to the top of the mini tart pans.

Freeze the lined mini tart pans for 30 minutes

Bake at 350ºF (180ºC) for 12-14 minutes until golden around the edges.

Carefully remove the baked tartlets bases and set them on a wire rack to cool.
Fruit Tart Glaze
To add a shiny glaze to the fruit, just heat a spoonful of apricot conserves in the microwave then pass through a fine mesh strainer.

Use a pastry brush to brush this glaze onto the fruit.

If the glaze is too thick add a little bit of water to thin to your desired consistency.
To assemble
Wipe the blueberries and raspberries. If you need to wash the berries, dry them very well with kitchen paper.

Peel the kiwi fruits, and slice them in half lengthwise. Slice each into half moon slices.

Spoon some Italian pastry cream into the tartlet bases allowing space for the fruit and spreading it flat.

Arrange the fresh fruit on the pastry cream slightly pushing the fruit into the tartlet filling.

Brush lightly with fruit tart glaze.

Refrigerate until serving.
Notes
Tips for Success
For the tartlet dough, have butter and egg at room temperature. Butter shouldn't be melting just soft enough for your finger to make an indentation.

Don't overcream the butter and sugar for the tartlet dough and knead lightly.

Chilling the dough twice is one of the keys to creating the best tartlet shells. 

For the pastry cream, be sure to boil for a minute to cook the flour then let it cool completely in the fridge. 

Carefully sliced large fruit. Whole fresh fruit needs to be dried thoroughly after washing.
For more tips and FAQ's, read the post above.
Tried this recipe? Give it a star rating and leave a comment below!
Nutritional Estimate Per Serving
Calories:
194
kcal
|
Carbohydrates:
27
g
|
Protein:
4
g
|
Fat:
8
g
|
Saturated Fat:
5
g
|
Polyunsaturated Fat:
1
g
|
Monounsaturated Fat:
2
g
|
Trans Fat:
0.2
g
|
Cholesterol:
65
mg
|
Sodium:
17
mg
|
Potassium:
103
mg
|
Fiber:
1
g
|
Sugar:
12
g
|
Vitamin A:
296
IU
|
Vitamin C:
11
mg
|
Calcium:
45
mg
|
Iron:
1
mg
Nutritional Disclaimer
Nutritional information is an estimate provided by an online nutrition calculator. For accurate results, it is recommended that the nutritional information be calculated based on the ingredients and brands you use.