This Chicken Pomodoro is the recipe that you've been looking for.
Make truly tender chicken breasts with a flavorsome tomato sauce in 30 minutes! Plus all the family will be happy - from those who want lots of protein to the fussiest little ones. It's all here!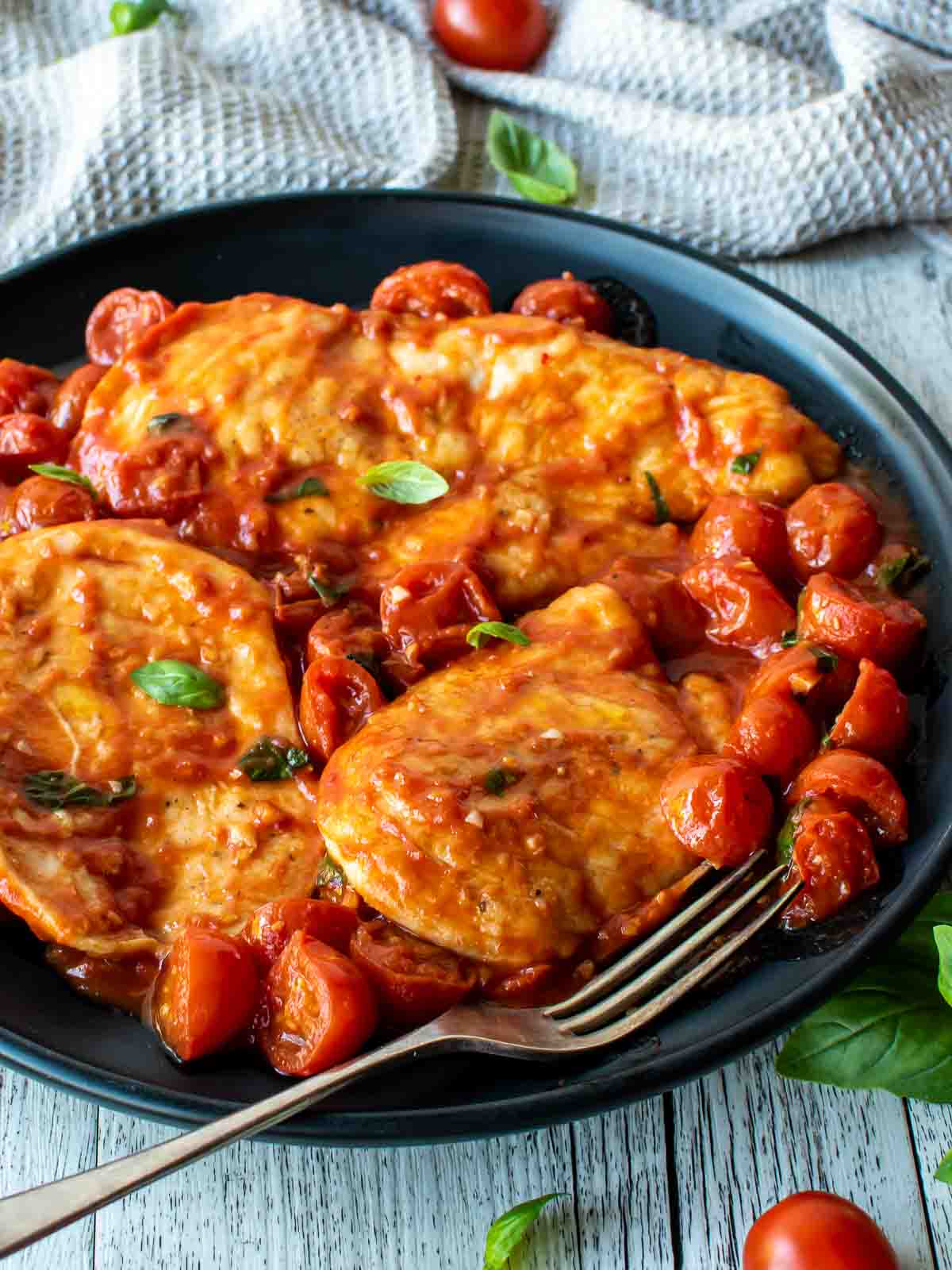 Consisting of chicken breasts in a pomodoro sauce, Chicken pomodoro is a absolute crowd pleaser. But sometimes, chicken breast can be dry. Not in this case. Of course, being bathed in a fresh tomato sauce helps retain moisture. However, it's one simple step before frying the chicken cutlets that makes this Chicken Pomodoro extra tender and you won't want to miss it.
By now you may be wondering what is pomodoro sauce made of. Pomodoro sauce is a base recipe in Italian cooking consisting of tomatoes, olive oil, garlic or onions and basil or oregano. It's very versatile and variations of it a used in so many recipes from Calamarata Pasta to Italian Sausage Meatballs in sauce.
In Italy, it's common to have the base of a dish be a pomodoro sauce like Gnocchi alla Sorrentina and Eggs in Purgatory. These recipes are the favorites of home cooks and their families who love making "la scarpetta" with the last of the sauce on their plate. The phrase "fare la scarpetta" literally means 'to make a little shoe" from a piece of bread to mop up all of the remaining delicious sauce. Chicken Pomodoro is exactly that type of dish so don't forget the bread!
Why you'll love this recipe
Flavor: The combination of both fresh and pureed tomatoes, garlic, basil, and olive oil in the sauce creates a burst of deliciousness in every bite.
Perfect Tender Chicken: Using one extra step before frying the chicken ensures tender chicken bread every time!
Healthier: With its inclusion of fresh tomatoes and basil, homemade Chicken Pomodoro can be a healthier alternative to some heavier, indulgent dishes.
Appealing Aroma: Your kitchen will be filled with the most tantalizing smells as the chicken, tomato and basil combine. The mouth-watering aroma will make it irresistible.
For complete ingredient quantities and full instructions, please scroll to the printable recipe card bottom of the page.
Ingredients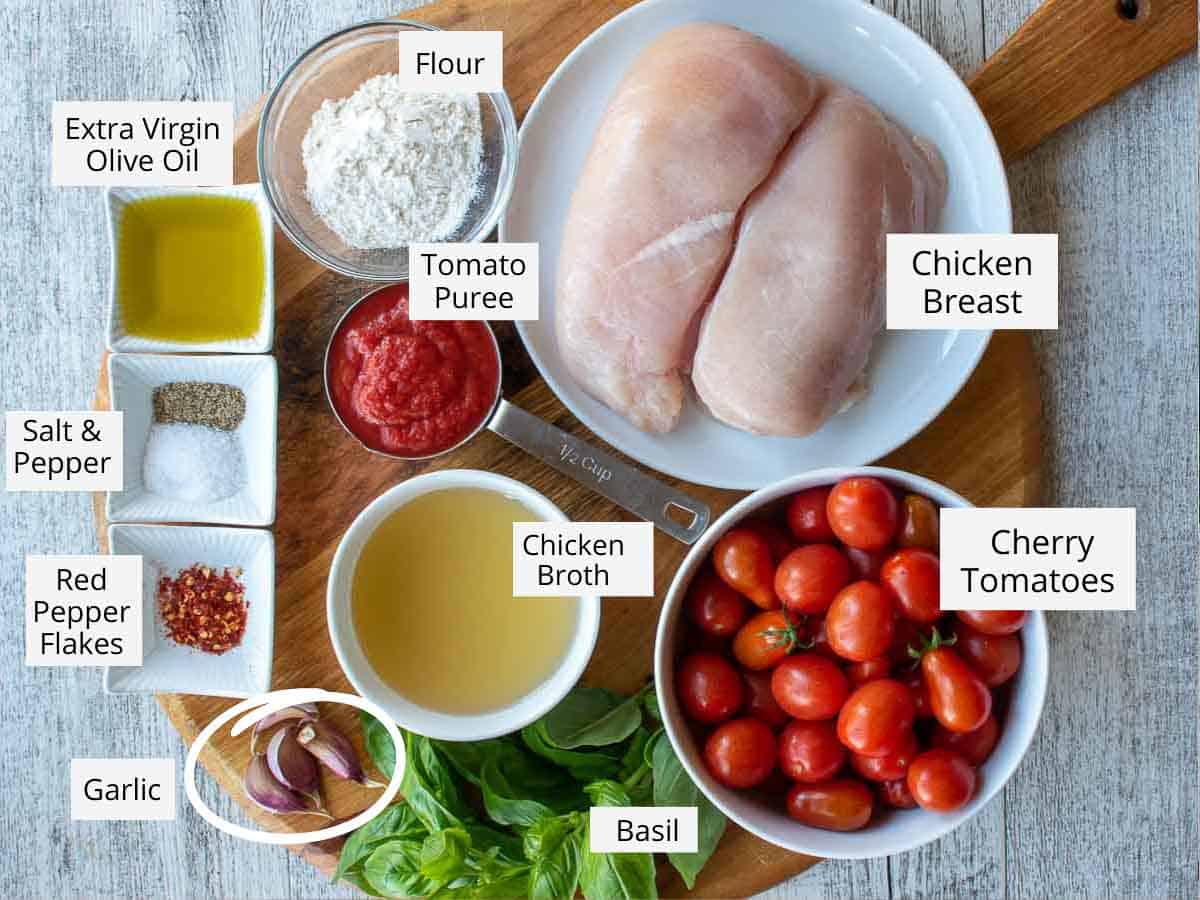 Fresh, good quality ingredients are essential when preparing simple Italian recipes like this Chicken Pomodoro.
Chicken breasts - choose good quality boneless and skinless chicken breasts. You'll be cutting them into chicken cutlets so if you prefer purchase those instead. This will make this chicken pomodoro recipe even easier.
Flour - just regular all purpose flour is needed. While not traditional, I find that dredging the chicken in flour before frying locks in the moisture making the end result extra tender!
Salt and black pepper - remember to adjust to your taste. Always taste your food and adjust the seasoning to how you like it.
Extra virgin olive oil - choose an oil that you like the taste of but it should be a good commercial extra virgin olive oil. Leave the expensive artisan extra virgin olive oil for the final drizzle on Italian roasted vegetables that you can serve as a side dish.
Garlic - fresh garlic cloves are best for this recipe. However, if you're all out of fresh garlic, use ½ teaspoon of garlic powder instead
Fresh cherry tomatoes - pick out the ripest cherry tomatoes you can find. They will be the sweetest. Mine were from the garden so they're a mixture of fresh cherry tomatoes and some tiny pear shaped tomatoes.
Dried red pepper flakes - red pepper flakes lose intensity at room temperature so if you don't use this a lot, store in the freezer. Keep this in mind when you buy a new jar, it will probably have more flavor and heat than the one that you just finished.
Tomato puree - look for a thick tomato puree that contains no additives. It should be just pure tomato with maybe a little bit of salt. Tomato passata will also work.
Chicken broth - or stock is fine. A decent one from the supermarket is fine.
Fresh basil leaves - basil is very perishable so don't buy this in advance. Dried basil isn't a good substitute.
See recipe card for quantities.
Instructions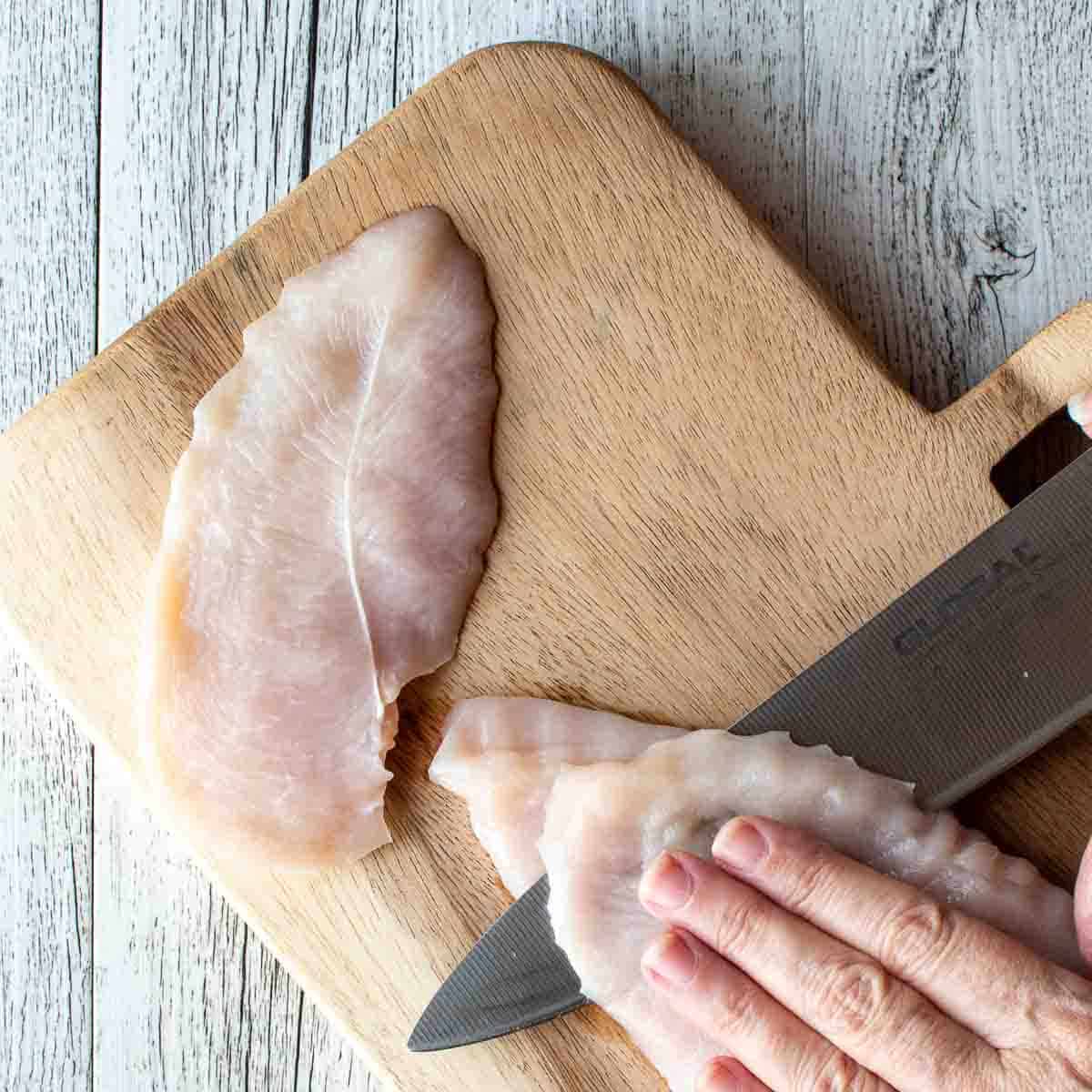 Fillet the chicken breast into thinner cutlets.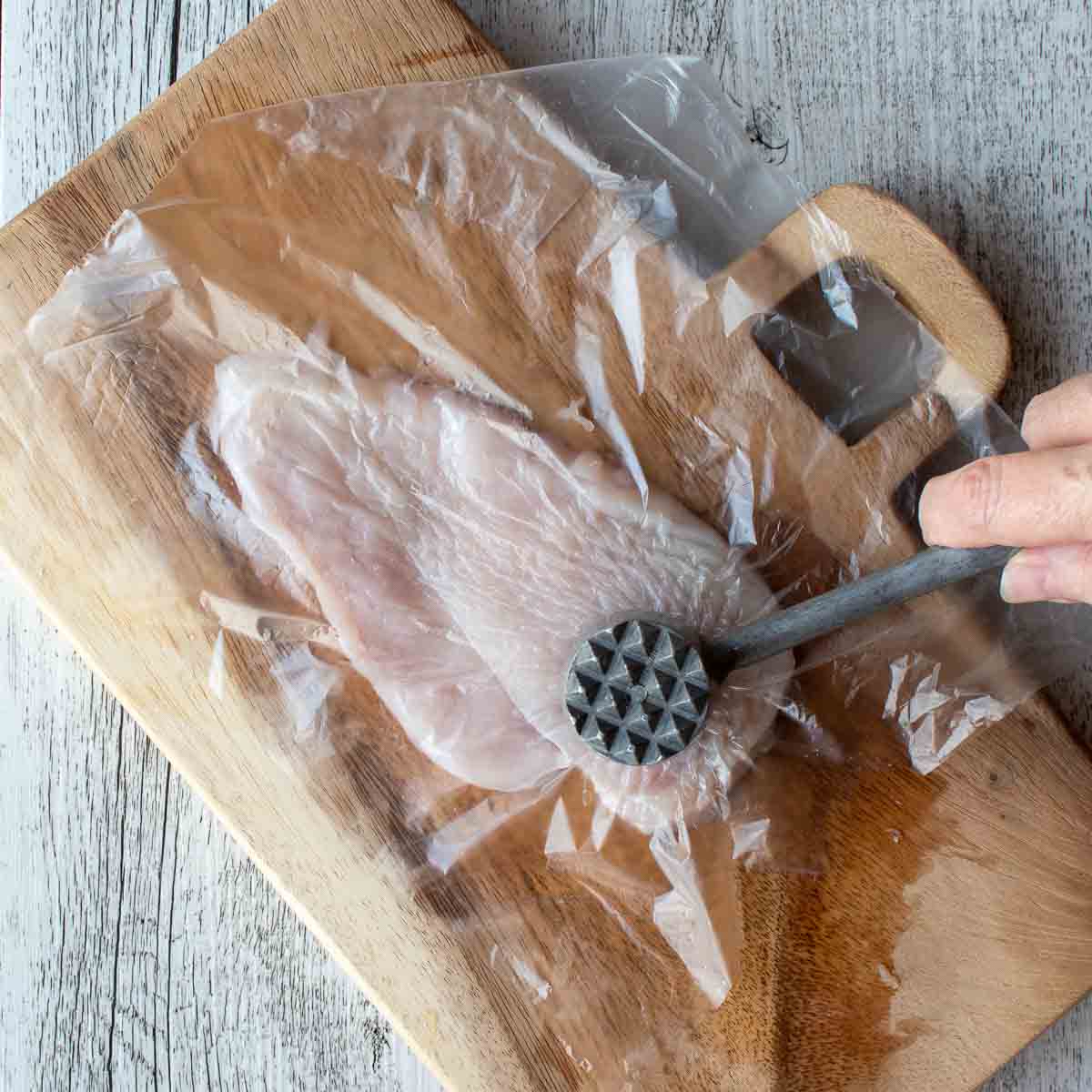 Pound the chicken with a meat mallet to tenderize and thin.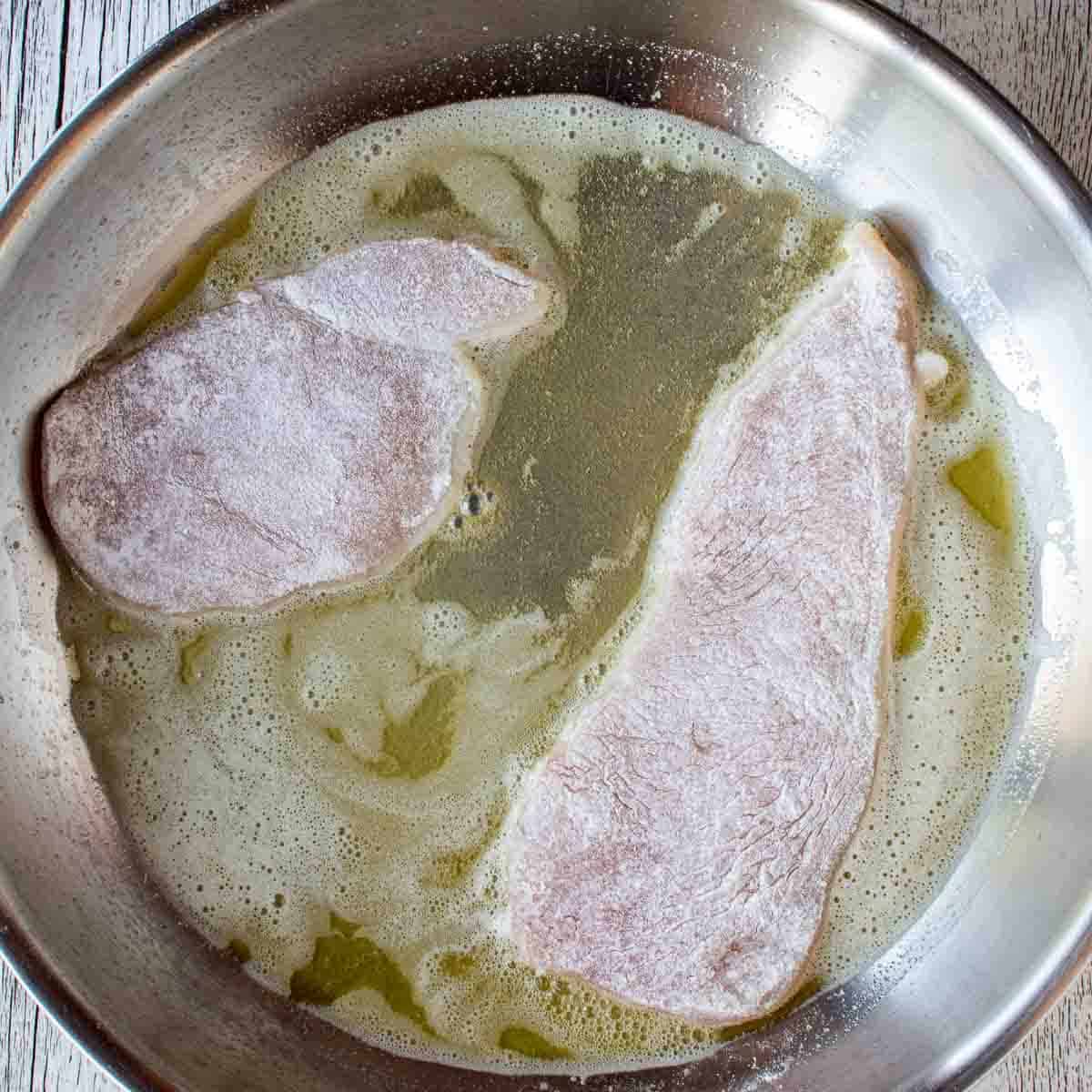 Dredge in flour and seasoning then fry the chicken breast cutlets in olive oil. Remove and keep warm.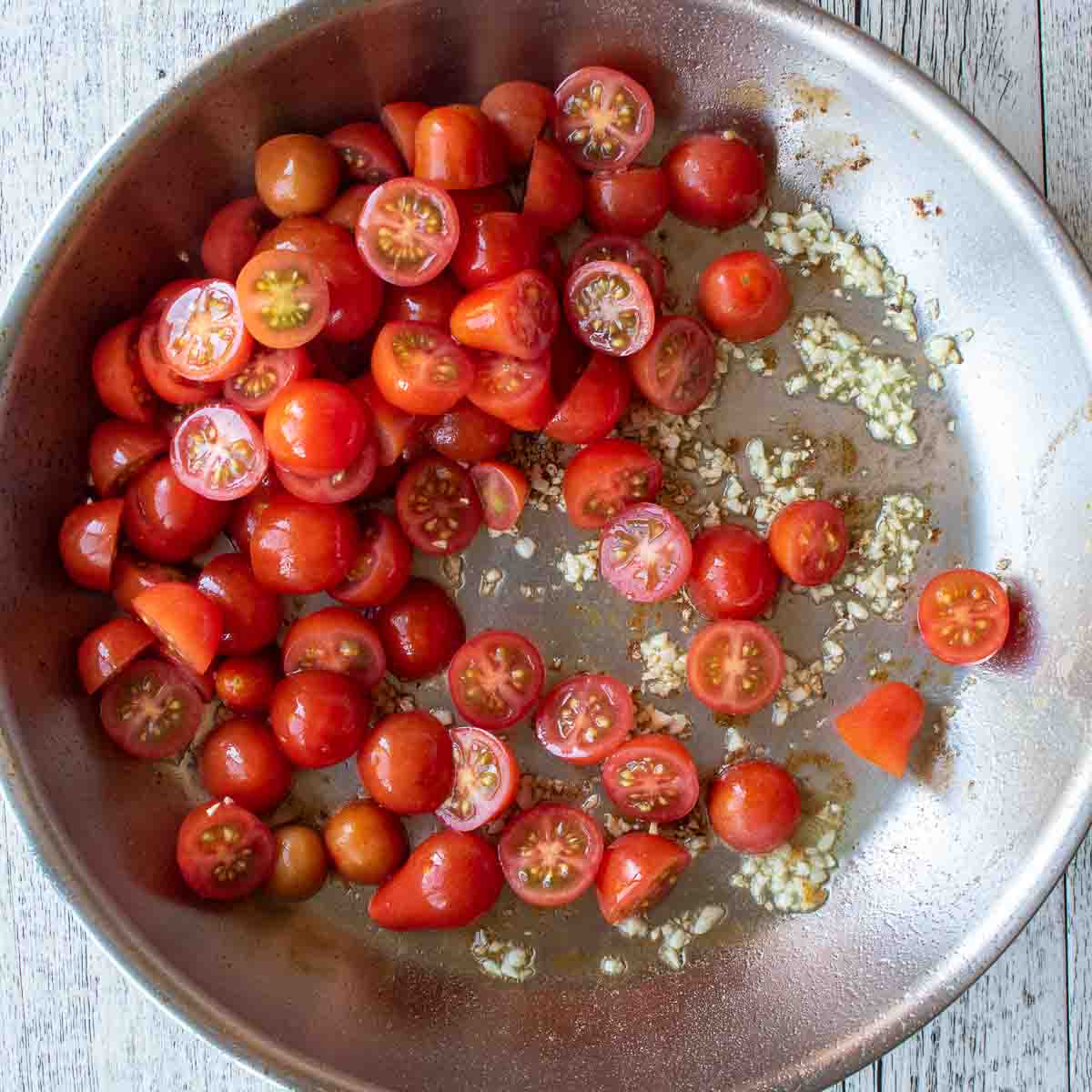 In the same pan, cook garlic and halved cherry tomatoes until the tomatoes start to soften.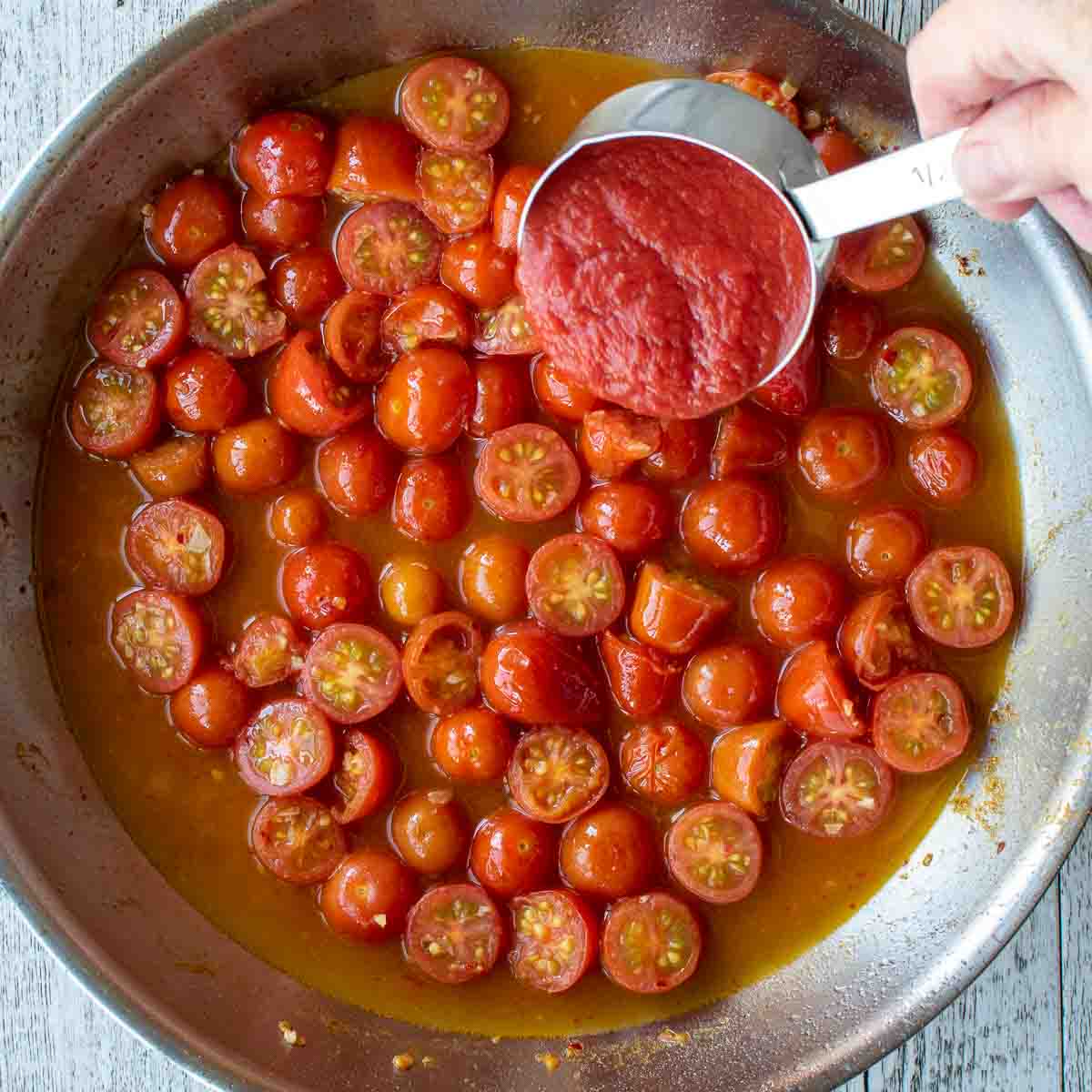 Stir in the chicken broth, tomato puree, and red pepper flakes. Reduce the heat and let the sauce simmer until slightly thickened.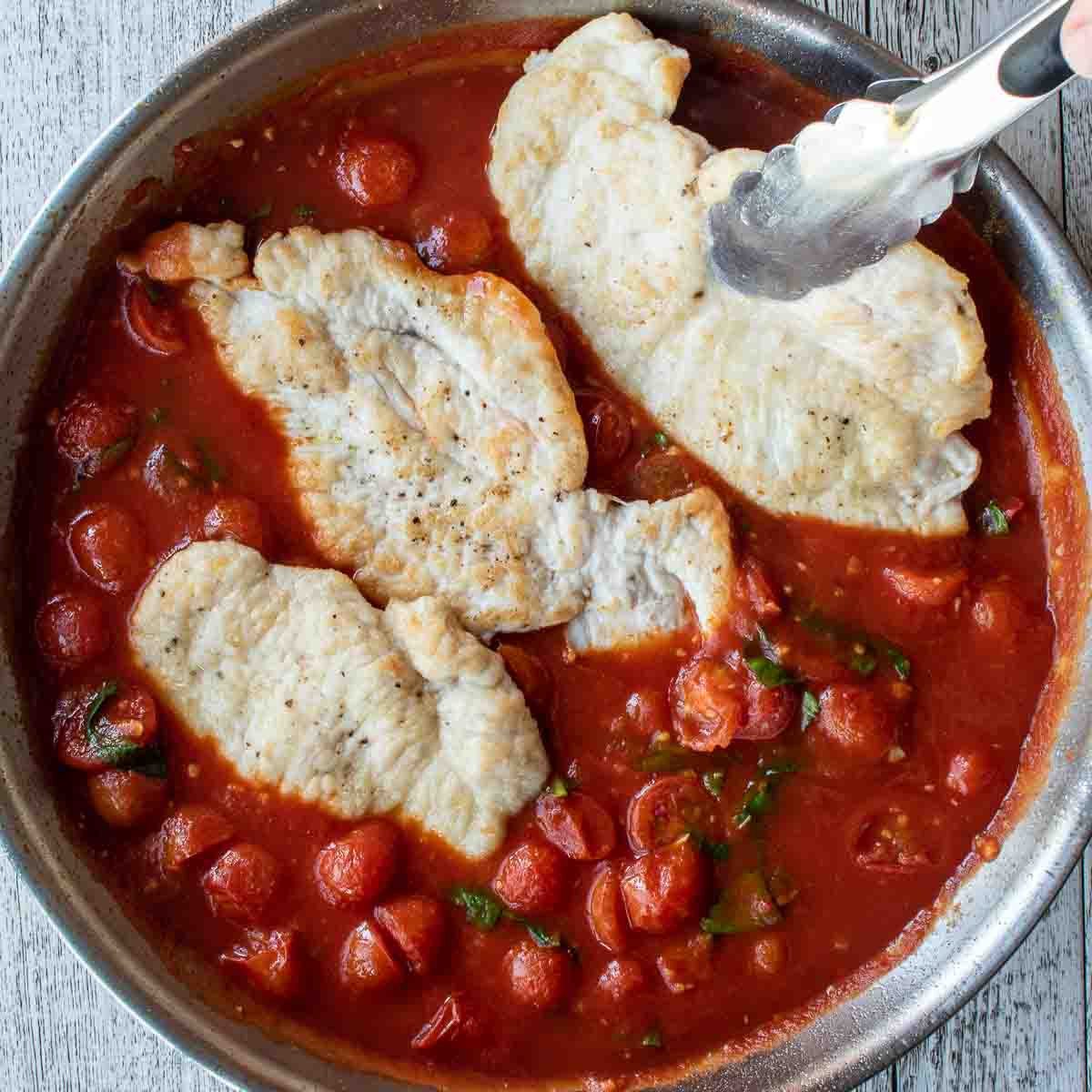 Stir the chopped fresh basil through the sauce then return the cooked chicken breasts to the pan to heat through and absorb some sauce.
Transfer to a serving plate and garnish with extra fresh basil leaves. Or serve directly from the pan.
Hint: After dredging in flour, brown the chicken cutlets in batches adding more oil to the pan if needed. Overcrowding the pan will cause the temperature to drop and the chicken won't cook properly. There should be enough room in the pan so that you can turn each piece easily.
Substitutions
Cherry tomatoes - use any tomato that is fully ripe and sweet. The success of this recipe is choosing the best and ripest tomatoes. You could choose Roma, grape, tomatoes on the vine to name a few. If large, just cut into small chunks.
Tomato puree - the tomato puree can be replaced with crushed canned tomatoes.
Fresh basil leaves - while not the same if you really can't get fresh basil leaves, use 1 teaspoon of dried oregano instead.
Variations
Spicier - you can make chicken pomodoro spicer by increasing the amount of red pepper flakes.
Kid friendly - omit the red pepper flakes to make a milder version of this recipe that kids will love!
Chicken pomodoro pasta - Double the ingredients for the sauce to make this recipe with pasta. To serve, stir the sauce through cooked pasta of your choice and serve alongside the chicken.
If you love this recipe, you must try this cheesy version known as Chicken Pizzaiola
Equipment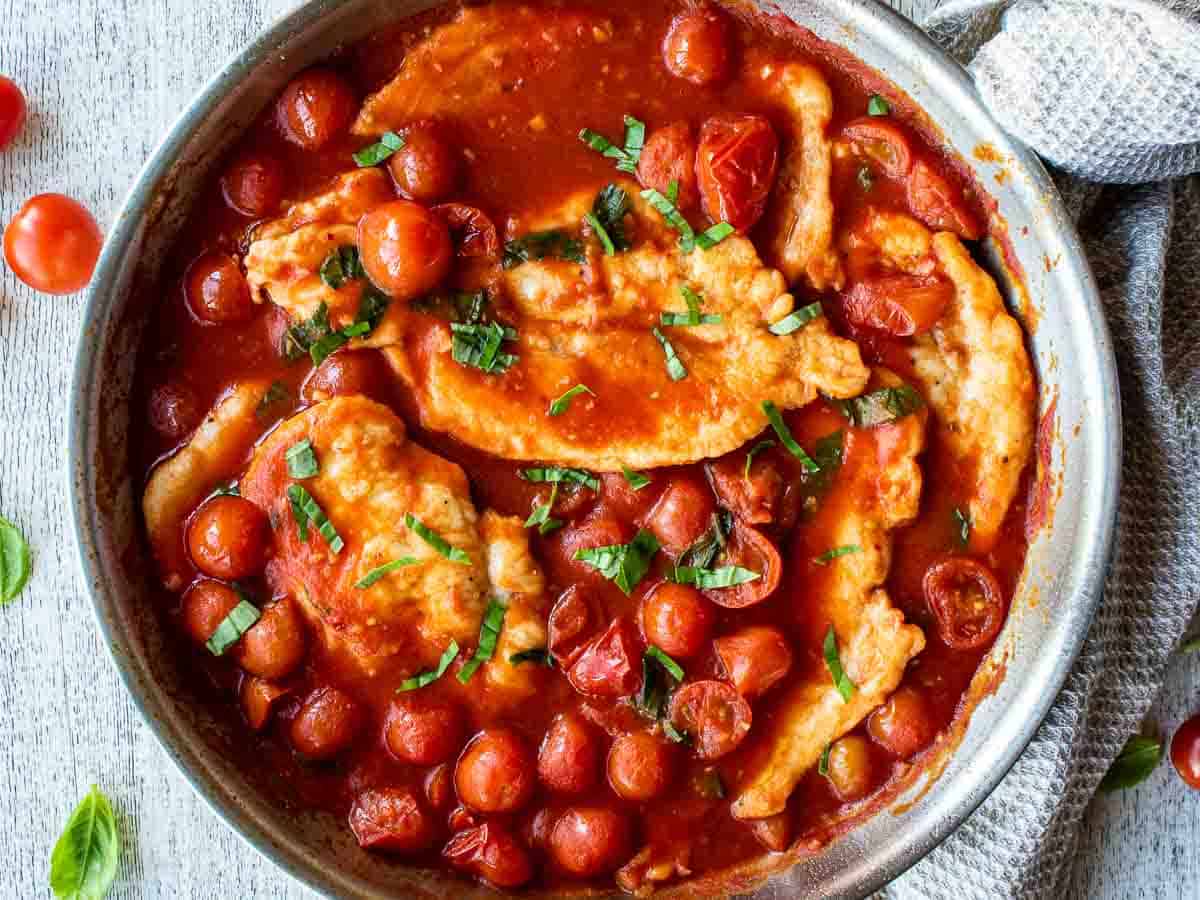 A large skillet or fry pan is needed for this recipe. It's not necessary for the skillet or fry pan to be non-stick but it needs to fit the chicken cutlets. A little bit of overlapping chicken is fine but the pan needs to be large enough not to be crowded.
A cutting board plus sharp knives, a meat mallet and the usual kitchen equipment of spoons, spatulas and measuring cups and spoons is needed for this recipe. If you don't have a meat mallet, you can use a rolling or even a heavy skillet to gently pound the chicken.
Storage
I don't recommend making this recipe in advance but it's so quick and easy that it won't be a problem. Reheating can overcook the chicken making it dry and stringy.
Store leftovers in a sealed container in the fridge for 3-4 days. Chicken pomodoro leftovers can also be frozen for up to one month. Thaw then reheat gently in a pan or in the microwave. It won't be as good as freshly cooked Chicken Pomodoro but it's preferable to wasting food.
Top tip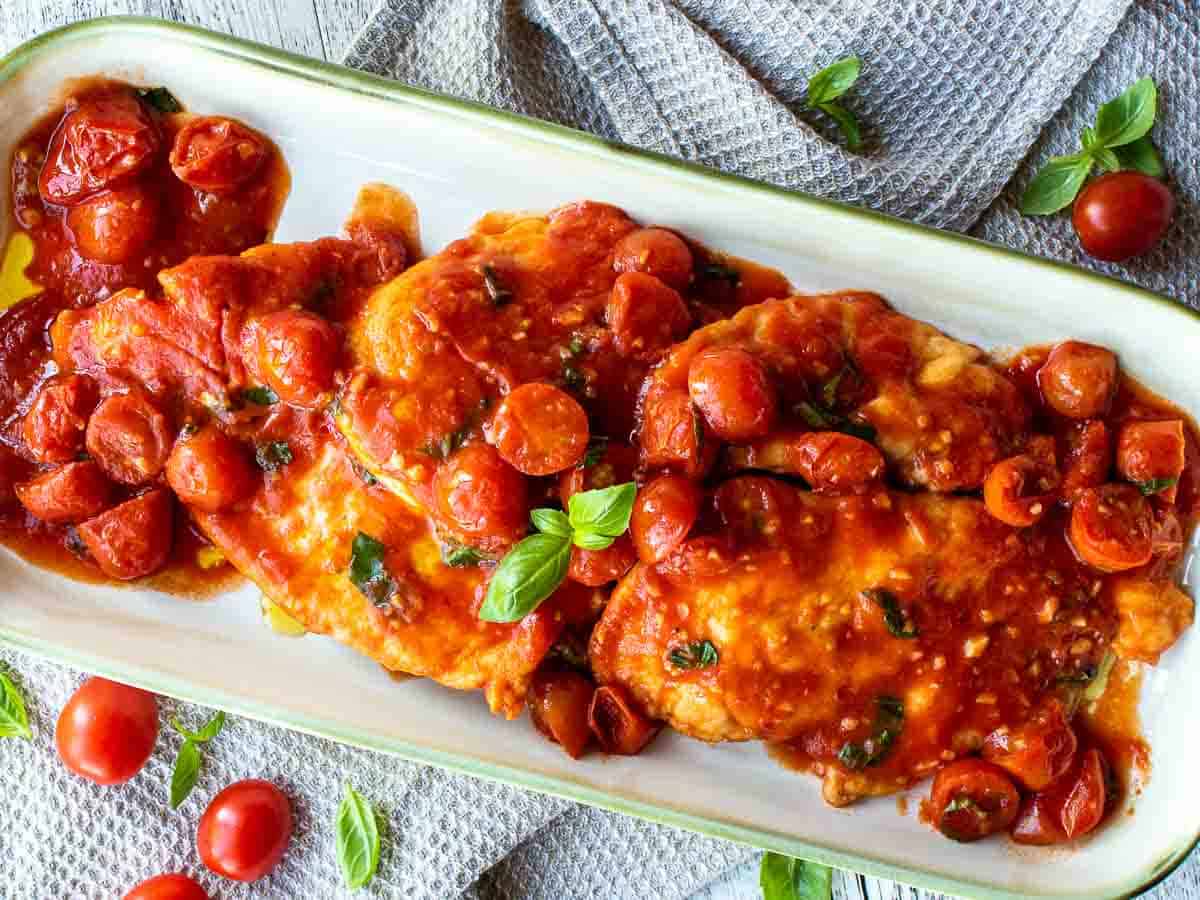 Thin chicken breasts are important to ensure a tender result. Either fillet them yourself or buy chicken cutlets. I like them about ⅓ inch thick. They'll cook really quickly and won't dry out.
Be sure to shake off excess flour after dredging the chicken cutlets. Excess flour will burn in the pan. The flour on the chicken doesn't need to be thick - just a very light dusting. Be sure to heat the oil over medium heat before adding the chicken.
Don't wash or wipe the pan out after cooking the chicken. All those browned bits add so much flavor to the pomodoro sauce.
When cooking, always taste the food at the end and adjust the seasoning. One of the biggest mistakes in the kitchen is failing to taste. This is often the key to the success of a recipe. Of course, if you have dietary concerns please follow your doctor's advice.
FAQ
Is chicken pomodoro spicy?
Spiciness in Chicken Pomodoro comes from the red pepper flakes. The amount used in this recipe for chicken pomodoro adds a noticeable mild spiciness. However you can add more if you prefer extra spicy chicken or leave it out completely.
Is passata and pomodoro the same?
Passata is the same are tomato puree. It's simply pureed tomatoes sometimes with a bit of salt. Italian families often made their own to preserve a large crop of tomatoes. Today passata or tomato puree is easily available in supermarkets. Pomodoro on the other hand is the Italian name for a tomato. The name mean "golden apple" - pomo d'oro. 
Can I substitute chicken with another protein?
Serving Suggestions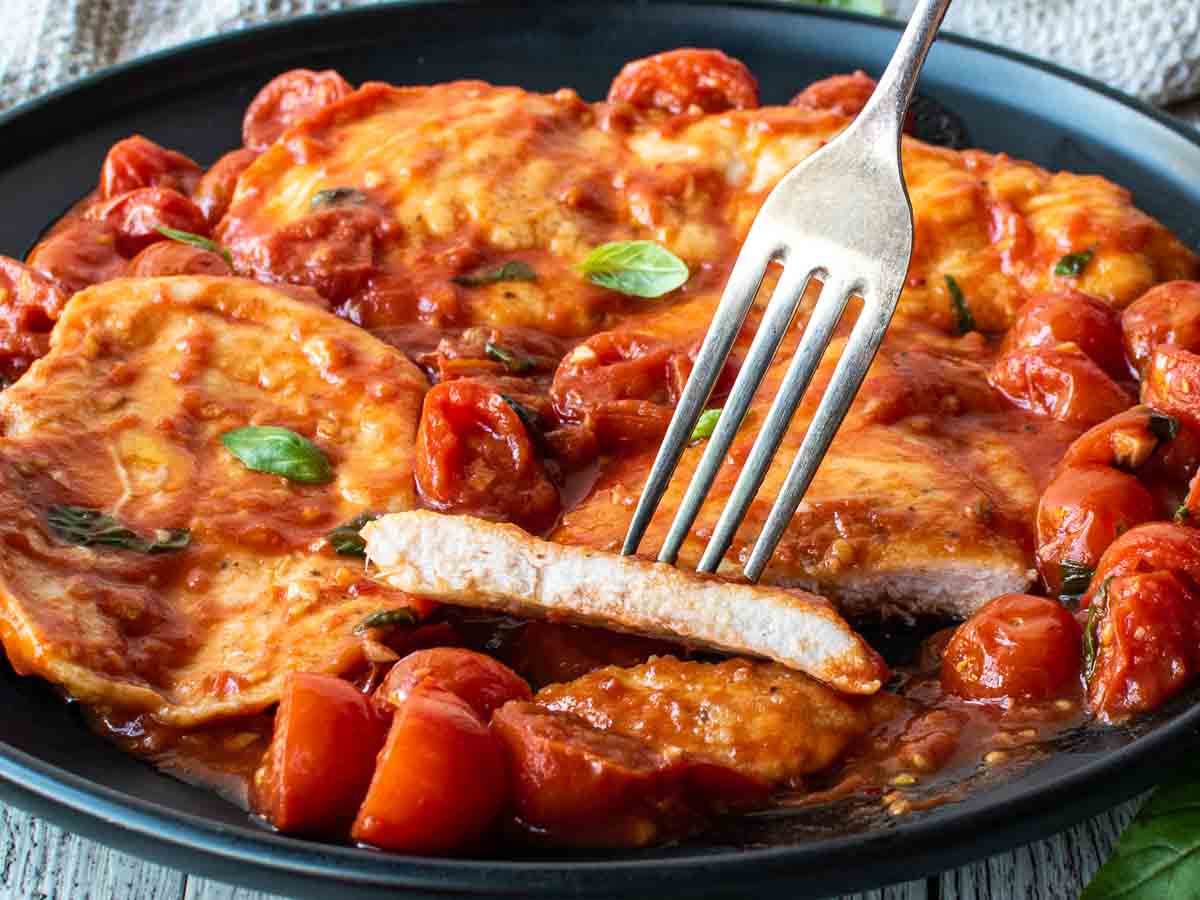 Serve Chicken Pomodoro in the traditional way with bread like Semolina Bread or Garlic Ciabatta Bread so that everyone can make "la scarpetta". Or combining some of the sauce with cavatelli or other pasta is very popular with the little ones in the family.
Chicken Pomodoro can be served with a vegetable side like Italian Fried Peppers making quite a tasty, low carb and dairy free meal. Either way, be sure to end the meal with a scrumptious Italian dessert!
Made this recipe?
Let me know if you liked it by leaving a ★★★★★ star rating and a review below. Please share a photo of your creation by tagging me on Instagram @marcellina.in.cucina!
Recipe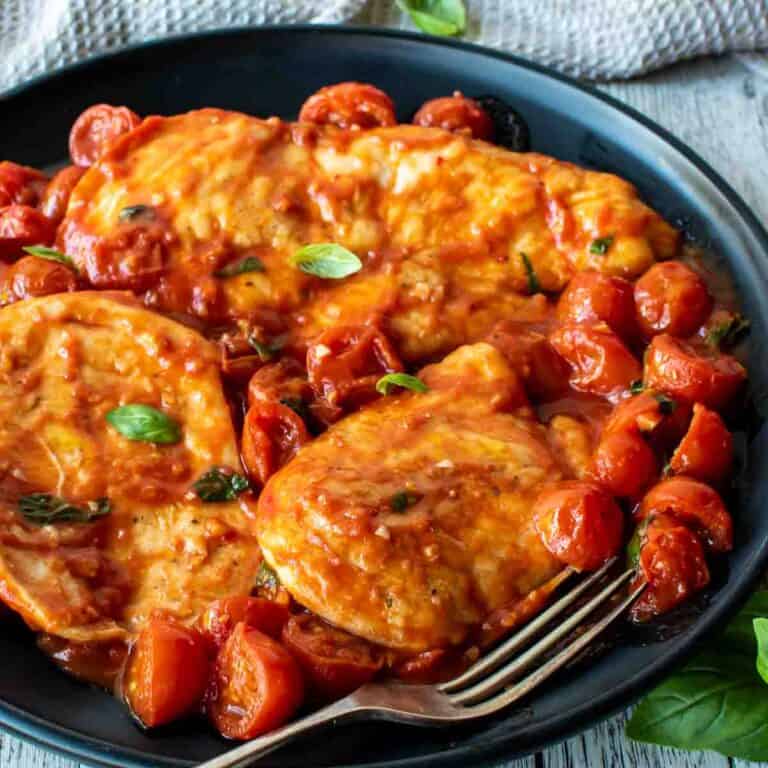 Chicken Pomodoro Recipe
Truly tender chicken breast in a fresh tomato, garlic and basil sauce. Thin chicken breast cutlets are first dusted in flour before shallow frying sealing in the moisture and guaranteeing tender, melt-in-your-mouth chicken!
Print
Pin
Rate
Ingredients
2

large boneless skinless chicken breasts (

1 pound 5 ounces/600 grams

)

3

tablespoon

all purpose flour

1

teaspoons

salt

½

teaspoons

ground black pepper

2

tablespoons

extra virgin olive oil

4

garlic

16

ounces

(

450

grams) cherry tomatoes

½

teaspoon

red pepper flakes

½

cup

tomato puree

½

cup

chicken broth

20

basil leaves
Instructions
Fillet the chicken breast into thinner cutlets by placing the chicken breast flat on the cutting board and using a sharp knife to make a horizontal cut through the breast, starting from the thicker side and cutting towards the thinner edge. Keep the knife parallel to the cutting board. You'll be able to cut the chicken breast into two or three even cutlets.

To tenderize and thin the cutlets, place the chicken cutlets between two pieces of plastic wrap. Use a meat mallet or rolling pin to gently pound the chicken breast, starting from the center and working outward.

Season both sides of the chicken cutlets with salt and pepper. Place the flour in a shallow dish and dredge each chicken breast in the flour, shaking off any excess.

Heat the olive oil in a large frying pan or skillet over medium heat.

Add the chicken cutlets to the pan and cook them for about 2 minutes per side or until they are golden and cooked through but still juicy. The cooking time may vary depending on the thickness of the chicken breasts. Once cooked, transfer the chicken to a plate and cover with foil to keep warm.

In the same pan, add the finely chopped or minced garlic and halved cherry tomatoes. Sauté them over medium heat for about 2-3 minutes until the tomatoes start to soften.

Stir in the tomato puree, chicken broth and red pepper flakes. Cook the sauce for another 2 minutes, allowing the flavors to meld together.

Reduce the heat to medium-low and let the sauce simmer for about 5-7 minutes until it thickens slightly.

Return the cooked chicken breasts to the pan, nestling them into the tomato sauce.

Allow the chicken to simmer in the sauce for another 2-3 minutes, allowing the flavors to blend and the chicken to absorb some of the sauce.

Transfer the Chicken Pomodoro to serving plates.

Optionally, you can garnish with fresh basil leaves for added flavor and presentation.

Enjoy your delicious Chicken Pomodoro with a side of pasta or crusty bread!
Notes
Tips for Success
Use thin chicken cutlets which you've cut and pounded yourself as in the recipe. Alternatively buy thin chicken cutlets.

Don't skip flouring the chicken cutlets. It's what keeps the chicken moist and ensures tenderness.

Shake off the excess flour after dredging the chicken cutlets. 

Heat the oil before adding the chicken.

Don't wash or wipe the pan out after cooking the chicken. 

Taste the sauce and adjust the seasoning before returning the chicken to the sauce.
For more information, scroll up and read all the information.
Nutritional Information Per Serving
Calories:
188
kcal
|
Carbohydrates:
13
g
|
Protein:
15
g
|
Fat:
9
g
|
Saturated Fat:
1
g
|
Polyunsaturated Fat:
1
g
|
Monounsaturated Fat:
6
g
|
Trans Fat:
0.01
g
|
Cholesterol:
37
mg
|
Sodium:
783
mg
|
Potassium:
638
mg
|
Fiber:
2
g
|
Sugar:
5
g
|
Vitamin A:
920
IU
|
Vitamin C:
31
mg
|
Calcium:
35
mg
|
Iron:
2
mg
Nutritional Disclaimer
Nutritional information is an estimate provided by an online nutrition calculator. For accurate results, it is recommended that the nutritional information be calculated based on the ingredients and brands you use.
Food safety
Do not use the same utensils on cooked food, that previously touched raw chicken
Wash hands after touching raw chicken
Don't leave food sitting out at room temperature for extended periods
Never leave cooking food unattended
Use oils with high smoking point to avoid harmful compounds
Always have good ventilation when using a gas stove