This incredible Torta Pasqualina recipe is a burst of flavor straight from Italy!
With layers of buttery puff pastry and a filling of creamy cheese and fresh spinach, this Italian speciality is irresistible. Plus there's a fun surprise when you cut into the pie!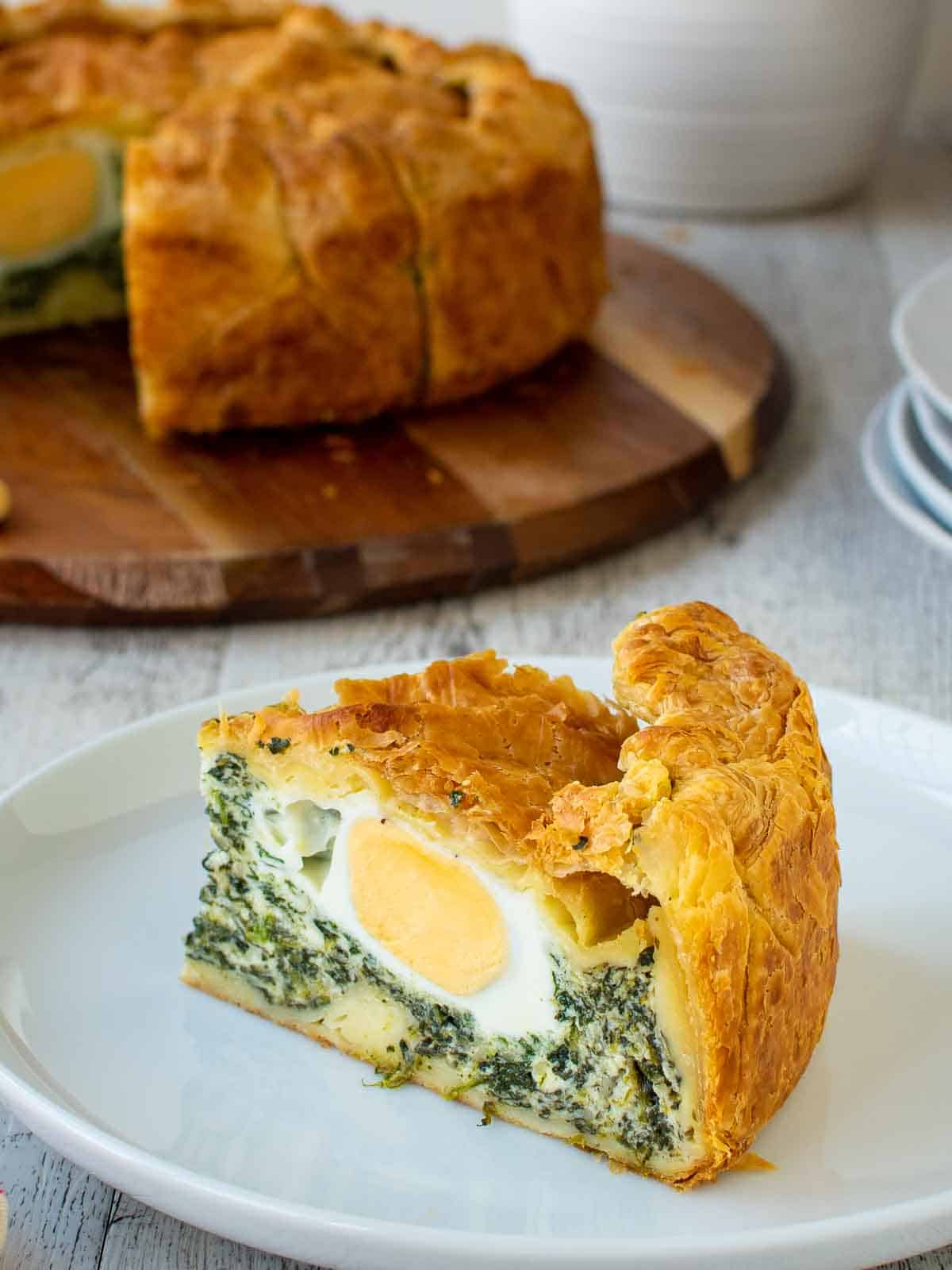 What is Torta Pasqualina
Torta Pasqualina is a traditional Italian Easter pie originating in the coastal region of Liguria in northwest Italy. It's made of puff pastry, ricotta, spinach and eggs and is typically served at Easter particularly on Easter Sunday alongside other specialities.
The fun surprise is whole raw eggs which are nestled into the filling before baking. When you slice into the baked torta pasqualina, the yellow and white of the eggs look wonderful in contrast to the green filling.
The word "pasqualina" means "of Easter" and there are different explanations about the connection of the dish to Easter. According to Italian legend, housewives of the past prepared this pie with 33 layers of pastry, one for each year of Christ's life.
You'll want to make torta pasqualina part of your traditions too because:-
It has the most delicious flavor: Torta pasqualina is such a tasty and flavorsome dish. The combination of savoriness along with crunchy pastry and smooth, creamy filling is sure to make this a very popular dish.
It's versatile: You can serve this pie warm, at room temperature or even cold. Enjoy it as a main dish paired with salad like Cherry Tomato Caprese Salad or Greek Couscous Salad. It's perfectly portable so fantastic for picnics or pot luck dinners.
It's vegetarian: This is a delicious vegetarian dish that will satisfy vegetarians and meat lovers alike. Even if you're not vegetarian, this is an excellent dish to get more greens into your diet.
Torta pasqualina is a traditional dish that has been enjoyed in Italy for centuries, particularly during Easter. Making this recipe for your family and friends can be a way to connect with your Italian heritage or to create new Italian food memories and traditions of your own.
For complete ingredient quantities and full instructions, please scroll to the printable recipe card bottom of the page.
Ingredients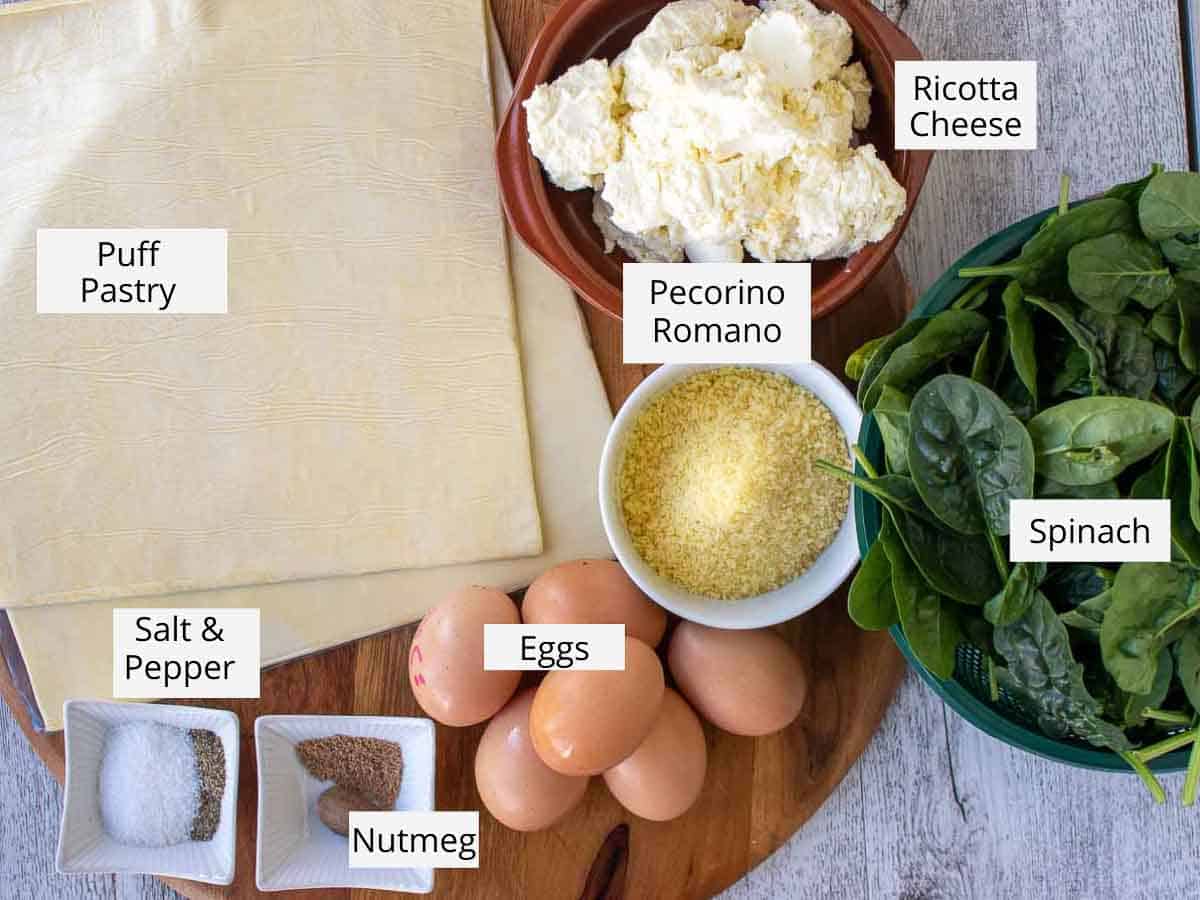 Spinach leaves - use either baby spinach or flat leaf spinach which are easily available in supermarkets.
Ricotta cheese - choose whole milk ricotta for the best flavor. Drain out excess liquid to avoid soggy pastry.
Pecorino Romano cheese - for best results, buy a block that you can freshly grate.
Eggs - I prefer free range eggs but use whatever you have.
Freshly ground nutmeg - use a microplane grater to grate whole nutmeg. If you can only find ground nutmeg, that'll be fine.
Puff pastry - the best quality puff pasty will produce the most flavorsome Torta Pasqualina. Butter puff pastry is what I choose.
Salt and pepper - a well seasoned filling is the key to this recipe.
Olive oil - just a little bit to grease the springform pan and brush the top before baking. You don't need extra virgin olive oil in this case.
See recipe card for quantities.
Instructions
Preheat oven to 400ºF/200ºC and grease an 8-inch springform pan with olive oil.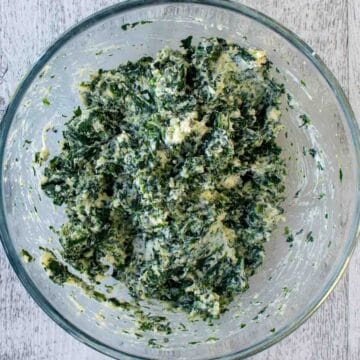 Mix the cooked and chopped spinach, ricotta cheese, pecorino Romano cheese, 2 eggs, nutmeg, salt, and pepper in a bowl. Set aside in the fridge until filling is needed.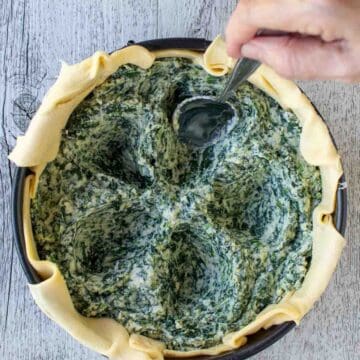 Line pan with chilled puff pastry,
Fill with spinach mixture and make 5 indentations.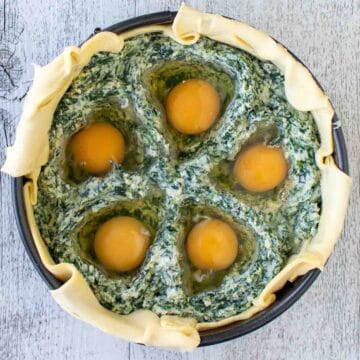 Crack an egg into each indentation and add a tiny pinch of salt to each egg.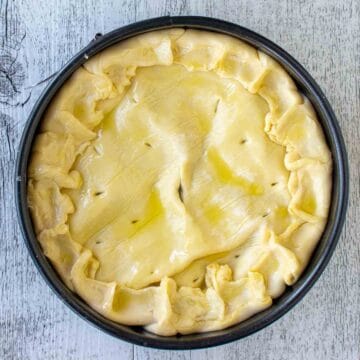 Cover the filling with another puff pastry sheet, press the edges together, and brush with olive oil.
Finally, bake for 35-40 min, or until golden brown and filling is firm. Let pie cool completely and refrigerate until ready to serve. Best served the next day.
Hint: When working with puff pastry, it's important to keep it cool. Warm puff pastry is very difficult to handle. If you have any issues, just return the pastry to the fridge for 20-30 minutes until it's firm again.
Substitutions
Spinach leaves - Swiss chard (also known as silverbeet) is an excellent substitute. Remove and chop the thick, white stalks and cook the stalk first before adding the green leaves. Some people prefer not to eat the stalks but they'll be fine in this recipe.
Pecorino Romano cheese- use Parmigiano Reggiano cheese (Parmesan cheese) instead. The flavor won't be as intense but will still be good.
Puff pastry - frozen shortcrust pastry can be used in place of puff pastry.
Olive oil - instead of using olive oil to brush the top of the torta pasqualina brush with an extra beaten egg.
Variations
Herbs - add a chopped fresh parsley and a little dried marjoram or oregano.
Economical - when eggs are expensive, omit the whole eggs. Bake the same torta but without the whole eggs cracked into the holes in the filling. Just use one egg in the filling. It will still be very tasty!
Kid friendly - use mild cheddar cheese instead of Pecorino Romano.
Equipment
You'll need an 8-inch springform pan to bake this Torta Pasqualina. Actually any 8 inch (20cm) pan can be used though it may be more difficult to remove from the pan.
Alternatively, prepare it in a 9 inch (23 cm) pie pan and serve it directly from the pie pan.
Storage
Torta Pasqualina can be stored for up to 3 days in the fridge.
The torta can be frozen for up to 3 months but the texture may change after they are frozen and thawed. To consume, just thaw it overnight in the fridge then reheat it in the oven at 350°F (175°C) for 10-15 minutes or until heated through.
Tips for Success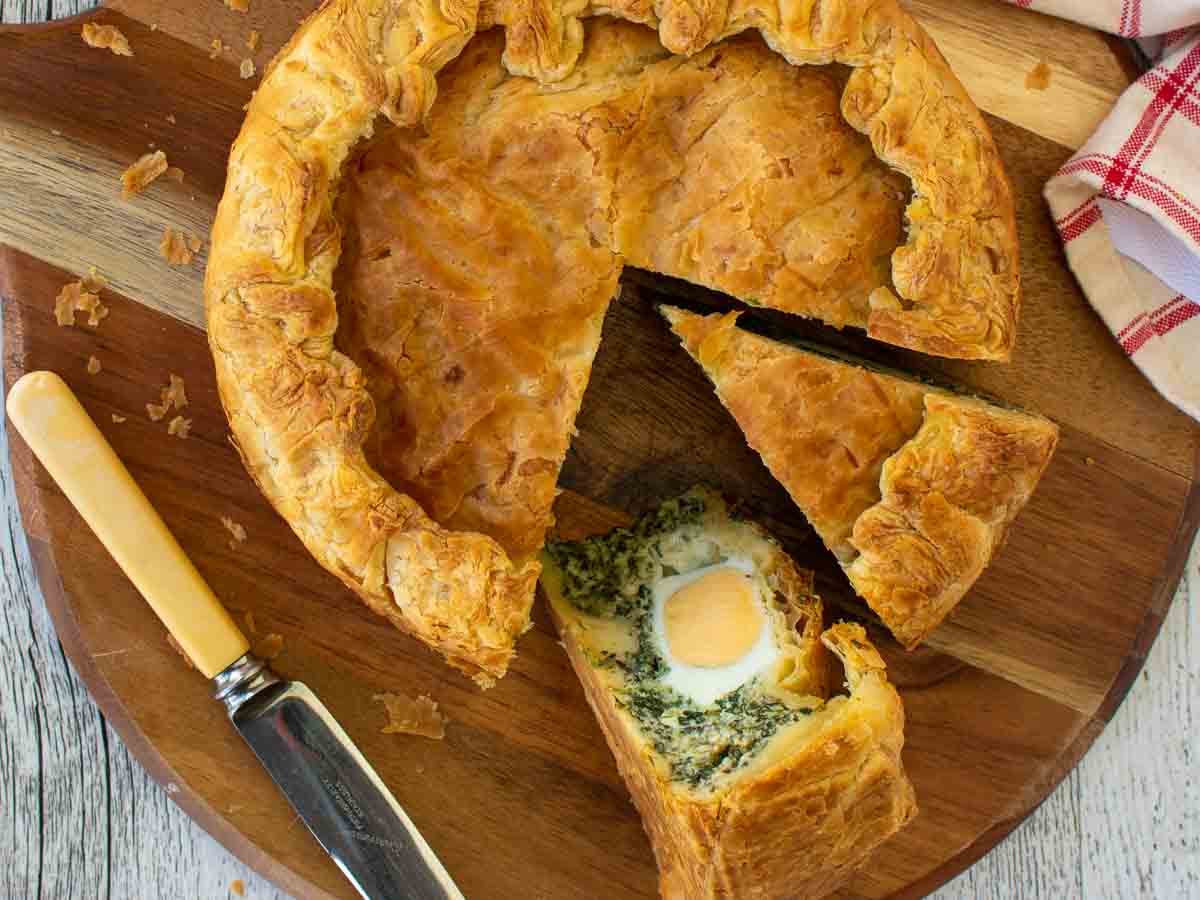 Excess moisture in the ricotta or in the cooked spinach will make Torta Pasqualina soggy. Be sure to allow the ricotta cheese to drain and squeeze out excess moisture from the cooked spinach.
A few of the steps can be prepared in advance. Cooking the spinach can be prepared a few days in advance. In fact, the entire spinach ricotta filling can be prepared a day in advance and stored covered in the fridge.
When lining the springform pan with puff pastry, cut the top using the pan as a guide first and set it aside. Use the other pastry sheet and any extra pastry cut-offs to fill in the gaps. It doesn't need to be perfect. In fact, rustic is absolutely fine!
FAQ
What does torta mean in Italian
Torta means pie or cake in Italian. It can be savory as in this recipe or sweet such as torta della nonna and torta caprese.
Can frozen spinach be used instead of fresh spinach?
Yes, you can swap out fresh spinach for frozen. Obviously, frozen spinach is already cooked so you can skip that step but it's important not to skip squeezing the excess moisture out of the thaw. 
Can torta pasqualina be made ahead of time?
Yes, torta pasqualina can be made up to 3 days in advance. Store the cooked torta in the fridge well wrapped in plastic or in a sealed container. Serve cold or at cool room temperature.
Is torta pasqualina vegetarian?
Yes, Torta Pasqualina is vegetarian. There are no meat or meat products in this recipe.
Serving Suggestions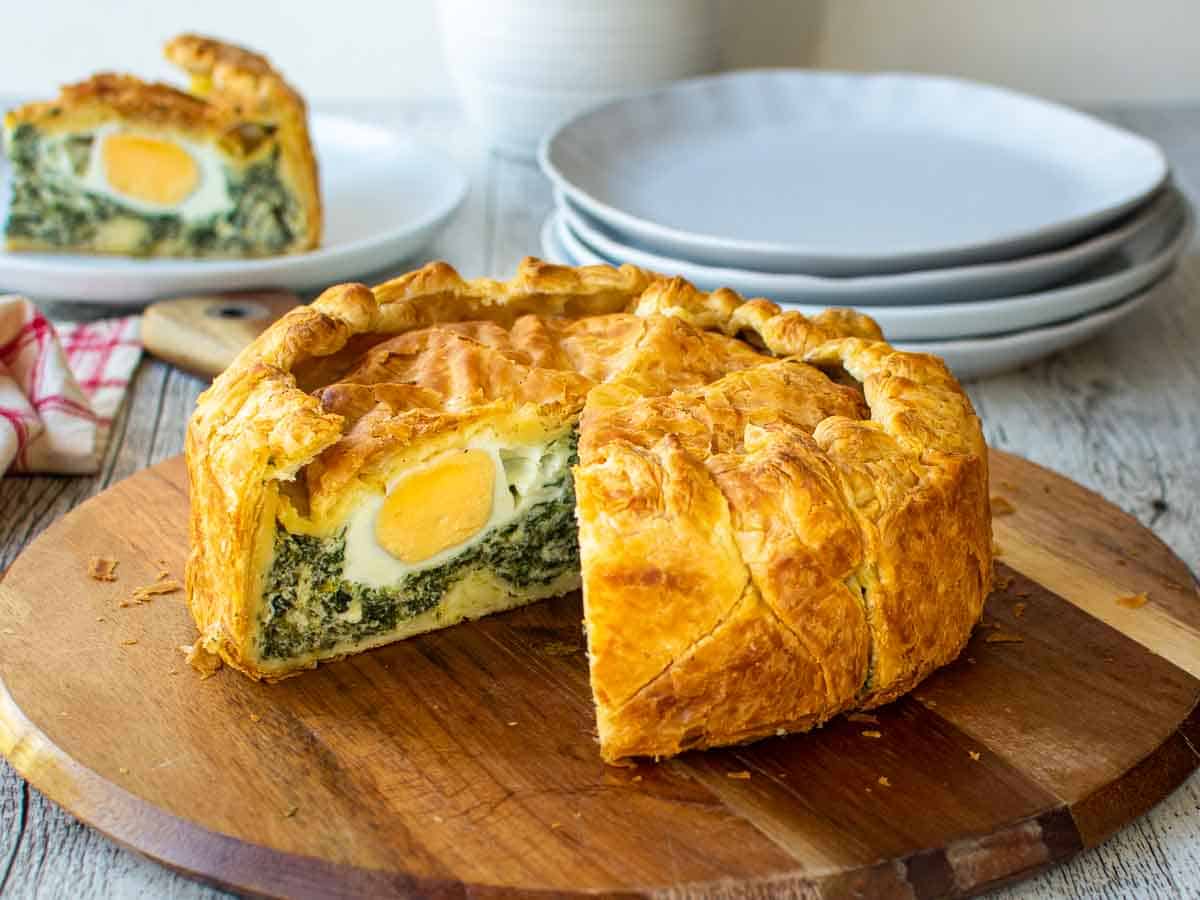 Torta Pasqualina is commonly served at Easter along with other favorites like Pizza Gaina, Chicken Sorrentino with Artichoke Salad. Followed by decadent desserts like Crostoli, Pastiera and sweet Ricotta Pie.
Made this recipe?
Let me know if you liked it by leaving a ★★★★★ star rating and a review below. Please share a photo of your creation by tagging me on Instagram @marcellina.in.cucina!
Recipe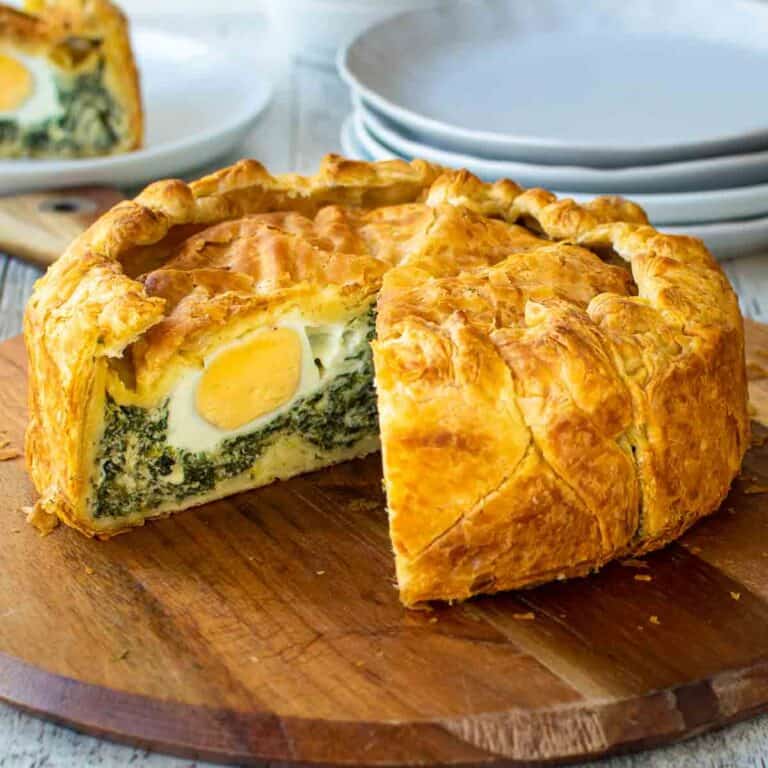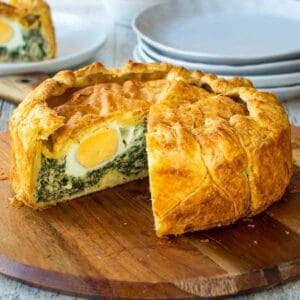 Torta Pasqualina Recipe
This Italian Easter pie has layers of buttery puff pastry and a filling of creamy ricotta cheese and fresh spinach. The whole eggs nestled in the filling are a wonderful surprise!
Print
Pin
Rate
Servings:
4
people generously
Equipment
1 8 inch (20cm) springform pan

optional
Ingredients
1

pound

(

450

grams) baby spinach leaves

12

ounces

(

340

grams) fresh ricotta cheese

See Note 1

2

ounces

(

60

grams) grated pecorino Romano

7

eggs

1

teaspoon

salt

or to taste

¼

teaspoon

ground nutmeg

¼

teaspoon

black pepper

or to taste

2

sheets (approx 10in/25cm square) store-bought frozen puff pastry

approximately

11 ounces or 330 grams

olive oil for greasing the pan
Instructions
Filling
Rinse the baby spinach thoroughly and remove any large stems.

Preheat a large frying pan or a large saucepan over medium heat.

Add the spinach to the pan and cook for 2-3 minutes, stirring occasionally, until wilted. You may need to do this in batches.

Remove the spinach from the heat and let it cool.

Once the spinach has cooled, use your hands to squeeze out any excess moisture.

Place the spinach onto a cutting board and chop finely.

In a large mixing bowl, combine the squeezed spinach, ricotta cheese, pecorino romano cheese, 2 eggs, ground nutmeg, salt, and pepper. Mix well until all ingredients are thoroughly combined.
Assembly and Baking of the torta
Preheat oven to 400ºF/200ºC.

Prepare an 8-inch springform pan by greasing it with olive oil. Follow the package instructions to thaw the frozen puff pastry sheets and keep them chilled.

Use the springform pan to trace a circle on one sheet of the pastry, which will be used as the top crust.

Place the second sheet of pastry on a lightly floured surface and press the remaining pastry on to extend the dough so that it is large enough to line the springform pan. Line the oiled pan with the extended puff pastry sheet. Cut off excess pastry and use it to patch up where needed.

Fill the pastry-lined pan with the spinach and ricotta mixture, and even out the surface.

Make five deep indentations in the filling using the back of a tablespoon. Carefully crack an egg into each indentation, being cautious not to break the yolk. Add a tiny sprinkle salt to each egg.

Use the previously cut circle of pastry to cover the filling, ensuring that any excess pastry is trimmed off. Fold the sides over onto the top and press the pastry edges together to seal. Brush the top of the pastry with olive oil.

Create small vents on the top of the pastry using a sharp knife. Preheat the oven and place the pan in it, baking for 35-40 minutes or until the pastry is golden brown, puffed, and the filling is firm.

Remove the pan from the oven and let the pie to cool for at least 30 minutes before releasing from the springform pan. Serve warm or at room temperature.

Refrigerate if not serving on the day of baking.
Notes
Make homemade ricotta cheese with my easy recipe.
Top Tips
Squeeze excess moisture from the cooked spinach to avoid soggy crusts.

Drain the ricotta.

Filling can be made in advance and stored in the fridge.

Cut the circle for the top before lining the pan. Use the other pastry sheet and any extra pastry cut-offs to make a sheet of pastry large enough to line the springform pan. It doesn't have to be perfect. Just patch up any holes.
For more tips ands FAQ, read the post above.
Nutritional Information Per Serving
Calories:
770
kcal
|
Carbohydrates:
43
g
|
Protein:
33
g
|
Fat:
52
g
|
Saturated Fat:
20
g
|
Polyunsaturated Fat:
6
g
|
Monounsaturated Fat:
24
g
|
Trans Fat:
0.03
g
|
Cholesterol:
345
mg
|
Sodium:
1216
mg
|
Potassium:
890
mg
|
Fiber:
4
g
|
Sugar:
2
g
|
Vitamin A:
11488
IU
|
Vitamin C:
32
mg
|
Calcium:
491
mg
|
Iron:
7
mg
Nutritional Disclaimer
Nutritional information is an estimate provided by an online nutrition calculator. For accurate results, it is recommended that the nutritional information be calculated based on the ingredients and brands you use.