Lemon Macarons are easier to make than you think!
The best part is that once you master this lemon macaron recipe, you can bake so many different varieties. Lemon is a great flavour to start with!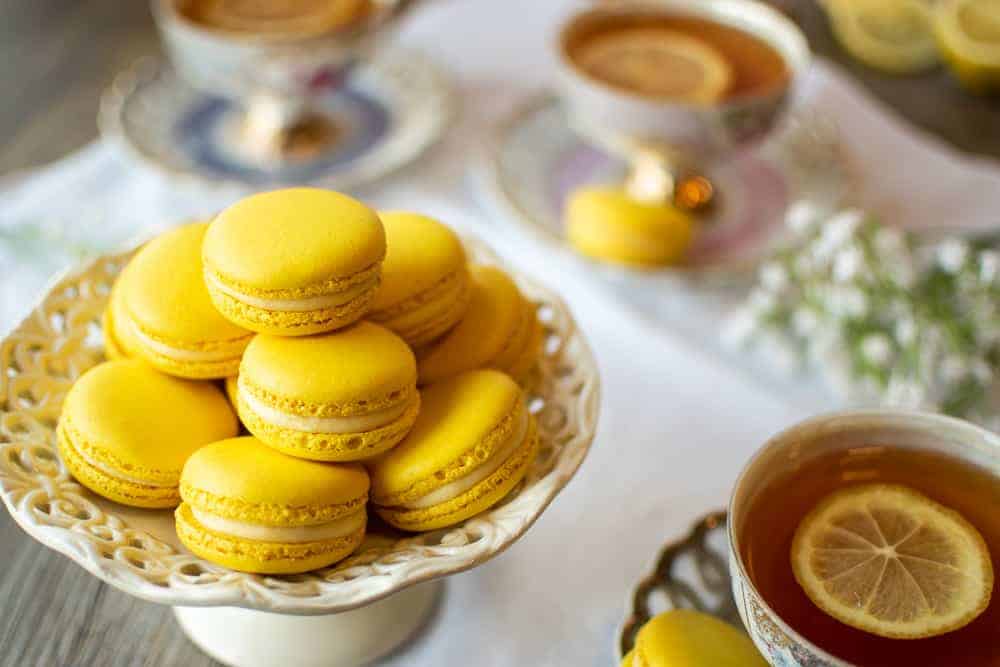 A few weeks ago I was contacted by a reader who asked if I had any lemon macaron recipes on the blog. There are a couple of macaron recipes on the blog and I guided my reader to them. Along with the recipes, I gave her a couple of pointers. Since then I've been thinking that I should share those tips and what I have learnt about macarons, with you.
If you love lemon flavors, you also need to try my Lemon Curd Cookies! They're so good!
Macarons are easier than you think.
Even though macarons have a nasty reputation of being difficult, I don't think this is necessarily true. You really should try making them.
There are two main methods to make macarons based on the meringue used
French - which involves whipping egg whites and sugar to make a fluffy uncooked meringue
Italian - where hot sugar syrup is pour onto stiffly beaten egg whites to create a cooked meringue
I have tried both methods. First I tried the French macaron method which left me with an air pocket just under a thin shell. But recently I tried the Italian macarons method with successful results. Because the cooked meringue is more stable, I prefer the Italian method.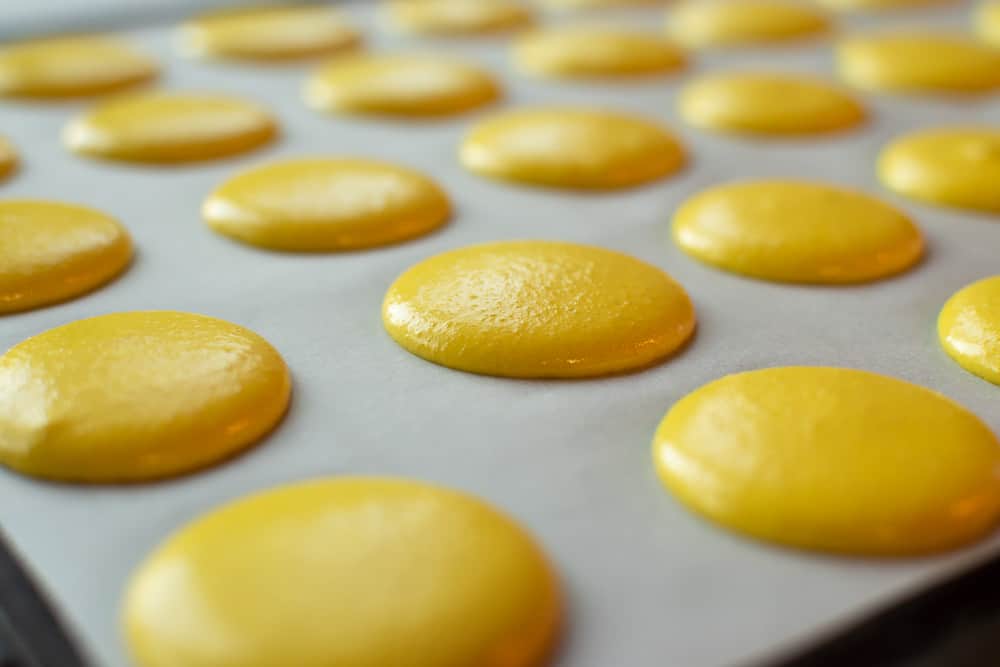 A little about this recipe
Now, even though a macaron is based on meringue, the meringue needs to be deflated to a certain point and that's the tricky part - knowing just how much to deflate. It's important to have a batter that flows - it is said that it should flow like magma (not that I have ever seen magma!). The recipe I have used here is by Rachel of Pizza Rossa and she has a great step-by-step guide for making macarons using the Italian meringue method. You should check it out.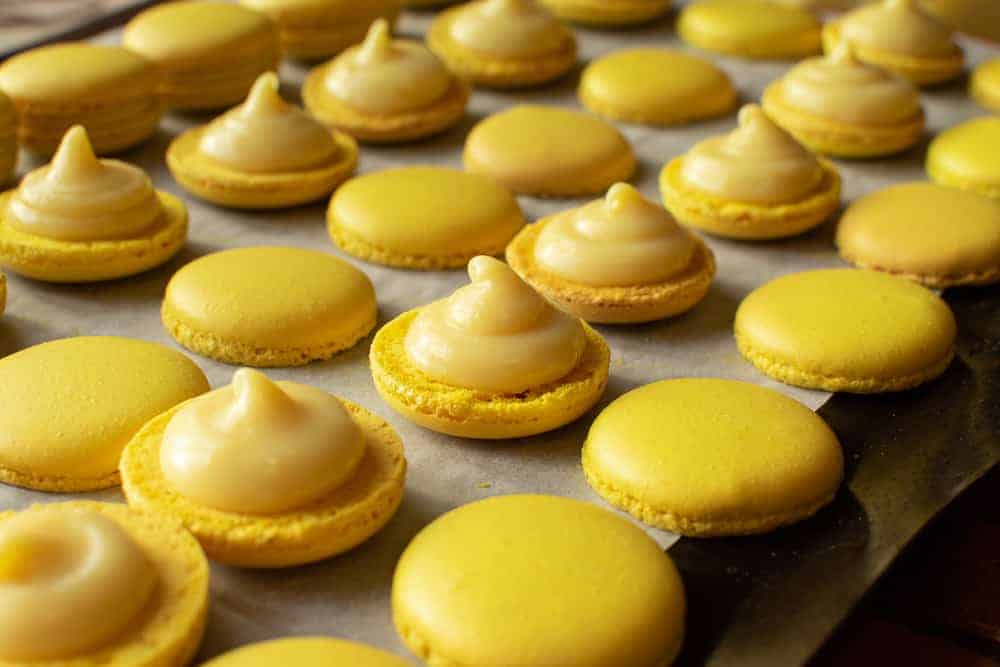 Why are these macarons so good?
To begin with, these Lemon Macarons are a delight to look at. In fact, they are perfect for a baby or bridal shower. However looks aren't everything, this Lemon Macaron Recipe tastes delicious too.
The filling is a not-too-sweet white chocolate ganache flavoured with lemon oil or pure lemon extract which is wonderfully refreshing. Don't use cheap essences because you will be disappointed. If you can't find pure oil or extract, use some finely grated lemon rind. Like all good macarons, allow these Lemon Macarons 24 hours to soften and mature before serving.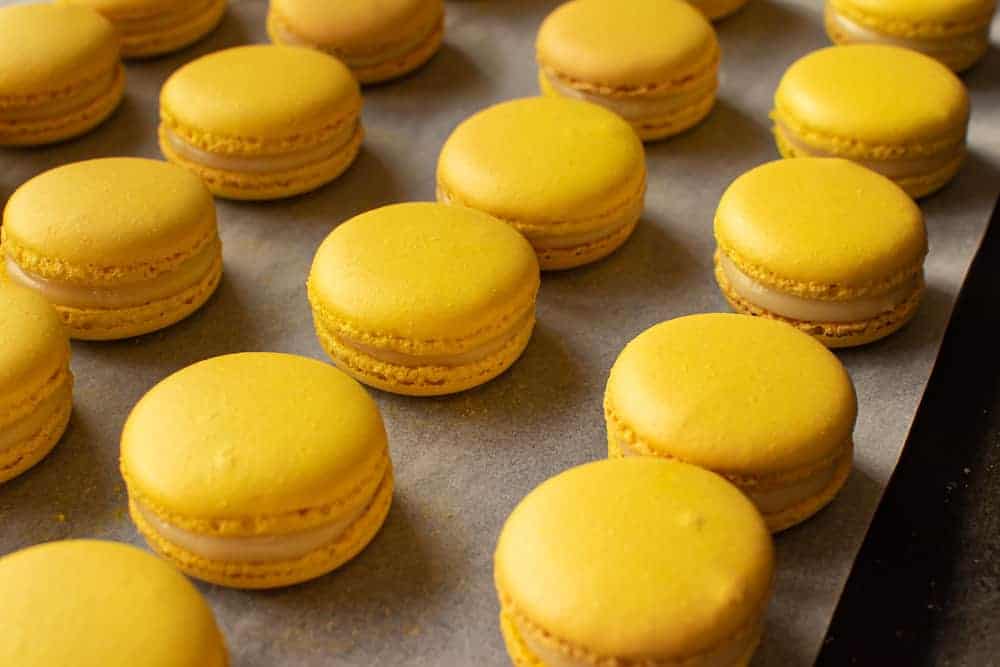 If you've never made macarons, make these first! You'll be pleased you did.
Do you want more ideas for the baby or bridal shower? Try this Chocolate and Raspberry Tart or these Espresso and Hazelnut Biscotti which will complement these Lemon Macarons perfectly.
Have you made this lemon macaron recipe before? What's your experience? Or would you rather just eat them? Let me know in the comment below!
Made this recipe?
Let me know if you liked it by leaving a ★★★★★ star rating and a review below. Please share a photo of your creation by tagging me on Instagram @marcellina.in.cucina!
Recipe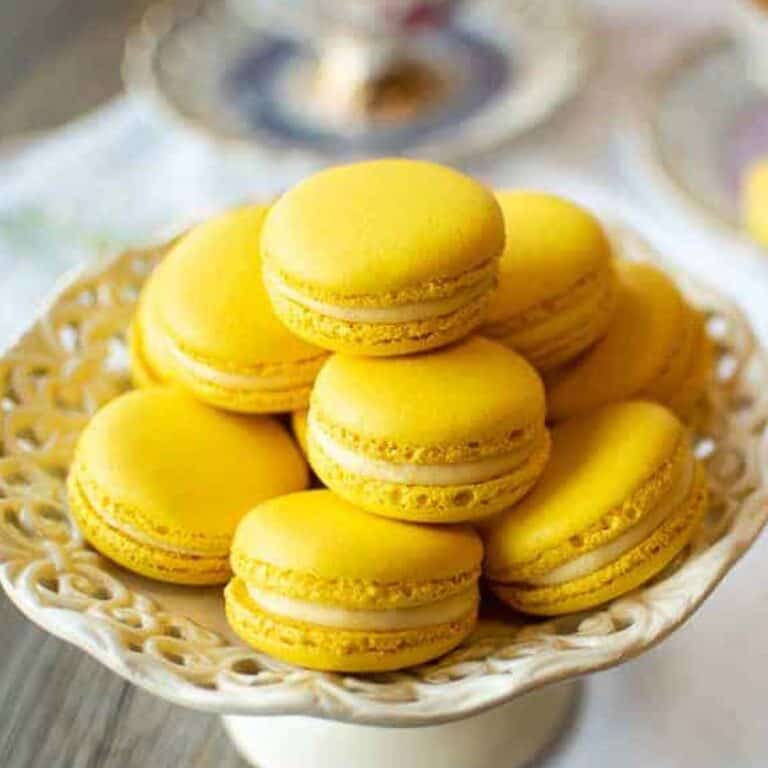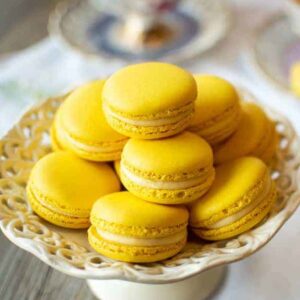 Lemon Macarons
A delicious chewy lemon macaron recipe with white chocolate ganache.
Print
Pin
Rate
Servings:
30
filled macarons
Ingredients
Macaron shell
5

ounces

(

140

grams) ground almonds

(room temperature)

5

ounces

(

140

grams) icing sugar

(confectioner's sugar)

3½

ounces

(

100

grams) egg white

(from approx. 3 eggs, room temperature, divided 50/50)

3½

ounces

(

100

grams) white granulated sugar

⅛

cups

(

40

grams) water

(weight of the water)

yellow colouring paste or powder
Lemon White Chocolate Ganache
⅔

cup

whipping cream

14

ounces

(

400

grams) white chocolate

(chopped and at room temperature)

½

teaspoon

lemon extract

(or 10 drops pure lemon oil)
Instructions
Prepare 2 parchment paper lined baking sheets. They need to be big enough to hold 30 x 1 ½/4cm diameter shells each.

Mix the ground almonds and powdered sugar (and cocoa powder, if using) together in a bowl, then grind in a food processor until you have an extra fine texture. You may need to do this in batches, depending on the size of your food processor.

Sift into a large bowl (I use a mesh strainer and push the mixture through with a spatula), putting any bigger pieces of almond back into the food processor to re-grind.

Add half of the egg whites and mix thoroughly into the almond mixture. At this point, you can add food colouring or flavouring such as vanilla seeds, citrus zest, essence, if desired. ( I coloured mine yellow) Set aside.

In another bowl, or the bowl of a stand mixer, scrupulously clean and free of any oil or egg yolk, beat the remaining half of the egg whites to stiff peaks.

Meanwhile, put the granulated sugar and water into a small heavy-based saucepan and heat on medium-low to 244°F/ 118°C, without stirring.

While whisking constantly on low speed (to avoid splashing hot syrup), slowly add the cooked sugar mixture to the beaten egg whites, pouring it down the inside edge of the bowl. You'll get a bit of it hardening on the side of the bowl, but that's okay – just leave it there.

Whisk at high speed until the mixture is cool, about 3 minutes. About 1 minute before the end, you can add food colouring, if not done at the almond paste stage. The mixture should increase in volume and become firm and shiny, and it should be thick and marshmallowy when you lift the whisk.

Scrape the meringue onto the almond mixture and incorporate with a rubber or silicone spatula. You do actually want to get a lot of the air out of the mixture – you do this by folding and squashing the mixture against the side of the bowl, rotating the bowl a quarter turn with each fold. Be sure to firmly scrape the bottom of the bowl with the spatula, so you don't leave a layer of almond paste there.

Mix until you have a homogeneous batter that runs from the spatula in a thick ribbon.

Transfer the mixture into a piping bag fitted with a #10 – #12/7 – 9mm plain round tip (this is best done in two batches, so you don't overfill the bag). Pipe 60 equally sized rounds, about 1 ½ inch/4cm in diameter, in staggered rows onto the prepared sheets. Hold the piping bag upright with the tip just above the sheet and pipe without pulling upwards or swirling in circles, so the batter comes out in a round blob around the tip, and give a little sideways flick at the end to break the stream.

Tap the baking sheet firmly on the bench several times to release air bubbles and obtain a smooth surface. If you have any tips sticking up, press them gently down with a damp fingertip.

Leave the tray to rest at room temperature for at least 20 minutes until a slight skin forms. If you touch it, it should be only just tacky.

Meanwhile, preheat oven to 300°F/150ºC.

Bake the macarons in the centre of the oven for 18 minutes one sheet at a time, turning the sheet half-way.

Remove from oven and remove the parchment from the tray with the shells still on it and place on a cooling racks for at least 30 minutes, until completely cool, then remove macaron shells carefully from the parchment.

If not filling straight away, store in an airtight container at room temperature, separating layers with parchment. Otherwise, fill and store in an airtight container in the fridge to mature for at least 24 hours before eating.
Filling
Place chopped white chocolate in a small bowl.

Place the cream in a small saucepan and and heat cream until just before boiling point. You should see steam rising from the surface and a few bubbles starting around the edges.

Pour hot cream over the white chocolate and allow to stand for 2 minutes,

Stir to thoroughly combine cream and chocolate.

Add lemon oil or extract.

Taste and check if it is lemony enough for your tastes.

Refrigerate for 30 minutes or until thick enough to pipe or spoon onto macaron shells.
Notes
It is important to grind and sieve the almond meal to ensure a smooth macaron surface.
It will seem impossible to mix the Italian meringue into the almonds but persist and it will all mix in.
I like to use template under the baking paper to guide me while piping the macarons. You can draw 30 x 4cm / 1 ½" circles on a piece of paper or put "macaron template" into your google search and you'll find heaps.
I cheat and put the two baking trays into the oven at once. If you do, watch the macarons carefully and adjust the trays throughout the bake.
There will be a lot of filling but I like them well filled. You could try making just half of the filling and make more if you need it.
Nutritional Information Per Serving
Serving:
0
g
|
Calories:
149
kcal
|
Carbohydrates:
17
g
|
Protein:
2
g
|
Fat:
8
g
|
Saturated Fat:
3
g
|
Cholesterol:
10
mg
|
Sodium:
19
mg
|
Potassium:
47
mg
|
Fiber:
0
g
|
Sugar:
15
g
|
Vitamin A:
80
IU
|
Vitamin C:
0.1
mg
|
Calcium:
40
mg
|
Iron:
0.2
mg
Nutritional Disclaimer
Nutritional information is an estimate provided by an online nutrition calculator. For accurate results, it is recommended that the nutritional information be calculated based on the ingredients and brands you use.