Italian macarons are made with an Italian meringue which is cooked with hot syrup.
Master this recipe and you'll be able to adapt it to any flavor you like!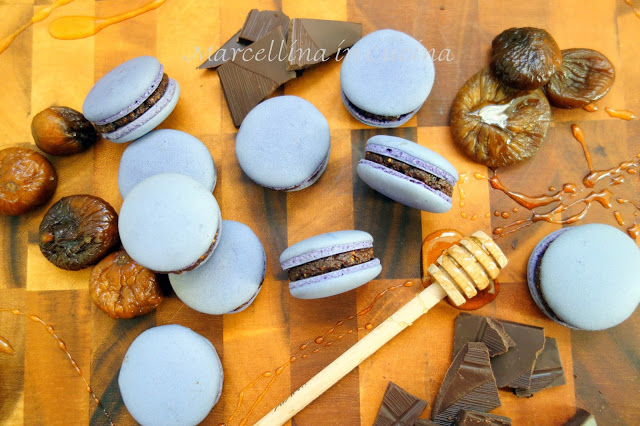 Why you'll love this recipe
Macarons are known for being a tricky pastry. There are two methods used when making macarons - the French and the Italian method. I find the French meringue difficult to successful make decent macaron shells.
However the Italian meringue method seems to produce more consistent results and is a more forgiving mixture. The macaron shells have no air bubbles beneath the crisp shell and the interior is perfectly moist!
These Italian macarons team well with this fig and chocolate filling. If you would like something lighter and fresh, try my Lemon Macarons.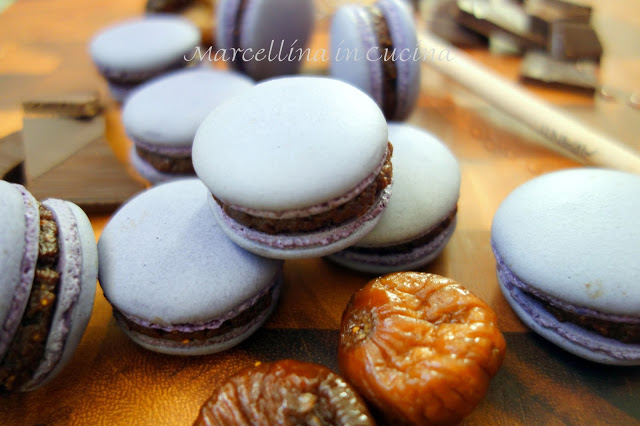 Ingredient notes
The ingredients are basic but need particular attention.
ground almonds - grind again in the food processor then sieve to remove any larger pieces
powdered (icing) sugar - must be sieved well with ground almond
egg whites - should be "aged" (see below in FAQ's)
sugar - superfine works best
If you don't own a set of scales, now is the time to buy them. Italian macarons require precision in measurements and preparation.
Variations
Replace 2 ¾ tablespoon/20 grams of the powdered sugar with unsweetened cocoa powder or powdered freeze dried fruit
The seeds of 1 vanilla bean
A few drops of non-oil-based essence
A few drops of gel food colouring or a pinch of powder food colouring
Instructions
Italian macarons
Process ground almonds and powdered sugar to make extra fine then sieve to remove larger pieces
Mix half of the egg white into ground almond mixture
Place remaining egg white in bowl of stand mixer and with the whisk attachment beat to stiff peaks
Boil granulated sugar and water to 244°F/118°C
On low speed, slowly add sugar syrup to the beaten egg whites
Whisk on high speed until mixture is cool and thick.
Combine the meringue with the almond mixture pressing out most of the air
Fill a piping bag with Italian macaron mixture and pipe even rounds onto prepared baking sheets
Stand until tops of macarons form a skin
Bake one baking sheet at a time
Cool then fill with desired filling
Fig and Chocolate filling
Cover figs with boiling water until soften then drain and puree in food processor
Caramelized honey in a small saucepan over medium heat
Melt chocolate and add figs, honey and brandy
Add butter and process until smooth
Fill a piping bag with the fig and chocolate mixture then pipe onto macaron shell and top with second macaron shell
Tips for success and FAQ's
Age egg whites by allowing to stand at room temperature overnight. There is some thought that this may not be necessary however if nothing else be sure to use room temperature eggs.
Buy ground almonds made with blanched (no skin) almonds. If you can't find ground almonds, grind them yourself in a food processor.
I don't have scales. Can I have the recipe in cups and tablespoons?
Precise measurements are one of the key factors when making macarons. It is essential that you use a set of scales and weigh all the ingredients. This recipe doesn't translate well into cups and tablespoons.
What type of food coloring is best for making macarons?
Use powdered or gel food coloring. Extra liquid (like liquid color) can adversely affect the macaron mixture.
Can I freeze Italian macaron shells?
Yes, I have successfully frozen shells in a well sealed container. Defrost in the refrigerator without removing from the container.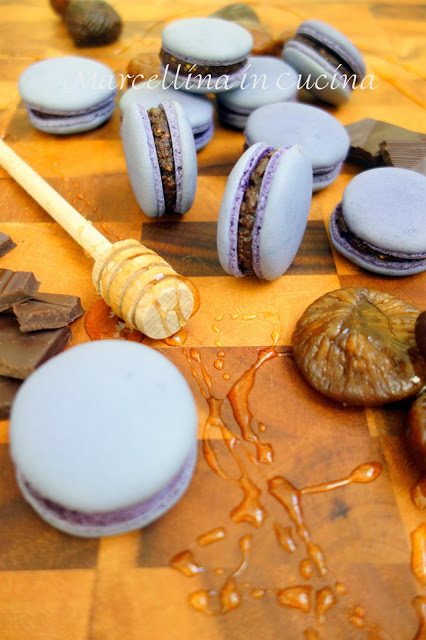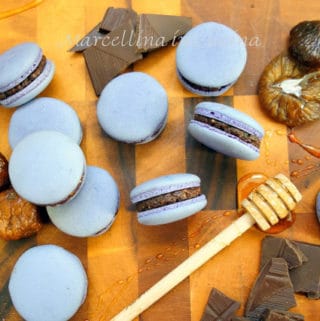 Italian Macarons Recipe
Italian macarons are made with an Italian meringue which is cooked with hot syrup. Master this recipe and you'll be able to adapt it to any flavor you like! Precise measurements are essential, so please use a scales.
Print
Pin
Rate
Ingredients
5

oz

ground almonds

(140 grams), room temperature

5

oz

powdered icing sugar

(140 grams)

3½

oz

egg white

(100 grams) from approx. 3 eggs, room temperature, divided 50/50

3½

oz

granulated white sugar

(100 grams)

1½

oz

water

(40 grams)
Fig and Chocolate filling
1½

cups

dried figs

(225 grams) roughly chopped

7

teaspoons

honey

(50 grams)

⅔

cup

chopped semi sweet dark chocolate

(100 grams) 70%

4

teaspoons

brandy

¼

cup

unsalted butter

(57 grams or ½ stick) chopped and softened

pinch salt
Instructions
Italian Macarons
Prepare 2 parchment (not wax paper) lined baking sheets. They need to be big enough to hold 30 x 1 ½"/4cm diameter shells each.

Mix the ground almonds and powdered sugar (and cocoa powder, if using) together in a bowl, then grind in a food processor until you have an extra fine texture. You may need to do this in batches, depending on the size of your food processor.

Sift into a large bowl (I use a mesh strainer and push the mixture through with a spatula), putting any bigger pieces of almond back into the food processor to re-grind.

Add ½ of the egg whites and mix thoroughly into the almond mixture. At this point, you can add food colouring or flavouring such as vanilla seeds, citrus zest, essence, if desired. ( I coloured mine violet) Set aside.

In another bowl, or the bowl of a stand mixer, scrupulously clean and free of any oil or egg yolk, beat the remaining ½ egg whites to stiff peaks.

Meanwhile, put the granulated sugar and water into a small heavy-based saucepan and heat on medium-low to 244°F/118ºC, without stirring.

While whisking constantly on low speed (to avoid splashing hot syrup), slowly add the cooked sugar mixture to the beaten egg whites, pouring it down the inside edge of the bowl. You'll get a bit of it hardening on the side of the bowl, but that's okay – just leave it there.

Whisk at high speed until the mixture is cool, about 3 minutes. About 1 minute before the end, you can add food colouring, if not done at the almond paste stage. The mixture should increase in volume and become firm and shiny, and it should be thick and marshmallowy when you lift the whisk.

Scrape the meringue onto the almond mixture and incorporate with a rubber or silicone spatula. You do actually want to get a lot of the air out of the mixture – you do this by folding and squashing the mixture against the side of the bowl, rotating the bowl a quarter turn with each fold. Be sure to firmly scrape the bottom of the bowl with the spatula, so you don't leave a layer of almond paste there.

Mix until you have a homogeneous batter that runs from the spatula in a thick ribbon.

Transfer the mixture into a piping bag fitted with a #10 - #12/ 7 – 9mm plain round tip (this is best done in two batches, so you don't overfill the bag). Pipe 60 equally sized rounds, about 1½"/4cm in diameter, in staggered rows onto the prepared sheets. Hold the piping bag upright with the tip just above the sheet and pipe without pulling upwards or swirling in circles, so the batter comes out in a round blob around the tip, and give a little sideways flick at the end to break the stream.

Tap the baking sheet firmly on the bench several times to release air bubbles and obtain a smooth surface. If you have any tips sticking up, press them gently down with a damp fingertip.

Leave the tray to rest at room temperature for at least 20 minutes until a slight skin forms. If you touch it, it should be only just tacky.

Meanwhile, preheat oven to 300°F/150ºC.

Bake the macarons in the centre of the oven for 18 minutes (20 minutes if using cocoa in the shells), one sheet at a time, turning the sheet half-way.Remove from oven and remove the parchment from the tray with the shells still on it and place on a cooling racks for at least 30 minutes, until completely cool, then remove macaron shells carefully from the parchment.If not filling straight away, store in an airtight container at room temperature, separating layers with parchment. Otherwise, fill and store in an airtight container in the fridge to mature for at least 24 hours before eating.
Brandied Fig and Caramelised Honey Filling
Place the figs in a bowl and cover with boiling water. Set aside for an hour then drain and puree the figs in a food processor until smooth.

Put the honey in a small pan over a medium heat until it boils and caramelises.

Melt the chocolate in a bowl over simmering water. Add the puree of figs, caramelised honey and brandy. Mix well and bring the temperature up to 122ºF/50ºC. Add the butter to the chocolate mixture and blitz with a stick blender. Allow to cool.

Pipe the figgy chocolate filling generously onto half of the macaron shells and top with remaining shells.Allow the macarons to rest in the refrigerator for 24 hours.
Nutritional Information Per Serving
Calories:
121
kcal
|
Carbohydrates:
17
g
|
Protein:
2
g
|
Fat:
5
g
|
Saturated Fat:
2
g
|
Trans Fat:
1
g
|
Cholesterol:
4
mg
|
Sodium:
7
mg
|
Potassium:
80
mg
|
Fiber:
2
g
|
Sugar:
14
g
|
Vitamin A:
50
IU
|
Vitamin C:
1
mg
|
Calcium:
25
mg
|
Iron:
1
mg
Nutritional Disclaimer
Nutritional information is an estimate provided by an online nutrition calculator. For accurate results, it is recommended that the nutritional information be calculated based on the ingredients and brands you use.