These classic Italian Butter Cookies are better than the ones you love from the bakery!
This recipe will make lots of delicious cookies for you to keep or gift! Follow all of my tips for making the dough and decorating these cookies like a pro!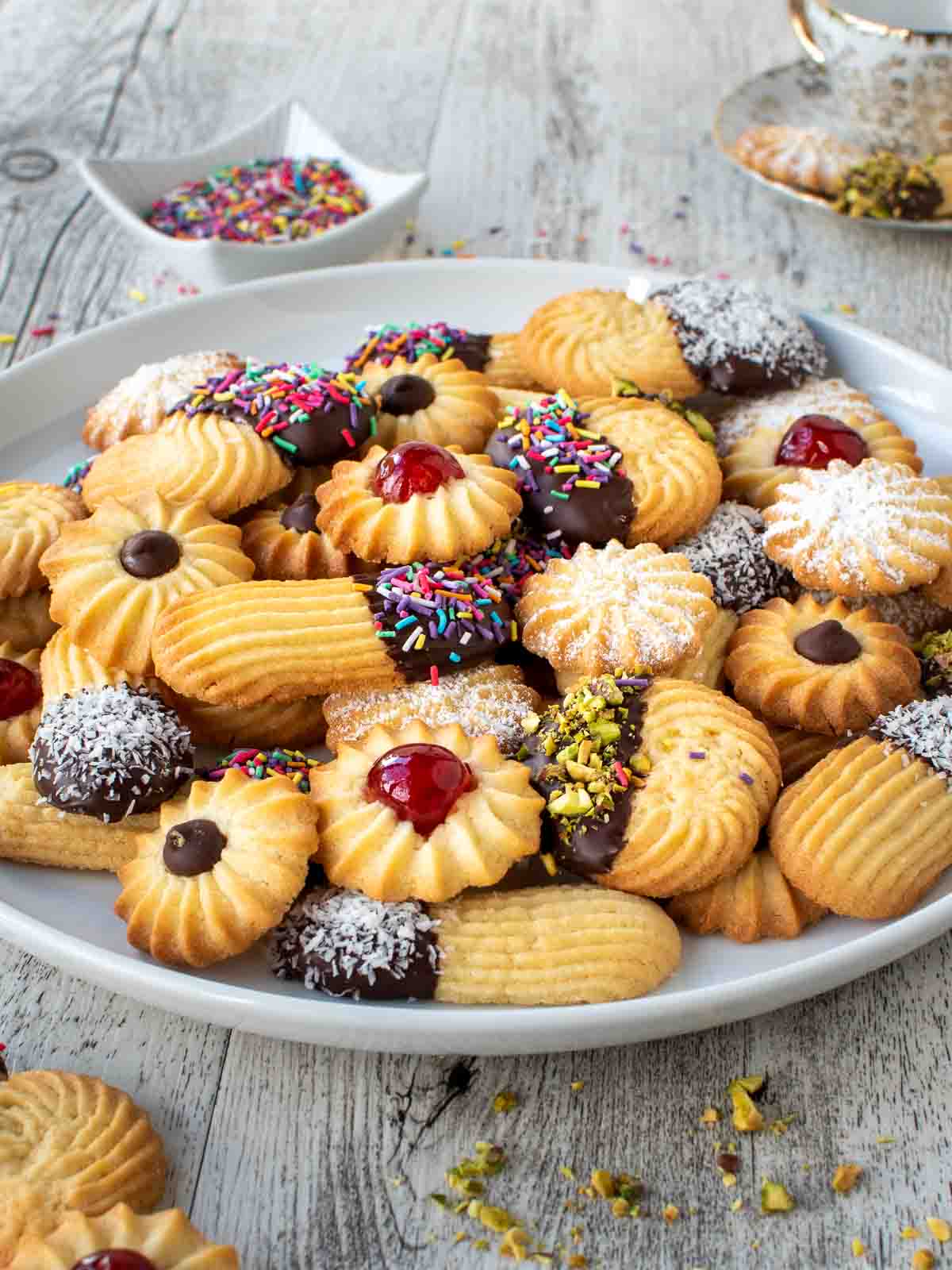 These mouthwatering Italian Butter Cookies, also known as "biscotti al burro" in Italian, are loved for their buttery flavor, delicate texture, and festive toppings. This is an Italian butter cookie recipe I've made many times with great success and one that everyone loves. All my notes are listed here so that you can have success too!
While Danish bakers probably made the first butter cookies the tradition has now spread throughout the world. Traditional Italian Cookies are found in bakeries throughout Italy. These butter cookies are popular in Italy but also in other parts of the world, particularly in the United States.
My Italian butter cookies are wonderfully tender and melt in your mouth. You can use a piping bag and an open star tip or a cookie press to form the cookies. The choice is yours. But I'm here to guide you all the way and give you tips for creating the prettiest cookies that you'll be so proud of!
Butter cookies are different to shortbread in that butter cookies contain eggs or egg yolks. Shortbread never contains eggs. The other difference is the ratio of butter to flour which is much higher in shortbread giving it the "short" texture. Generally, butter cookies also have more sugar than shortbread.
Why you'll love this recipe
Simple Ingredients - You'll have most of the ingredients at home like flour, butter, sugar and eggs. These cookies are also delicious without any adornment.
Buttery Flavor - While these authentic Italian Butter Cookies use basic ingredients, the rich flavor of butter is undeniable. You'll love that such simple cookies can taste like an indulgent treat.
Homemade - Many bakeries make a wide range of Italian Butter Cookies and other types of cookies but homemade butter cookies always stand out.Your family will know the love and attention that you put into making these homemade cookies.
Variety - With just one cookie dough recipe you can make a wide variety of cookies that taste different depending on whether they're left plain, dipped, topped or filled. Let your imagination run because the possibilities are endless.
Festive Gift Giving - This is the ideal recipe for gift giving and your next Christmas cookie tray. An afternoon in the kitchen baking and decorating will result in beautiful cookies you can give the ones you love.
For complete ingredient quantities and full instructions, please scroll to the printable recipe card bottom of the page.
Ingredients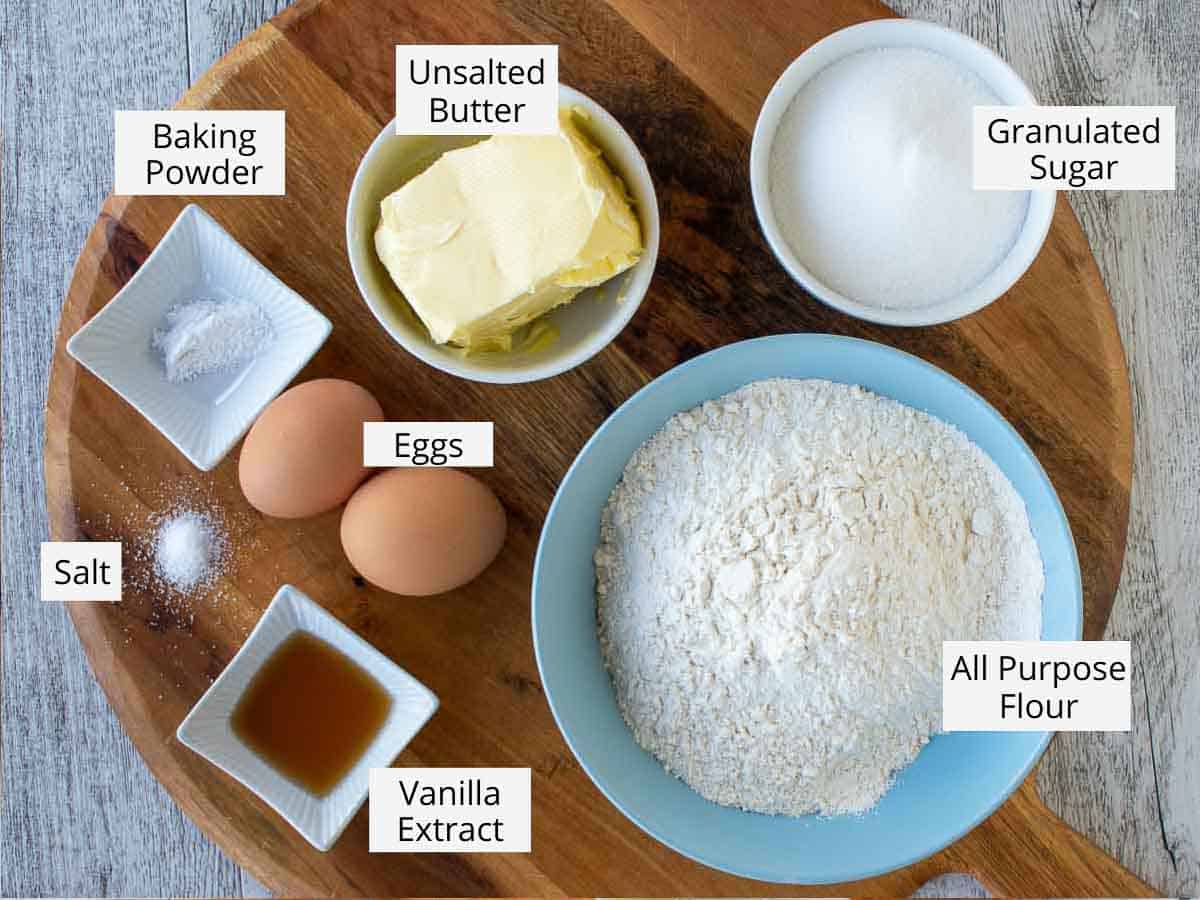 Like all good Italian recipes, this recipe uses simple, basic ingredients. Here's what you'll need.
Unsalted butter - European style unsalted butter gives the best results for butter cookies to achieve the perfect bakery butter cookie taste! I prefer to use unsalted butter in most of my baking recipe because I can adjust the salt. Use salted butter if that's what you have but omit the added salt.
Granulated sugar - Regular white granulated sugar is great. If you can find superfine or castor sugar that woks well in this recipe.
Egg yolks - I only use egg yolks for this recipe which have a high fat content. This creates a smooth and velvety texture and superb flavor.
Vanilla extract - Look for vanilla extract and not essence for all your baking. If you're using vanilla essence, make the switch and you'll notice the difference in flavor. Plus vanilla extract is all natural.
Almond extract - Adding almond extract is totally optional. Some people have an aversion to the almond flavor so leave it out. The cookies will still be amazing! Otherwise just a little will add flavor.
All purpose flour - regular all purpose flour from the supermarket is used in these cookies. You don't need self rising flour because there's a little bit of baking powder included in the recipe.
Baking powder - Make sure that your baking powder is fresh. If you haven't used it in a year or so, buy a new box.
Salt - just a pinch won't make the Italian butter cookies salty but instead bring out the buttery flavors.
See recipe card for quantities.
Instructions
Using a stand mixer or hand held electric mixer is the easiest way to make these bakery style cookies. However, a wooden spoon and a bit of energy still make really good Italian butter cookies.
Before you begin preheat the oven to 350ºF/180ºC and line two or three large baking sheets with non stick parchment paper.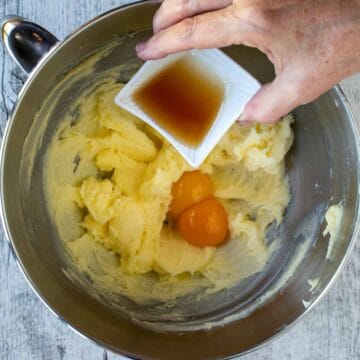 Beat together the butter and sugar. Add egg and extracts and beat to combine.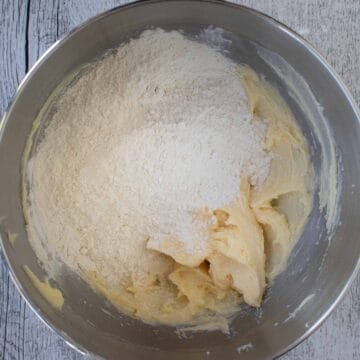 Combine the dry ingredients with the butter mixture until the dough comes together.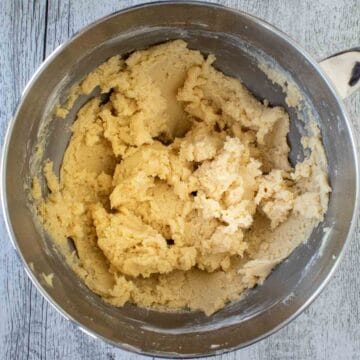 If the dough is too soft, chill for 15-20 minutes. Adjust the consistency if needed with a teaspoon of milk or a teaspoon of flour.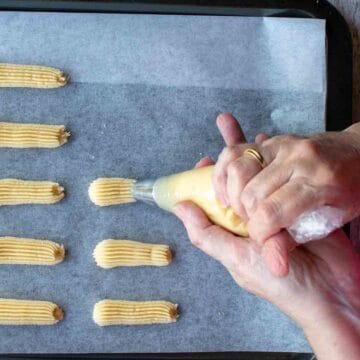 Using a piping bag with an open star nozzle attached to pipe onto lined baking sheets in various shapes.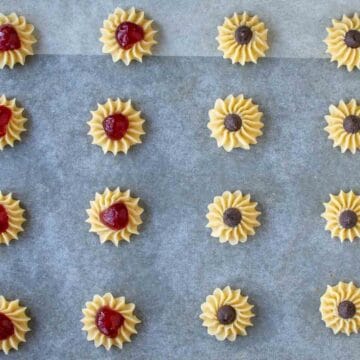 Unbaked cookies can be topped with candied cherries or chocolate. Bake light golden brown underneath.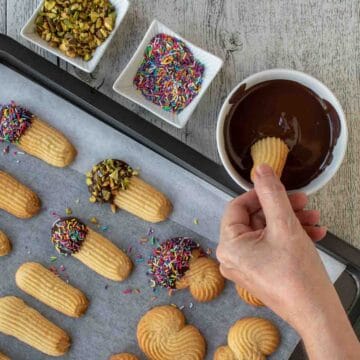 Allow them to cool completely before decorating. See below for ideas for decorating before and after baking.
If you're not confident with your piping skills, chill the dough and use a cookie press to pipe out the dough. Chill the dough for 30 minutes before using in a cookie press.
Hint: It may take a couple of attempts to be satisfied. Any misshapen cookies can be scraped up and returned to the piping bag. If the dough becomes too warm from your hands, stop and chill it for 15-20 minutes. See FAQs below for more piping tips.
Substitutions
Vanilla Extract - Instead use the seeds from the insides of a split vanilla bean for an intense vanilla perfume.
Flavorings - Omit the vanilla and the almond extract and add finely grated lemon or orange zest to the dough.
Variations
Chocolate cookies - Substitute ¼ cup of flour for ¼ cup cocoa powder.
Cookie press - Instead of a piping bag, this cookie dough can be pushed through a cookie press. For the best result, chill the dough for at least 30 minutes.
Toppings - Press a candied cherry or chocolate chip into the middle of a rosette or star cookie. Or scatter with colored sugar, sprinkles or chopped nuts.
Cookie decorating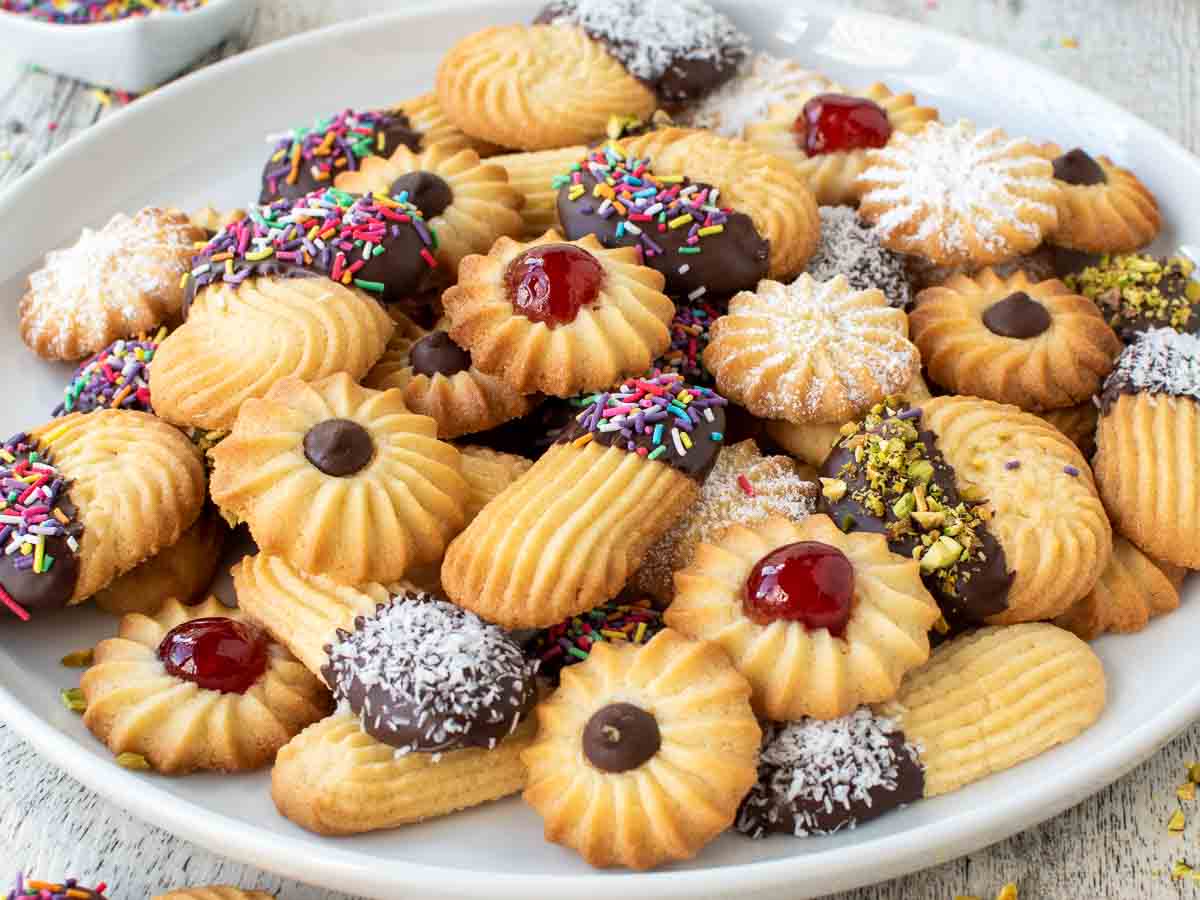 Decorating Italian butter cookies is the best fun. There are so many different toppings and decorations for these cookies which are sometimes known as spritz cookies.
Chocolate dipped - Dip the baked cookies into melted chocolate. You can leave them plain or dip them in chopped nuts, coconut or colored sprinkles before the chocolate sets.
Italian Sandwich Cookies - Join two cookies together with jam, melted chocolate or nutella. These can be left as is or the cookie sandwich can be dipped in chocolate.
Drizzled - Use some melted chocolate (white, milk or dark) to drizzle over the cookies. So easy and so pretty!
Powdered sugar - Dust with powdered sugar.
Don't limit yourself to making these cookies at Christmas time. By decorating according to the holiday or occasion you will be making these cookies all year round.
This dough can also be colored with food coloring. It's best to use gel food coloring, though because too much extra liquid will change the texture of the dough.
Equipment
An electric hand mixer or stand mixer makes beating the eggs easy, but you can make this Italian Butter Cookies recipe using a hand whisk or wooden spoon.
You will need the usual baking supplies of baking sheets, bowls, spoons, spatulas, and measuring cups and spoons. Plus to pipe these cookies in the traditional way you'll need a large disposable piping bag and a large open star tip. Alternatively, you can use cookie press with whichever cookie plate you like the shape of.
A cookie press is a wonderful investment. I have two. One is a beautiful vintage one and the second I bought for about $50 in one of my local kitchen shops. However, they are widely available online. Each cookie press comes with a variety of plates that produce different shape cookies. In no time at all you can make heaps of cookies with a cookie press.
Storage
Allow the cookies to cool completely and for any added toppings to set then store in an airtight container in a cool spot in the pantry for up to a week. I like to put parchment or wax paper between each layer to keep the delicate cookies from being damaged or sticking to one another. If the weather is warm the chocolate dipped cookies may need to be stored in the fridge.
Italian Butter Cookies can be stored for longer periods by freezing. Arrange in an airtight container with layers of parchment or wax paper in between. Freeze for up to one month.
Top tip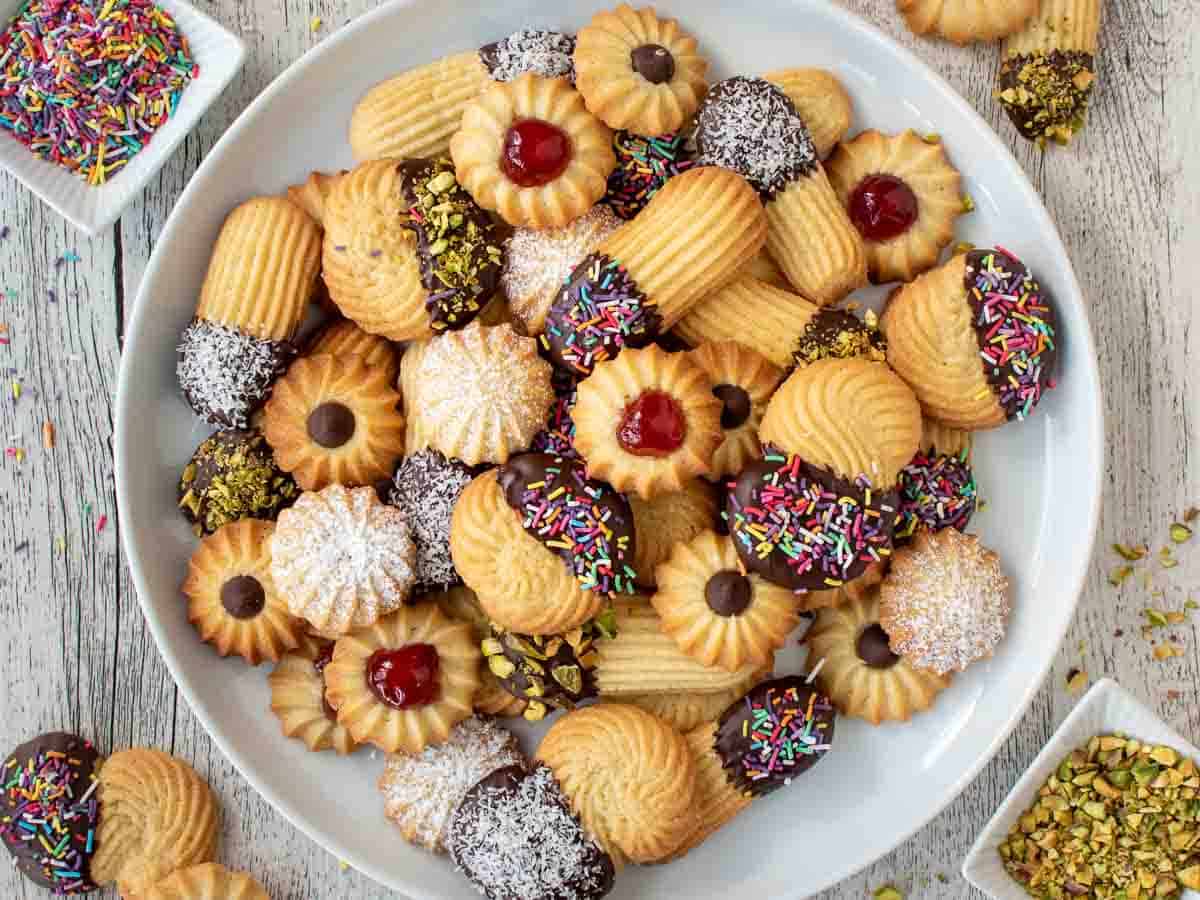 Measuring - If using cups for measuring the flour, please follow these tips. First, stir the flour well so that it's not compact. Then spoon the flour into the measuring cup; don't dip the measuring cup into the flour. With the blunt side of a knife, level the flour off. Of course, the use of electronic scales eliminates any errors.
Temperature - Having the ingredients for the Italian Butter Cookies at room temperature is important. This ensures that the butter and sugar blend completely and the eggs don't cause the mixture to separate.
Techniques - Be sure to stop and scrape down the side of the bowl regularly so all the ingredients are incorporated. Sieving or whisking the dry ingredients also helps ensure that everything is well mixed. Once the flour is added, only mix until everything is combined.
Baking - Rotate the baking sheets halfway through the baking. You might also need to switch top to bottom depending on how your oven bakes. Bake until just pale golden on top and lightly browned underneath.
Cooling - Be sure to let the cookies cool completely before decorating.
Decorating - Use just a little bit of jam or chocolate when sandwiching cookies together. Too much will ooze out and the two cookies will slip and slide. Putting the jam or the melted chocolate into a small bag and then snipping the end helps keep the mess to a minimum when filling or drizzling.
FAQ
How to pipe Italian Butter Cookies?
You need a piping bag and an open star tip nozzle to pipe out this buttery dough. I like to use a disposable piping bag. Just snip off the end and slide the piping tip right down so that the tip pokes out of the hole. Fold the top edge of the bag down and spoon in about half the dough. Don't overfill the bag. 

Twist the bag just above the dough and keep twisting until the dough is pushed right into the tip. Continue to twist the bag as you pipe the cookies. Keep one hand at the top near the twisted bag and apply pressure evenly to push the dough out. Use the other hand to guide and steady. I keep the bag at almost right angles to the baking sheet. 
How to store Italian Butter Cookies
For plain undecorated cookies or cookies with just a dusting of powdered sugar, store in an airtight container at room temperature for 5-7 days.

If you have used chocolate or ganache to decorate the cookies, allow the toppings to set completely. Putting the decorated cookies into the freezer for 5-10 minutes will make the toppings set more quickly. Then layer in an airtight container with parchment or waxed paper in between each layer. Store in the fridge for 5-7 days.
Can you freeze Italian Butter Cookies?
Yes, Italian butter cookies can be frozen. I prefer to freeze the cookies plain and then decorate them when thawed. Layer in an airtight container and freeze for up to 3 months.
Serving Suggestions
Italian Butter Cookies are the perfect ending to any festive meal. Begin with Giant Cheese Stuffed Shells, Italian Sausage Meatballs and loads of Garlic Ciabatta Bread. Then enjoy these cookies with decadent Italian Hot Chocolate. It doesn't get much better than that!
Related Recipes
Espresso and Hazelnut Biscotti
Orange and Almond Cookies
Italian Wedding Cookies Recipe
Snowflake Cookies
Made this recipe?
Let me know if you liked it by leaving a ★★★★★ star rating and a review below. Please share a photo of your creation by tagging me on Instagram @marcellina.in.cucina!
Made this recipe?
Let me know if you liked it by leaving a ★★★★★ star rating and a review below. Please share a photo of your creation by tagging me on Instagram @marcellina.in.cucina!
Recipe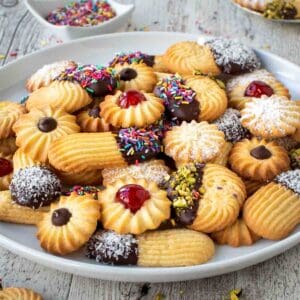 Italian Butter Cookies Recipe
These Italian Butter Cookies as just as delicious as they are easy. One big recipe make lots of cookies. And by using different cake sprinkles you can create many different Christmas Butter cookies! Use a piping bag and open star nozzle OR use a cookie press!
Print
Pin
Rate
Equipment
1 Stand mixer or electric hand mixer

optional but makes this recipe quicker and easier

measuring cups and spoons (or scales)

Wooden spoon and/or rubber spatula

1 Disposable piping bag

1 Open star piping tip

1 Cookie press

if not using piping bag

Assorted bowls and dishes as required

2-3 Baking sheets
Ingredients
1

cup

(

2 sticks/8oz/226

grams) unsalted butter

at room temperature

⅔

cup

(

140

grams) granulated sugar

2

egg yolks

at room temperature

2

teaspoons

vanilla extract

¼

teaspoon

almond extract

optional

2¼

cups

(

295

grams) all purpose flour

½

teaspoon

baking powder

pinch fine salt

gel food coloring

for coloring dough if desired
Decorating Cookie Options (quantities will vary depending on how you decorate)
candied cherries

powdered sugar

chocolate and chocolate chips

colored sprinkles

chopped nuts

desiccated or shredded coconut

Nutella or raspberry jam to fill cookie sandwiches
Instructions
Italian Butter Cookie Dough
Preheat the oven to 320ºF/160ºC and line two or three baking sheets with non stick parchment paper.

In a stand mixer, hand mixer or even by hand thoroughly mix the butter and sugar.

Add the egg yolks, vanilla and almond extract (if using). Beat well.

Sift or whisk the flour, baking powder and salt to combine.

With the mixer on low, combine flour mixture into the butter mixture until the dough is smooth and completely mixed. Take care not to over mix.

To have some colored cookie dough, remove a portion of the cookie dough to a separate bowl then stir in a few drops of gel food color until you achieve a color you like.

If using a cookie press, you may need to chill the dough for 30 minutes.

Pipe or press out cookies onto lined baking tray.

Before baking, you can press a chocolate chip or halved candied cherry into the middle of circular cookies.

Bake in preheated oven 10-12 minutes. The cookies should be a pale golden color.

Cool for a minute or two on the baking tray before moving to a cooling rack.
Decorating Cookies
Cool the cookies completely before decorating.

Sugar dusting - The simplest and very effective decoration is a dusting of powdered sugar. Just spoon a little powdered sugar into a small sieve and dust over each cookie.

Chocolate dipped - Melt chocolate in a bowl over barely simmering water, stirring regularly until completely melted. Dip cookies in the chocolate then set on non stick parchment paper until set. Before the chocolate has set, you can scatter on colored sprinkles or chopped nuts or dessicated or shredded coconut

Cookie sandwiches - Spread a little Nutella or raspberry jam on the bottom of a cookie then press a similar sized cookie onto the filling to sandwich the cookies together. These cookie sandwiches can also be dipped as above.
Notes
Tips for Success
Be sure to measure correctly. Stir the flour to loosen before spooning into measuring cups.
Have ingredients at room temperature.
Scrape down the sides regularly when beating and mixing the dough.
This mixture does not need to be chilled if using a piping bag and an open star tip. Please chill if using a cookie press.
If you find the mixture is too moist, add small spoonful of flour.
Alternatively if too dry, add a teaspoon or two of milk
When using a cookie press, sometimes the mixture gets stuck. Simply use a small knife or your fingers, to release the cookies and place it on the baking tray.
Turn the baking sheets in the oven for even baking.
Cool completely before decorating.
See the full post for more information and FAQ.
Nutritional Information Per Serving
Calories:
66
kcal
|
Carbohydrates:
7
g
|
Protein:
1
g
|
Fat:
4
g
|
Saturated Fat:
2
g
|
Polyunsaturated Fat:
0.2
g
|
Monounsaturated Fat:
1
g
|
Trans Fat:
0.1
g
|
Cholesterol:
18
mg
|
Sodium:
1
mg
|
Potassium:
12
mg
|
Fiber:
0.2
g
|
Sugar:
3
g
|
Vitamin A:
124
IU
|
Calcium:
5
mg
|
Iron:
0.3
mg
Nutritional Disclaimer
Nutritional information is an estimate provided by an online nutrition calculator. For accurate results, it is recommended that the nutritional information be calculated based on the ingredients and brands you use.
This updated and improved recipe was first published here on Marcellina in Cucina on December 18, 2018.