These Cuccidati (Italian Fig Cookies) are fantastically festive with a snowy white glaze and colored sprinkles.
Take a bite and you know it's Christmas time. Cuccidati are full of dried fruits, toasted nuts, spices and a little honey.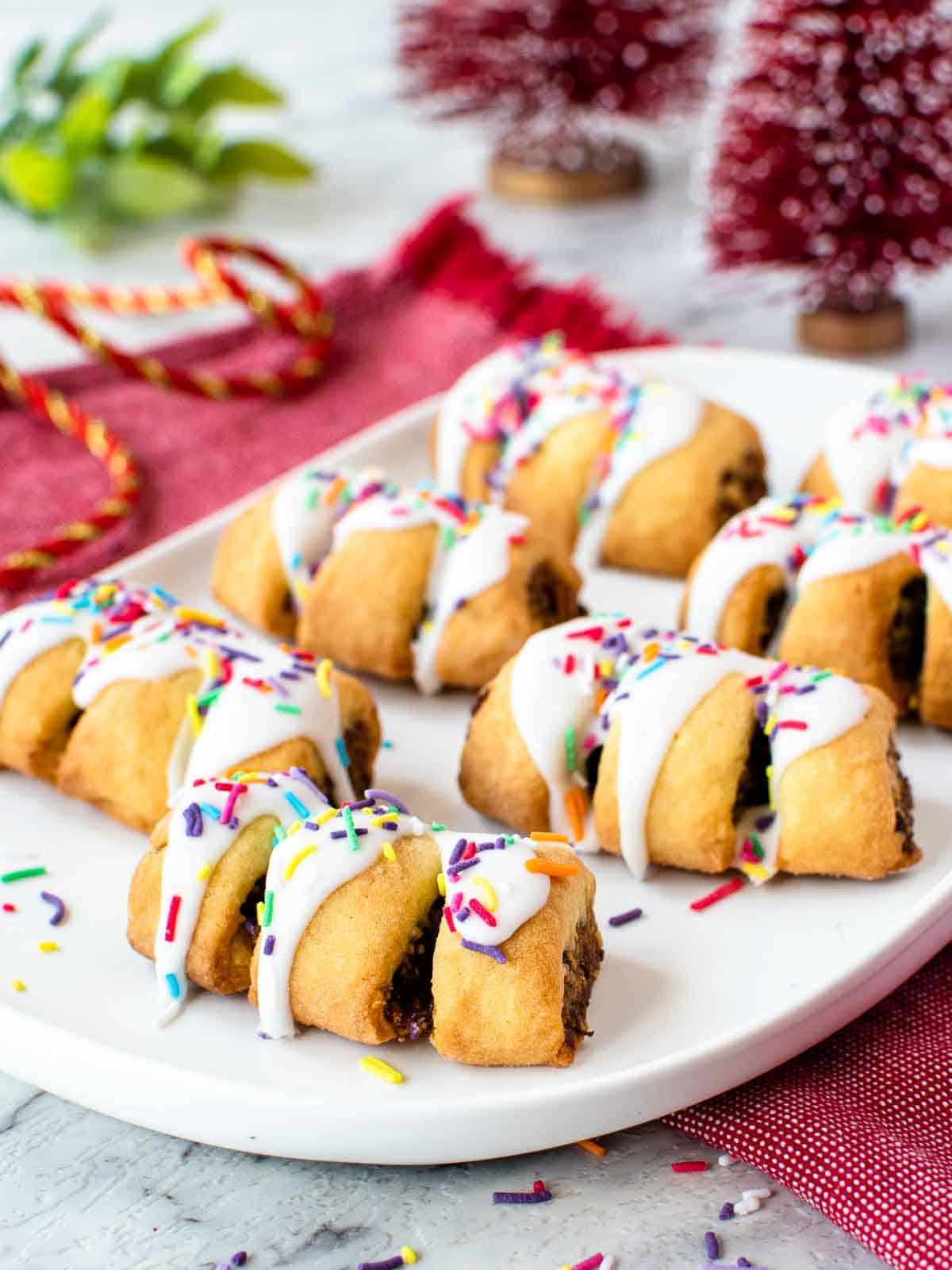 This updated recipe was first published on December 5, 2017.
Why you'll love this recipe
The combination of tender, buttery dough and soft, fragrant filling makes cuccidati totally addictive! Just one bite and you'll understand why no Italian holiday would be complete without these cookies.
Cuccidati are fig cookies that appear during the holidays and especially at Christmas. You'll also find variations of these cookies throughout southern Italy and with immigrant families from these areas. Cuccidati history possibly dates back to the Muslim rule of Sicily and there is definitely some Arabian influence with the dried fruit, oranges, almonds and spices included in the recipe.
Also known as buccellati, cuccidati have three components. While there seems to be many steps to this recipe, the filling and the dough can be made up to 3 days ahead. So break up the recipe. Prepare the filling one day, the dough the next and by the third day, it's simple to put the cookies together.
Some recipes use shortening to make cuccidati but I'm definitely an all butter kinda girl. Butter ensures the dough tastes amazing and melts in your mouth.
These Cuccidati are very similar to my Calabrian fig cookies known as Petrali. Both are traditionally baked at Christmas time in great quantities to be shared with family and friends. Fresh or dried figs have wonderful flavor. When fresh figs are available I love to make my amazing fig tartlets.
Cuccidati are found in many different shapes - little rolls, half moon or with small slits and curved to reveal the dark filling as I have done here. And of course, it's always a party when colored sprinkles are involved!
For complete ingredient quantities and full instructions, please scroll to the printable recipe card bottom of the page.
Ingredients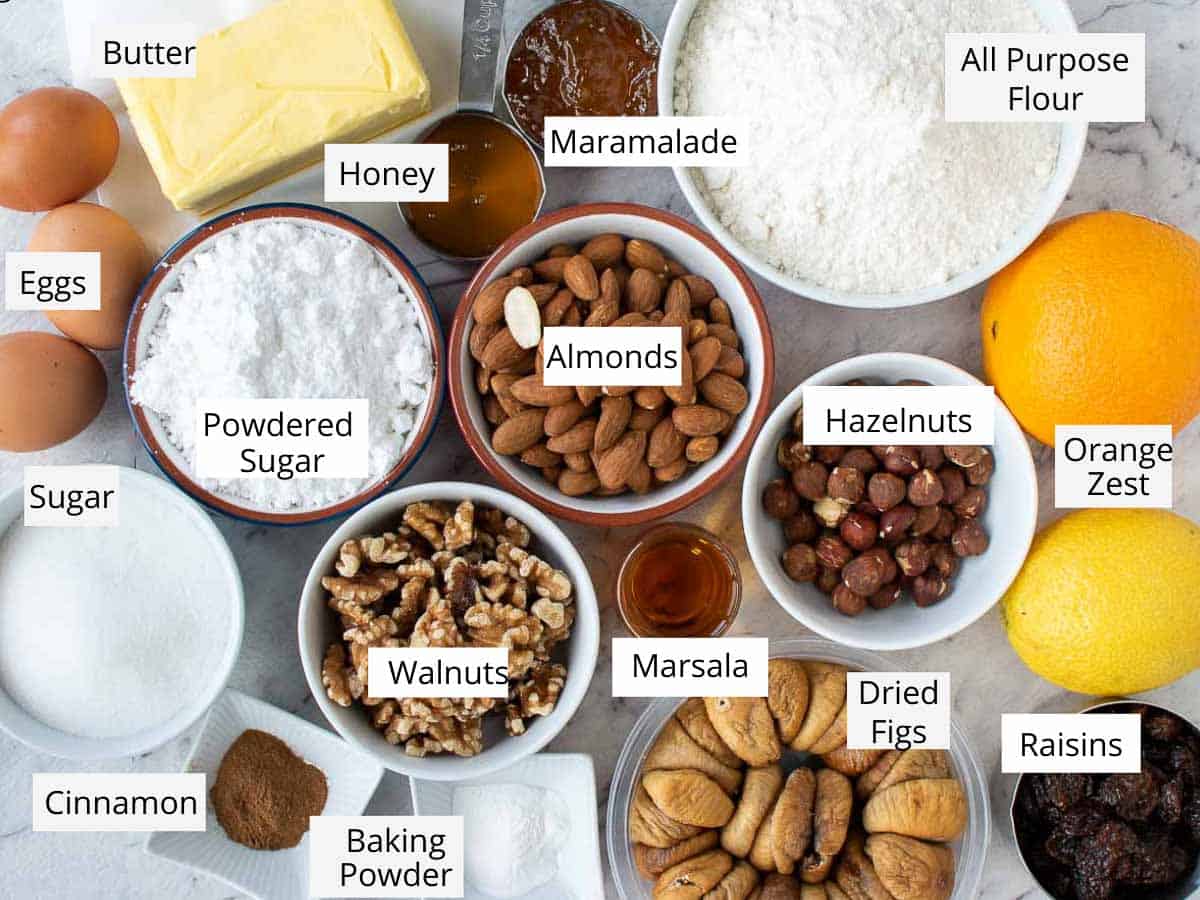 The list of ingredients for cuccidati may look daunting so lets break it up.
For the filling you'll need:-
Dried Figs - This is the basis of the filling so purchase the best quality you can.
Dark Raisins - These give depth of flavor and extra sweetness.
Hazelnuts, Almonds and Walnuts - Remember that nuts are best toasted to bring out the full flavor.
Orange and Lemon Zest - These are cookies that have a delicious citrus zing.
Marmalade - I like to use orange marmalade but any will be fine.
Honey - Use a honey that you like the flavor of.
Marsala - This is a fortified wine from Sicily used in many Italian recipes. There are sweet and dry varieties. Use the sweet one for this recipe.
Cinnamon - Ground and fresh for best flavor.
For the dough you'll need:-
All Purpose Plain Flour - Nothing fancy here, just regular flour.
Salt - Just a little brings out flavor.
Baking Powder - These cuccidati cookies don't need to rise much but a little lift lightens the dough.
Unsalted Butter - My preference but you can use salted if that's all you have. In that case, simply omit the salt. Please don't use shortening.
Sugar - I prefer superfine white sugar which dissolves easily and doesn't leave a gritty texture.
Eggs - For this recipe you'll be using three eggs. In the dough, you'll use two whole eggs plus one yolk. The white will be used in the glaze.
For the glaze you'll need:-
Egg White - Don't forget to keep the white when you make the dough.
Powdered Sugar - I like to make sure to sieved it to remove lumps
Fresh Lemon Juice - Fresh is best however at a pinch use a good bottled variety.
Instructions
To make this delicious Italian recipe, you'll need to be a little organized. As I said earlier, there are three components which need to be prepared. Make the filling first and refrigerate until you have prepared the dough.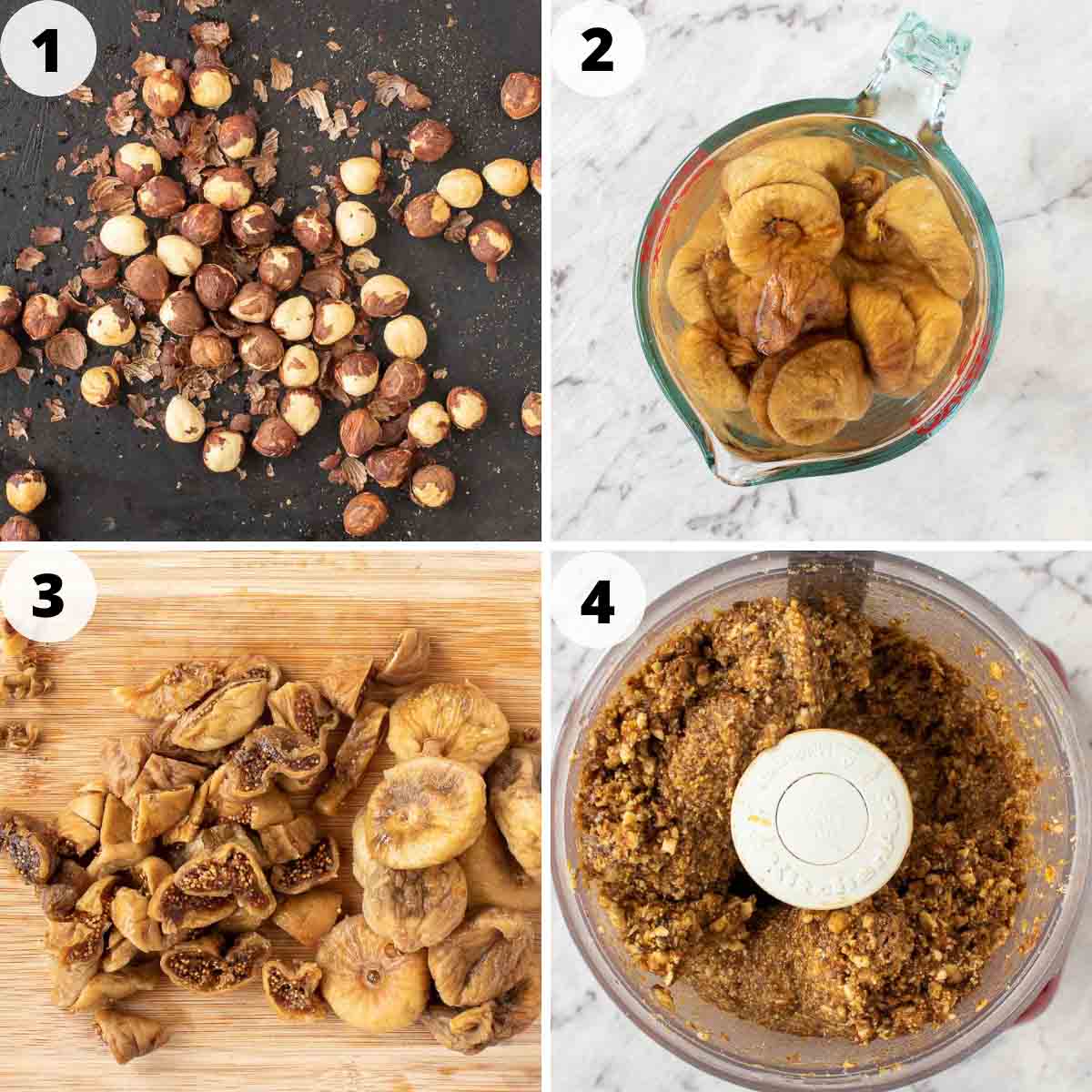 Please note that the numbered instructions below correlate to the numbered photo collage above.
Preheat the oven to 350ºF/180ºC so that you can toast the nuts. Toasted nuts make a huge difference to the filling. Toast the hazelnuts first because you'll need to rub the skins off.
Spread hazelnuts onto a baking sheet, toast for 10 minutes then use a towel to rub off the skins. Set aside then toast the almonds and walnuts for 7-10 minutes. Set aside.
Cover dried figs with hot water to soften.
Coarsely chop the dried figs discarding the hard stem.
Using a large food processor, process the nuts until coarsely chopped, then progressively add remaining ingredients starting with figs and raisins.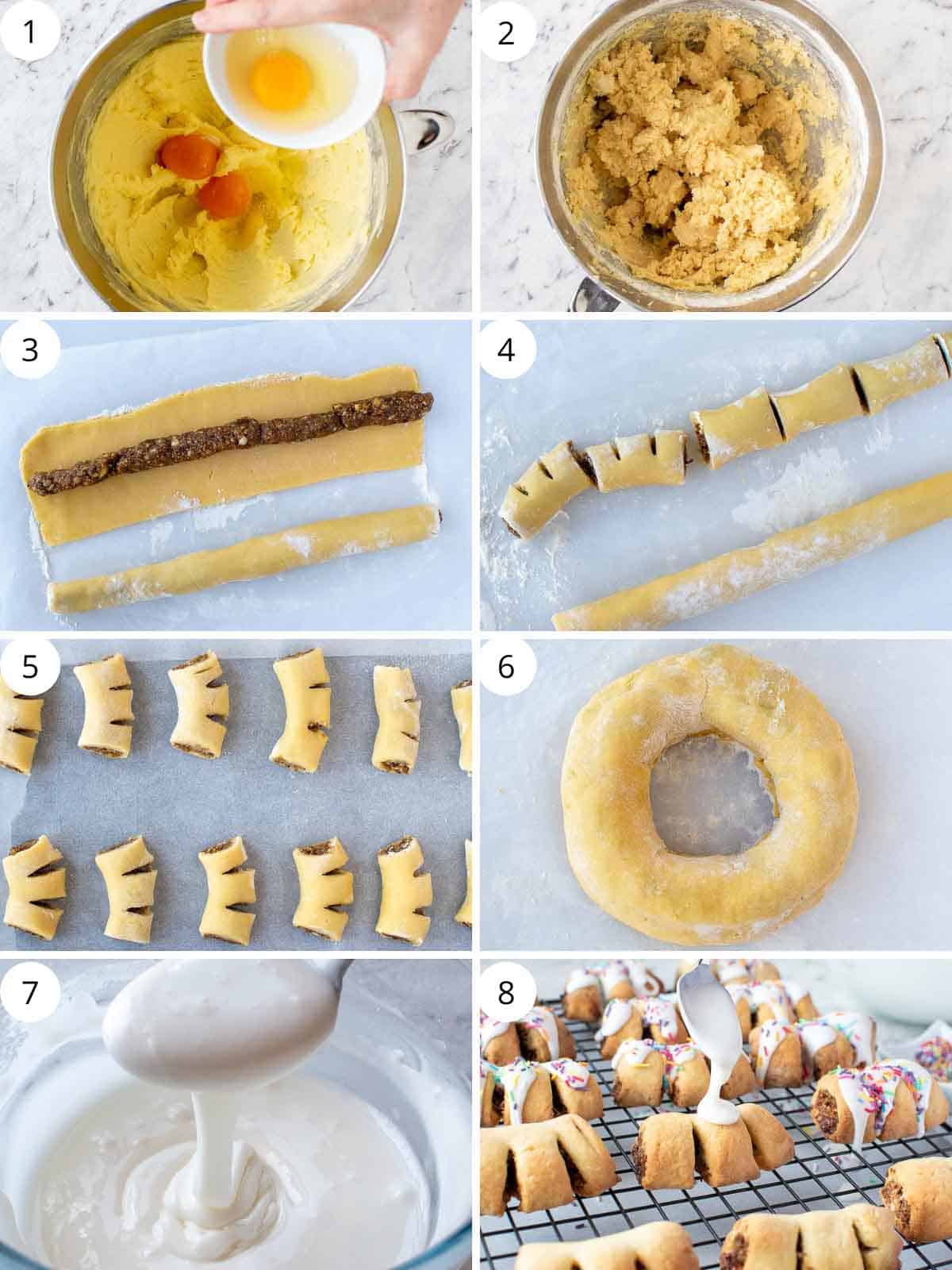 Please note that the numbered instructions below correlate to the numbered photo collage above.
Prepare the dough the day before you want to shape and bake the cuccidati.
Beat the butter and sugar, add the eggs.
Gently incorporate the flour, baking powder and salt. Divide into 4, wrap each in plastic and flatten into a disk. Refrigerate overnight or up to 3 days.
When ready to bake, preheat oven and line baking trays. On a floured work surface roll one disk into a long rectangle (Dimensions in the recipe card below). Cut into two long strips placing ⅛ of the filling along the middle of each strip. Fold the dough over the filling completely encasing it.
Cut each log into 6 pieces then make two slits to reveal the filling.
Gently fan out the slits and place the cuccidati on lined baking sheets to bake until golden brown. Repeat with remaining filling and dough.
For a simple variation, you can make two large filled logs with this recipe and form them into rings (as shown in picture #6). This variation is known as Sicilian buccellato.
To make the glaze, place the egg white into a medium bowl then add the sieved powdered sugar gradually until the desired consistency is reached. Stir in lemon juice.
Immediately drizzle a little of the prepared glaze onto each cooled cookie. Decorate with colored sprinkles.
Variations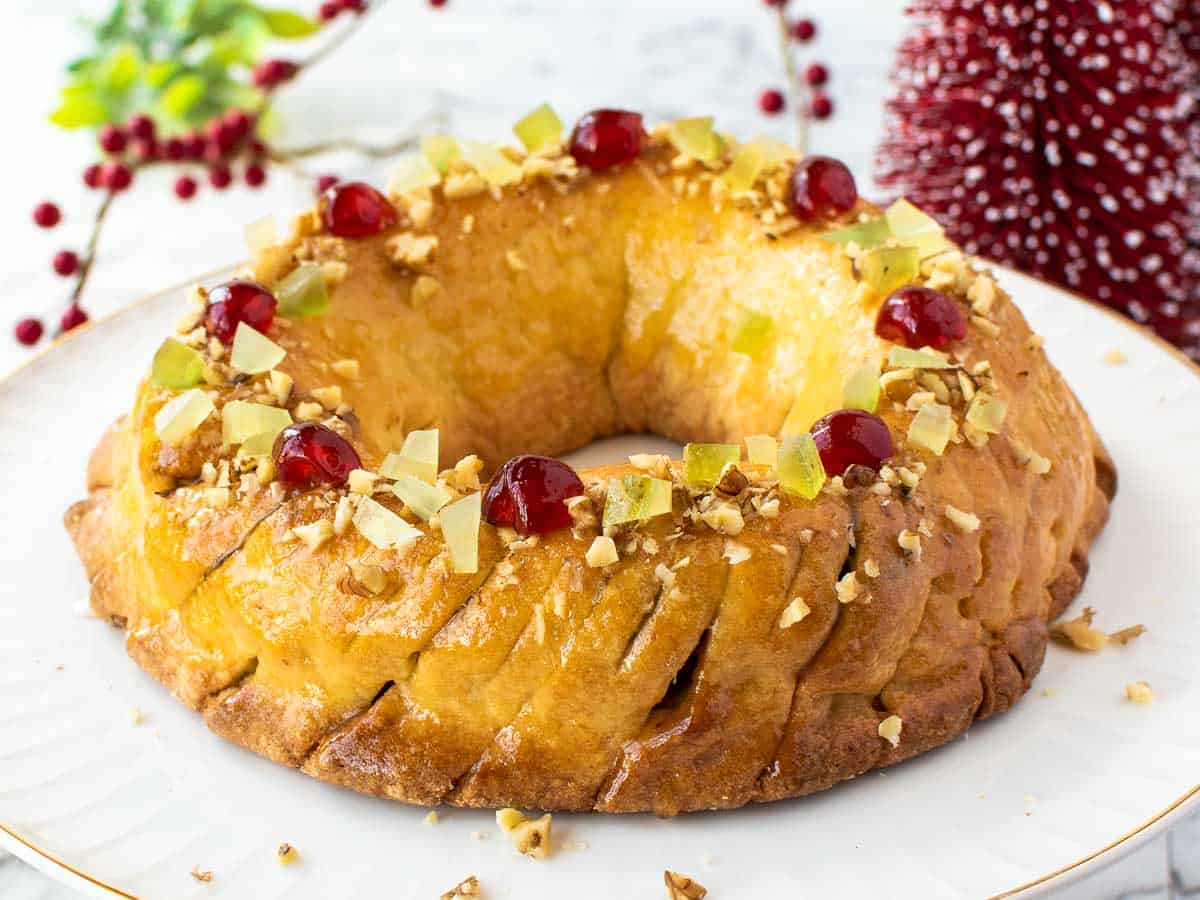 Of course, this recipe is excellent as it is written, however I always say that this is your recipe and you can tweak it to your tastes. Here are some variations which I know will work well.
Use your favorite marmalade. I prefer orange but you may like lemon.
Instead of marmalade use apricot jam or conserves.
If you don't have marsala wine, substitute rum, brandy, limoncello or even a nut liqueur like Frangelico.
Use candied orange and lemon peel instead of zest.
Add a little chopped semisweet (dark) chocolate to the filling - approximately 2oz (60 grams).
As well as cinnamon adding ¼ teaspoon of ground cloves is quite popular.
Add almond or vanilla extract to the dough.
There are also alternative ways to shape cuccidati. For example, simply cut into portions as in the recipe and bake without cutting slits into the sides.
The other name for these cookies is buccellati which means rings or bracelets. For this variation, cut the logs into 3 instead of 6 and carefully join the ends to shape into circular cookies.
One of my favorite variations is to use half of the dough and half of the filling to make a Sicilian buccellato which is a large filled pastry ring. Buccellato is the singular form of buccellati. This is a larger version of buccellati that I've described above and quite different to the Italian sweet bread known as buccellato di Luca.
To make this larger version, roll out half of this dough into a 17 inches x 9 inches (43cm x 23cm) rectangle. Roll half of the filling into a log to fit the length then fold the dough over to cover the filling completely. Form into a ring then bake on a lined baking sheet at 350ºF/180ºC for 30 minutes. Glaze with warmed, sieved orange marmalade and decorate with candied fruit.
Tips for Success and FAQ's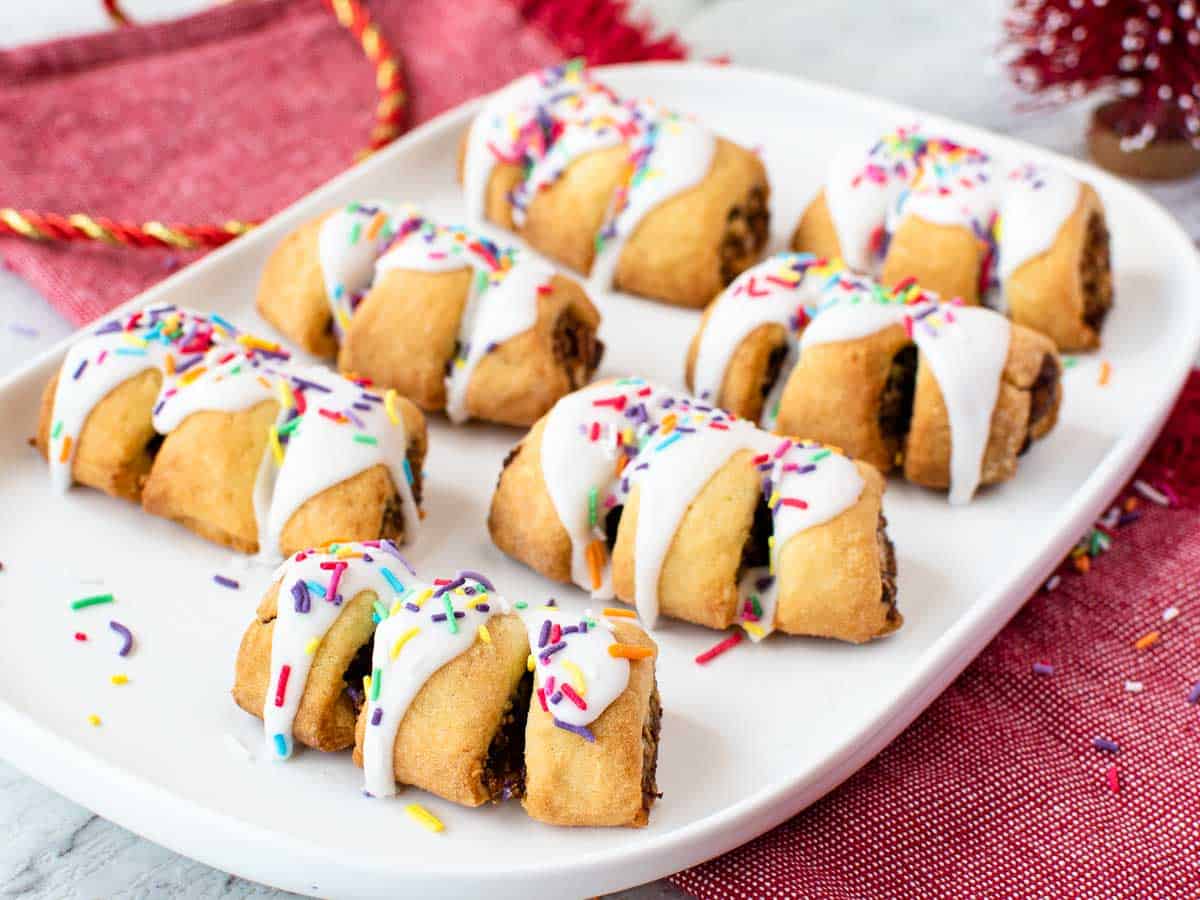 The best tip I can give you is to spread out the preparation of the filling, dough and baking over 3 days. It will be much simpler and not be difficult at all. In fact, the dough really must rest for a few hours at least and the flavors of the filling meld and are enhanced with time.
Remove the dough an hour or two before you're ready to shape the cuccidati. If your kitchen is particularly warm this may not be necessary and if it's extra cool, the dough will take longer to reach a workable consistency.
Don't leave the dough out in a warm kitchen for too long otherwise it will be too soft and you'll have trouble working with it. The dough needs to be at cool room temperature.
If the glaze doesn't set because your kitchen is too cold or humid, glazed cuccidati can be dried in a barely warm oven (85ºF/30ºC). This could take anywhere from 15 minutes to an hour. Just keep checking.
What does cuccidati mean in english?
There is no direct translation for cuccidati but to many Italians cuccidati means Christmas. No holiday season would be complete without these delicious fig stuffed cookies!
How do you pronounce cuccidati?
The word Cuccidati is pronounced coo-chi-dah-tee. 
How do you store these cuccidati?
Cuccidati keep really well. Store in a sealed container with paper between the layers. 
Can you freeze cuccidati?
Yes! Freeze for up to three months in a sealed container as you would when storing.
More Recipes Like This
Snowflake Cookies - Tender sugar cookies in beautiful snowflake shapes.
Chocolate Covered Pecans - Toasty pecan covered with chocolate and a touch of salt.
Almond Flour Peanut Butter Cookies - Addictive and gluten free.
Lemon Glazed Wreath Cookies - With a lemony tang to celebrate the holidays.
Norwegian Cookies - Buttery and full of walnuts.
Gingerbread Cookies without Molasses - Full of flavor.
Anise Cookies - Soft with a hint of anise.
Made this recipe?
Let me know if you liked it by leaving a ★★★★★ star rating and a review below. Please share a photo of your creation by tagging me on Instagram @marcellina.in.cucina!
Recipe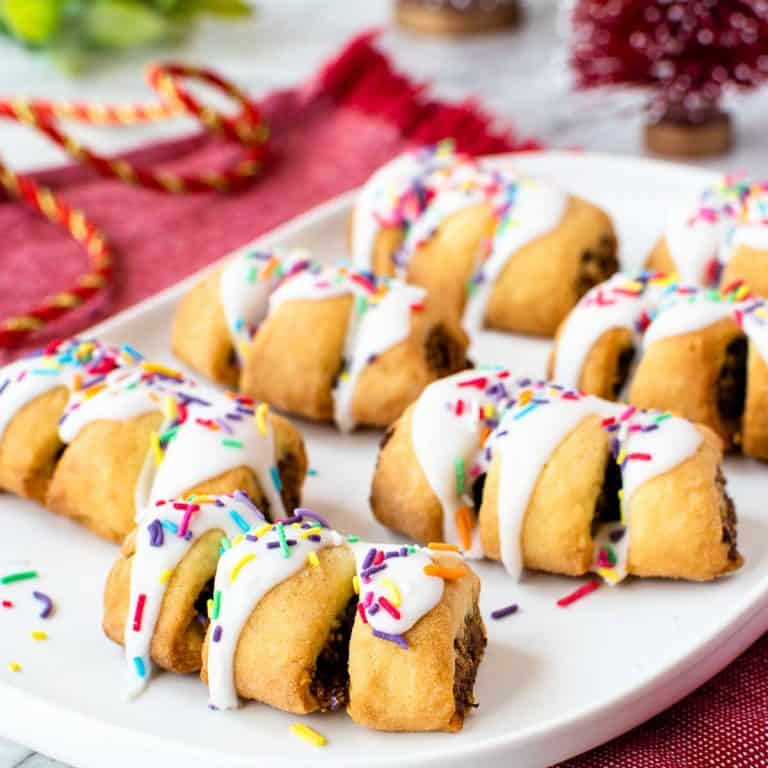 Cuccidati Recipe
These Italian favorites are full of dried fruits, toasted nuts, spices and a touch of liqueur.
Print
Pin
Rate
Ingredients
14

oz

(375 grams) dried figs

1

cup

(150 grams) dark raisins

½

cup

(65 grams) hazelnuts

1

cup

(145 grams) almonds

1

cup

(90 grams) walnuts

finely grated zest of 1 orange

finely grated zest of 1 lemon

⅓

cup

(100 grams) marmalade

¼

cup

honey

⅓

cup

Marsala wine

sweet

1 ½

teaspoon

ground cinnamon
dough
1¼

cups

(10oz / 2½ sticks / 285 grams) unsalted butter

⅔

cup

(145 grams) superfine white sugar

2

eggs

1

egg yolk

white reserved for the glaze

3 ½

cups

(440 grams) all purpose plain flour

1

teaspoon

baking powder

½

teaspoon

salt
Glaze
1

large egg white

1

teaspoon

fresh lemon juice

2

cups

powdered sugar

sieved to remove lumps
Instructions
To make filling
Preheat the oven to 350ºF/180ºC. Spread out hazelnuts onto a baking tray. Toast for 10 minutes until nutty and the skins are starting to split. Remove and rub the skins with a towel to remove.

Spread out almond and walnuts on another baking sheet and toast for 10 minutes.

Figs need to be soft. If they seem dry, cover with boiling water. Check after 5 minutes. If ready, remove and pat dry with paper towel. Snip off the hard stems and cut in half.

Process hazelnuts, almonds and walnuts in food processor by pulsing a few times until just starting to chop. Add figs and raisins, zests, marmalade, honey, Marsala wine and cinnamon and process until finely chopped and a thick consistency.

Refrigerate overnight or up to 3 days.
To make dough
Beat butter with electric mixer until soft. Gradually add sugar, beating well.

Add in eggs and egg yolk one at a time beating well after each addition.

Sift in flour, baking powder and salt. Mix until just combine. Divide into four disks, wrap each in plastic wrap and refrigerate overnight or up to 3 days.

Preheat oven to 350ºF/180°C. Line two baking trays with non stick paper

Working with 1 disc at a time, roll out dough to a 12in x 7in (30cm x 17cm)rectangle. Trim edges and cut in half lengthwise.

Divide filling into 8 portions. Using moistened hands, take one portion and roll into a log 12in/30cm long.  Place on strip of dough. Repeat for the second strip of dough

Fold dough over to cover mixture, then roll up to form a log. Repeat with remaining pastry and fruit mixture.

Using a floured knife, cut each fruit-filled log into 6  pieces. Make two, evenly spaced slits on one long side of each cookie. Shape cuccidati gently to fan out slits.

Place on prepared trays. Bake for 25-30 minutes or until golden brown. Transfer to a wire rack to cool.
To glaze
Whisk egg white and the lemon juice in a medium bowl. Gradually add powdered sugar until combined. The glaze should have a thick consistency.

Immediately drizzle cuccidati with glaze and scatter with colored sprinkles, to decorate.
Notes
Tips for success
Spread out the preparation of the filling, dough and baking over 3 days.

Remove the dough an hour or two before you're ready to shape the cuccidati. 

The dough needs to be at cool room temperature. Put it back in the fridge if it gets too soft.

If the glaze doesn't set because your kitchen is too cold or humid, the cookies can be dried in a barely warm oven (85ºF/30ºC). This could take anywhere from 15 minutes to an hour. Just keep checking.
Read the post fully for more suggestions for "Variations" and "FAQ's".
Recipe adapted from A Baker's Odyssey by Greg Patent.
Nutritional Information Per Serving
Calories:
208
kcal
|
Carbohydrates:
30
g
|
Protein:
3
g
|
Fat:
9
g
|
Saturated Fat:
3
g
|
Cholesterol:
23
mg
|
Sodium:
76
mg
|
Potassium:
150
mg
|
Fiber:
2
g
|
Sugar:
17
g
|
Vitamin A:
163
IU
|
Vitamin C:
1
mg
|
Calcium:
35
mg
|
Iron:
1
mg
Nutritional Disclaimer
Nutritional information is an estimate provided by an online nutrition calculator. For accurate results, it is recommended that the nutritional information be calculated based on the ingredients and brands you use.