These Mini Chocolate Chip Panettone are so cute and delicious you'll want to make and eat them year round. Your kitchen will smell amazing as these are baking and they are a perfect little gift. You are probably thinking that I'm crazy suggesting that you should use up your limited time to bake Mini Chocolate Chip Panettone. But if you have a stand mixer that does the major work for you, these little numbers aren't that time consuming. Yes, you will have to wait around for the dough to do it's thing and get puffy an' all but actual hands on time is rather minimal.
Get organised and be rewarded
Have everything at hand along with measuring spoons and cups or digital scales and in an afternoon while you are wrapping gifts and writing cards the dough will rise and you will be rewarded with delicious, fragrant Mini Chocolate Chip Panettone. I used a few souffle moulds and a couple of pudding bowls for these panettone. If the mould you are using aren't particularly high cut a strip of non stick paper to line the mould up above the rim. Alternatively, if you have ¾ cup dariole moulds that would be perfect. Don't fret, even large muffin pans would be great just be sure to adjust the baking time.
Christmas food in my childhood home
Growing up panettone was always a Christmas staple in our home along with torrone (hard Italian nougat) and Vienna almonds. There would always be a couple Panettone in blue boxes taking pride of place displayed high on the kitchen cupboards. I imagine they were rather expensive because the Panettone was opened and cut only when visitors came. Unlike in my home recently where we eat Panettone in gay abandon, that is at breakfast, lunch and dinner! Anyway, back to those blue boxes sitting up high and proud. Inevitably there would always be one leftover which my father would say "keeps forever"! And he would bring it out at the a family gathering later, much later, in the new year. No, I'll tell you now Panettone doesn't keep forever.
But panettone is meant to be slightly dry because it should be eaten dipped in spumante or coffee. I notice lately that many panettone are very moist which upsets me. Yes, I'm the type that gets upset when food isn't how it should be. Strange but true! These Mini Chocolate Chip Panettone are quite soft and moist immediately after baking but if you wait 24 hours they are for the perfect dryness for dipping. If you intend to bake ahead, wrap each panettone individually in plastic wrap then place into a seal container and freeze for up to one month. Reheat gently for optimum pleasure.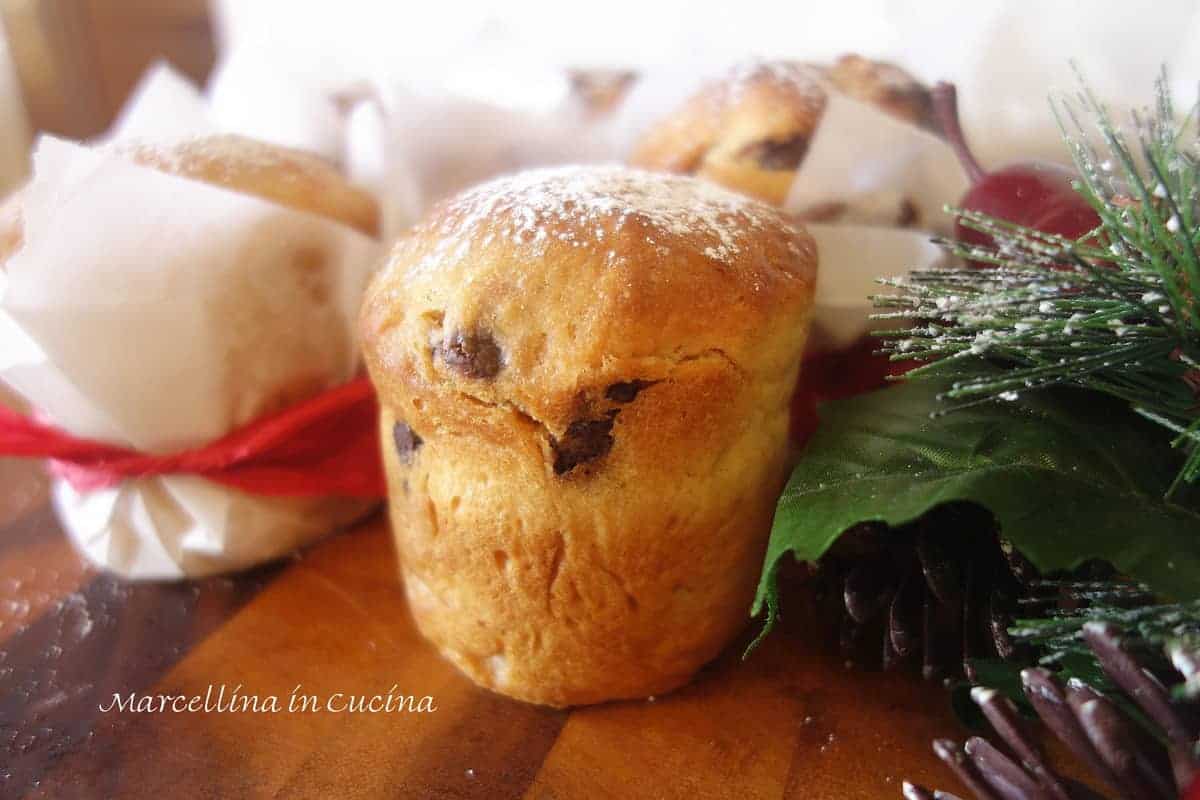 How often it is said now that Christmas is everyday because we have so much. What is special about Christmas time in your home? Do you have special traditions or customs or just little things you do for those you love? Tell me about it, I'd love to know.
More recipes you'll love
Christmas Bread Wreath with Tomato Dipping Sauce
Ingredients
3 ½

teaspoons

active dry yeast

80

mls/1/3 cup warm milk

575

g/3 ¾ cup all purpose flour

100

g/1/2 cup sugar

2

eggs

3

egg yolks

45

mls/3 tablespoons honey

60

mls/1/4 cup sweet Marsala

45

mls/3 tablespoons amaretto

3

teaspoons

vanilla extract

½

teaspoon

pure lemon extract

or a few drops pure lemon oil

½

teaspoon

pure orange extract

or a few drops pure orange oil

pinch

salt

250

g/8oz unsalted butter

chopped and softened

300

g/10 ½ oz dark chocolate chips
Instructions
In a medium bowl mix yeast and milk. Set aside for 5 minutes until it is creamy.

Add ½ cup/75g flour and 1 tablespoon sugar. Mix well then cover with plastic wrap. Set aside for 1 hour until bubbles appear and the mixture has risen.

In the bowl of stand mixer place eggs, egg yolks, yeast mixture, remaining sugar, remaining flour, honey, sweet Marsala, amaretto, extracts and salt. With paddle attachment mix to combine.

With the motor running, gradually add butter one tablespoon at a time, until completely absorbed.

Finally add in the chocolate chips and mix until just combined. Be careful not to over mix because the chocolate chips will break down and you will have chocolate panettone which isn't a bad thing!

Cover the bowl with plastic wrap and set aside at room temperature for 3 hours.

Preheat over 180C/350F. Grease 12 ¾ cup capacity pudding moulds or souffle dishes.

Divide the dough into 12 even portions. Roll into balls and place into prepared moulds.

Place filled moulds on a baking tray. Cover with plastic wrap and set aside for 1 hour.

Bake panettone for 25/30 minutes or until golden brown and cooked through.

Allow to stand for 5 minutes before carefully turning out to cool. Be sure to set panettone upright on the cooling rack.
Notes
If your house is particularly warm find a cooler spot (maybe in an air conditioned room) otherwise you will end up with a greasy mess because of the high butter content.
These panettone are delicious warm or shortly after baking
Freeze if not serving straightaway. Wrapped well in plastic wrap and then a sealed container these panettone will keep for 1 month.