These mini Chocolate Panettone are delicious Italian sweet bread that are so cute and tasty you'll want to make them every holiday.
Your kitchen will smell amazing as these are baking and they're a perfect homemade gift. With a rich golden crumb and lots of dark chocolate chips, everyone will want one!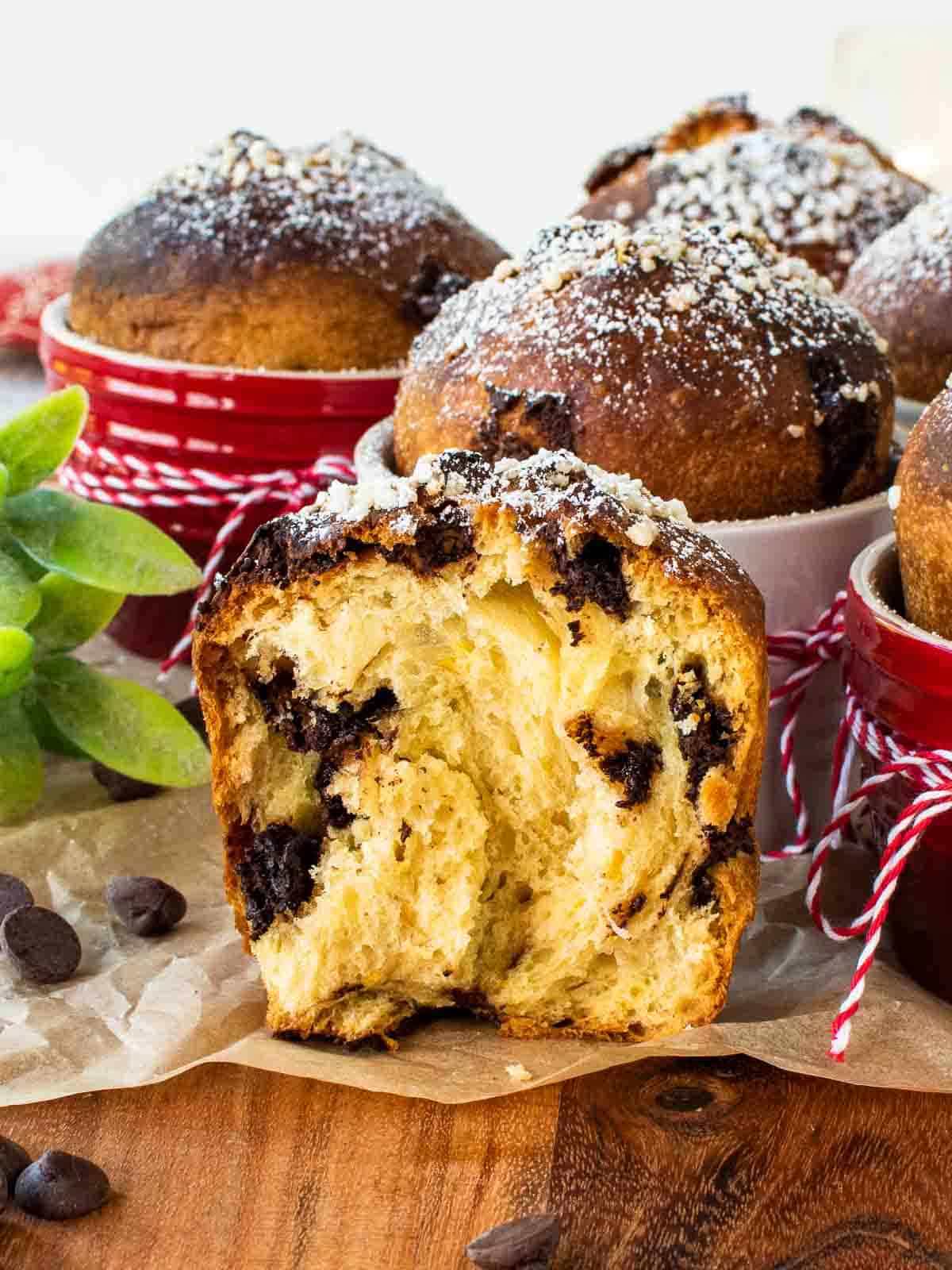 My mini Chocolate Panettone are super buttery, soft and easy to make. Unlike the traditional panettone, these don't take three days to make or have hard to find, specialized ingredients. And you won't need to go search for the authentic paper molds to bake them in.
Using easy to find dry active yeast, bread flour, lots of butter and eggs, these mini Panettone with chocolate are rich and fragrant but you don't have to be a master baker to have success. I  like dark chocolate chips but you can flavor yours with dried and candied fruit, if you prefer. Plus, use whatever pudding molds, large muffin pans or souffle dishes you have, to bake these individual Chocolate Panettone.
Growing up panettone was always a Christmas staple in our home along with Crostoli and Italian cream puffs. There would always be a couple panettone in blue boxes taking pride of place displayed high on the kitchen cupboards. I knew panettone was special  because it was opened and cut only when visitors came or finally on Christmas day.
Why you'll love this recipe:
It's easier and takes less time the traditional panettone.
Lots of butter, eggs, rum and chocolate makes this mini panettone with chocolate wonderfully fragrant and delicious!
Individual breads means everyone gets there very own and don't have to share with anyone…if they don't want to, that is.
Making such a special bread like chocolate panettone is extremely rewarding and satisfying.
For complete ingredient quantities and full instructions, please scroll to the printable recipe card bottom of the page.
Ingredients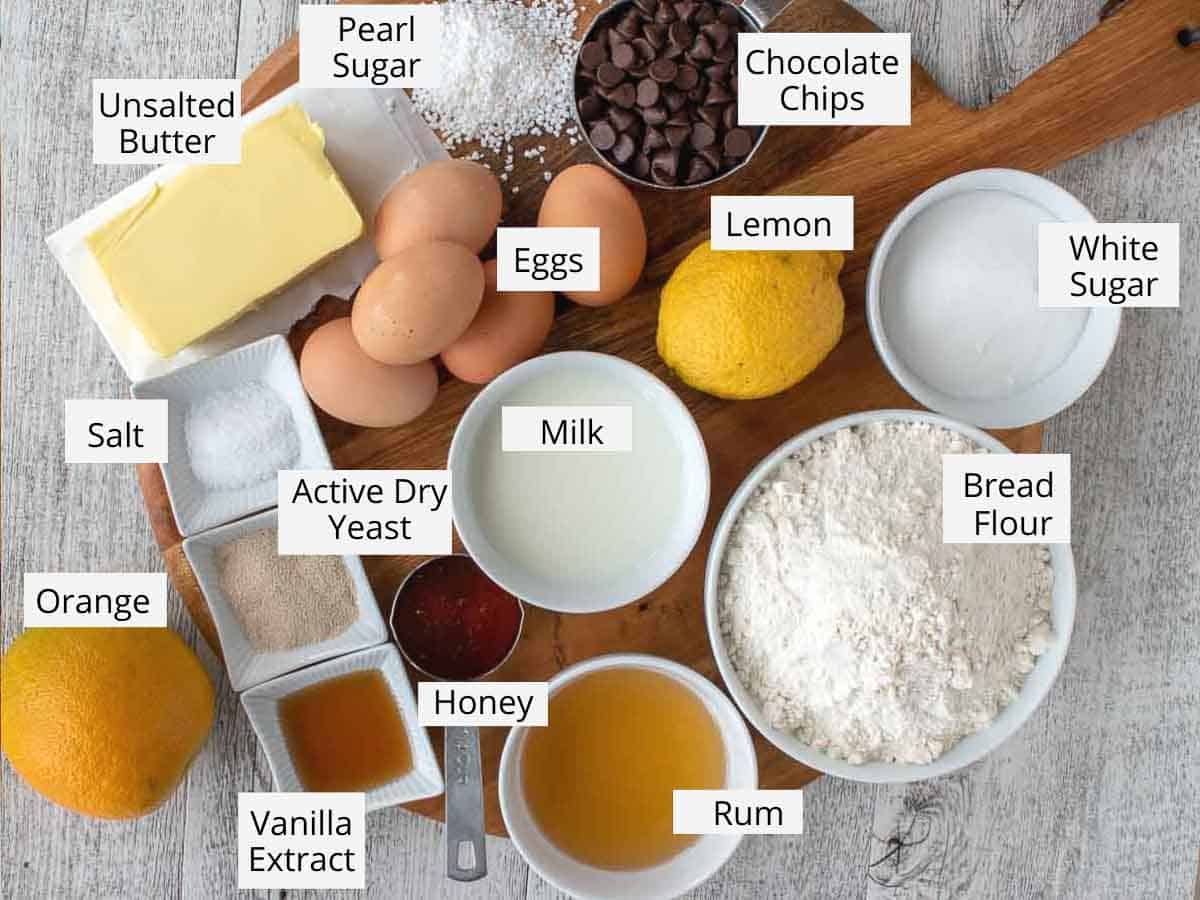 Whole Milk - I prefer whole dairy milk but use low fat if that's all you have.
Active Dry Yeast - you'll find active dry yeast in the baking aisle of most supermarkets. This recipe uses two sachets.
Bread Flour - this type of flour has a higher content of gluten. This will make the dough more elastic and more airy and light. It's the flour I prefer when making breads like this Christmas Wreath Bread and my Pesto Bread.
Granulated Sugar - just regular white granulated sugar is perfect for this chocolate panettone recipe.
Eggs - you'll need whole eggs plus yolks for extra richness. I like to use free range eggs but use what ever you have or prefer buying.
Honey - use whatever honey you prefer. A good flavored honey gives a particularly delicious taste to this recipe.
Rum - I use golden rum in this recipe but dark Jamaican rum would also work.
Vanilla Extract - this is my vanilla flavor of choice because it's so easy and gives wonderful vanilla flavor to everything I use it in. Please don't use essence. It's not the same and is more often than not a synthetically produced flavor.
Lemon - you'll just need the zest. Keep the lemon juice for another recipe or for squeezing into a cup of tea along with a little honey.
Orange - you'll need the zest only. Squeeze the juice to have for breakfast in the morning.
Salt - is essential not just for taste but to help the yeast do it's work. I like to use fine salt with no additives.
Unsalted Butter - I prefer using unsalted butter because then I can control how much salt I add. If you only have salted butter, use that but add only half the amount of salt stated in the recipe.
Dark Chocolate Chips - chocolate chips are probably the most important ingredient. Use the absolutely best quality you can find. Dark chocolate really is the key to this recipe.
See recipe card for quantities.
Instructions
Scald the milk in a small saucepan. Set aside until it's lukewarm. Then in a medium bowl mix yeast and milk. Set aside for 5 minutes until it is creamy and frothy.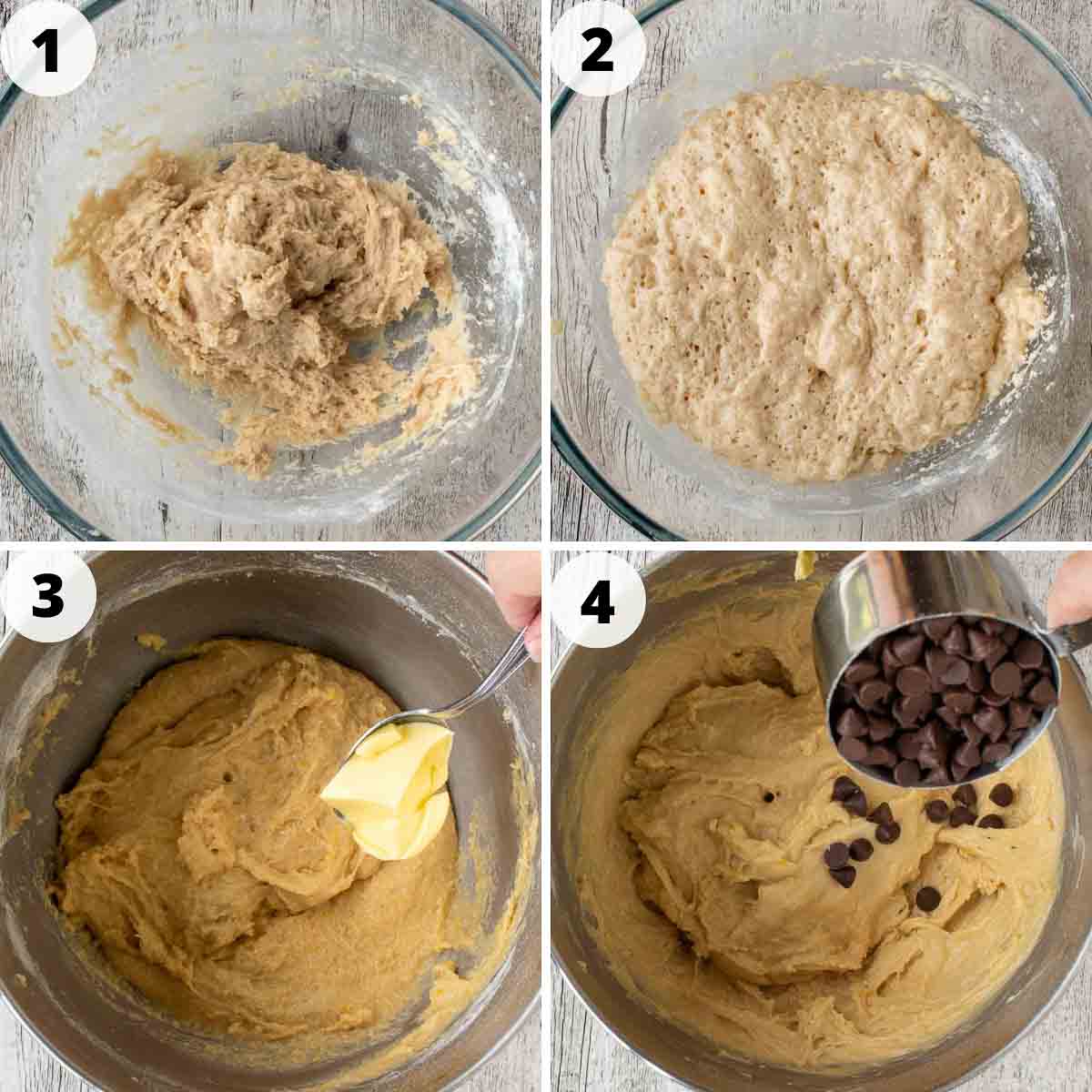 Mix ⅓ cup flour and 1 tablespoon sugar into the yeast mixture to form a thick dough.
Set this first dough aside for 30 minutes until bubbly and risen
After the first dough has risen, scrape it into the bowl of a stand mixer. Gradually add the eggs, egg yolks, remaining sugar, honey, rum, vanilla extract, zests,  flour and salt. Once the dough is well kneaded, mix in the softened butter a little at a time.
Finally, add in the chocolate chips and mix until just combined. 
Preheat over 350ºF/180ºC. Thickly butter 8 x 1 cup capacity pudding molds or souffle dishes.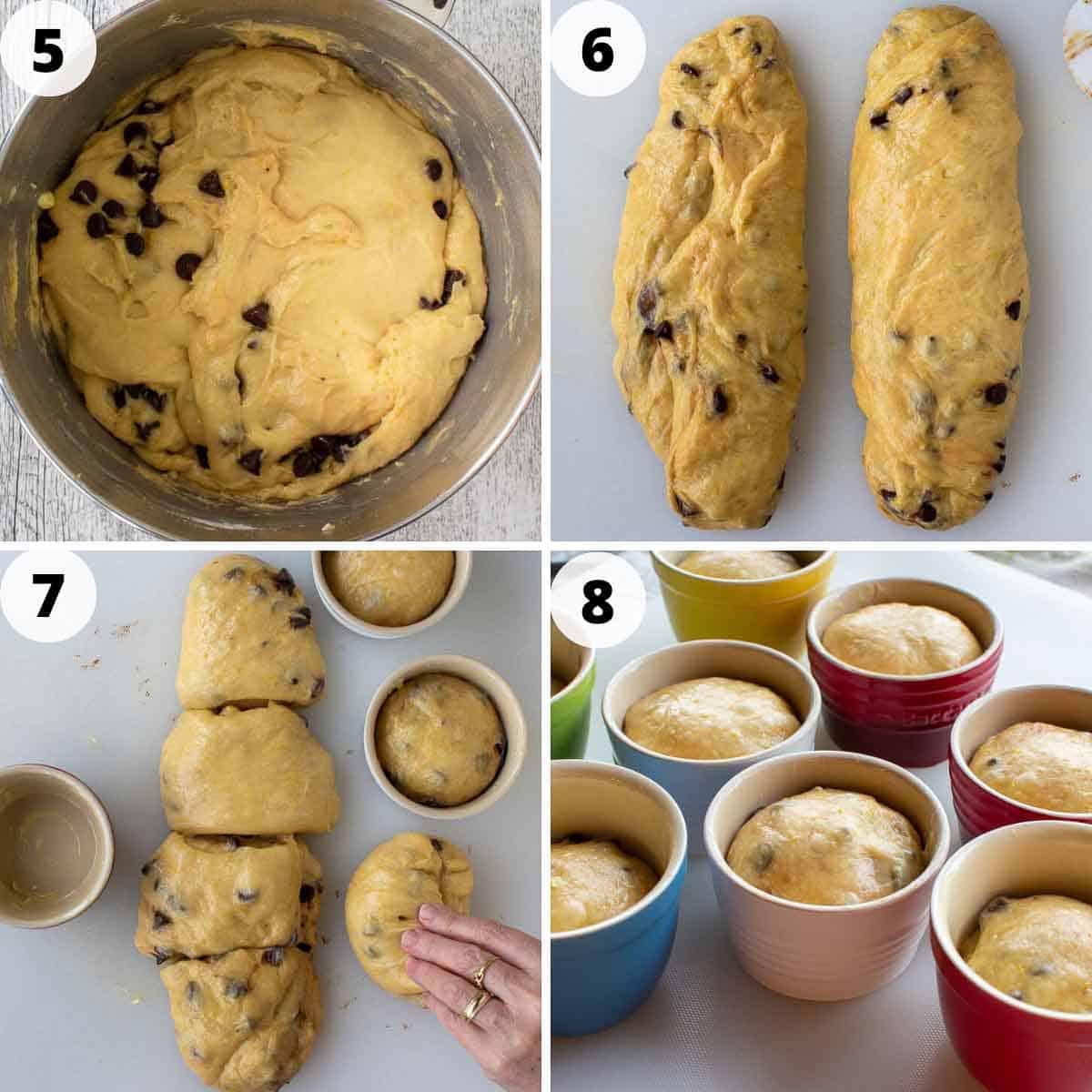 Let the dough rise until doubled.
Scrape the dough out onto an oiled work surface. Divide the dough into 2 even portions. Flatten each into a square then fold in thirds.
Cut each portion into 4 even pieces. Roll each piece of dough into smooth balls and place into prepared molds. Let the dough rise until puffy.
Cut an X in the tops with oiled scissors and put a small knob of butter on each. Bake the chocolate panettone for 25-30 minutes or until golden brown and cooked through.
Let the mini panettone stand for 5 minutes before carefully turning them out to cool on a wire rack.
Hint: don't strictly follow the rising times provided. Look at the dough and be guided by it. You want the dough to double in the first rise. That can be longer or shorter than the time specified depending on how warm or cold it is in your house. In the second rise, the dough may not double but will become puffy. It will spring up further in the oven.
Substitutions
Vanilla Extract - instead of vanilla extract use the seeds scraped from a split vanilla bean.
Orange and Lemon Zest - use a few drops of orange and lemon oil instead of the zest.
Variations
Alcohol Free - instead of rum, use orange juice to make the mini chocolate panettone alcohol free.
Traditional - substitute the chocolate chips for your favorite candied fruit and raisins or currants.
Tropical - replace the chocolate chips with chopped dried banana, mango, pineapple and papaya.
Equipment
Using a stand mixer makes this chocolate panettone recipe very easy. But you'll get excellent results when kneaded by hand as well.
Storage
These Chocolate Panettone are quite soft and moist immediately after baking but after a day, they will dry out. These will still be good for toasting or dipping in sweet white wine.
If you intend to bake ahead, wrap each chocolate panettone individually in plastic wrap as soon as they are cool. Then place into a sealed container and freeze for up to one month. To serve, wrap in foil and reheat gently until warmed through.
Tips for Success and FAQ's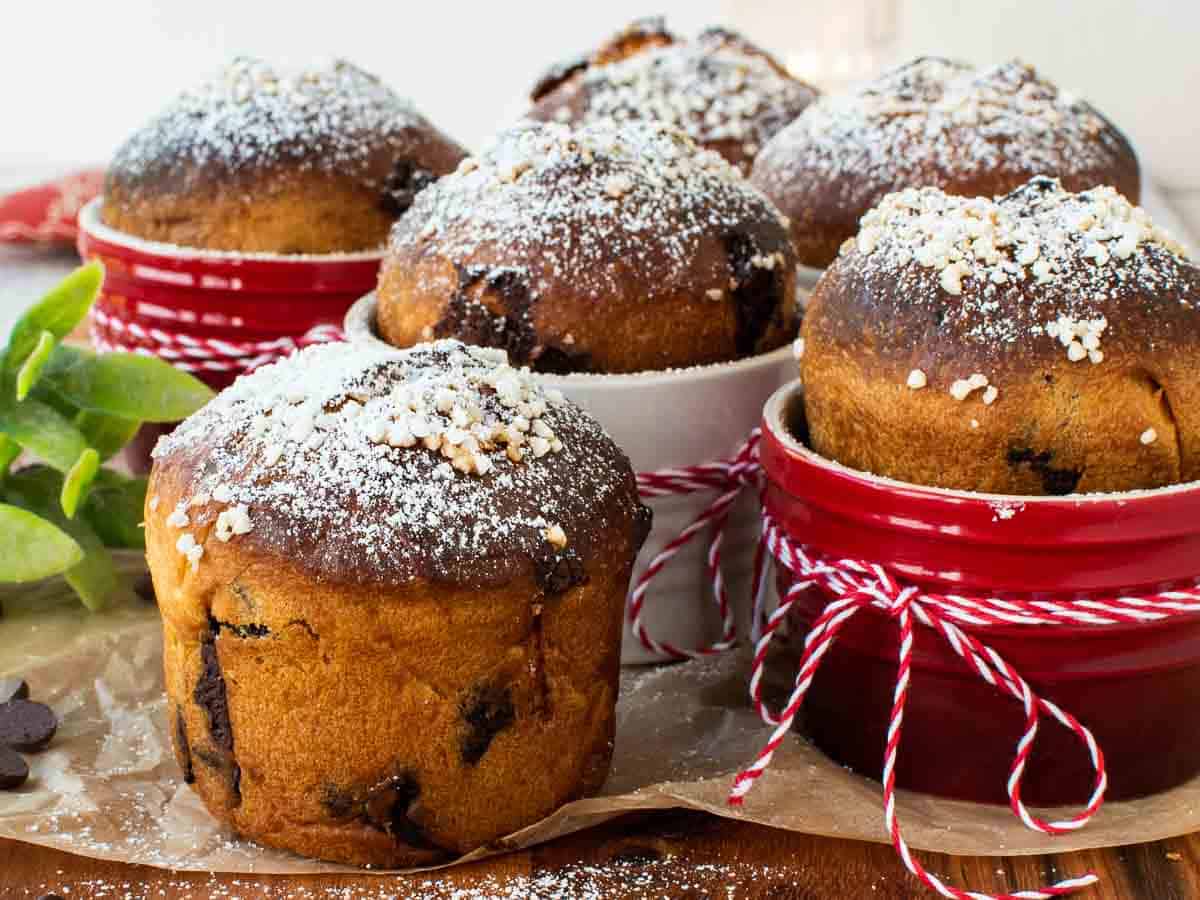 Use fresh yeast. If in any doubt, test it. You'll know in the first 5 minutes after mixing it with the warm milk because it should become creamy and foamy. If not, it's old - buy more!
That brings me to the milk - I like to scald the milk when using it with yeast. Scalding weakens the whey protein in the milk which means that the yeast can do it's job better - better rise and more soft and springy dough! Be sure to cool the milk to lukewarm before adding the yeast!
Add the soft butter only after the dough has kneaded well and the gluten has developed. When adding the butter, do so gradually waiting for it to be absorbed before adding more.
Reading the entire recipe is always a good plan when baking a more complicated recipe. This chocolate panettone is not as complicated as the traditional variety, but a few steps need a bit of thought.
I prefer to weigh ingredients. However, if you are using cup measures it is important first to stir the flour to lighten and fluff it up. Then spoon the flour into the measuring cup without packing it in.
Special panettone molds or panettone papers can be purchased online and in speciality stores to bake these breads. However, I use individual pudding bowls for this recipe. Large muffin pans, dariole molds or even souffle dishes will work. To extend the sides higher, insert a strip of non stick parchment paper to line the mold up above the rim.
How do you eat chocolate panettone?
In my family, we always eat chocolate panettone dipped in sweet white wine or coffee. But it's also commonly eaten with mascarpone cream. Lightly toasting slices and spreading with marmalade or Nutella is fantastic for breakfast.
Do Italians eat Panettone or is it mainly just for export?
Yes, Italians definitely eat Panettone. In Italy, grocery store shelves are lined with many different brands and varieties of panettone and many bakeries produce beautiful artisan panettone. Christmas lunch in Italy usually finishes with panettone and pandoro with crema al mascarpone or mascarpone cream.
What is special about panettone?
Panettone is special because it has a wonderful fragrance and taste like no other bread. One of the secrets is the use of an Italian yeast called lievito madre or mother yeast which gives this sweet bread it's distinct flavor. Bakers in Milan, the birthplace of panettone, are only allowed to use this particular yeast. Long slow rising, lots of butter and eggs also make the traditional panettone a very special product.
Does traditional panettone have chocolate?
No, traditional panettone doesn't have chocolate. The traditional panettone has raisins and candied orange, citron and lemon zest. Chocolate and other variations 
Serving Suggestions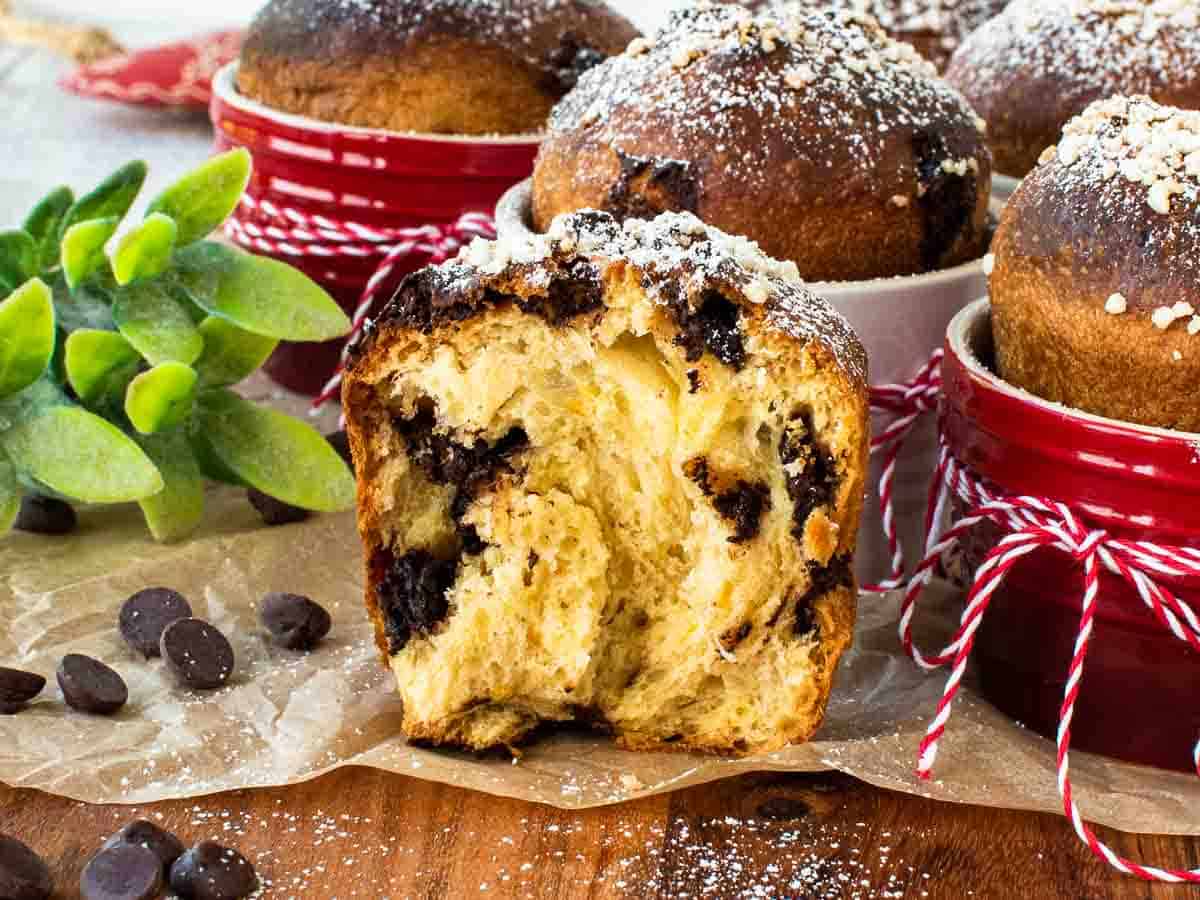 Chocolate Panettone is the ideal sweet bread to serve after a special holiday meal accompanied by a spoonful or two of mascarpone cream! A fitting end to a delicious meal, whether Italian inspired or not!
Serve a sweet white wine as well for those who love to dip and sip. And the next day, leftovers will make a wonderful breakfast toasted and spread with butter or orange marmalade.
Recipe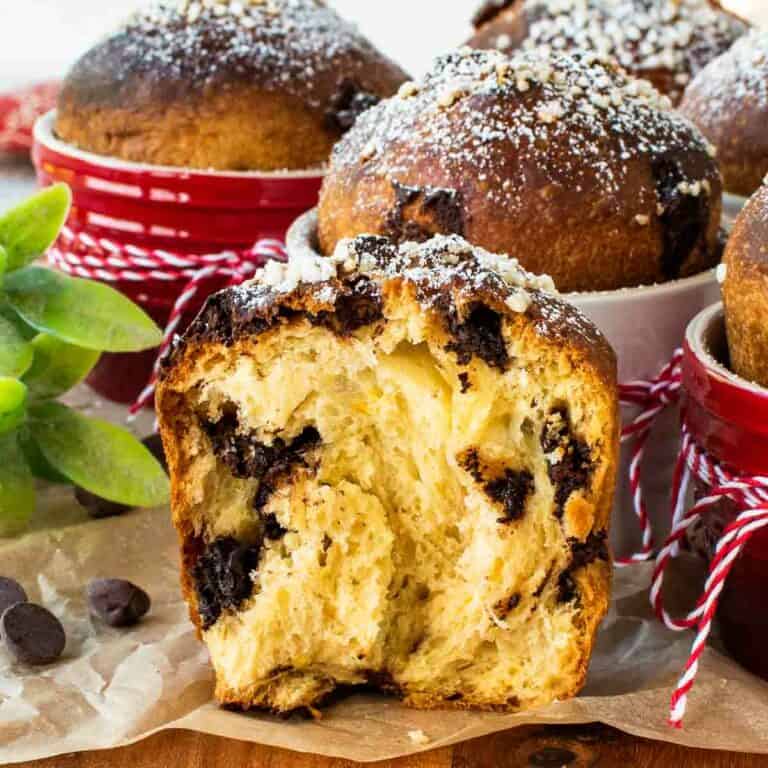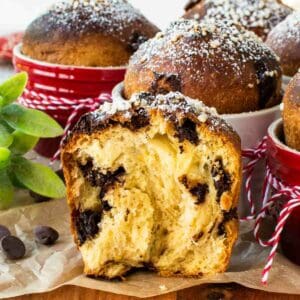 Chocolate Panettone Recipe
A delicious, fragrant Chocolate Panettone with lots of chocolate chips.
Print
Pin
Rate
Servings:
8
mini panettone
Ingredients
⅓

cup

whole milk

(

85

mls)

4 ½

teaspoons

active dry yeast

(

2

x 7 gram sachets)

4

cups

bread flour

(

520

grams)

½

cup

granulated sugar

(

100g

)

2

eggs

3

egg yolks

3

tablespoons

honey

(

45mls

])

⅓

cup

rum

3

teaspoons

vanilla extract

1

lemon

zest only

1

orange

zest only

1

teaspoon

salt

4

oz

unsalted butter

(

1 sticks/115 grams

) chopped and softened

1¼

cups

dark chocolate chips

pearl sugar

optional
Instructions
Scald the milk in a small saucepan until steam rises but it doesn't boil. Set aside until lukewarm.

In a medium bowl mix yeast into milk. Set aside for 5 minutes until it is creamy and frothy.

Add

⅓ cup (43 grams

) flour and

1 tablespoon

sugar. Mix well to make a thick dough then cover with plastic wrap. Set aside for 30 minutes until mixture has risen.

Scrape the risen yeast mixture into the bowl of stand mixer. Add the eggs, egg yolks and remaining sugar. Use the paddle attachment to combine the ingredients well. Then add honey, rum, vanilla extract and zests. Beat slowly to combine then add the remaining flour and salt.

Beat the mixture until well combined. Scrape down the side if necessary. Continue to beat for 5 minutes. The dough should be smooth and elastic.

With the mixer on low, add the softened butter a small tablespoon at a time allowing the butter to be incorporated before adding more.

Finally add in the chocolate chips and mix until just combined. Be careful not to over mix because the chocolate chips will break down.

Cover the bowl with plastic wrap and set aside at room temperature for 2 - 3 hours or until doubled. It may take longer depending on how cold the room temperature is.

Preheat over 350ºF/180ºC. Butter 8 small (1 cup capacity) pudding molds or souffle dishes.

Scrape the chocolate panettone dough out onto an oiled work surface. Divide the dough into two even portions. Flatten each into a square then fold in thirds.

Cut each portion into 4 even pieces making a total of 8. Shape each into a ball and place into prepare molds.

Place filled molds on a baking sheet. Cover with plastic wrap and set aside for 1 hour or until puffy.

Cut an X in the puffy chocolate panettone tops with oiled scissors and put a small knob of butter on each and sprinkle with pearl sugar (if using). Bake panettone for 25-30 minutes or until golden brown and cooked through.

Allow to stand for 5 minutes before carefully turning out to cool. Be sure to set chocolate panettone upright on the cooling rack.
Notes
Tips for Success
Use fresh yeast. 

Don't skip scalding the milk.

Add the soft butter only after the dough has kneaded well.

. 

Measure correctly if using cup measures. Stir the flour to lighten then spoon flour into cups without packing.

Check the size of your molds. You may need to adjust how you portion the dough and baking time.
Freeze if not serving straightaway. Wrapped well in plastic wrap and then a sealed container these panettone will keep for 1 month.
Tried this recipe? Give it a star rating and leave a comment below!
Nutritional Estimate Per Serving
Calories:
646
kcal
|
Carbohydrates:
84
g
|
Protein:
15
g
|
Fat:
25
g
|
Saturated Fat:
17
g
|
Polyunsaturated Fat:
1
g
|
Monounsaturated Fat:
5
g
|
Trans Fat:
0.5
g
|
Cholesterol:
146
mg
|
Sodium:
351
mg
|
Potassium:
357
mg
|
Fiber:
5
g
|
Sugar:
30
g
|
Vitamin A:
538
IU
|
Vitamin C:
3
mg
|
Calcium:
132
mg
|
Iron:
2
mg
Nutritional Disclaimer
Nutritional information is an estimate provided by an online nutrition calculator. For accurate results, it is recommended that the nutritional information be calculated based on the ingredients and brands you use.
This updated and improved recipe was first published on December 19, 2017.