Recently my son attended School Camp.I reminded him that the food would not be like home but to be polite and eat what he could.Well, School Camps are not what the used to be. When he returned he was in raptures over what was served for breakfast. "Mum, they had these things called croissants. Do you know croissants? They are sooo yum! Can you buy some?" Buy some? I can make some, was my claim! And, no I had never attempted to make croissants but as I had already conquered puff pastry I felt ready to move forward. After all, croissants are simply another type of laminated pastry. The beauty of recipes like this is that you take very basic ingredients and with technique and patience create something deliciously ethereal.So, the challenge was on and set for the weekend. Armed with a recipe by Emmanuel Mollois from his book"Et Voila!", I confidently assembled my ingredients and set to work to create mouthwatering croissants.
What I learnt by making puff pastry in September Daring Baker's Challenge was that keeping everything cold was essential, especially when you live in the tropics. When baking with yeast warmth is essential to allow the yeast to do its work. So here you have the issue – to keep it cold enough to correctly layer the butter between layers of dough and allowing enough warmth for the yeast to raise the dough. I returned to my idea that worked with the puff pastry and that is to keep everything that comes into contact with the dough in the freezer and that includes the rolling pin and a board on which to roll. The dough remained in the freezer in between "turns" then I formed the croissants and left them to rise slowly overnight in the refrigerator. Yeast dough risen slowly create more flavour. In the morning I let them come back to room temperature for an hour then placed them in a cold oven with a bowl of hot water for another 40 to 50 minutes. Within less than 2 hours they were ready to be baked. Oh, the delicious smells of baking croissants! We enjoyed them that morning with coffee. What a treat! And my son, I hear you ask? Was he satisfied? As he slathered vegemite ( yes, he's is an Aussie, after all!) on his second croissant he announced that these were even better than the ones on School Camp! Thank goodness!
This is an excellent recipe that I will use time and time again. I made 15 croissants but only baked seven and have the rest frozen for next weekend. The flavour balance was a perfect.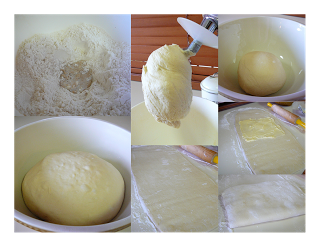 Ingredients
500

grams

bread flour

sifted

7

grams

dried yeast

1

tablespoon

lukewarm milk

1¼

cup

cold water

25

grams

salted butter

melted

55

grams

castor sugar

1

teaspoons

salt

250

grams

unsalted butter
Instructions
Place the flour in bowl of electric mixer. make a well in the centre and add the yeast and milk.

Sprinkle over a little flour and wait a few minutes for bubbles to appear. This means you yeast is active.

Start the mixer with the dough hook attached and slowly add the water and melted butter and combine.

Add the salt and sugar.

Keep mixing until the dough becomes very sticky. In dry weather you may need to add more water.

Continue until the dough is very elastic. This could be up to 10 minutes of mixing.

Place in an oiled bowl and cover with plastic wrap.

Refrigerate overnight. It will double in size.

Roll the dough to an oblong shape three times longer and it is wide.

Spread ½ the softened butter over the centre third part.

Fold the top third over the butter then spread remaining butter over the folded section.

Fold the bottom third over the top. At this point I covered it in plastic and placed it in the freezer for ½ hour.

Take the dough and place it so that the folded seams are at the sides.

Roll out the pastry again to form a large oblong sheet and fold it in three.

Cover in plastic wrap and refrigerate for 30 minutes in winter and 45 minutes in summer.

This is one "turn". Repeat this procedure 3 times - a total of 4 "turns". Remember to keep everything very cold. If butter oozes through sprinkle with flour to seal and refrigerate.

Preheat the oven to 220C and line a baking tray with greaseproof paper.

Roll the dough into a large 3-4mm thick rectangle.

Trim the edges, then cut out 10cm wide by 20cm deep triangles.

Make a small slit in the base of each triangle which will allow the dough to stretch when rolled. So starting at the base roll the croissants and shape into a crescent.

You can now let them rise for at room temperature until doubled. This could take 30 minutes to a little over and hour. Or refrigerate them overnight as I did. At this point they can also be frozen to be baked at a later date.

When risen brush with egg wash and bake for 10 minutes then lower the temperate to 180C and bake for a further 8 minutes. Do not open the door while baking.

Cool on a wire rack.
Nutrition
Calories:
274
kcal
|
Carbohydrates:
28
g
|
Protein:
5
g
|
Fat:
16
g
|
Saturated Fat:
10
g
|
Cholesterol:
51
mg
|
Sodium:
176
mg
|
Potassium:
48
mg
|
Fiber:
1
g
|
Sugar:
4
g
|
Vitamin A:
474
IU
|
Calcium:
14
mg
|
Iron:
1
mg