Petrali are a traditional Christmas Calabrian sweet filled with figs and almonds. This may sound almost Sicilian and in fact the two areas are separated only by a ocean strait. However these are fervently Calabrian, actually to be precise, more so from Reggio Calabria.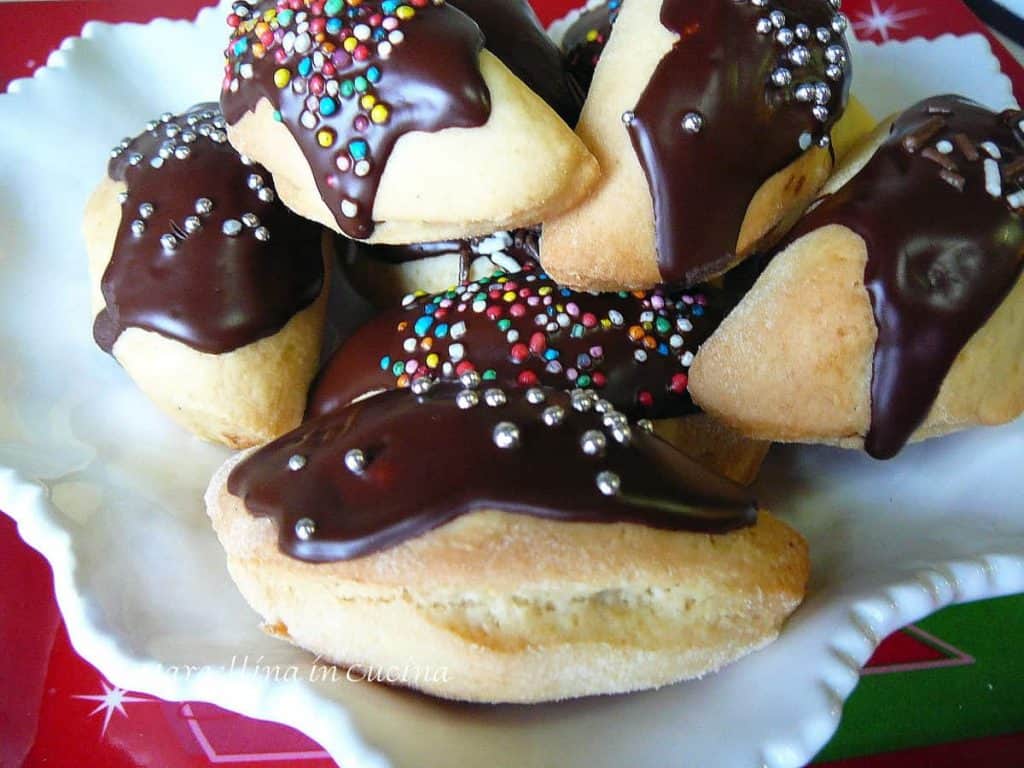 The recipe comes from my dear cousin who loves baking sweets as much as I do. We both love to make
fig tartlets
, and for this recipe I have only slightly adapted the recipe and also halved it. They are wonderful with a thin coating of dark chocolate but they can also be icing with glace icing. With this recipe I made about 60 petrali with some filling leftover.
Firstly you must prepare the filling a few days before hand. This is the most delicious fruit mince I have ever tasted. I eat it by the spoon in an uncontrollable fashion.
 I dedicate this post to my beautiful Calabrian relatives whom I can't be with but think of often and this Christmas I am with you in spirit.
Enjoy your Christmas with your family and friends, give thanks for God's gift of his Son Jesus, and let's be grateful for our many blessings.
Blessing to you,
Marcellina xx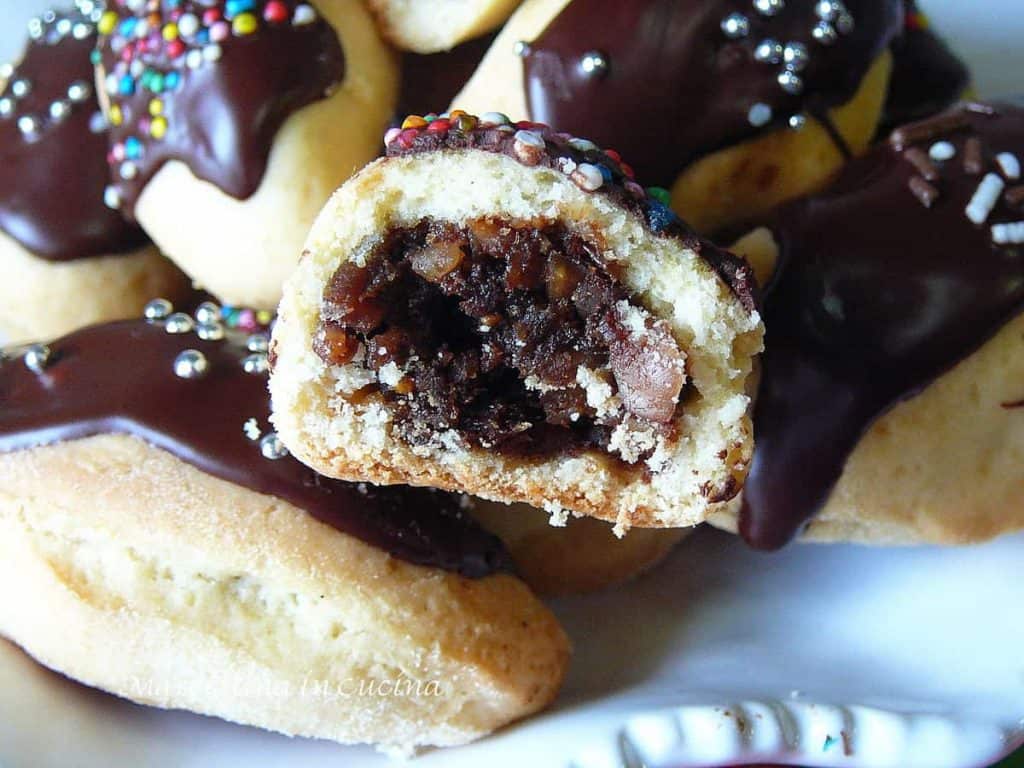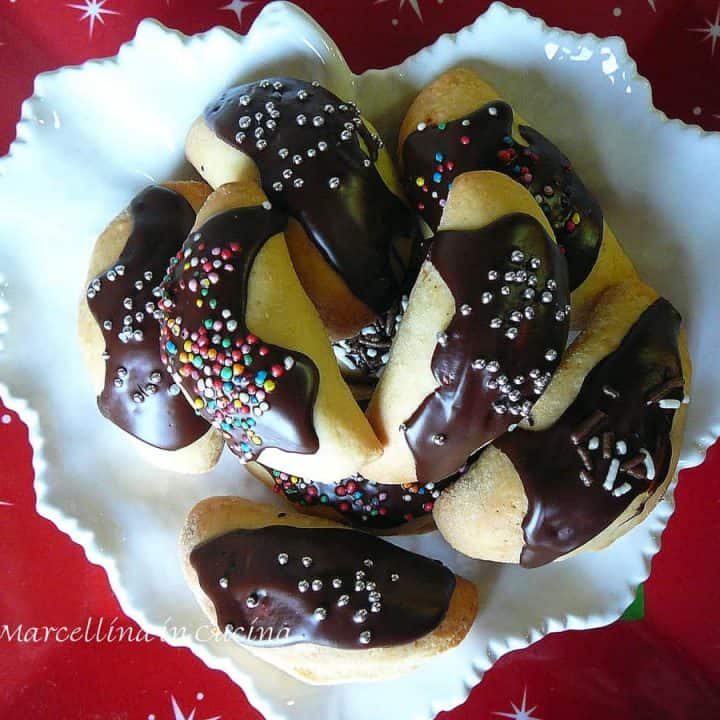 Ingredients
Filling
300

g

figs

finely chopped

100

g

sultanas

250

ml

reduced wine

refer to notes

125

ml

strong black coffee

100

g

sugar

150

g

almonds

toasted and finely chopped

150

g

walnuts

toasted and finely chopped

3

teaspoons

cinnamon

100

g

dark 70% chocolate

Marsala to moisten
Pasta Frolla ( Pastry)
500

g

flour

1

sachet of raising powder for cakes

or 1 teaspoon of baking powder

100

g

butter

200

g

sugar

1

teaspoon

vanilla extract

grated rind of one lemon

3

eggs
Instructions
To make filling
Combine in a saucepan figs, sultanas, reduced wine, coffee and sugar. Heat gently and stir to combine and allow the fruits to plump and absorb the liquid. Cool. Add the remaining ingredients, adding Marsala if needed. Store in the refrigerator for at least 24 hours adding more Marsala if needed. Taste and add more sugar also if needed.
To make cookies
Heat oven to 180C.

In the food processor place flour, raising powder and butter. Pulse until crumbly. Adds sugar. Pulse to mix. Add vanilla, lemon rind and eggs. Pulse to combine. I needed a dash of sweet sherry to bring it all together but that might have just been the weather. Only add a drop of milk or sweet sherry if you need it.

Roll the dough out to about 5mm thickness and cut circle of about 6 or 7 cm in diameter. Place a teaspoon of filling in the middle of the rounds, dampen the edges with water and fold to close. Place the semi circles on a baking sheet lined with baking paper. Bake in 180C oven until golden about 12-15 mins. Cool and coat the tops with melted dark chocolate and sprinkle with decorations of choice.
Notes
 I can't buy vin cotto so my cousin told me what she does. First take a one litre bottle of white wine, an apple, a pear, an orange, 50g sugar and a cinnamon stick. Put the whole lot (fruit is left whole) in a saucepan and simmer  until reduced to about 250ml.