Pizza Fritta is a wonderful version of pizza with the most scrumptious flavor!
This classic Italian street food from Naples will transport you directly to Italy. The undeniably authentic flavors of tomato, mozzarella and basil will have your guests begging for more!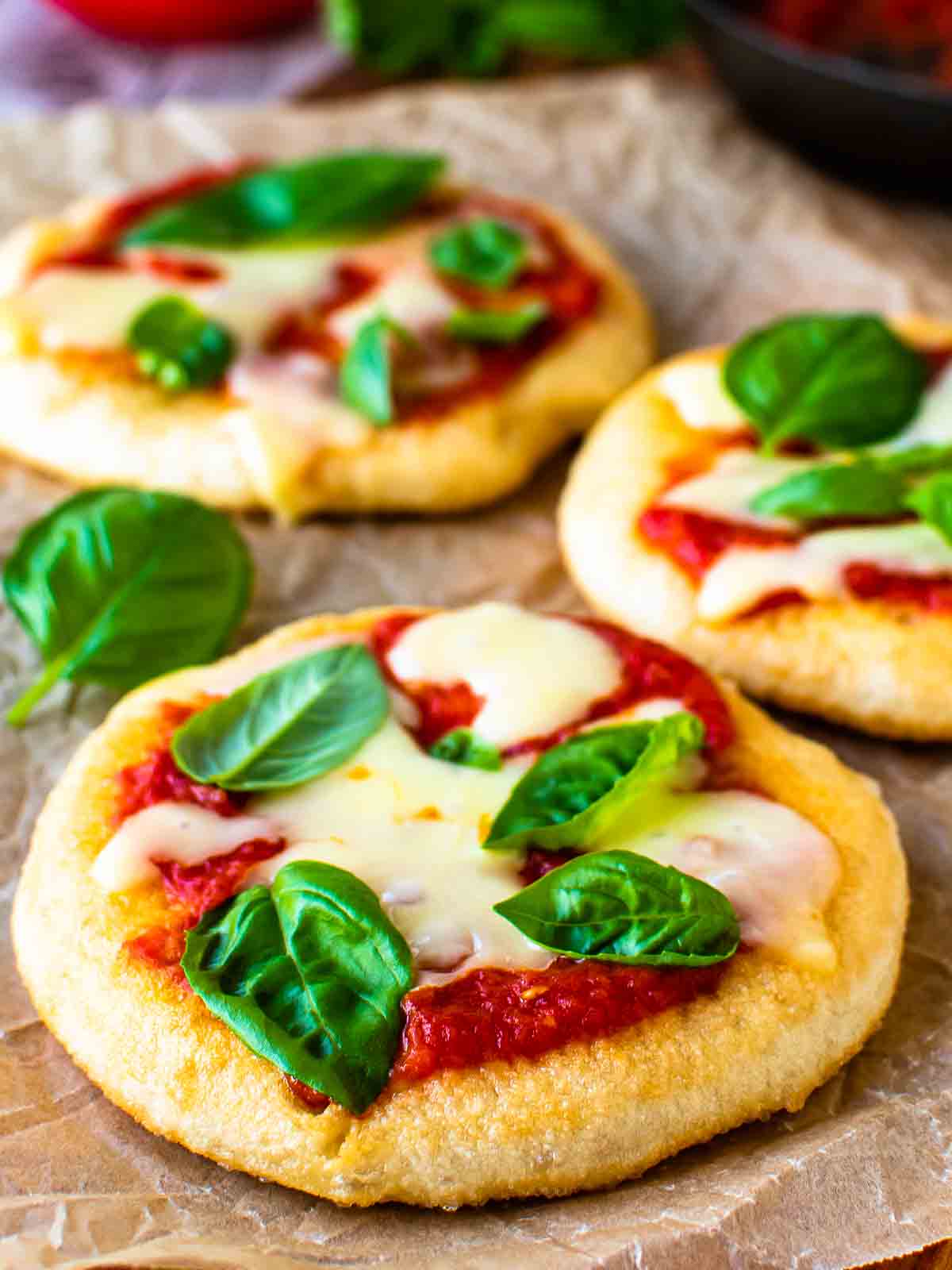 So what is pizza fritta? Literally, it translates to "fried pizza" and originated in Naples because it was a lot easier to fry the pizza in oil than bothering with a wood burning oven. Pizza Fritta is classic Neapolitan street food that you can easily make at home.
I started making this Italian pizza recipe many years ago after reading an excerpt from Sofia Loren's cookbook "In the Kitchen with Love". It was so enticing that I had to make it and my family and friends have been enjoying Pizza Fritta ever since.
There are two types of pizza fritta. The first, which is this recipe, is a disc of dough that is fried in hot oil to become an exquisite pizza base. The second is a disc of pizza dough that is filled and folded before frying in hot oil. This filled fried pizza is a bit like a calzone.
Just like my garlic pizza, these pizzas make a tasty start to a meal and are great for parties. Or make a heap of them to serve on game day.
Italian fried pizza dough is soft, fluffy and slightly chewy. I like to keep pizza toppings simple but sometimes I'll add a sprinkle of finely chopped fresh garlic and grated parmesan just to drive up the flavor! Follow with baked Italian Chicken Thighs or Italian Chicken Cutlets for a truly enjoyable Italian meal.
Ingredients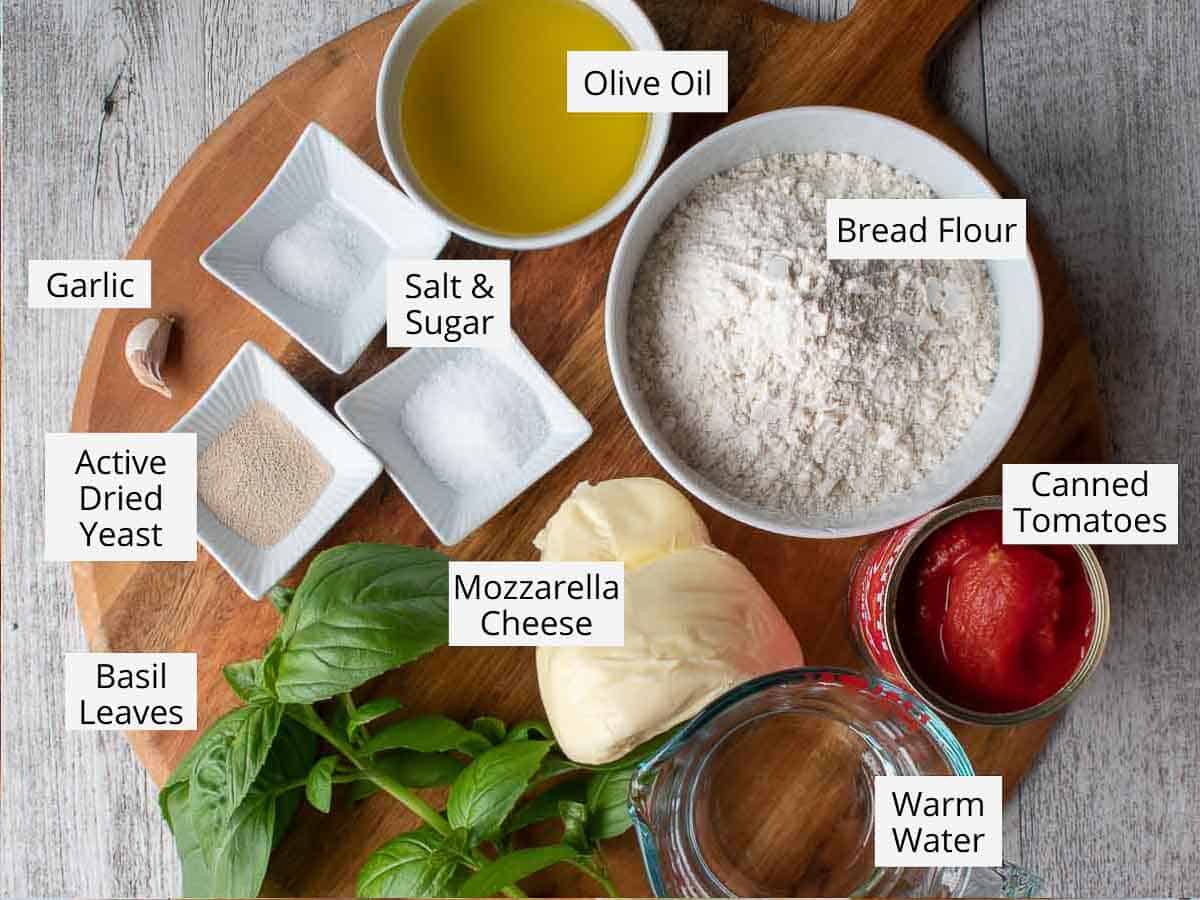 Dried active yeast - You can buy dried active yeast from the supermarket. It comes in sachets or sealed packages. It's convenient and easy to use. All you have to do is mix it with warm water and a little sugar to get it active and ready to rise some dough.
Water - The temperature of the water is really important. It should be warm but too warm will kill the yeast and too cold mean the yeast won't activate. If you can put your finger in the water and you don't feel the heat or the cold, it will be perfect.
Granulated sugar - Just a little sugar is used to feed the yeast and get it bubbly and alive.
Bread flour -. There's no substitute for this. Bread flour is high in gluten and protein which is perfect for creating a strong dough that will stretch and rise. All purpose flour won't give you the same results. You can buy bread flour from the supermarket.
Salt - I like to use regular sea salt for most of my cooking. If you use a different salt, adjust the measurements.
Olive oil - Regular or light olive oil is fine for this recipe. Frying the pizza fritta in olive oil gives the best flavor.
Garlic - Fresh garlic is preferable for the pizza fritta sauce but if you only have bottled or powdered garlic it will work in a pinch.
Canned tomatoes - My fav brand is Mutti. Whatever you do use good quality canned tomatoes that are packed in thick tomato juice - nothing else!
Mozzarella cheese - Buy whole mozzarella rather than grated. Grated cheeses have additives to keep the cheese from clumping. These additives also stop the cheese from melting as it should.
Basil leaves - Buy a bunch from the supermarket and if you have leftovers, make basil pesto.
Instructions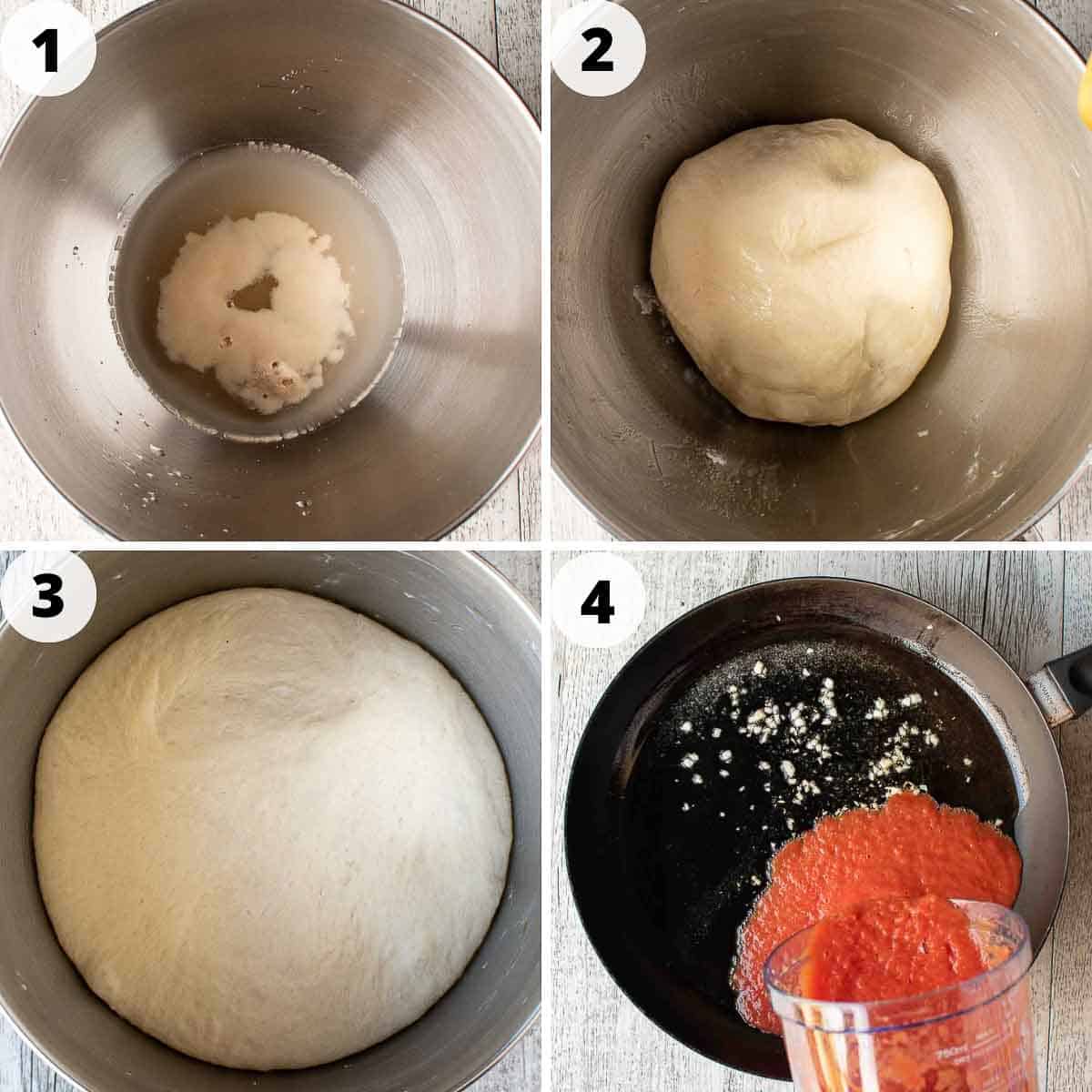 Mix yeast, warm water and sugar. Stand for 10 minutes until frothy.
Add bread flour and salt and knead for 5-7 minutes. Form dough into a ball, and cover with plastic wrap.
Place the dough in a warm place to rise until doubled.
In the meantime, make the sauce. Fry garlic in olive oil. Add crushed tomatoes. Simmer for 10 minutes.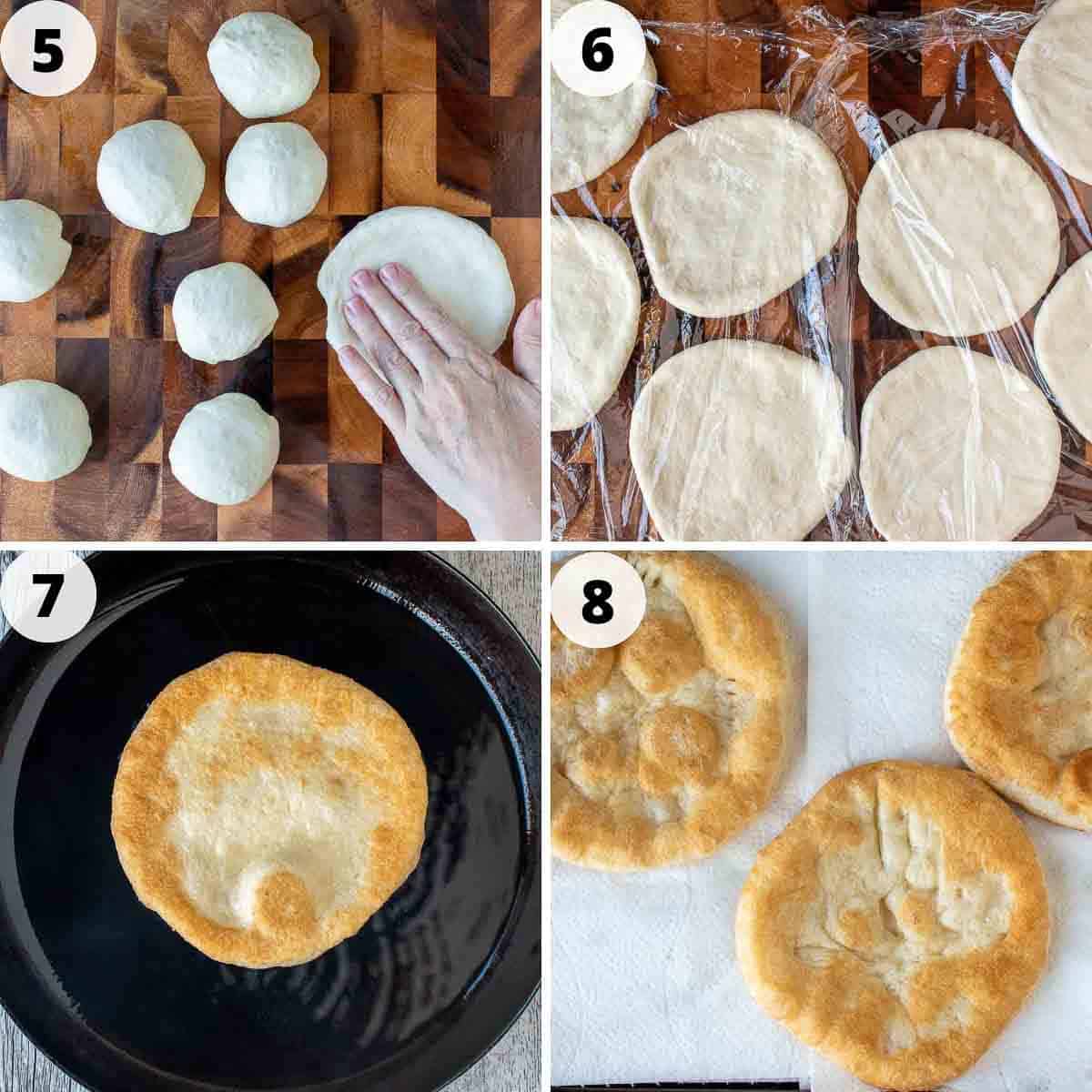 Scrape the risen pizza dough onto an oiled board. Cut into 8 even pieces and form into balls. Press each ball into a 4-5 inch round.
Cover the pressed rounds of dough with plastic wrap so that they don't dry out.
Heat the oil in a frying pan and when hot, add the dough to the pan. Fry until lightly golden on each side.
Drain fried pizza on paper towels.
Spread hot fried pizza bases with tomato sauce, mozzarella and basil leaves and serve immediately.
Hint: Use a little olive oil on your fingers to prevent sticking when pressing out the dough. Avoid using any extra flour.
Substitutions
Olive oil - Vegetable oil or sunflower oil can be used instead. I prefer the taste of olive oil but use what you have and like.
Tomatoes - Use fresh tomatoes if you have very ripe, red tomatoes. Be sure to peel them by blanching them in boiling water then cook that pulp until thickened and concentrated.
Mozzarella - Fresh mozzarella balls or bocconcini can be substituted.
Variation
Spicy - Add ½ teaspoon of red pepper flakes if you like spicy pizza frittata.
Super flavoursome - When assembling, include a little finely chopped garlic and grated Parmesan cheese.
Sweet - After frying the pizza dough, omit the tomato sauce and cheese. Instead, toss the hot fried dough in granulated sugar or when cooled dust with powdered sugar.
Tips for success and FAQ's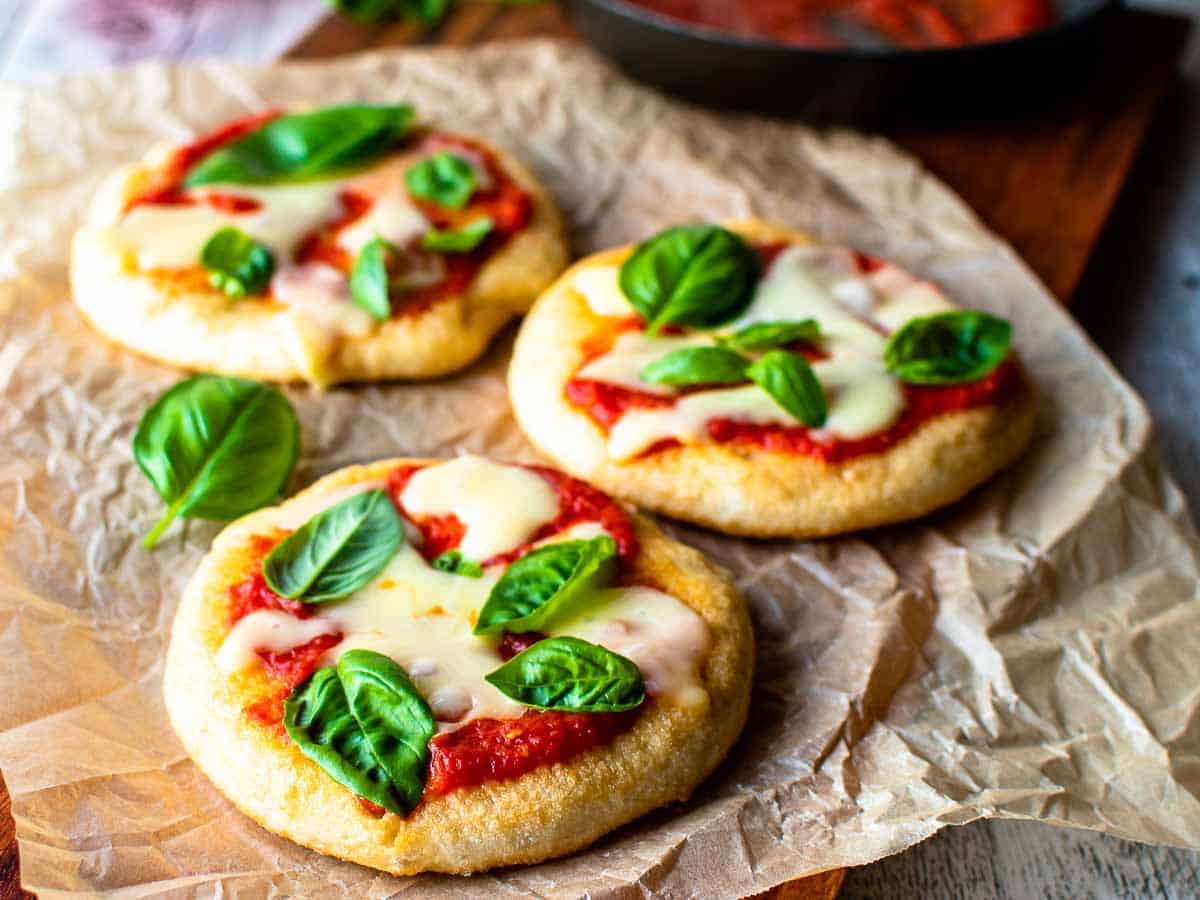 This isn't a recipe you can make in minutes. You will need to allow enough time to rise the homemade dough properly. Plan ahead.
Use quality ingredients. The toppings for fried pizza need to stand out because the base is so flavorsome after being fried. This homemade pizza tastes best when the fried dough is complimented with the acidity of the tomatoes, the creaminess of the cheese and the brightness of fresh basil. Experiment with topping keeping this in mind.
Tip the risen dough onto a lightly oiled surface and lightly oil your fingers when pressed out the dough. Don't add any extra flour. The flour will burn in the oil.
Is pizza fritta a calzone?
This recipe for pizza fritta isn't a calzone. However, there is a second type of pizza fritta that resembles a calzone. Both are very popular and loved in Naples in southern Italy.
What is fried pizza called in Italy?
It's called pizza fritta. There are two types. The first begins with frying small round pizza dough bases in olive oil and then adding typical toppings before folding them in half with your hands to eat. This type of fried pizza is also known as pizza montanara. The second is like a calzone that is folded in half enclosing the filling before frying. 
Where did Pizza Fritta originate?
Pizza Fritta originated in Naples, southern Italy. It's convenient street food because there's no need for a wood fired oven. It is said that fried pizza began hundreds of years ago with wives of bakers frying leftover dough to sell to people on the street, supplementing the household income. Pizza fritta became more popular in Naples after WWII with many ovens destroyed and the city in poverty.
How do you eat pizza fritta?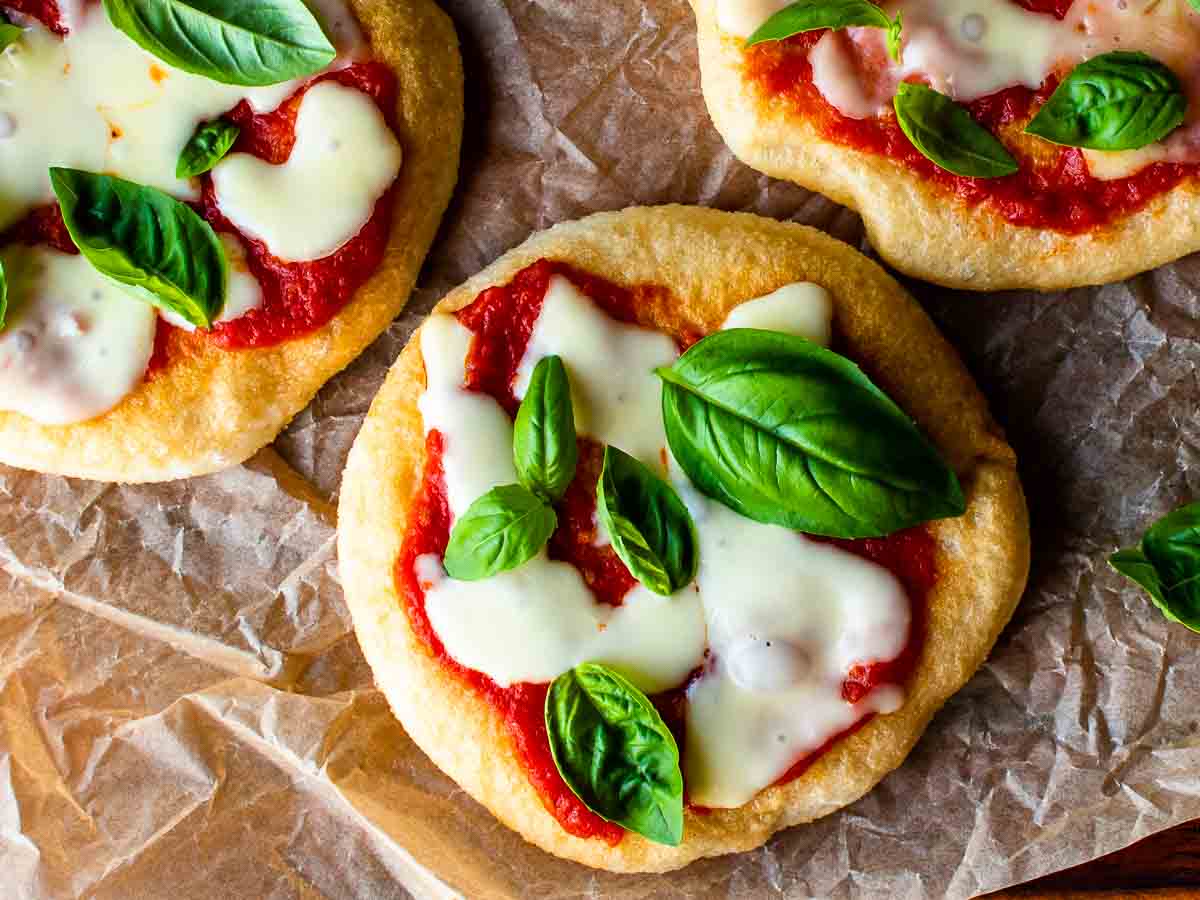 At home, this pizza fritta should be folded in half, letting the heat of the fried pizza bind the flavors while still keeping the delicious taste alive. No need to fuss, eat it just like that with your hands.
In pizzerias, this fried pizza is sometimes finished in a wood burning oven to melt the cheese. In this case, it's eaten like a regular pizza.
Storage
Pizza Fritta is best eaten fresh and hot. However, if you have leftovers, store them in the refrigerator. Reheat the pizzas in a hot oven for 5-10 minutes until heated through and crispy.
Remember that any leftover dough can be fried and eaten with sugar for dessert or a snack.
More recipes like this
Made this recipe?
Let me know if you liked it by leaving a ★★★★★ star rating and a review below. Please share a photo of your creation by tagging me on Instagram @marcellina.in.cucina!
Recipe
Pizza Fritta Recipe
Pizza Fritta translates to "Fried Pizza". These pizzas are made with an Italian fried dough and then topped with tomato sauce, mozzarella cheese and basil leaves.
Print
Pin
Rate
Equipment
1 large bowl

if not using stand mixer

1 electric stand mixer with dough hook

optional
Ingredients
Homemade Pizza Dough
3

cups

bread flour

375 grams

1

cup

water

plus 1 or 2 tablespoons - extra if needed

1 ½

teaspoon

dried active yeast

½

teaspoon

white sugar

¾

teaspoon

salt
To Fry and Assemble
½

cup

olive oil

or use sunflower or vegetable oil

4

oz

mozzarella cheese

120 grams

, finely chopped or grated

basil leaves
Tomato Sauce
2

tablespoons

olive oil

1

clove

garlic

14

ounce

canned tomatoes in tomato juice

400 grams

½

teaspoon

salt

or to taste
Instructions
Homemade Pizza Dough
Mix together warm water, yeast and sugar. Set aside 10 minutes or until bubbles form.

Using the dough hook on the stand mixer (or use your hands), add flour and salt to the water/yeast mixture and combine until the mixture comes together. Mix for 5 minutes (or 7 minutes by hand) until smooth and elastic. The dough should just stick to the bottom of the bowl but not the sides. If it sticks to the sides, it's too wet - a little extra flour. If it lifts from the bottom of the bowl, it's too dry - add a little water.

Remove from stand mixer bowl onto a work surface. Knead for a minute or two then form the dough into a ball and place into an oiled bowl. Cover with plastic wrap and allow to rise for 1 hour in a warm place until doubled.

Scrape the dough onto a lightly oiled surface and divide into 8 portions. Form into balls.

Press or roll each ball into a 4 - 5 inch round. Cover with plastic wrap so they don't dry out.
To Fry and Assemble
Reheat the tomato sauce and keep warm.

Grate or cut the mozzarella cheese into small pieces. Set aside.

Heat the oil. Test with the end of a wooden spoon. If the oil bubbles when you put the end of the spoon in, it's ready. Fry for one minute on each side until golden and puffy. Drain on paper towels.

While still hot, spread with a couple of spoonfuls of hot pizza sauce, mozzarella cheese and basil leaves.

Serve immediately.
Tomato Sauce
Peel and chop the garlic finely. Crush the tomatoes by hand or whizz in the food processor until smooth. Place oil and garlic in a pan over medium heat. When the garlic becomes fragrant and lightly golden, add the crushed tomatoes and salt. Stir and allow to simmer.

Turn the heat down to barely simmering and cook for 10 minutes until slightly thickened and reduced. Taste for seasoning and adjust if necessary. Set aside.
Notes
Tips for Success
Plan ahead

Use quality ingredients

Oil your fingers and the board when pressing and shaping the dough. Don't add any extra flour. 
For more information and FAQ please read above.
Nutritional Information Per Serving
Calories:
379
kcal
|
Carbohydrates:
38
g
|
Protein:
10
g
|
Fat:
21
g
|
Saturated Fat:
4
g
|
Polyunsaturated Fat:
2
g
|
Monounsaturated Fat:
14
g
|
Cholesterol:
11
mg
|
Sodium:
527
mg
|
Potassium:
174
mg
|
Fiber:
2
g
|
Sugar:
2
g
|
Vitamin A:
155
IU
|
Vitamin C:
5
mg
|
Calcium:
97
mg
|
Iron:
1
mg
Nutritional Disclaimer
Nutritional information is an estimate provided by an online nutrition calculator. For accurate results, it is recommended that the nutritional information be calculated based on the ingredients and brands you use.