Bagna Cauda is a flavorsome, Italian dipping sauce for raw vegetables and bread that is served warm.
A robust combination of garlic and anchovies, this classic recipe is from the region of Piedmont. Enjoy this meal shared with family and friends and accompanied by a glass of red wine.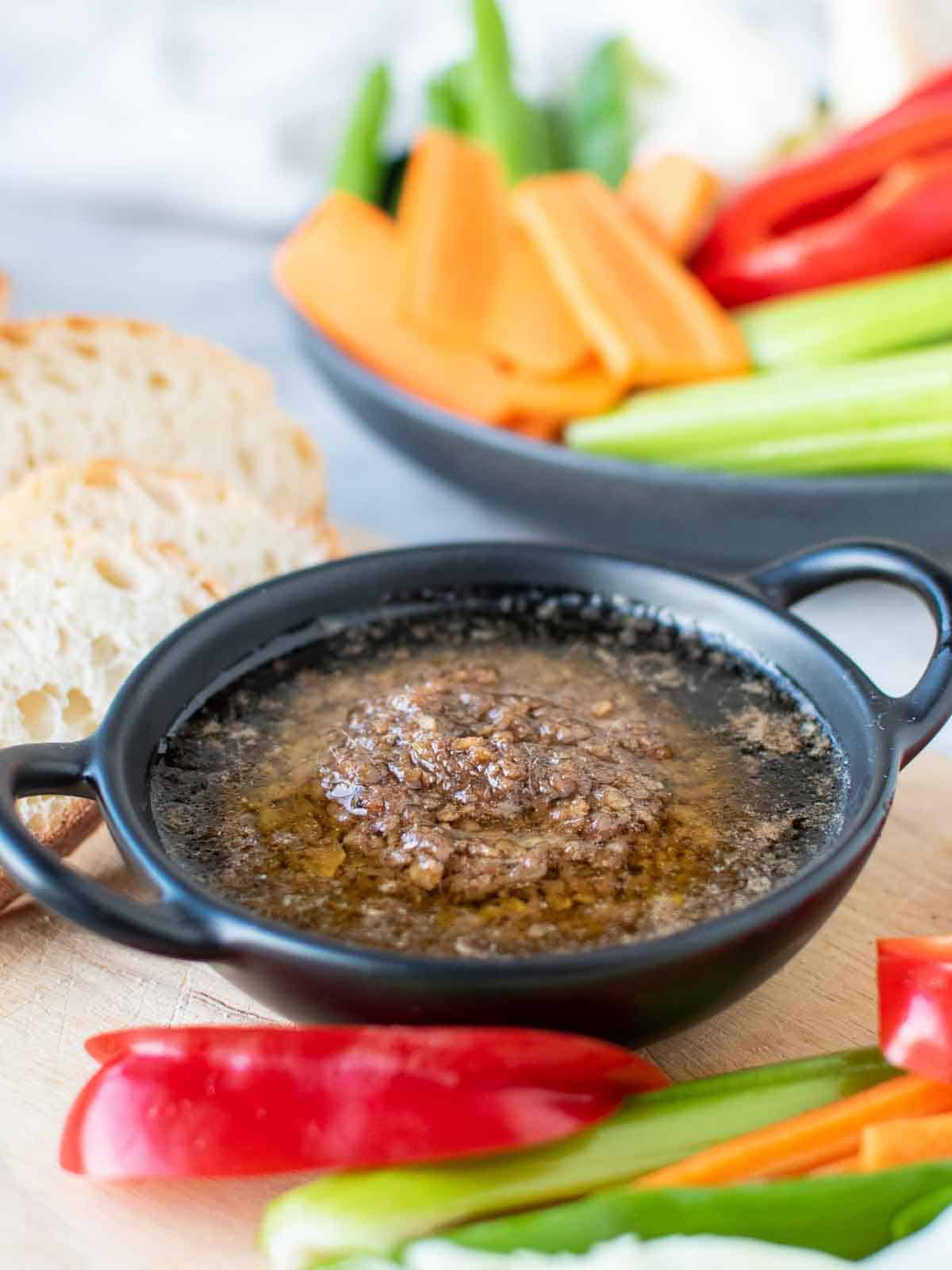 This updated recipe was first published October 3, 2013.
Why you'll love this recipe
Bagna càuda originates from the beautiful Piedmont region in northwest Italy. This region isn't on the typical Italian tourist route and so has mostly retained its authenticity. I'm lucky enough to have married into a Piedmontese family and have visited several times.
In Piedmont you enjoy Roasted Red Peppers with your antipasto. At the pasticceria (pastry and cake shop) select Baci di Dama or Crostoli. For dessert, definitely order Bunèt. But for the authentic Piedmontese experience you can't go past bagna càuda!
I know you'll love Bagna Càuda because it is so very tasty but there's so much more to this dish that just the taste. It's about the experience. Let me explain what's so wonderful about this dish.
Bagna càuda was created by the peasant farmers in Piedmont, many years ago. It's a communal dish that was eaten to celebrate the harvest and today it's still typical of the autumn and winter season.
This is a meal of ritual. All the diners gather around the table with a fork in one hand, a chunk of bread in the other and spear their choice of vegetable to dip into the hot bagna càuda. There are moments of pause for a sigh of contentment or to take a sip of good wine, chatter and laugh.
In Piedmont, the locals say that Bagna càuda is like an orchestra - when it starts, the old become young again. It must not be rushed. The enthusiasm of participating in such a ritual of communal eating is real and is what bagna càuda is all about.
What does Bagna Càuda taste like?
I was introduced to this bagna càuda recipe when I married my husband and have fallen in love with it too! Admittedly, this is a slightly unusual recipe. Obscene amounts of garlic mixed with anchovies, olive oil and butter.
However, these four ingredients meld into an umami rich sauce that is addictive. This is by no means a mild dish. Bagna cauda tastes salty, savory and garlicky.
You may be wondering - is bagna càuda fishy? No, it shouldn't be. If you use very good quality, fresh anchovies there is very little fishy taste. If it's fishy, the anchovies are old or poor quality.
Keep in mind that bagna cauda is a hot dip so you won't be eating it by the spoonful. The sweetness or bitterness of each individual vegetable adds to the taste of the hot dip.
This sauce is neither an appetizer or main dish but in the Piedmontese tradition, it stands alone as the whole meal eaten in communion with others.
For complete ingredient quantities and full instructions, please scroll to the printable recipe card bottom of the page.
Ingredients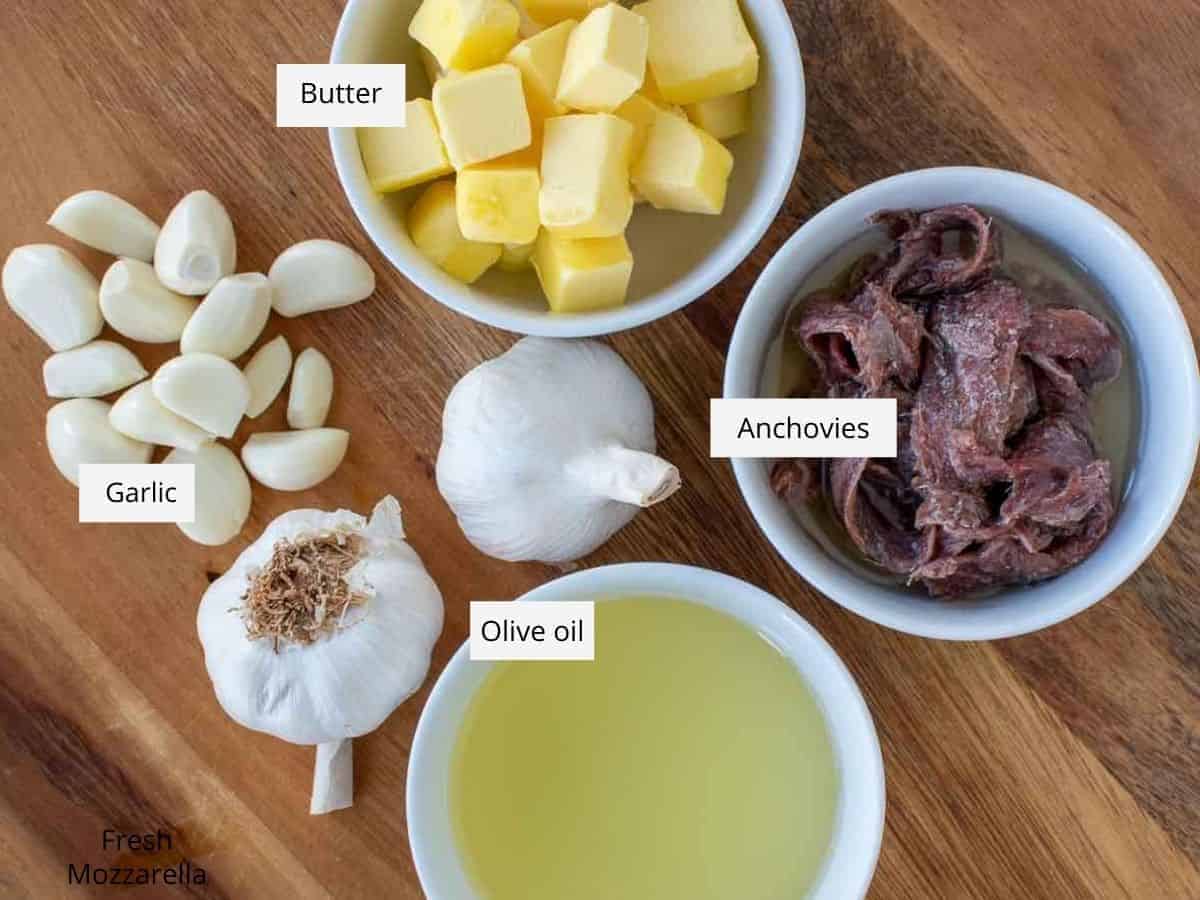 As with most Italian dishes, the quality of the ingredients play a big part in the success of this recipe. There are only four ingredients and all must be of excellent quality.
Olive oil - I use extra virgin olive oil but as long as it is decent, use your favorite olive oil.
Garlic - It is tradition to use one head of garlic per diner. The amount you use is quite optional. I don't use quite that much. In recent years, some cooks have been soaking or simmering the garlic in milk to reduce the potency. My family enjoys the potency but this is an option.
Anchovies - Purists would say these must be the salted anchovies that need to be cleaned at home. However, purchase good quality bottled anchovies and all will be well. If it's good for my mother-in-law, who is from Piedmont, then it's good for me.
Butter - Generally, there is no butter in this classic Italian sauce, however I enjoy the flavor it adds. Be sure to use unsalted butter.
Variations
In recent years, some cooks have started to add a splash of cream to this sauce. While not authentic, many claim it lightens the sauce, makes it more digestible and not as potent. I think it make is less digestible and don't add it but you may like it.
Adjust the quantity of garlic to suit your taste. Also refer above to the "Ingredients" for more options to reduce the strength of the garlic.
Instructions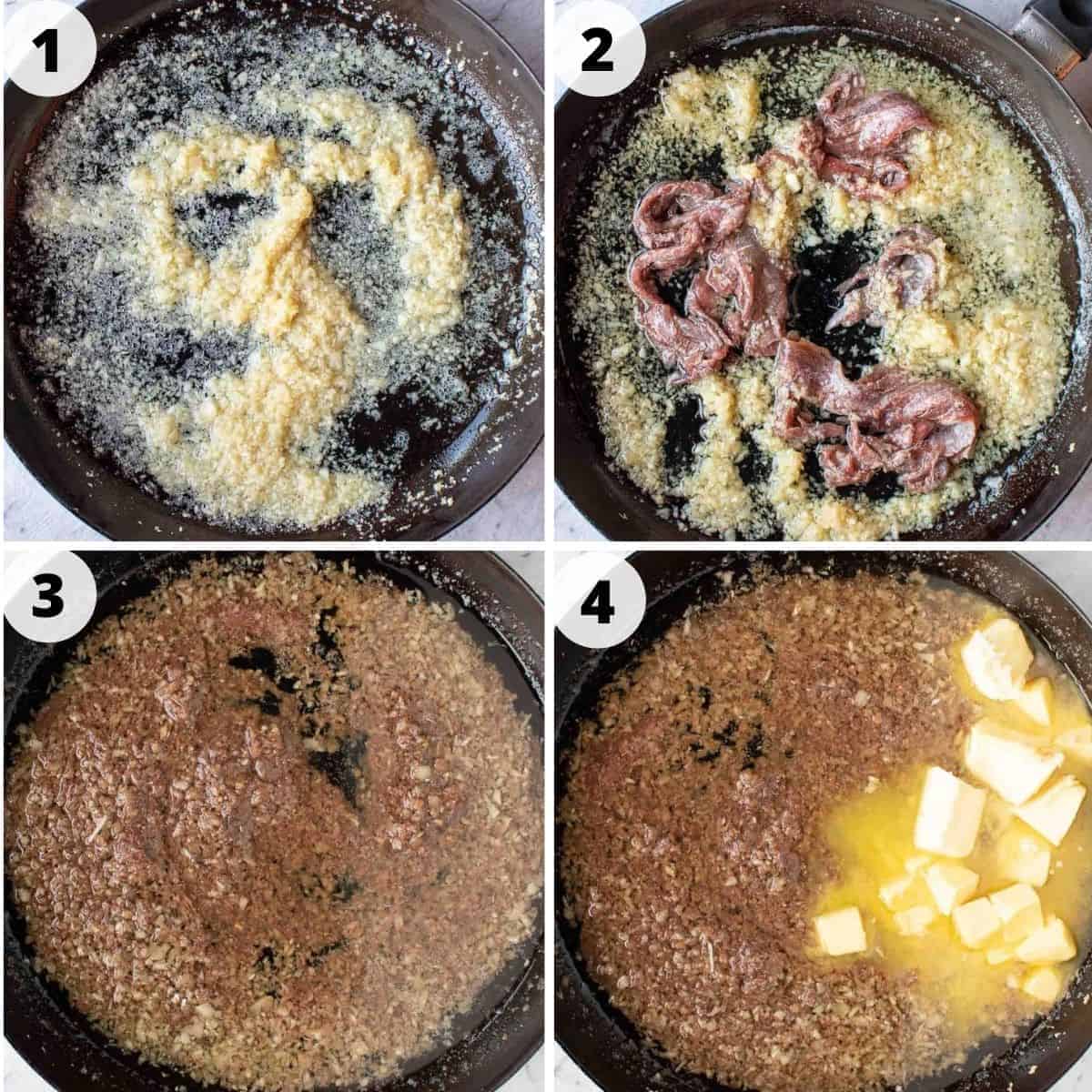 Preparing this dish is simple. The important point to remember is to keep the temperature low and slow. Medium heat is too hot and may cause the ingredients to burn.
Cook the finely chopped garlic in olive oil until softened and aromatic.
Add anchovy fillets and use a wooden spoon to crush the anchovies into the oil.
Continue to cook over low heat until anchovies have melted into the oil.
Add the butter and allow it to melt, stirring it well to combine.
To serve, keep the mixture warm in traditional terracotta pot with a candle underneath or a small fondue pot.
Tips for Success and FAQ's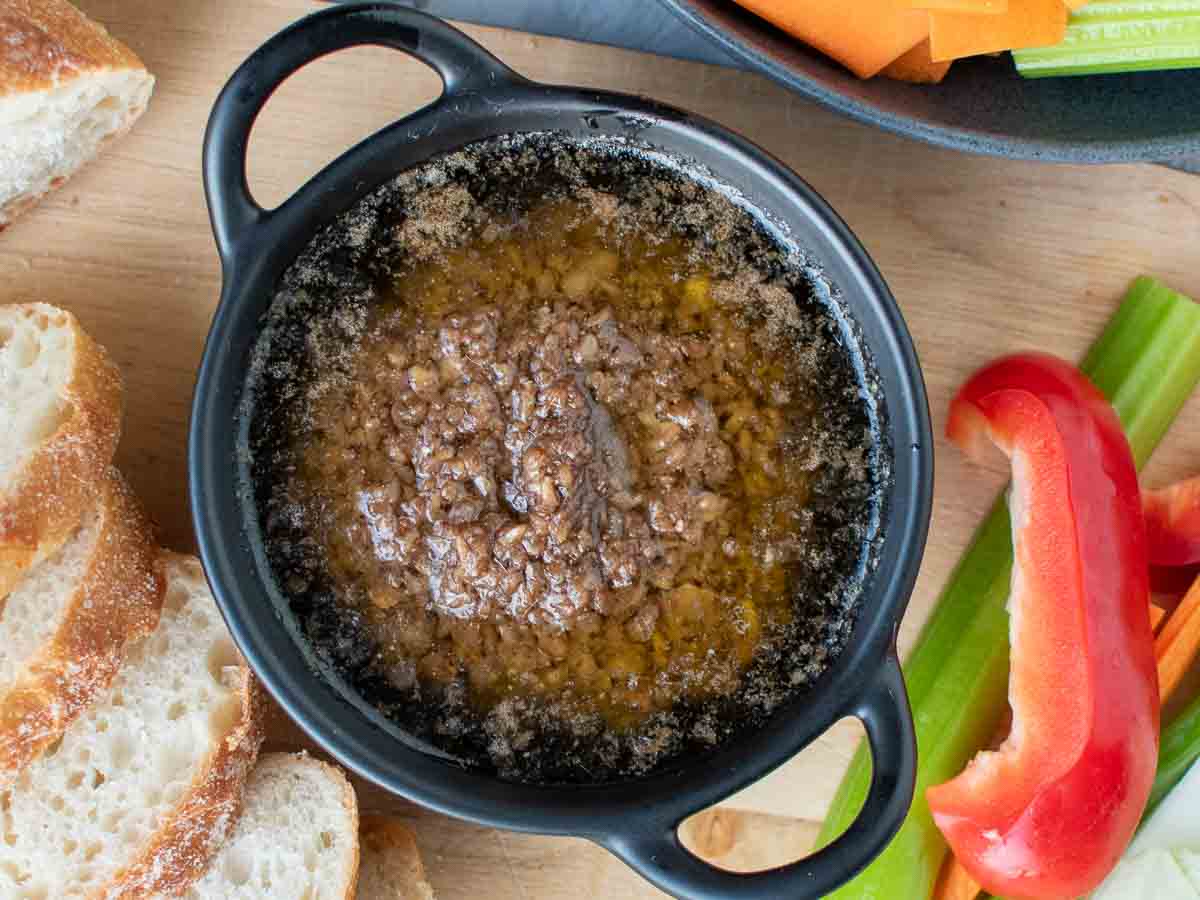 The key to success for this recipe is low and slow. This is really important so that the garlic and anchovies melt and meld into the oil.
Begin by chopping the garlic very finely or pound it in a mortar and pestle. If you prefer a more mild flavor, the garlic can be poached in milk until tender.
Add the garlic to cold oil and heat the oil slowly taking care not to brown the garlic. Moderate the temperature ensuring the garlic cooks very gently.
Keep the temperature low when you add the anchovies. Stir and break up them up. Once the anchovies are melted into the oil, add the butter.
What does bagna càuda mean in Italian?
Bagna càuda means "hot sauce". Bagna is the Italian word used for sauce or gravy. And càuda means "hot" in the Piedmontese dialect.

However bagna càuda is often translated as meaning a "hot bath". This is incorrect. Bath in Italian is "bagno" but "bagna" which ends in an 'a' means something completely different. Yes, it does make a difference which vowel the word ends in!
How long can you keep bagna càuda in the fridge?
If you have leftovers, pour the dip into a container that seals well and store in the fridge for 2-3 days.
Can you reheat bagna càuda?
Yes! Reheat gently in a saucepan over low heat, stirring constantly until hot.
Can you freeze bagna càuda?
You probably could, though I never have. Leftover bagna cauda is wonderful mixed through pasta or on pizza.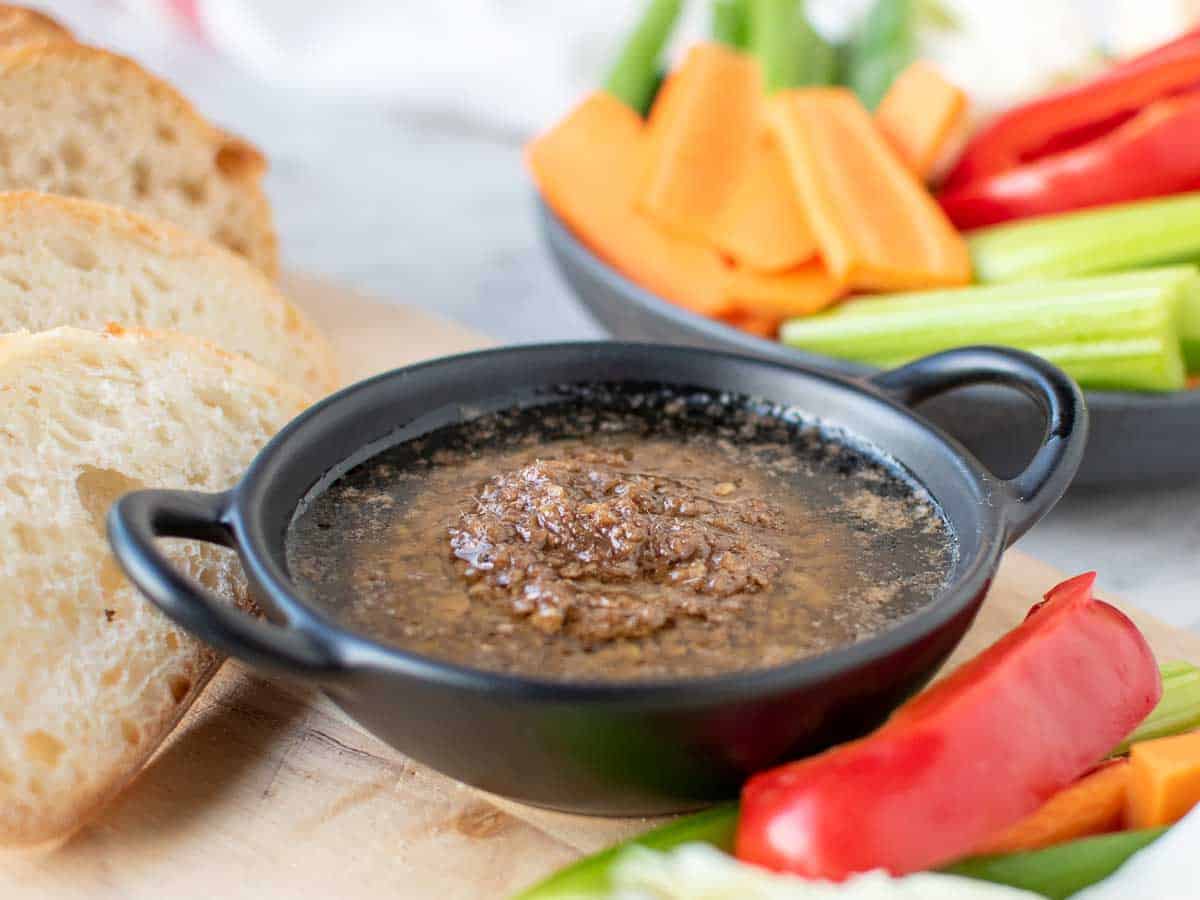 How to serve
A terracotta fujot or small pot, warmed with a candle underneath, is the traditional serving vessel. But a fondue pot in the centre of the table is a perfect substitute. It's important when serving bagna càuda that it is constantly hot, almost boiling.
Serve this sauce vegetables and crusty bread for dipping. Choose seasonal vegetables such as cauliflower, carrot, fennel, cabbage, celery, jerusalem artichoke, spring onions and bell peppers (capsicum). Slice into small pieces that are good for scooping up all the goodness. If you prefer, steam vegetables lightly. My husband loves cardoons if they're available.
Arrange the raw vegetables on platters and bread in baskets. Place the hot sauce in the fujot or fondue pot and gather your friends and family around the table. Each diner dips in or do as we do, provide individual hot bowls for your guests.
Wine is part of the whole experience. Choose a full bodied red wine which will stand up to the robust flavor of bagna càuda. Dolcetto d'Alba is the recommended wine but if you can't find it, a barbera which is the every day wine of Piedmont would be wonderful.
More recipes you'll love
Made this recipe?
Let me know if you liked it by leaving a ★★★★★ star rating and a review below. Don't forget to subscribe to my newsletter - it's free!
Recipe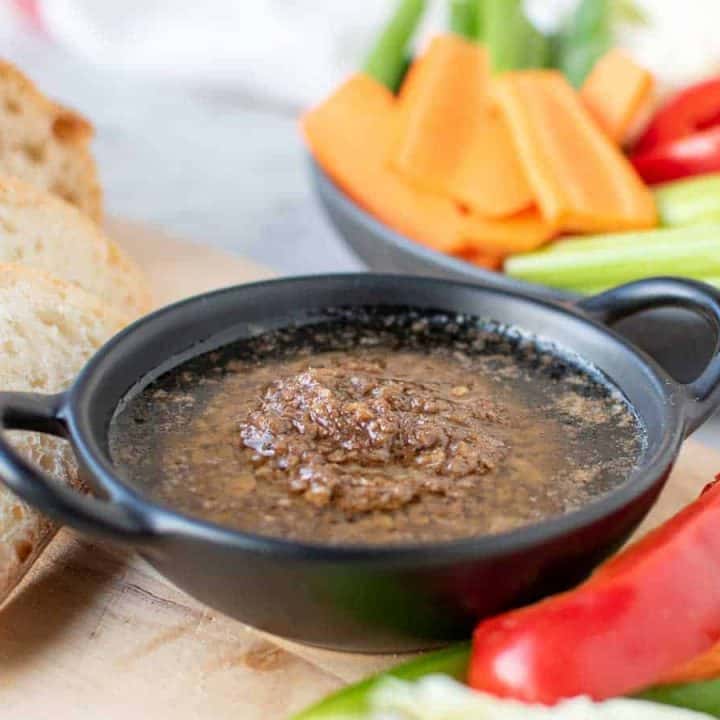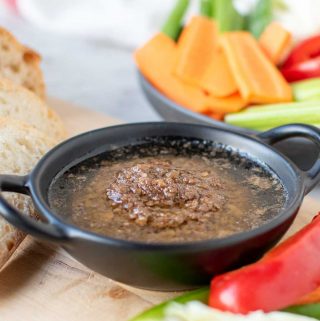 Bagna Càuda Recipe
Bagna Càuda is robust combination of garlic and anchovies. This is an Italian dipping sauce for vegetables and bread that is served warm.
Print
Pin
Rate
Ingredients
20

cloves

garlic

finely chopped

½

cup

extra virgin olive oil

½

cup

well packed, drained anchovies in oil

approximatelu

150g

, drained

½

cup

unsalted butter

or more extra virgin olive oil
Instructions
Place the oil and garlic into a cold pan and place over a gentle flame to allow the garlic to soften but not colour, it should take 10 minutes.

Allow the anchovies to melt and meld into the sauce, all the while over low heat.

Add the butter and continue cooking over a gentle flame.

Serve with vegetables and plenty of crusty bread to mop the oily, savory sauce.
Notes
Variations
Cream - a splash of cream can be added to this sauce. This isn't authentic however many say that it lightens the sauce, making it more digestible and not as potent. 
Garlic - the quantity of garlic can be adjusted to suit your tastes. Some cooks soak or simmer the garlic in milk to reduce the potency. 

Smooth texture - if you prefer a smooth and homogenous texture, blend the sauce using a stick blender.
How to serve
Bagna càuda, which means "hot sauce" in the Piedmontese dialect, is a traditional dish that is typically served with raw vegetables and crusty bread for dipping. The sauce is traditionally heated in a terracotta fujot, which is warmed with a candle underneath. However, a fondue pot in the center of the table or an electric pan can be used as a substitute.
It's recommended to choose seasonal options such as cauliflower, carrot, fennel, cabbage, celery, and sweet peppers. These can be cut into small pieces that are perfect for scooping up the sauce. Alternatively, they can be lightly steamed if desired.
Once the vegetables and bread are arranged on platters and in baskets, the hot sauce can be placed in the fujot or fondue pot. Guests can then dip their vegetables and bread directly into the sauce, or individual bowls can be provided. Dry red wine pairs perfectly with this meal. 
Tried this recipe? Give it a star rating and leave a comment below!
Nutritional Estimate Per Serving
Calories:
527
kcal
|
Carbohydrates:
5
g
|
Protein:
10
g
|
Fat:
53
g
|
Saturated Fat:
19
g
|
Cholesterol:
86
mg
|
Sodium:
1091
mg
|
Potassium:
221
mg
|
Fiber:
1
g
|
Sugar:
1
g
|
Vitamin A:
709
IU
|
Vitamin C:
5
mg
|
Calcium:
103
mg
|
Iron:
2
mg
Nutritional Disclaimer
Nutritional information is an estimate provided by an online nutrition calculator. For accurate results, it is recommended that the nutritional information be calculated based on the ingredients and brands you use.