Nutella Panna Cotta is not a difficult dessert. But it is a delicious and impressive dessert. This is will be your go-to dessert for every occasion. Whether it's the special finish to Valentine's Day dinner, Easter lunch dessert or a treat for your family, this is it. You are going to be very popular!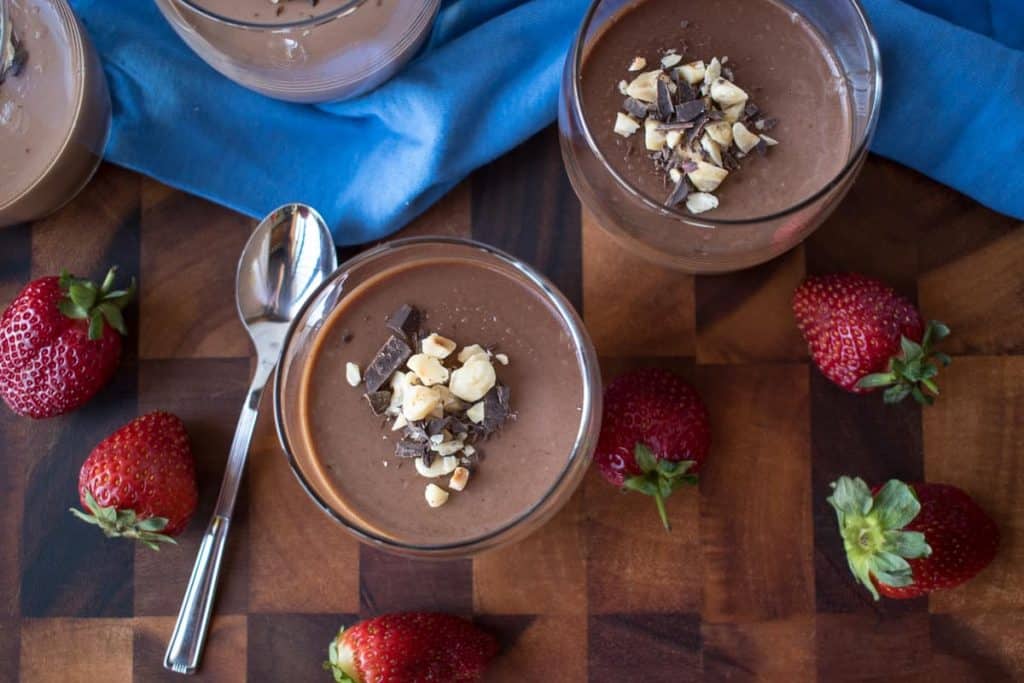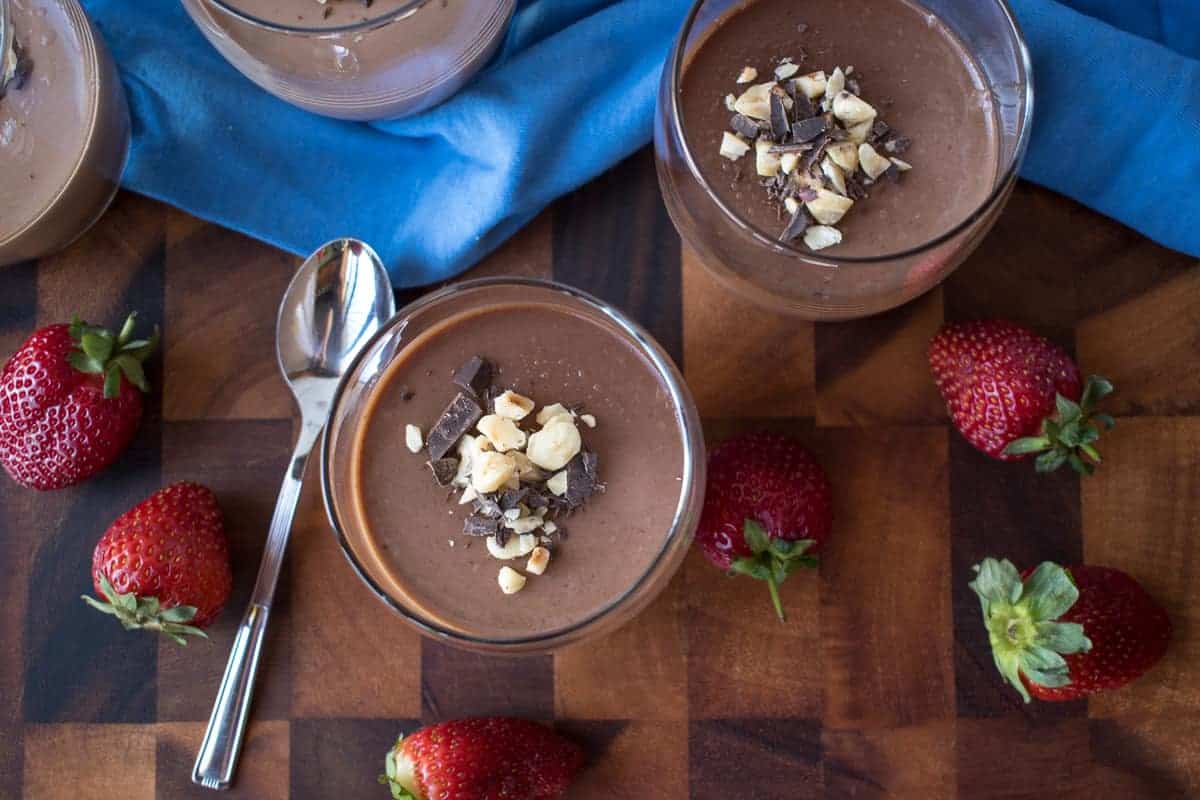 My History with Nutella
In 1972, I was all of 6 years old and traveled to Italy with my mum to visit our relatives. And it was there that my darling zia Vanda introduced me to Nutella! Oh, what a revelation! However there was a problem, Nutella was not available in Australia. It was quite a few years before I could satisfy my craving which had never waned.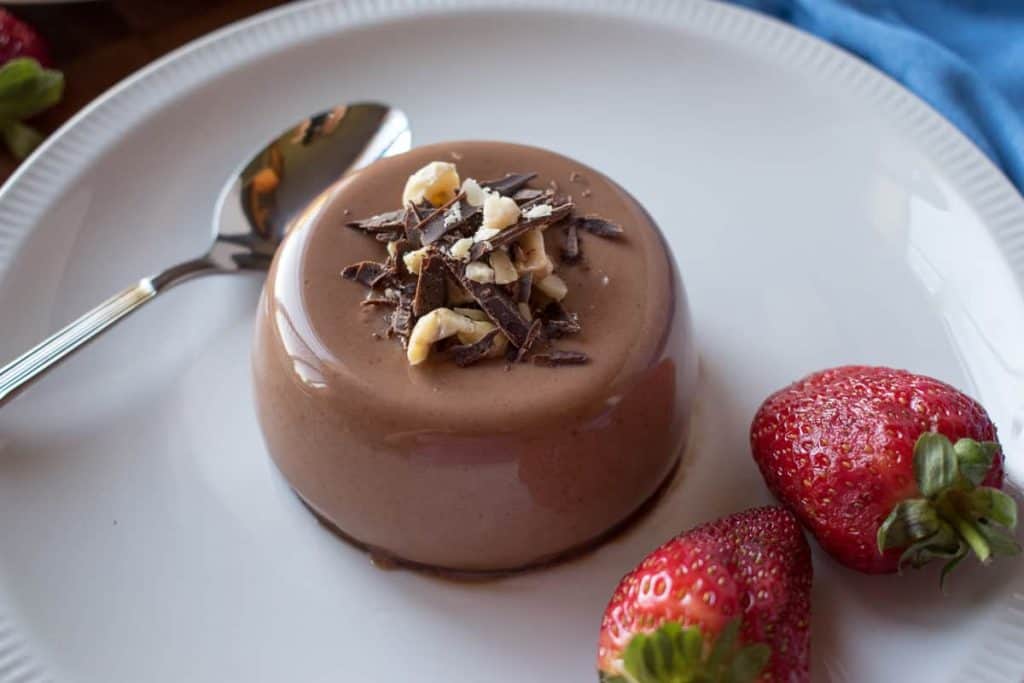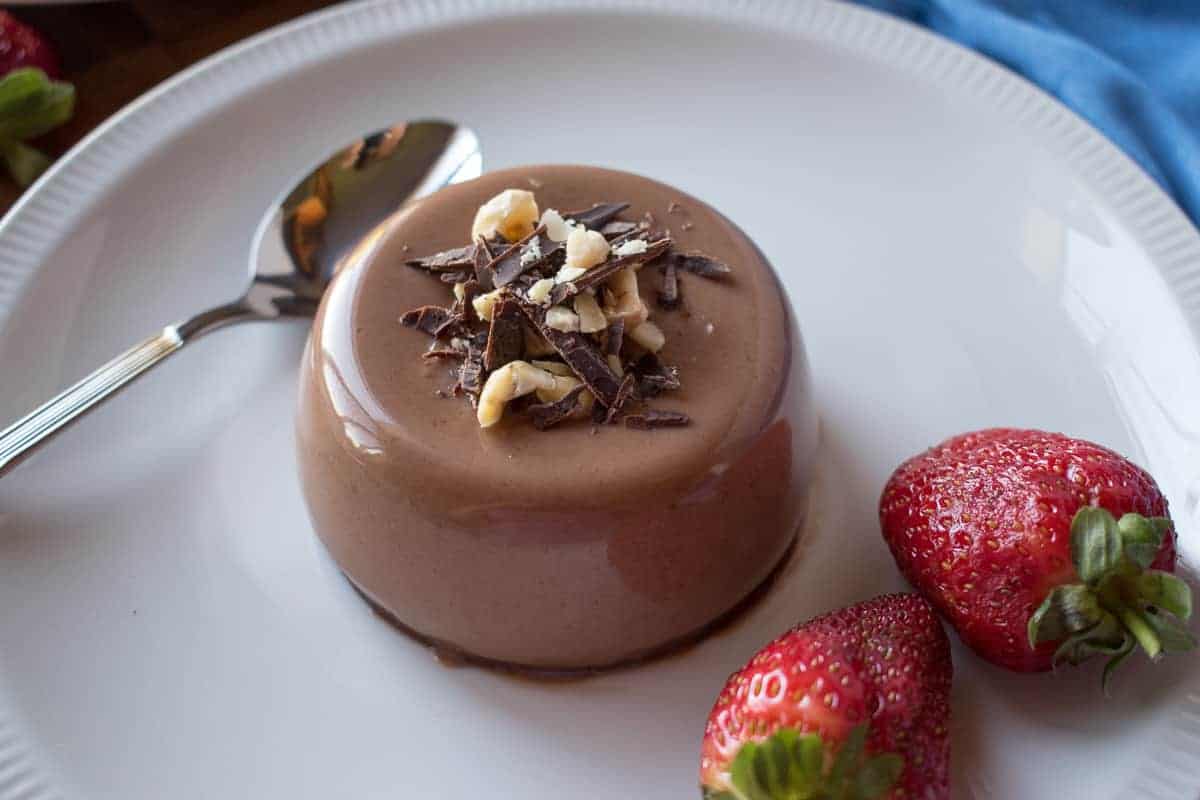 Nutella Baking
Nutella is a wonderful ingredient in baking. I often bake this yummy Nutella puff pastry flower and these Nutella Brownie cups are super popular. But this Nutella Pannacotta takes it to another level.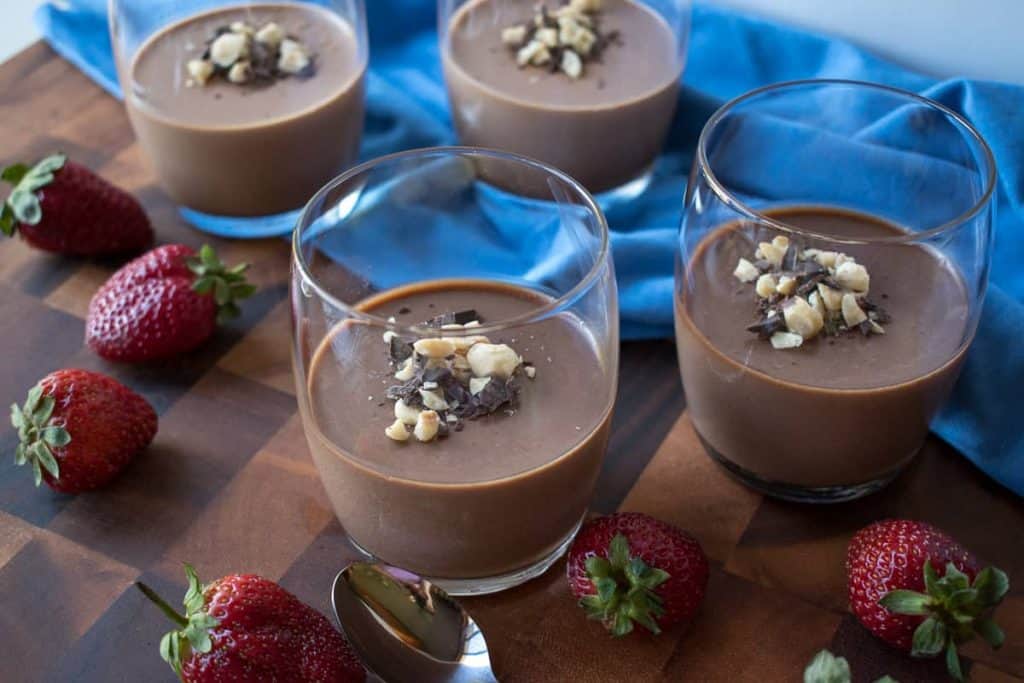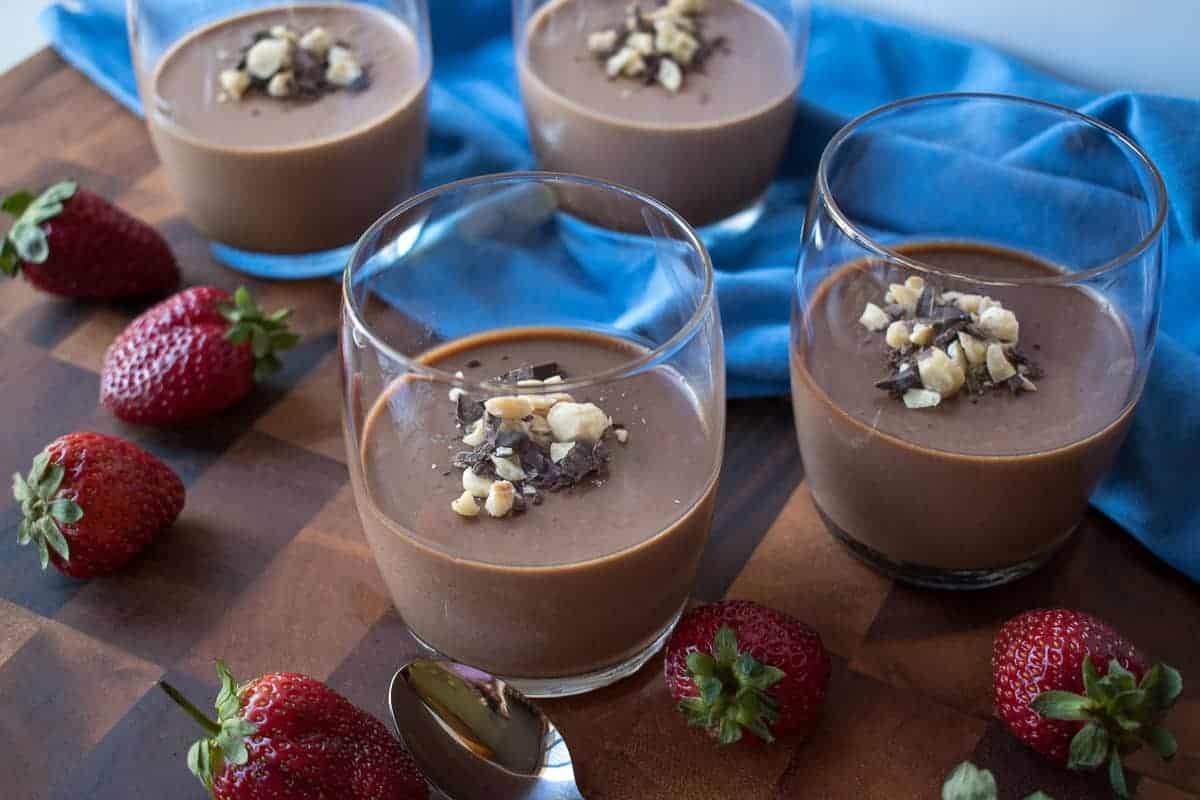 Using gelatine
Panna Cotta should be barely set with a jiggly wobble. Many Pannacotta recipes use gelatine leaves but I don't find these very user friendly. Firstly, gelatine leaves vary in strength and many recipes don't state which type is used. And while gelatine leaves are a favourite with chefs, powdered gelatine is more likely to be found in all supermarkets and is easy to measure and use. Simply sprinkle the gelatine powder over room temperature water, mix and allow to "bloom" which means to just soak the gelatine in the water for 10 minutes. Once bloomed, melt it briefly in the microwave but don't allow it to boil.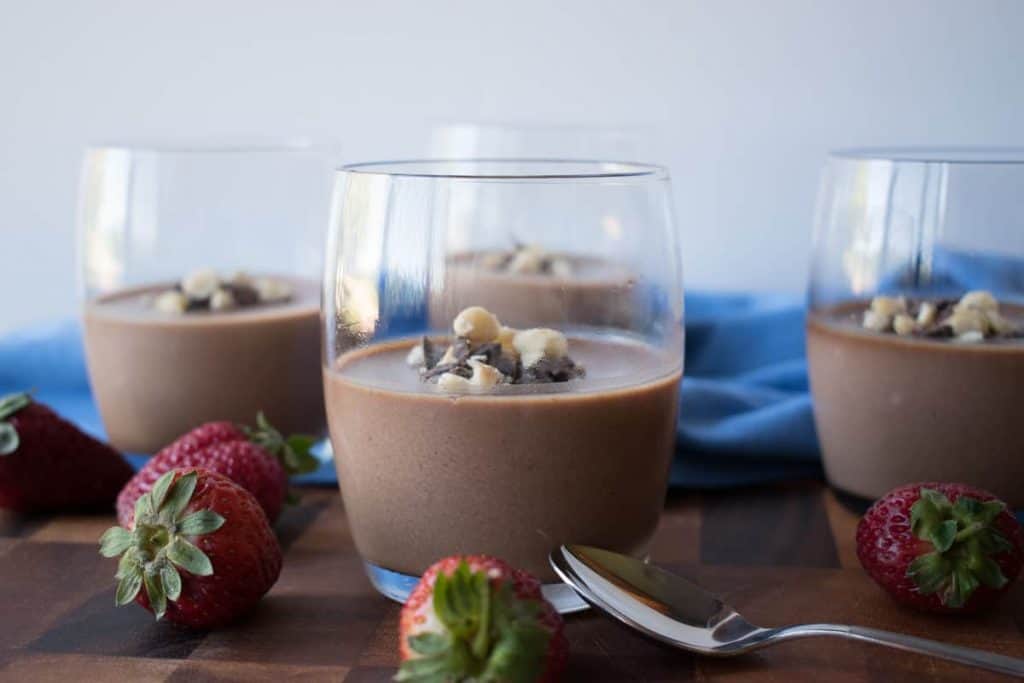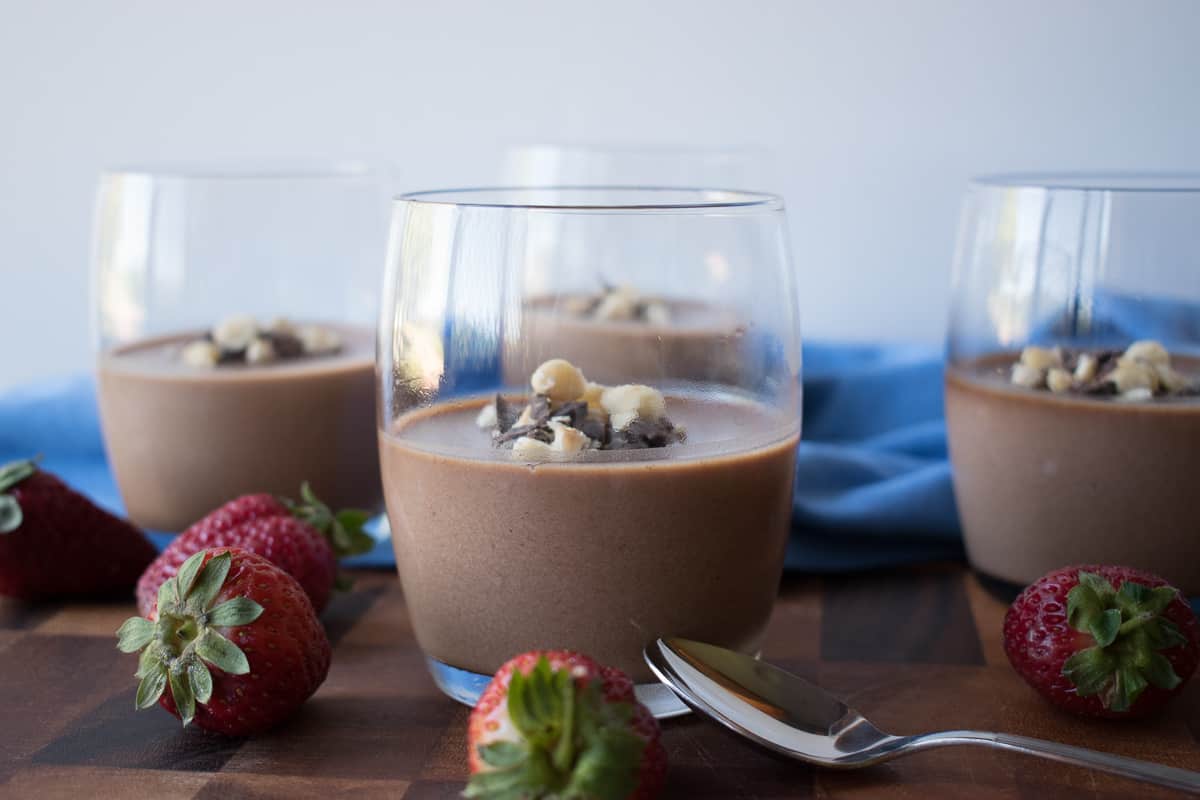 This Nutella Panna Cotta recipe
As you know, panna cotta mean "cooked cream" in Italian but actually the cream is simply heated and not "cooked". While I've made panna cotta before it took me a few times to get this Nutella Panna Cotta recipe to have just the right jiggle. Also I like to substitute part of the cream for milk which results in a lighter panna cotta. This Nutella Panna Cotta can be set in ramekins and then turned out onto individual plates to serve. Or much easier, just set the Nutella Panna Cotta in dessert glasses ready for serving.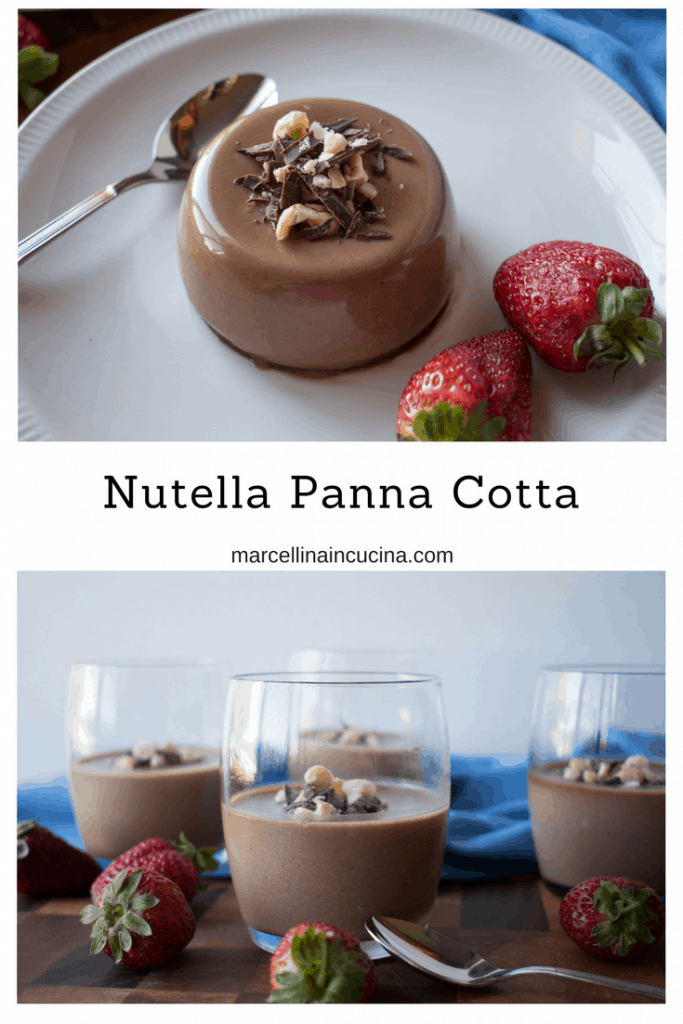 Make this Nutella Panna Cotta soon and tag me on instagram #marcellinaincucina
Baci,
Marcellina xx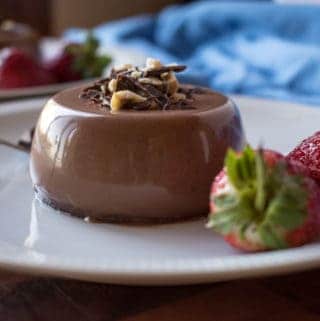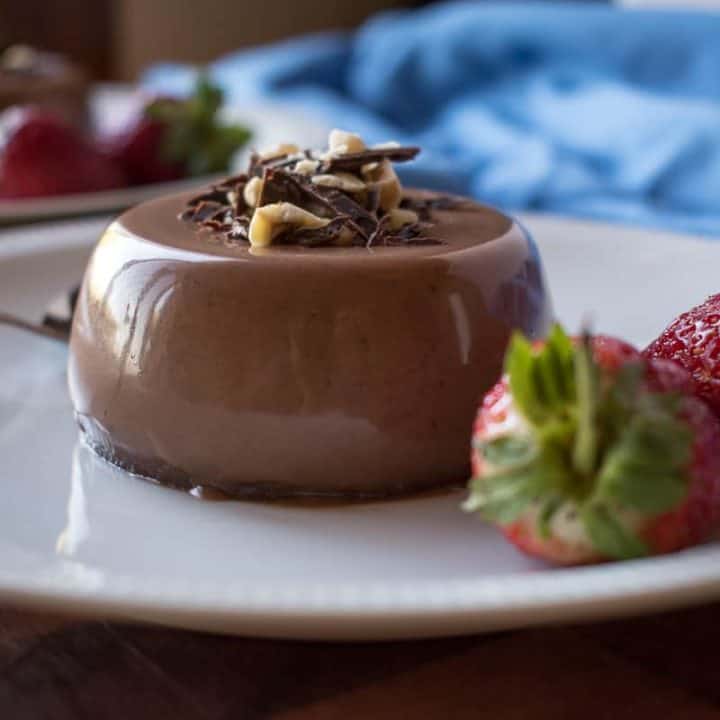 Nutella Panna Cotta
Nutella Panna Cotta is not a difficult dessert. But it is a delicious and impressive dessert. This is will be your go-to dessert for every occasion.
Print
Pin
Rate
Ingredients
2

tablespoons

water

2

teaspoons

powdered gelatine

1 ⅓

cups

pouring cream

(see notes)

½

cup

whole milk

½

cup

Nutella

3

tablespoons

sugar

to taste

1

teaspoon

vanilla

pinch

salt

chopped roasted hazelnuts and chocolate flakes for decorating
Instructions
Pour water in a a small bowl and sprinkle over gelatine. Stir to combine. Set aside to bloom.

In a medium saucepan place cream, milk, Nutella, sugar, vanilla and salt.

Place over medium heat. Stir to combine and melt sugar and Nutella. Taste for sweetness and adjust sugar accordingly.

Remove from heat when you can see steam rising from the surface and all ingredients are combined. Do not allow to boil.

Place bowl of bloomed gelatine in microwave on high power for 8 - 10 seconds to just melt.

Pour melted gelatine into cream mixture. Stir well.

Allow to cool in the refrigerator, stirring regularly to prevent skin forming on the top.

In the meantime, have ready 4 ramekins or 4 dessert glasses. If you are planning to turn out the panna cotta, lightly oil the ramekins.

When cool but still liquid, pour cream mixture into ramekins or glasses.

Return to refrigerator for 3 - 4 hours or overnight to set completely.

Decorate with hazelnuts and chocolate before serving.
Notes
Be sure to use pouring cream NOT thickened cream. In Australia the pure cream I use has minimum 35% milk fat. 
Thickened cream has additives which will result in a much more firm panna cotta. Nice but not what you are after.
Nutrition
Serving:
0
g
|
Calories:
499
kcal
|
Carbohydrates:
36
g
|
Protein:
6
g
|
Fat:
37
g
|
Saturated Fat:
27
g
|
Cholesterol:
91
mg
|
Sodium:
60
mg
|
Potassium:
270
mg
|
Fiber:
2
g
|
Sugar:
31
g
|
Vitamin A:
855
IU
|
Vitamin C:
0.5
mg
|
Calcium:
130
mg
|
Iron:
1.6
mg