Pastiera is a much loved Italian dessert pie made with ricotta, wheat berries and candied fruits scented with the fragrance of orange blossom! This speciality from Naples is found on every Easter table throughout Italy and everyone has their own version.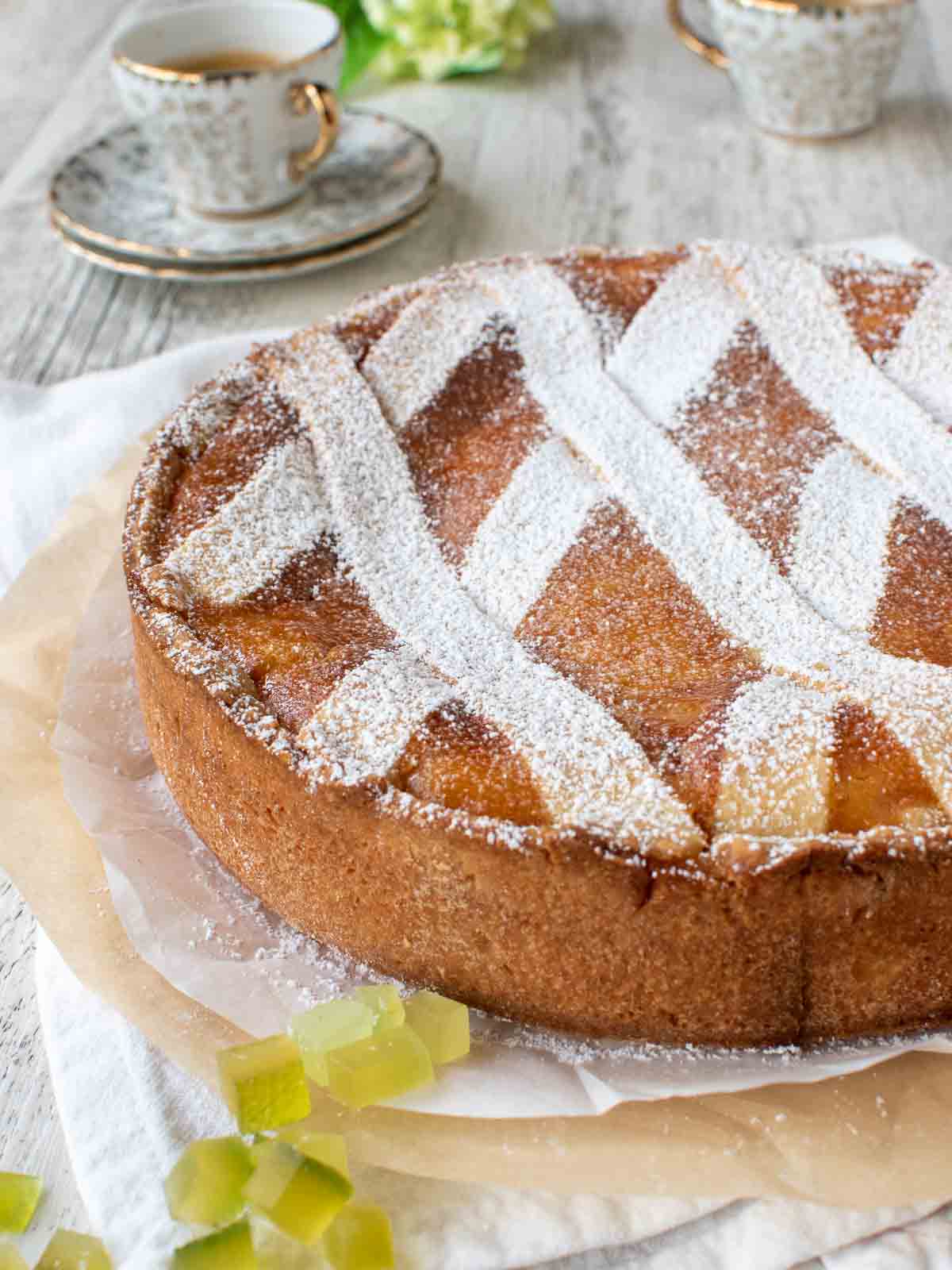 This updated and improved recipes was first published May 20, 2011.
Why you will love this recipe!
Easter lunch would not be complete in my house unless I've baked Pastiera, one of our favorite Italian desserts! On the table there might also be a flavorsome pizza gaina, roasted butterflied chicken with herbs, tasty Italian rice balls or a creamy tiramisu.
Pastiera Napoletana, as it's also known, represents Easter to me and many other Italians. The tender crust is filled with a heady mixture of fragrance, texture and taste, this pie connects with all of your senses in the most wonderful way! First you'll smell the tantalizing aroma of orange blossom. Then you notice the texture of the wheat berries but also the smoothness of the ricotta and finally the delicate but complex taste!
This is one of my favorite Easter recipes not just because of the taste but because of the meaning. Wheat is a symbol of resurrection being that it is buried and then emerges from the ground. Eggs symbolize birth and fertility. While the scent of orange blossoms fill the air in the Neapolitan gardens at Easter time. And all together this pie is amazing!
If you're not familiar with this traditional Neapolitan recipe, you may be very curious about one particular ingredient - wheat berries. Wheat berries are whole wheat kernels without the husk. In years gone by, these would be soaked and cooked until tender. However today we can buy the cooked grain (grano cotto) in jars from Italian food stores or online, making the whole process a lot easier!
You will love Pastiera because, like my Torta della Nonna, it uses delicious pasta frolla - Italian shortcrust pastry. My recipe is very forgiving! Tradition dictates that the pie should be made at least 3 days before serving which is handy when you have other baking and preparations over the holiday period. As well, each component can be made separately in advance. During this time the flavors will develop and improve.
Ingredients
Some of these ingredients are not going to be available in most supermarkets so you may need to track them down in speciality stores. Alternatively I have provided substitutions for difficult to find ingredients.
All purpose plain flour - For a tender crust use a flour that has a low protein content. You could seek out a pastry and cake flour which can have between 6-10% protein. Generally I just use regular all purpose plain flour. As always, be sure to measure it correctly by stirring the flour first to loosen it then spoon it into the cups without packing the flour in. Use the edge of a knife to level it off. Alternatively use scales for accurate measurements.
Butter - Unsalted butter is my preferred butter for recipes. You'd be surprised how much salt is in salted butter and what a difference it makes in a recipe. However if you only have salted butter, use that but don't add any extra salt to the pie dough.
Granulated white sugar - Superfine white sugar is what I like to use but you can use regular white sugar. I like superfine (also known as castor sugar) because it dissolves much more readily.
Eggs - You'll need 5 eggs for the entire recipe so it's a good idea to use the best quality you can afford. Free range eggs are a good choice.
Grano cotto - As I mentioned above, this is cooked wheat that can be purchased in jars at good Italian food stores or online. Wheat berries (whole wheat kernels) can be soaked and boiled in water until soft if you can't find the precooked grano cotto. Also I have made a version using rice cooked in milk (similar to rice pudding) instead of the grano cotto. (see Variations)
Whole milk - If you only have low fat milk, that will be fine but we're not counting calories when we eat desserts!
Lemon - From one lemon, you need to take a 3 inch (7.5 centimeters) strip of zest to flavor the grano cotto and the rest of the zest is finely grated for the pie dough. Save the juice to squeeze over Italian chicken cutlets or to add to a raspberry compote.
Whole milk ricotta cheese - Truthfully, low fat ricotta cheese won't give you the same creaminess and smoothness that whole milk ricotta cheese will.
Italian candied fruit - This can be one type or a mixture. I like to use candied citron and candied orange peel or slices. If you can't find or don't like any candied fruit, use 2 or 3 teaspoons of finely grated orange zest.
Orange blossom water - Also known as orange flower water, the fragrance this give is essential to Easter Pastiera. You can find it at specialty import shops, the Middle Eastern section of the supermarket or online. It's deceptively powerful so measure it carefully - it can overpower other ingredients. If you can't track it down, use a couple of drops of orange oil or essence. It's not quite the same but it will still produce a delicious and fragrant Easter cake.
Vanilla extract - It's best to use extract or paste but not vanilla essence because it's not as flavorsome.
Cinnamon - Ground cinnamon is optional. I like it but it's not always added. I'll leave it up to you.
Variations
Can't find any grano cotto? No problem! I've got you covered with this variation - Italian Rice Pie!
Grano cotto (cooked wheat berries) can be hard to find but Pastiera with rice - Pastiera di riso - is also delicious. Some say it's better. You can be the judge!
Use this cooked rice mixture instead of the grano cotto in the first step. Allow it to cool and add to the beaten sugar and ricotta mixture then continue with the recipe.
To make the rice substitute for grano cotto, in a medium saucepan, bring to boil ¾ cup arborio rice with 2 cups of whole milk and a strip of lemon zest.
When boiling, turn the heat down to a simmer. Cook gently until the milk is absorbed and the rice is creamy and thick.
Remember to stir it regularly to prevent sticking and burning of the bottom.
Remove the lemon zest and let it cool down completely. Spread it onto a plate to cool it more quickly.
Instructions
There are several parts to prepare for this recipe.
The first part to prepare is the grano cotto.
Cooked grano cotto is available in jars from Italian import stores or online. This recipe uses half of the jar pictured. Double the recipe (using a full jar of grano cotto) and make two pies.
Combine the grano cotto, milk and strip of lemon zest in a saucepan.
Cook until thick and creamy.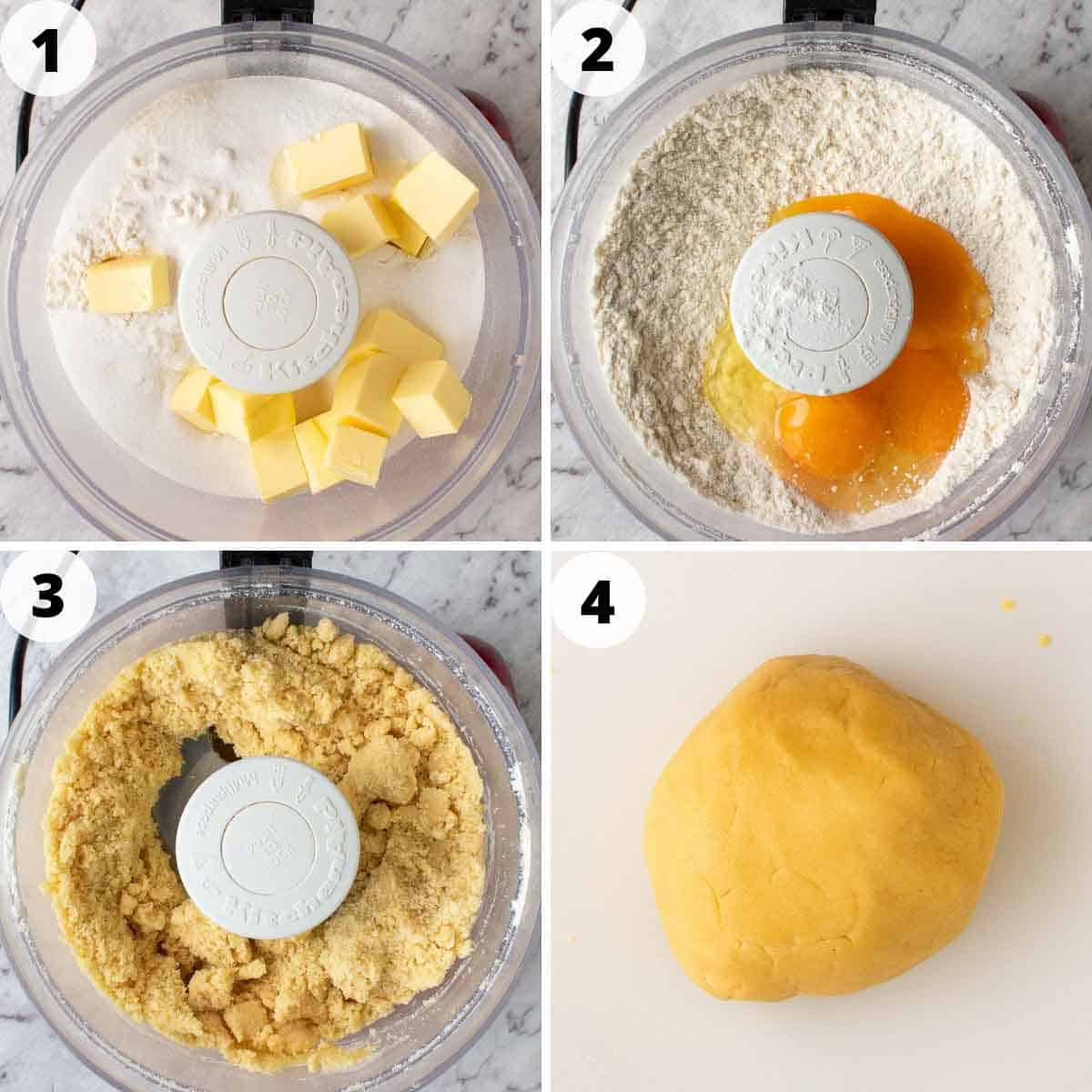 Secondly, prepare the pastry dough in the food processor.
Place the flour, butter, sugar, lemon zest and salt in the food processor and pulse until the mixture is crumbly.
Add egg and egg yolks.
Process until the dough gathers together.
Press into a ball, wrap in plastic and chill.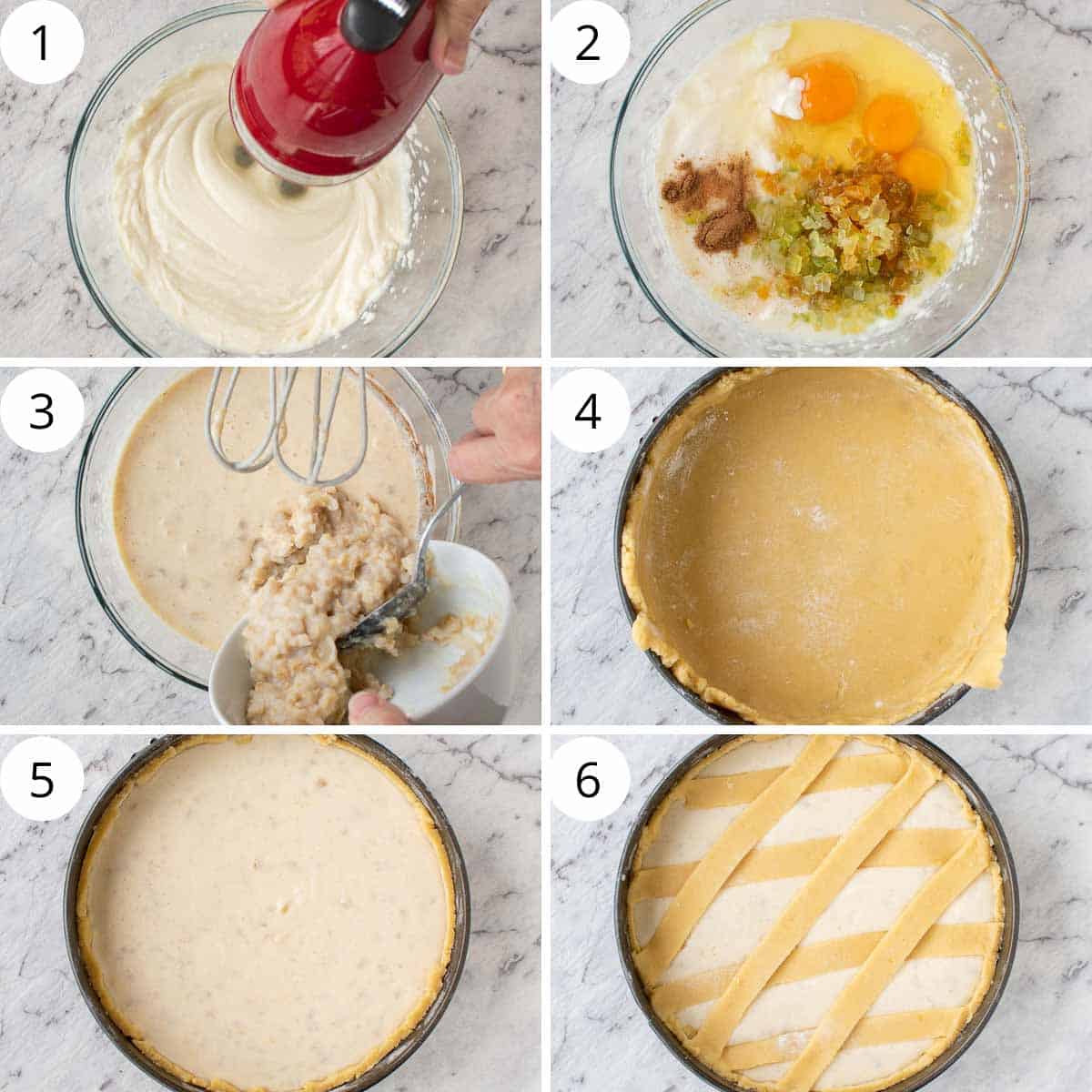 Finally, make the filling and assemble the pastiera. Heat the oven to 375°F/180°C.
Butter and line the base of a 9 inch/23cm springform cake pan or high sided pie pan.
Beat ricotta and sugar in a large bowl.
Add eggs, candied fruit, orange blossom water and cinnamon.
Finally mix in the cooled grano cotto and set the filling aside.
Roll out ⅔ dough and use it to line the prepared pan.
Pour the ricotta mixture into the base.
Decorate with strips of dough before baking. Bake until golden brown.
Tips for Success and FAQ's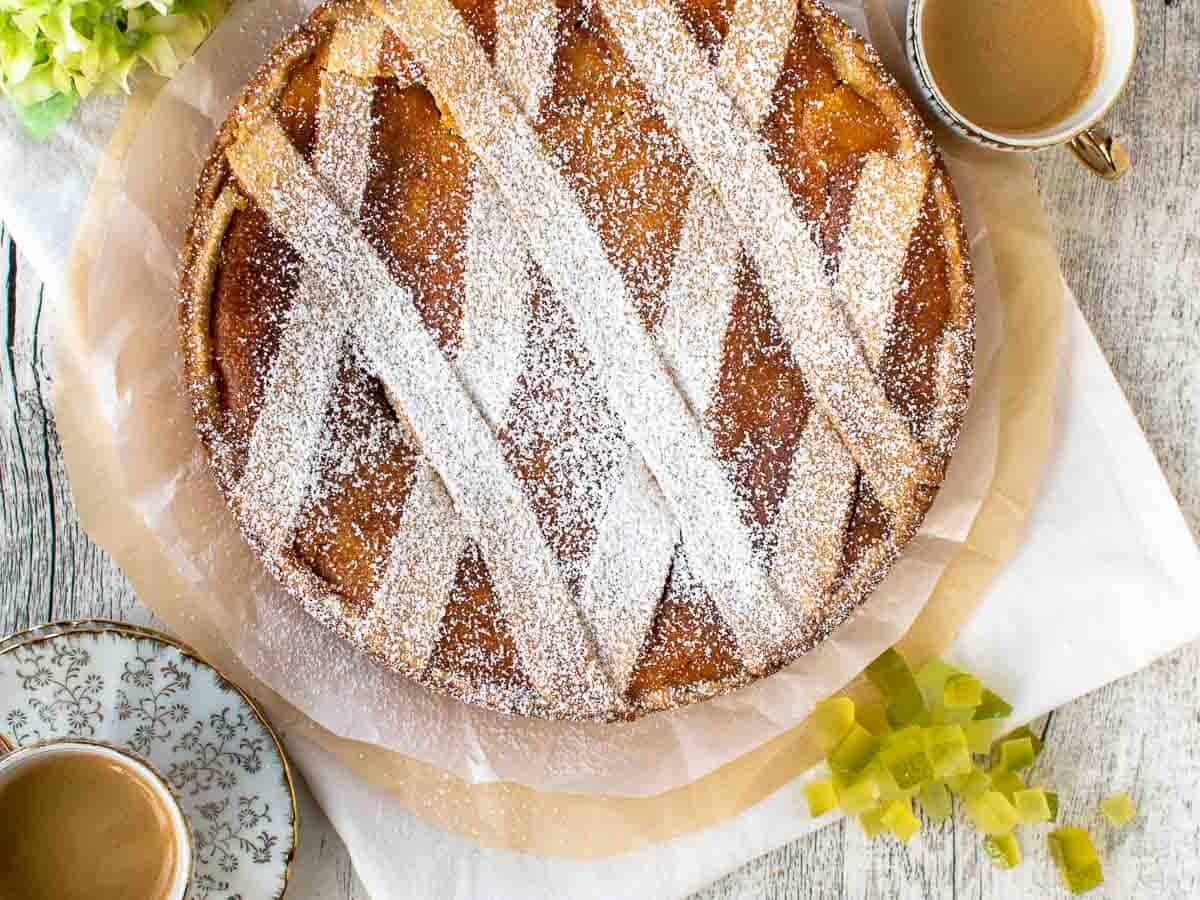 Pastiera is not difficult but there are several components. To make this recipe, planning ahead will help. Both the grano cotto for the filling and the pie dough can be made the day before baking and stored in the fridge covered with plastic wrap.
Gather all the ingredients before you start so that you're not going back and forth to the fridge or pantry. If you have prepared the pie dough the day before, it may need to be removed from the fridge 10 minutes before rolling to soften slightly.
If you don't have a food processor, chop the cold butter into small pieces then rub into the flour until the mixture is crumbly. Stir in the sugar, lemon zest and salt then add eggs to form a dough. Proceed with the recipe.
This pastiera recipe uses half of a 19 ounce (550 gram) jar of grano cotto pictured above. The remainder can be frozen for later. To use the whole jar, double the recipe and make two separate pies.
Where did Pastiera originate?
Pastiera originated in Naples, Italy. There are a few legends about the creation of Pastiera Napoletana that include offerings to a mermaid. But it's likely that it was first made in a convent by nuns to celebrate the joyous occasion of Easter. The ingredients are important and well chosen and Pastiera is now synonymous with this Christian tradition all over Italy.
How is Pastiera pronounced
You can easily learn how to say Pastiera by breaking it up into words and sounds you know like this - "pass-tee-air-ra".
Does Pastiera need to be refrigerated?
If you are serving the pastiera the day it is baked, keep it at room temperature. However, after that it needs to be stored in the refrigerator covered in plastic wrap. Bringing the pastiera back to room temperature before serving is ideal. It will keep in the fridge for 5-7 days.
Can Pastiera be frozen?
Yes, if you have leftovers you can freeze slices of well wrapped pastiera. To thaw, leave out at room temperature. Don't thaw in the microwave
Serving Suggestions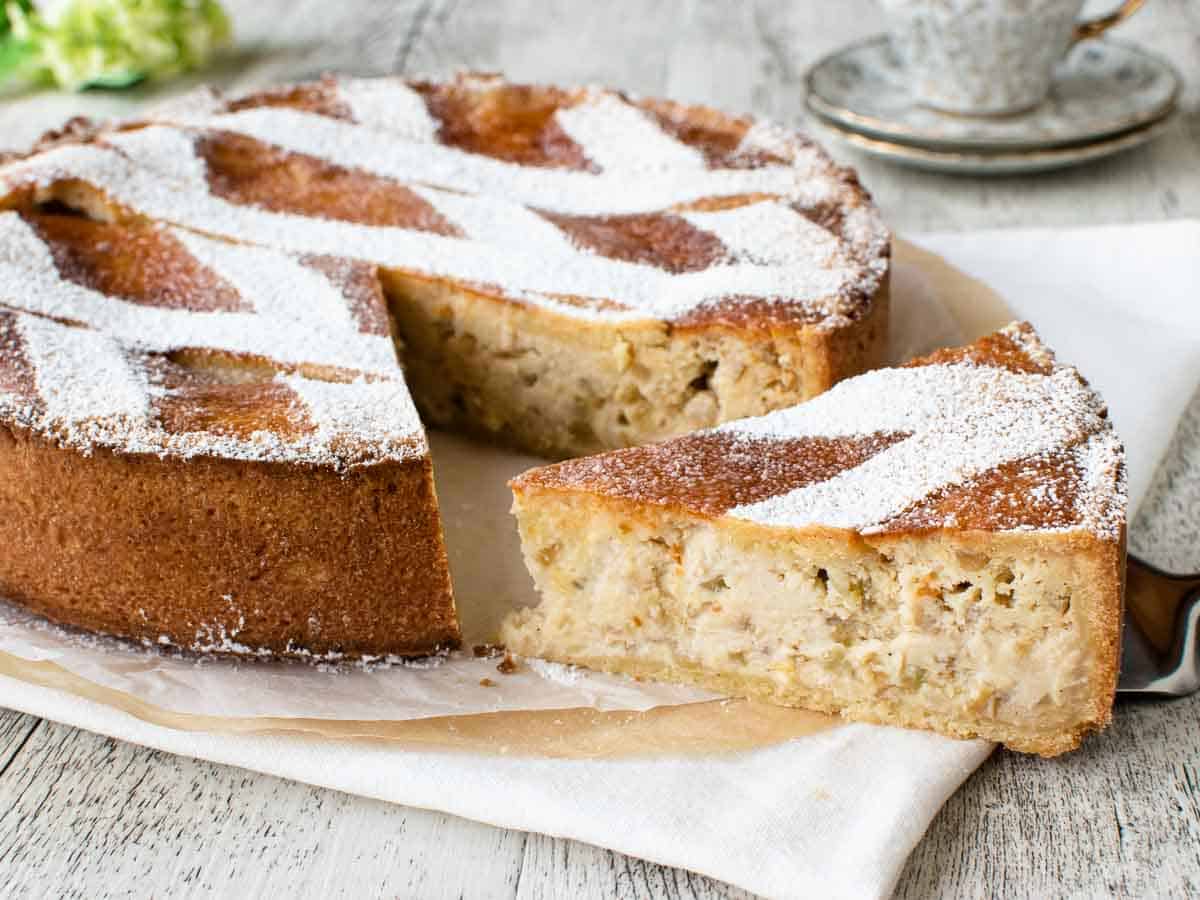 Pastiera Napoletana ideally should be served the day after baking to allow the flavors to develop. This is an Easter pie that is excellent served with just a dusting of powdered sugar and a cup of good Italian coffee. Leftovers make a wonderful breakfast or snack.
More recipes like this
Recipe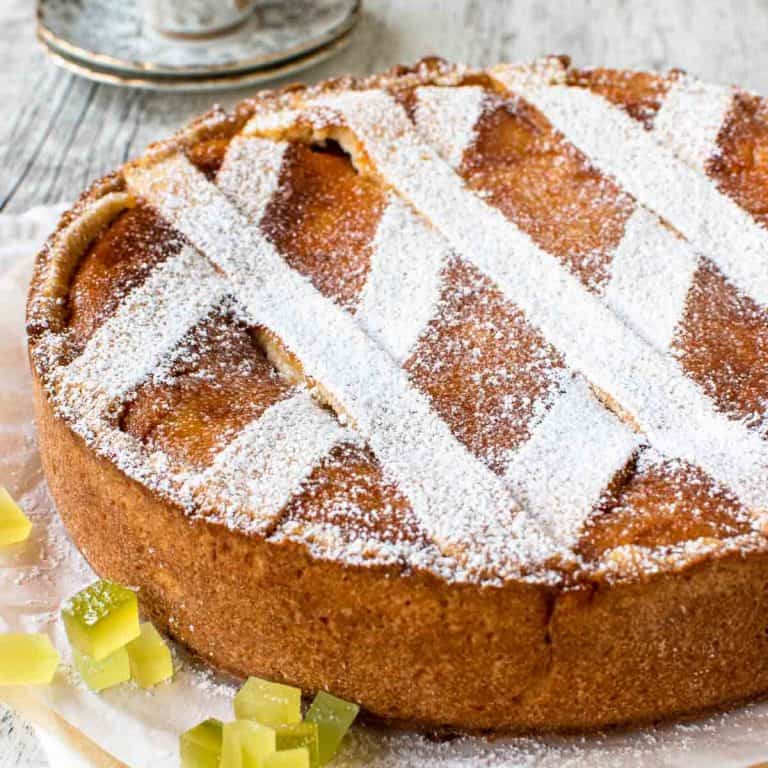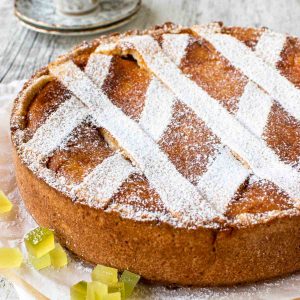 Pastiera Napoletana Recipe
This is a traditional Italian pie baked during Holy Week to celebrate Easter.  Said to have been invented in Naples but is now found on the Easter lunch table throughout Italy.
Print
Pin
Rate
Ingredients
Grano Cotto
9¾

ounces

(

275

grams) grano cotto

See Note 1

¾

cup

(

177

millilitres)whole milk

strip of lemon zest about 3 inches (7.5cm) long
Pastry Dough (Pasta Frolla)
2

cups

(

250

grams) all purpose (plain) flour

plus extra for dusting

5

oz

(1¼

sticks/

140

grams) cold unsalted butter

chopped

½

cup

(

100

grams) superfine (caster) sugar

2

teaspoons

finely grated lemon zest

pinch of salt

1

egg

1

egg yolk
Filling
16

ounces

(

500

grams) whole milk ricotta cheese, drained if watery

See Note 2

1

cup

(

200

grams) superfine (castor) sugar

 

⅔

cup

chopped mixed Italian candied fruit

See Note 3

3

eggs

1

tablespoon

(

15

millilitres) orange blossom water

orange flower water

1

teaspoon

(

5

millilitres) vanilla extract

½

teaspoon

ground cinnamon

optional
Instructions
For the Grano Cotto
Place the grano cotto, milk and strip of lemon zest in a saucepan and cook gently over a low heat stirring regularly, for about 30 minutes or until the mixture is thick and creamy. Spread out onto a plate to cool.
For the Pastry Dough (Pasta Frolla) - using a food processor
Place the flour, butter, sugar, lemon zest and salt in the food processor bowl. Pulse until crumbly.

Then add the egg and egg yolk and process until the mixture gathers into a ball.

Remove from the bowl, flatten into a disk and wrap in plastic wrap. Refrigerate while you prepare the rest of the filling.
For the Filling
In a large bowl, beat the ricotta and sugar with an electric mixer or by hand until smooth and creamy.

Add eggs, candied fruit, orange blossom water and cinnamon (if using). Mix well.

Finally add cooled grano cotto mixture and beat gently to combine. Set aside while you roll out the dough.
To Assemble and Bake
Heat the oven to 375°F/180°C.

Butter and line the base of a 9inch/23cm springform cake pan or high sided pie pan.

Remove the pastry dough from refrigerator and divide into two pieces - ¾ and ¼. Take the larger piece. Press it down to flatten and form a rough circle. Dust the pastry lightly with flour.

Roll out the larger piece between two pieces of non stick parchment until large enough to fit the prepared pan. If the pastry is sticking, dust with a little flour.

Carefully wind the pastry around the rolling pin then unroll into the prepared pan. Carefully lift and ease the pastry in to line the base and up the sides. Just patch any tears or holes - this pastry is very forgiving.

Scrape in the ricotta mixture and level. Cut away any excess dough just above the filling and reserve the pastry dough.

Press remaining dough together with the excess then roll out between two pieces of non stick parchment. Cut into strips to fit the top of the tart. You'll need 7 strips - 4 in one direction and 3 in the opposite direction.

Bake in the preheated oven for about 50-60 minutes until golden brown. It may take longer to become golden brown, depending on your oven.

Allow to cool completely.

Dust with powdered (icing) sugar before serving.

Pastiera will keep in the fridge for 5-7 days.
Notes
Grano cotto is cooked wheat which you can buy in jars or cans from Italian import stores.
Make homemade ricotta cheese with my easy recipe.
For the Italian candied fruit, you can use just one type or a mixture. I usually use a mixture candied citron and candied orange peel or slices.  Substitute 2 or 3 teaspoons of finely grated orange zest if you can't find or don't like candied fruit.
Tips for success
Plan ahead and make the grano cotto and dough in advance

Gather all the ingredients before you start so that you're not going back and forth to the fridge or pantry. 

No food processor? No problem! Check the instructions above for how to make by hand.
Read "Variations" above for alternative to grano cotto. Further information can be found this the post above.
Nutritional Information Per Serving
Calories:
499
kcal
|
Carbohydrates:
63
g
|
Protein:
11
g
|
Fat:
20
g
|
Saturated Fat:
12
g
|
Polyunsaturated Fat:
1
g
|
Monounsaturated Fat:
6
g
|
Trans Fat:
1
g
|
Cholesterol:
141
mg
|
Sodium:
82
mg
|
Potassium:
134
mg
|
Fiber:
1
g
|
Sugar:
39
g
|
Vitamin A:
719
IU
|
Vitamin C:
1
mg
|
Calcium:
158
mg
|
Iron:
2
mg
Nutritional Disclaimer
Nutritional information is an estimate provided by an online nutrition calculator. For accurate results, it is recommended that the nutritional information be calculated based on the ingredients and brands you use.