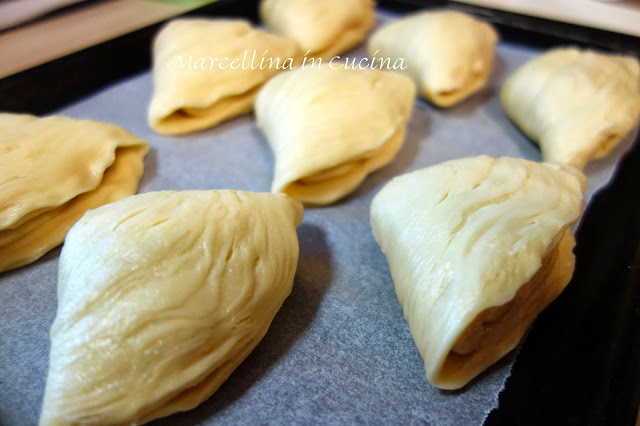 Italians love a sweet breakfast and these sfogliatelle along with maritozzi are favorites in southern Italy. While enjoying my sfogliatelle for breakfast, be sure to give my sourdough french toast recipe a try, everybody will love it!
Just like my Zuppa Inglese, sfogliatelle are a classic Italian favorite and love by many.
Did you know that this recipe is from Naples in southern Italy? This area is also the original home of pizza and pizza fritta. Pizza Fritta or "fried pizza" is one of the most amazing Italian street foods that you can have. With my recipe you can create it at home and be transported to the streets of Naples!
Recipe
Sfogliatelle Recipe
Sfogliatelle are a delicious pastry that consists of a super crunchy shell filled with a sweet, creamy filling.
Print
Pin
Rate
Ingredients
Dough
3

cups

(420 gm) all-purpose (plain) flour

1

teaspoon

salt

¾

cup

(180 ml) warm water (about 100°F/38°C)

4

oz

(115 gm) lard

½

cup

(1 stick/4 oz /115 gm) unsalted butter, softened
Semolina-Ricotta Filling
1

cup

(240 ml) milk

½

cup

(115 gm) granulated sugar

⅔

cup

(115 gm) fine semolina

1 ½

cups

(375 gm) whole milk ricotta

2

large egg yolks

2

teaspoons

(10 ml) pure vanilla extract (or the seeds of one pod and 1 teaspoon of extract)

¼

teaspoon

ground cinnamon

⅓

cup

(60 gm) candied orange peel (commercial or home-made)

zest of 1 lemon

1

tablespoon

Marsala
Instructions
Semolina and Ricotta filling
Combine the milk and the sugar in a medium saucepan. Bring to a boil, then lower the heat and slowly add the semolina (or cream of wheat), whisking quickly as to avoid any lumps. Cook, stirring often, until the mixture is smooth and thick, about 2 minutes. Spread the mixture onto a lined baking sheet, about ½ inch (15 mm), to cool. When cool, break into pieces and place into the bowl of your stand mixer, fitted with the paddle attachment (or a food processor), and add the ricotta cheese, egg yolks, vanilla and cinnamon. Beat until very smooth and creamy. Stir in the candied orange peel, lemon zest and marsala.Scrape into a container, place plastic wrap directly onto the surface and refrigerate until needed (up to 3 days).
Pastry
Combine the flour and salt in a large mixing bowl and stir in the water, or use your standing mixer with the paddle attachment. The dough will be very dry. If you feel absolutely compelled, add an extra teaspoon of water but it is supposed to be very dry. Turn this out onto a clean work surface and knead the dough together, bringing in all the dry bits.

At this point get your pasta roller out and ready. Roll out the dough to about ⅓ inch (10 mm) and pass through your pasta machine at the widest setting. I find it much easier to cut my dough in half and work ½ at a time for this step. Fold the dough in half after each pass also change the direction of the dough occasionally. After about 15 passes the dough should be very smooth. Knead the dough back into a ball and wrap in plastic wrap. Refrigerate and rest the dough for at 2 hours, or overnight.

Beat the lard and butter together in your mixing bowl until very fluffy. Make sure it is thoroughly combined. Place into a bowl and set on the workspace in easy reaching distance.

Remove the dough from the refrigerator and divide it into 4 equal pieces. Working with one piece of dough at a time (cover the other pieces with a towel or plastic wrap), lightly flour a piece pass it through the pasta roller set at the widest setting. Try to get the dough as even as possible, your goal is an even rectangle strip, about 4 inches (10 cm) in width. If needed, fold it over on itself a few times until you get an even strip. Once even, pass the dough through every setting, ending with the highest.

Place one piece of a strip on you clean work surface and paint (or smear) it liberally with the lard/butter mixture. I do about a 8 inch (20 cm) section at a time. Gently pull the sides of the dough and stretch it, starting from the middle and going out, until it is about 8 or 9 inches (20 or 23 cm) in width. Begin from the short end and start rolling the dough into a very tight roll. When you start to reach the end of your stretched section, stop and liberally grease up another section, stretching and rolling until all the dough is finished. When one strip of dough is finished, roll out another piece of dough as above then stretch and overlap the end of one to the beginning of the other; continue to pull, stretch and roll up.Each strip of dough will attach to the roll with the lard/butter mixture. Continue this way until all the pieces are stretched and rolled.

Spread the lard/butter mixture over the entire finished log and starting in the middle gently run the hands down the length to extend the length another inch (30 mm) or so. This will release any air pockets and tighten the roll. Your finished roll should be approximately 10 or 11 inches (25 or 28 cm).

Wrap in plastic wrap and chill for at least 2 hours or overnight. The dough may be frozen for up to 3 months, at this time. Defrost it in the refrigerator overnight before using.
Make Sfogliatelle
Preheat your oven to moderately hot 400°F/200°C.

Line 2 baking sheets with parchment.

Remove the dough from the refrigerator, unwrap, and place on a cutting board. Slice off about an inch (30 mm) from each end so that they are straight and even. Cut the roll into ½ inch (15 mm) slices. Put the semolina-ricotta mixture into a pastry bag with a ¾ inch (20 mm) opening (A disposable pastry bag or even a ziploc bag with the corner cut off is fine).

Take one slice of dough and place it on your workplace. With the heel of your hand, push out from the center in one direction. Rotate the dough and do this in all four directions. This forms the dough and opens up the layers. Pick up the piece and insert your thumbs on the inside with your forefingers on the outside meanwhile gently stretch the center to make it more into the shape of a cone. You don't want the layers to actually separate. Holding the cone in one hand, squeeze some of the filling into the cavity so it is full. Lightly push the opening closed. You do not have to seal the opening as the filling is too thick to ooze out during baking

Place onto the prepared baking sheet and very lightly brush the outside of each completed pastry with the lard/butter mixture. Bake them in a preheated moderately hot 400°F/200°C oven for about 20 to 25 minutes or until they are a deep golden brown.

Remove from the oven and cool on a rack. These are best served warm with a sprinkling of confectioners' sugar on the day they are made. To reheat them, just place them in a moderate 350°F/180°C oven for about 5 minutes.

Kept in the refrigerator these pastry do reheat well so you can enjoy them for several days (if you can resist gobbling them all up!)

Enjoy for breakfast with an espresso.
Nutritional Information Per Serving
Calories:
319
kcal
|
Carbohydrates:
34
g
|
Protein:
7
g
|
Fat:
17
g
|
Saturated Fat:
9
g
|
Trans Fat:
1
g
|
Cholesterol:
60
mg
|
Sodium:
177
mg
|
Potassium:
90
mg
|
Fiber:
1
g
|
Sugar:
10
g
|
Vitamin A:
338
IU
|
Vitamin C:
1
mg
|
Calcium:
76
mg
|
Iron:
2
mg
Nutritional Disclaimer
Nutritional information is an estimate provided by an online nutrition calculator. For accurate results, it is recommended that the nutritional information be calculated based on the ingredients and brands you use.