This Easy Vanilla Cake recipe is a classic and comes together in minutes.
Even if you've never baked a cake from scratch, you will find this simple and achievable!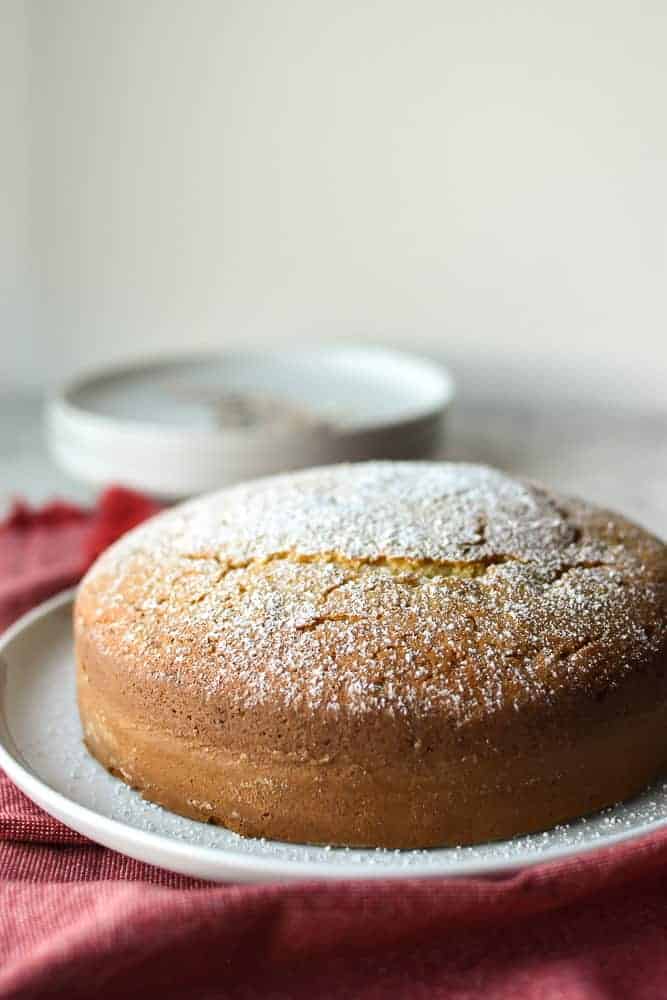 This Easy Vanilla Cake Recipe.
Have you been too scared to attempt making a cake from scratch? Are most cake recipes just too complicated? Sick of the strange ingredients in boxed cake mixes? Then, stay with me. This recipe is for you.
Here at Marcellina in Cucina there are quite a few cake recipes. You'll find chocolate cakes like Mocha Cake with Coffee Liqueur Syrup and Chocolate Glaze, Malted Chocolate Easter Cake and Chocolate Almond Cake. Also, you'll find fruit cakes like Moist Apple Cake, Lime and Blueberry Cake and an amazing Pear Tea Cake. While these are cakes (and others on the blog) are delicious and not incredibly complicated, what is missing is a basic vanilla cake. A cake that is easy and simple enough for even the newest baker to have success with. So let me introduce you to this Easy Vanilla Cake recipe.
This has been adapted from a recipe that was given to me years ago by a friend. While the original recipe was quite good, it contained more milk which meant it took such a long time to bake. I found that the outside of the cake became overcooked and dry. The result of the adaption is a cake that bakes relatively quickly but with all delicious flavors of butter and vanilla.
This vanilla cake is a little denser than the original version but because of that, there's not too much that can go wrong. Because this is a sturdy cake, it's perfect for cutting into shapes like numbers for special birthdays. Why not make a batch of this Italian Meringue Buttercream to complete that birthday cake?
For a delicious dessert, make a batch of Strawberry Coulis to serve alongside this cake.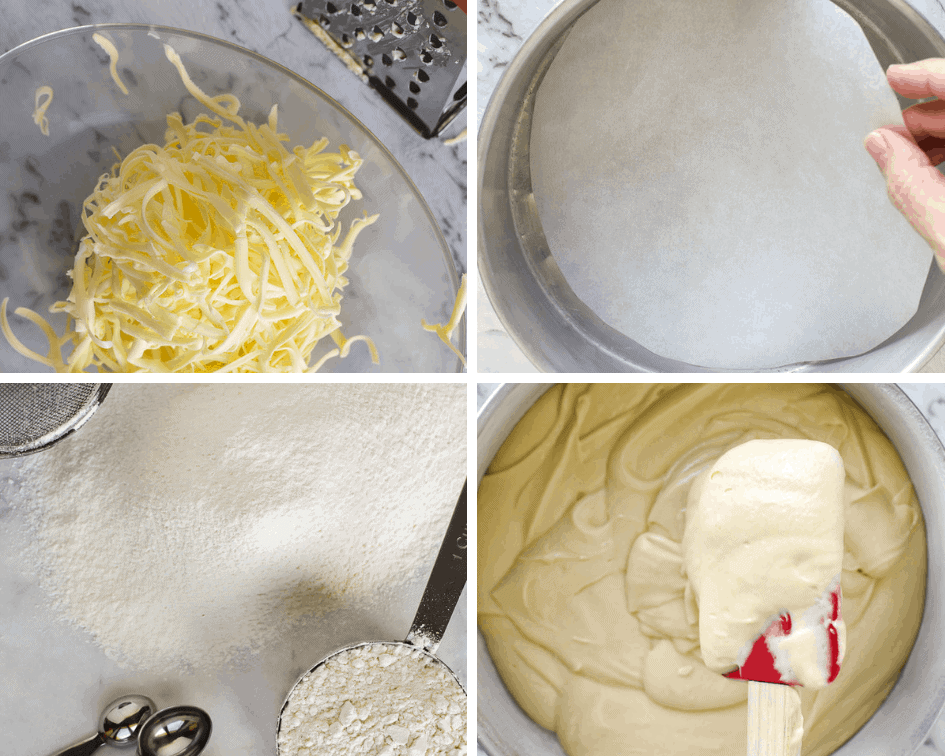 What makes this cake so easy.
This Easy Vanilla Cake recipe is made so simply. All the ingredients are added into the electric mixer bowl at once and beaten until just lightened and creamy. More importantly, the ingredients in this cake are found easily in any supermarket and, actually, in most households. If you've looked at vanilla cakes before, you may have come across recipes containing sour cream, buttermilk or cake flour. These ingredients all make delicious cakes however you might not have them at home. With this cake recipe all you need is 8 basic ingredients.
unsalted butter
castor (superfine) sugar
eggs
flour
baking powder
vanilla extract
whole milk
salt
Plus with this delicious cake, it is perfectly acceptable to dust with icing (powdered) sugar in lieu of buttercream.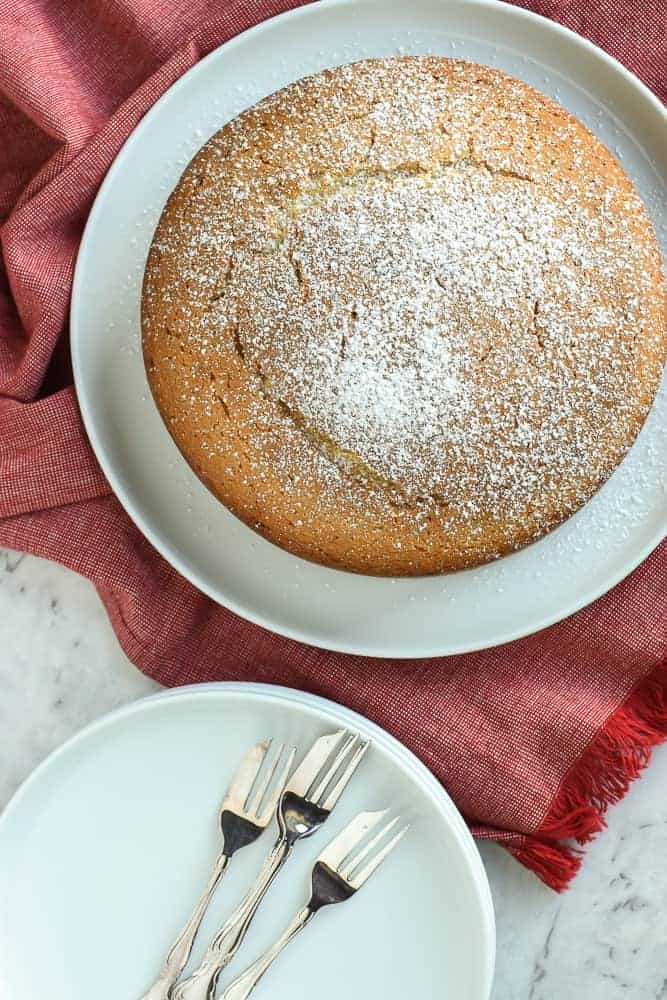 What do you need to know before making this Easy Vanilla Cake recipe?
Baking is not like cooking. You can't just throw a few ingredients together and have success. Baking is a science. Measure ingredients accurately and follow all directions to ensure the results are good and the cake or cookies are as you expected. With this cake, there are a few points to remember.
all the ingredients should be a room temperature
measure the ingredients carefully and don't pack the flour into the cup
preheat the oven fully (this can take 15 minutes or even longer if you have an older model)
sugar should be lump free - pass through a sieve if need be
check the expiry date on baking powder
sift and combine the flour, baking powder and salt well
be sure to scrape the bowl after the initial 30 second beat to ensure all the ingredients combine
don't over beat the batter
avoid opening the oven door to peek - you will let out the heat and that messes with the cooking time
I cannot stress enough to have your ingredients at room temperature for this cake otherwise it will not mix correctly and will not be as fluffy.
How to measure flour for this recipe.
Spoon the flour into the measuring cup, then level off with a knife. Don't dip and scoop into the flour bag. This will pack the flour resulting in more flour than required.
Beware of baking powder differences.
Baking powder is a chemical raising agent used to make cakes, scones and quick breads increase in volume and lighten in texture. Most baking powders are double acting. This means that the baking powder is activated firstly by liquids (such as milk, eggs or water),then also activated by heat once the batter is in the oven. An important point to remember is that not all baking powders are equal! Different brands call for different ratios of baking powder to flour. In Australia, the brand I use calls for 2 teaspoons per cup of flour. However American readers may need to adjust this quantity - most brands call for 1 - 1 ¼ teaspoons per cup of flour. In other countries, please follow the directions on the packet of baking powder you are using.
Because I can easily find self raising flour, I will often use that. If you prefer, you can substitute 2 cups of self raising flour for the flour and baking powder.
A bit about that important ingredient - butter.
Butter is the king when it comes to baking. Whether you want flaky pastry or crisp cookies or tender cake, you need butter.
Salted or unsalted butter? Once upon a time, we all used salted butter and had no control over how much salt went into our baking. Salted butter is fine in savoury dishes but I want to ask you to do this simple test. Take a slice of white bread. On one end spread unsalted butter and on the other spread salted butter. Take a bite at the unsalted end followed by the salted butter. You will be surprised by how salty the salted butter is. Salted butter can make sweet baked goods too salty.
That brings me to the quality of butter. I know there are a lot of cheap butters that seem to be the same as their more expensive cousins. However it is not the case. Cheap butter has a different structure. It is not necessarily held at the correct temperature at all times during production. I discovered this when I first tried my hand at puff pastry. The butter just didn't behave as it should have. I'm not scientific but it had something to do with the composition.
And this composition thing is the same reason why you need to be careful when bringing the butter to room temperature. You can do this a little more quickly by grating the cold butter on a coarse grater and allow to stand until softened. BUT, if what the recipe calls for "softened butter", it shouldn't melt or look oily. Again, melted butter has a completely different composition. Melted butter is sometimes be used in quick mix cake recipes.
Here's a butter conversion:
1 stick of butter = ½ cup = 8 tablespoons = ¼ pound = 4 ounces=113 grams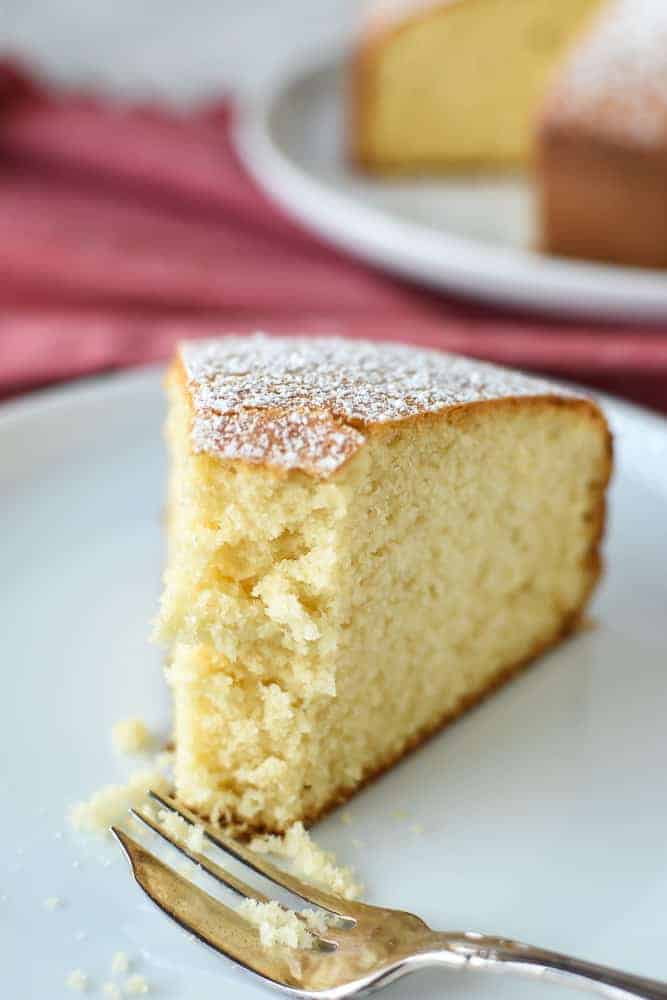 Finally, this Easy Vanilla Cake recipe can be adapted simply by adding a little citrus zest, a shot or two of coffee or folding through a handful of fresh berries. Print out this recipe and file it with your most special recipes because it's bound to become a favourite.
Updated 22 February 2020: This is a cake I usually make using cups and not the weight of flour. I have checked and rechecked the flour weight. I have two sets of cup measurements. One set weighed 1 cup = 125g conversely the other set weighed 1 cup = 145g. Therefore I have decided to update the recipe with the more common weight of 1 cup = 125g.
More recipes you'll love
Coffee, Walnut and Amaretto Cake
Plum Cake
Boiled Fruit Cake
Italian Almond Cake
Italian Lemon Cake
Want even more? Subscribe to Marcellina in Cucina to get new recipes and a newsletter delivered to your inbox. And stay in touch on Facebook, Pinterest, and Instagram for all my latest updates.
Recipe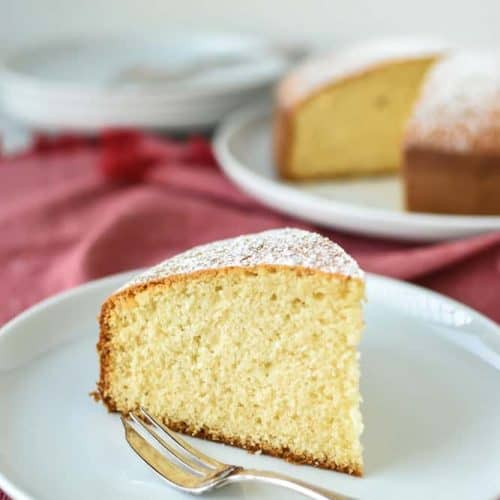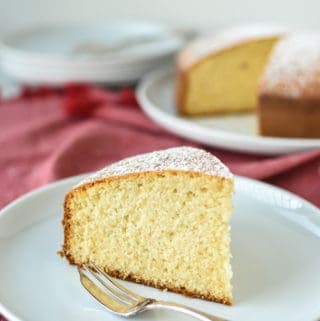 Easy Vanilla Cake Recipe
This Easy Vanilla Cake recipe is a classic and comes together in minutes. Even if you've never baked a cake from scratch, you will find this simple and achievable!
Print
Pin
Rate
Equipment
measuring cups and spoons (or scales)

spatula

grater (to grate cold butter)

8 inch (20 cm) round cake pan with high sides

use a light colored cake pan

electric mixer
Ingredients
½

cup

unsalted butter

(or

1 stick or 113grams

) (softened - see notes)

1

cup

superfine white sugar

(also known as castor sugar)

2

eggs

(room temperature)

2

cups

plain (all purpose) flour

(

250 grams

)

4

teaspoons

baking powder

(check the recommended amount for your brand of baking powder - see notes)

½

cup

whole milk

(for a less dense cake - use

⅔ cup milk

)

4

teaspoons

vanilla extract

¼

teaspoon

salt
Instructions
Preheat oven to 350°F/180°C.

Butter and line the base of an 8inch/20cm round deep cake pan then dust with flour to ensure the cake doesn't stick. Remember to use a light colored cake pan.

Sift together flour, baking powder and salt. I like to sift onto a sheet of baking paper to save washing up.

Place all ingredients into the bowl of an electric mixer. Mix on low for 30 seconds.

Scrap the bowl with a rubber spatula to make sure all the flour has been incorporated. Be sure to scrape the bottom - sometimes the mixer blade doesn't full incorporate the ingredients at the bottom.

Mix again this time on medium speed for 3 minutes. The cake batter should lighten in color and be thick and creamy.

Scrape the batter into the prepared pan, tap the pan on the kitchen bench to remove excess air bubbles and place into the oven.

Bake for 35-45 minutes. It will be cooked when the cake no longer jiggles, is coming away from the side of the pan, springs back when pressed and a skewer inserted comes out clean.

Cool in the pan for 5 minutes before turning out on a wire rack. Flip so that it is up the right way and allow to cool.

A simple dusting of powdered sugar is all it needs. Can be served warm or cool. Best eaten with 3 days.
Notes
½ cup of unsalted butter is equal to a stick of butter for US readers.
To soften butter quickly, simply grate with a coarse grater. Allow to stand until softened which won't take long.
Baking powder can differ in each country. Be sure to check the packaging for the correct ratio of baking powder to flour. The baking powder I used states to use 2 teaspoons per 1 cup of flour. Also remember that baking powder has an expiry date. Always use fresh baking powder! 
If you have access to self raising flour you can substitute 2 cups of self raising flour for 2 cups of plain flour and 4 teaspoons baking powder.
If you would like a less dense cake add a little more milk - instead of ½ cup add ⅔ cup of milk. In this case, give the cake 5 or 10 more minutes in the oven.
To measure flour correctly for this recipe.
Stir the flour to lighten then spoon it into measuring cup and level off with a knife. Don't dip and scoop the measuring cup into the flour bag or pack the flour into the measuring cup.
Tried this recipe? Give it a star rating and leave a comment below!
Nutritional Estimate Per Serving
Calories:
230
kcal
|
Carbohydrates:
34
g
|
Protein:
3
g
|
Fat:
9
g
|
Saturated Fat:
5
g
|
Cholesterol:
49
mg
|
Sodium:
18
mg
|
Potassium:
180
mg
|
Fiber:
1
g
|
Sugar:
17
g
|
Vitamin A:
290
IU
|
Calcium:
79
mg
|
Iron:
1.2
mg
Nutritional Disclaimer
Nutritional information is an estimate provided by an online nutrition calculator. For accurate results, it is recommended that the nutritional information be calculated based on the ingredients and brands you use.