These Sofficini are delicious fried pastries filled with ham and cheese.
Think about it, pastry filled with ham, cheese and besciamella sauce, crumbed and fried. It's got to be good. And it is!
Be sure to also try my Bagna Cauda appetizer it is a great traditional dish that everybody loves.
The amounts of filling required for the sofficini are really variable depending on the size of the rounds that you cut. Also you will notice sesame seeds  on my finished sofficini. No, definitely not traditional however I make my own breadcrumbs from stale and unfinished bread – never waste bread, remember! Homemade breadcrumbs are the best. I always flavour my breadcrumbs with a little garlic, herbs or seeds.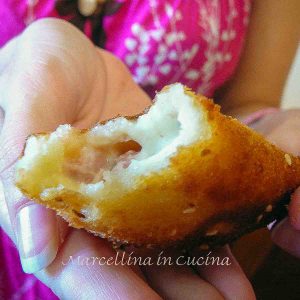 Ingredients
Dough
2

cups

milk

2

cups

flour

sifted

2

tablespoons

butter

1½

teaspoons

salt
Besciamella
3

tablespoons

(45g) butter

3

tablespoons

flour

2

cups

milk

a grinding of whole nutmeg

salt and white pepper
To assemble
1¾

cups

(200g) cheese

gouda, swiss, mozzarella or provolone

1½

cups

diced ham

1

egg

1

cup

breadcrumbs

to coat
Instructions
Dough
Bring the milk, butter and salt to the boil. Once it boils take it off the heat and  add the flour all at once. Stir well until the dough comes away from the sides of the saucepan. This is like a choux pastry without the eggs.

Once the dough is cool enough to handle knead gently until smooth. It's a beautiful dough that handles well. Now wrap in plastic and allow to cool to room temperature.
Besciamella
Melt the butter in a medium saucepan over medium heat. Add the flour and stir until the butter and flour mixture is bubbling. Change to a whisk and carefully add the milk whisking all the time. Bring to boil stirring or whisking the whole time to avoid lumps. Add the nutmeg, salt and pepper. Once it boils allow to bubble for a minute to cook out the flour. Remove from the heat. Set aside until needed.
To assemble and fry
Roll out the dough fairly thinly, about ⅛in/ 3mm. Cut 5in/13cm rounds. (4in/10cm for smaller appetizer sofficini)

In the middle of the round place a small amount of besciamella, cheese and ham. Fold over and press with a fork to close. The dough stuck easily and rerolled beautifully.

Beat the egg with a fork. Dip the sofficini first in the egg then in the breadcrumbs. Fry in hot oil. Sofficini can be frozen at the breadcrumb stage and then fried from the frozen.