This recipe for Pumpkin Biscotti is an incredibly delicious take on the Italian traditional almond biscotti.
They are perfectly sweet, loaded with warming seasonal spices, and twice baked for the most satisfying crunchy texture. Whether you're dunking these biscotti in coffee or enjoying them on their own, I know you'll love them!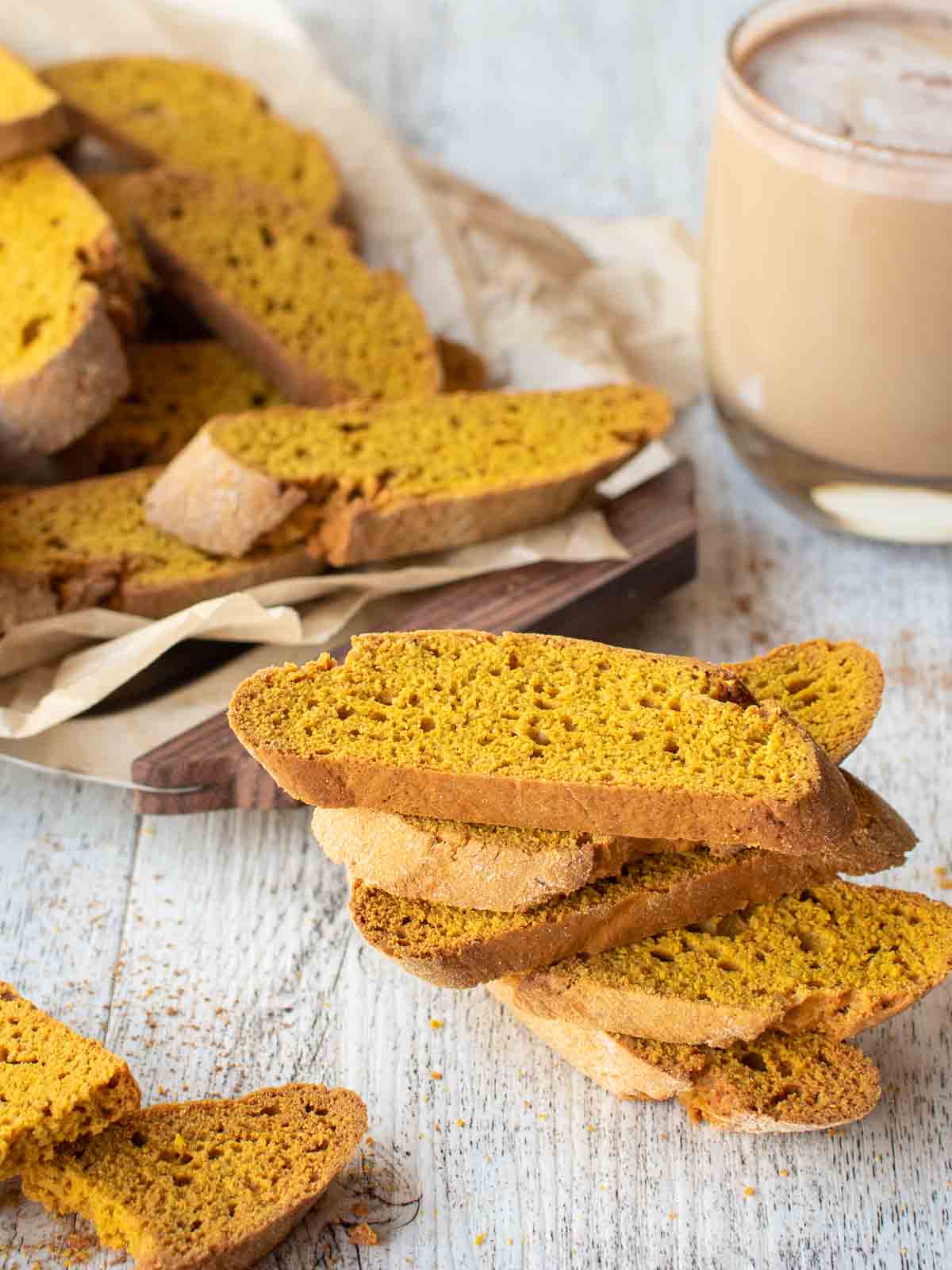 While Pumpkin Spice Biscotti may not be a traditional recipe from Italy, they are deliciously good! I've based this recipe on my classic Italian biscotti recipe, so rest assured that this Pumpkin Biscotti recipe works every time and includes authentic Italian methods to make perfect biscotti.
Just like my Pumpkin Bread with Cream Cheese Frosting, my recipe for Pumpkin Biscotti is a delicious seasonal treat! The warm flavors of cinnamon, nutmeg, ginger, and cloves come together with pumpkin puree to create sweet spiced biscotti. You simply have to try this pumpkin recipe!
Why you'll love this recipe
Pumpkin pie spices - This easy Pumpkin Biscotti recipe is flavored with a delicious warming spice mix that is perfect for welcoming the cooler months. As these biscotti bake, your kitchen with be filled with familiar and cosy pumpkin pie scents.
Dunking - Just like my Orange Cranberry Biscotti, Lemon Biscotti or Classic Almond Biscotti, these Pumpkin Spice Biscotti are ideal for dunking and dipping in coffee, tea, or Italian sweet wine. While they are firm enough to withstand a dunking, they are tender enough to be enjoyed as is.
Crunchy - These biscotti are twice baked for the perfect crunchy and crispy texture! You'll love the satisfaction of snacking on these crispy cookies and I can assure you, it's impossible to stop at one!
Seasonal Comfort - Just like a bowl of Mediterranean Lentil Soup is so warming when the chill sets in, so too are these seasonal biscotti. Comfort foods are just that - comforting.
For complete ingredient quantities and full instructions, please scroll to the printable recipe card bottom of the page.
Ingredients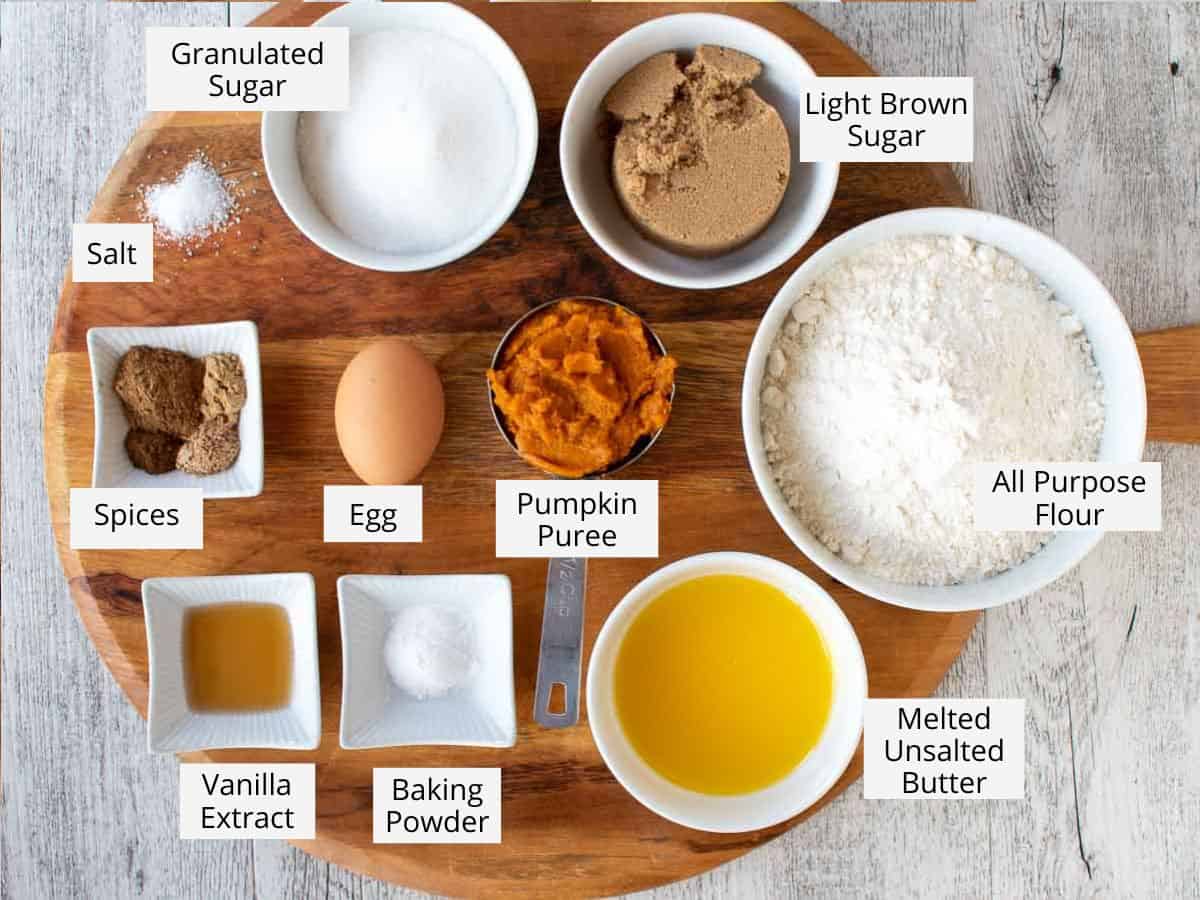 Pumpkin puree - Use pure pumpkin puree with nothing added. I used the canned variety. Don't use pumpkin pie filling because it has other flavors added. You can make your own homemade pumpkin puree though the sweetness may vary depending on the sweetness of the pumpkin. Choose sugar pumpkins, pie pumpkins, or butternut squash.
All purpose plain flour - For these Pumpkin Biscotti please use regular plain flour. The rising agent for these biscotti is added separately in the form of baking powder.
Granulated sugar - Regular granulated white sugar adds sweetness to this Pumpkin Biscotti recipe.
Light brown sugar - The addition of light brown sugar gives these biscotti a lovely caramel flavor.
Eggs - My preference is always large organic free range eggs.
Unsalted butter - I always prefer unsalted butter for my baking because you have more control over the salt content in your baked goods. But if salted butter is all you have, feel free to use that (just don't add the extra salt).
Baking powder - If you haven't used your baking powder for a long time, I recommend buying a fresh box. Baking powder can lose its rising power over time, so it's better to be safe than sorry!
Ground cinnamon - Adds a wonderful warmth to these Pumpkin Spice Biscotti.
Ground ginger - Adds a delicious zing to this recipe.
Nutmeg - I like to grate whole nutmeg for a more intense flavor but use ground if that's what you have.
Ground cloves - Integral to creating the perfect pumpkin pie spice flavor.
Salt - A little salt brings out the flavors and sweetness in these biscotti.
See recipe card for quantities.
Instructions
Preheat oven to 350°F or 180°C and line a large baking sheet with non-stick parchment paper.
Whisk together the dry ingredients in a bowl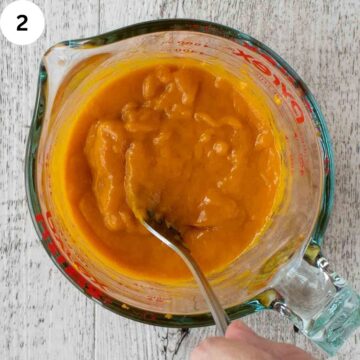 In another bowl, whisk together the wet ingredients.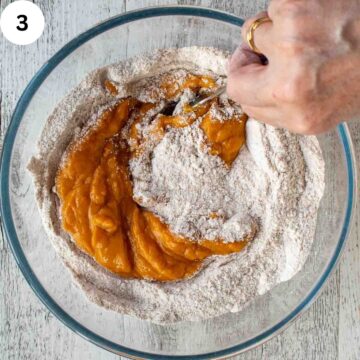 Incorporate the wet ingredients and dry ingredients to form a dough.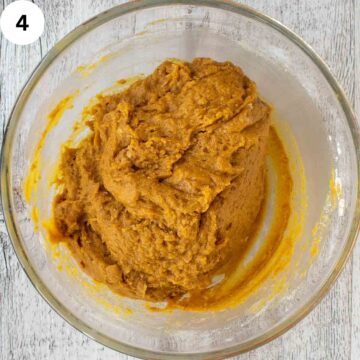 Cover the bowl with plastic wrap and chill the dough for 30 minutes.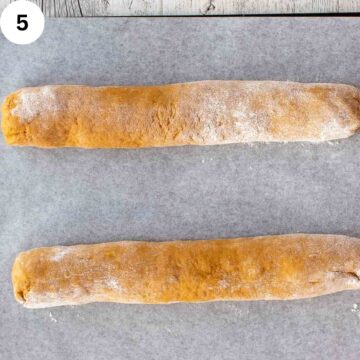 Divide the dough into two equal portions and roll into logs.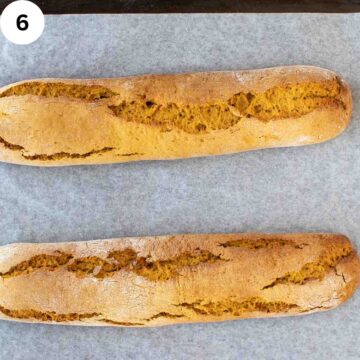 Bake the logs until browned and firm.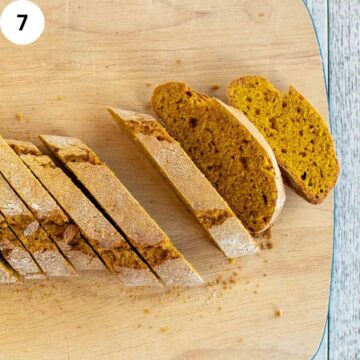 Cut the logs while still warm.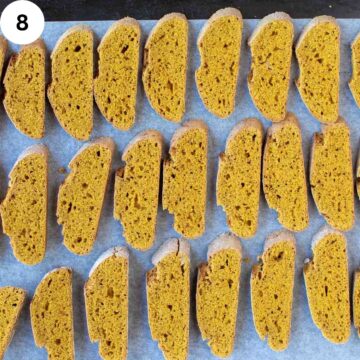 Arrange biscotti onto a baking sheet and bake for a second time.
Cool completely on a wire rack before storing in an airtight container.
Hint: Biscotti will become more crunchy as they cool. The second bake determines how crunchy the biscotti will be. If you prefer a softer biscotti, bake for a shorter time. If it's a very crunchy biscotti that you're looking for, bake for 20 or even 22 minutes. Remember to flip the biscotti halfway through.
Substitutions
Unsalted butter - You can substitute salted butter but just avoid adding the pinch of salt.
Pumpkin pie spice - Substitute store-bought or homemade pumpkin spice in place of the cinnamon, nutmeg, ginger, and cloves in this recipe.
Variations
Chocolate - To serve, dip one end of the Pumpkin Spice Biscotti into melted white, milk, or dark chocolate for a little extra flair. Or if you're feeling fancy, add a chocolate drizzle over the biscotti. To do that, use some of that melted white. milk or dark chocolate and a teaspoon.
Pecans - Add some chopped pecans into the biscotti dough for all the fall flavors.
Pumpkin Chocolate Chip - Chocolate lover? Add chocolate chips to the biscotti dough for an added bonus.
Equipment
You will need a very sharp, thin, serrated knife to cut the Pumpkin Biscotti easily. Plus other basic baking essentials like baking sheets, bowls, spoons, spatulas, and measuring cups and spoons.
Storage
It is important to let the Pumpkin Spice Biscotti cool completely before storing in an airtight container. The biscotti will keep well for a week at room temperature. However, depending on where you live, humidity in the air will make these biscotti lose their crunch and soften. If this happens, simply refresh the biscotti in the oven at 300°F/150°C for 5-8 minutes.
To store the Pumpkin Biscotti for longer, I recommend freezing them in an airtight container, with parchment paper in between the layers. The defrosted biscotti may need to be refreshed in the oven briefly to crisp up before serving.
Top tip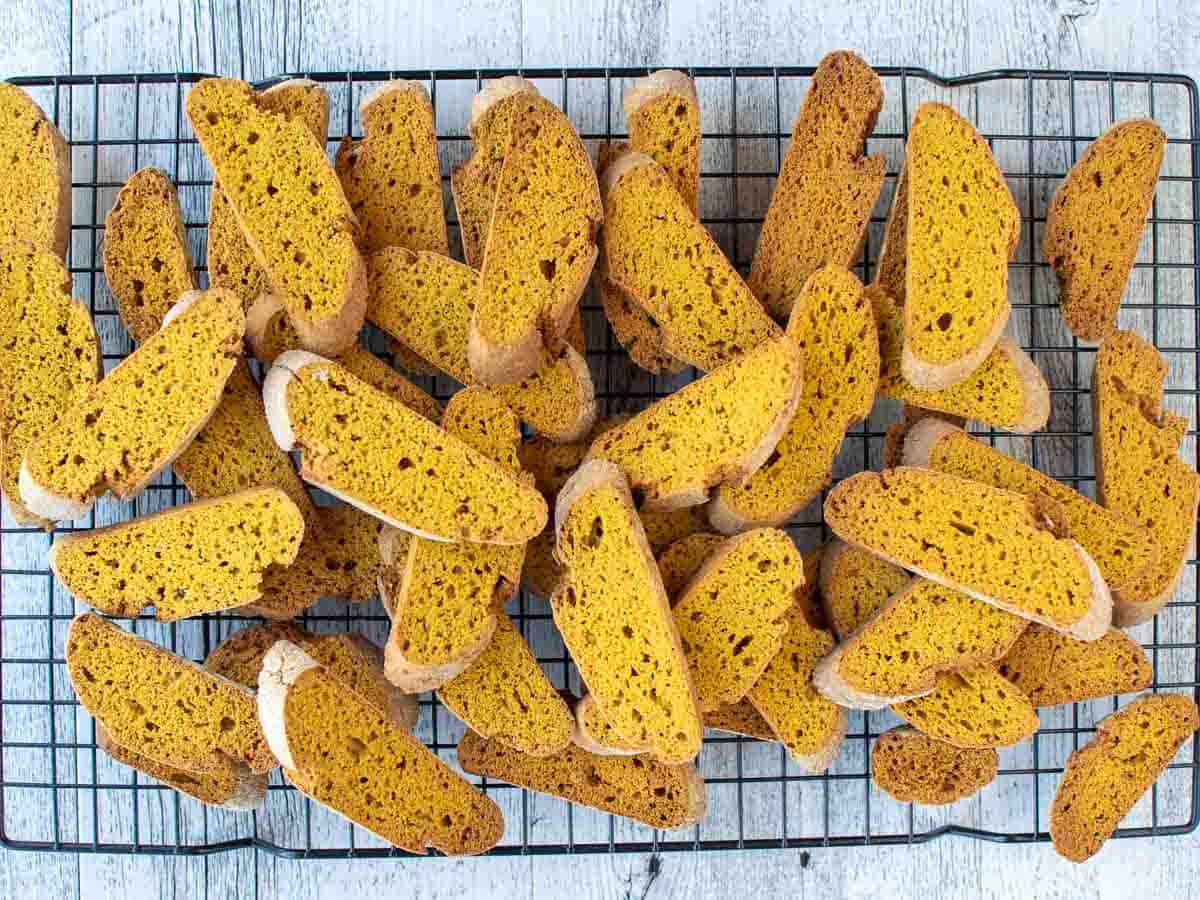 You want to be sure to use pure pumpkin puree and not pumpkin pie filling. Pumpkin pie filling has additional sugar and spices, so these biscotti won't taste the same.
Like all biscotti, my Pumpkin Biscotti are twice baked. The first bake activates the baking powder and cooks the dough throughout. The second bake draws out the moisture and makes these biscotti seriously crunchy.
To successfully cut the Pumpkin Biscotti, it is important to use a very sharp, thin, serrated knife and cut the logs while they are still warm. Take your time. Cut in a sawing motion supporting the log with your hands.
Be sure to lower the oven temperature for the second bake so that the biscotti dries out but doesn't burn.
As the Pumpkin Spice Biscotti cool, they will become more crunchy and crispy.
FAQ
Are biscotti meant to be dipped?
Traditionally, biscotti were made very hard and meant to be dipped in Vin Santo (Italian sweet wine) or hot coffee. However these Pumpkin Biscotti are more crunchy than hard, so you can eat them easily on your own without breaking a tooth. That being said, I do love dunking them in tea or coffee!
What is the difference between American and Italian biscotti?
Italian biscotti are generally much more hard than American biscotti. Italian biscotti are intended to be dipped in coffee or sweet wine as they are sometimes too hard to eat on their own. American biscotti, like these Pumpkin Biscotti, are slightly more tender in texture but still wonderfully crunchy and crispy.  
Do Italians eat biscotti for breakfast?
Yes! In Italian homes, it is traditional to eat sweets like cakes, cookies and biscotti for breakfast. To enjoy an authentic Italian breakfast, try dunking these Pumpkin Biscotti into a big mug of milky coffee or a cappuccino. 
Serving Suggestions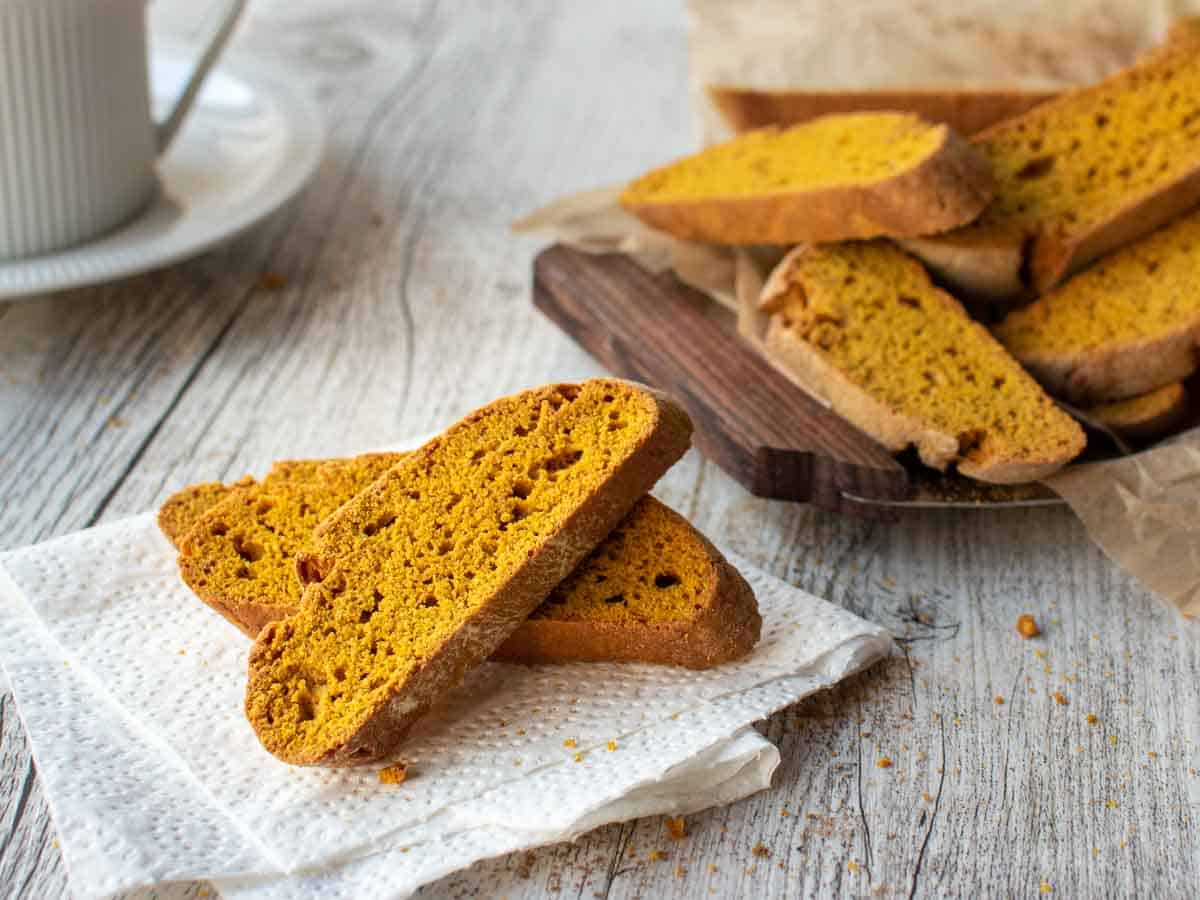 Pumpkin Biscotti are perfect to enjoy with a coffee for your afternoon pick-me-up. But they also make wonderful edible gifts around the holiday season! Why not add them to your cookie exchange, along with my Italian Butter Cookies, Bocconotti, and Piparelli Biscotti?
Made this recipe?
Let me know if you liked it by leaving a ★★★★★ star rating and a review below. Don't forget to subscribe to my newsletter - it's free!
Recipe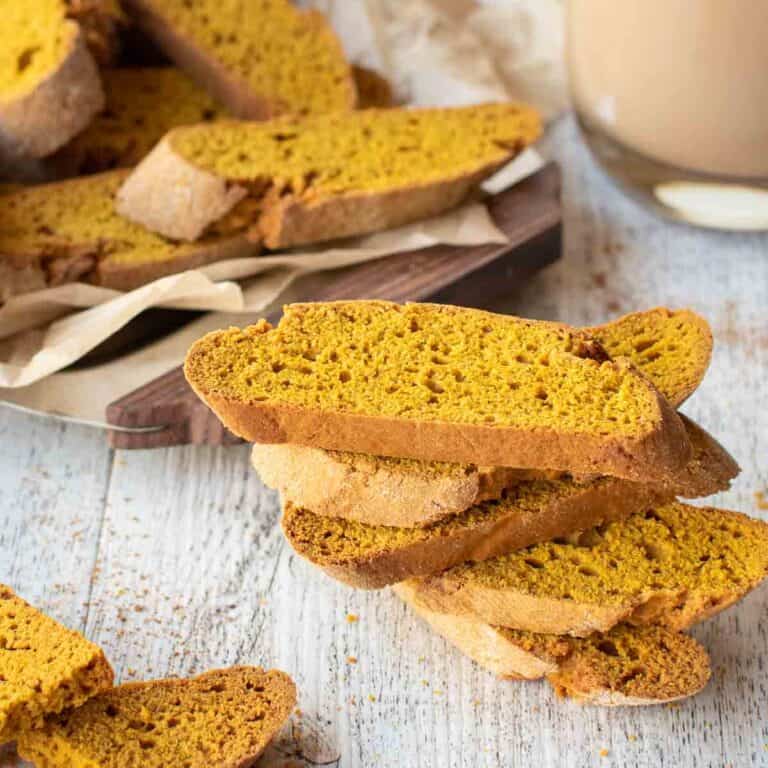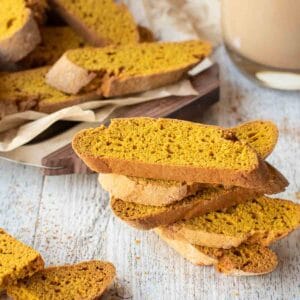 Pumpkin Biscotti Recipe
These biscotti are perfectly sweet with just enough pumpkin, loaded with warming seasonal spices, and twice baked for the most satisfying crunchy texture.
Print
Pin
Rate
Ingredients
2 ½

cups

(300 grams) all purpose flour

¾

cup

(

150

grams) granulated sugar

½

cup

(

100

grams) light brown sugar

well packed

1

teaspoon

baking powder

2

teaspoons

ground cinnamon

1

teaspoon

ground ginger

½

teaspoon

nutmeg

½

teaspoon

ground cloves

½

teaspoon

salt

1

egg

½

cup

(

120

grams) canned pumpkin puree

⅓

cup

(

75

grams) melted unsalted butter

1

teaspoon

vanilla extract
Instructions
Preheat oven to 350°F/180°C.

Line a large baking sheet with non-stick parchment paper.

Combine all purpose flour, white and light brown sugar, baking powder, spices, and salt and whisk to combine.

Make a well in the center of the dry ingredients.

In a small bowl or jug, use a fork to whisk together the egg, pumpkin puree, melted, cooled butter, and vanilla extract.

Pour the wet ingredients into the dry ingredients.

Use a wooden spoon or spatula to incorporate the ingredients together until a soft dough forms. You may need to use your hands to bring the dough together.

Cover the bowl with plastic wrap and chill the dough for 30 minutes.

Divide the dough into two equal portions.

Dust work surface with flour and roll each portion into a 12in/ 30cm log. Place logs onto a lined baking sheet. Brush off any excess flour before baking.

Bake for 25 minutes until browned and firm.

Remove from the oven and cool on baking sheets for 10 minutes.

Reduce the oven to 300°F/150°C.

While still warm, cut each log into 20 slices.

Return the biscotti cut side up to the baking sheets and bake in the oven for 15-20 minutes, turn them over halfway through. The biscotti will become more crisp as they cool.

Cool completely on a wire rack.
Notes
Tips for Success
Use pure canned pumpkin puree not pumpkin pie filling.

If you can't find canned pumpkin puree, make your own using sugar pumpkin, pie pumpkin or butternut squash. Taste the pumpkin to ensure that it is sweet.

Use a sharp, serrated knife to cut the biscotti using a sawing motion.

The second bake must be at a lower temperature.

As the biscotti cool they will become more crunchy.
Tried this recipe? Give it a star rating and leave a comment below!
Nutritional Estimate Per Serving
Serving:
0
g
|
Calories:
71
kcal
|
Carbohydrates:
13
g
|
Protein:
1
g
|
Fat:
2
g
|
Saturated Fat:
1
g
|
Polyunsaturated Fat:
0.1
g
|
Monounsaturated Fat:
0.4
g
|
Trans Fat:
0.1
g
|
Cholesterol:
8
mg
|
Sodium:
44
mg
|
Potassium:
32
mg
|
Fiber:
0.4
g
|
Sugar:
7
g
|
Vitamin A:
530
IU
|
Vitamin C:
0.1
mg
|
Calcium:
11
mg
|
Iron:
0.5
mg
Nutritional Disclaimer
Nutritional information is an estimate provided by an online nutrition calculator. For accurate results, it is recommended that the nutritional information be calculated based on the ingredients and brands you use.