These Nutella Muffins are an irresistible combination of tender and moist vanilla muffins and chocolatey, creamy Nutella.
Making a decadent snack or dessert, these Nutella muffins are the ideal indulgent treat that satisfy children and adults alike. Grab a jar of Nutella spread and bake these today!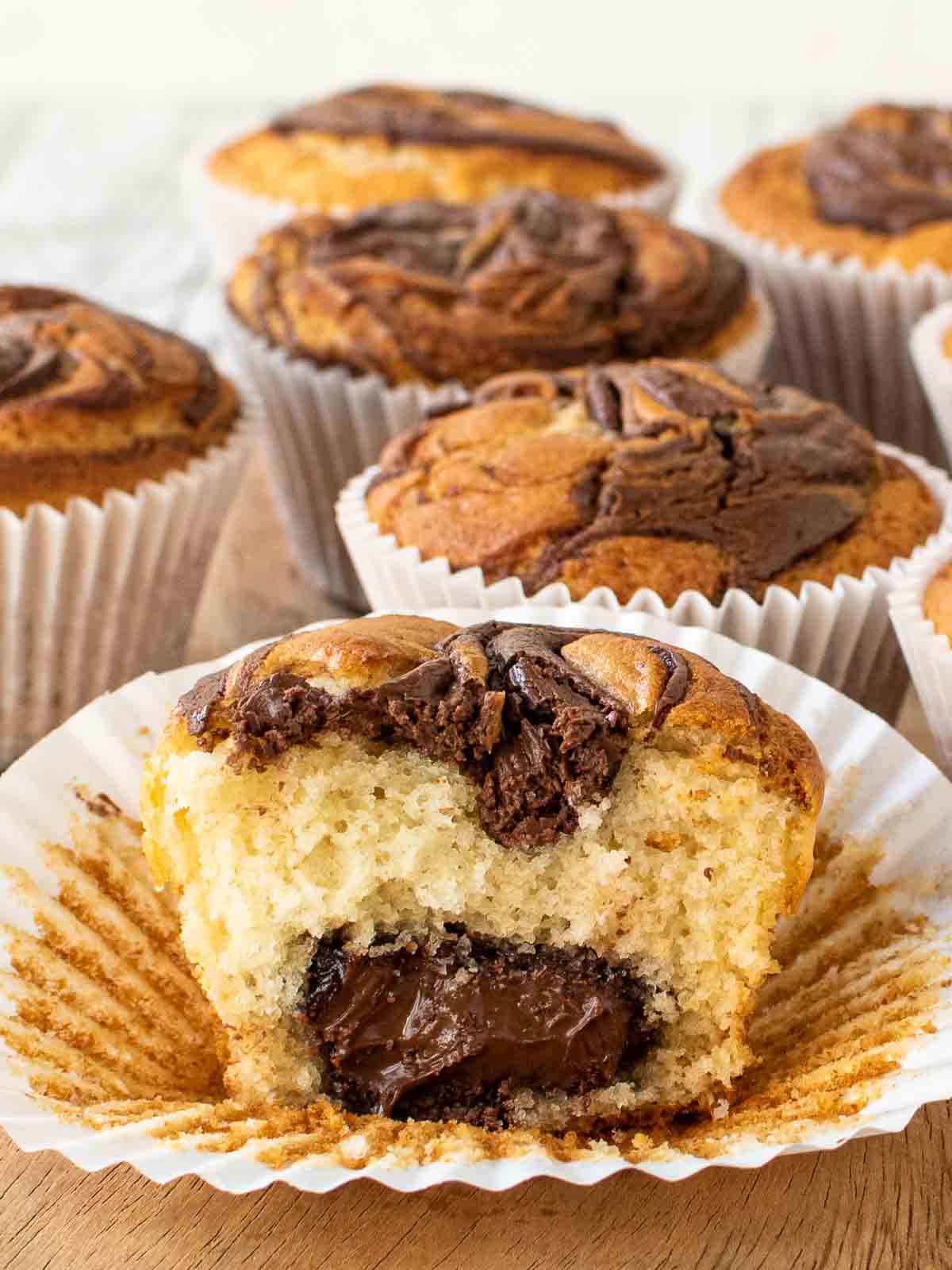 I fell in love with Nutella when I was six years old on my first visit to Italy and I've never stopped loving it. It's great on pancakes or waffles as a occasional treat. Plus Nutella is a delicious addition to many baking recipes and is incredibly popular with my family and friends!
If you're like me, a fan of Nutella, then you'll definitely want to bake these fluffy Nutella Muffins. These are easy to make and perfect for a breakfast treat, snack or dessert. Follow all my tips to have really gooey Nutella stuffed muffins.
All you need to do is simply push the frozen Nutella into the batter and cover with a little more batter before baking into deliciousness! The centres will remain oozy and runny and will not be absorbed into the batter.
You'll love these Nutella Muffins .
Flavor - it's hard to resist these soft and tender vanilla muffins with the chocolatey, creamy Nutella centre.
Moist texture - my Nutella muffins are super moist making them easy to eat and melt-in-your-mouth good.
Easy to make - this muffin recipe uses the simple principal of mixing the combined wet ingredients into the dry ingredients. This is one of the first recipes beginning bakers can attempt and have success. Nevertheless, it's also a rewarding recipe to make for more experienced bakers.
Portable - Nutella Muffins are the perfect on-the-go snack. Pop one into your lunch box or pack them for a road trip, these muffins are easy to eat where ever you are!
Comfort food - what more could you need than the comfort of a warm muffin with a gooey Nutella filling to lift your spirits and satisfy. These are the optimal comfort food!
Nutella is delicious in muffins, cakes and breads. If you like this recipe, you must try my Nutella Bread, Banana Bread with Nutella and my Nutella Panna Cotta.
For complete ingredient quantities and full instructions, please scroll to the printable recipe card bottom of the page.
Ingredients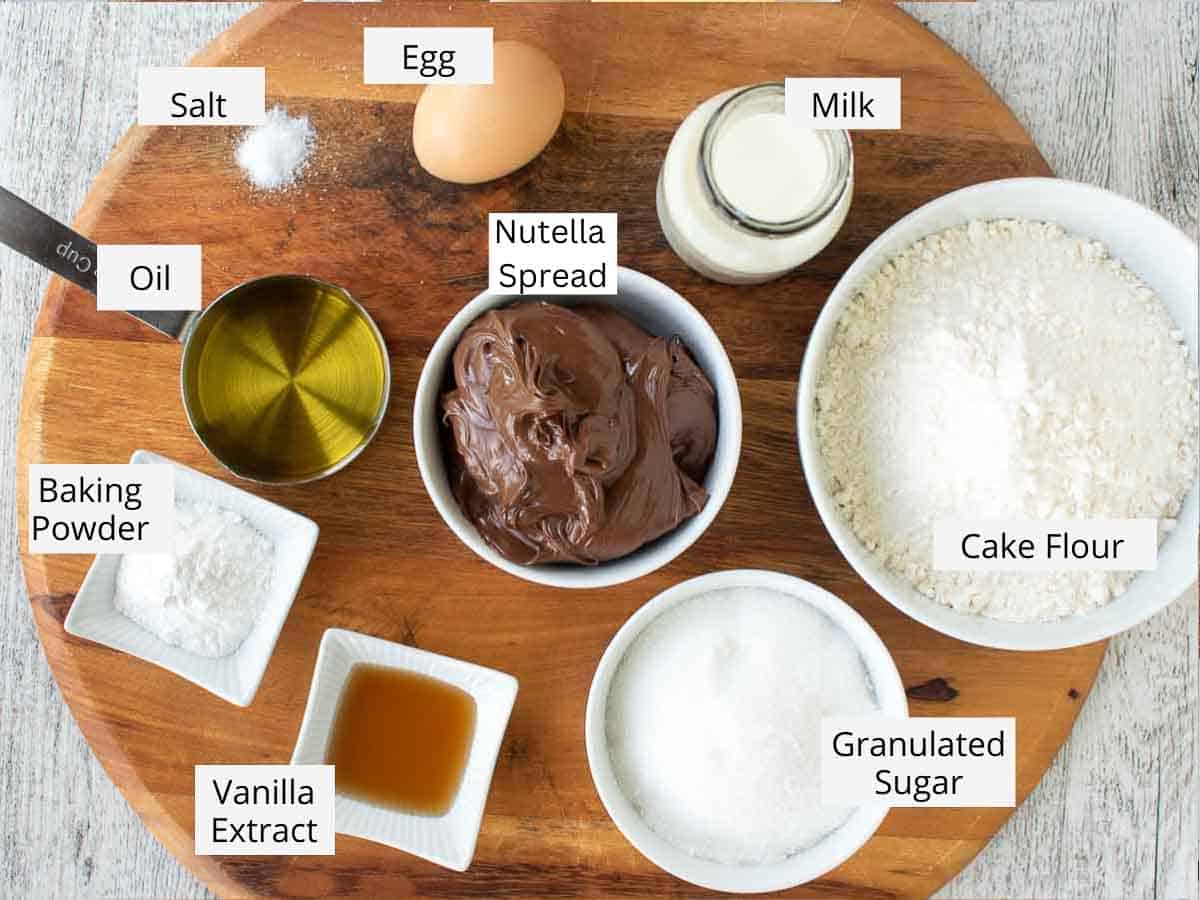 Nutella - chocolate hazelnut spread that's available in most grocery stores. 
Cake flour - I like to use cake flour for my Nutella muffins. This flour is also known as pastry flour and produces a lighter and more delicate muffin.
Granulated sugar - regular white granulated sugar is fine. I also like to use white superfine sugar also known as castor sugar.
Baking powder - be sure that your baking powder is fresh. You can check this by stirring a small amount into a small cup of boiling water. If it bubbles, it's fresh and good to go.
Milk - whole milk or 2% milk is fine. Actually whatever you have in the fridge will work.
Oil - use light olive oil, sunflower or vegetable oil or your preferred light flavored oil.
Egg - large or extra large egg is best in this recipe.
Vanilla extract - extract is the best. Vanilla essence just doesn't have the same flavor.
See recipe card for quantities.
Instructions
Preheat oven to 400°F/200°C. Line 12 hole muffin pan with muffins cups or paper liners.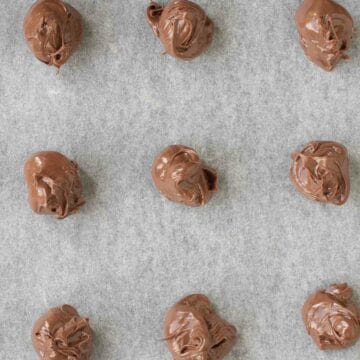 With two-thirds of the Nutella, scoop 12 even sized blob onto a baking sheet that has been lined with non stick parchment paper. Place in the freezer until frozen or about 30 minutes.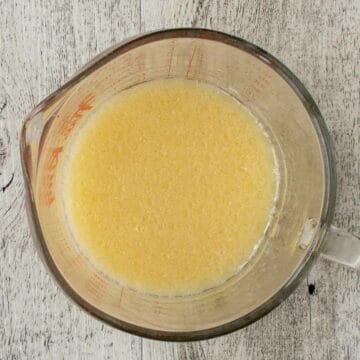 Whisk together the whole milk, oil, egg and vanilla extract in a large jug.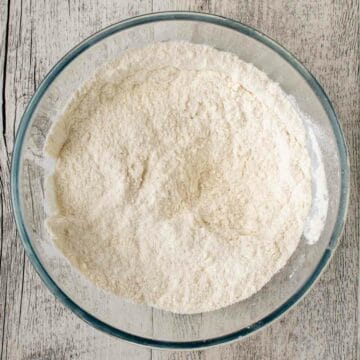 In a large mixing bowl, whisk together all purpose flour, granulated sugar, baking powder and salt.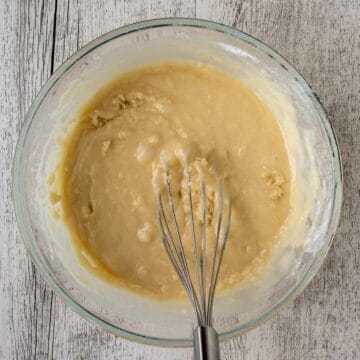 Combine the wet ingredients into dry ingredients to form a smooth batter.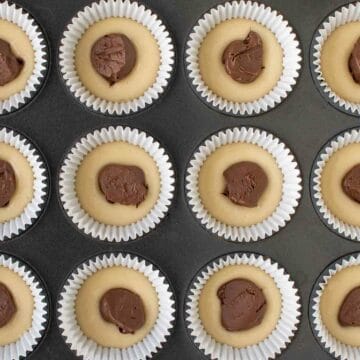 Spoon a heaping tablespoon of batter into each muffin cup. Put one frozen Nutella blob into the center of each muffin.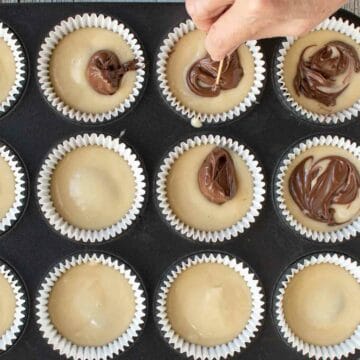 Cover frozen Nutella with remaining batter. Spoon the remaining room temperature Nutella evenly over the top of the muffins and swirl the Nutella through the batter.
Bake until well risen, browned and cooked through.
Hint: Don't over mix the batter. When making muffin batter, a few lumps or a little bit of unincorporated flour is perfectly ok.
Substitutions
Nutella - substitute with any chocolate hazelnut spread you prefer. You could also use biscoff spread instead of Nutella.
Cake flour - use all purpose flour instead. The muffins won't be quite as light but you'll still love the results. If you'd like the flavor and texture of whole wheat flour, substitute one cup of whole wheat flour for one cup of cake flour. The texture will be slightly heavier and denser than the original recipe.
Milk - plant based milk can be used instead of dairy milk.
Oil - the equal amount of melted butter can be used in place of the oil if you prefer.
Variations
Nutty - top with chopped hazelnuts to bring out even more of the nutty flavor.
Deluxe - sprinkle the tops of the Nutella Muffins with cinnamon sugar before baking.
Nutella filled chocolate chip muffins - mix ½ cup of chocolate chips through the batter then continue with the recipe.
Equipment
You'll need a 12 cup muffin tin or pan for this recipe. These are so easily available and you'll get lots of use out of it because this isn't a recipe you'll make just once!
I like to use muffin cups or liners. These are readily available at grocery stores and make taking the muffins out to cool so much easier. Plus clean up is a breeze!
Storage
Nutella Muffins are best the day of baking but will also be good on the second day.
If you have leftovers, store in a sealed container in the freezer for up to 3 months. I like to wrap each one individually to be extra sure the muffins remain moist and fresh. Thaw in the fridge or on the countertop.
You can warm the Nutella muffins a little in the microwave to get the Nutella center really gooey again.
Top tip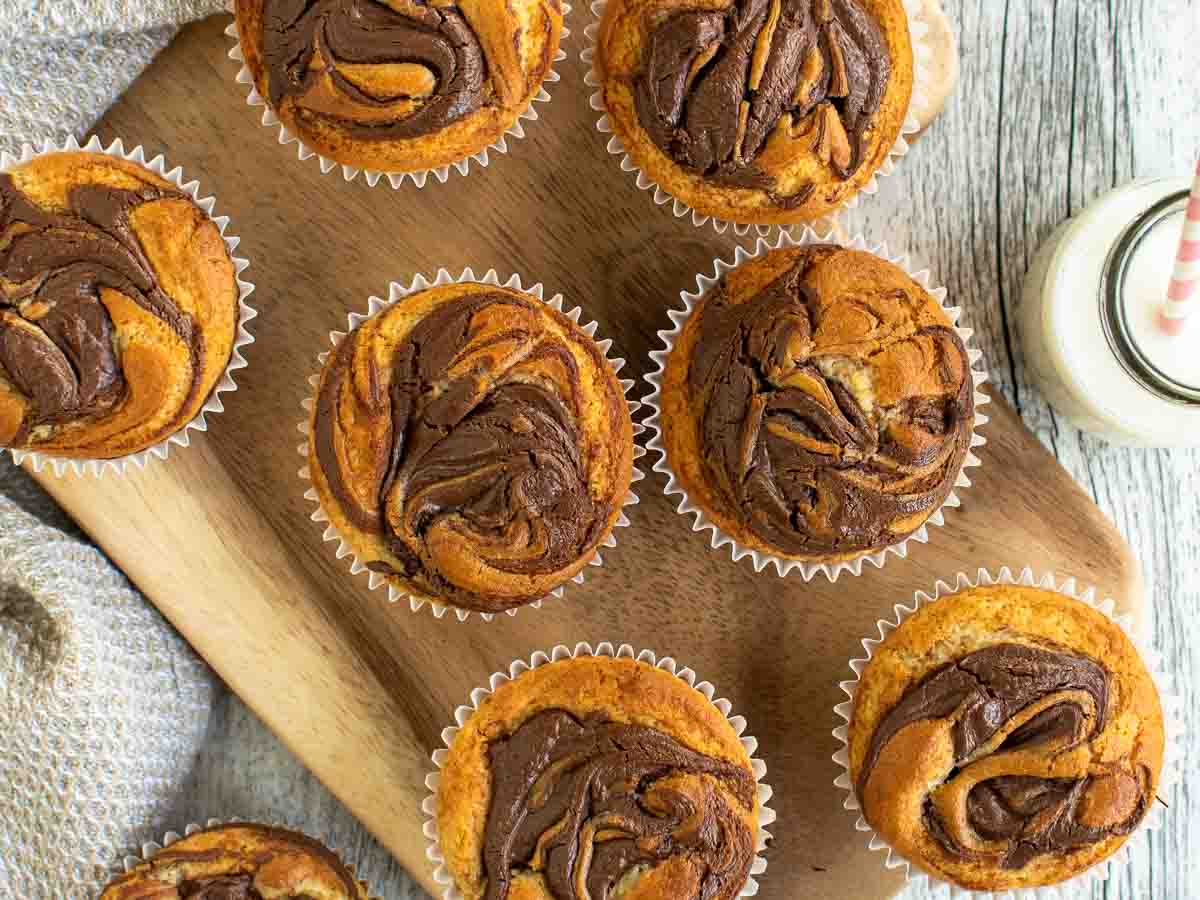 The first thing you'll be doing with this recipe is freezing mounds of Nutella. Be sure to line the baking sheet with non stick parchment paper which will make the frozen Nutella super easy to remove. In my freezer, 30 minutes was enough to freeze the Nutella. It doesn't have to be rock hard however you can do this the day before if you're very organised.
The golden rule when making muffins is not to overmix. You need to stop once the batter is combined. Avoid mixing and mixing or you'll end up with tough muffins instead of the light, fluffy texture that you're looking for.
Let the Nutella Muffins cool for a couple of minutes then carefully lift them out and allow to cool on a rack. Leaving the muffins to cool in the pan may result in overcooked muffins because they'll keep cooking in the hot muffin pan.
FAQ
What is Nutella?
Nutella is the brand of a chocolate hazelnut spread produced by the Italian company Ferrero. There are various factories across the world producing this spread but originally it was made in Piedmont, Italy. The spread is a combination of hazelnuts, cocoa, skim milk and commonly, palm oil. Nutella is creamy, chocolatey and sweet.
What is the difference between cupcake and muffin recipe?
Cupcakes are generally contain more sugar and fat and are fluffy and lighter in texture than muffins. Muffins on the other hand, are usually more moist and dense. Cupcakes are more likely to be frosted while muffins are rarely frosted.
Why did my muffins turn out hard?
Muffins can turn out hard if the ratio of wet ingredients to dry isn't correct. This can happen if the flour has been measured incorrectly. The right way to measure flour is to first stir the flour to lighten it and then spoon the flour into the measuring cup without packing it in. An even more accurate way is to weigh the flour.

Another reason that your muffins turn out hard is if they've been overcooked. Ovens vary greatly. The more you use your oven, the better you'll be able to judge when muffins are ready. Muffins will be well risen, browned and look dry on top when cooked. 
If you are a regular reader, you'll know that here at Marcellina in Cucina, Nutella shows up quite a few times. Whether you want to make Nutella pannacotta, Nutella Puff pastry or Nutella Banana Bread, all the recipes are here. Tried and tested for you because I want you to love baking and cooking just as much as I do.
Serving Suggestions
As well as a great snack those times when you're on the go, these Nutella Muffins make a decadent breakfast or midnight snack. Just like this Mocha Cake, serve these muffins with a warming drink to soothe and comfort!
Made this recipe?
Let me know if you liked it by leaving a ★★★★★ star rating and a review below. Please share a photo of your creation by tagging me on Instagram @marcellina.in.cucina!
Recipe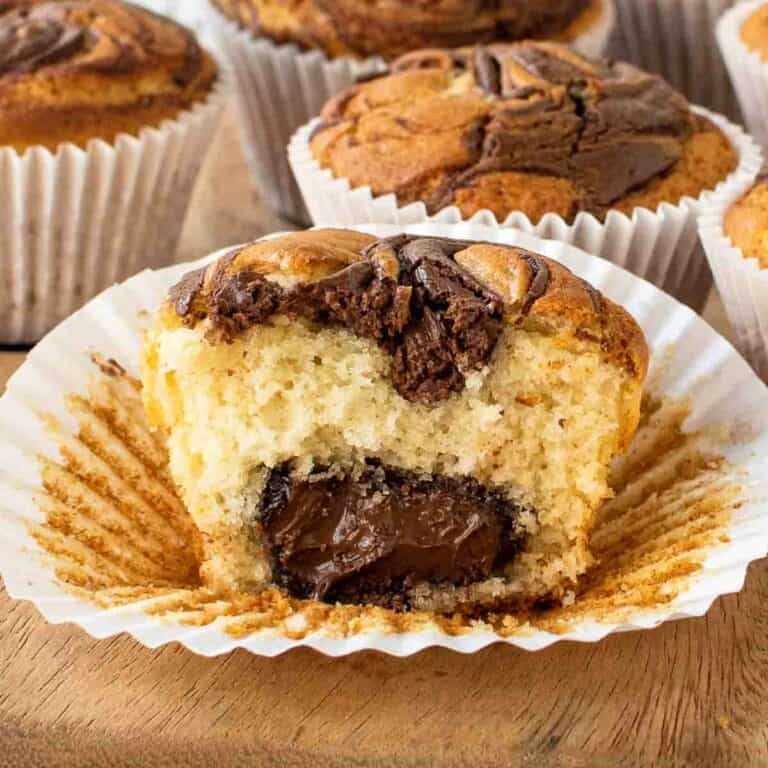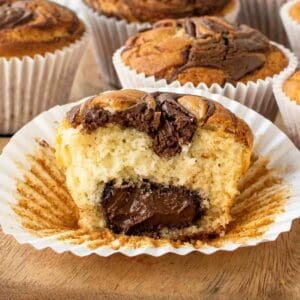 Nutella Muffins Recipe
Nutella Muffins are tender and moist muffins with a decadent Nutella filling plus more Nutella swirled on top!
Print
Pin
Rate
Ingredients
1

cup

(

300

grams) Nutella

or other chocolate hazelnut spread

⅔

cup

(

160

ml) whole milk

½

cup

(

120

ml) light flavored oil

light olive oil, vegetable oil or your favorite oil

1

egg

2

teaspoons

vanilla extract

2

cups

(

260

grams) cake flour

(see recipe notes)

¾

cup

(

150

grams) white granulated sugar

4

teaspoons

baking powder

pinch

salt
Instructions
Line a baking tray with non stick baking paper and using two teaspoons spoon blobs of two-thirds of the Nutella spread into 12 even mounds. Place the tray in the freezer for about 30 minutes until the Nutella mounds are frozen and firm.

Preheat oven to 400°F/200°C.

Line 12 hole muffin pan with muffins cups/liners.

In a jug, whisk together whole milk, oil, egg and vanilla extract.

In a large bowl, whisk together cake flour, granulated sugar, baking powder and salt.

Pour wet ingredients into dry ingredients and stir with a whisk until just combined.

Place a scant ¼ cup of batter into each muffin cup.

Now is the time to take the frozen Nutella mounds out of the freezer.

Work quickly before they melt.

Upturn each mound into the batter so that the flat side is uppermost. Press lightly down into the batter.

Use the remaining batter to cover the frozen Nutella.

Evenly divide the remaining room temperature Nutella spread on the muffins and use a toothpick to swirl into the batter. If the Nutella is too thick, warm it slightly in the microwave.

Bake immediately for 13-15 minutes until well risen, golden and cooked through.

Serve warm while the Nutella is still oozing!
Notes
Be sure to freeze blobs of Nutella in preparation for baking these beauties!

Use all purpose flour if that's all you have. The muffins will still be great but not as fluffy and light.

Absolutely don't overmix!

Don't leave the muffins in the pan to cool. After a few minutes, remove the muffins to a wire rack to cool completely.
Nutritional Information Per Serving
Serving:
0
g
|
Calories:
358
kcal
|
Carbohydrates:
45
g
|
Protein:
4
g
|
Fat:
18
g
|
Saturated Fat:
8
g
|
Polyunsaturated Fat:
3
g
|
Monounsaturated Fat:
6
g
|
Trans Fat:
0.04
g
|
Cholesterol:
15
mg
|
Sodium:
22
mg
|
Potassium:
285
mg
|
Fiber:
2
g
|
Sugar:
27
g
|
Vitamin A:
43
IU
|
Calcium:
107
mg
|
Iron:
2
mg
Nutritional Disclaimer
Nutritional information is an estimate provided by an online nutrition calculator. For accurate results, it is recommended that the nutritional information be calculated based on the ingredients and brands you use.
This updated and improved recipe was first published on July 25, 2018.