Coffee lovers will fall head over heels in love with this mouthwatering Coffee Buttercream recipe!
With its smooth, creamy texture and full bodied coffee flavor, this buttercream will complement many desserts. From cupcakes to layered cakes, this coffee buttercream will impress your tastebuds and your guests!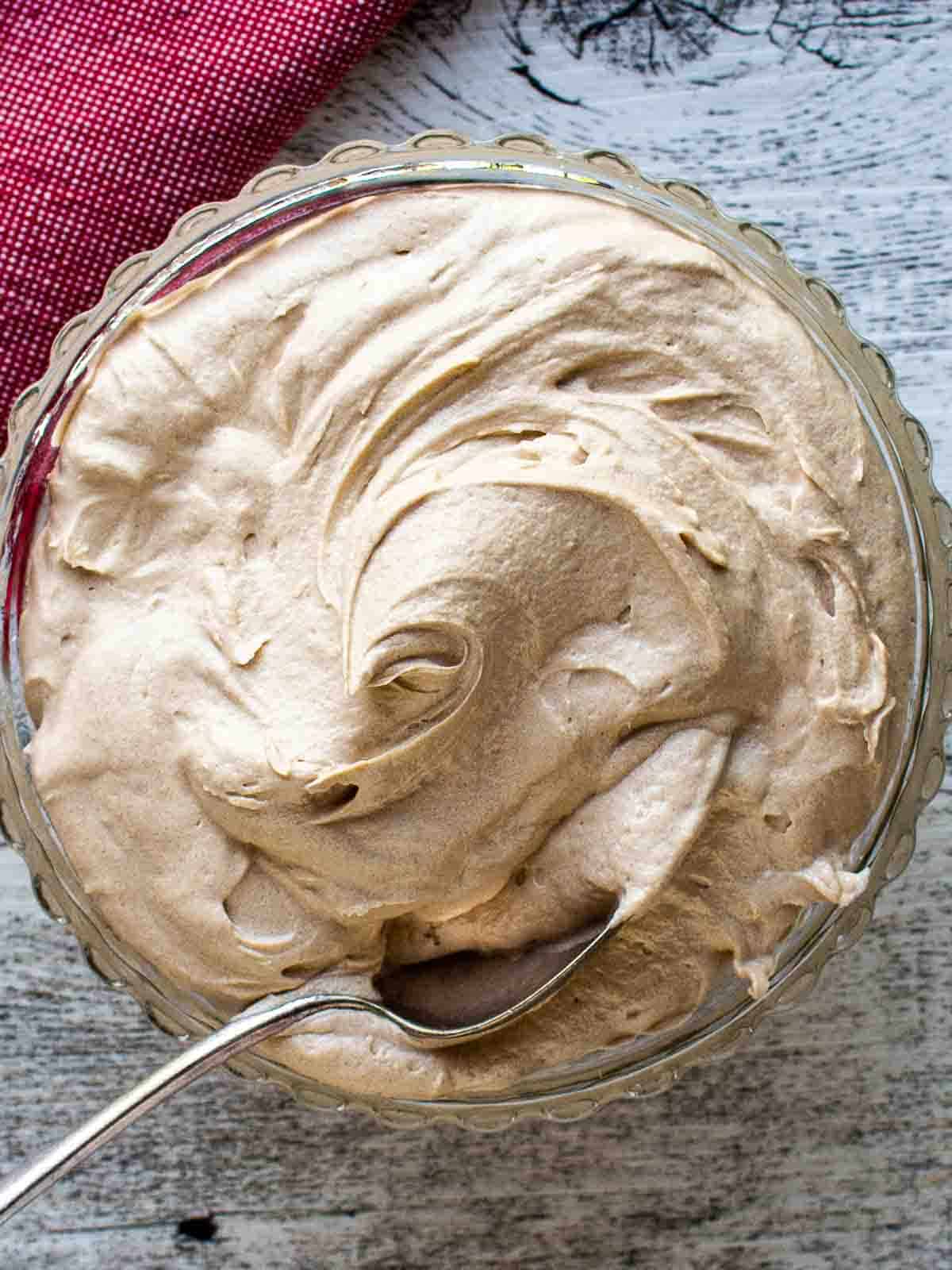 Just like chocolate buttercream frosting on a chocolate cake or cream cheese frosting on a carrot cake, coffee buttercream is perfect on my coffee cupcakes. The combination and intensity of coffee flavor is hard to beat.
Coffee buttercream is made with the best butter, powdered sugar and instant coffee powder. It seems simple (and it is) BUT it's oh-so-delicious and tastes so incredibly decadent. Interestingly, even those who don't love to drink coffee often enjoy coffee flavors in baking and frostings.
This recipe for coffee, or you might like to refer to it as espresso buttercream, is based on the typical American buttercream frosting recipes which are quite easy to master. While I adore Italian meringue buttercream when I want a great frosting without all the fuss, this is the recipe I turn to. The key to this coffee buttercream lies in high quality, room temperature ingredients, adding the powdered sugar slowly and beating well to incorporate lots of air.
Why you'll love this recipe
Taste - it's not just the burst of rich coffee flavor of this buttercream but also the creamy taste of real butter that can't be beaten.
Texture - this buttercream is hard to resist with its silky smooth and creamy texture. It's thick enough to contrast perfectly with lighter cakes and cupcakes.
Versatility - this recipe is ideal for so many uses from simple cupcakes to layers cakes and pastries. It's easy to work with and can be spread simply with a palate knife or piped in fancy swirls and twirls.
Impressive - if you love baking for others, this coffee buttercream frosting will impress your family and friends. A cake filled and topped with this delicious buttercream or a generous swirl on top of moist cupcakes are showstoppers at parties and family celebrations.
For complete ingredient quantities and full instructions, please scroll to the printable recipe card bottom of the page.
Ingredients
Unsalted Butter - buy the best butter you can afford. After all, this is BUTTERcream and butter flavor plays a big part in the flavor and texture of the final product. I love using European style butter but use whatever you enjoy the taste of.
Powdered Sugar - also known as confectioners sugar or icing sugar and available readily at supermarkets. If it's lumpy, be sure to pass it through a sieve before using.
Instant espresso powder - you want the instant powder that will completely dissolve in hot water.
See recipe card for quantities.
Instructions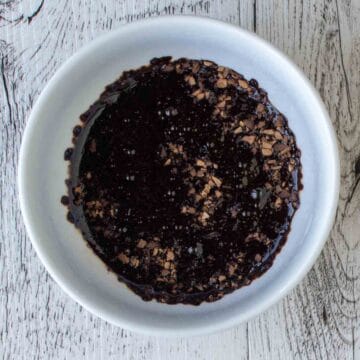 In a small bowl, dissolve the espresso powder in hot water. Set aside to cool.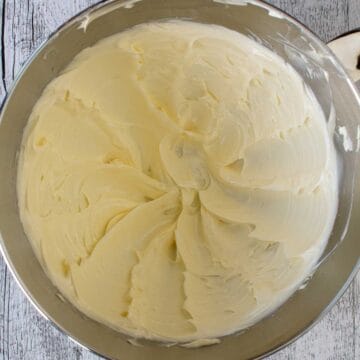 Use the paddle attachment of a stand mixer to beat the butter until creamy and light. This could take 4-5 minutes.
Turn the mixer speed to low and add the powdered sugar to the butter a few spoonfuls at a time. When all is added, beat on high until fluffy.
Stop the mixer and add the cooled espresso mixture. Beat on high speed for a minute or so until thoroughly combined.
Hint: Check the powdered sugar before using it. If it's lumpy, sieve before adding to the butter to guarantee a lump free buttercream.
Substitutions
Unsalted butter - instead of unsalted butter use salted butter if you prefer. Some people prefer buttercream made with salted butter. It's a personal preference. Salt brings out flavors and can balance out the sweetness.
Hot water - use any liquid you prefer. Hot milk or cream or even a little liqueur.
Instant espresso powder - your preferred instant coffee granules can you used in place of instant espresso powder.
Variations
Mocha - add 2 tablespoons of sieved cocoa powder when adding the powdered sugar. You may need a splash of milk to achieve the right consistency.
Tipsy - add a splash or two of your favorite liqueur or spirit. Try Baileys Irish Cream, Frangelico or Whiskey.
Spiced - add ½ teaspoon (or more) of ground cinnamon, cardamom or ginger.
Equipment
This is one recipe that is better when made using an electric mixer. It could be made with a wooden spoon and a bowl but it's likely that you'll never be able to beat enough air into the buttercream. Use the paddle attachment for the stand mixer or regular beater if you're using an electric hand hand mixer.
Can you freeze buttercream frosting?
Yes! Buttercream frosting freezes very well.
Any leftover buttercream can be stored in a sealed container in the fridge for up to one week. However, for longer storage, freezing buttercream works perfectly. Place in a sealed container and freeze for up to 3 months.
To thaw frozen buttercream, take the container out of the freezer and onto the kitchen counter the night before you want to use it. If the weather is warm, thaw in the fridge overnight and finish thawing on the counter the next day for an hour or so. For best results, rewhip the buttercream before using.
Top tip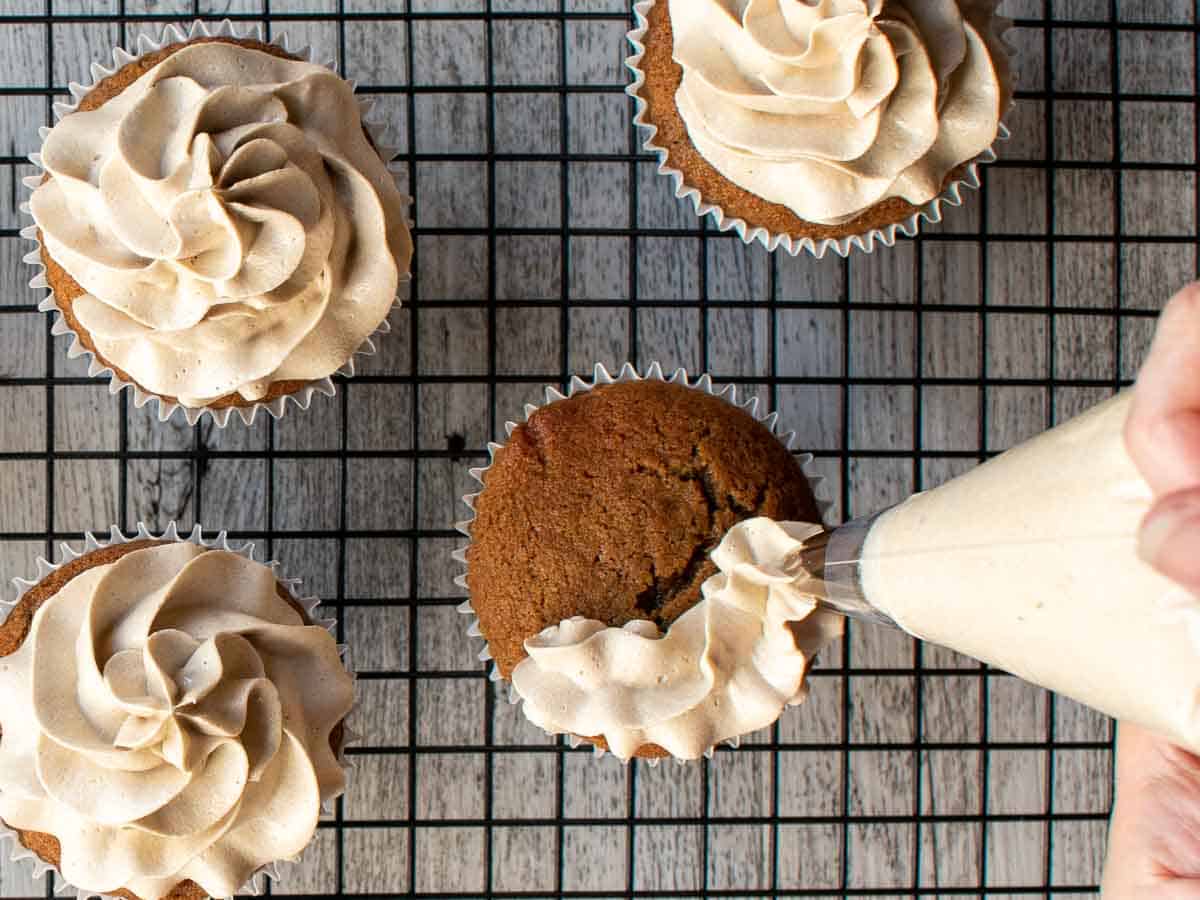 One of the most important tips for this coffee buttercream frosting recipe is to have the butter at cool room temperature. By that, I mean that the butter should be soft enough that when pressed with a finger it will indent. But not so soft that it's melted or can't hold its shape.
Use an electric hand held mixer with regular beaters or a stand mixer with a paddle attachment. Beating this buttercream by hand won't really achieve the desired texture.
You may need to sieve your powdered sugar if you live in a hot, humid climate. Check before using and if in any doubt, sieve to ensure smooth and silky coffee frosting.
Add the powdered sugar slowly allowing it to be fully incorporated before adding more. This ensures all the sugar dissolves completely.
Some brands of powdered sugar cause the buttercream to be a bit gritty. If this is a problem, try adding a spoonful or two of whole milk or cream then beat until smooth and fluffy. This will usually dissolve any troublesome gritty sugar.
FAQ
Why has my coffee buttercream split
Coffee buttercream may occasionally split when liquid is added. If the coffee mixture is very cold this can cause the buttercream to split but keep beating and soon it will come together. If you add any additional liquid, be sure to drizzle it in. 
Buttercream is basically an emulsion of fats and liquids. If the balance is disrupted the emulsion can split.
How to thicken coffee buttercream
You can thicken coffee buttercream but adding more powdered sugar or a teaspoon of cornstarch (cornflour). Powdered sugar that contains cornstarch helps thicken buttercream.
What is buttercream frosting supposed to taste like
Buttercream frosting should taste rich and creamy with a sweet and buttery taste. The sweetness level with depend on the amount of sugar used in the individual recipe and the quality of butter will affect the buttery taste. It should be silky smooth and velvety on the tongue and can have extra flavors such as coffee, chocolate and vanilla extract added.
Serving Suggestions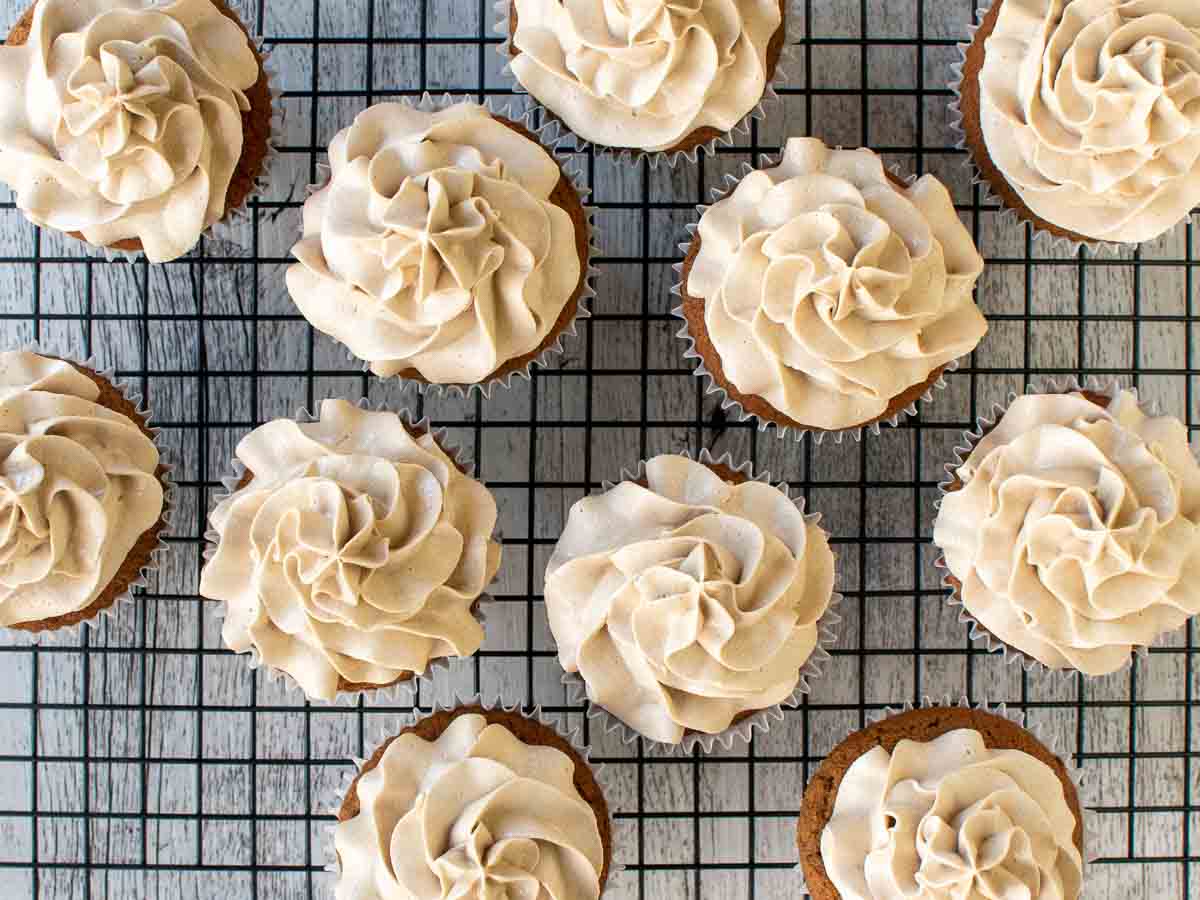 This Coffee Buttercream is the perfect topping for my Coffee Cupcakes. However, it's also fantastic piled onto my chocolate cake or my vanilla cake. If you want to gild the lily, smother this velvety coffee buttercream onto my Espresso Brownies for a double coffee hit!
Made this recipe?
Let me know if you liked it by leaving a ★★★★★ star rating and a review below. Don't forget to subscribe to my newsletter - it's free!
Recipe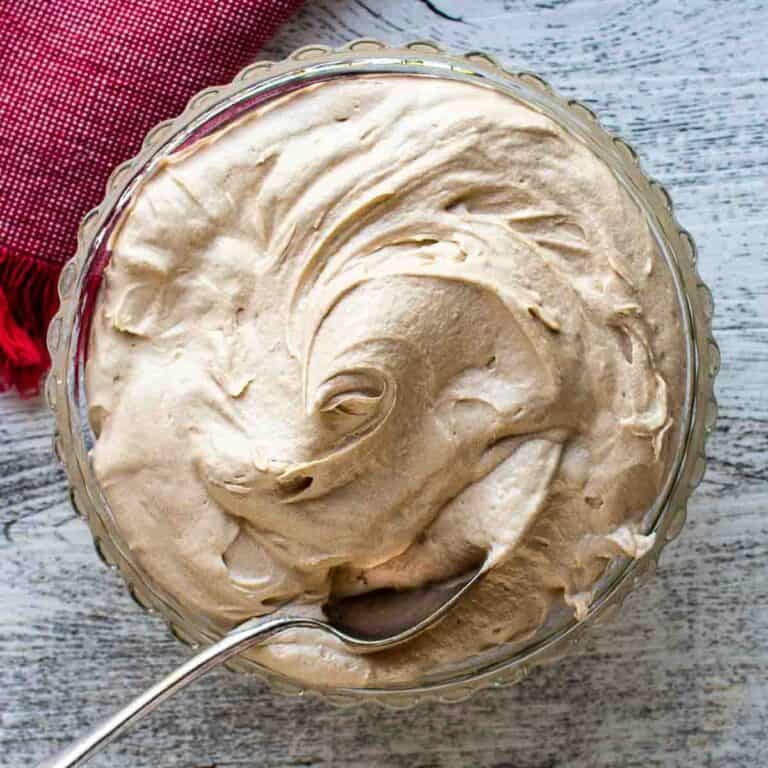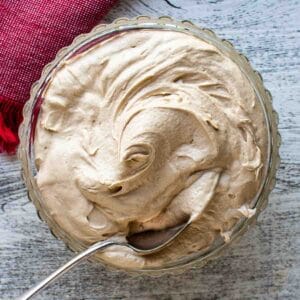 Coffee Buttercream Recipe
This coffee buttercream is silky smooth with a bold coffee flavor. It's simple to make and versatile to use.
Print
Pin
Rate
Equipment
1 stand mixer

or electric hand held mixer

1 paddle attachment for stand mixer

or beaters for hand held mixer
Ingredients
1

cup

unsalted butter

(

2 sticks/227 grams

) at room temperature

2 ½

cups

powdered sugar

300 grams

2

teaspoons

instant espresso powder

2

teaspoons

hot water
Instructions
In a small bowl, dissolve the espresso powder in hot water. Set aside to cool.

Use the padde attachment of a stand mixer to beat the butter until creamy and light. This could take 4-5 minutes.

In the meantime, sieve the powdered sugar if necessary.

Turn the mixer speed to low and add the powder sugar to the butter a few spoonfuls at a time. Stop to scrape the sides of the bowl as needed.

When the powdered sugar has been completely combined into the butter increase the speed to medium high and beat for 2 minutes until light and fluffy.

Stop the mixer and add the cooled espresso mixture. Beat on high speed for a minute or so until thoroughly combined.
Notes
Top Tips
Have the butter at cool room temperature.
Sieve the powdered sugar if needed. If you live in a hot, humid climate this would be adviseable.
Use an electric mixer or stand mixer. Beating by hand doesn't achieve the same results.
Add the powdered sugar slowly.
If still gritty after beating add a spoonful or two of milk or cream.
For more tips and FAQ's, read the post above.
Tried this recipe? Give it a star rating and leave a comment below!
Nutritional Estimate Per Serving
Calories:
233
kcal
|
Carbohydrates:
25
g
|
Protein:
0.2
g
|
Fat:
15
g
|
Saturated Fat:
10
g
|
Polyunsaturated Fat:
1
g
|
Monounsaturated Fat:
4
g
|
Trans Fat:
1
g
|
Cholesterol:
41
mg
|
Sodium:
3
mg
|
Potassium:
11
mg
|
Sugar:
24
g
|
Vitamin A:
473
IU
|
Calcium:
5
mg
|
Iron:
0.03
mg
Nutritional Disclaimer
Nutritional information is an estimate provided by an online nutrition calculator. For accurate results, it is recommended that the nutritional information be calculated based on the ingredients and brands you use.