My Espresso Brownies recipe is the ultimate indulgent treat for those days when you're craving something sweet. These coffee brownies are dark, rich and seriously fudgy. You can't stop at one!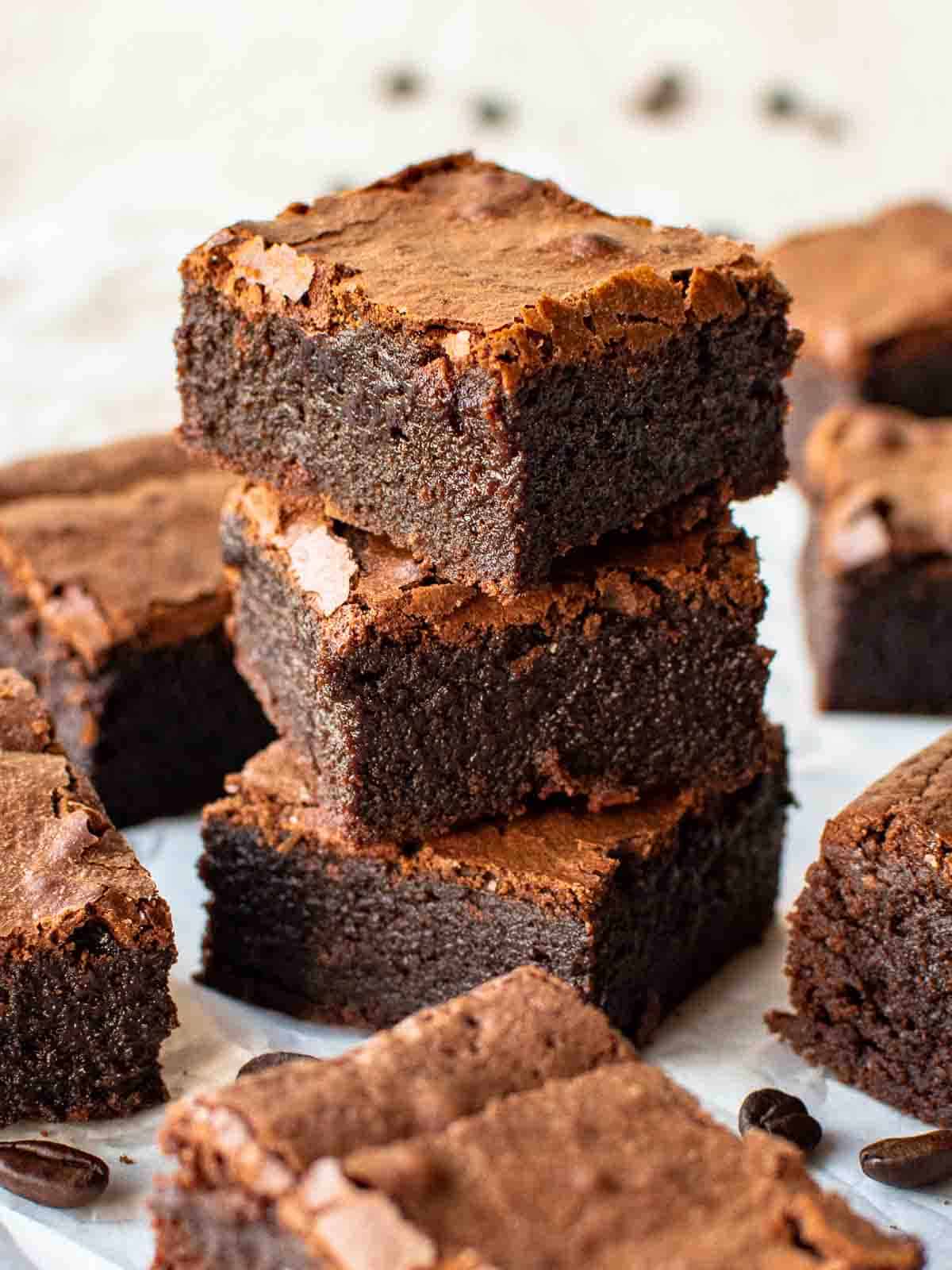 As an Italian, I love coffee desserts like my Tiramisu Cups, Coffee Cookies or Coffee Biscotti. And these Espresso Brownies are just as good! You will love the combination of dark chocolate with the fragrant aroma of espresso powder.
The secret of incredibly flavorful coffee brownies is actually not sugar, but salt. The salt in the Espresso Brownies enhances the chocolate and coffee flavors. Plus, it balances perfectly with the sweet caramel flavor of the brown sugar - making these Espresso brownies truly irresistible.
Not only are these Espresso Brownies ridiculously good, but they are also completely foolproof. I made many trial brownies before I settled on this recipe - just ask my family! But now, I'm confident that you too can create the perfect, fudgy brownie with a crackly top by following this recipe.
If you're on the hunt for the perfect brownie recipe, look no further! These decadent Espresso Brownies are unbeatable with their rich coffee flavor and fudgy texture. The only problem is, they come with a disclaimer - you can't stop at one!
For complete ingredient quantities and full instructions, please scroll to the printable recipe card bottom of the page.
Ingredients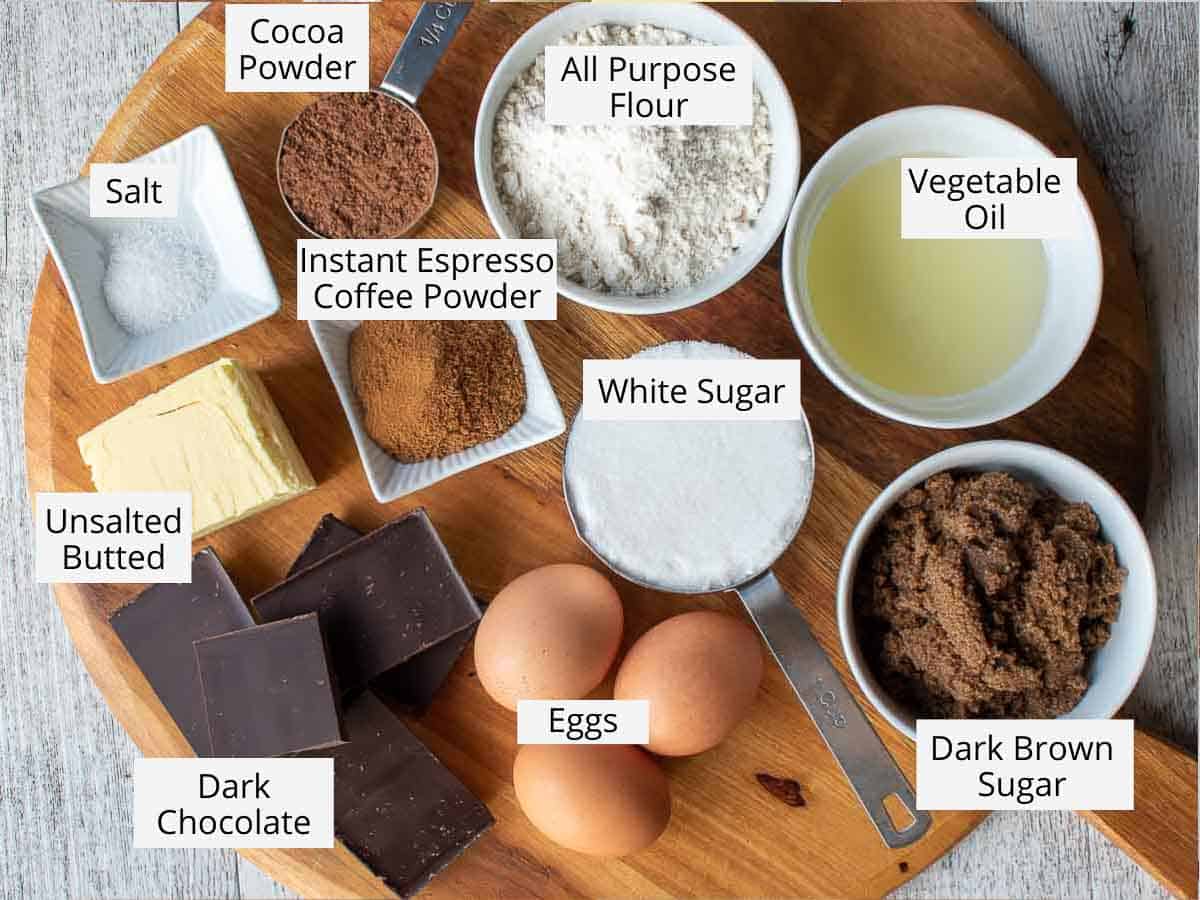 Dark chocolate - good quality dark cooking chocolate is best for these indulgent espresso brownies
Salted butter - I love using salted butter in my baking because the touch of salt cuts through the sweetness and actually enhances the chocolate flavor. 
Vegetable oil - the flavor of vegetable oil is very mild so it doesn't affect the taste, however, it helps to create a decadent fudgy brownie. 
Unsweetened cocoa powder - I've used regular cocoa powder in this recipe but you could use Dutch processed cocoa if that's all you've got. 
Instant espresso powder - This is the only source of coffee flavor in these brownies, so use the strongest instant coffee powder you can find. I like espresso which is often made with higher quality espresso beans. 
Salt - A little extra salt to bring out the flavor of these decadent brownies. If you're not a fan, it can easily be left out. 
Granulated sugar - I use fine granulated white sugar which ensures the sugar dissolves easily into the mixture. This, together with well beaten eggs, is what gives the coffee brownies the perfect crackly crust. Regular granulated sugar will be fine.
Dark brown sugar - This adds a decadent molasses caramel flavor to the espresso brownies. Use light brown sugar if that's all you have.
Eggs - I prefer free range eggs and they should be at room temperature
All purpose flour - also known as plain flour or regular wheat flour. 
See recipe card for quantities.
Instructions
Preheat the oven to 340ºF/170ºC and line an 8 x 8 inch (20 x 20 cm) metal cake pan with parchment paper.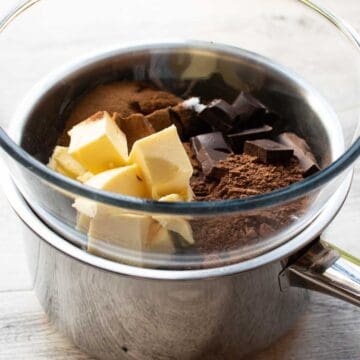 Melt the chocolate, butter, oil, cocoa, espresso powder and salt together over a double boiler.
Stir in white and dark brown sugar.
Whisk in the eggs (one at a time) to the mixture.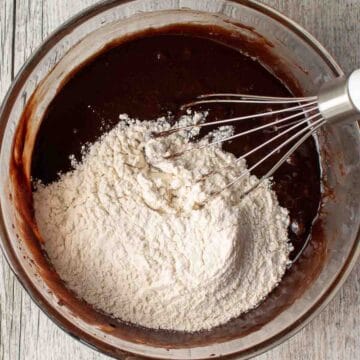 Whisk in the all purpose flour until combined
Pour the brownie batter into the lined baking pan and bake for 30 minutes.
Hint: The eggs must be whisked in well to achieve a crackly crust. The mixture also needs to be still quite warm, but not hot or you might cook the eggs. 
Substitutions
If you don't like dark chocolate, you could substitute milk chocolate for a sweet chocolate brownie. 
You could substitute ½ cup unsalted butter for salted butter if you don't like the amount of saltiness in this brownie recipe. Or if unsalted butter is all you have and you're still after the richness that comes from the salted butter, add a little more salt to the existing ½ a teaspoon. 
Try melted semi sweet chocolate chips instead of chopped chocolate.
Variations
Chocolate Chunk Brownies - Chocolate lovers could make double chocolate Espresso Brownies by stirring in 1 cup of chocolate chunks with the flour.
Nutty Brownies - After a nutty crunch in your coffee brownies? Try adding a cup of coarsely chopped pecans or walnuts when stirring in the flour. 
Salty Brownies - Sprinkle the surface of the espresso chocolate brownies with salt flakes just before baking for a moorish salted version. 
Equipment
I use a metal 8 x 8 inch cake pan (20 x 20cm) because metal conducts heat the best meaning you can guarantee perfectly fudgy Espresso Brownies. You could use a glass baking pan, however, the baking time will need to be adjusted and the temperature slightly lowered to ensure the brownie bakes more evenly.
Storage
I find these Espresso Brownies are actually best enjoyed the next day because the flavors have time to mellow and infuse together. Plus, they can last for up to 4-5 days in an airtight container.
You can also freeze the cooled and sliced Espresso Brownies by wrapping them tightly in plastic wrap and covering with aluminum foil to prevent freezer burn. When you want to enjoy the brownies, simply remove from the freezer and reheat in the microwave.
Tips for Success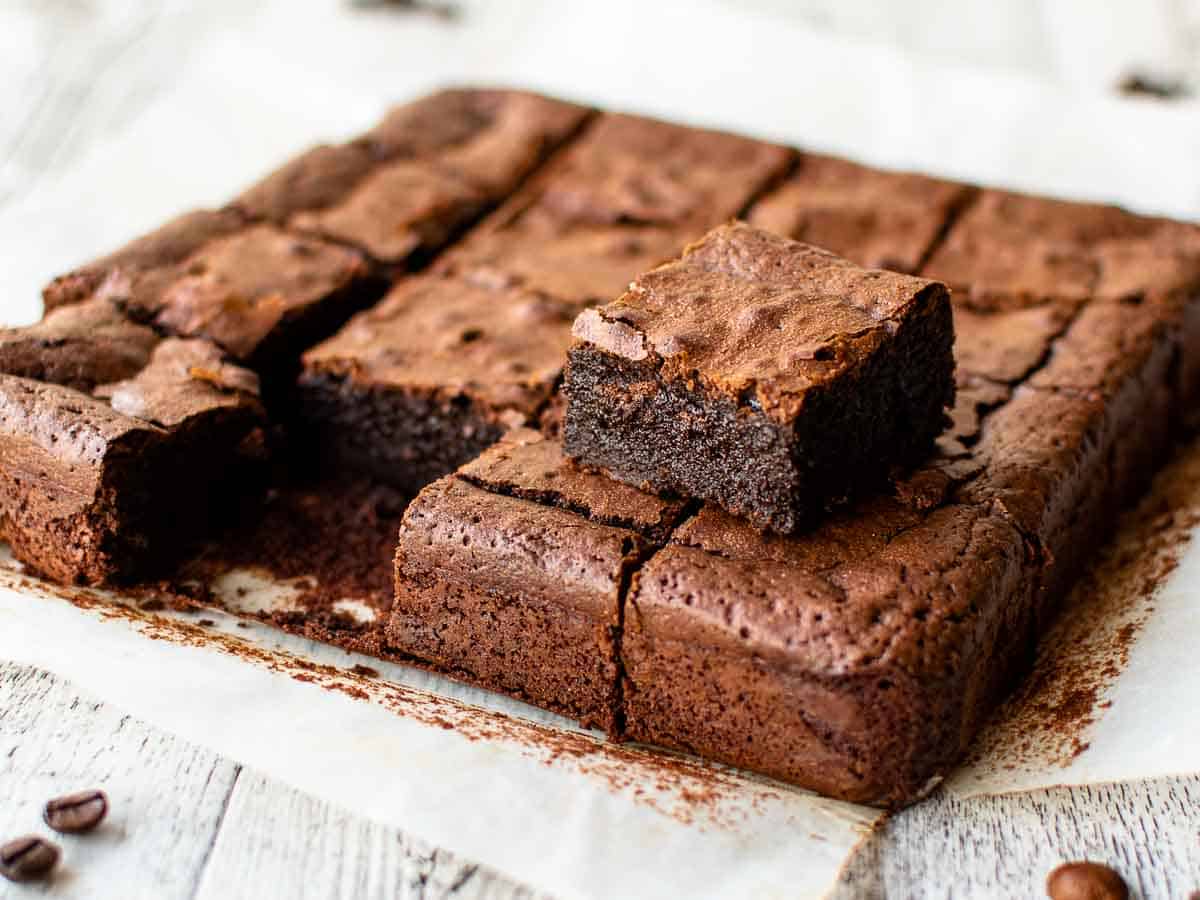 This recipe for Espresso Brownies has been tested extensively. To achieve the perfect fudgy brownie with a crackly top, you must whisk in the sugar and eggs while the mixture is still warm (not hot as it could scramble the eggs). Once all the eggs are in, give it a good, long whisk to ensure the sugar completely dissolves. 
When preparing the cake pan be sure to extend the parchment paper right up the sides. You'll use this to lift the brownie up and out of the pan without disturbing the crackly top crust.
Cool the brownies completely before cutting. See below for tips on achieving clean cuts.
FAQ
How do I cut brownies without tearing? 
To cut seriously fudgy brownies without making a mess, they must be removed from the baking pan when completely cooled. For each slice, you make, dip your knife into a container of hot water and dry with a paper towel before cutting. The hot metal of your knife will make perfectly neat slices of Espresso Brownies. 
Do Espresso Brownies have caffeine?
My Espresso Brownies are made using instant espresso powder for the coffee flavor. Instant coffee powder contains slightly less caffeine than regular coffee due to the dehydration process in which it is made. However, if you are sensitive to caffeine but still want the coffee flavor, try swapping the instant espresso powder with a decaffeinated version.  
Does espresso powder make brownies taste like coffee?
I use a strong instant coffee powder to provide maximum coffee flavor in my Espresso Brownies. However, these fudgy brownies contain a lot of chocolate too. You'll find they taste like the best mocha latte you've ever had but in brownie form. 
Serving Suggestions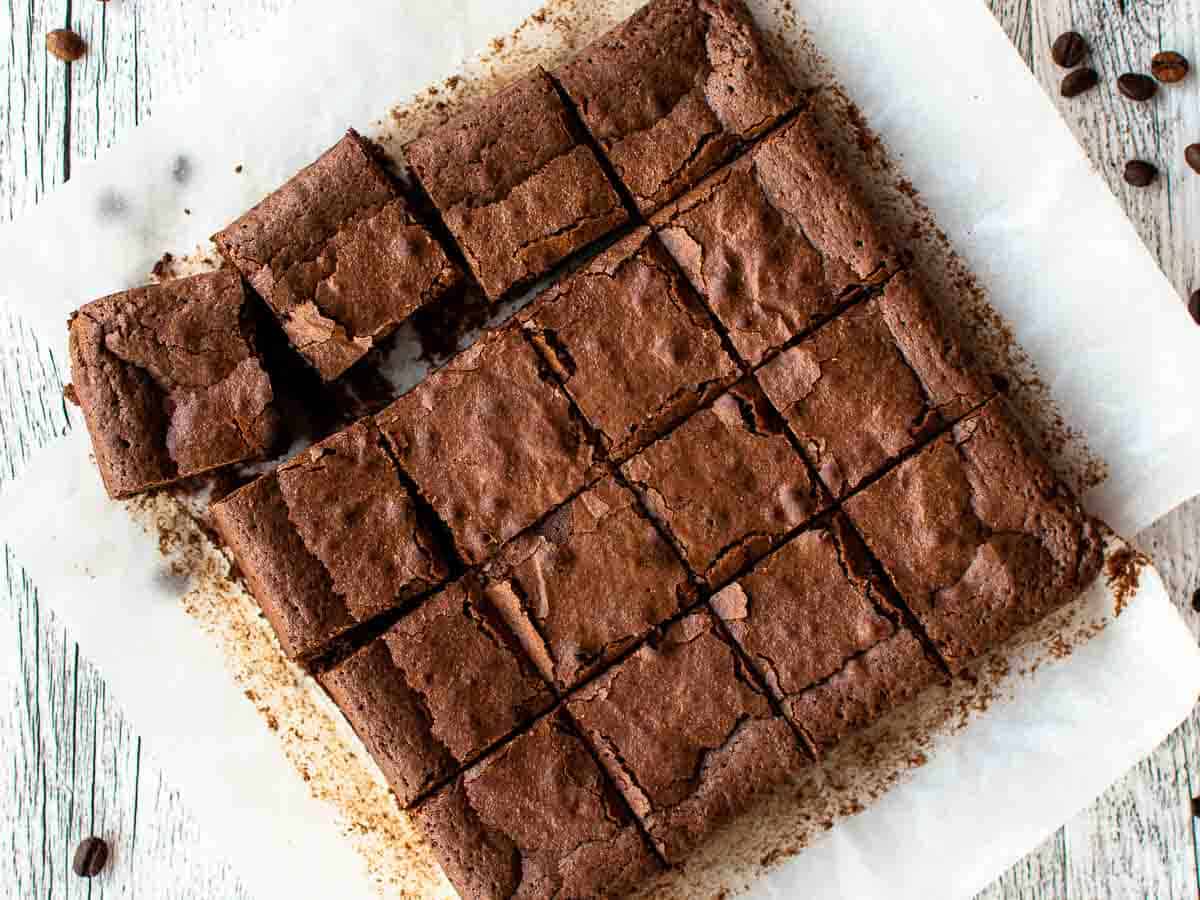 I love to serve these Espresso Brownies for dessert with vanilla ice cream and either my Raspberry Compote or Blueberry Compote. But they are equally good for an afternoon tea, served alongside a plate of cookies like my Lemon Curd Cookies or Baci di Dama.
More Recipes Like This
Made this recipe?
Let me know if you liked it by leaving a ★★★★★ star rating and a review below. Don't forget to subscribe to my newsletter - it's free!
Recipe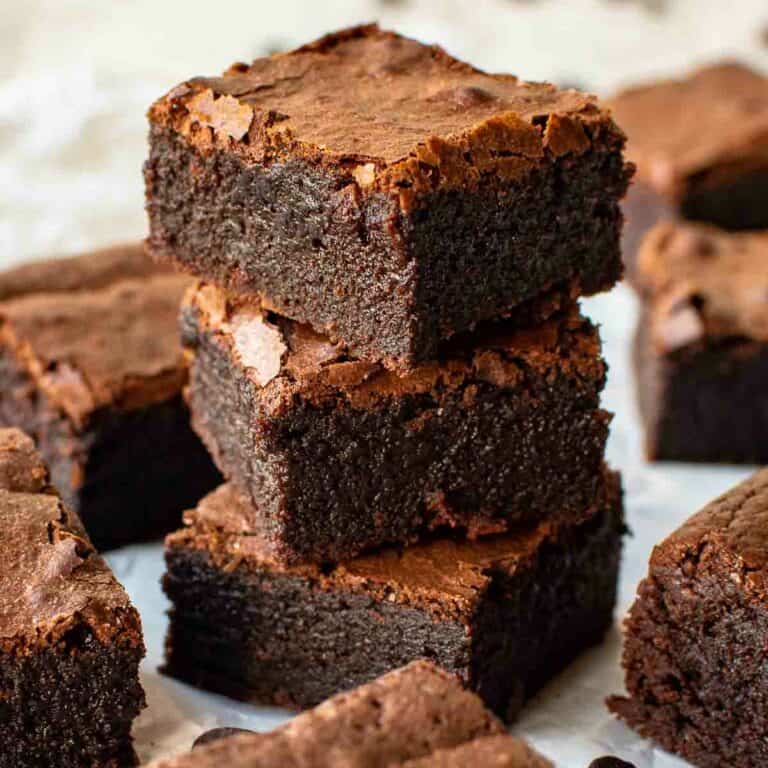 Espresso Brownies Recipe
These coffee brownies are dark, rich and seriously fudgy. You can't stop at one!
Print
Pin
Rate
Equipment
1 8 x 8 inch (20 x 20cm) metal cake pan
Ingredients
6

oz

chopped dark chocolate

(

140

grams)

½

cup

salted butter

(

4

ounces/

115

grams)

¼

cup

vegetable oil

(

60mls

)

¼

cup

unsweetened cocoa powder

(

25

grams)

2

tablespoons

espresso powder

(Aust - 1 ½ tablespoons)

½

teaspoon

salt

1

cup

granulated sugar

(

200

grams)

½

cup

dark brown sugar

(

90

grams)

3

eggs

¾

cup

all purpose flour

(

85

grams)
Instructions
Preheat oven to 340ºF/170ºC. Line 8 x 8 inch (20 x 20 cm) metal cake pan with parchment paper. See notes for tips.

Place the chopped chocolate, salted butter, vegetable oil, unsweetened cocoa powder, espresso powder and salt in a bowl and set it over a saucepan with barely simmering water. Stir every now and then until the mixture is smooth and dark like melted chocolate. This could also be melted in the microwave.

Stir in granulated and dark brown sugar.

Take the bowl off the heat but don't let the mixture cool too much. This is important to get the shiny crust but you also need to be careful not to cook the eggs when you add them.

Whisk in eggs, one at a time. Whisk vigorously - this creates a lovely crackly crust.

Use the whisk to stir in the all purpose flour.

Scrape the brownie batter into prepared baking pan and bake for 30 minutes.

Remove from the oven and cool completely before cutting into squares. See notes for tips.
Notes
Tips for Success
When lining the pan with parchment paper, bring the paper right up the sides so that you can grip the paper to pull the brownies out after baking.
Add the eggs to the chocolate mixture while it's still quite warm and whisk vigorously until really shiny.
Cool the brownies completely before removing from the pan and cutting into squares.
Be sure to read above for more tips and FAQ's.
Tried this recipe? Give it a star rating and leave a comment below!
Nutritional Estimate Per Serving
Calories:
227
kcal
|
Carbohydrates:
30
g
|
Protein:
3
g
|
Fat:
11
g
|
Saturated Fat:
7
g
|
Polyunsaturated Fat:
1
g
|
Monounsaturated Fat:
3
g
|
Trans Fat:
0.2
g
|
Cholesterol:
46
mg
|
Sodium:
135
mg
|
Potassium:
147
mg
|
Fiber:
2
g
|
Sugar:
22
g
|
Vitamin A:
226
IU
|
Calcium:
23
mg
|
Iron:
2
mg
Nutritional Disclaimer
Nutritional information is an estimate provided by an online nutrition calculator. For accurate results, it is recommended that the nutritional information be calculated based on the ingredients and brands you use.