This Strawberry Jam without pectin is so easy and fun to do in the microwave with just 3 ingredients.
Make the most of fresh or use frozen strawberries, the results are equally good. Plus homemade strawberry jam has a quality and taste that no store bought variety can match.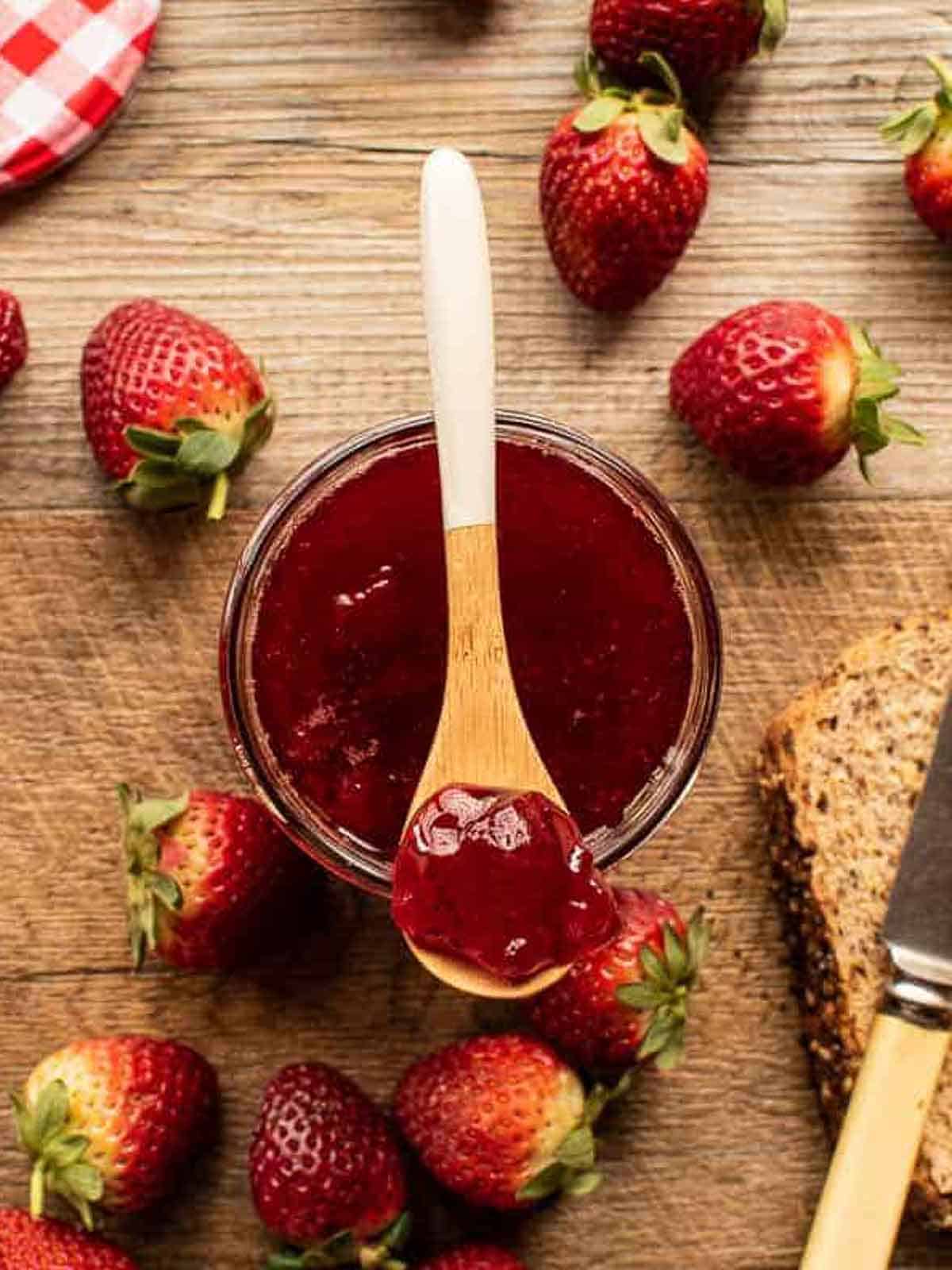 When strawberries are abundant and cheap, it's the time to make this Strawberry jam recipe without pectin. However if you are short on time, hull and quarter the strawberries and throw them into zip lock bags to freeze. Then you can make this jam whenever you like.
Why you will love this recipe!
This Strawberry Jam without pectin is a recipe that I have been using for many years and has been tried and tested with many different microwaves over that time. Whether you're an avid jam maker or have never made jam, this is a recipe you need to make.
Making fresh strawberry jam is extremely rewarding. For very little effort, you will produce two large jars of jam with the most delicious taste and fragrance to surpass any store bought variety.
I love making jam in the microwave for a few reasons. Firstly, I find that the fruit remains vibrant and there is less chance of burning the jam. For the novice jam maker, it can be quite daunting following stovetop jam recipes. Using the microwave simplifies the process.
Plus, it's so quick to make this strawberry jam without pectin. Within 30 minutes, it will be ready. That's right! It's super easy and fast!
I just can't imagine serving my English scones with anything else!
For complete ingredient quantities and full instructions, please scroll to the printable recipe card bottom of the page.
Ingredients
Making this Strawberry Jam recipe without pectin is super easy and only takes 3 ingredients:
Strawberries - Buy fresh strawberries at their peak when they are the most economical. Or use frozen strawberries. When I have too many strawberries, I'll hull and quarter them then pop the fruit into zip lock bags in the freezer for later.
Lemon Juice - Be sure to use the juice of ripe lemons. If you don't have ripe lemons, use bottled lemon juice which has the correct amount of acidity required for jam.
Sugar - White granulated sugar is best for this recipe. It will dissolve and help set the jam properly.
Instructions
Cook quartered strawberries with lemon juice in the microwave for 5 minutes.
Add the sugar and stir.
Microwave on high for 15 minutes stopping every 5 minutes to stir.
Ladle into sterilized jars while hot and seal with the lids immediately (protect your hands with a thick towel). Allow to cool to room temperature before storing in a cool, dry place for up to 6 months.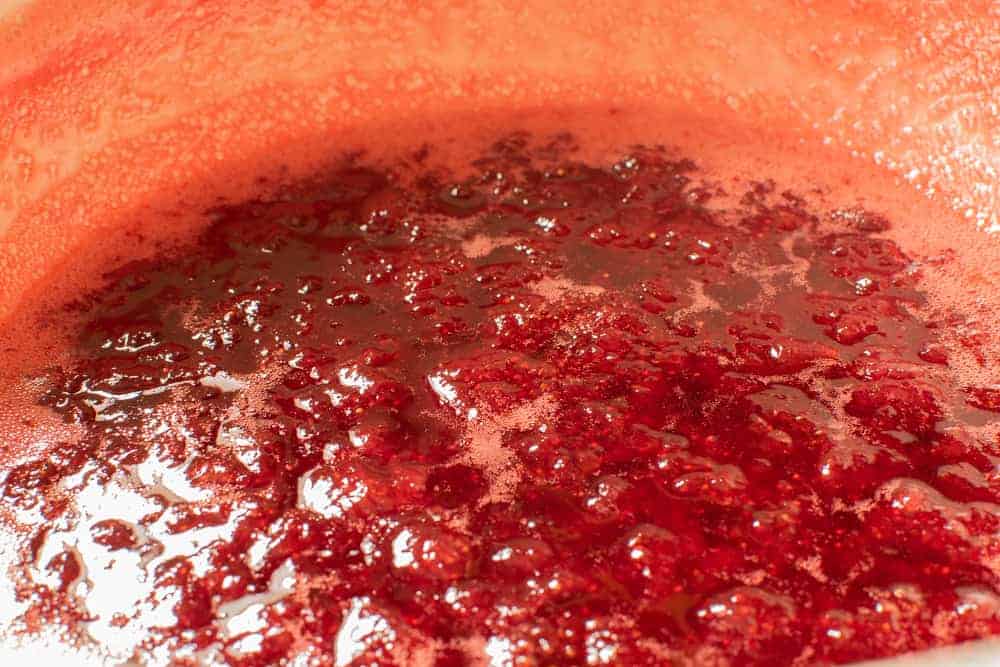 Tips for success
Sugar is needed to set and preserve the jam. If the sugar is reduced in this recipe, the result will be thin, runny jam that doesn't keep very well. I don't recommend reducing the sugar in this recipe!
Don't under cook. Undercooked jam will taste fresh but may separate as it cools.
Avoid doubling or tripling the batch. This homemade strawberry jam without pectin will boil up and bubble over if you make more than this quantity.
This recipe has no added pectin but uses lemon juice to assist with setting.
FAQ
Why do you put lemon juice in strawberry jam?
Strawberries and other low acid fruit need the acid from lemon juice to help set the jam. It is a science which I am not going to explain here but you could research it yourself. To help set the jam even further, you can cook the jam with a little muslin pouch of lemon rind and seeds which contain lots of natural pectin. This means you don't need to add any additional pectin!

Another reason for adding lemon juice is to make the jam safe and prevent growth of mold and bacteria and preserve the jam.
How do I sterilize jars?
Sterilize in a water bath by placing the jars and lids in a large pot and covering with cold water. Bring to the boil and boil for 10 minutes. Remove from the boiling water with tongs and drain on a paper towel lined baking sheet. Any excess can be patted dry with paper towel.
Alternatively place upright jars and lids in a preheated 250ºF/120ºC oven for 20 minutes.
What makes strawberry jam set?
This strawberry jam without pectin needs to be microwaved on high power for at least 15 minutes after adding the sugar to ensure a good set. Be sure to stir at 5 minute intervals.

After 15 minutes you can begin testing by dropping about ½ teaspoonful on a cold saucer. Place the saucer back in the fridge and after a few minutes check if the jam has jelled. I usually find I need 3 - 5 minutes more.

Also the sugar and lemon juice work with the natural pectin in the strawberries to ensure a good set.
What is the best way to store homemade strawberry jam?
Store the jam in a cool dry place for up to 6 months and once opened use within 2 months. However for longer shelf life, store in the fridge or freezer. Filled jars can also be processed in a water bath. There is lots of sites and books that explain water bath processing fully.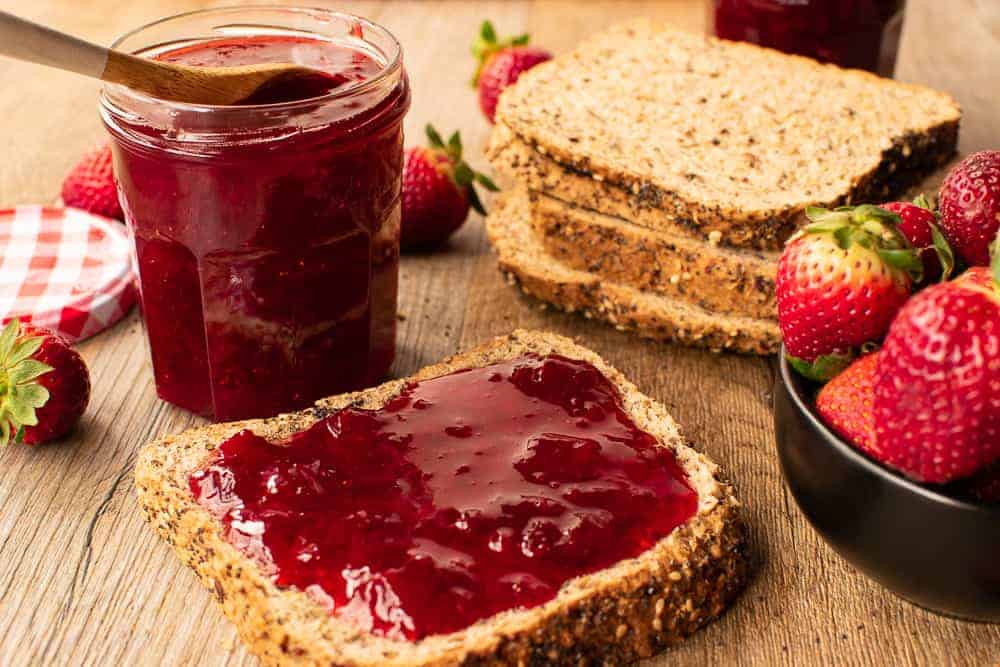 Serving Suggestions
This easy Strawberry Jam without pectin is wonderful in my Strawberry Crostata or over these super quick mini pancakes or simply served on vanilla ice cream. It's an easy, fail proof recipe with delicious, fruity flavour. In fact, if you have never made jam, this microwave Strawberry Jam without pectin will ensure you turn out perfect preserves every time.
More recipes you will love
Easy Strawberry Coulis
Vanilla Bean Panna Cotta
Strawberry Lime Water
Made this recipe?
Let me know if you liked it by leaving a ★★★★★ star rating and a review below. Please share a photo of your creation by tagging me on Instagram @marcellina.in.cucina!
Recipe
Strawberry Jam Recipe Without Pectin
This homemade strawberry jam recipe is easy to make in the microwave. You can use fresh or frozen strawberries. This recipe makes 2 ½ cups of jam.
Print
Pin
Rate
Equipment
4 litres/16 cups capacity microwave safe bowl
Ingredients
4

cups

hulled and quartered strawberries

(approx 1 pound or 500 grams) hulled and quartered

¼

cup

lemon juice

(60mls)

2

cups

sugar

(400 grams)
Instructions
Place strawberries in a large (4 litres/16 cups capacity) microwave safe bowl with the lemon juice. Microwave on high for 5 minutes. It should start smelling amazing already. Remove from microwave.

Once you add the sugar the fruit won't break down much more so if you want it smooth cook for a little longer.

Add the sugar and stir to dissolve.

Return to the microwave, cook for 15 minutes on high, stopping every 5 minutes to stir and check. The jam will come to a full rolling boil. Don't leave unattended just in case it boils up and over the bowl.

Pour into sterilized bottles. Seal.
Notes
Tips for success
Be sure to use a very large bowl. The one I use has a capacity of 4 litres or 16 cups. The strawberry jam will boil up and spill over if you have a small bowl and you'll have a sticky mess!
Don't leave unattended while cooking just in case the strawberry jam boil up and over the bowl.
Sterilise jars in the microwave by washing and rinsing well. Leave jars wet and cook in the microwave for 60 seconds on high. Be careful when removing from microwave oven - they will be hot. Fill with strawberry jam and seal immediately.
Nutritional Information Per Serving
Calories:
43
kcal
|
Carbohydrates:
11
g
|
Protein:
0
g
|
Fat:
0
g
|
Saturated Fat:
0
g
|
Cholesterol:
0
mg
|
Sodium:
0
mg
|
Potassium:
23
mg
|
Fiber:
0
g
|
Sugar:
10
g
|
Vitamin A:
0
IU
|
Vitamin C:
9.1
mg
|
Calcium:
2
mg
|
Iron:
0.1
mg
Nutritional Disclaimer
Nutritional information is an estimate provided by an online nutrition calculator. For accurate results, it is recommended that the nutritional information be calculated based on the ingredients and brands you use.