Microwave Strawberry Jam is so easy and fun to do.
Make the most of seasonal strawberries or use frozen berries, the results are equally good. Plus the homemade jam has a quality and taste that no store bought variety can match.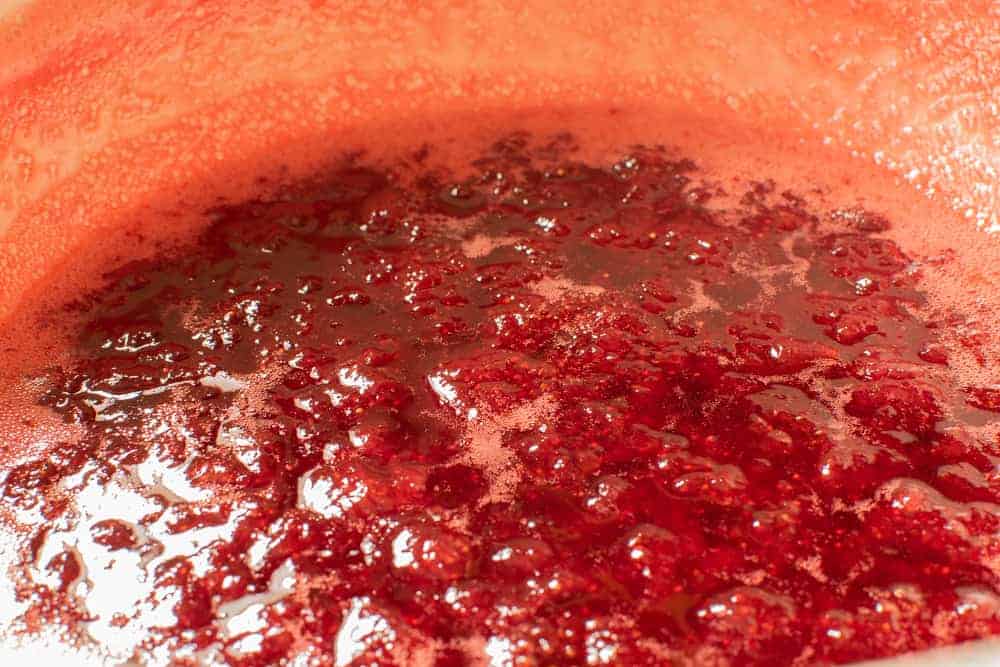 When strawberries are abundant and cheap, it's the time to make microwave strawberry jam. However if you are short on time, hull and quarter the strawberries and throw them into zip lock bags to freeze. Then you can make this jam whenever you like.
Why Microwave Strawberry Jam?
Making this Microwave Strawberry Jam is super easy and only takes 3 ingredients-
strawberries
lemon juice
sugar
I love making jam in the microwave for a couple of reasons. Firstly I find that the fruit remains vibrant and there is less chance of burning the jam. Secondly, it is so quick. Within 30 minutes, your jam will be ready. But, here are a few points to note.
Sugar is needed to ensure this microwave jam sets. If the sugar is reduced in this recipe, the result will be thin, runny jam. So don't reduce the sugar in this recipe!
Don't under cook. Under cooked jam will taste fresh but may separate as it cools.
Avoid doubling or tripling the batch. This jam will boil up and bubble over if you make more than this quantity.
This recipe has no added pectin but uses lemon juice to assist with setting. It is a science which I am not going to explain here but you could research it yourself. The lemon juice also helps preserve the jam.
So how do can you tell if the jam going to set?
Microwave Strawberry Jam needs to be microwaved on high power for at least 15 minutes after adding the sugar to ensure a good jam set. Be sure to stir at 5 minute intervals. After 15 minutes you can begin testing by dropping about 1/2 teaspoonful on a cold saucer. Place the sauce back in the fridge and after a few minutes check if it has jelled. I usually find I need 3 – 5 minutes more.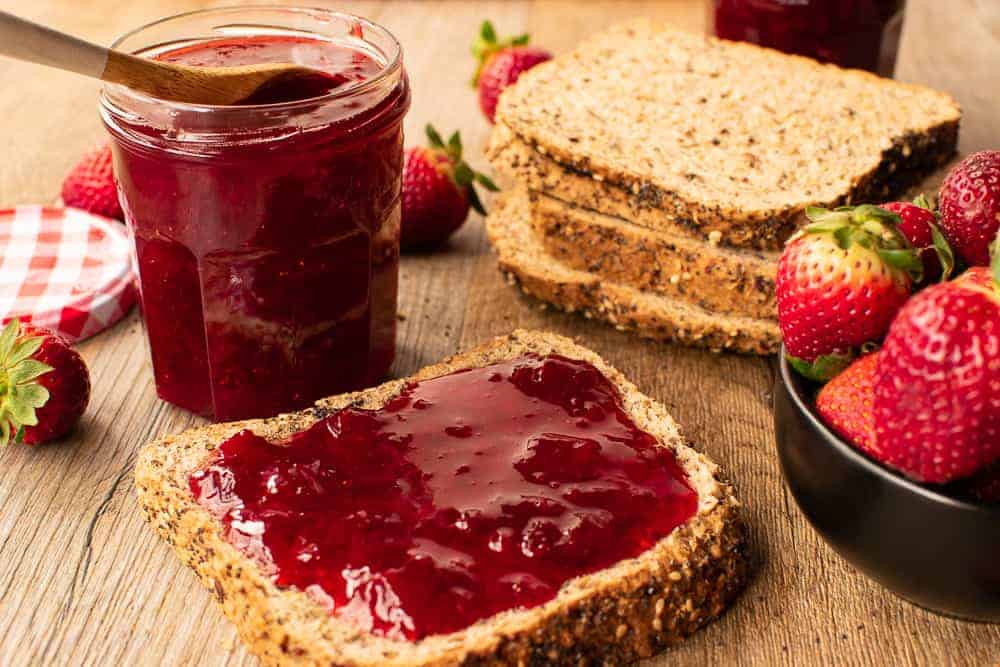 Microwave Strawberry Jam is wonderful in my
Strawberry Crostata
or over these super quick
pancakes
or simply spread on fresh bread. It's an easy, fail proof recipe with delicious, fruity flavour. In fact, if you have never made jam, this Microwave Strawberry Jam will ensure you turn out perfect jam every time.
Baci,

This recipe was first published on 5 July 2010
Strawberry Jam
Homemade strawberry jam is easy to make in the microwave. You can use fresh or frozen strawberries. This recipe makes 2 1/2 cups of jam.
Print
Pin
Rate
Equipment
4 litres/16 cups capacity microwave safe bowl
Ingredients
4

cups

strawberries

hulled and quartered

1/4

cup

lemon juice

2

cups

sugar
Instructions
Place in a large (4 litres/16 cups capacity) microwave safe bowl with the lemon juice. Microwave on high for 5 minutes. It should start smelling amazing already. Remove from microwave.

Once you add the sugar the fruit won't break down much more so if you want it smooth cook for a little longer.

Add the sugar and stir to dissolve.

Return to the microwave, cook for 15 minutes on high, stopping every 5 minutes to stir and check. Don't leave unattended just in case it boils up and over the bowl.

Pour into sterilized bottles. Seal.
Notes
Be sure to use a very large bowl. The one I use has a capacity of 4 litres or 16 cups. The jam will boil up and spill over if you have a small bowl and you'll have a sticky mess!
Don't leave unattending while cooking just in case the jam boils up and over the bowl.
Sterilise jars in the microwave by washing and rinsing well. Leave jars wet and cook in the microwave for 60 seconds on high. Be careful when removing from microwave oven - they will be hot. Fill with jam and seal immediately.
Nutrition
Calories:
43
kcal
|
Carbohydrates:
11
g
|
Protein:
0
g
|
Fat:
0
g
|
Saturated Fat:
0
g
|
Cholesterol:
0
mg
|
Sodium:
0
mg
|
Potassium:
23
mg
|
Fiber:
0
g
|
Sugar:
10
g
|
Vitamin A:
0
IU
|
Vitamin C:
9.1
mg
|
Calcium:
2
mg
|
Iron:
0.1
mg