Lemon Yoghurt cake is a recipe that even a child could make.
In fact, for many Italians this is the first cake they make. I love this cake. It's delicious and it reminds me of my family in Italy.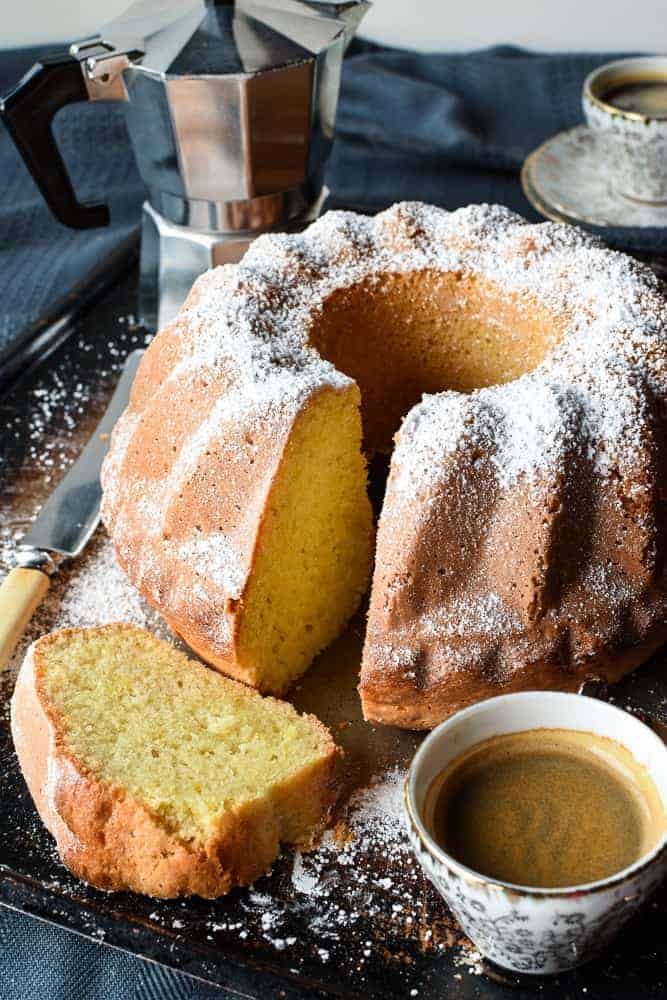 A few years ago I took my husband and children to Italy to meet my Italian family. It was an amazing three week adventure of discovery. A discovery of wonderful family, food and beautiful places important in our family history. A time that will never be forgotten and people who touched our hearts like never before. It was here that I also discovered this Italian yoghurt cake.
About this Lemon Yoghurt Cake.
 In Turin we had our first breakfast Italian style – sweet biscuits, croissants and home made yoghurt cake. Quite unlike an Australian breakfast of maybe toast and vegemite or wheatbix cereal. But embrace it we did. It was a thrill discovering different sweet biscuits, cakes and bake-at-home croissants.
My cousin Donatella, treated us to her freshly baked lemon yoghurt cake. Of course, I couldn't leave my cousin without asking for the recipe for the wonderful cake. This cake uses the 150 gram container the yoghurt came in as a measure and because of this, it is often called a yoghurt tub cake. The French also have a version of the yoghurt tub cake and it is oftern the cake children make so it's got to be fairly easy. To be more precise, I have updated the recipe using cup/weight measurements.
If you are curious the yoghurt container measurements are:- 1 container of yoghurt, 4 containers of flour, 2 containers of sugar, 1 container of oil plus 4 eggs, 1 grated lemon rind and a sachet of Italian baking powder.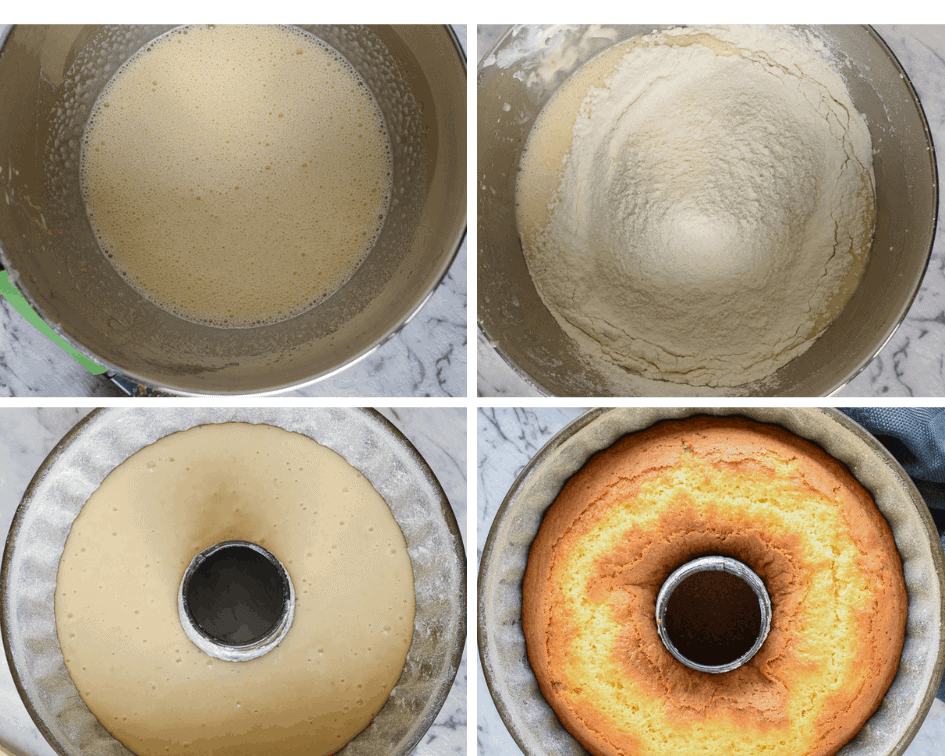 Ingredients for Lemon Yoghurt cake.
The beauty of this simple yoghurt cake recipe is that the ingredients are staple pantry items in most kitchens.
yoghurt
flour
sugar
eggs
oil
lemon
baking powder and baking soda
You can use any yoghurt even low fat yoghurt. In my recipe testing, there was no noticeable difference between full fat or low fat yoghurt. Why not even try flavoured yoghurt to add extra flavour.
Another favorite lemon recipe in my house is my delicious lemon macaron recipe that the whole family goes crazy for.
Oil used in this cake should be light in flavour such as sunflower or canola. My preferred oil for this cake is  light olive oil which I also use in my simple carrot cake
The vanilla baking powder used in Italy comes in a small sachet (called "bustina") weighing 16 grams (½ ounce). It is flavoured with vanillin. However to make it easier I have substituted baking powder, a little bit of bicarbonate of soda and vanilla. If you can find and want to use the Italian baking powder, simply omit the baking powder, soda and vanilla and instead add one sachet of Italian baking powder.
Can I freeze this Lemon Yoghurt cake?
Yes, absolutely. Wrap the cooled cake well in plastic wrap and then another layer of foil to prevent freezer burn. There is no such thing as overwrapping when preparing a cake for the freezer. You need to protect the cake from freezer burn which will dry out the cake. Also it is important to wrap the cake well to be sure it doesn't absorb any odours – nothing worse that onion flavoured lemon yoghurt cake! When you need your cake, allow to thaw still wrapped this way you will avoid condensation.
You can also freeze leftover, individual slices of cake. Again, wrap well in plastic wrap and foil and then pack into a airtight plastic container or zip lock bag. When you want to snack on slice of cake, it will thaw quickly. I usually thaw slices of unwrapped cake in the microwave on the defrost setting.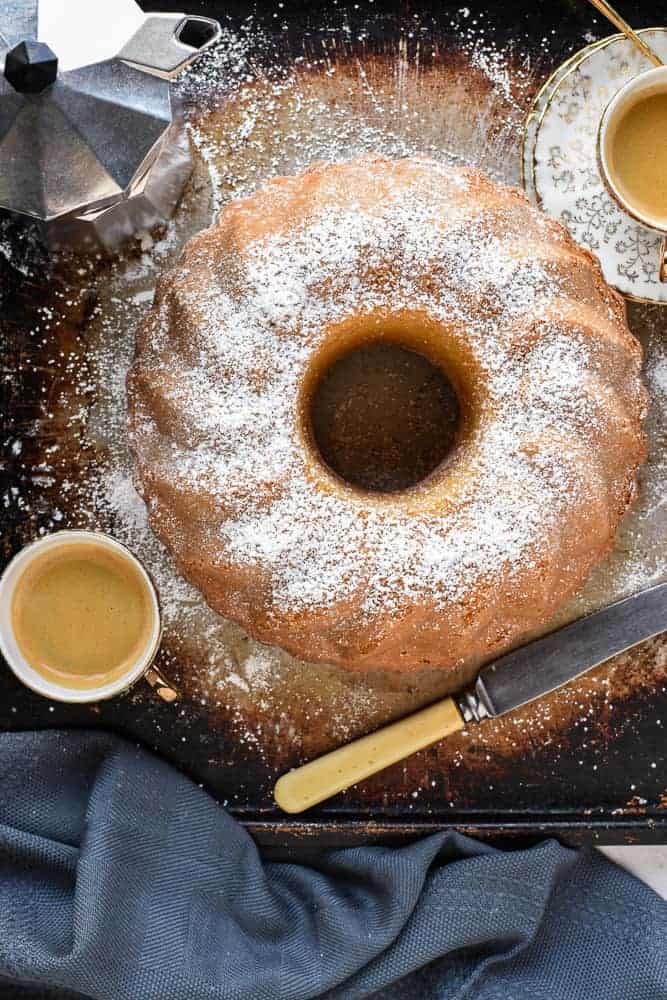 Is this a breakfast cake or a dessert cake?
This Italian Lemon Yoghurt cake is not too sweet and is perfect served for breakfast simply dusted with icing sugar. Because it is a rather sturdy but tender cake, this yoghurt cake is wonderful for dunking into tea or coffee.
While this Italian cake is ideal for breakfast, you can also serve this with an extra scoop of yoghurt or a dollop of cream and some fruit for a light dessert.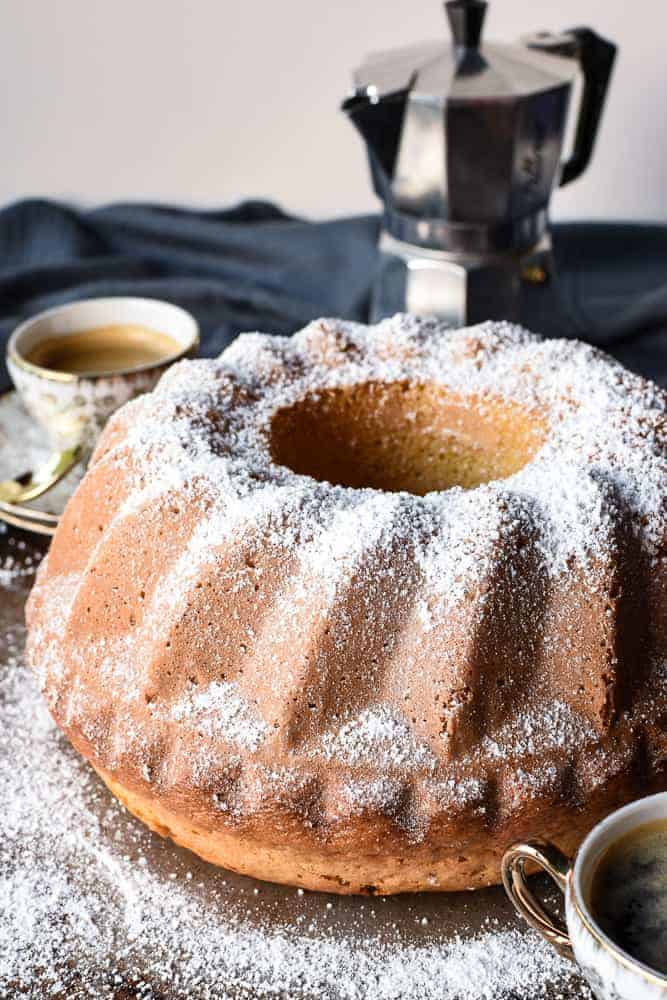 There are many versions of the cake about but this is Donatella's.I hope you enjoy it as much as we do.
Baci,

This recipe has been updated and was first published on 22 September 2013
Lemon Yoghurt Cake
Lemon Yoghurt cake is a simple recipe that even a child could make. In fact, for many Italians this is the first cake they make. I love this cake. It's delicious and it reminds me of my family in Italy.
Print
Pin
Rate
Ingredients
4

eggs

1

cup

castor sugar

(superfine)

½

cup

Greek yoghurt

(full fat or low fat)

½

cup

light olive oil

1

lemon, finely grated rind only

(see notes)

1

teaspoon

vanilla extract

2

cups

plain flour

sifted

2

teaspoons

baking powder

½

teaspoon

bicarbonate of soda

¼

teaspoon

salt
Instructions
Heat the oven to 180°C/350°F and grease and flour a large bundt cake pan.

Using an electric mixer, beat together eggs and sugar for two minutes until light and fluffy.

Add yoghurt, oil, vanilla and lemon zest. Beat until just combined - 30 seconds.

Sift together flour, baking powder, bicarbonate of soda and salt and add to egg mixture.

Mix well to combine for two minutes, scraping the bowl after one minute.

Pour the mixture into the prepared pan and bake in oven for 35-45 minutes or until a skewer inserted come out clean.

Rest the cake for 5 minutes then remove from the pan and allow to cool on a wire rack.

Dust with icing sugar and enjoy with a strong espresso or a milky coffee.
Notes
Lemon extract or lemon oil can be used in place of grated lemon rind.
Nutrition
Calories:
247
kcal
|
Carbohydrates:
33
g
|
Protein:
5
g
|
Fat:
11
g
|
Saturated Fat:
2
g
|
Cholesterol:
55
mg
|
Sodium:
119
mg
|
Potassium:
122
mg
|
Fiber:
1
g
|
Sugar:
17
g
|
Vitamin A:
79
IU
|
Calcium:
49
mg
|
Iron:
1
mg